Chocolate Dipped Vegan Coconut Macaroons Recipe (Paleo, Gluten Free, Dairy-Free)
Chocolate Dipped Vegan Coconut Macaroons Recipe (V, GF): an easy recipe for chewy and satisfying chocolate-dipped coconut macaroons made with whole ingredients! Vegan, Paleo, Gluten-Free, Dairy-Free.
First things first, have you tried my 4 Ingredient Paleo Coconut Macaroons Recipe yet? They are, as my sister Penny would say, the bomb dot com. Okay, do people still say that? Be honest. You let me know and I'll pass the update onto Penny.
Just make sure you use small coconut flakes to make these babies! Funnily enough, using large coconut flakes leads to utter mayhem (i.e. flat-like-a-pancake cookies). Ah, the line we have to toe between utter bake perfection and sheer baking disaster mayhem. That's baking for ya! .
Meanwhile, I am beyond proud of that recipe (when made with small coconut flakes heh heh). And you know I could not, would not resist the urge to dip those in chocolate! But since not everyone loves chocolate like we do, I figured I'd leave those steps to this post.
May I present to you: my Chocolate Dipped Vegan Coconut Macaroons Recipe.
Yippee!!! Do you hear the same celebratory horns I do? 🙂 The reason why I'm so proud of that recipe is because I felt so lost when I started to test it. In case I haven't said it yet, my ultimate goal with Beaming Baker is to share healthy allergy-friendly recipes that actually taste like the classics we grew up with. Here are a few examples: pumpkin bread, vegan chocolate cupcakes, gluten free vegan brownies, vegan chocolate chip cookies.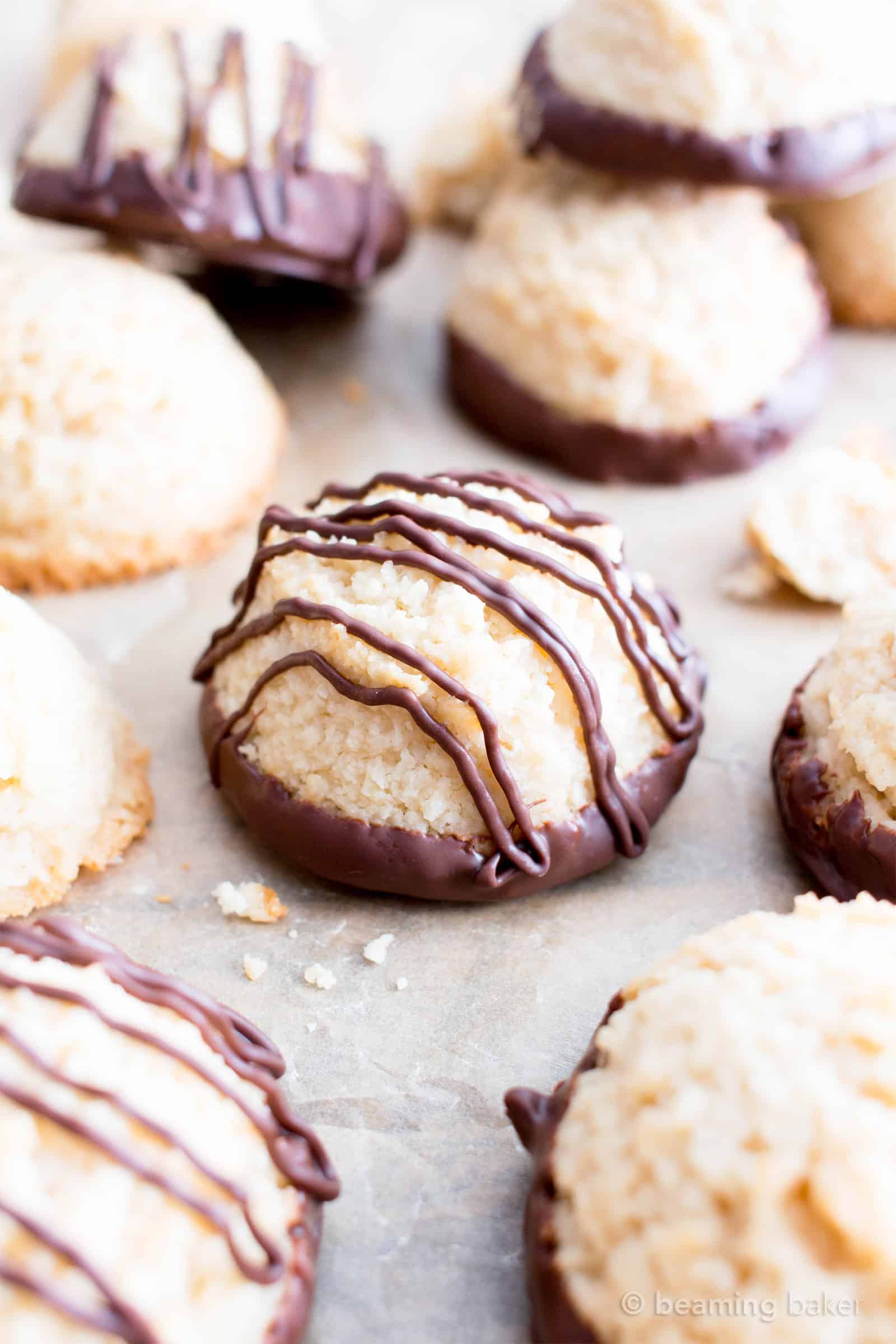 So when I start recipe testing, I generally research classic examples of said recipe. In this case, everywhere I looked, I saw coconut macaroons made with condensed milk, refined sugar, eggs, egg whites, and all kinds of other ingredients we don't use on the ol' blogeroo.
The more classic versions of this recipe I saw, the worse I felt. Could it be done? How do I replace the eggs? The condensed milk? Would I really make you guys open a can of coconut cream to get this chocolate dipped vegan coconut macaroons recipe going?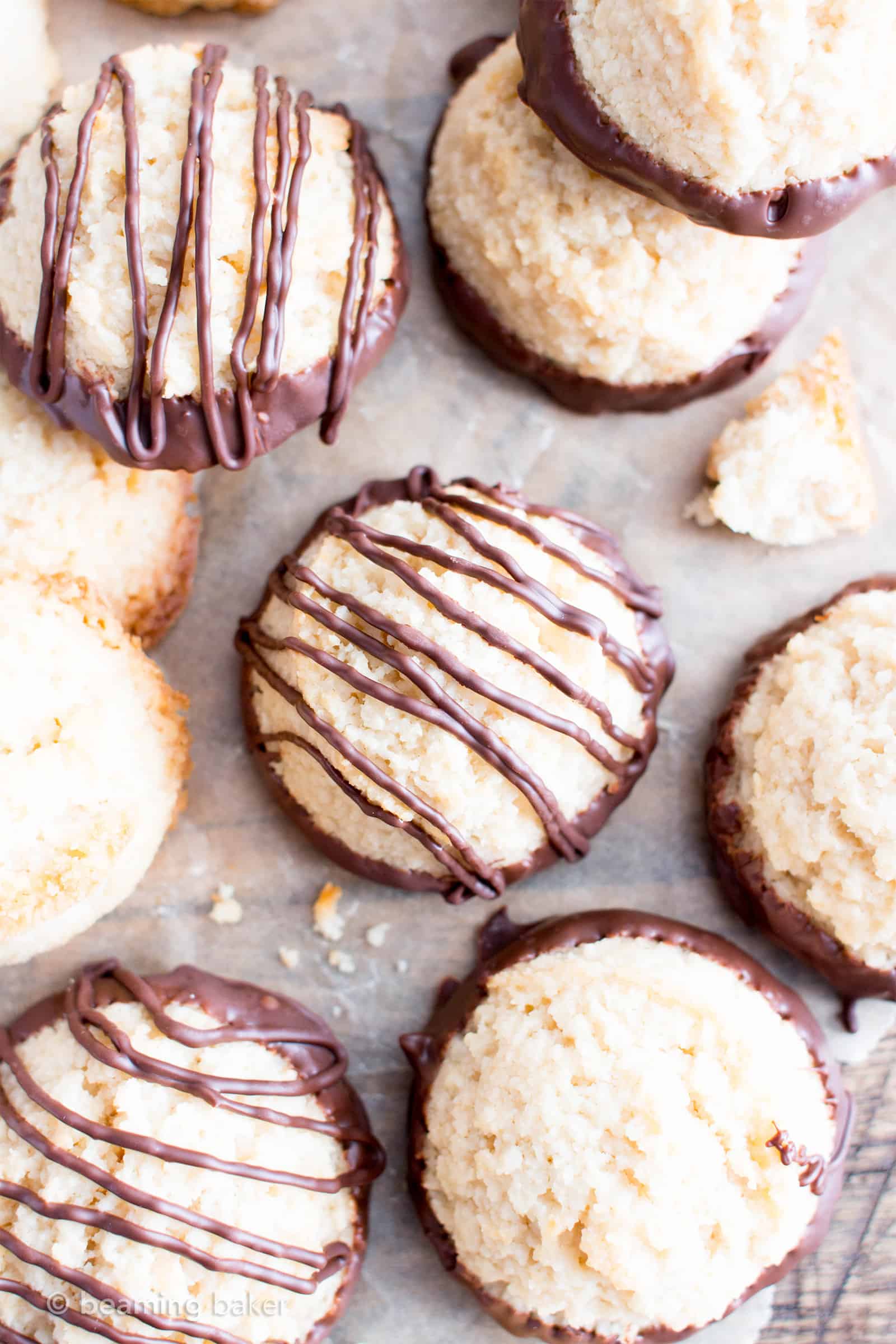 The easier I could make these, the better. And the fewer/healthier ingredients I could use, the better. Not to be confused with fewer healthier ingredients. Teehee.
So I threw out the old dessert classics rulebook and approached this recipe like I approached everything else: with my sometimes unusual/slightly rebellious/don't-really-know-or-care-what-other-people-are-doing/to heck with it self a-tti-TUDE! .
That tactic worked like a BOSS with my paleo apple crisp and my ultimate fudgy paleo vegan brownies, so why wouldn't it work here? (And by the way, what is it with paleo recipes that call for a little sumthin' sumthin' extra? A little sass and out-of-the-box thinking, as it were?)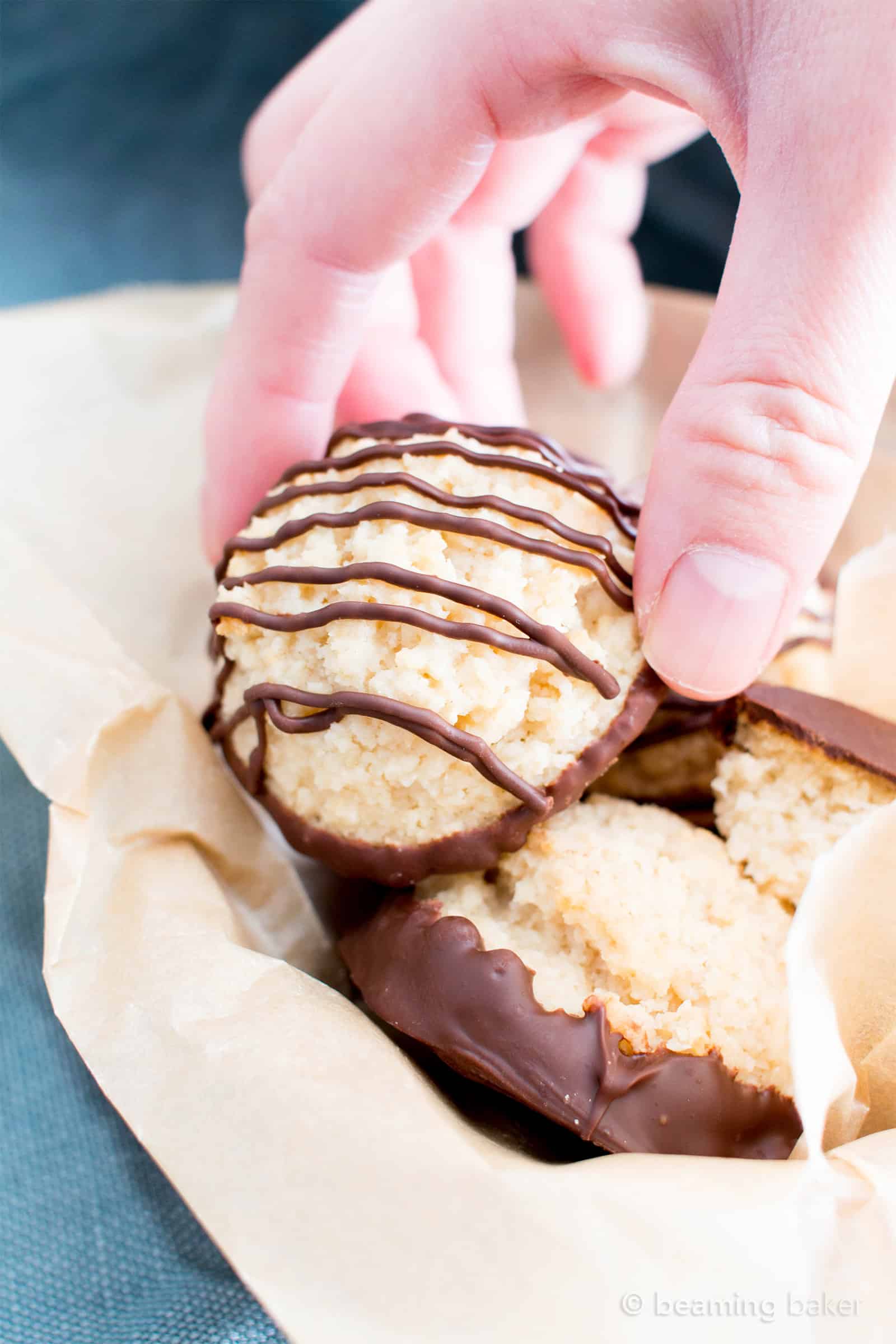 So I pared it all down to the simplest, most essential ingredients I knew: coconut, coconut oil, maple syrup, and, (drumroll please) almond flour. The almond flour is KEY. It's the perfect non-flour flour to keep everything together, with not even a whisper of its presence in the final product.
Magic, I say.
The result? Deliciously dense, slightly soft, and wonderfully chewy coconut macaroons. You can make them as large or as small as you'd like. I had a ball making pretty huge ones! And the coating + drizzle of dark chocolate is just bliss. Perfect dessert bliss.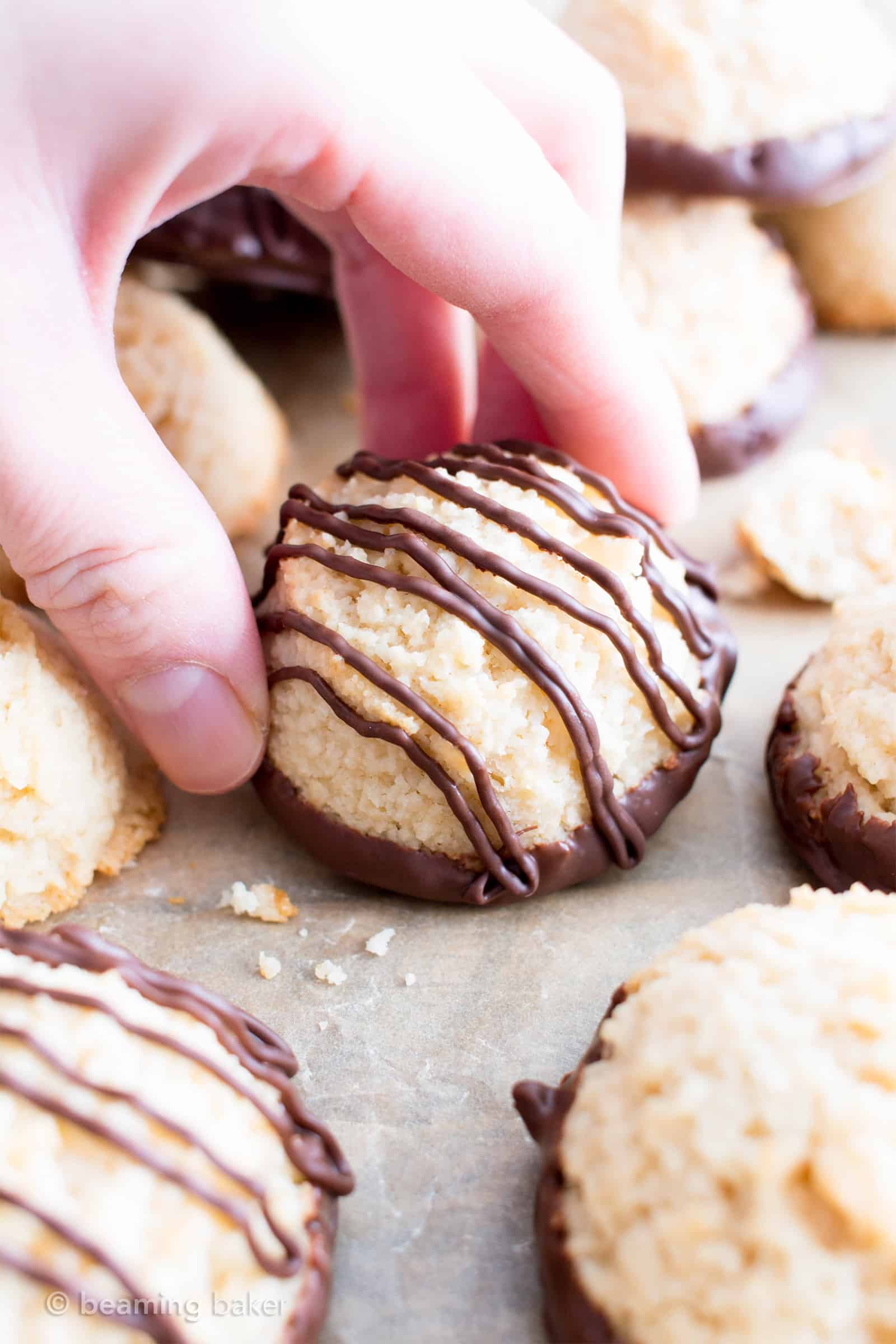 Not convinced? Let me tell you allow about these Chocolate Dipped Vegan Coconut Macaroons. They're:
made with just 5 ingredients
easy to make, and prep time is just about 5-10 minutes
vegan, paleo, dairy-free, refined sugar free
dense, chewy, crispy on the outside
just the tastiest healthy vegan coconut macaroons you've ever had
made with the healthy, whole ingredients you know and love
deliciously allergy-friendly
the gluten free chocolate dipped coconut macaroon recipe you've been searching for
Like, FOREVER!
Did I mention? So. Friggin. Good.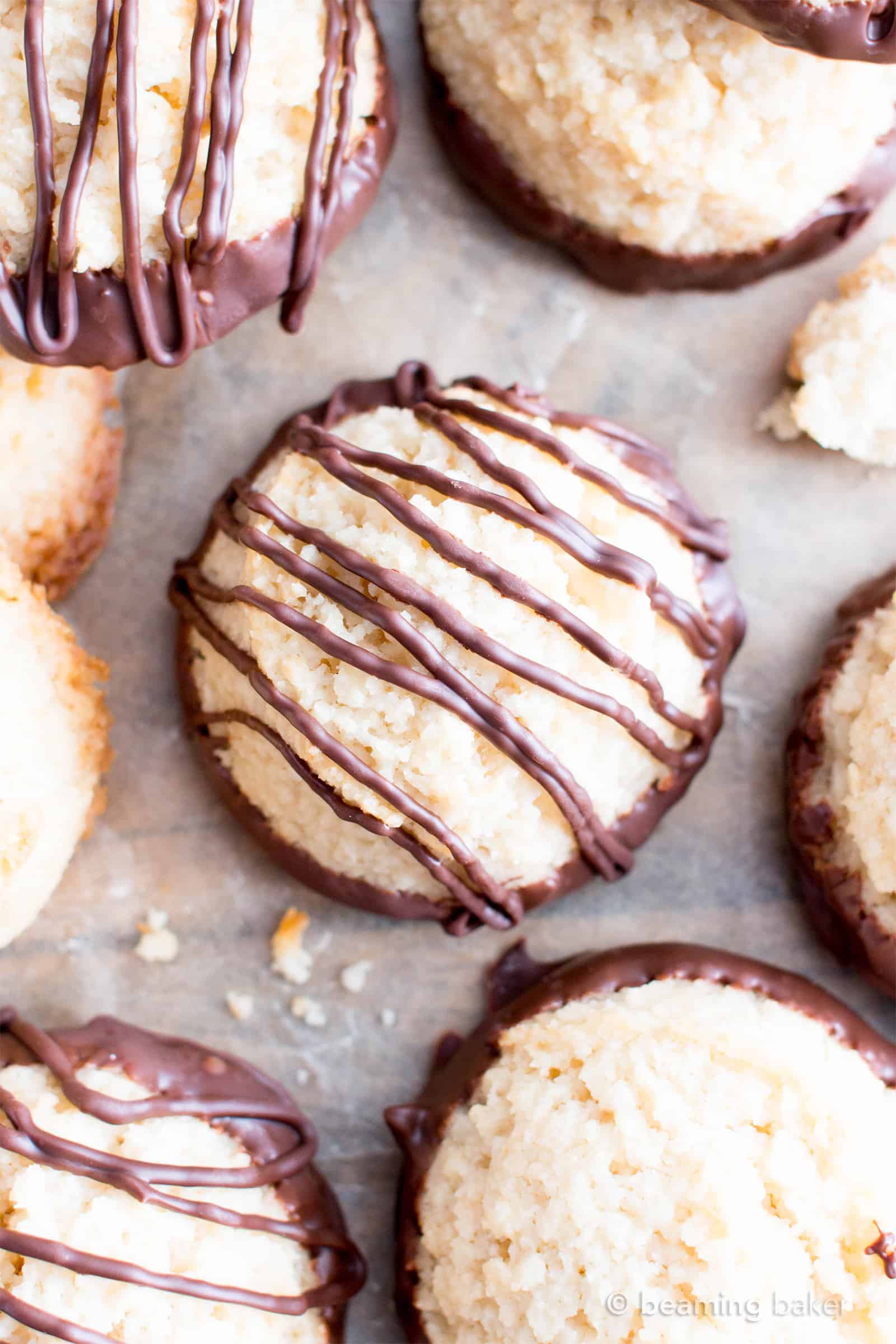 You grab the coconut and I'll grab the almond flour! Let's do this! I'm so grateful to have you here, baking and making all the guilt-free treats with me. 🙂 It's one of my greatest joys to share in these happy, edible moments with you. Looking forward to hearing what you think. In the meantime, be sure to sign up for my email list so we can keep in touch! .
Sending you all my love and maybe even a dove, xo Demeter ❤
.︎ Click below to Pin.︎

. Did you make this recipe? Take a pic and share it on Instagram with the hashtag #beamingbaker and tag @beamingbaker. I would love to see it! .︎
If you enjoyed this seriously sweet tooth satisfying Chocolate Dipped Vegan Coconut Macaroons Recipe, then you'll just love these delicious healthy recipes:
More Paleo Vegan Dessert Recipes
Print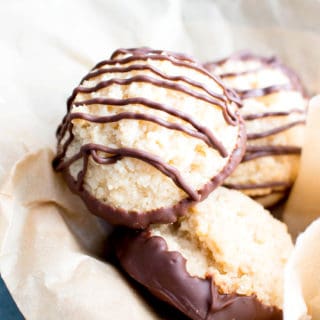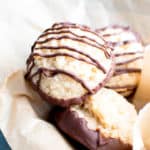 Chocolate Dipped Vegan Coconut Macaroons Recipe (Paleo, Gluten Free, Dairy-Free)
---
Description
Chocolate Dipped Vegan Coconut Macaroons Recipe (V, GF): an easy recipe for chewy and satisfying chocolate-dipped coconut macaroons made with whole ingredients! Vegan, Paleo, Gluten-Free, Dairy-Free.
---
Coconut Macaroons
Chocolate Dip
Drizzle
2 tablespoons

paleo vegan chocolate chips
---
Instructions
Preheat the oven to 350°F. Line a baking sheet with parchment paper or greased foil. Set aside.
Add all ingredients except chocolate (coconut, almond flour, oil and maple syrup) to a food processor. Here are the gluten-free small coconut flakes that I use–you must use small coconut flakes in this recipe, about the size of sprinkles. Using large coconut flakes will result in flat, spread-out cookies.
Blend until you get a thick and sticky mixture that holds together, with smaller, but still noticeable coconut pieces. If any maple syrup remains at the bottom of the processor, fold into dough until well mixed.
Using a 1.5-tablespoon cookie scoop, scoop firmly packed balls of coconut mixture. Drop onto the prepared baking sheet, making sure to space balls evenly apart–they will increase a bit in size.
Bake for 12-16 mins, until golden around the edges and slightly golden on top. Mine took 15 mins for large ones. Place baking sheet onto a cooling rack. Allow to cool on baking sheet for 30 mins-1 hour.
Line a large baking sheet with wax paper or parchment paper. Set aside for later.
Make the chocolate dip: Cool macaroons completely before dipping. To melt the chocolate, use the double boiler method or do the following. Add 1/4 cup + 2 tablespoons chocolate to a small, microwave-safe bowl. Heat in 20-second increments until softened and melted. Stir in between heating increments, until smooth.
Dip the bottom of one cookie into the melted chocolate, scraping off excess. Place cookie onto the prepared baking sheet. Repeat for all cookies—there will be some leftover chocolate. Melt 2 tablespoons chocolate in leftover chocolate bowl. Spoon chocolate into a small drizzle bottle or a zip bag with a small corner trimmed off. Drizzle macaroons. Chill in the refrigerator for 10-20 mins, until hardened. Enjoy! Storing instructions below.
Notes
– *You must use small coconut flakes for this recipe. The coconut flakes should be the size of sprinkles, or about half a grain of rice. Large coconut flakes will result in flat, spread out cookies (not like the round macaroons you see in the pictures). Here are the gluten-free small coconut flakes that I use (pictures included).
– **Solid coconut oil is best for this recipe. Using melted coconut oil will result in smaller macaroons.
– For smaller, 1-tablespoon cookie scoop sized cookies, bake for 11-13 mins.
– Store in an airtight container for up to 1 month at room temperature. If freezing, store in an airtight, freezer-friendly container for up to 2 months. Allow to thaw for 15 minutes before enjoying.
– More Paleo Vegan Coconut recipes: paleo almond joy, chocolate coconut truffles.
Category:

Dessert, Cookies, Paleo, Vegan, Gluten-Free, Dairy-Free
© beamingbaker.com. All content and images are protected by copyright. Please do not use my images or recipe without my permission. Please do not republish this recipe, instead, include a link to this post for the recipe.
SHOP THE RECIPE
Here are a few items I used in today's recipe 🙂
Gluten Free Unsweetened Coconut | Maple Syrup | Food Processor | 2-Tablespoon Cookie Scoop | Cookie Sheet | Cooling Rack | Blanched Almond Flour | Paleo Vegan Chocolate Chips
This post may contain affiliate links, which allow me to make a small commission for my referral, at no additional cost to you. Thank you for supporting Beaming Baker.
Facebook ☀︎ Pinterest  ☀︎ Twitter ☀︎ Instagram