Soft Baked Chocolate Vegan Donuts Recipe (Gluten Free) – with Vegan Chocolate Ganache Glaze! This soft and fluffy vegan baked donut recipe is topped with luxurious vegan chocolate glaze. It's the best vegan gluten free chocolate donuts – easy, healthy and decadent!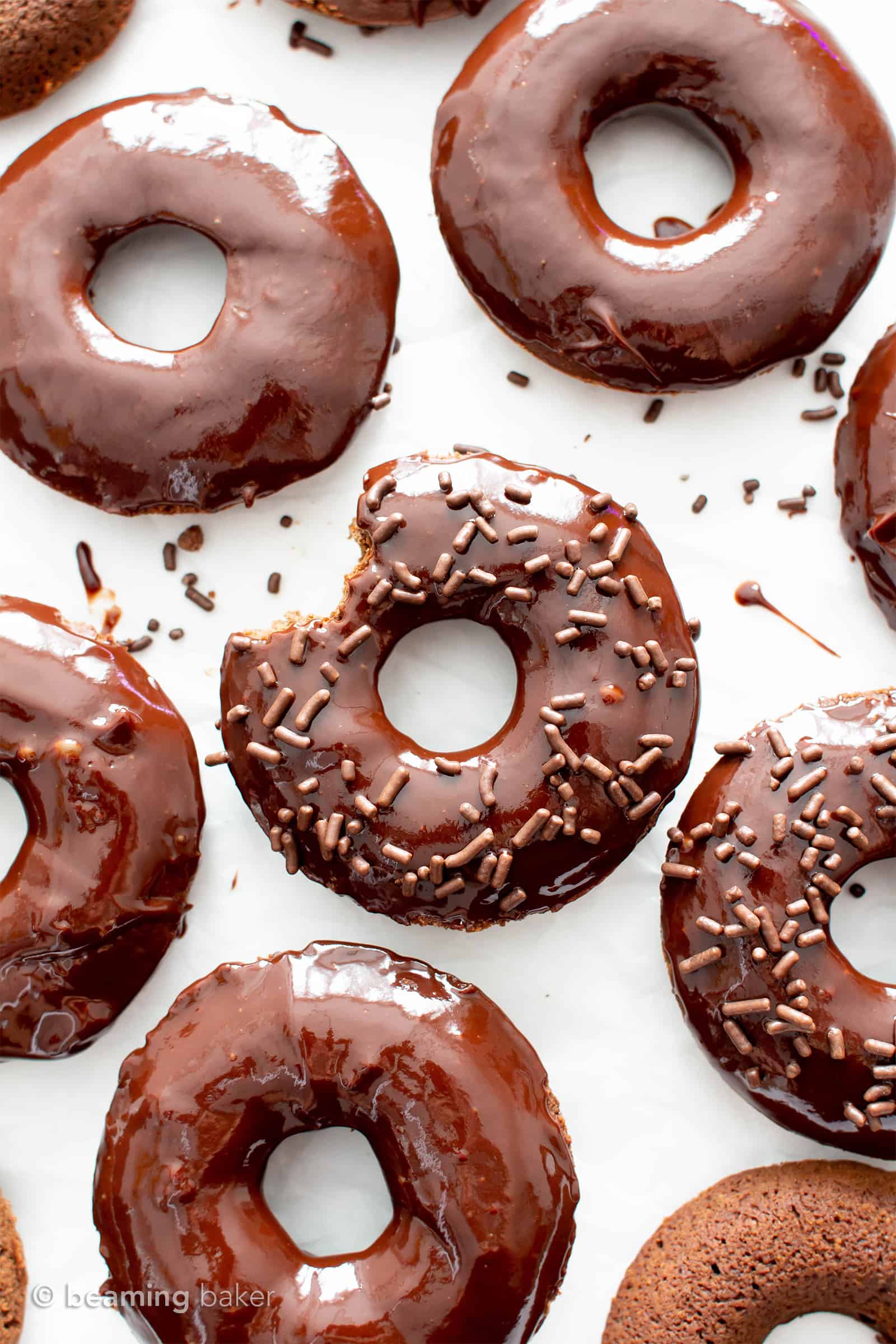 Did I say it'd be raining chocolate in February or what? Okay, that visual is just too much to handle. I'm basically Homer in the Land of Chocolate. It's straight up raining vegan Whoppers into my mouth right now. Lol.
But since vegan Whoppers probably take way too long to make, why don't we turn that no-chocolate frown upside down (whaaaaa) and make some soft baked chocolate vegan donuts?!? Yeah!!!
And if you're still super intent on making some kind of chocolate-fantasty-worthy vegan chocolate candy, try this 3 ingredient homemade crunch bar recipe and this 3 ingredient chocolate almond bark! Btw, I soooo meant to type "fantasty." .
Back to the yummy vegan baked donut talk: who's ready for the best soft and fluffy vegan gluten free chocolate donuts?! Any takers? Can I interest you in some vegan chocolate glaze that's basically the world's tastiest dairy-free chocolate ganache? 🙂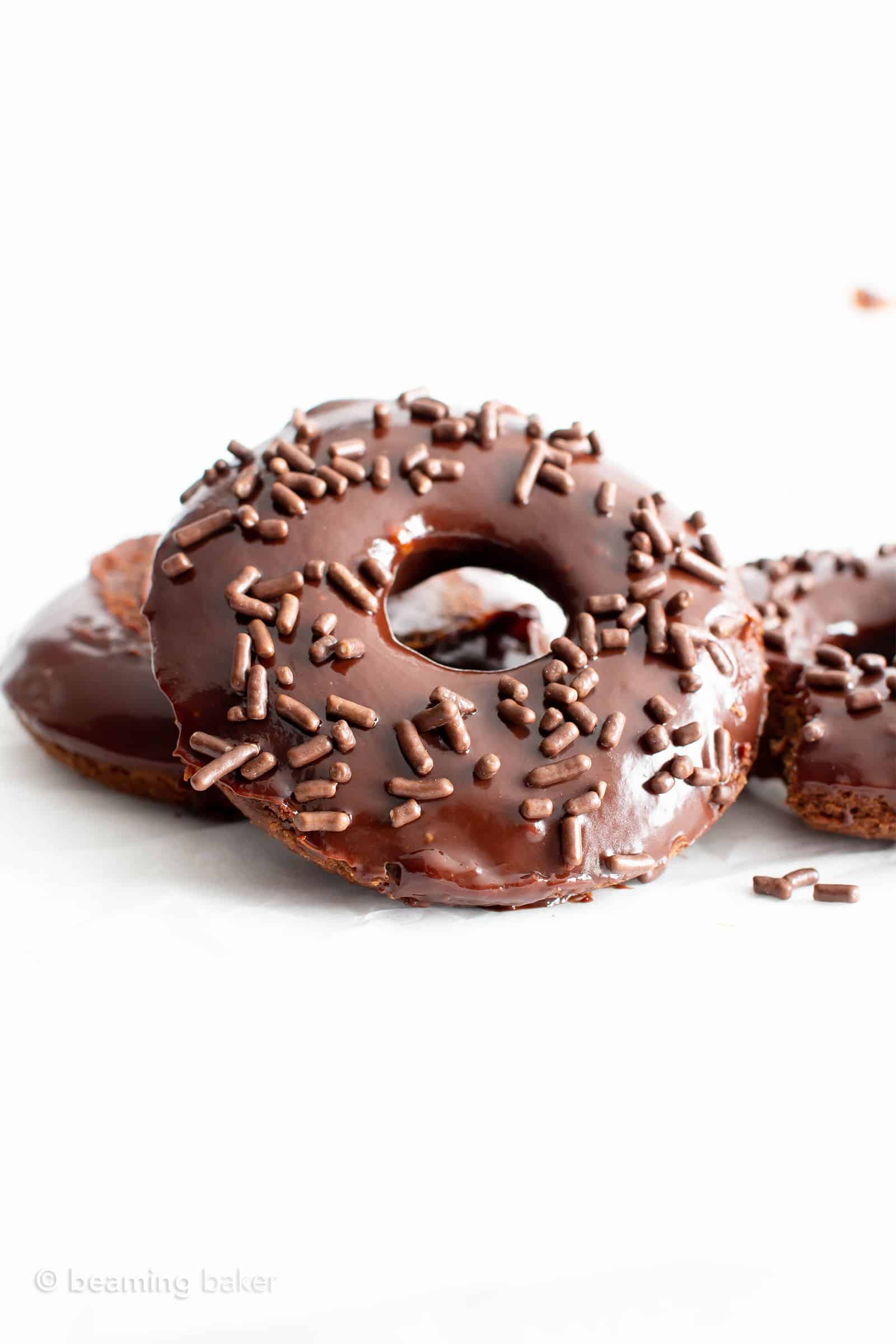 This Soft Baked Chocolate Vegan Donuts Recipe yields super soft donuts with a decadent and luxurious vegan chocolate glaze that even Homer couldn't resist. Okay, that's just crazy talk since we already won him over at Soft Baked. Heehee.
Without further ado, let's chat about all things Vegan Baked Donuts! Make that Vegan Gluten Free Chocolate Donuts! In today's post, I'm gonna go over the tips & tricks for perfect vegan chocolate donuts, as well as common questions and the tools I use to make these gluten free donuts perfection. Let's do it!
Is this Vegan Baked Donut Recipe Gluten-Free, Dairy-Free, Refined Sugar-Free? Healthy?
Yes! To all of it! 😉 This is my favorite recipe for soft chocolate donuts that just so happens to be gluten-free, vegan, refined sugar-free and healthy. Just don't eat all of the donuts at once. Unless you want to. You soooo want to.
Tricks & Tips for the Best Soft & Fluffy Vegan Gluten Free Donuts
Start with an amazing donut pan – this one is super durable and yields perfectly-sized chocolate donuts. I've tested both greasing the pan & not greasing it with similar amazing results!
How to pour the batter into the cavities of the donut pan: I love pouring the batter straight from my OXO mixing bowl—it has a perfect pouring spout that makes for easy pouring. Some folks like to pour the batter into a bag & snip off the end so you can pipe the batter – I didn't find this necessary or worth the trouble. 😉
Tips on Homemade Oat Flour: make sure to use very finely ground gluten free oat flour without any major chunks of oats in it. Remember: the oat flour needs to be very fine, just like regular flour.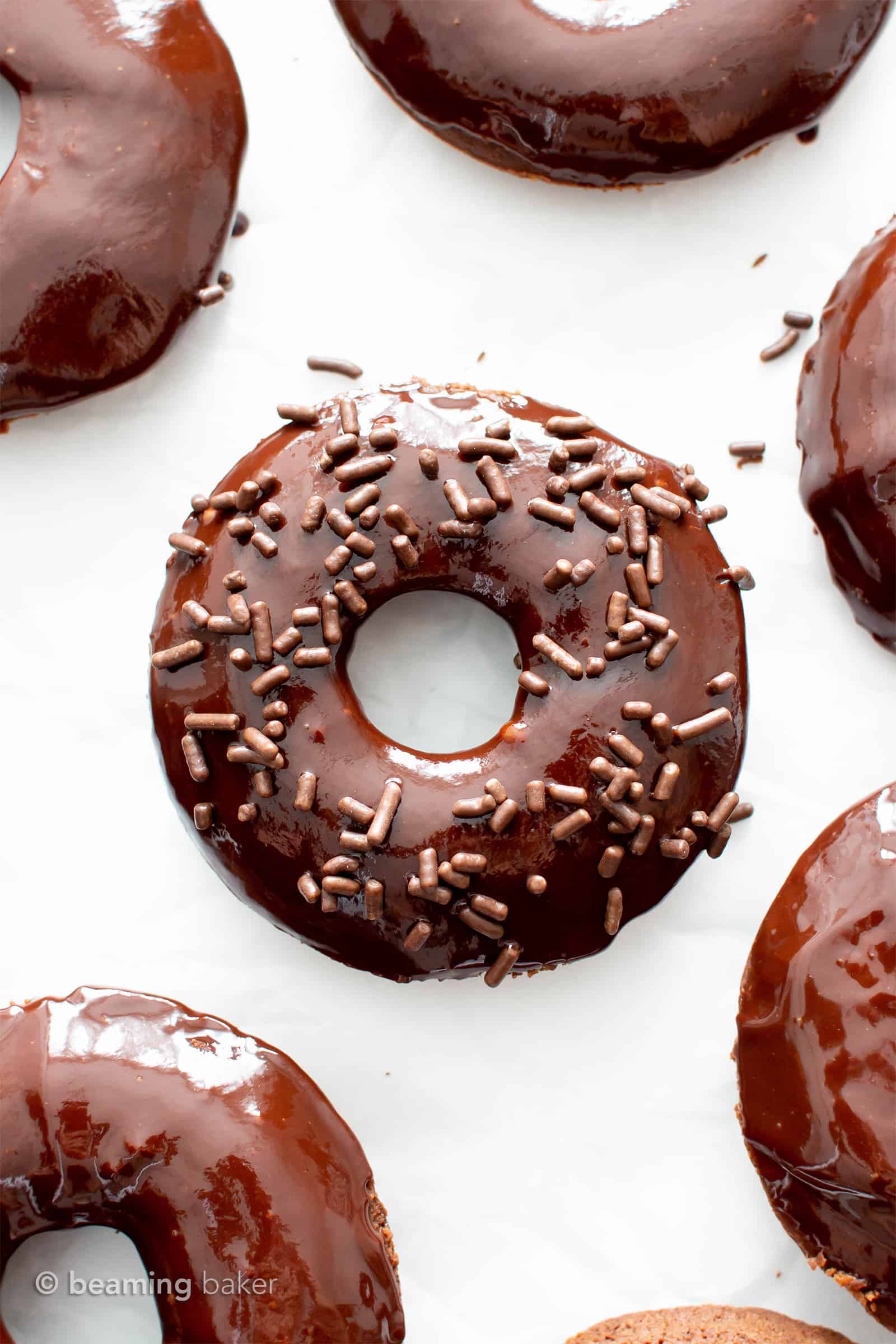 How do I make the Vegan Chocolate Glaze for this Vegan Gluten Free Donuts Recipe?
All you need are 2 ingredients: coconut cream and chocolate. Check out easy instructions here → Chocolate Ganache Recipe.
If you're feeling a bit extra, I highly recommend topping these soft baked vegan donuts with this super easy homemade chocolate frosting. It's unbelievably silky, creamy, indulgent and just… chocolate bliss. Bonus: it's paleo, vegan, gluten-free and dairy-free. Yaaaaas!!
Substitution Notes for Soft Baked Chocolate Vegan Donuts
Can I swap the oat flour for another flour? Yes and no. The best, closest results will likely come from using gluten free all purpose flour. Each brand works differently, so results will vary. Do not swap the oat flour for almond flour and/or coconut flour in this chocolate vegan donuts recipe. Those two flours will yield highly unpleasant results.
Can I swap the coconut oil for another oil or butter? Yes, with varying flavor & texture results. Some oils, like olive oil, are highly fragrant and will make the donuts taste like olive oil! Lol. Flavorless oils are best. Melted vegan butter will most likely be the best sub.
Can I swap the coconut sugar for another sugar? Just make sure you use another similar dry, granulated sugar, such as organic cane sugar. Do not replace with a liquid sweetener.
Can I swap the maple syrup for honey, agave, monkfruit sweetener, etc.? Yes, again with varying results. Each liquid sweetener has its own personality and profile, so it'll react differently in the recipe, and have varying levels of sweetness. Try it out and learn/experiment as you go. And comment below to let me know!

How do I store these Easy & Healthy Vegan Baked Donuts?
Store these healthy vegan baked donuts in an airtight container at room temperature, out of direct sunlight/near heat sources. You can store them in the refrigerator, but doing so will result in condensation on the tops of the chocolate donuts. To quickly firm up the soft vegan donuts, you may chill for 30 minutes in the fridge before enjoying.
Let's Make Donuts!!
Watch out world! We're about to start our very own donut shops. At home. Oh yeah!!! 😉 What's life without a bit of enthusiasm and a whole bunch of joy for doing what you love anyway? It's truly my pleasure & honor to share in these delicious, joyful kitchen moments with you. Thank you for stopping by. I can't wait to hear what you and your loved ones think. In the meantime…
Sending you all my love and maybe even a dove, xo Demeter ❤️
.︎ Click below to Pin .︎

. Did you make this recipe? Take a pic and share it on Instagram with the hashtag #beamingbaker and tag @beamingbaker. I would love to see it! .︎
More Easy Vegan Gluten Free Chocolate Recipes
Print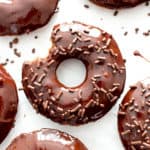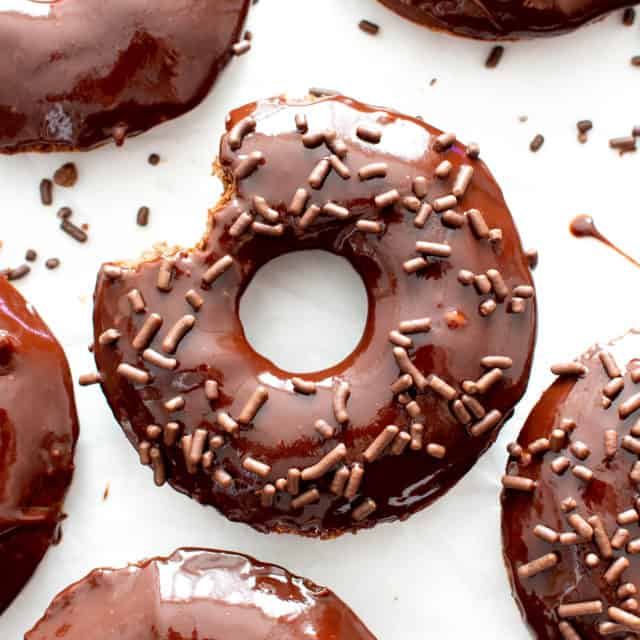 Soft Baked Chocolate Vegan Donuts Recipe (Gluten Free) – w/ Vegan Chocolate Ganache Glaze!
---
Description
Soft Baked Chocolate Vegan Donuts Recipe (V, GF): this soft and fluffy vegan baked donut recipe is topped with luxurious vegan chocolate glaze. It's the best vegan gluten free chocolate donuts – easy, healthy and decadent!
---
Scale
Ingredients
Dry Ingredients
Wet Ingredients
½ cup

+

2 tablespoons

water

½ cup

non-dairy milk

3 tablespoons

melted coconut oil

¼ cup

coconut sugar

¼ cup

pure maple syrup

1 teaspoon

pure vanilla extract
Chocolate Ganache Glaze
Optional Topping
---
Instructions
Preheat the oven to 350°F. Coat two 6-donut pans with nonstick spray or coconut oil. If using a non-stick donut pan with the non-stick coating intact (fairly new), do not spray. Set aside.
Make the donuts: In a large bowl, sift together the dry ingredients: oat flour, cocoa powder, baking soda and salt. Set aside.
Add water and milk to a microwave-safe bowl. Heat in 10-second increments until just warm. This will prevent the melted coconut oil from solidifying once mixed with these liquids.
In a medium bowl, whisk together all wet ingredients: water, milk, coconut oil, sugar, maple syrup and vanilla. Whisk until well incorporated.
Add wet ingredients to dry ingredients. Whisk until just incorporated, making sure no flour patches remain.
Pour or spoon batter evenly into prepared donut pans. Tap the pans several times to even out the batter and release bubbles that have formed in the batter. Bake for 10-14 minutes. Mine took 12 minutes. Test for doneness with a toothpick—it should come out clean when done.
Place pans on a cooling rack to cool for 10-15 minutes. Bang the pan vigorously on a flat surface covered with a towel (to protect the surface) to loosen donuts—you'll see a donut or two jump up when they're loose. Flip pan upside down onto the cooling rack to remove donuts. If necessary, bang the pan again to loosen leftover donuts. Allow to cool until completely cool.
Make the Chocolate Ganache: follow recipe to make Chocolate Ganache here. Gently dip one cooled donut into the ganache, with the smooth, baked surface covered in ganache. Donuts are soft and require care in dipping. Place donut back onto the cooling rack while assembling the rest. Optionally, top with chocolate sprinkles. Repeat for all donuts. Enjoy! Storing instructions below.Also try my Vegan Chocolate Cake and my Dark Chocolate Muffins.
---
Equipment
Notes
– Storage notes: Best stored in an airtight container at room temperature, in a cool, dark environment (out of the sun) for 4-6 days.
– Day 2: donuts are firmer and flavor intensifies to a rich, deeper chocolate flavor. So good!
– For firmer donuts quickly, chill in the refrigerator for 30 minutes max, then enjoy or continue to store at room temperature. Storing in the refrigerator overnight is not recommended—ganache on donuts will become too moist & develop moisture beads.
Category:

Donuts, Healthy Dessert, Vegan, Gluten-Free, Dairy-Free, Refined Sugar-Free

Method:

Bake

Cuisine:

American
Keywords: vegan chocolate donuts, soft fluffy donuts, healthy baked donuts, chocolate glaze
© beamingbaker.com. All content and images are protected by copyright. Please do not use my images or recipe without my permission. Please do not republish this recipe, instead, include a link to this post for the recipe.
Tools to Make the Best Soft & Fluffy Vegan Chocolate Baked Donuts
Click the links below to check out my favorite tools & ingredients used to make this recipe.
This post may contain affiliate links, which allow me to make a small commission for my referral, at no additional cost to you. Thank you for supporting Beaming Baker.
Facebook ☀︎ Pinterest ☀︎ Twitter ☀︎ Instagram