Gluten Free Vegan Dark Chocolate Muffins Recipe (Dairy Free)
Gluten Free Chocolate Muffins: rich, deep dark vegan chocolate muffins with a beautiful rise. Dairy-Free.
Okay, so who's excited for the new year? I mean, we could totally use a fresh start, amiright?? Are you already crossing ALL the new year's resolutions off of your list (woah) or, like me, still letting a few percolate, while the others are pretty much lost causes?
A few years back, one of my new year's resolutions was to share more tasty and secretly healthy muffins with you. And guess what? Today's gluten free chocolate muffins fit the bill, like woah!
Today's recipe not only qualifies as vegan chocolate muffins, but also as gluten free dairy free muffins. Yaaaaaas! These chocolate muffins are refined sugar-free, and made with whole ingredients. Plus, they're downright tasty.
Are you ready to bake this? Let's do it!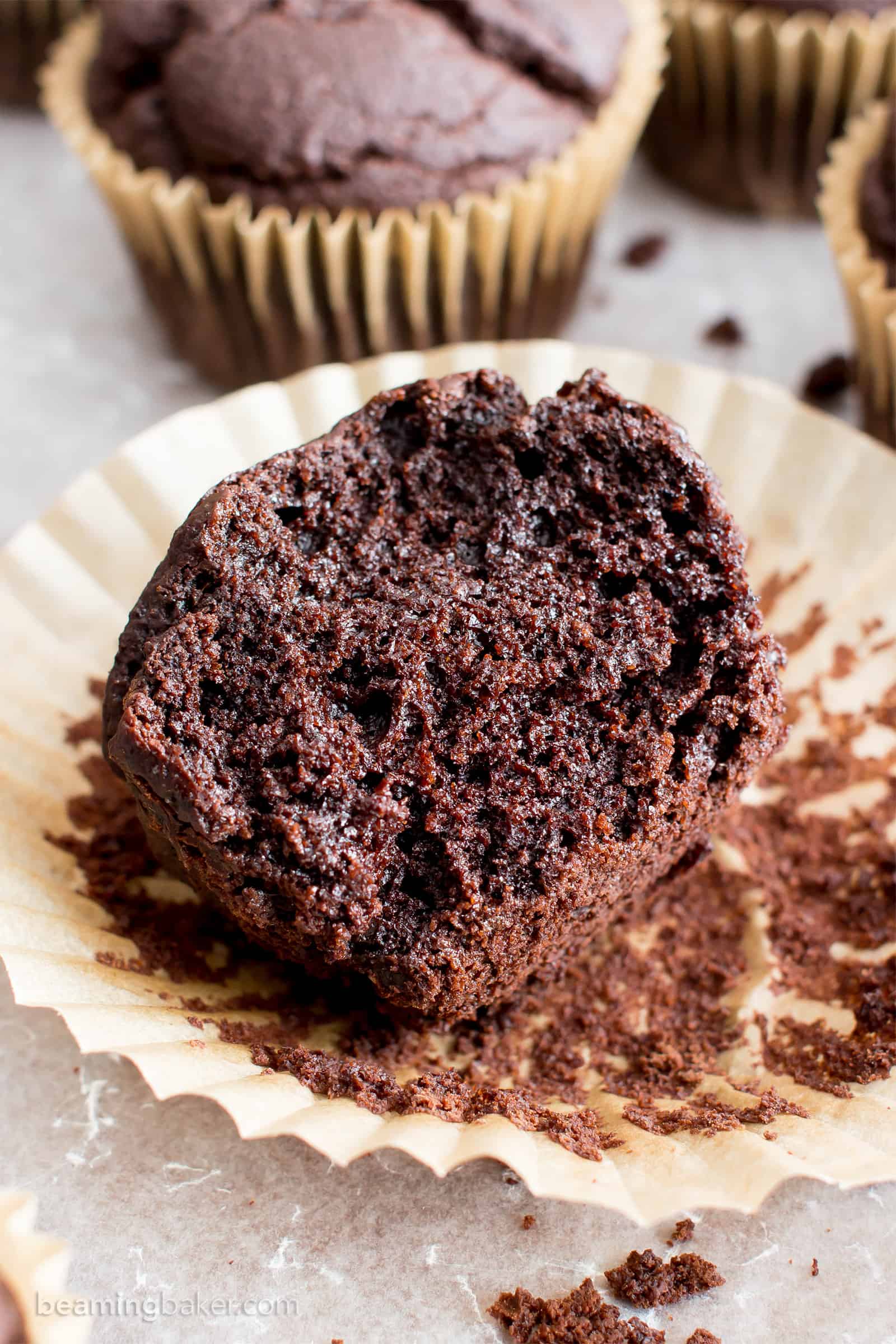 How to Make Gluten Free Chocolate Muffins
Preheat
First things first, make sure to preheat your oven to 350°F. Then, drop a muffin liner into each cup of your 12-cup muffin pan.
Sift the Dry Ingredients
Using a large bowl, sift together all of the dry ingredients: oat flour, cocoa powder, baking soda and salt.
Heat
Because we're working with coconut oil, we gotta make sure that we don't expose it to anything cold—here's looking at you, milk + water! So let's heat our dairy-free milk and water together until just warm.
Whisk the Wet Ingredients
Now, let's add the warm milk + water and the rest of the wet ingredients to a medium mixing bowl. Whisk it altogether until well incorporated. Congrats! You just made your gluten free chocolate muffin batter. So easy, right?
Pour Batter
Pour your vegan chocolate muffins batter into the muffin pan you prepared earlier. Fill each cup up about ¾ of the way for a higher quantity of smaller muffins, or all the way for a lower quantity of large muffins!
Bake, Cool, and Enjoy!
Bake vegan chocolate muffins for about 30 minutes. Cool and enjoy the best gluten free chocolate muffins ever!
Storing and Freezing Vegan Chocolate Muffins
Room Temperature
After completely cooling your vegan chocolate muffins, place them into an airtight container and store them in a cool, dark environment. You can keep your vegan chocolate muffins for up to 1 week.
Freezer
These gluten free chocolate muffins freeze well. Just remember to cool your muffins completely, then tuck them into a freezer-friendly container. Keep dairy free muffins for 1-2 months.
Testimonials
Jo says, "I have tried so many healthy recipes from different blogs over the past 2-3 years (banana bread, vegan cheesecake, muffins of all sorts), but this recipe has got to be one of my best baking adventures. The muffins are moist, dark, fudgy, and delicious. I did use olive oil instead of coconut oil, and it still worked. Thank you, queen."
Jaclyn says, "Delicious!!!!! Fluffy and a hint of sweet! These will be going in my muffin rotation!!"
Pashlee says, "My kids loved these! I swapped some of the cocoa powder for protein powder and used monk fruit instead of coconut sugar."
Mel says, "I just baked these for the 2nd time and they are delicious! I'm looking for a coconut cream frosting to make for the top this time. Last time we just drizzled a bit of maple syrup on top–yummy! Thank you!!"
Jen says, "Great recipe! Subbed out the oil for applesauce. Doubled the recipe & it made 20. Thank you for a quick & easy recipe."
An easy recipe for deep, dark vegan chocolate muffins made with gluten free, dairy free ingredients.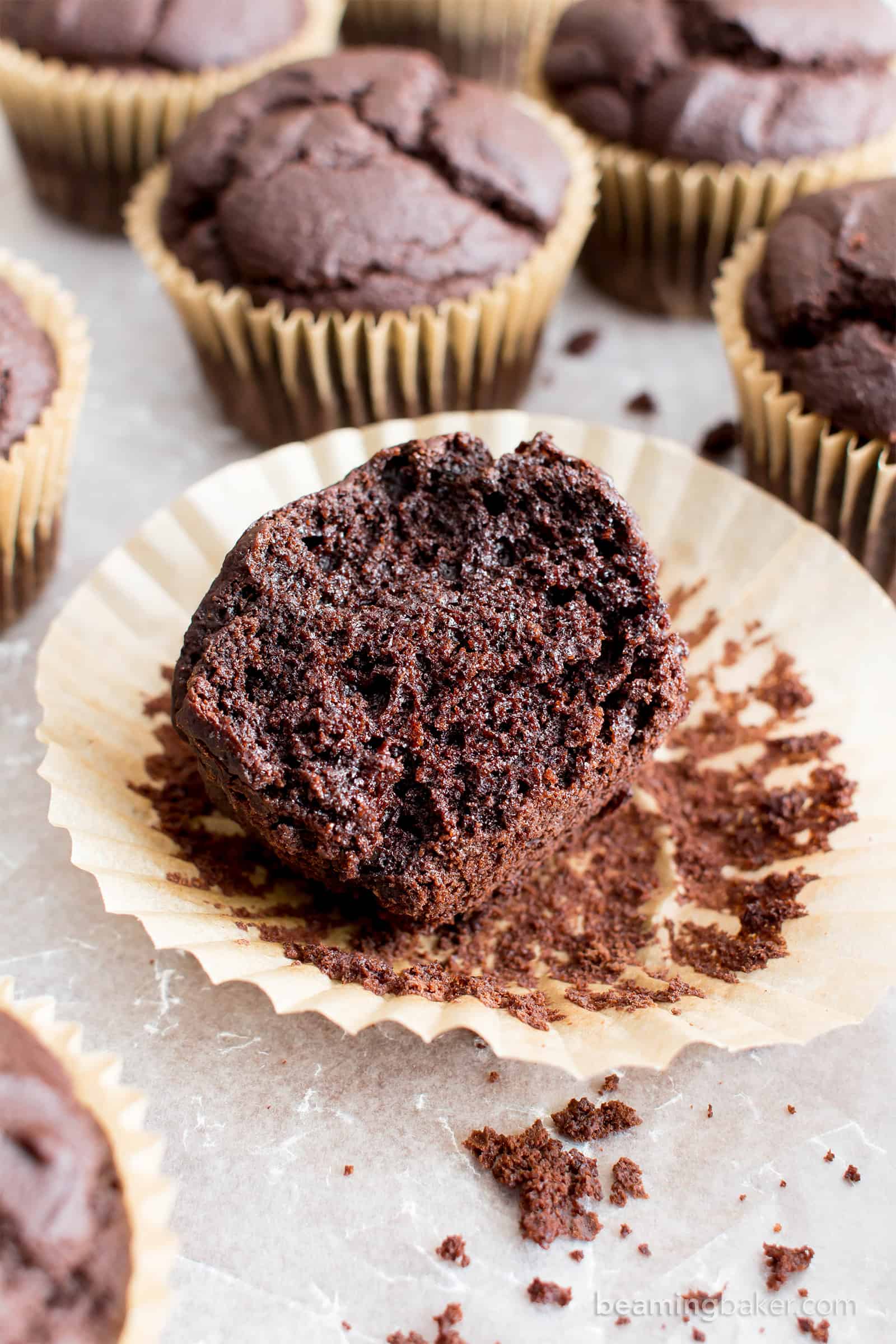 Great Tools for the Best Vegan Chocolate Muffins
Raw Cacao Powder – my favorite, nutritent-rich cacao powder. It works just like the traditional unsweetened cocoa powder you know, but it's packed with nutrients. This raw cacao powder is so high-quality and boasts deep, rich chocolate flavor.
Unbleached Muffin Liners – my go-to muffin liners. These guys stick just the right amount to your muffins so they stay on while the muffins cool. Bonus? They're unbleached!
Coconut Sugar – a staple in my gluten free vegan baking pantry. I use coconut sugar to keep the recipe refined sugar-free.
So whaddya say, wanna join me in new year's reso-luting the fudge out of homemade vegan chocolate muffins this year? 🙂 I'm so grateful to share in these joyful kitchen adventures with you and your loved ones. 'Til the next one…
Sending you all my love and maybe even a dove, xo Demeter ❤️
☀ Click below to Pin ☀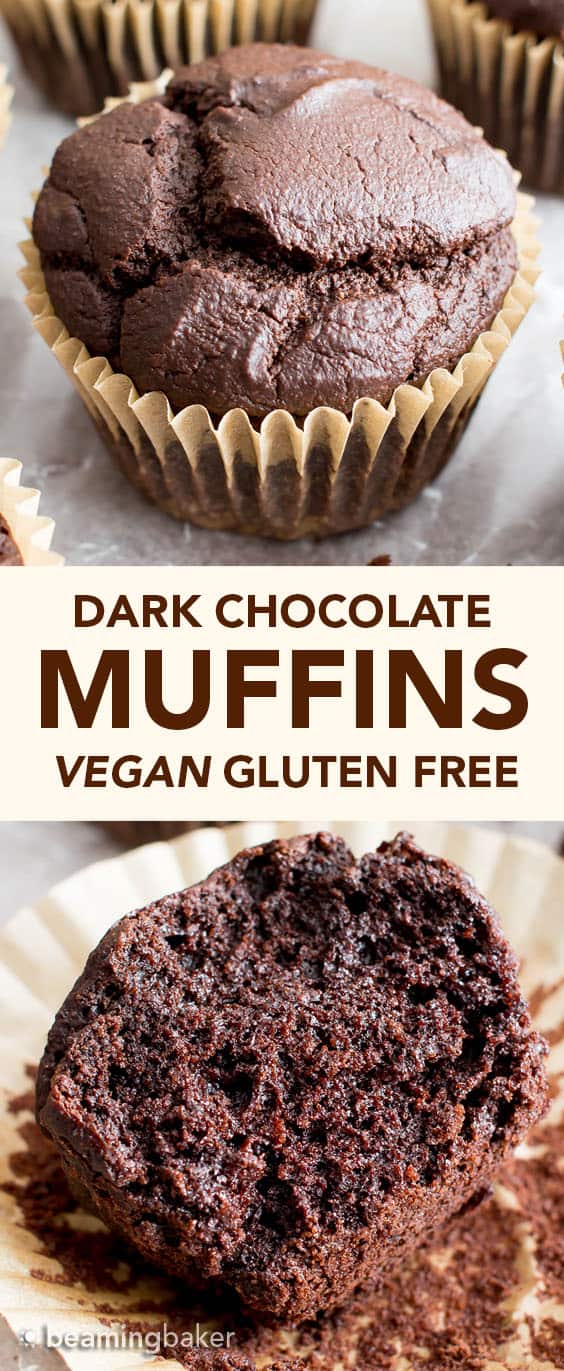 📸 Did you make this gluten free vegan chocolate muffins recipe? Take a pic and share it on Instagram with the hashtag #beamingbaker & tag @beamingbaker. I'd love to see it! 📸
Gluten Free Muffins & Vegan Muffins We Love
Print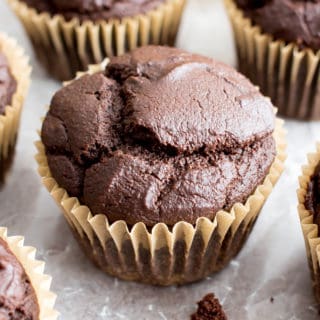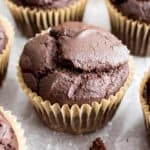 Gluten Free Vegan Dark Chocolate Muffins Recipe (Dairy Free)
---
Description
Gluten Free Chocolate Muffins: rich, deep dark vegan chocolate muffins with a beautiful rise. Dairy-Free.
---
Dry Ingredients
1 ½ cups

gluten free oat flour – if using homemade, make sure it's very finely ground (not coarse)*

1 cup

unsweetened cocoa powder (not dutch processed)

1 teaspoon

baking soda

¼ teaspoon

salt
Wet Ingredients
½ cup

+

2 tablespoons

water

½ cup

non-dairy milk

3 tablespoons

melted coconut oil

¼ cup

coconut sugar

¼ cup

pure maple syrup

1 teaspoon

vanilla extract
---
Instructions
Preheat the oven to 350°F. Line a 12-cup muffin pan with cupcake liners. Set aside.
In a large bowl, sift together the dry ingredients: oat flour, cocoa powder, baking soda and salt.
Add water and milk to a microwave-safe bowl. Heat in 10-second increments until just warm. This will prevent the melted coconut oil from solidifying once mixed with these liquids.
In a medium bowl, whisk together all wet ingredients: water, milk, coconut oil, sugar, maple syrup and extract. Whisk until well incorporated.
Add wet ingredients to dry ingredients. Whisk until just incorporated, making sure no flour patches remain.
Pour batter evenly into prepared muffin pan—fill ¾ of the way for about 12 smaller muffins; fill all the way for 9-10 larger muffins with big, high tops.
Bake for 16-20 minutes. Mine took 18 minutes. Place muffin pan on a cooling rack to cool for 30 minutes. Remove muffins from muffin pan and continue cooling on rack until completely cool, 1-3 hours. Enjoy! Storing instructions below.
More Gluten Free Vegan Muffins
Notes
*If using homemade oat flour, make sure to sift the flour to remove coarse bits of oats that could create grainy, overly moist muffins without domed tops.
Storing Instructions: Store in an airtight container for up to 1 week.
Freezer Instructions: These chocolate muffins freeze well. Cool muffins completely, then store in a freezer-friendly container. Keep muffins for 1-2 months.
Prep Time:

25 mins

Cook Time:

18 mins

Category:

Dessert, Breakfast, Snacks

Method:

Bake

Cuisine:

American
Keywords: gluten free chocolate muffins, vegan chocolate muffins
© beamingbaker.com. All content and images are protected by copyright. Please do not use my images or recipe without my permission. Please do not republish this recipe, instead, include a link to this post for the recipe.
This post may contain affiliate links, which allow me to make a small commission for my referral, at no additional cost to you.