Sweet 'n nutty brown sugar crumble topping cascades over cozy apple filling with the perfect amount of tart sweetness and fall spice, served with creamy vanilla ice cream for the best vegan apple crumble.
Brown Sugar Topping & Fall Spiced Apples, with a Side of Vanilla Ice Cream Love
When I was a kiddo, nothing—and I mean nothing—could compete with a chocolate dessert. I mean, apples? Who needs 'em? As an adult, I've completely changed my mind on apple desserts. And guess who's partially to credit? Today's vegan apple crumble. Think: mountains of sweetly tart, fresh, warm apples tossed with fall spices and crowned with heavenly brown sugar topping, all served with a cool scoop (or two) of dreamy vanilla ice cream. Could there be a better fall dessert? Maybe not. 🙂 Let's make the tastiest Vegan Apple Crumble!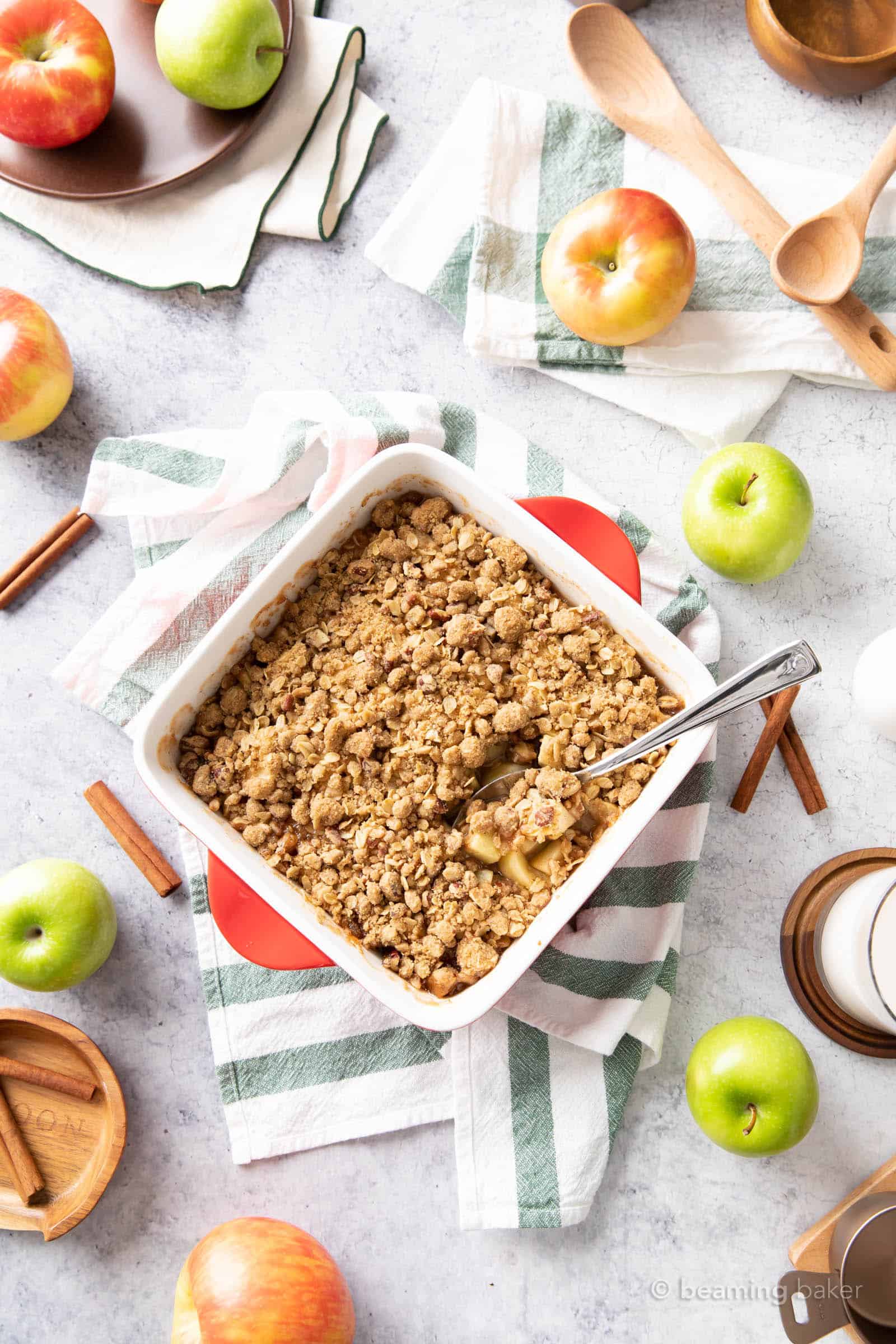 A Simple Recipe for Vegan Apple Crumble
The hardest part about making this easy vegan apple crumble? Waiting until it's finally cooled down enough to eat by the pan-full. To make this super simple vegan apple crumble, you'll assemble the brown sugar oat crumble topping in a bowl. Then, you'll dice up some apples and coat them with a bit of sweetness and some fresh, tart flavor. After, you'll pour the sweetened apples into a dish, sprinkle generously with topping, and bake. That's truly how simple this recipe for vegan apple crumble is.
What Does This Apple Crumble Taste Like?
Picture this: Soft-baked apples with a fresh crispness still intact, caramely maple syrup intertwining with coconut sugar and woodsy cinnamon to enhance the apples, and a touch of fresh lemon juice to add a lightness, balancing every flavor.
This cozy apple filling is topped with big, decadent crumbles made with sweet brown sugar, crunchy pecans, and chewy oats for a buttery-sweet finish to the best vegan apple crumble.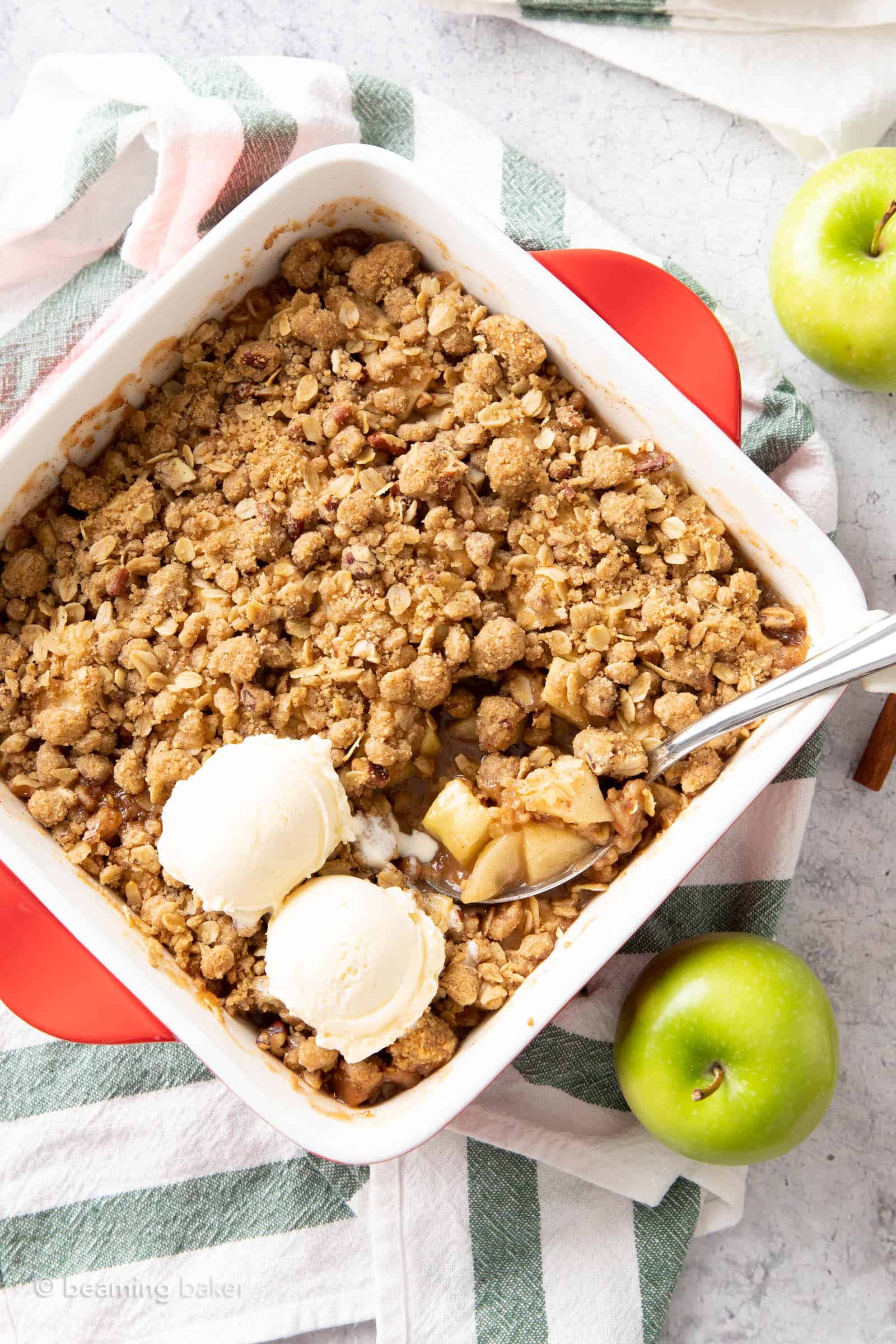 How to Make Vegan Apple Crumble
Vegan apple crumble is one of my favorite baked goods to make! It's surprisingly simple, with satisfying steps that include slicing juicy, tart apples, and stirring a few ingredients together in a bowl to make the very best brown sugar oat crumble topping! 🤤
Preheat the oven to 350°F. Coat your favorite 8-inch baking dish with any flavorless oil you'd like.
Assemble the crumble topping ingredients in a bowl. Using a fork, stir and fold the ingredients thoroughly together until crumbles form, but no flour patches remain.
Place diced apples into the prepared dish, arranging them into an even layer.
Sprinkle apples with the brown sugar oat crumble topping.
Bake for about 42 minutes.
Cool for just 10 minutes. Scoop into a bowl or plate of your choice. Serve the very best vegan apple crumble with vegan vanilla ice cream and enjoy!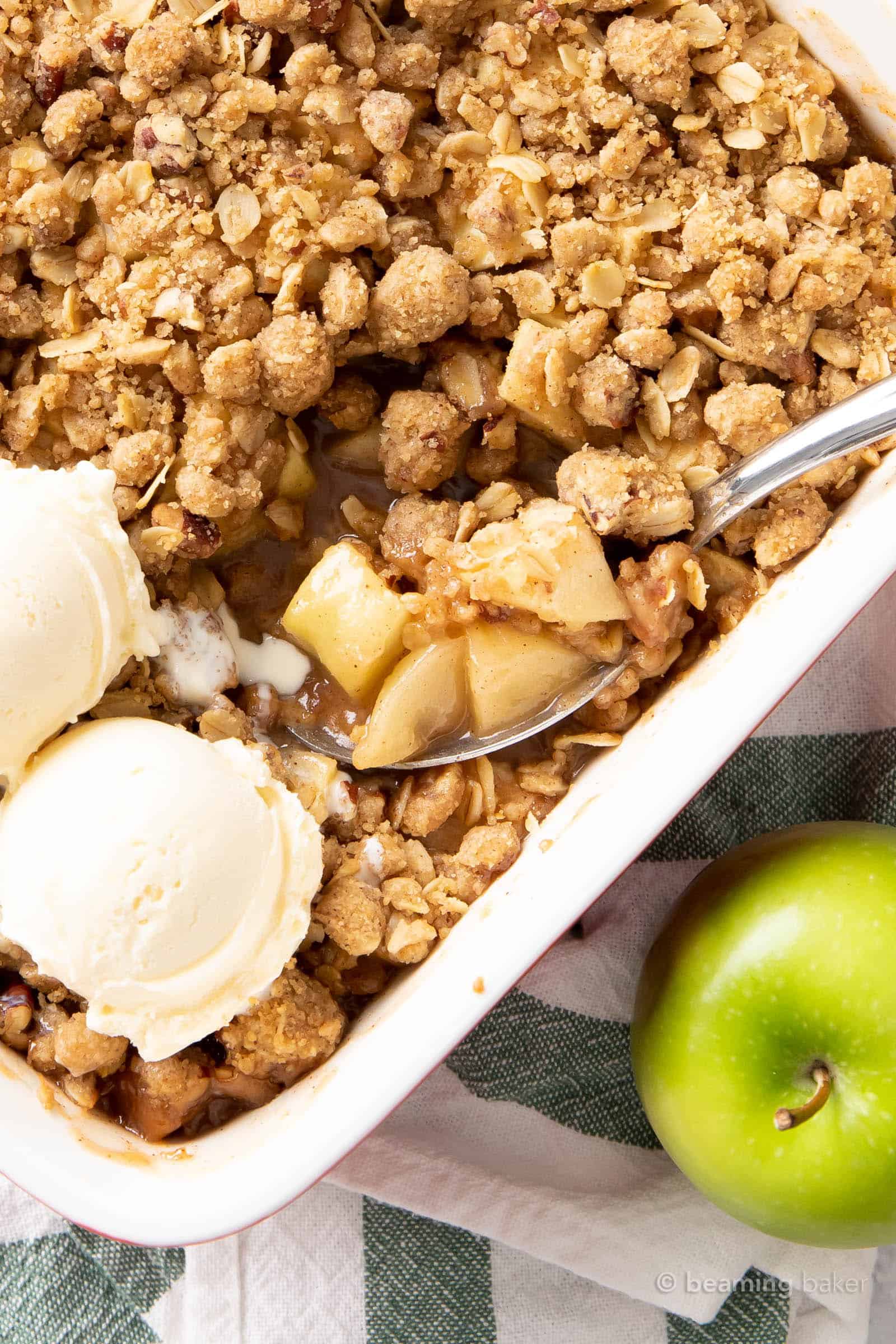 Tips for the Best Easy Vegan Apple Crumble
Don't use soft apples that can become mealy or grainy. I love using crisp apples that can really stand up to baking. To develop today's vegan apple crumble recipe, I used Granny Smith apples, which will soften with baking, but still maintain a tasty crispness throughout.
Make sure to pack your brown sugar. Don't be afraid to pack the brown sugar into your ¼ cup measuring cup. I like to scoop a heaping ¼ cup of brown sugar, then use a spoon to flatten that heap into a smooth layer. Add more, or remove any brown sugar as needed. You'll want to make sure your ¼ cup of brown sugar is packed so that the crumble topping can hold together and be sweet enough.
Don't skip the cinnamon. Some folks aren't big fans of cinnamon, but can actually appreciate the flavor when it's used a complementary component, instead of the key focus of a recipe. In this vegan apple crumble, the cinnamon in the topping and the apple filling serves as a warm, cozy enhancement to the apples and brown sugar.
Use all purpose flour & vegan butter to make your brown sugar oat crumble topping. Believe me, I tried using oat flour and the results just weren't the best. All purpose flour and vegan butter create a lightly crispy, buttery-decadent topping that's not too moist. Oat flour and coconut oil tend to stick together in moist-unity. These two ingredients do not become less moist as they bake—they actually stay the same. The result? Overly moist topping that doesn't seem cooked.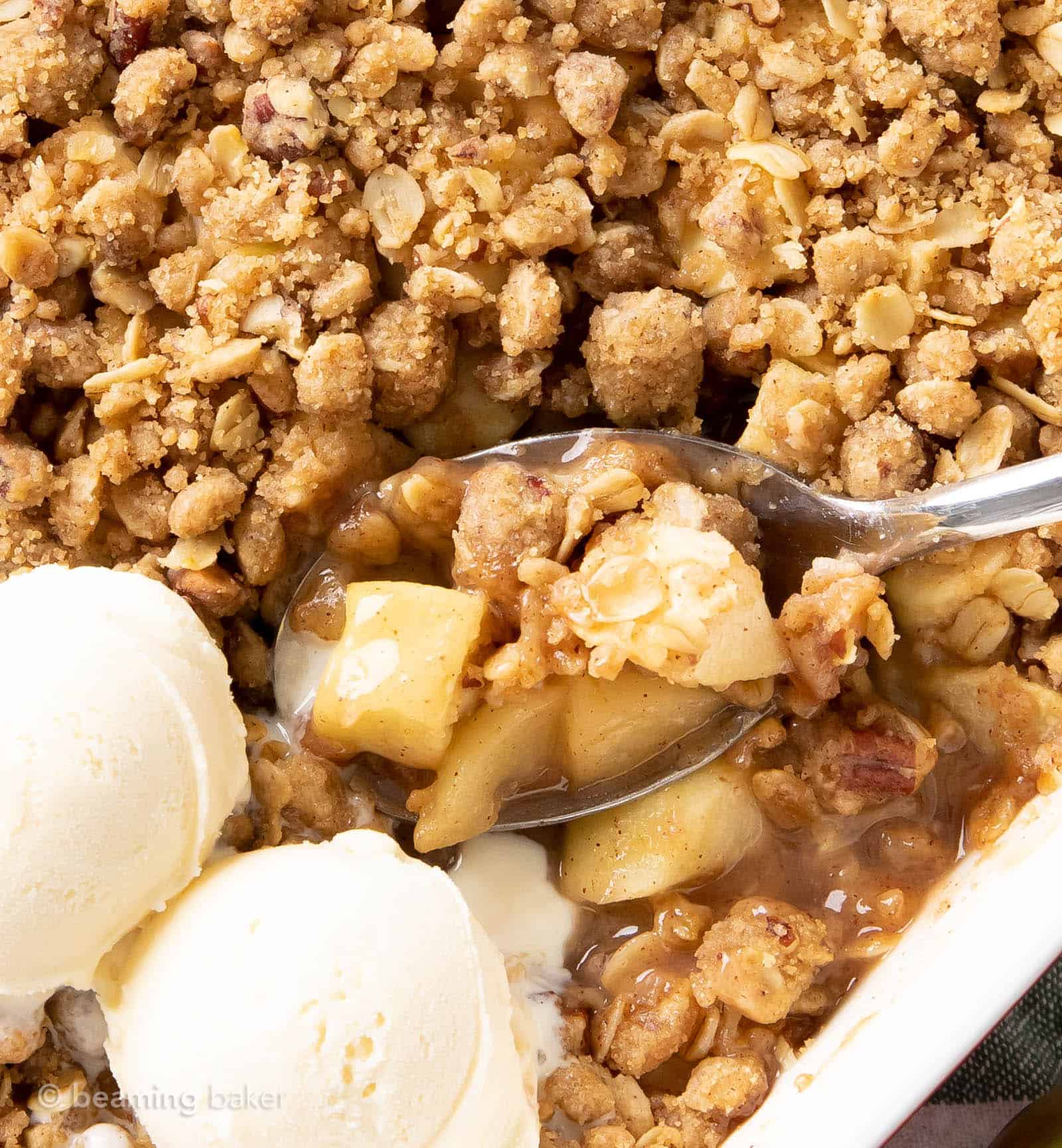 What to Make with Vegan Apple Crumble
Tools You Need
🍎 📸 🍏
Well, Hello There
Ever feel like you need to show someone a picture of your amazing baked creation? When you make this vegan apple crumble, take a pic and share it on Instagram with the tag #beamingbaker and @beamingbaker so I can see! You know I absolutely love hearing from you—so be sure to share and comment. 'Til our next sweet adventure…
Sending you all my love and maybe even a dove, xo Demeter ❤️
Print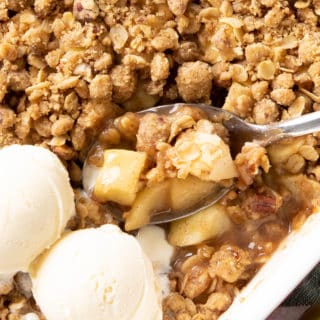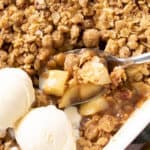 Vegan Apple Crumble
---
Description
The best Vegan Apple Crumble has generous amounts of sweet and nutty brown sugar crumble topping over delicious apple filling with the perfect amount of tart sweetness and fall spice, all served with creamy vanilla ice cream.
---
Brown Sugar Oat Crumble Topping
½ cup

all purpose flour, spooned and leveled

¼ cup

brown sugar, packed

¼ cup

pecans, finely chopped

¼ cup

old-fashioned, rolled oats

½ teaspoon

ground cinnamon

3 tablespoons

vegan butter, melted
Vegan Apple Crumble Filling
5 cups

apples (Granny Smith), peeled and diced (about

7

small apples)

3 tablespoons

organic cane sugar or coconut sugar

2 tablespoons

pure maple syrup

1 tablespoon

all purpose flour

½ teaspoon

ground cinnamon

1 tablespoon

fresh lemon juice

2 tablespoons

water
---
Instructions
Preheat the Oven:
Preheat oven to 350°F. Lightly grease an 8-inch square baking dish. Set aside for later.
For Brown Sugar Oat Crumble Topping:
Stir all Brown Sugar Oat Crumble Topping ingredients except butter together until well mixed. Note: make sure to use finely chopped pecans so the crumbles don't become too big and chunky.
Add melted butter.
Using a fork, gently stir and fold until clumps form. Continue to stir and break up larger clumps.
Evenly stir together the mixture until no flour patches remain.
For the Apple Crumble Filling:
Add all Apple Filling ingredients to a bowl. Stir and fold until all the apples are well coated. Allow to sit for a few minutes, or until sugar is dissolved.
Pour apple filling into prepared baking dish. Using a rubber spatula or spoon, smooth apples into an even layer.
Sprinkle Brown Sugar Oat Crumble Topping over apples until apples are completely covered.
Bake for 39-45 minutes, or until juices are bubbling up the sides. Mine took 42 minutes for soft-baked, but still-a-touch-crisp apples. You can stick a fork into an apple piece just under the crumble topping to test for desired tenderness of apples.
Cool for about 10 minutes on a cooling rack, then serve with a scoop of vegan vanilla ice cream. Enjoy!
Equipment
Notes
Storing Instructions: Apple crumble is best the first day, however you can store it in the refrigerator and enjoy it for about 3 days after. Be sure to cool apple crumble completely, then cover tightly with foil and store in the refrigerator. Before serving, warm in the microwave, or spoon into an oven-safe dish and heat in the oven until warm throughout.
A note on Oat Flour: I know we all love using oat flour here at Beaming Baker, however, this delicious brown sugar oat crumble topping is best made with all purpose flour. If you're looking for an oat flour + coconut sugar based topping, try the streusel topping on my vegan pumpkin coffee cake.
Prep Time:

20 minutes

Cook Time:

42 minutes

Category:

Dessert

Method:

Bake

Cuisine:

American
© beamingbaker.com. All content and images are protected by copyright. Please do not use my images or recipe without my permission. Please do not republish this recipe, instead, include a link to this post for the recipe.
Fantastically Fruit-Filled Recipes
This post may contain affiliate links, which allow me to make a small commission for my referral, at no additional cost to you.