The sweetness of apples is spiced to perfection in this lightly moist and just-right satisfying vegan apple muffins recipe!
Sweet Apples, Warm Spices, and Crunchy Walnuts for the Best Vegan Apple Muffins
Oh my goodness, today is the day that we partake in the vegan muffins recipe we've all been waiting for… Vegan Apple Muffins! I've been slowly, but surely, starting my foray into all things apple baked… and I've got to say, it's been truly tasty. Today, we're going to make tender, satisfying vegan apple cinnamon muffins that boast maple-sweet apples, warm fall spices, and crunchy walnuts, if you're so inclined. Are you ready to bake the very best vegan apple muffins ever? Let's go!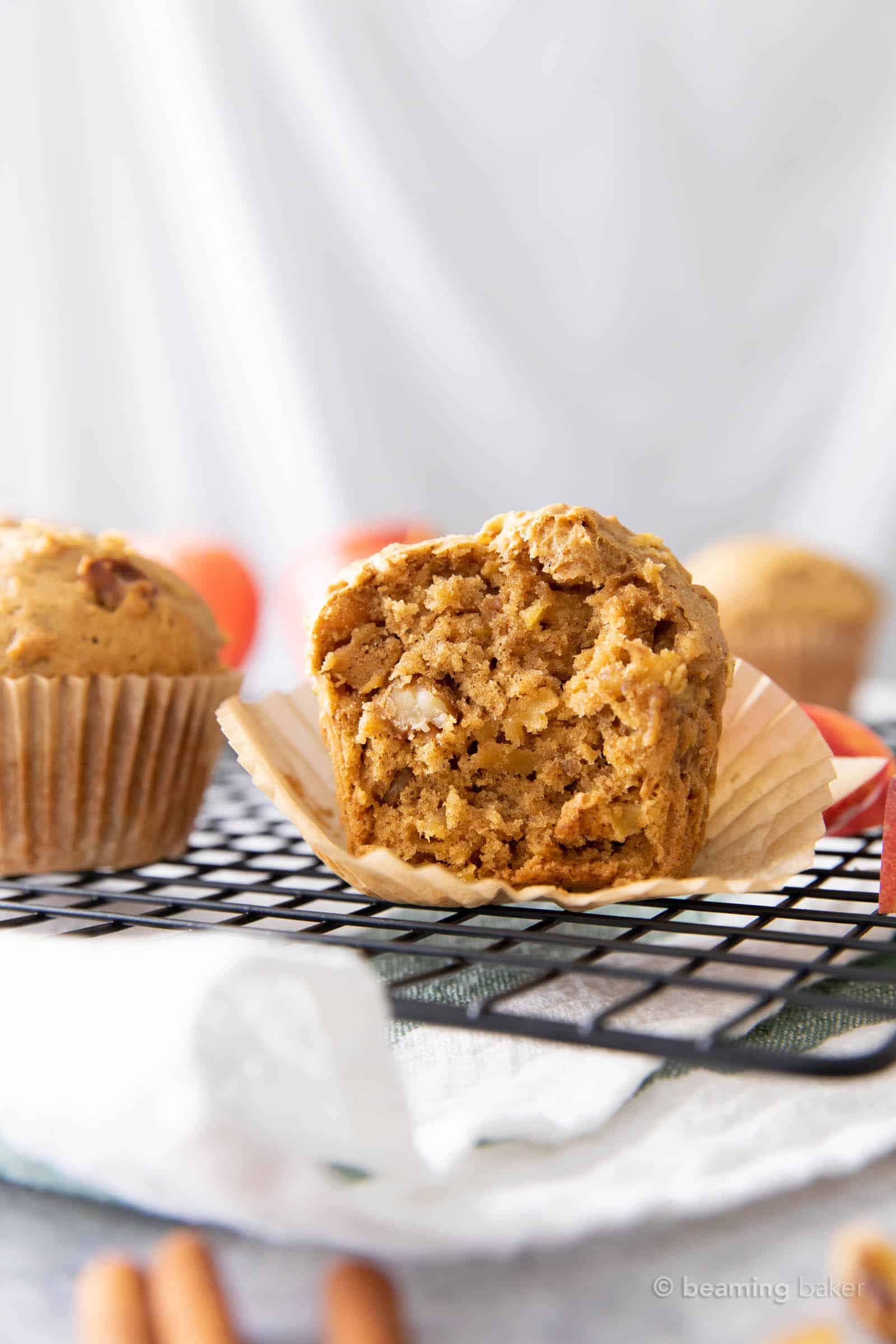 Everything You Need to Make Vegan Apple Muffins
You might think that making vegan apple muffins would require a special list of hard-to-find ingredients—thankfully, that's wrong. 😉 Today's apple muffins can be made with common ingredients found in any pantry, or, for an alternative, common ingredients found in a gluten free vegan pantry.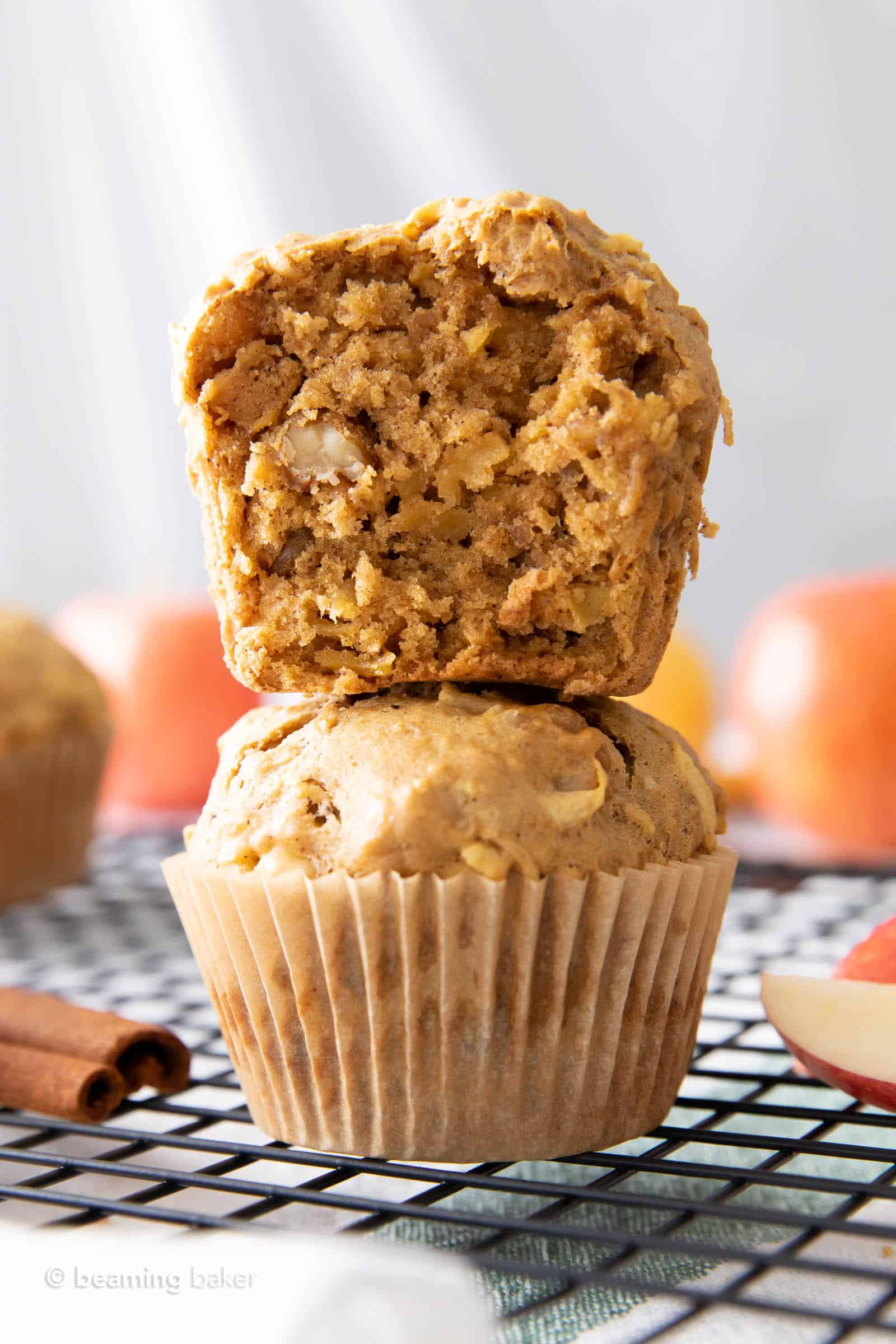 How to Make Vegan Apple Muffins
Learn how to make vegan apple cinnamon muffins with just a few simple steps.
Preheat
First, preheat the oven to 350°F. Grab a 12-cup muffin pan and place muffins liners into each crevice. Don't forget, this is a great time to start the flax egg since it needs to set for 10 minutes.
Prep the Dry Ingredients
Second, add all the dry ingredients to a medium mixing bowl. The dry ingredients in this apple muffin mix include flour, baking soda, baking powder, ground cinnamon, cloves, nutmeg, and salt. Whisk these ingredients until they're well mixed.
Prep the Wet Ingredients
Third, add the wet ingredients to a large mixing bowl. The wet ingredients include coconut oil, coconut sugar, maple syrup, a modified flax egg, vanilla, and almond extract. Whisk everything together until well incorporated.
Combine
Fourth, it's time to combine the dry and wet ingredients! Start by pouring the dry ingredients into the wet ingredients bowl. Make sure to get every little bit. Now, grab a whisk to whisk both components together as long as you can. When it gets difficult to stir, switch to stirring and folding with a rubber spatula until no flour patches remain. You've just made your vegan apple muffin batter!
Fold in Apples
Fifth, to finish the batter, fold in the grated apples. Don't worry about being gentle here—you'll be folding and mashing the apples into the muffin batter. This will get the apple juices to flow a bit and moisten up your muffins. Now, fold in the chopped walnuts.
Scoop & Bake
Grab a large scoop, then scoop and drop muffin batter into each muffin liner. You'll add larger amount of muffin batter into the liners if you want sky-high muffins; you'll add less muffin batter for smaller muffins.
Place the muffin tray into the oven and bake for about 28 minutes.
Cool & Enjoy
Cool and enjoy the best vegan apple muffins!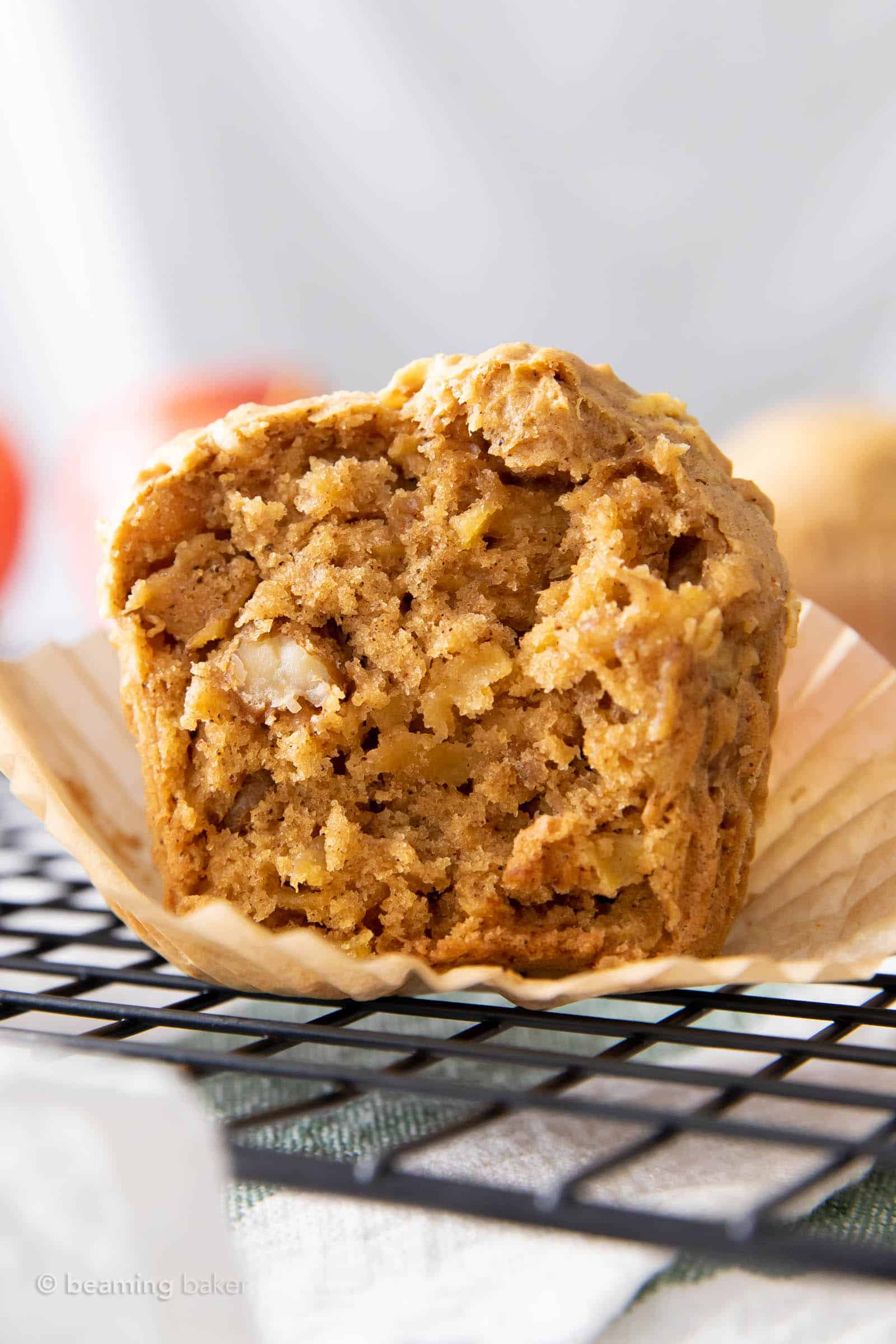 What to Serve with Vegan Apple Cinnamon Muffins
One of my favorite things to serve warm vegan apple cinnamon muffins with? Vegan vanilla ice cream. The cool, creamy texture pairs so well with the muffins, creating a morning treat that's almost like apple pie for dessert. I sometimes like to wash it all down with a glass of super refreshing cucumber mint water.
You can also try splitting your fresh-baked apple muffins in half and spreading your favorite nut or seed butter on top. Try homemade cashew butter, almond butter, or as a special treat, pecan butter.
Another fun thing to try: bake up a batch of zucchini oatmeal cookies, yummy healthy breakfast bars, and the most incredible, fluffiest vegan buttermilk pancakes alongside your vegan apple muffins for a homemade breakfast buffet. 🙂 😋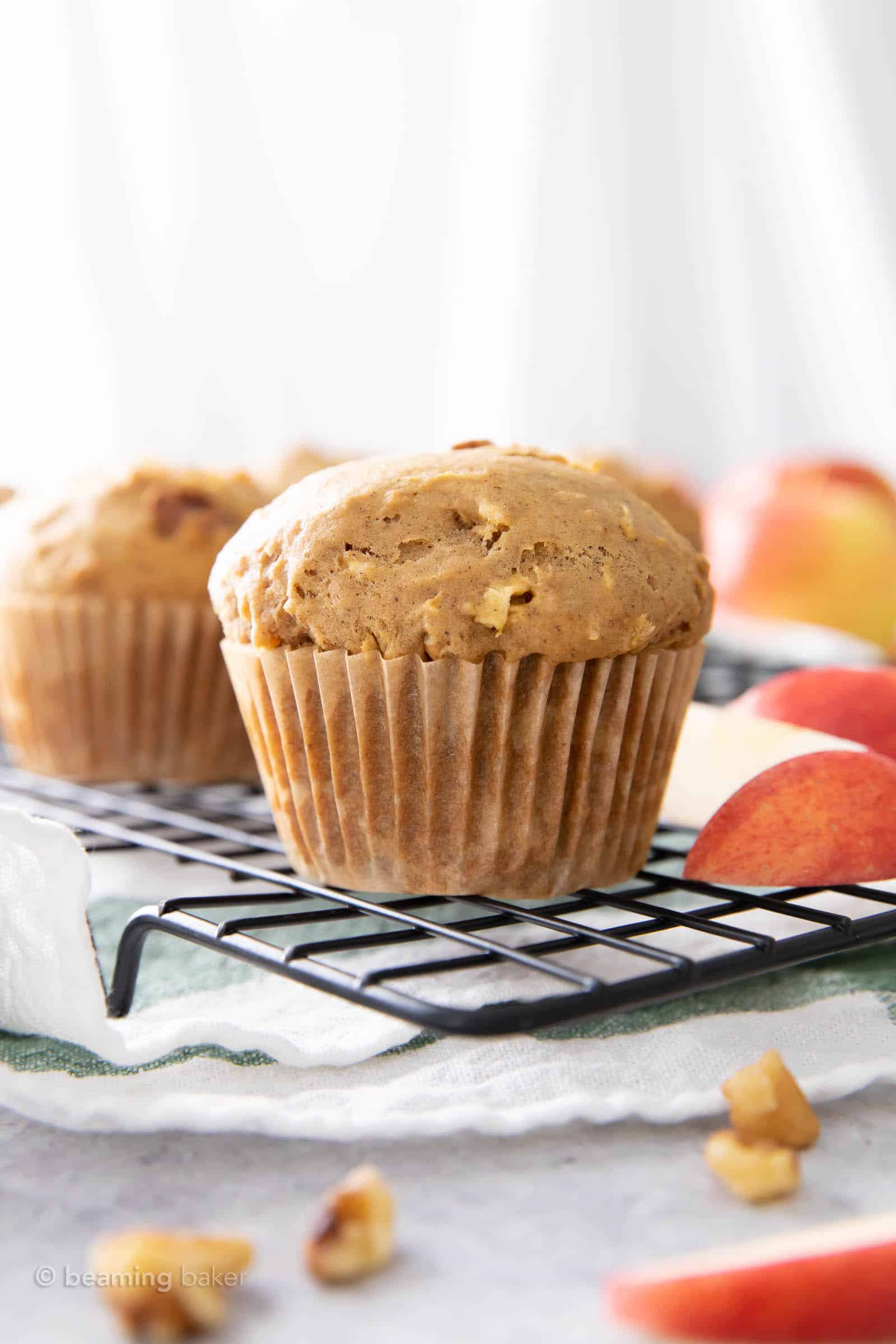 Tools You Need
You Are the Apple of My Eye
This time is year can get pretty hectic, and I know it can get pretty overwhelming. There's so much to do, so many events to prepare for… and so many yummy things to bake. Thank you for stopping by at Beaming Baker and spending some time in the kitchen with me and your loved ones. It truly means so much to me. When you make these vegan apple muffins, be sure to leave a comment and let me know what you think. I can't wait! 'Til our next sweet adventure together…
Sending you all my love and maybe even a dove, xo Demeter ❤️
🍎 📸 🍏
📸 Did you make this vegan muffins recipe? Take a pic and share it on Instagram with the hashtag #beamingbaker & tag @beamingbaker. I'd love to see it! 📸
Print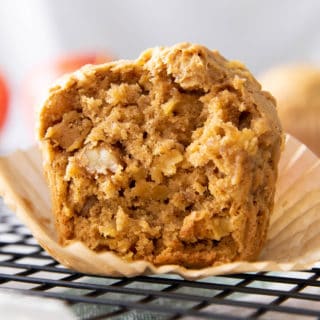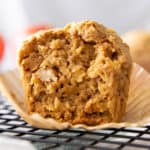 Vegan Apple Muffins
---
Description
The sweetness of apples is spiced to perfection in this lightly moist and just-right satisfying vegan apple muffins recipe!
---
Dry Ingredients
2 cups

all purpose flour or oat flour

½ teaspoon

baking soda

1 teaspoon

baking powder

1 teaspoon

ground cinnamon

¼ teaspoon

ground cloves

¼ teaspoon

ground nutmeg

¼ teaspoon

salt
Wet Ingredients
¼ cup

+

2 tablespoons

melted vegan butter or coconut oil

¼ cup

coconut sugar

¼ cup

pure maple syrup

1 ½

flax eggs (4 ½ TEAspoons ground flaxseed and

¼ cup

+ 1 ½ TEAspoons water, whisked together, set for 15 mins)

1 teaspoon

pure vanilla extract

¼ teaspoon

pure almond extract
Fold-in Ingredients
1 ¼ cups

grated apples (about

1

medium apple and

1

small apple) – I used gala and envy apples

¾ cup

walnuts, chopped
---
Instructions
Preheat oven to 350°F. Place muffins liners into a 12-cup muffin pan. Set pan aside for later.
In a medium bowl, add all the dry ingredients: flour, baking soda, baking powder, spices and salt. Whisk until well mixed.
In a large bowl, whisk together all the wet ingredients: vegan butter or coconut oil, coconut sugar, maple syrup, flax eggs, vanilla and almond extract.
Pour dry ingredients over wet ingredients. Whisk as long as you can, switching to a rubber spatula when needed. Use the rubber spatula to fold the batter until well incorporated, with almost no flour bits remaining. The batter will be very thick.
Using the rubber spatula, thoroughly fold and mash grated apples into batter, until apples are very well incorporated (about 1 full minute). Your goal is to get the juices of the apples to release and incorporate into the batter. The batter will be very, very thick—do not add additional liquids to thin out the batter. Fold in walnuts.
Using a large batter scoop, scoop and drop a generous amount of batter into each muffin liner in the pan. The scoop will help create a beautiful domed top. Otherwise, if not using a scoop, remember to shape muffins into an even layer, with a domed top, as the batter will bake up very close to how it looks raw.

Tip: To make fewer, higher-domed top muffins, fill cups all the way with a slight mound on top; to make a greater quantity of medium-sized muffins, fill cups about ¾ cup the way.

Bake for 24-32 minutes (mine took 28 minutes for 8 high-topped muffins). Muffins are done once you can stick a toothpick into the highest part and it comes out clean.
Carefully remove muffins from pan and set on a cooling rack to cool for 10-12 minutes. I used a small frosting spatula nudged into the side of one, just above the muffin liner, and my hand to lift muffins out—be careful if they're too hot, see tip below for added cooling.

Tip: You can allow muffins to cool in pan for about 10 minutes, then transfer them to a rack to finish cooling for another 10 minutes (if muffins are too hot to touch or a bit fragile right after baking). Typically, muffins made with oat flour are a bit more fragile and will require this extra time in the muffin pan to cool.

Once cool, peel off muffin liners and enjoy!
Equipment
Notes
Storing Instructions: Cool apple muffins completely, then store in an airtight container for 1-3 days at room temperature or in the refrigerator. Remember to keep muffins away from heat sources and sunlight to avoid spoiling. Muffins are best enjoyed the first or second day.
Freezing Instructions: After cooling muffins completely, store muffins in an airtight, freezer-friendly container for 1-2 months. Allow muffins to thaw for about 10-15 minutes before enjoying. You can also heat muffins in 10-second increments in the microwave until warm.
Prep Time:

25 minutes

Cook Time:

28 minutes

Category:

Breakfast, Snack

Method:

Bake

Cuisine:

American
© beamingbaker.com. All content and images are protected by copyright. Please do not use my images or recipe without my permission. Please do not republish this recipe, instead, include a link to this post for the recipe.
Looking for More Delicious Muffin Recipes?
This post may contain affiliate links, which allow me to make a small commission for my referral, at no additional cost to you.