My favorite hemp granola recipe that's nutty, crunchy, packed with heart-healthy hemp seeds and the comforting sweetness of dates. The best hemp hearts granola is gluten free and fiber-rich!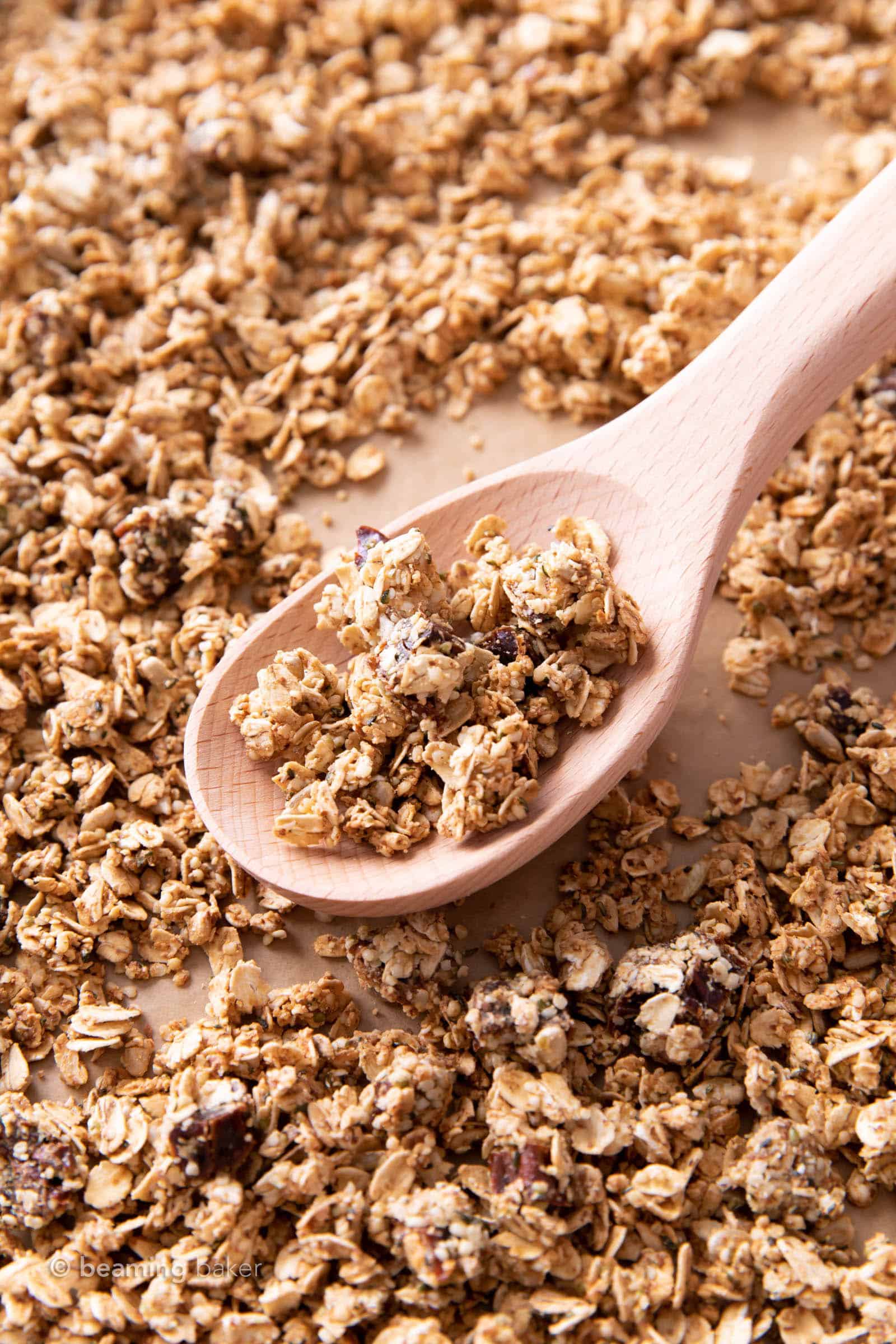 Crunchy, Comforting, Crisp Hemp Granola, Made with Style
Today, we're learning all about hemp with the tastiest ever educational aide: Hemp Granola! This nutty, crunchy and oh-so comforting granola recipe is packed with hemp seeds, wonderful dates, and a few other nut & seed favorites on your pantry. Come join me as we bake up a batch of the easiest, whole ingredient hemp seed granola that will leave you satisfied and feeling good. Ready? Let's make granola!
Simply Wonderful Ingredients for Simply Wonderful Hemp Seed Granola
You'll absolutely love the simple ingredients used in today's recipe for hemp granola—it's packed with the whole ingredients we know, love, and benefit from:
Rolled Oats
Dates
Sunflower Seeds
Almond Meal or Almond Flour
Salt
Pure Maple Syrup
That's truly all, folks. The combo of hearty oats, crunchy sunflower seeds and toasted hemp hearts, combined with soft, chewy dates, and tender almond meal is one that cannot be beat. Think: best ever hemp granola!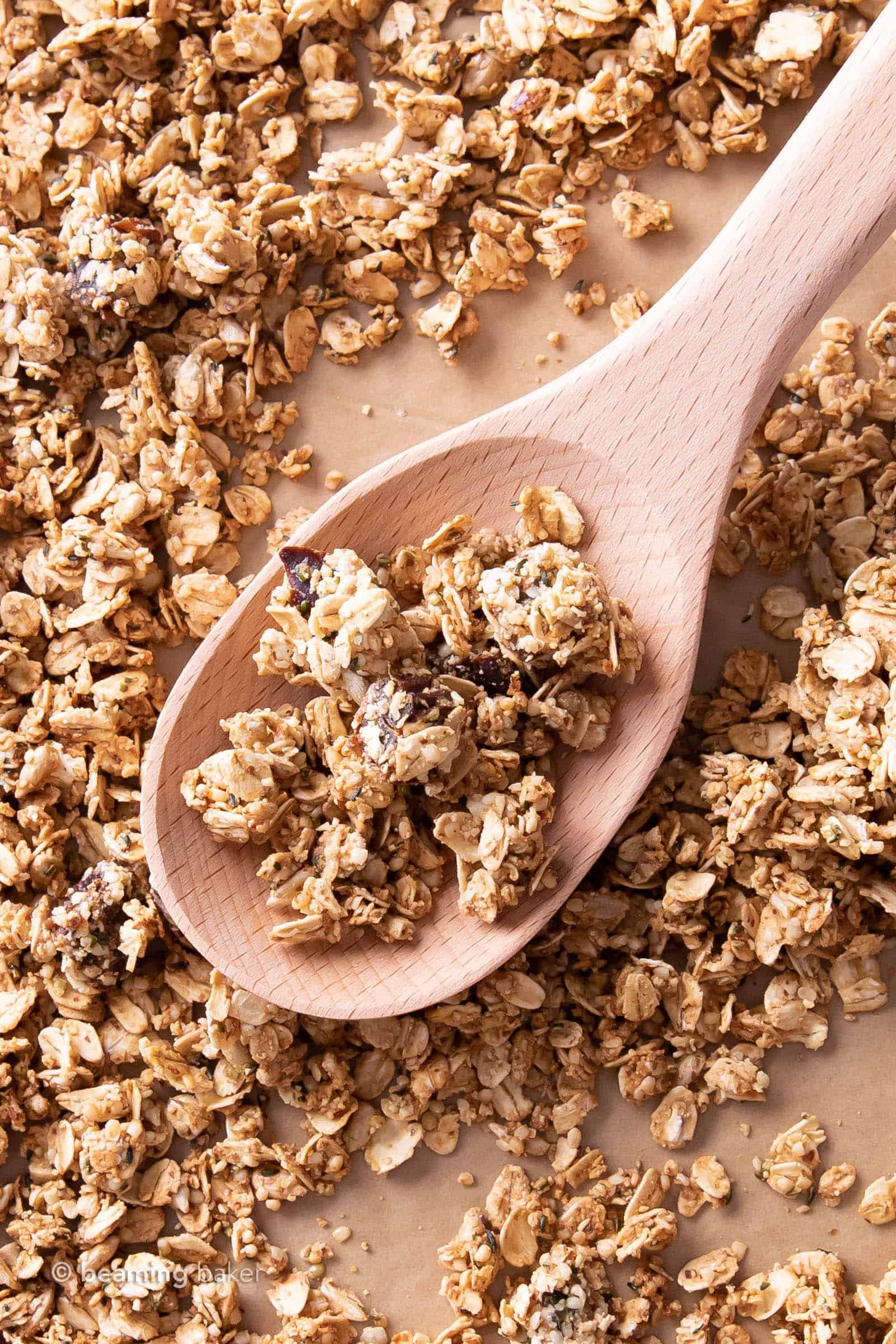 What is Hemp Granola?
Hemp granola is a healthy snack that's made with hemp hearts—hemp seeds that have had their shells removed (hulled). Granola is often eaten for breakfast like a cereal, or as a snack. Today, we're going to make granola that is packed with hemp hearts, sunflower seeds, dates and almond meal. Together, these ingredients combine with a bit of natural sweetener and are baked until crispy to create hemp granola.
But like, what is Hemp?
Hemp is a seed that's derived from the Cannabis sativa plant. But unlike the more popularly associated product of Cannabis, hemp does not have any mind-altering, psychoactive affects. [1] [2]
Instead, think of hemp seeds like an alternative to flax seeds. Like flax seeds, hemp seeds pack a punch when it comes to vitamins, healthy fats and minerals that are good for you.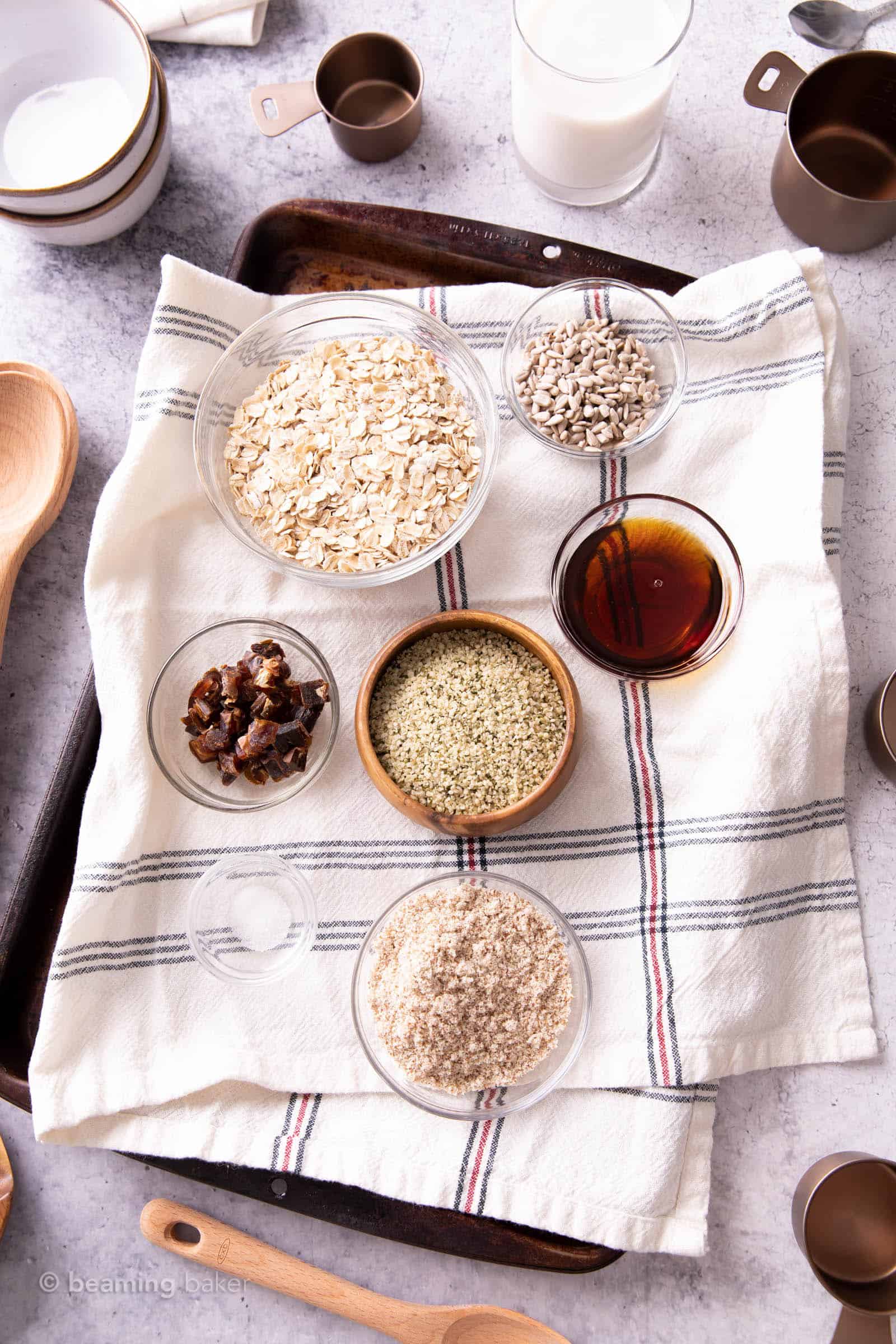 What Are The Health Benefits of Hemp, Anyway? Why is Hemp Good for You?
Hemp seeds are a powerhouse of nutrition and may produce beneficial effects on the body, such as improved brain function, reduced cholesterol and blood pressure. Hemp seeds are antioxidant-rich, vitamin-rich, and packed with healthy fats.
Here are a few of the benefits of hemp seeds, and some of the ways in which they can give you a natural boost:
Packed with Healthy Fats
Heart Healthy
Reduced Cholesterol & Blood Pressure
Nutrient Rich
Fiber Rich
Improved Brain Function
Nutritional Profile of Hemp Seeds
Per the U.S. Department of Agriculture (USDA), each 100g serving (10 tablespoons) of hulled hemp seeds include the following:
Protein: 31.6g
Fat: 48.8g – while this amount of fat looks quite high, remember that eating 10 tablespoons of hemp seed per day is probably not recommended. As with everything, moderation is key.
Carbohydrates: 8.67g
Fiber: 4g
Sugar: 1.5g
Magnesium: 700mg
Phosphorous: 1650mg
Potassium (Vitamin K): 1200mg
As you can see, hemp seeds are low carb, high in protein, low in sugar, and boasts a rich source of beneficial vitamins and nutrients such as magnesium, phosphorous and potassium.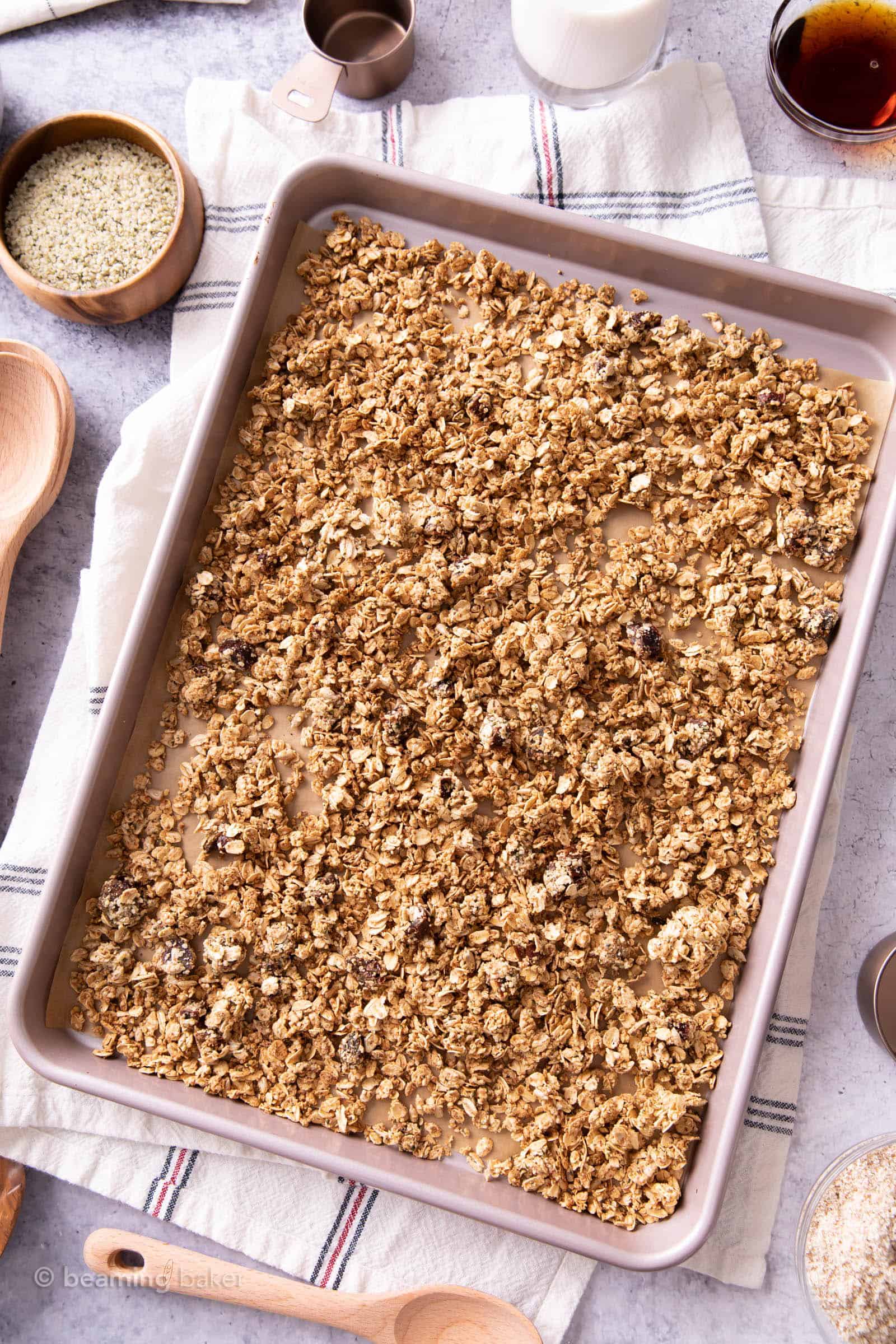 How to Make Hemp Granola
All it takes is 6 simple steps to make this delicious hemp hearts granola.
Preheat
First, you'll want to pop on over to your oven and preheat it to 325°F. Then, grab your best baking sheet and cover it with parchment paper. Now, set this sheet aside for later.
Add
Next, grab a large mixing bowl and add all of the ingredients into the bowl: rolled oats, hemp hearts (aka hulled hemp seeds), pitted and chopped dates, sunflower seeds, almond meal, salt, and pure maple syrup.
Fold
Now, grab a rubber spatula or wooden spoon. Stir and fold all of the hemp granola ingredients together until every little morsel is very finely coated in maple syrup—this will help hold the granola together and ensure a tasty, sweetly toasted granola.
Pour
After, pour your hemp granola mixture onto the baking sheet you prepared earlier. Spread the granola into a single, even layer with small empty pockets in between to let air through during the baking process. As a result, you'll get crisp granola clusters.
Bake
Place the sheet of granola into the preheated oven and bake for about 20 minutes. Then, stir and flip the granola. Bake for an additional 5-15 minutes until your granola is a deep, golden brown.
Cool & Enjoy
Lastly, remove the hemp seed granola form the oven to cool. Once cool, enjoy!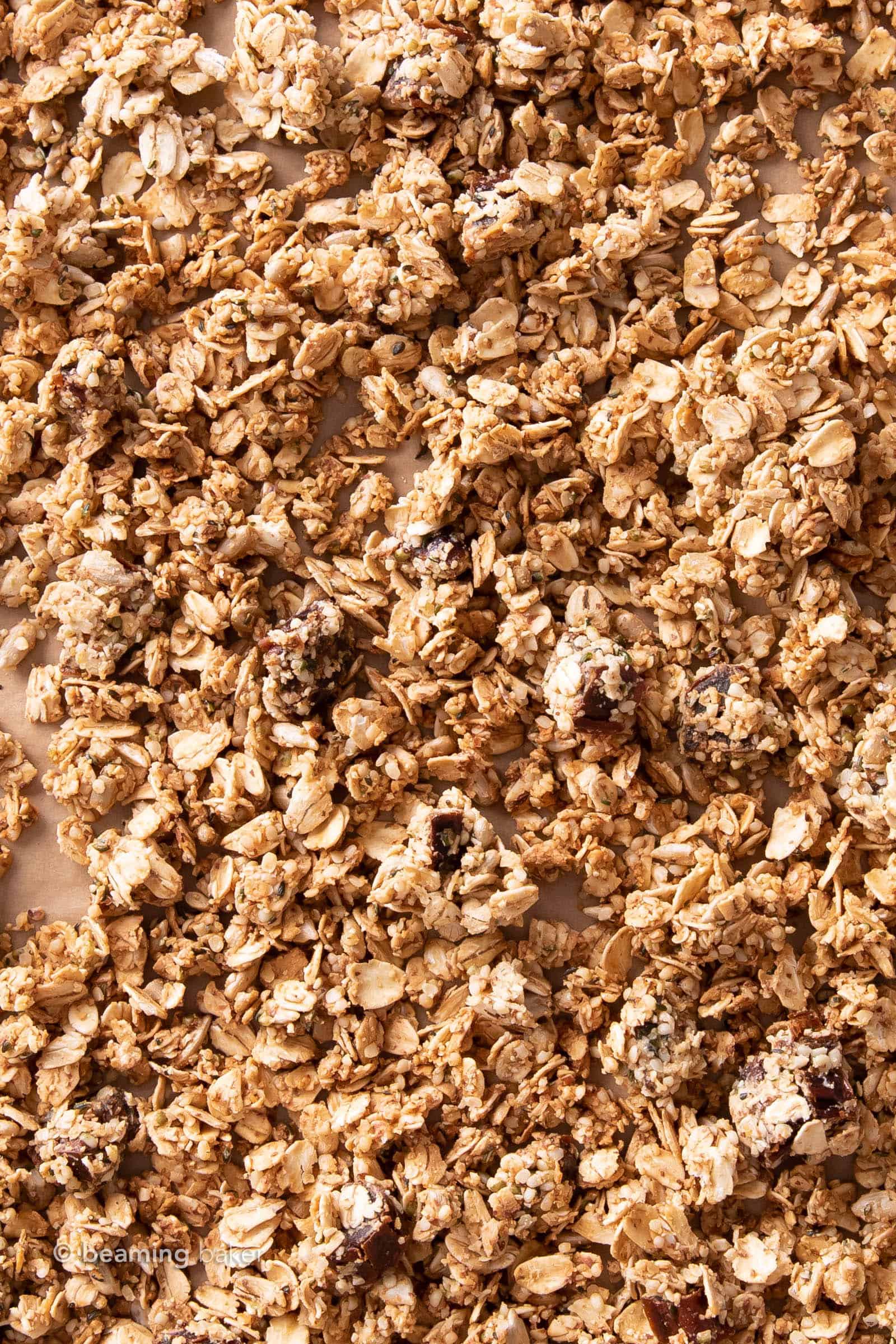 Hemp Hearts vs. Hemp Seeds
What's the difference between hemp hearts and hemp seeds, anyway? It's really simple: hemp seeds are the whole seed that is extracted from the cannabis sativa plant. However, just like with most seeds, the shell is quite hard and difficult to eat (or even chew). So, the hemp seed is hulled, meaning its shell is removed. As a result, we have what's left inside: the hemp heart. That's what we're using today to make hemp seed granola—or, as you might like to more accurately call it, hemp heart granola.
Is Hemp Granola Gluten Free?
We'll be making hemp seed granola that is gluten free, however, not every hemp granola recipe is gluten free. To find out if a store-bought hemp granola is gluten free, simply take a look at the packaging and ingredients label. If you see the GFCO certification mark, then you'll know that the product is certified gluten free. The hemp granola recipe I'll be sharing today can be made with certified gluten free oats. Other than the oats, the rest of the ingredients are naturally gluten free. However, it's always best to check for the GFCO mark to ensure there is no cross-contamination.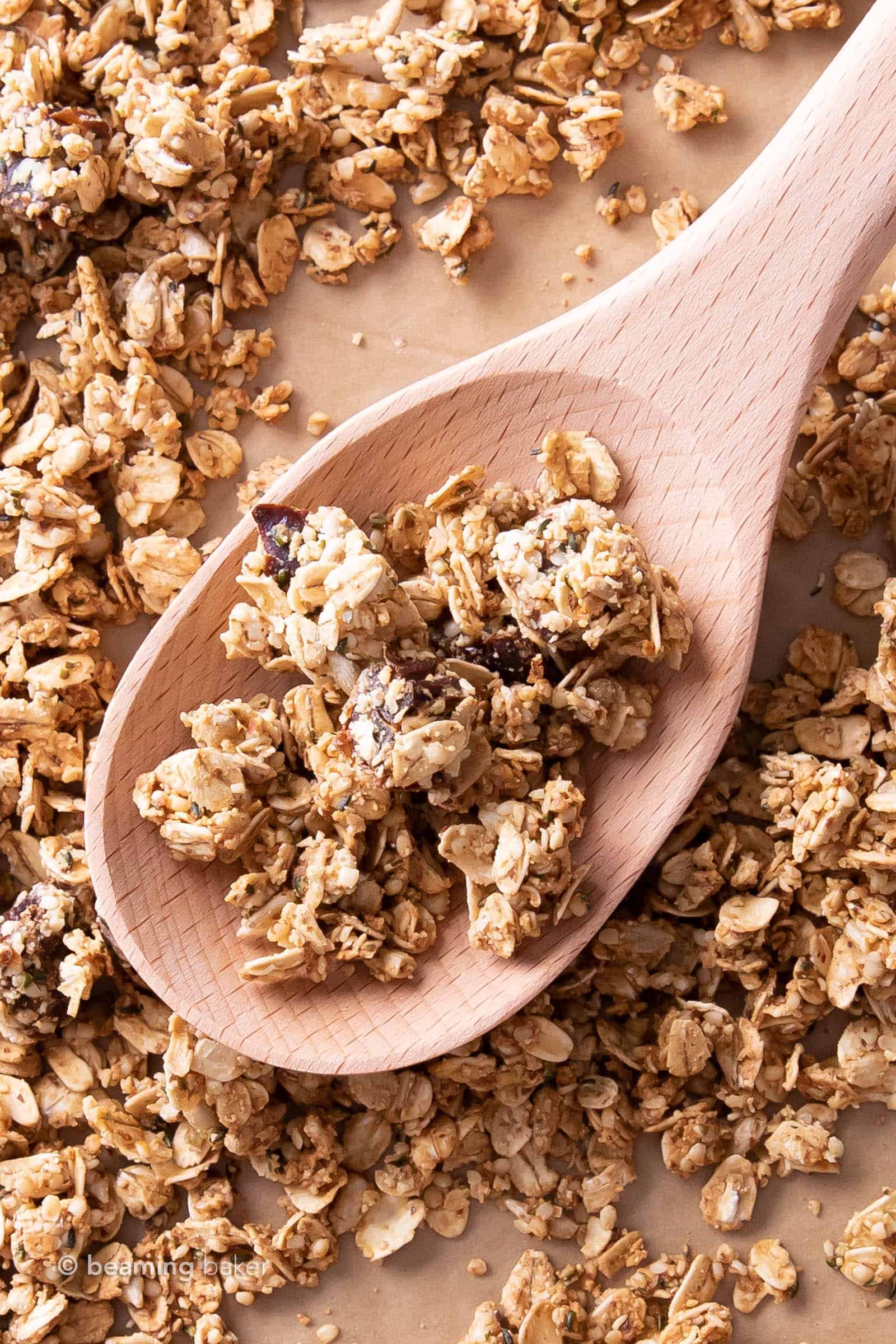 The Best Breakfast & Snack Recipes!
Breakfasts and snacks are by far one of my favorite kinds of food. (Along with desserts and mains… okaaaay, I love food.) But what do we whip up that'll keep us smiling and satisfied 'til lunch? Try some of these mouthwatering breakfast and snack recipes:
Tools You Need
See Ya at the Breakfast Table!
How good does it feel to wake up to a breakfast table topped with something you made with your very own hands? There's nothing quite like it. 🙂 I hope you enjoy making this hemp granola recipe as much as I did. Be sure to comment below and let me know what you think of today's recipe. I truly love hearing from you. 'Til our next sweet adventure…
Sending you all my love and maybe even a dove, xo Demeter ❤️
🌱 📸 ☕️
📸 Did you make this hemp seed granola recipe? Take a pic and share it on Instagram with the hashtag #beamingbaker & tag @beamingbaker. I'd love to see it! 📸
Print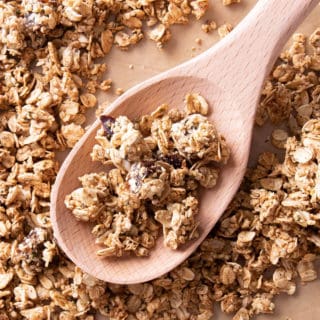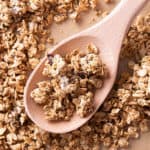 Hemp Granola (V, GF)
---
Author:

Demeter | Beaming Baker

Total Time:

35 minutes

Yield:

16 ¼

-cup servings or about

4 cups

1

x

Diet:

Gluten Free
Description
Nutty, crunchy, packed with hemp goodness and the comforting sweetness of dates. One of my favorite granola recipes because it's crispy, sweet and mellow with the heart-healthy benefits of hemp!
---
1 ½ cups

rolled oats – use GF if needed

½ cup

hemp hearts (hulled hemp seeds)

¼ cup

dates, packed – pitted and chopped (about

3

large Medjool dates)

¼ cup

sunflower seeds

½ cup

almond meal or almond flour

¼ teaspoon

salt

¼ cup

pure maple syrup
---
Instructions
Preheat oven to 325°F. Line a large baking sheet with parchment paper or greased foil. Set aside for later.
Add all ingredients to a large bowl.
Using a rubber spatula, fold thoroughly until clusters form and mixture is very well mixed. You want to make sure that the maple syrup is evenly distributed, and nothing is left dry.
Pour onto the prepared baking sheet. Using the spatula, gently nudge granola into an even layer. Separate granola into small piles to create clusters. Make space between clusters to allow for air to flow through and crisp up the granola.
Bake for 20 minutes. Using a heatproof spatula, gently flip granola, making sure to keep clusters intact. Bake for an additional 5-15 minutes, until edges are a deep golden brown and granola is just slightly soft. Mine took a total of 30 minutes. Granola will crisp up while cooling.
Place baking sheet on a cooling rack. Allow to cool for about 30 minutes, or until completely cooled. Enjoy! Storing instructions below.
Notes
Storing Instructions: Store in an airtight container for 1-2 months at room temperature, keep out of direct sunlight.
Prep Time:

5 minutes

Cook Time:

30 minutes

Category:

Breakfast, Snack

Method:

Bake

Cuisine:

American
© beamingbaker.com. All content and images are protected by copyright. Please do not use my images or recipe without my permission. Please do not republish this recipe, instead, include a link to this post for the recipe.
Looking for More Amazing Granola Recipes?
This post may contain affiliate links, which allow me to make a small commission for my referral, at no additional cost to you.