How to Make Homemade Chocolate Frosting Recipe (V, GF): learn how to make easy vegan chocolate frosting that's smooth, silky and chocolatey. Whipped frosting doesn't require refrigeration! Vegan, Paleo, Dairy-Free, Gluten Free.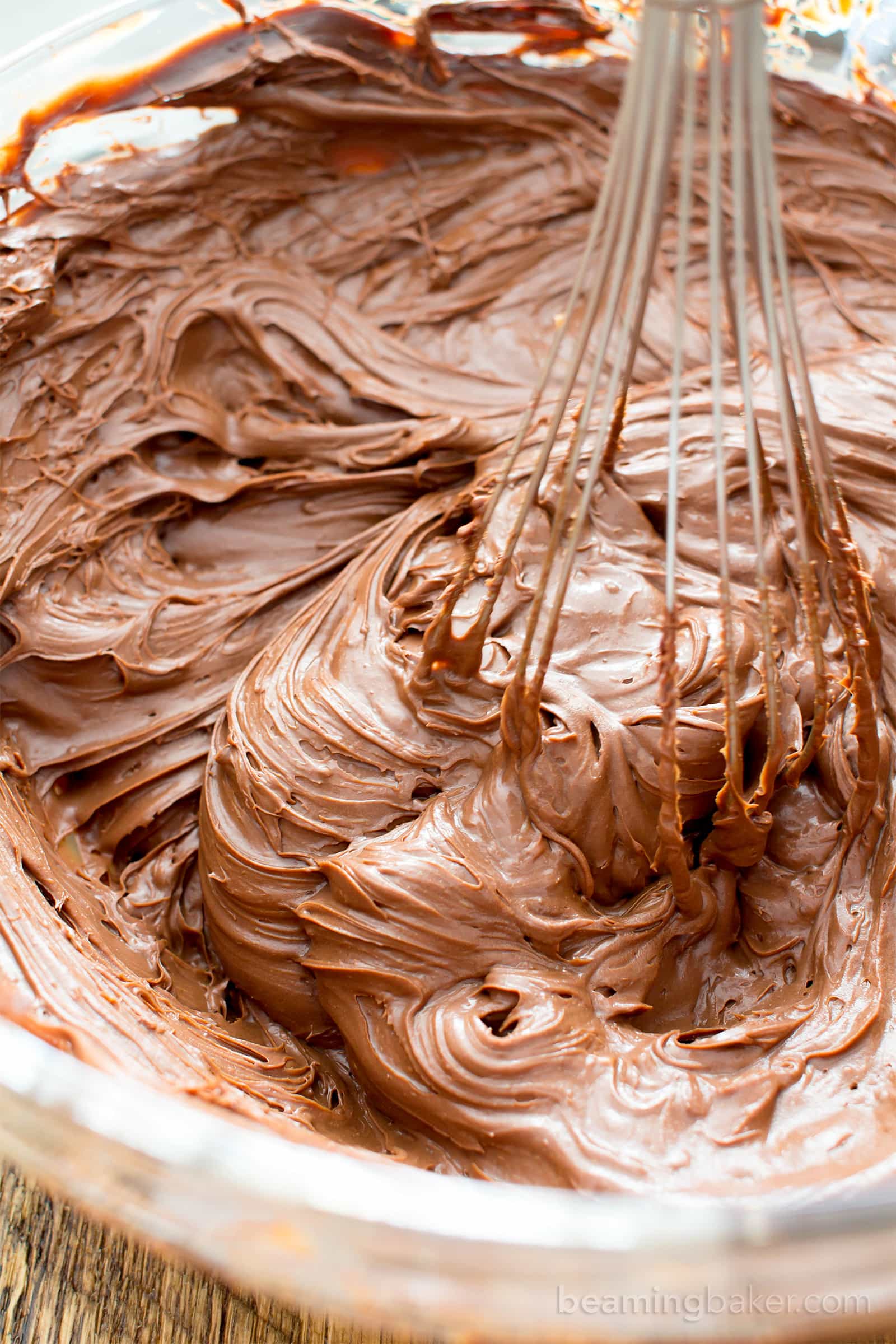 Smooth, rich, creamy, sweet… frosting is just the… well, frosting on top of the cake. Amiright?? Er… both literally and figuratively. 🙂 Do you love frosting? What flavor is your favorite? Some of my top favorite frosting flavors are: chocolate, strawberry, peanut butter and classic vanilla.
Meanwhile, I've been wanting to share a frosting recipe for ages, and now I'm finally ready. (Just don't ask me about vanilla frosting.) Who's excited?
Update: I've finally shared my Vegan Gluten Free Chocolate Cupcakes recipe!! And it's seriously ah-mazing!! Update 2 (yep 2!!): this dreamy paleo vegan homemade frosting is truly wonderful on my reader-fave Vegan Chocolate Cake Recipe. ❤️
Frosting is just too important to not take very seriously. Especially on a baking blog. Ya know?
But this year, I finally promised myself that it was gonna happen. And it was gonna be GOOD. And right on time for my birthday! Woohoo!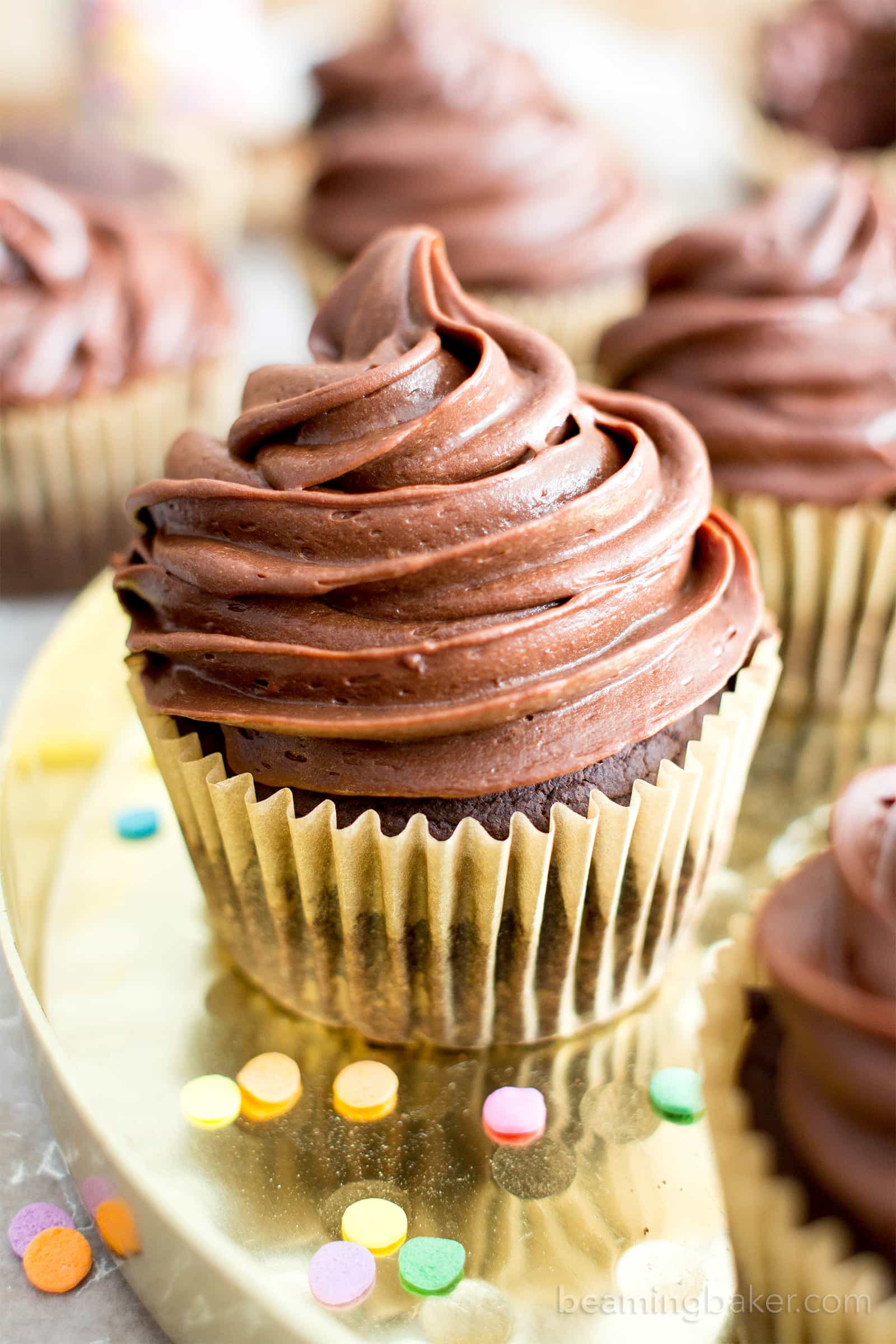 So how did it all begin? Well, if you tried my No Bake Chocolate Coconut Bars, you know that I recently cracked my chocolate ganache recipe (which I'm a little too proud of). Since then, I've been cooking up all the ways in which I could use that ganache.
For example, could I put it on brownies? Yes.
Could I put it on cookies? OH YES.
Could I put it on top of more ganache? Most definitely.
But what else could it turn into? Answer: Whipped Chocolate Ganache Frosting!! Like, whip up that awesome ganache you just, um, whipped up, and boom! It turns into frosting.
But alas, everything is always easier said than done. More doing and less talking! As my mom likes to shout at us every once in awhile. 😉
I tried whipping up my chocolate ganache recipe as is, but to no avail. The proportions just weren't right. The ganache frosting became way too thick, or way too watery. Both are obviously a huge no-go for cupcakes. I mean, one (or two, or three trials) practically threatened to bust my piping bags!
And if you've ever busted a piping bag from all the goshdarn pressure you've put onto it, then you know what I mean when I say I'd love to never experience that hot mess again.
My other concerns (besides not hand-delivering a hot mess of a recipe to you) were… first: ease. This recipe needs be as easy as possible because who really needs a difficult frosting recipe when they've already achieved the awesomeness that is baking homemade cupcakes and waiting for them to cool?
Next: Will it be stable at room temperature? I personally get anxious when I'm told that I have to store baked goods at a certain temperature—especially if said baked goods have my beautifully and carefully piped frosting on top. And said frosting is just waiting to collapse/melt/cause a serious life-crisis on me.
Also, can this chocolate frosting taste AS GOOD, if not better than real butter-, powdered sugar-, and all the things we don't eat 'round these parts-infused, TASTY chocolate frosting? Like, can we get non-plant-based/allergy-friendly folks to love this more than the good-but-not-so-good-stuff?
I'm here to say, YES. Why, yes we can!
This frosting is silky, smooth, chocolatey, rich, sweet, but not too sweet, creamy, and just luscious. My friends, I've had ALL the frosting in the world. Okay, fine, that's a slight exaggeration. Heh heh. But I have fancied myself a frosting connoisseur (i.e. dessert hog) for decades.
And this is, by far, my favorite frosting EVER.
Oh, and my mom, my sister, her four-year-old kiddo, and Erik think so, too.
Not that they're biased.
Or anything.
And it's not too shabby to make either! And guess what? Precise measurements included. Woohoo!! That's semi a big deal since loads of frosting recipes used to leave me a tad anxious with the whole, "add as much as needed" instructions. Chalk it up to my Type A personality (is that still a legit thing?? Has it been widely discredited yet?), but I need precise instructions, ya know?
But now… oh, happy sigh, NOW, you can:
Learn how to make homemade chocolate frosting and be happy. Soooo happy. So happy you might even treat yourself to a brand new, turquoise-beautiful KitchenAid hand mixer (like I did) to feel even more awesome in the ol' kitchen!
With whisk attachment. Because: we are BAKING BOSSES.
Drop the mic hand mixer. But don't 'cause that'll break it.
Then, proceed to frost EVERYTHING. Like, for example: double chocolate banana muffins (why not??), gluten free vegan brownies (self-explanatory), brownie bites, pumpkin chocolate chip breakfast cookies, no bake peanut butter oatmeal cookies, and finally, these gluten free vegan chocolate cup—OOPS! Spoiler alert! Recipe soon to come. 😉
Let's just say my birthday celebrations last until next week. 😉
Best of all, you'll not only learn how to make homemade chocolate frosting, but you'll also come out with room temperature, shelf stable frosting!!! What what???
And if you were one of the many readers who were impressed/pleased about my latest no refrigeration-required chocolate pecan fudge recipe, then you might just know what all this room temp fuss is all about! 😉 I mean, these frosted cupcakes keep for 3 days at room temperature. Just. WOAH.
In case you're not quite convinced yet, let me tell you all about this fun-tastic (I just needed to say that) how to make homemade chocolate frosting recipe! It's:
easy to make, with just 2 ingredients
oh-so creamy and mouthwatering
silky, smooth, perfectly sweet
vegan, paleo, dairy-free, gluten-free
perfectly thick and stays in A-game frosting position for days
deliciously refined sugar-free
soooo easy to pipe
shelf-stable, meaning it keeps at room temperature for 3 days!
a super tasty way to make chocolate frosting without powdered sugar
a great sugar-free chocolate frosting recipe if you use sugar-free chocolate chips
plant-based and allergy-friendly
super fun to whip up
made with the simple, whole and healthy ingredients you love
your soon to be favorite easy chocolate frosting recipe
great on, well… cupcakes! And everything else!
So are you ready to get your bake on? Because I've got something super special right after this recipe. It might just pair perfectly. 😉 As always, it's my pleasure to create, bake, no bake and whip up all the delightful plant-based desserts with you. I can't wait to hear what you think of this recipe. In the meantime, tell me:
What will you be frosting with this recipe?
Sending you all my love and maybe even a dove, xo Demeter ❤
☀︎ Click below to Pin ☀︎

☀︎ Did you make this recipe? Take a pic and share it on Instagram with the hashtag #beamingbaker and tag @beamingbaker. I would love to see it! ☀︎
If you enjoyed this plant-based, allergy-friendly homemade chocolate frosting, then you'll just love these easy chocolate recipes:
☀︎ More ­­­­­­Vegan Gluten-Free Chocolate Dessert Recipes ☀︎
THE Cupcake recipe to use with this dreamy chocolate frosting ↓
How to Make Homemade Chocolate Frosting (Vegan, Paleo, Gluten Free, Dairy-Free, Refined Sugar-Free)
How to Make Homemade Chocolate Frosting Recipe (V, GF): learn how to make easy vegan chocolate frosting that's smooth, silky and chocolatey. Whipped frosting doesn't require refrigeration! Vegan, Paleo, Gluten-Free, Dairy-Free.
Author:
Demeter | Beaming Baker
Recipe type:
Dessert, Chocolate, Vegan, Gluten-Free, Paleo, Dairy-Free
Serves:
1½ - 2 cups, enough for 12 cupcakes
Instructions
The night before, place can of coconut cream into the refrigerator to chill. This will make it easier to scoop the firm cream out of the can--leaving behind any extra coconut juice. Instructions on using full-fat coconut milk in Notes.*
Use the double boiler method to melt the chocolate and coconut cream, or do the following: add coconut cream and chocolate chips to a large microwave-safe bowl. Heat in 30-second increments until melted and smooth. Stir between heating increments, until chocolate is melted. Once completely melted, whisk thoroughly until smooth.
Transfer to refrigerator to chill for 2-5 hours. It's done when the mixture is medium firm, similar to a very firm gel. It will be stiff enough to be solid, but lightly depresses when pressing a finger into it. See Figure A.
Using a spoon, scoop this mixture into a large, deep mixing bowl for whipping (or use the same bowl). You may also transfer to the mixing bowl of a stand mixer. If the texture is right, it won't be too hard to spoon. See Figure B.
Allow to soften and warm up a bit at room temperature, for about 10-15 minutes. It should be soft enough to whip, but firm enough to not become liquidy when whipping. See Figure C.
Using a hand mixer, or a stand mixer, fitted with a whisk attachment, beat the frosting mixture until fluffy. The color of the mixture will lighten to that of milk chocolate. See Figure D.
Frost completely cooled cake or cupcakes! Enjoy.

Try this moist & delicious Vegan Gluten Free Chocolate Cupcake recipe and this amazing Vegan Chocolate Cake.
Notes
- *To use canned
full fat (not light) coconut milk
, do the following: The night before, chill 2 cans of
full fat coconut milk
, being careful not to shake the contents. Open the can (or cans, if needed) and scoop the firm, white solid part off the top—this is the coconut cream. Measure out what's needed.
- This frosting recipe makes enough frosting for 12 cupcakes with medium high frosted tops.
- Use frosting immediately after whipping. Frosted cupcakes will keep for 3 days at room temperature. Store frosted cupcakes in an airtight container, in a cool, dark environment for up to 3 days.
© beamingbaker.com. All content and images are protected by copyright. Please do not use my images or recipe without my permission. If you wish to republish this recipe, please re-write the entire recipe using your own words and include a link to this post for the recipe.
SHOP THE RECIPE
Here are a few items I used in today's recipe.
KitchenAid Hand Mixer | Wilton 1M Piping Tip | Hand Mixer Whisk Attachment | Parchment Cupcake Liners | Muffin Pan | Glass Mixing Bowls | Silicone Spatulas | Cooling Rack | OXO Mixing Bowls
This post may contain affiliate links, which allow me to make a small commission for my referral, at no additional cost to you. Thank you for supporting Beaming Baker.
Facebook ☀︎ Pinterest  ☀︎ Twitter ☀︎ Instagram