Vegan Chocolate Frosting Recipe – Dairy Free, 2 Ingredient
smooth 'n creamy vegan chocolate frosting that's so easy to pipe. Just 2 ingredients for the best dairy free frosting!
Creamy, dreamy, luxurious and oh-so-GOOD. Those are just a few words to describe my amazing vegan chocolate frosting. It's so ridiculously easy to make, with just 2 simple dairy free ingredients: vegan chocolate chips and coconut cream!
Today, I'm going to walk you through, step-by-step, as we make the easiest dairy free chocolate frosting you'll ever need. Yep, I said it. 😉 My mom's been raving about this vegan frosting, my 5-year-old nephew refers to it as the "frosting that tastes like chocolate ice cream!!!" and Erik is constantly telling me we need to find more things to frost…
Or perhaps we should just normalize the whole eating chocolate frosting straight outta the bowl thing. Oh, Erik! Like, no need to be a conformist, just do it anyway. You do you, ya know? 😉
My Favorite Vegan Chocolate Frosting
Anywho, since I shared this vegan chocolate frosting recipe a few years back, I've gotten rave reviews, glowing emails and more than a few questions about it. So today I'm covering your common questions, sharing some new photos, and taking you through how to make homemade vegan chocolate frosting.
You game? Let's do it!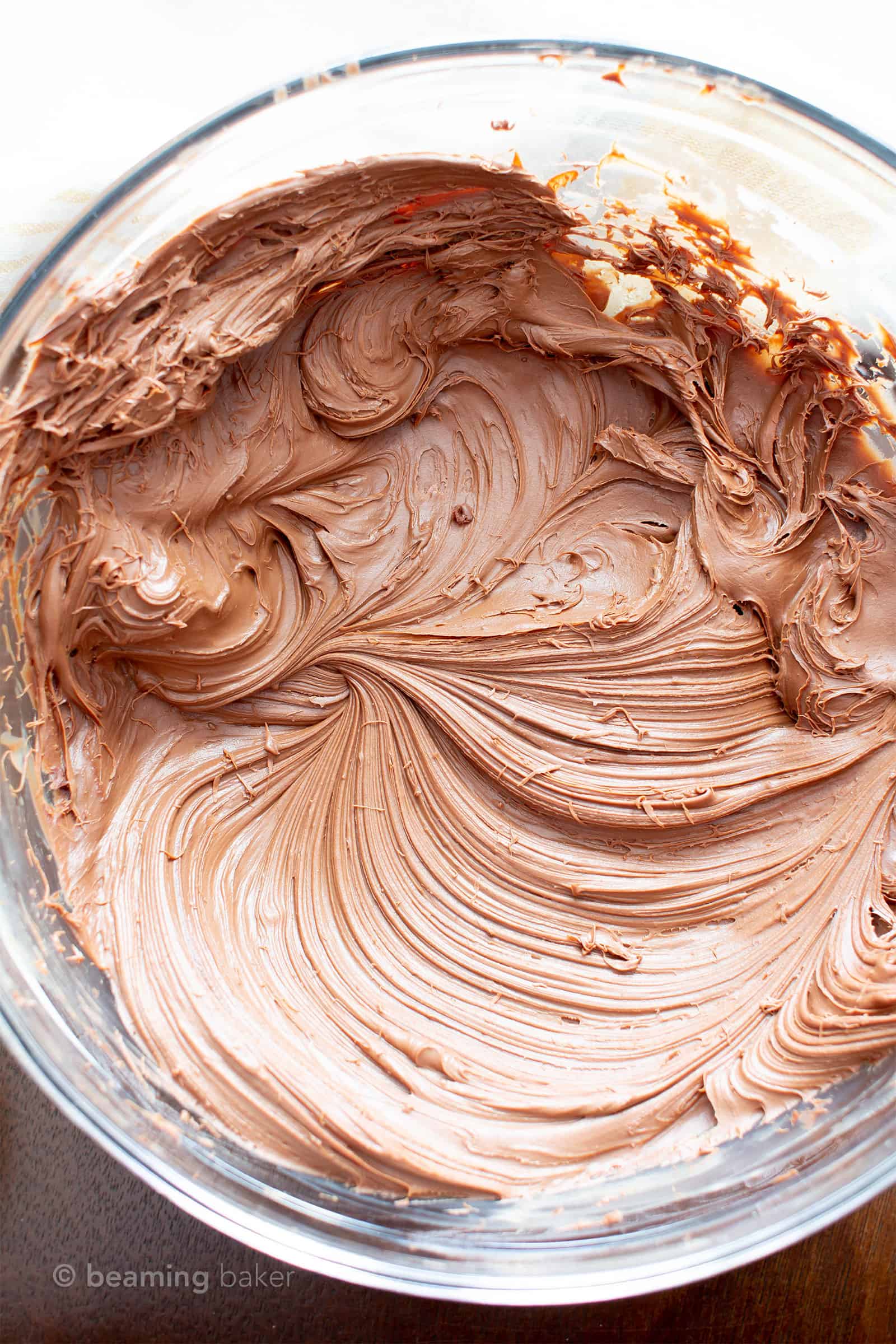 Dairy Free Chocolate Frosting with just 2 Ingredients!
It's super easy to make this homemade vegan chocolate frosting recipe–check out the how to photos below. Here are the two simple vegan & dairy-free ingredients:
How to Make Vegan Chocolate Frosting
Step 1: Chill
The night before, chill a can of coconut cream in the refrigerator—this way, you can easily scoop out the hardened coconut cream, while leaving behind coconut juice at the bottom of the can.
Step 2: Melt
Add coconut cream and vegan chocolate chips to a bowl. Melt together & stir in between heating increments—until it's shiny and smooth.
Step 3: Chill until Firm
Chill the vegan chocolate frosting mixture aka chocolate ganache until firm. See Figure A below.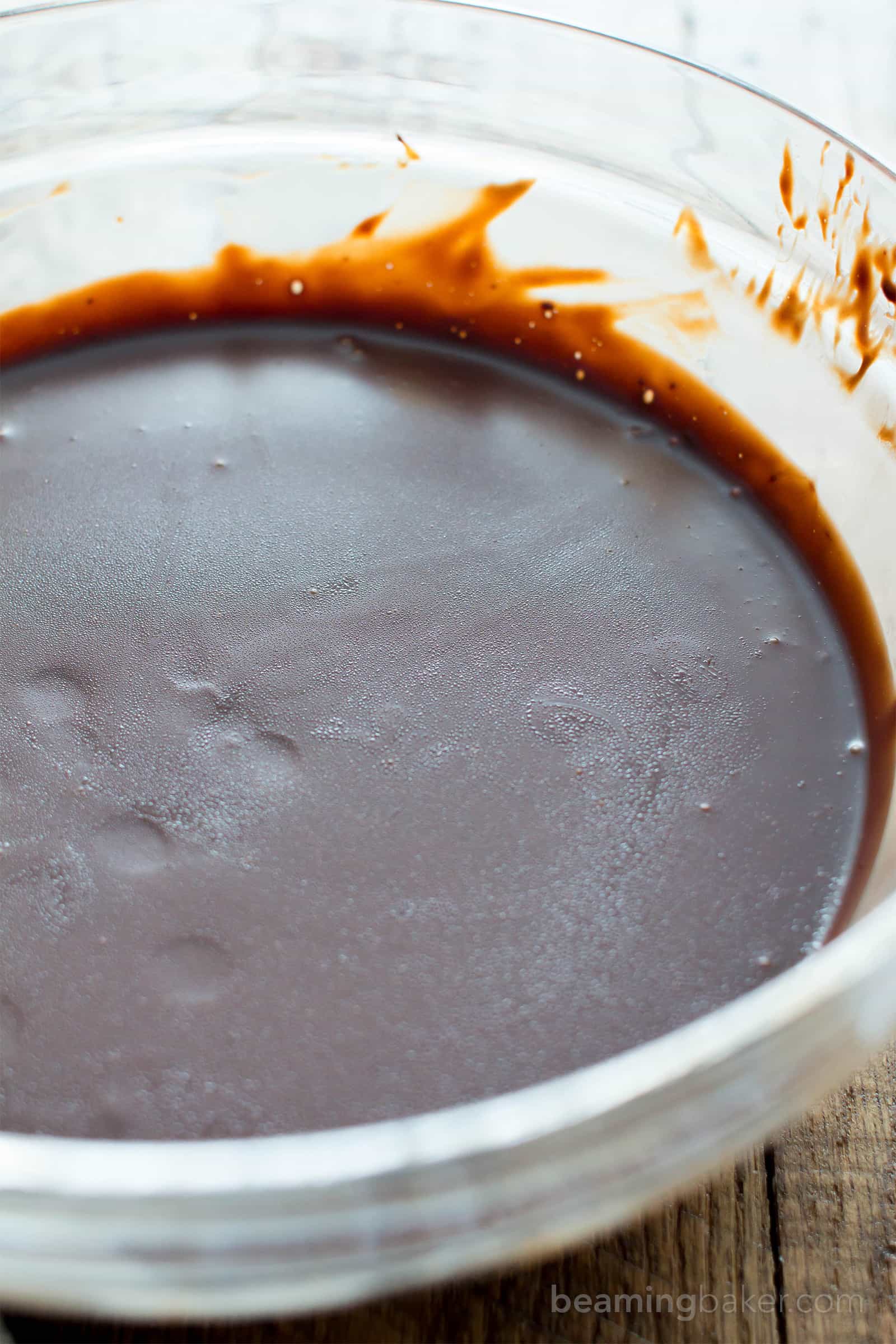 Step 4: Scoop
Scoop the unwhipped vegan frosting mixture away from the sides of the bowl, then transfer to a stand mixer fitted with a whisk attachment, or keep in the bowl to mix. See Figure B below.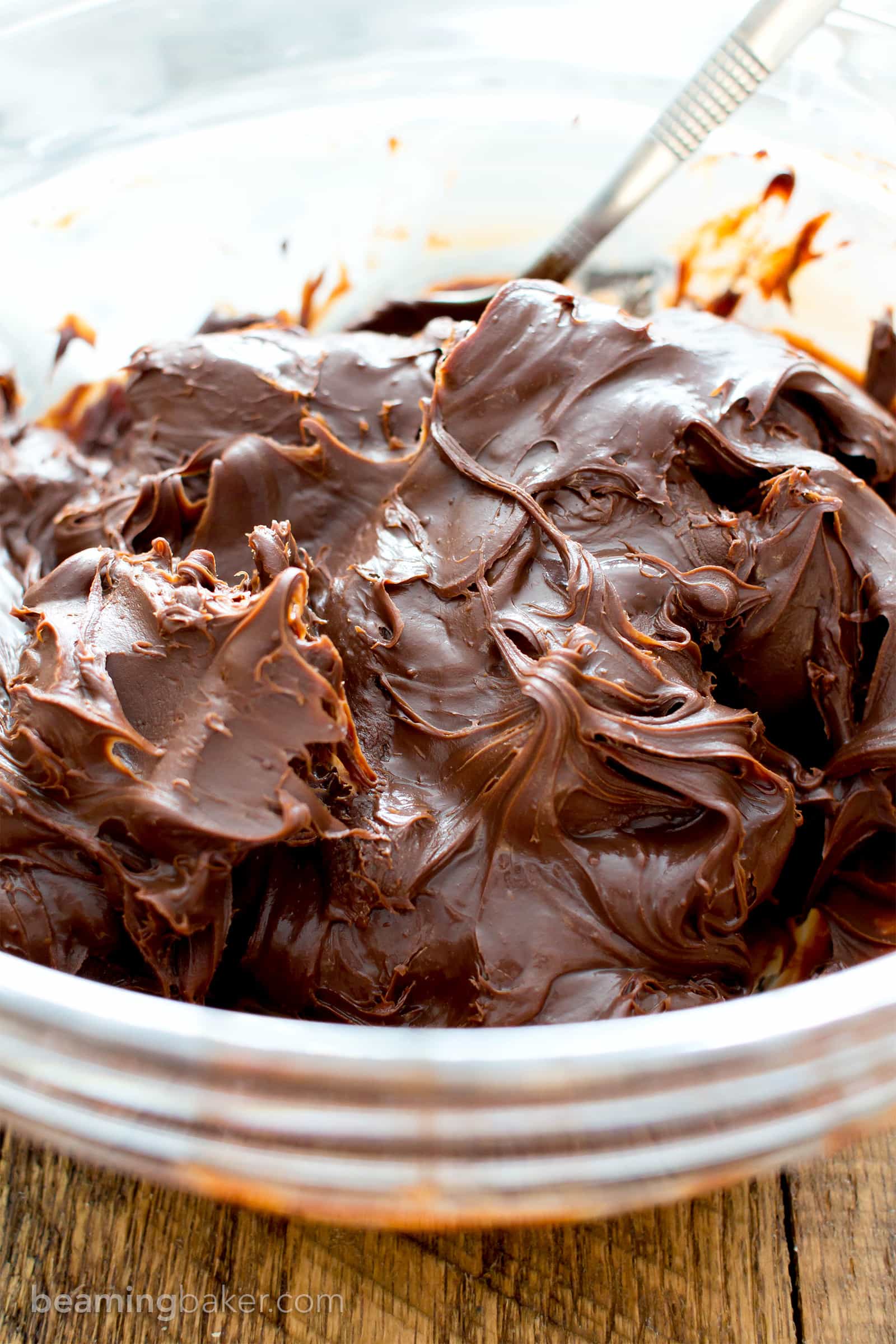 Step 5: Whip the Frosting
Make sure to use a whisk attachment with your stand mixer or hand mixer. The whisk attachment is essential to creating beautifully whipped vegan chocolate frosting. Begin whipping the mixture—as it turns into vegan chocolate frosting, it will lighten up in color. See Figure C below.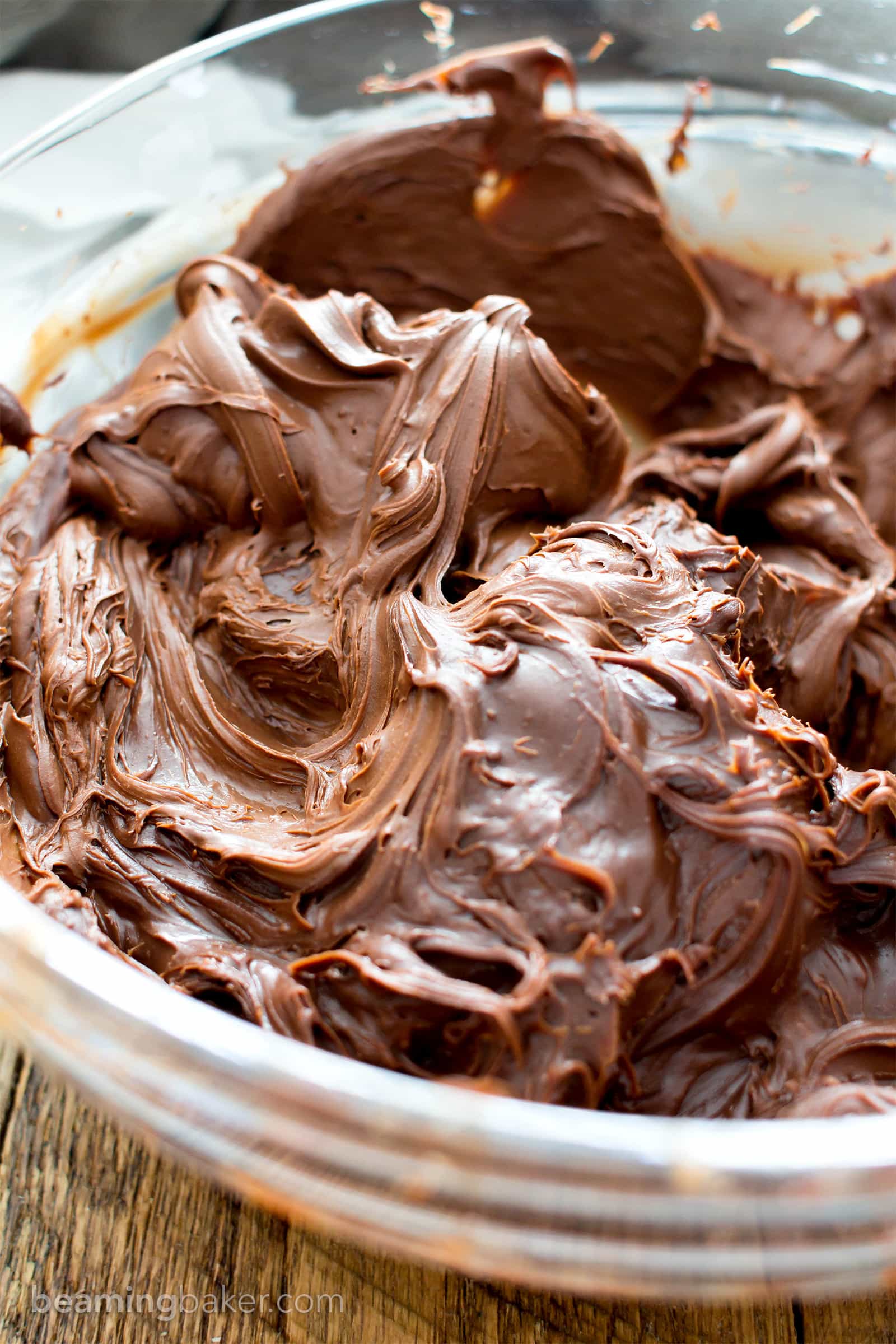 Step 6: Whip Some More
Whip until frosting is completely lightened to the color of milk chocolate frosting. See Figure D below.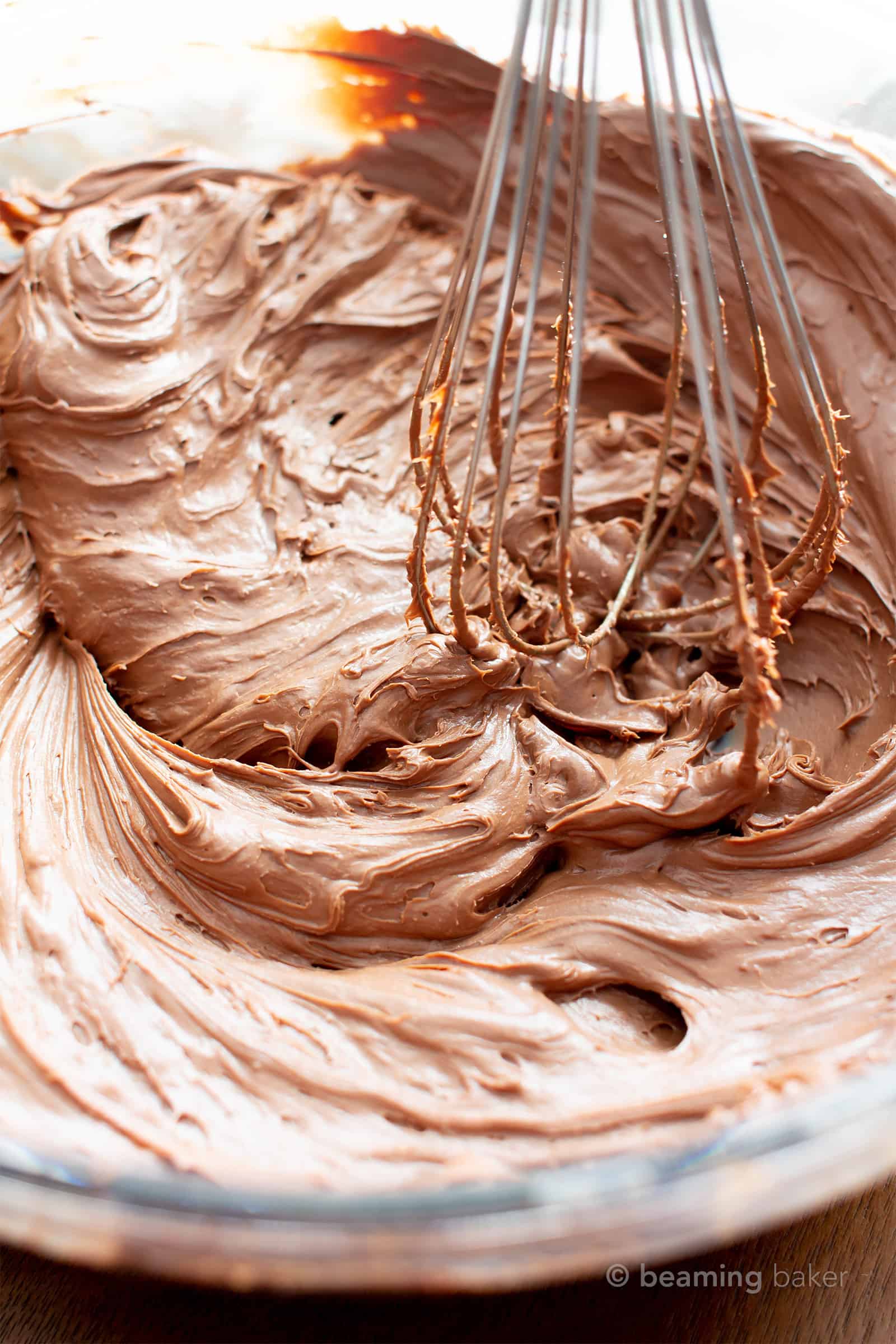 What Should I Frost with this Dairy Free Chocolate Frosting?
I'm so glad you asked. 😉 I've specifically written this dairy free chocolate frosting recipe to go with the following vegan dairy free desserts:
Tips for the Best Vegan Chocolate Frosting
Make sure to use coconut cream, not coconut milk. This vegan chocolate frosting is made with coconut cream—which is the thick, white, creamy part of coconut milk. This is the coconut cream that I use. Coconut milk is much more watery.
If you want to use coconut milk… follow the instructions in the Notes portion of my recipe.
Don't mix in the coconut juice from the can of coconut cream. When scooping and measuring your coconut cream, make sure to scoop up as little of the translucent coconut juice as possible. You want the thick, white creamy part.
Test a small batch in advance with the chocolate you're using. I've found that some paleo or sugar-free chocolate brands will not work in this frosting recipe—it won't yield a creamy frosting. Try making a small batch first before committing to using a full bag of expensive paleo or sugar-free chocolate.
Allow the chocolate ganache to de-chill a bit before whipping. When you're scooping the chocolate ganache away from the sides of the bowl, it shouldn't be that hard to scoop. If it's too hard, give the ganache a few minutes to de-chill/warm up before whipping.
Best Tools for Creamy Vegan Chocolate Frosting
Hand Mixer – super beautiful turquoise color & super sturdy in the kitchen!
Whisk Attachment – here's the exact whisk attachment that I use with my awesome hand mixer.
Stand Mixer – the classic stand mixer: a must for the baker. 🙂
Vegan Chocolate Chips – a staple in my vegan gluten free dessert recipes!
Coconut Cream – just the best coconut cream & what I use in my paleo desserts recipes!
Glass Mixing Bowls – these are my favorite heatproof mixing bowls to use when making this vegan chocolate frosting! Perfect for heating, perfect for mixing.
Are you ready to frost ALL the things?? And by "things" I do mean vegan chocolate cupcakes, cake, vegan chocolate chip cookies, and um, your mouth (okay, that sounded weird)—I mean, just eat it from the bowl, it's that good! It's truly an honor to share in these kitchen adventures with you. I can't wait to hear what you think! 'Til then…
Sending you all my love and maybe even a dove, xo Demeter ❤️
Click below to Pin

Did you make this vegan chocolate frosting recipe? Take a pic & share it on Instagram with the hashtag #beamingbaker and tag @beamingbaker. I'd love to see it!
Vegan Chocolate Dessert Recipes
Print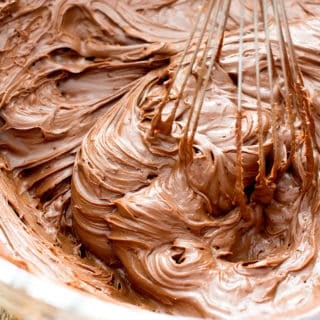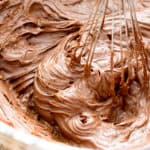 Vegan Chocolate Frosting Recipe – Dairy Free
---
Description
Vegan Chocolate Frosting: smooth 'n creamy vegan chocolate frosting that's so easy to pipe. Just 2 ingredients for the best dairy free frosting!
---
---
Instructions
The night before, place can of coconut cream into the refrigerator to chill. This will make it easier to scoop the firm cream out of the can–leaving behind any extra coconut juice. Instructions on using full-fat coconut milk in Notes.*
Use the double boiler method to melt the chocolate and coconut cream, or do the following: add coconut cream and chocolate chips to a large microwave-safe bowl—use a deep bowl if you plan to whip the frosting later in this bowl. Heat in 30-second increments until melted and smooth. Stir between heating increments, until chocolate is melted. Once completely melted, whisk thoroughly until smooth.
Transfer to refrigerator to chill for 2-5 hours. It's done when the mixture is medium firm, similar to a very firm gel. It will be stiff enough to be solid, but lightly depresses when pressing a finger into it. See Figure A.
Using a spoon, scoop this mixture into a large, deep mixing bowl for whipping (or use the same bowl). You may also transfer to the mixing bowl of a stand mixer. If the texture is right, it won't be too hard to spoon. See Figure B.
Allow to soften and warm up a bit at room temperature, for about 10-15 minutes. It should be soft enough to whip, but firm enough to not become liquidy when whipping. See Figure C.
Using a hand mixer, or a stand mixer, fitted with a whisk attachment, beat the frosting mixture until fluffy. The color of the mixture will lighten to that of milk chocolate. See Figure D.
Frost completely cooled Vegan Gluten Free Chocolate Cupcakes. Or, make a double batch for my favorite Vegan Chocolate Cake Recipe. Enjoy!
For Paleo Cupcakes, try my rich & moist Paleo Chocolate Cupcakes Recipe.
Equipment
Prep Time:

2 hours

Cook Time:

2 mins

Category:

Dessert

Method:

Chill

Cuisine:

American
Keywords: vegan chocolate frosting, dairy free frosting
© beamingbaker.com. All content and images are protected by copyright. Please do not use my images or recipe without my permission. Please do not republish this recipe, instead, include a link to this post for the recipe.
This post may contain affiliate links, which allow me to make a small commission for my referral, at no additional cost to you. Thank you for supporting Beaming Baker.