2 Ingredient 5 Minute Homemade Fudge Recipe (V, GF): a quick 'n easy recipe for thick squares of rich, decadent chocolate fudge that's made with whole ingredients! Take just 5 minutes to prep. Paleo, Vegan, Gluten-Free, Dairy-Free. Just 87 calories each, with 2 grams of sugar per serving! 🙂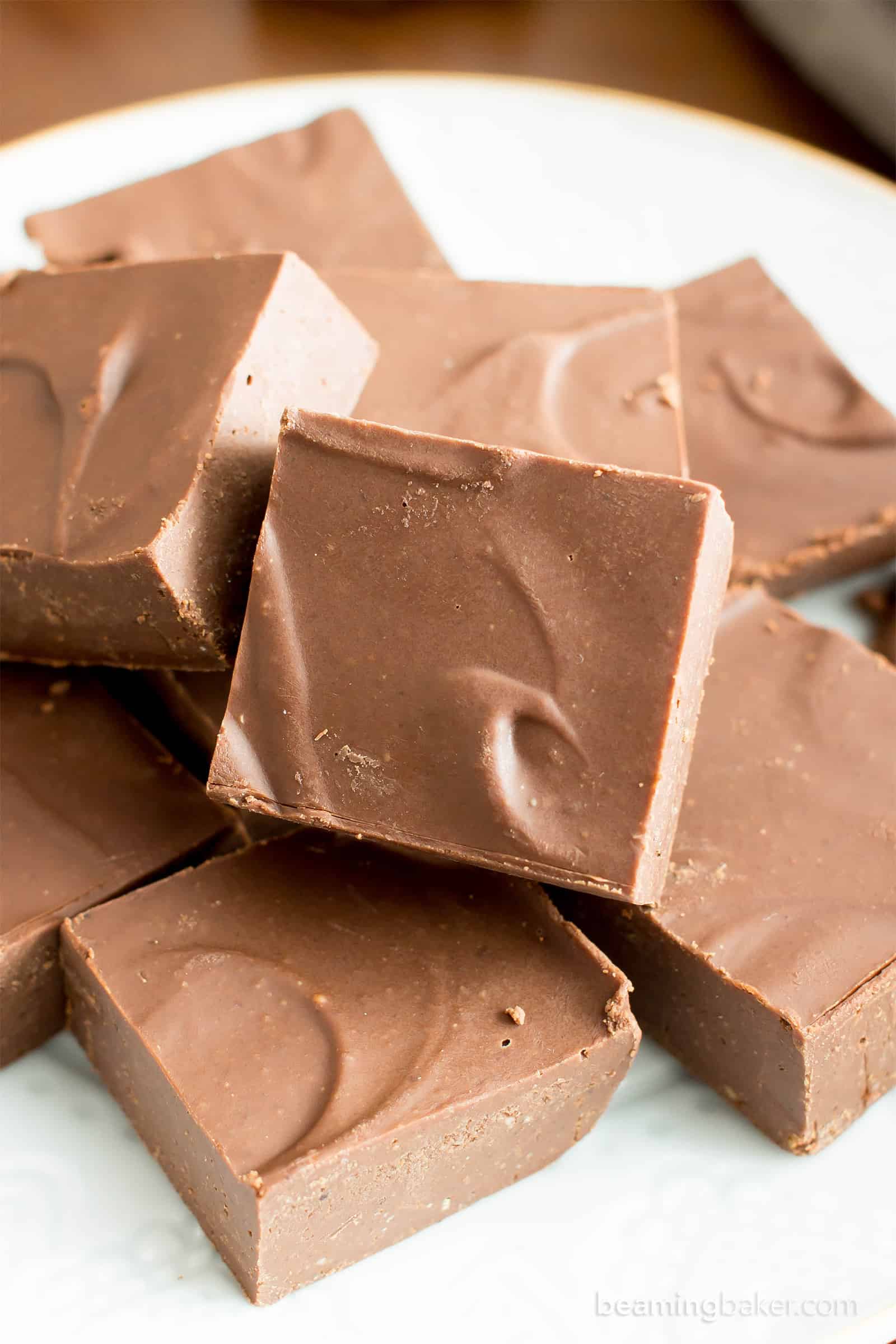 Yep, you heard me, just 5 minutes! All you need is five minutes of prep time to make this decadent, soft, fudgy (duh!!), and incredibly satisfying 2 Ingredient 5 Minute Homemade Fudge Recipe.
How's that for a Happy Valentine's Day?
Okay, time for a quick poll: are you a fan of Valentine's Day or not so much? Do you think it's:
A) a greeting card holiday
B) a romantic, meaningful holiday
C) kinda of both
D) not sure, but think it's a great time to show your love anyway.
Or E) all the other options I didn't think of and foolishly forgot to list?
Last Valentine's Day, I made ALL the chocolate goodies: homemade crunch bars, 4 ingredient no bake paleo chocolate almond butter bars, and 3 ingredient keto chocolate peanut butter fat bombs! And don't forget a few bars of Paleo Vegan Dark Chocolate for good measure. 😉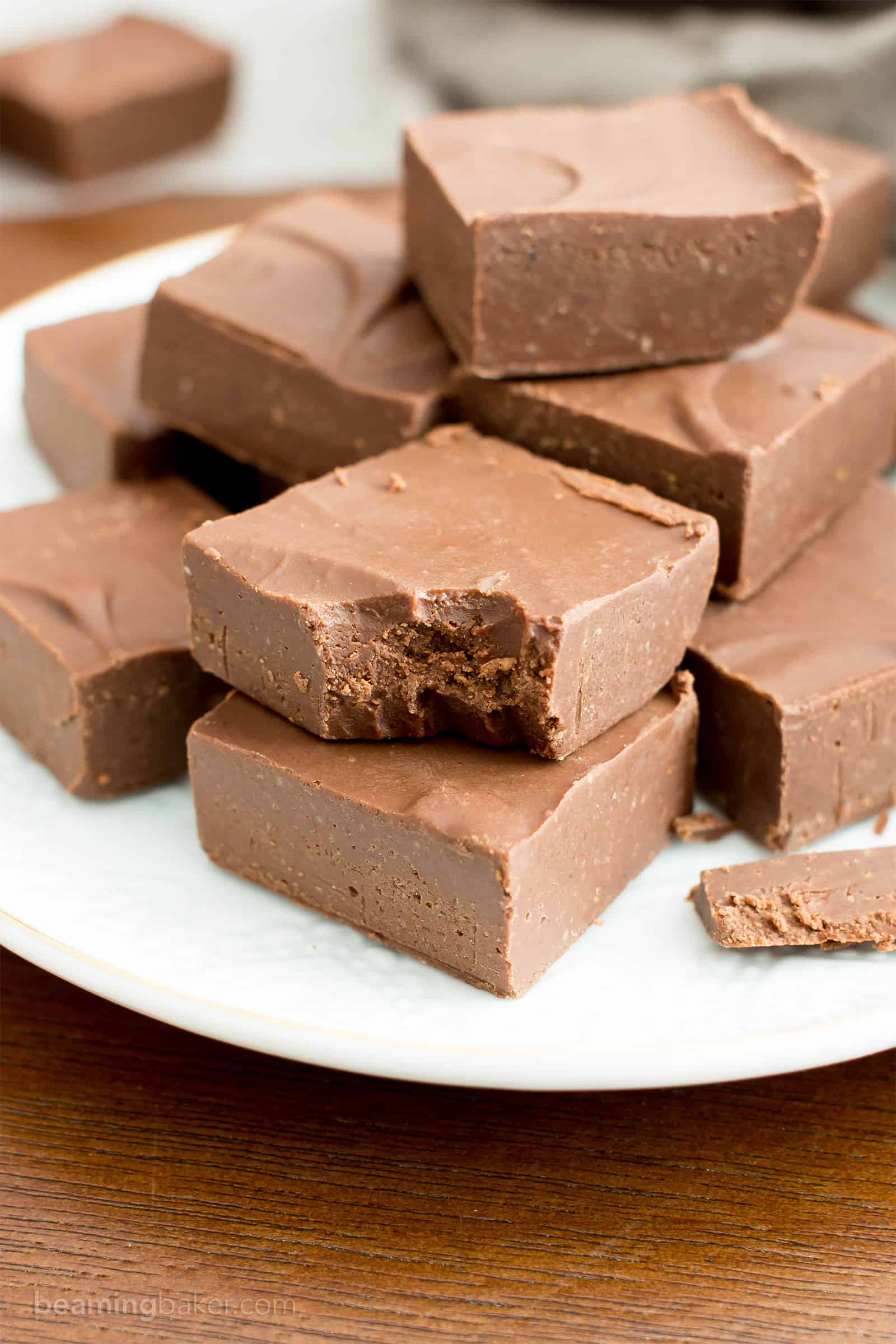 It was a veritable candy factory in my house! I even started laying the ground work for what would become these amazing vegan coconut truffles.
Anywho, back to what I was saying, how do you feel about V-Day? I, myself, am totally a-okay with Valentine's Day. I don't get super jazzed about it, nor do I loathe it, or anything. But I will say that I LOVE, love, love one part of V-Day: the CHOCOLATE!!!
Any excuse for chocolate and/or love (same thing) is a great excuse in my book!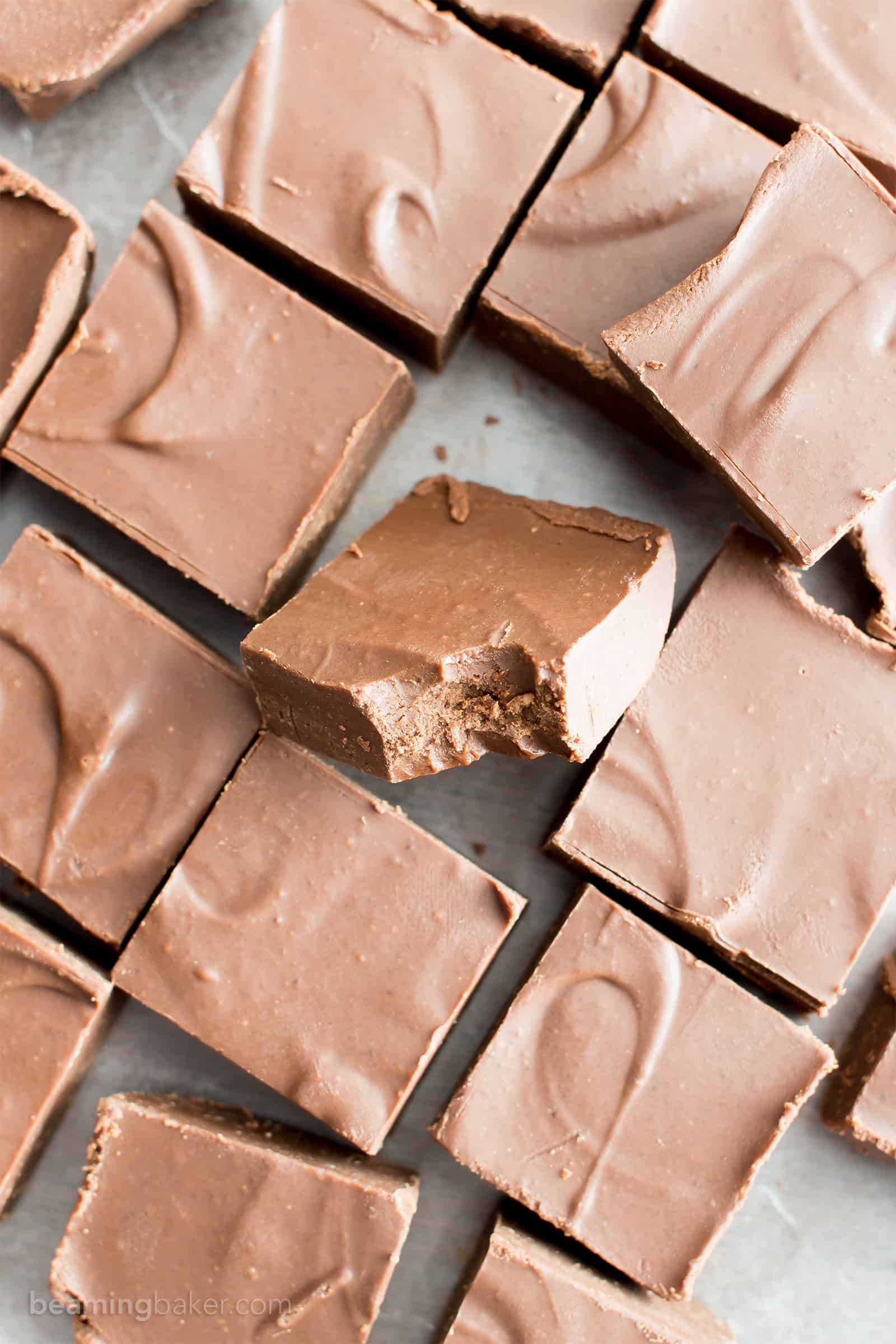 So whether you love all of this love business, you'll most certainly love my 2 Ingredient 5 Minute Homemade Fudge Recipe. Alright, so let's take it back to where this fudge came from…
Ages ago, I craved a piece of paleo vegan fudge like it was nobody's business. To my dismay, all the fudge recipes I could find required refrigeration. And for the most part, the second that fudge got outside, into the very mild room temperature air, it would start to melt! All too messy and stain-inducing for my taste.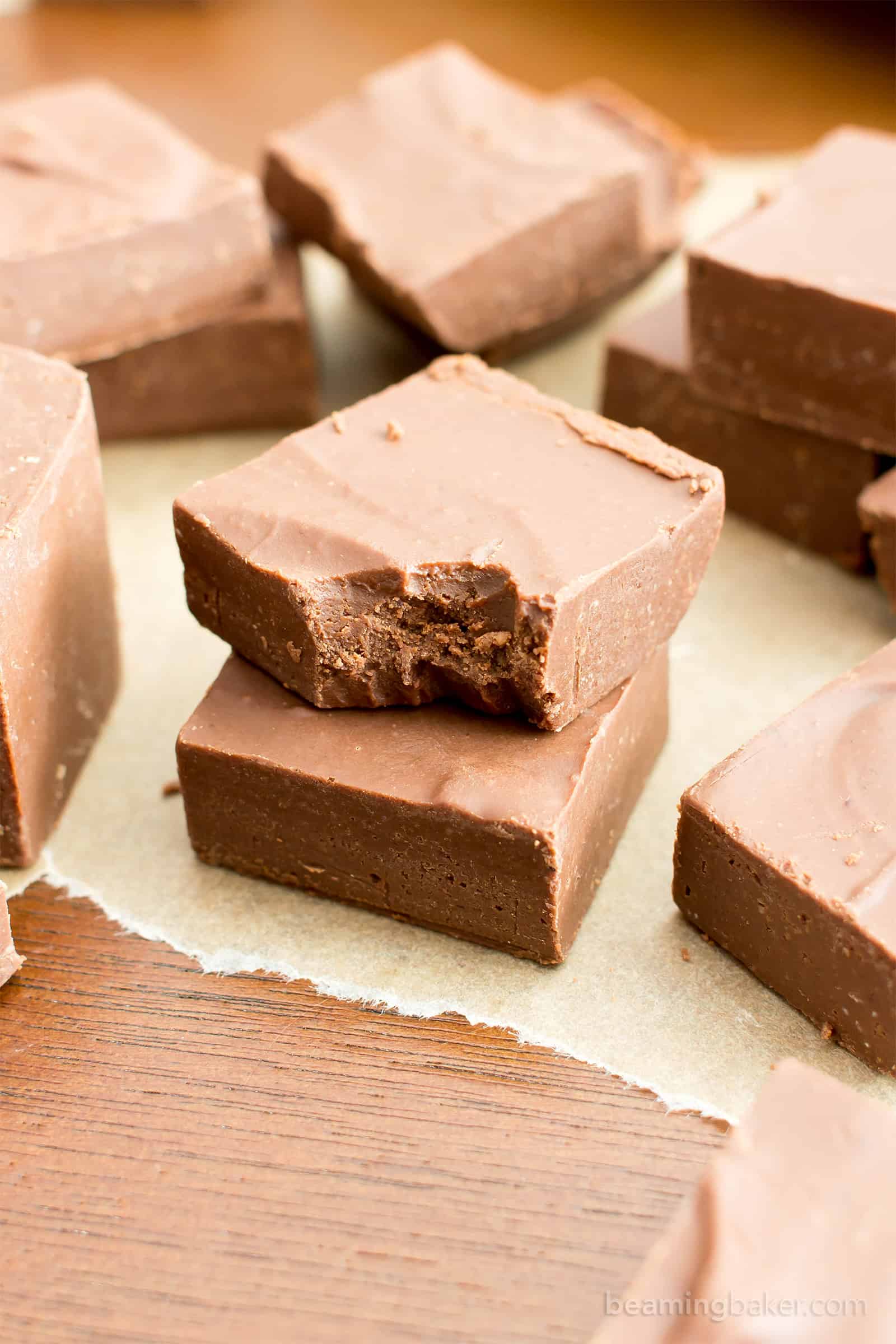 So I started eyeballing the fudge element in the topping of these recipes: peanut butter cup oatmeal bars, no bake paleo chocolate pecan bars, no bake chocolate peanut butter bars, no bake paleo chocolate almond butter bars. I also, in the mean time, created my own fridge-required, but so tasty I couldn't not share it, vegan chocolate peanut butter freezer fudge and my paleo chocolate almond butter fudge cups.
All while chomping on these delicious plant-based fudge treats, I toyed around with the proportions of two simple ingredients: almond butter and chocolate chips. I tested 1:1, 1:2, 2:3, and all kinds of ratios that made my mind boggle.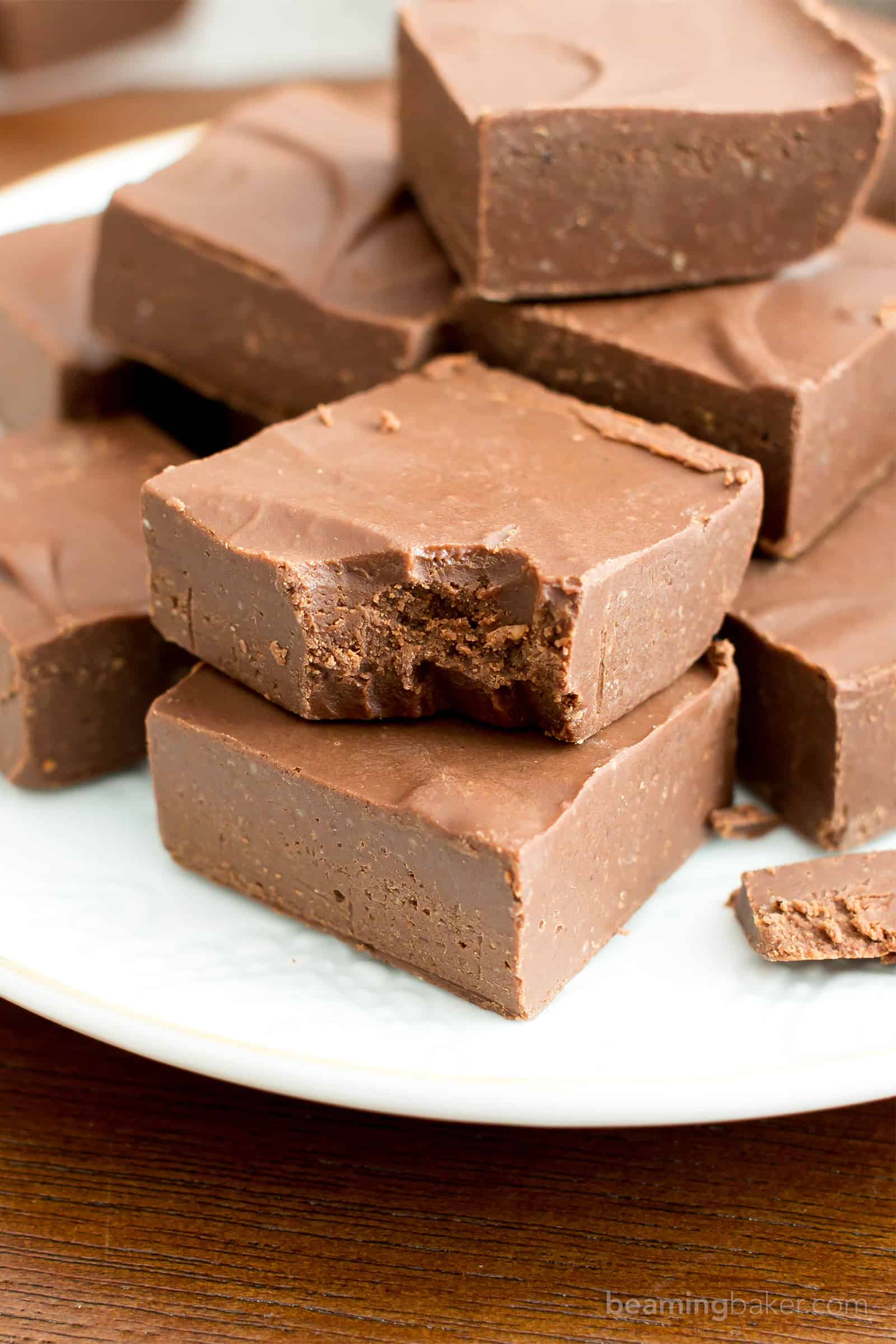 And then I FOUND IT. The one that worked.
You may have taken a delectable taste of my 3 Ingredient Chocolate Pecan Fudge or my 5 Minute Easy Peppermint Fudge.
Those fudge recipes were SO good… but also, SO seasonal. That's the thing that totally bothers me about seasonal stuff—the shelf-life. The second Fall or Christmas is over, you can forgettaboutit! And you do… Wah wah.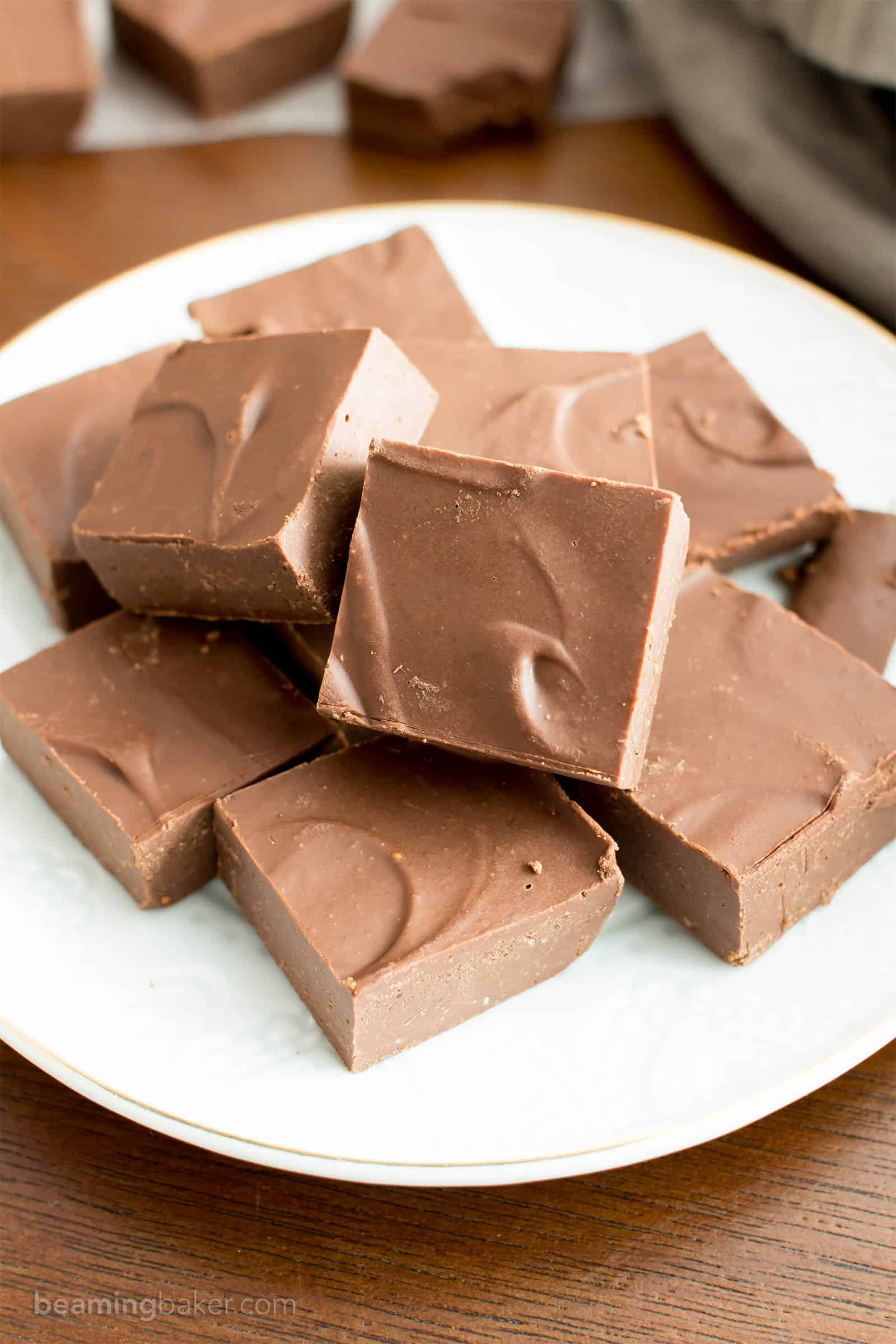 So here I am sharing this yearlong, all seasons appropriate treat: my 2 Ingredient 5 Minute Homemade Fudge Recipe. You like? Allow me to shower you with ALL the finest features of this delectable dairy-free fudge. This 2 Ingredient 5 Minute Homemade Fudge Recipe is…
so easy to make
made with just 5 minutes of prep
just 87 calories per square
only 2g of sugar per serving!
vegan, paleo, gluten-free, dairy-free
sink your teeth in it GOOD
…especially with this amazing paleo vegan chocolate
thick, fudgy, creamy
made with just 2 ingredients
just the homemade fudge recipe you've been looking for
better yet, the homemade almond butter fudge recipe you've been looking for
just the perfect vegan fudge recipe to add to your vegan candy collection
makes for a great vegan, gluten-free or paleo fudge dessert
Are you ready for the EASIEST fudge recipe you've ever come across? Or, surely, at least the one of the easiest homemade candy recipes you've ever tried? I'm waiting here, with the most gigantic tub of almond butter to make these with ya! 😉 I can't wait to hear what you think. In the meantime, tell me:
What's your favorite fudge flavor?
Sending you all my love and maybe even a dove, xo Demeter ❤
☀︎ Click below to Pin ☀︎

☀︎ Did you make this recipe? Take a pic and share it on Instagram with the hashtag #beamingbaker and tag @beamingbaker. I would love to see it! ☀︎
If you enjoyed this thick and satisfying 2 Ingredient 5 Minute Homemade Fudge Recipe, then you'll just love these delicious homemade candy recipes:
☀︎ More Gluten-Free Vegan Chocolate Candy Recipes ☀︎
Print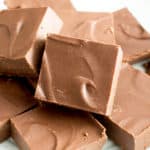 2 Ingredient 5 Minute Homemade Fudge Recipe (Paleo, Vegan, Gluten Free, Dairy-Free)
---
Description
2 Ingredient 5 Minute Homemade Fudge Recipe (V, GF): a quick 'n easy recipe for rich, decadent chocolate fudge that's stable at room temperature! Paleo, Vegan, Gluten-Free, Dairy-Free.
---
---
Instructions
Line an 8-inch loaf pan with parchment paper or wax paper. Set aside. Clear some space in the freezer for this pan—you will need it later.
Use the double boiler method or the following: Add chopped paleo vegan chocolate and almond butter to a medium, microwave-safe bowl. Heat in 20-second increments until chopped paleo vegan chocolate is softened and melty. Stir in between heating increments, until smooth.
Pour this mixture into the prepared loaf pan. Tap the pan to create an even layer. Optionally, use a spoon to make swirls on top.
Transfer pan to freezer. Freeze until completely firm. Remove from freezer and slice into 18 squares. Enjoy! Storing instructions below.Looking for more chocolate treats? Try these Ultimate Fudgy Paleo Vegan Brownies and these Homemade Crunch Bars.
---
Equipment
Notes
Adapted from my Chocolate Pecan Fudge and my 5 Minute Peppermint Fudge.
Storing Instructions: Store in an airtight container in a cool, dark area at room temperature, or in the refrigerator, for up to 2-3 weeks.
Freezing Instructions: store in an airtight, freezer-friendly container in the freezer for 1-2 months. Very firm, but enjoyable straight out of the freezer. If preferred, thaw for 10 minutes.
Nutrition Info: is an estimate based on 18 total squares.
*Substitution Notes: You can use any nut or seed butter you'd like! Ex: sunflower, cashew, peanut, etc. Just make sure it's creamy and natural. The flavor of the nut/seed butter you use can affect the flavor of the fudge. Almond butter is best because the flavor is so mild. 🙂
Category:

Healthy, Dessert

Method:

Chill

Cuisine:

American
Nutrition
Serving Size:

1 square

Calories:

87

Sugar:

2g

Fat:

7g

Carbohydrates:

8g

Protein:

2g
© beamingbaker.com. All content and images are protected by copyright. Please do not use my images or recipe without my permission. Please do not republish this recipe, instead, include a link to this post for the recipe.
SHOP THE RECIPE
Here are a few items I used in today's recipe.
Paleo Vegan Dark Chocolate | 9-inch Loaf Pan | Stainless Steel Measuring Cups | Glass Mixing Bowls | My Favorite Knife | Silicone Spatulas | 8-inch Loaf Pan | Unbleached Parchment Paper

This post may contain affiliate links, which allow me to make a small commission for my referral, at no additional cost to you. Thank you for supporting Beaming Baker.
Facebook ☀︎ Pinterest ☀︎ Twitter ☀︎ Instagram