Peppermint Fudge – Keto Mint Fudge!
Dreamy 'n creamy peppermint fudge made with just 3 ingredients! The best secretly keto mint fudge.
3 Ingredient Low Carb Peppermint Chocolate Fudge: this super easy keto chocolate fudge recipe is perfect for the holidays! Cool, minty & indulgent—the best keto peppermint fudge: Low Carb, Vegan. Just 1 Net Carb & 1 gram of sugar per serving!
The Only Peppermint Fudge You'll Ever Need
… It's that good. Trust me. Ditch the stovetop cookery items. Keep your candy thermometer and other candy accoutrements in storage. Leave the truly simple and easy sugar free, keto fudge making to me. Today, we're making peppermint fudge with just 3 ingredients and all of the yum! It's rich, creamy and deeply chocolate-satisfying. Oh, you know what I mean! Think peppermint sticks + chocolate indulgence combined into 1 delicious fudge treat. Let's make this!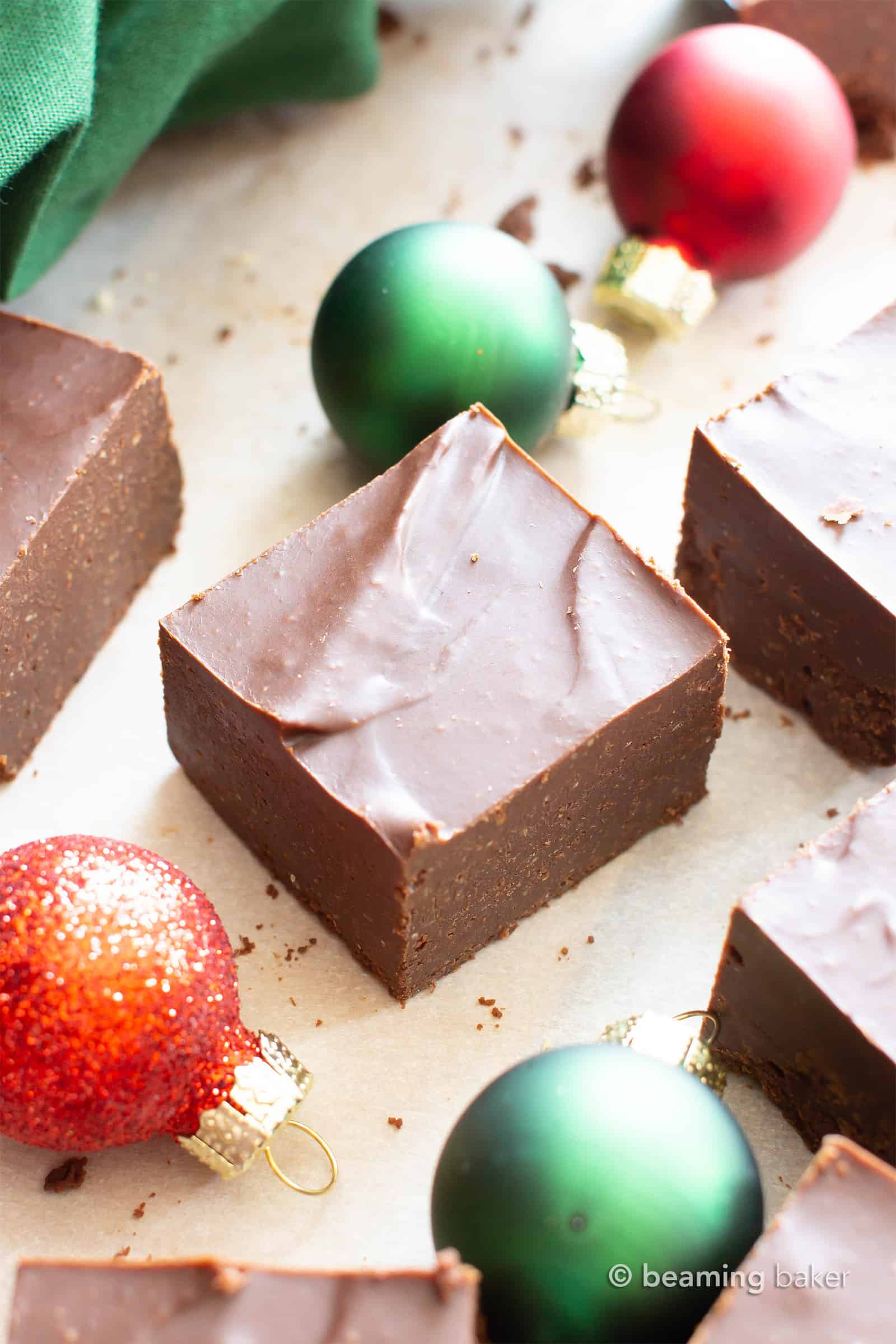 Keto Mint Fudge in Just 3 Ingredients!
Say what now? Yep, I'm real when I tell you that all you need are 3 simple ingredients to make this peppermint fudge. It's chockfull of festive vibes, tastes like candy canes (cue the peppermint extract!) and totally guilt-free with it's near sugar free awesomeness. Let's gather just 3 ingredients to make the best peppermint fudge ever!
All you need are 3 simple ingredients to make this keto peppermint fudge: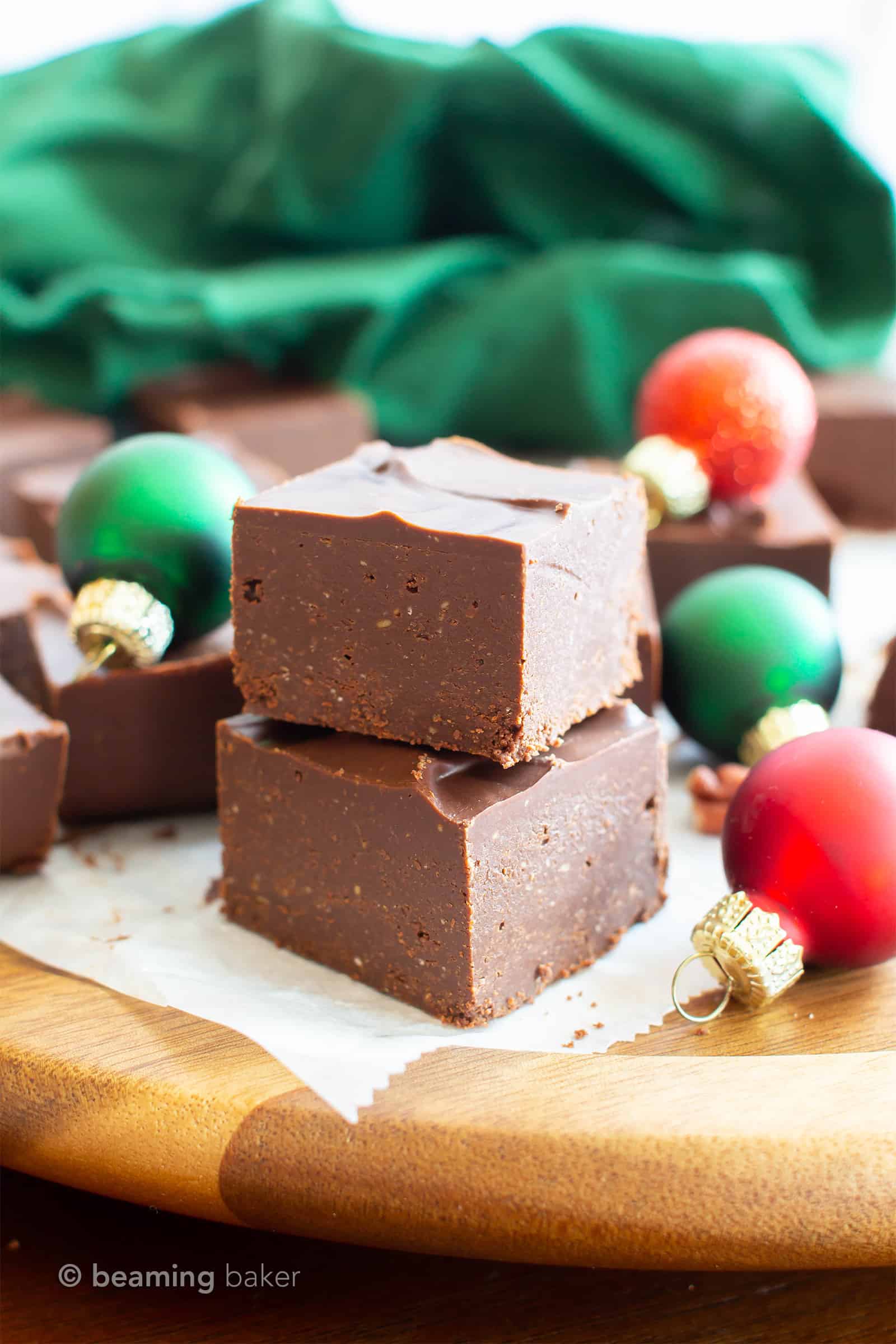 What Does This Low Carb Chocolate Fudge Recipe Taste Like?
If I could virtually beam the taste of this low carb chocolate fudge to you, you know I totally would. Or, if I could make WonkaVision a real thing—without the dangerous consequences and such—I totally would. But I can't, so here's my best shot at a description:
This keto peppermint fudge tastes like your favorite thick & creamy squares of velvety chocolate fudge + low-key festive peppermint patties put together. Yep, low-key peppermint patties. 😉 As in, a light flavoring of sweet & minty peppermint goodness.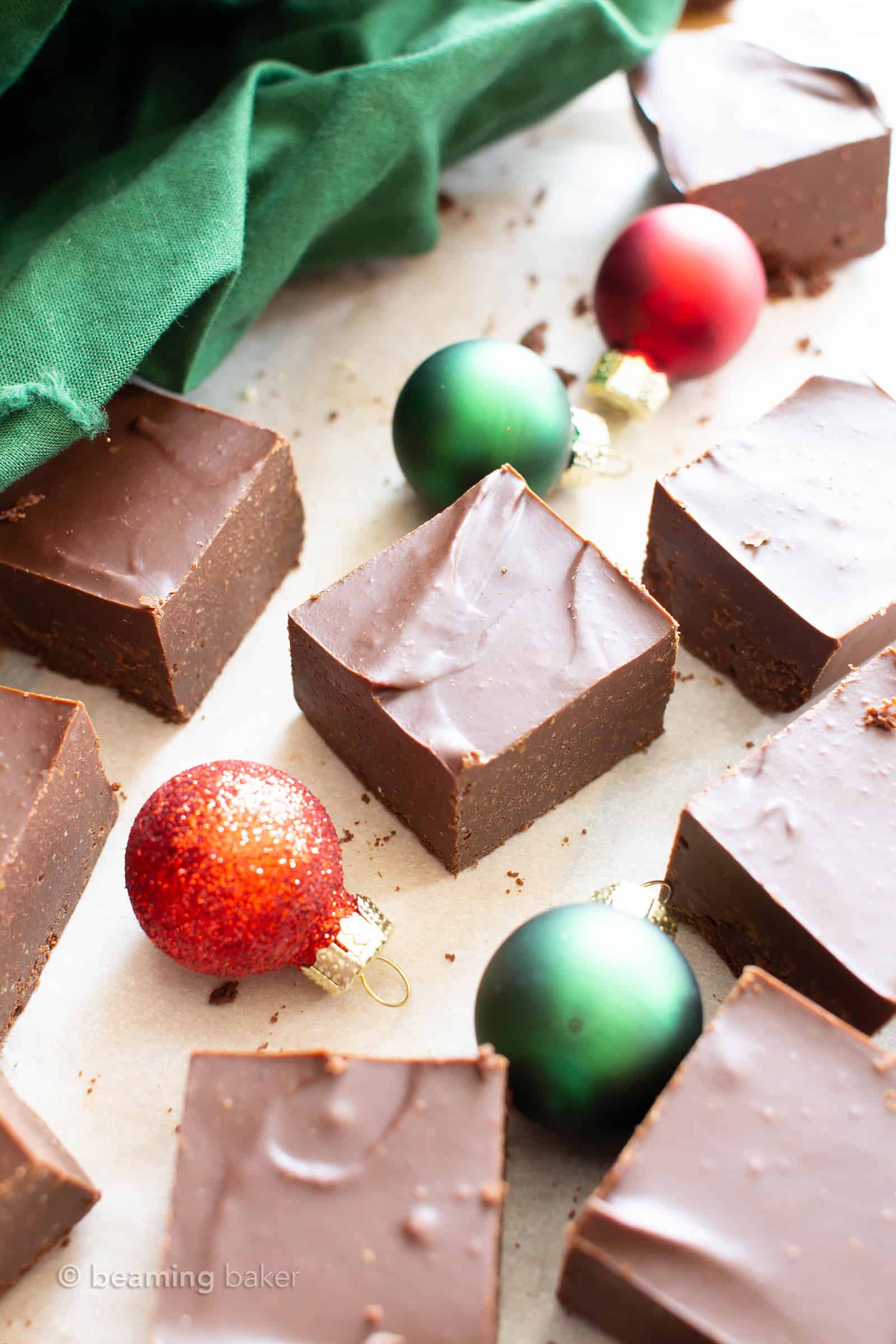 Recommended Tools for the Best Low Carb Keto Peppermint Fudge
Here are my top recommendations for the best tools & ingredients to use in making Low Carb Keto Peppermint Fudge!
Are you beyond excited to whip up a batch of this low carb peppermint keto fudge? 🙂 Let's make this! You know I can't wait to hear what you think—let me know in the comments below! Forever grateful that you're here, sharing in these kitchen adventures with me & our loved ones…
Sending you all my love and maybe even a Christmas dove, xo Demeter ❤️
Click below to Pin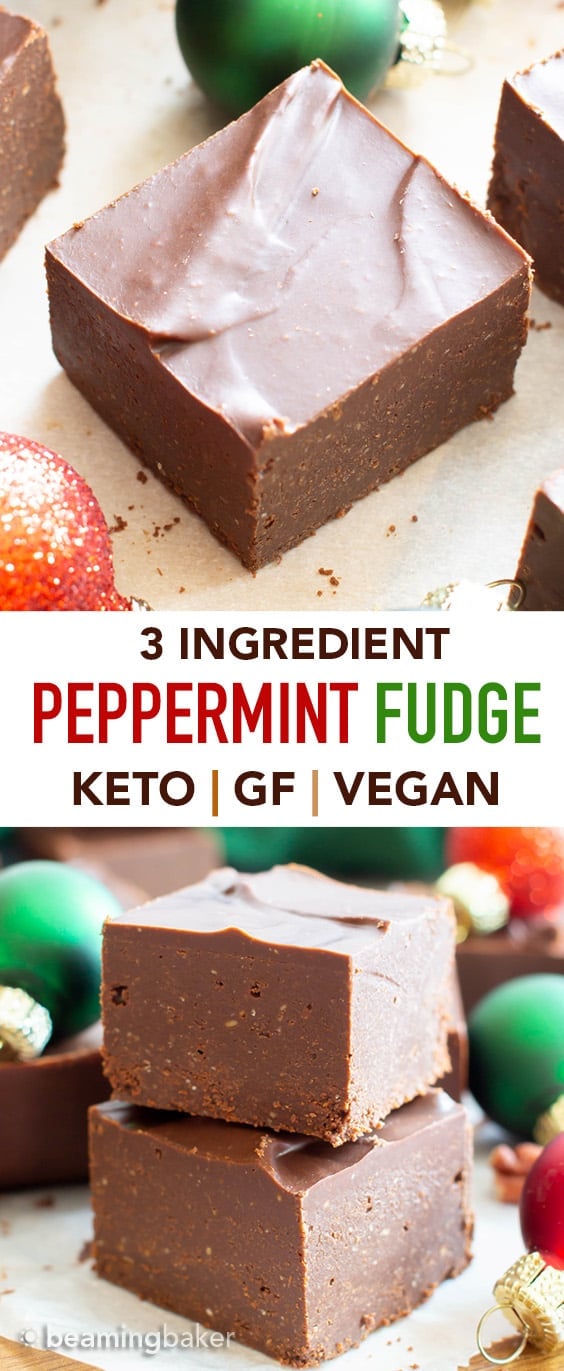 Did you make this keto peppermint fudge recipe? Take a pic and share it on Instagram with the hashtag #beamingbaker & tag @beamingbaker. I'd love to see it!
Keto Chocolate Fudge Recipes
Print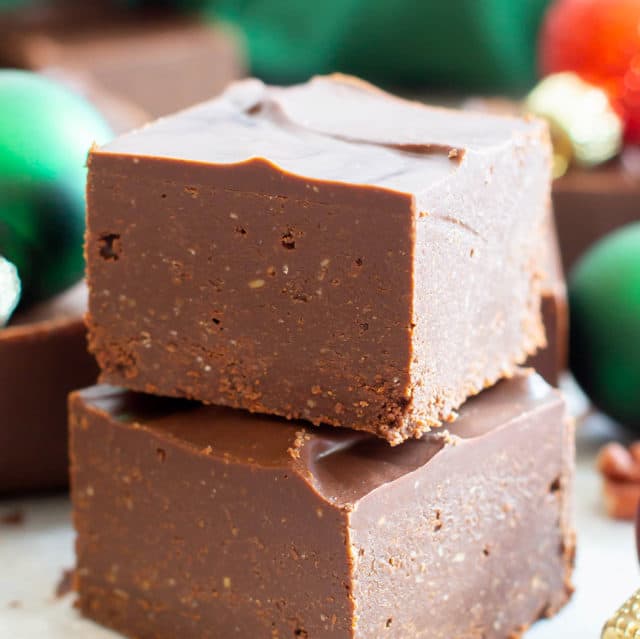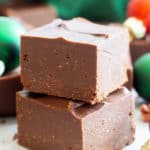 3 Ingredient Low Carb Peppermint Chocolate Fudge (Keto, Vegan)
---
Description
3 Ingredient Low Carb Peppermint Chocolate Fudge: this super easy keto chocolate fudge recipe is perfect for the holidays! Cool, minty & indulgent—the best keto peppermint fudge: Low Carb, Vegan.
---
---
Instructions
Line an 8-inch loaf pan with parchment paper or wax paper. Set aside.
Melt the keto chocolate & almond butter together using the double boiler method or the following: add chocolate and almond butter to a microwave safe bowl. Heat in 20-second increments until chocolate is fully softened and mostly melted. Stir in between heating increments, until smooth.
Add peppermint extract. This is the organic peppermint extract I use and love. Stir until smooth.
Pour the peppermint chocolate mixture into the prepared loaf pan. Using a rubber spatula, smooth into an even layer.
Chill in the freezer for 40-70 minutes, or until firm. Slice and enjoy! Storing instructions below.
More Keto Recipes:
Equipment
Prep Time:

5 mins

Cook Time:

0 mins

Category:

Snacks, Dessert

Method:

Chill

Cuisine:

American
Nutrition
Serving Size:

1 square

Calories:

96

Sugar:

1g

Sodium:

0mg

Fat:

10.3g

Carbohydrates:

Net Carbs: 1g

Fiber:

5g

Protein:

3g

Cholesterol:

0mg
© beamingbaker.com. All content and images are protected by copyright. Please do not use my images or recipe without my permission. Please do not republish this recipe, instead, include a link to this post for the recipe.
This post may contain affiliate links, which allow me to make a small commission for my referral, at no additional cost to you.
Some Sweet Moments…
Today's the day we kick off the 1st Annual Beaming Baker Vegan Cookie Countdown! Are you super excited or what? 🙂 (Don't say "what". ?) Welcome to #9 in the 1st Annual Beaming Baker Vegan Cookie Countdown! We're actually starting with a non-cookie recipe because: FUDGE, baby. FUDGE. *Mic drop* *Awkwardly picking the mic up again* Check out the blue box lower in the post (above the recipe) for every entry that I share. I'll be keeping you up-to-date on all the recipes that I share during the vegan cookie countdown! 🙂 Ready? Let's get started!
One of my favorite holiday memories in the kitchen is from a few years back. Erik and I were living in the Boston area and oh-so-wonderfully close to my 6-year-old nephew, Dylan.
We stole away a cozy, wintry afternoon of fun holiday activities, such as taking him shopping for him momma (my amazing sister, Jenny), and swapping Christmas stickers for our respective sticker collections (oh YES, I love me some stickers!!), and making homemade peppermint fudge.
Dylan, aka PB, was so fascinated and delighted by the entire process. He was only four years old at the time and absolutely loved trying new things. His mom's been known to show him around the kitchen when it came to all things delicious & savory, but had been a bit lighter on the sweets side.
Enter: E Mimi!!! <– His nickname for me.
I figured we could start his homemade vegan sweets odyssey nice and easy: with a super easy, 3 ingredient recipe. That cozy afternoon, after a day of screaming, laughing and running through the streets of Boston doing Christmas shopping, we retreated back to his house to warm up.
You should have seen his face when we started melting the vegan chocolate chips together with the nut butter. He could not believe how something so solid could turn all shiny and melty.
And when he smelled the peppermint extract? He literally giggled like there was no tomorrow. He had so much fun mixing the chocolate, almond butter and peppermint together like a mad, sweet scientist.
And when, a while later, he sawthat his melty chocolate mixture had turned into a solid block, perfect for his E Mimi to cut into fudge squares? Let's just say, I've never seen a kid so happy and it's one of the sweetest moments of my life. 🙂
The only downside? His Popo (aka Grandma) didn't get to enjoy much because she had to keep her sugar low. So this year… we're remixing that beloved peppermint fudge and making it Low Carb, Low Sugar, and deliciously Keto. Welcome to the first BB Christmas recipe of the year: vegan + dairy-free Low Carb Peppermint Chocolate Fudge!! Dedicated to PB & Grams… two of the sweetest people I know.
Side note: if you're craving some more keto snacks that don't happen to have chocolate involved, make sure to check out my 3 Ingredient Almond Butter Keto Fat Bomb Recipe, 4 Ingredient Keto Peanut Butter Bars and my 3 Ingredient Peanut Butter Keto Energy Balls Recipe. I hope you love this peppermint fudge as much as I do. Enjoy.