2 Ingredient Pineapple Coconut Sorbet (V, DF, Paleo): an easy recipe for deliciously refreshing, healthy pineapple coconut sorbet! Paleo, Dairy-Free, Vegan, Gluten-Free.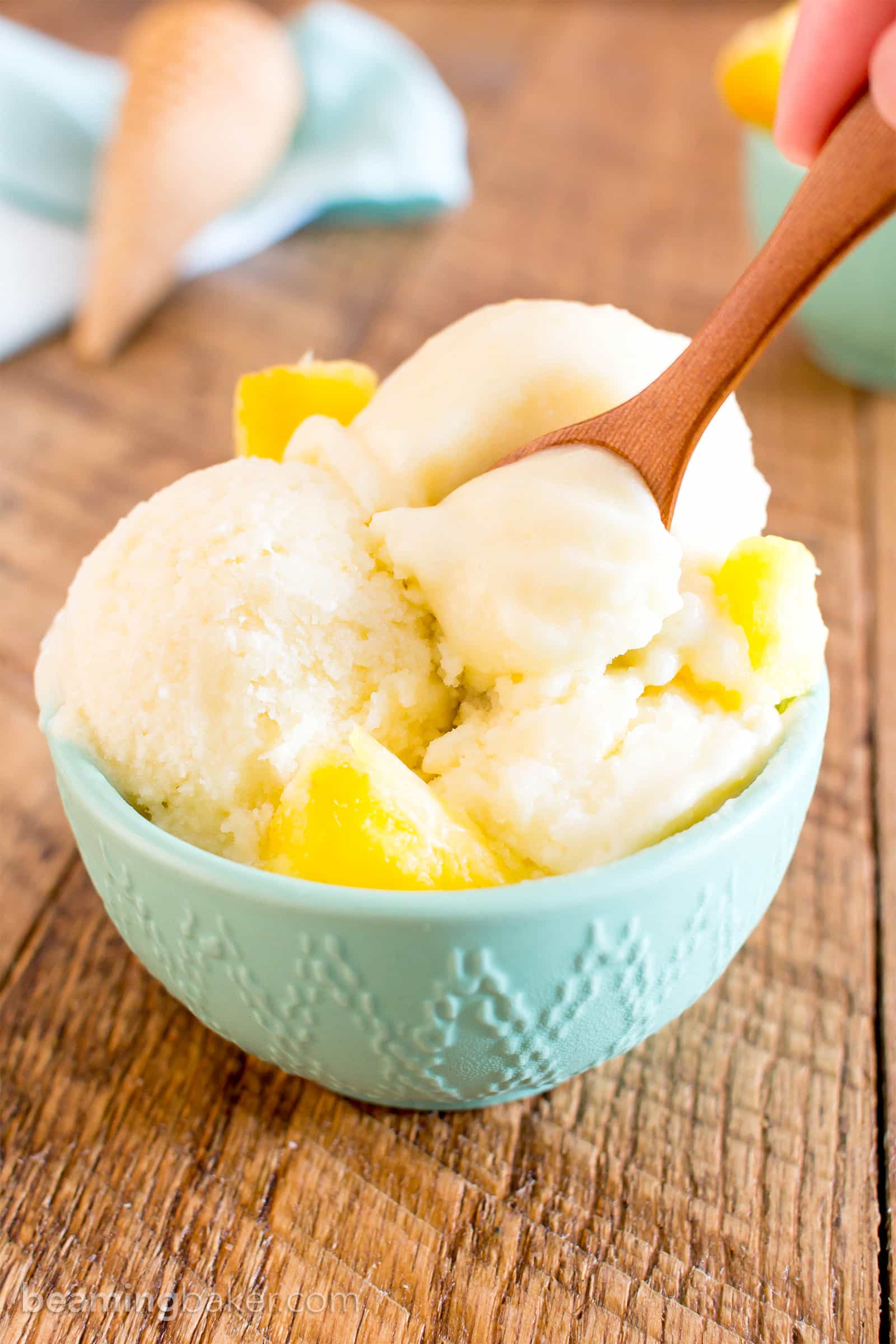 Who's a fan of the pineapple coconut flavor combo? Update: If you're more a fan of strawberries and coconut, then head on over to my 3 Ingredient Strawberry Coconut Sorbet! Yep, it's paleo, vegan, and oh-so-good!
I just totally heard you say, "Oh me! Oh, me me me me!!" Right? 😉
Yeah!!! But before I get to that, I'm gonna tell ya how this all began…
You might've seen the 3 ingredient mango coconut vegan ice cream that I shared a few weeks ago. I've made that ice cream at least 3 times for my mom and sisters Jenny and Monica, and at least 3 more times for Erik and me. Shoutout to my sister Penny, who is on the other side of the country, so she couldn't actually eat any of this. Booooo.
It's so easy to make and ridiculously creamy and refreshing. It was also a huge hit on Facebook.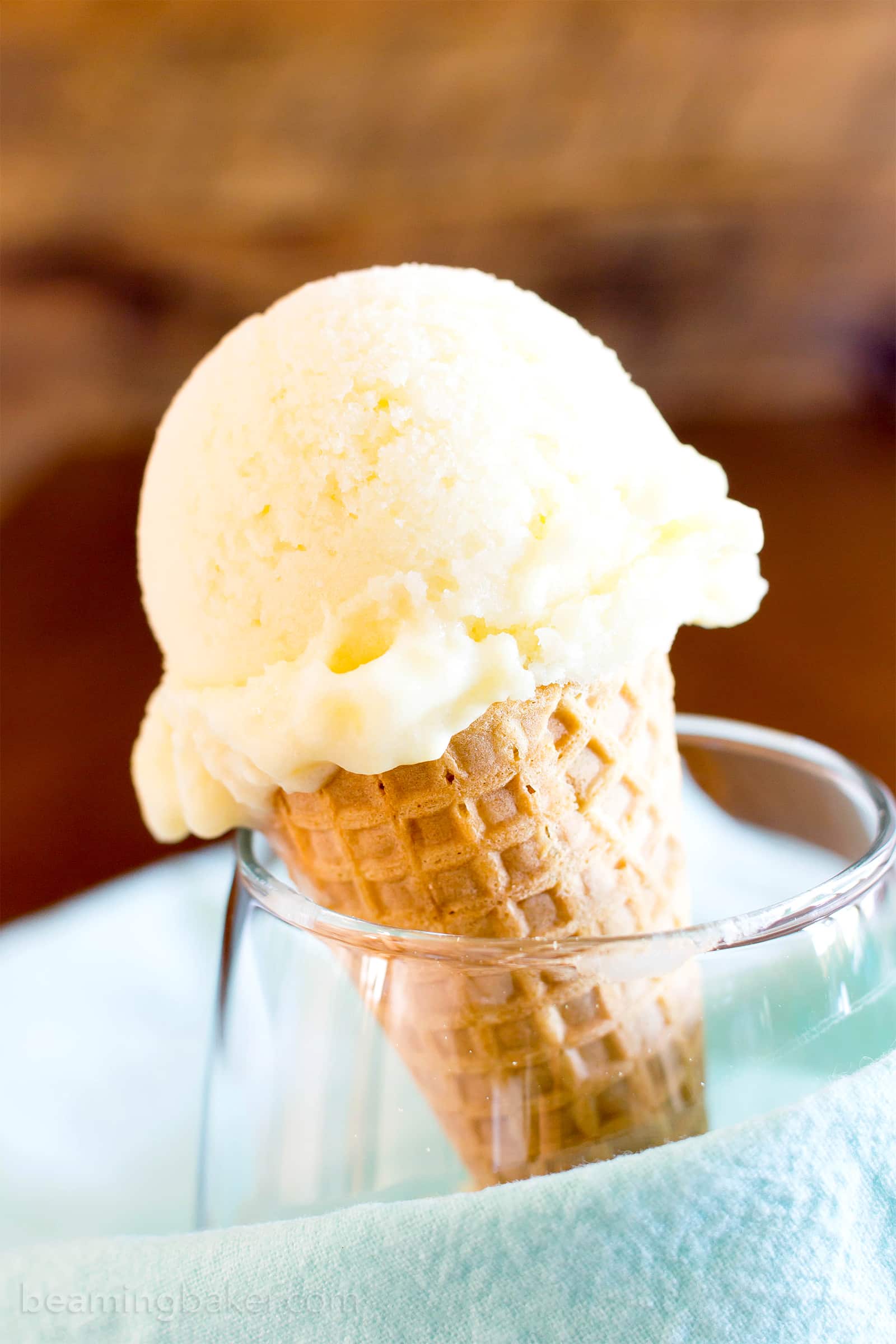 But that much-loved mango coconut combo got me thinking: why not squeeze in one more frozen tropical treat before the summer is over?
Okay, okaaaaaaay, you've got me. This is so not the last frozen tropical treat… but it is the last one I've shot for the summer. Behind-the-scenes side note: I totally shot a whole bunch of ice cream, popsicle and milkshake recipes back in February (!!).
Anyway, I never know if you're interested in behind-the-scenes stuff… so forgive me if you just dozed through that last sentence. So, as I was saying, I figured since mango coconut ice cream was such a hit, why not try making 2 Ingredient Pineapple Coconut Sorbet? 😉
And the funny thing is, I seriously have been wanting to share a sorbet recipe with you for ages! But have you seen sorbet recipes?? They literally call for 1-2 cups of sugar. You know that isn't gonna fly with my mom, my adorable soon-to-be 4-year-old nephew (okay, he would love it, let's be honest… but still), or you!
Side note (yes, another side note,) there was one sorbet recipe from last year that Jenny really loved: 4 ingredient homemade strawberry sorbet.
But anyway, I put the whole Sorbet Project in the back of my recipe closet and called it a day.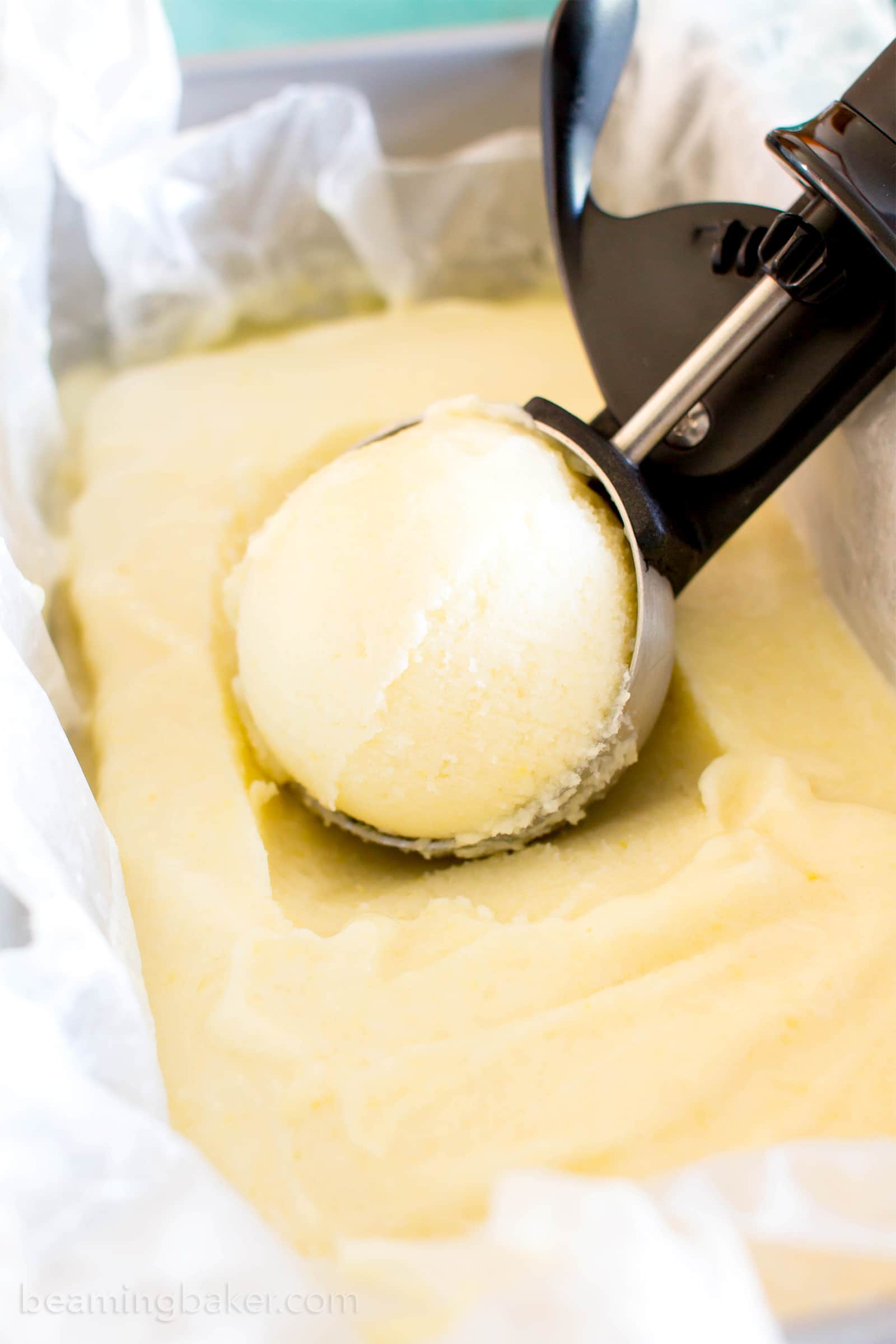 Then, something funny happened. I took the mango coconut ice cream recipe and swapped the mango out for pineapple. I did exactly the same thing—blended, froze, thawed… and scooped.
And guess what happened?
SORBET.
Happened.
DUDE. Delicious dude. Okay, that sounds gross. But you know what I mean. That creamy dreamy, mango-riffic delight became something else entirely when mango was swapped with pineapple.
It was the perfect frosty, cool, satisfyingly sweet, but just lightly, lightly creamy-textured SORBET. Cue the drumroll, cue the parades with fireworks and cue all the celebratory horns!!
We can have sorbet—without all that added sugar!
I even made the maple syrup in this recipe optional—and just 1 tablespoon if you decide to use it. Go ahead and leave it out to make this 2 Ingredient Pineapple Coconut Sorbet deliciously added sugar-free (and legit 2 ingredients). . Or… no added sugar? Hmm… how should I phrase this?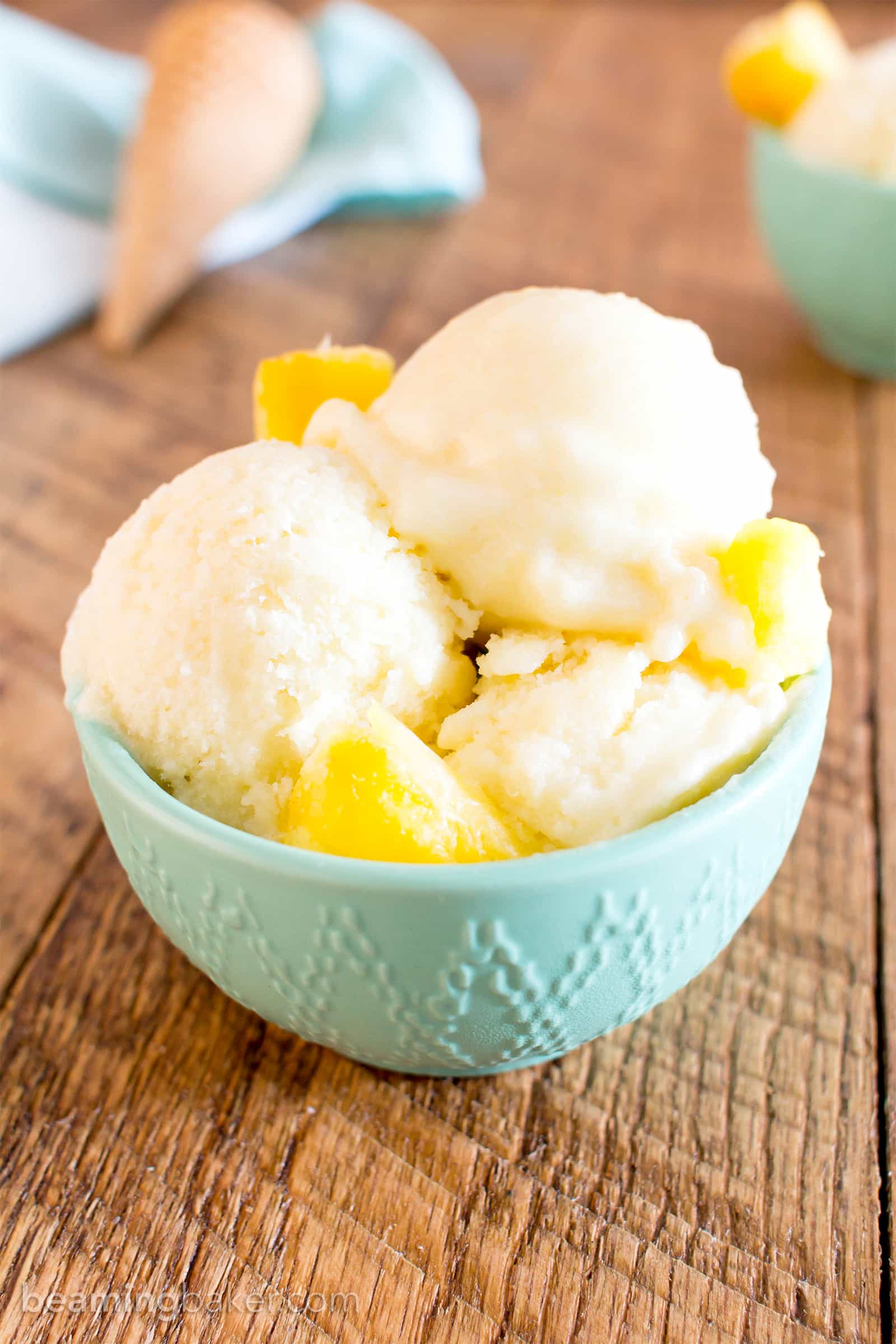 This deliciously tropical sorbet is one of Erik and my mom's absolute favorite frozen desserts. But just in case you're not convinced (don't worry, my mom won't be offended—as long as I don't tell her you don't trust her word . ), let me tell you all about this 2 Ingredient Pineapple Coconut Sorbet. It's:
made with just 2 ingredients, or 3—it's up to you
super easy to make
prepared in just 5 minutes
paleo, vegan, dairy-free
cool, refreshing and tasty
the perfect frozen treat to help you beat this summer heat
gluten-free, refined sugar-free
easily made with no added sugar
bursting with deliciously tropical pineapple coconut flavor
plant-based and allergy-friendly
made with the whole, healthy ingredients you love
the perfect accompaniment to your bowl of 4 Ingredient Banana Peanut Butter Swirl Ice Cream (there is no such thing as too much dessert!! .)
perfect for dessert, an afternoon sweet treat and more
So whatcha waiting for? My mom to find out you don't trust her word? J/k!! I'll tell her not to read this post. Heh heh. 😉 It's been just wonderful spending the summer with you, creating all the tasty homemade treats! I'm so grateful that you're here. I can't wait to hear what you think of this recipe, in the meantime, tell me:
What's your favorite tropical flavor combo?
Sending you all my love and maybe even a dove, xo Demeter ❤
☀︎ Click below to Pin ☀︎

☀︎ Did you make this recipe? Take a pic and share it on Instagram with the hashtag #beamingbaker and tag @beamingbaker. I would love to see it! ☀︎
SHOP THE RECIPE
Here are a few items I used in today's recipe. 🙂
Food Processor | Ice Cream Scoop | Coconut Milk | Maple Syrup | Blender | Stainless Steel Measuring Cups | Coconut Cream
Print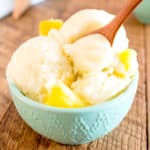 2 Ingredient Pineapple Coconut Sorbet (Paleo, Dairy-Free, GF, Vegan)
---
Description
2 Ingredient Pineapple Coconut Sorbet (V, DF, Paleo): an easy, no-churn recipe for deliciously refreshing, healthy pineapple coconut sorbet! Paleo, Dairy-Free, Vegan, Gluten-Free, Refined Sugar-Free.
---
Scale
Ingredients
3 cups

frozen pineapple chunks

1

can full-fat coconut milk (

13.66 oz

.)*

1 tablespoon

pure maple syrup (optional)
---
Instructions
Add pineapple, coconut milk and maple syrup (if using) to a blender or food processor (preferred).
Blend until smooth, scraping down the sides of the blender as needed.
Pour into a freezer-friendly, airtight container. Freeze for 3-6 hours, or until completely frozen. Allow to thaw for 10-60 minutes before scooping—this treat can take a while to thaw.** Enjoy!

Also try my super easy & refreshing 3 Ingredient Strawberry Coconut Sorbet!
---
Notes
– Adapted from my Mango Coconut Vegan Ice Cream.
– *Do not chill coconut milk. Use room temperature canned coconut milk. Shake well to mix. Best when completely liquidy.
– **To quickly thaw, first ensure that ice cream is in a microwave-safe container. Microwave in 15-second increments until slightly soft and scoopable.
– Store in an airtight container in the freezer for up to 1 week. Before serving, allow to thaw for about 10-60 minutes. Scoop and enjoy!
– Nutrition Info: is an estimate based on 12 servings, without maple syrup.
– More frozen treats: Almond Joy ice cream, paleo ice cream bars, mango coconut milkshake.
Category:

Frozen Desserts, Ice Cream, Paleo, Vegan, Dairy-Free, Gluten-Free, Refined Sugar-Free
Nutrition
Serving Size:

1/3 cup

Calories:

60

Sugar:

4g

Sodium:

11mg

Fat:

4g

Carbohydrates:

4g
© beamingbaker.com. All content and images are protected by copyright. Please do not use my images or recipe without my permission. If you wish to republish this recipe, please re-write the entire recipe using your own words and include a link to this post for the recipe.
If you enjoyed this 2 Ingredient Pineapple Coconut Sorbet recipe, then you'll just love these plant-based, allergy-friendly recipes:
☀︎ Paleo Vegan Frozen Desserts
Feeling like a tropical delight in the tastiest frozen form? I've got just the thing with my 3 Ingredient Mango Coconut Paleo Milkshake (Paleo, Vegan, Dairy-Free, Gluten-Free).
When coconut and chocolate come together… it's DESSERT BLISS. You'll see what I mean with my Coconut Chocolate Chip Vegan Ice Cream (DF, V, GF, Refined Sugar-Free) recipe. It's incredible.
Almond Joy for the win! Like, always. Try my Paleo Vegan Almond Joy Ice Cream, you'll just love how easy it is to make this ice cream!
When you all you need is sorbet to satisfy that sweet tooth craving… turn to my 4 Ingredient Homemade Strawberry Sorbet recipe! It's paleo, vegan, dairy-free and gluten free. Oh, YUM!
This post may contain affiliate links, which allow me to make a small commission for my referral, at no additional cost to you. Thank you for supporting Beaming Baker.
Facebook ☀︎ Pinterest  ☀︎ Twitter ☀︎ Instagram