4 Ingredient No Bake Paleo Chocolate Almond Bars (Gluten Free, Vegan) – Easy No Bake Squares Recipe!
4 Ingredient No Bake Paleo Chocolate Almond Bars (V, GF): this paleo no bake chocolate almond bars recipe is so easy with just 4 ingredients! It's the best no bake date nut bars recipe – healthy, vegan & gluten-free!
Happy 3 Year Blogiversary!! Can you believe it's been 3 years since Beaming Baker was created? 🙂 It's been a heck of a ride, and to celebrate, I thought it'd be prudent to share a no bake recipe, 'cuz I'm funny like that. 😉
Usually, I share a peanut butter cookie recipe for the anniversary, like this one and this one, but this year I wanted to bring it back to a few yummy staples of the blog: no bake, chocolate, and almonds!
I hope you love my super easy no bake paleo chocolate almond bars as much as you love the blog. 😉 Okay, maybe I'm just assuming that… but it's been such a wonderful ride with you! On the daily, I get emails, comments, photos, videos and more (like love letters… J/k!!!) sent to me featuring your very own Beaming Baker creations that you made at home.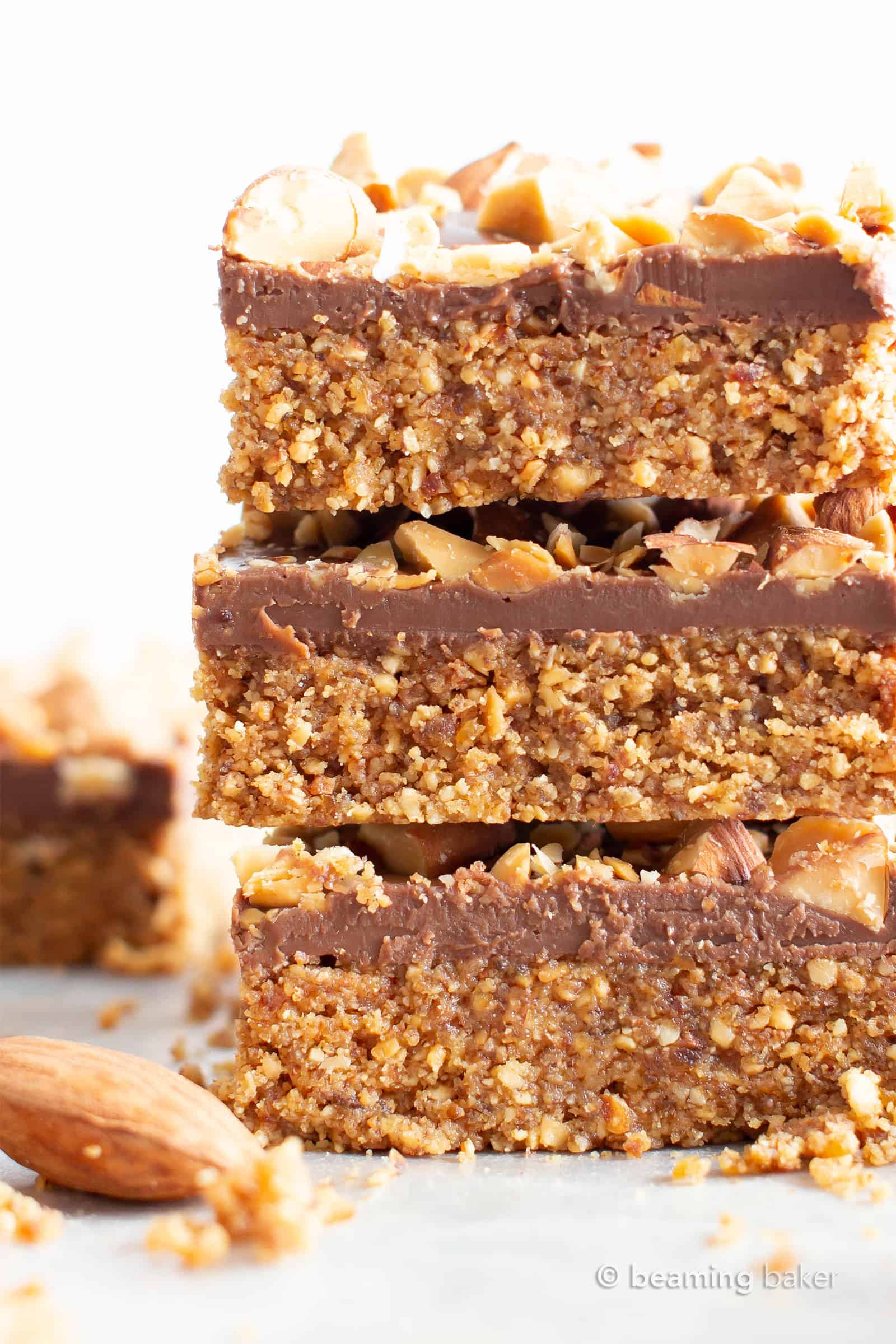 It seems like just yesterday and also, funnily, a million years ago, that I dared to even let myself think about the possibility of having my own food blog. I thought that it was a dream too impossible/unrealistic/not very responsible to even consider as a career.
I thought that I didn't have what it takes, I wasn't creative enough, interesting enough, or just friggin' good enough to do this.
There are times that I still think that. Times that I have my doubts, times that I question myself about everything, and then you come in. You send me a photo of you and your 89-year-old grandma, celebrating her first birthday in decades with a bonafide chocolate cake that meets all of her dietary restrictions. And she's got the biggest smile on her face. And you tell me that my recipe did that. Like, what??
You send me an email about your 4-year-old, who never had oatmeal chocolate chip cookies 'til now because he was allergic to practically all the ingredients in storebought ones. And you and he are grinning from ear-to-ear because, today, that changed.
You inspire me to be better, to believe in myself, and to keep going.
For you. And your grandma. And your son. ❤️
Thanks to you, that "silly dream" isn't so silly anymore.
Happy 3 years to us. 🙂 It's truly such a joy to be a part of your kitchen adventures, making and creating all the satisfying treats that you and your loved ones deserve. Here's to another 3 years, and 5 years… and 10 years!!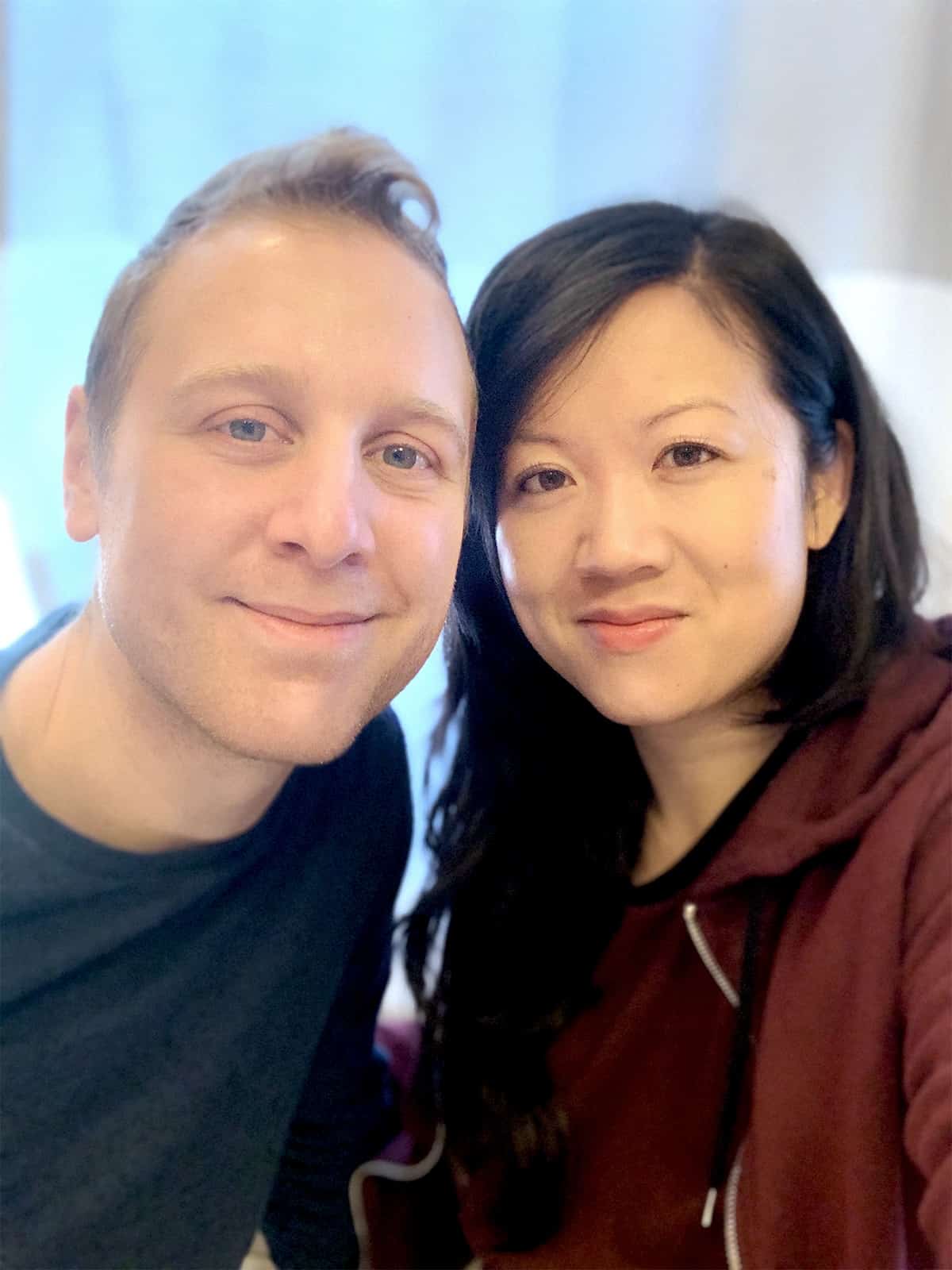 Tip for Amazing No Bake Paleo Chocolate Almond Bars
Erik insisted I put this tip in: when making the almond layer of these paleo almond chocolate bars, make sure to blend

thoroughly

. So, when adding dates and almond butter to your food processor, it's gonna take quite some time to blend them together. Blend until a ball of dough forms—the mixture should pull away from the sides of the processor and stick together. Make sure to scrape down the sides of the processor frequently to help this along. Here's my favorite food processor, hands down.
For non-crumbly bars: pack the mixture very, very tightly in the pan. Press down very firmly with a spatula until smooth, even and dense.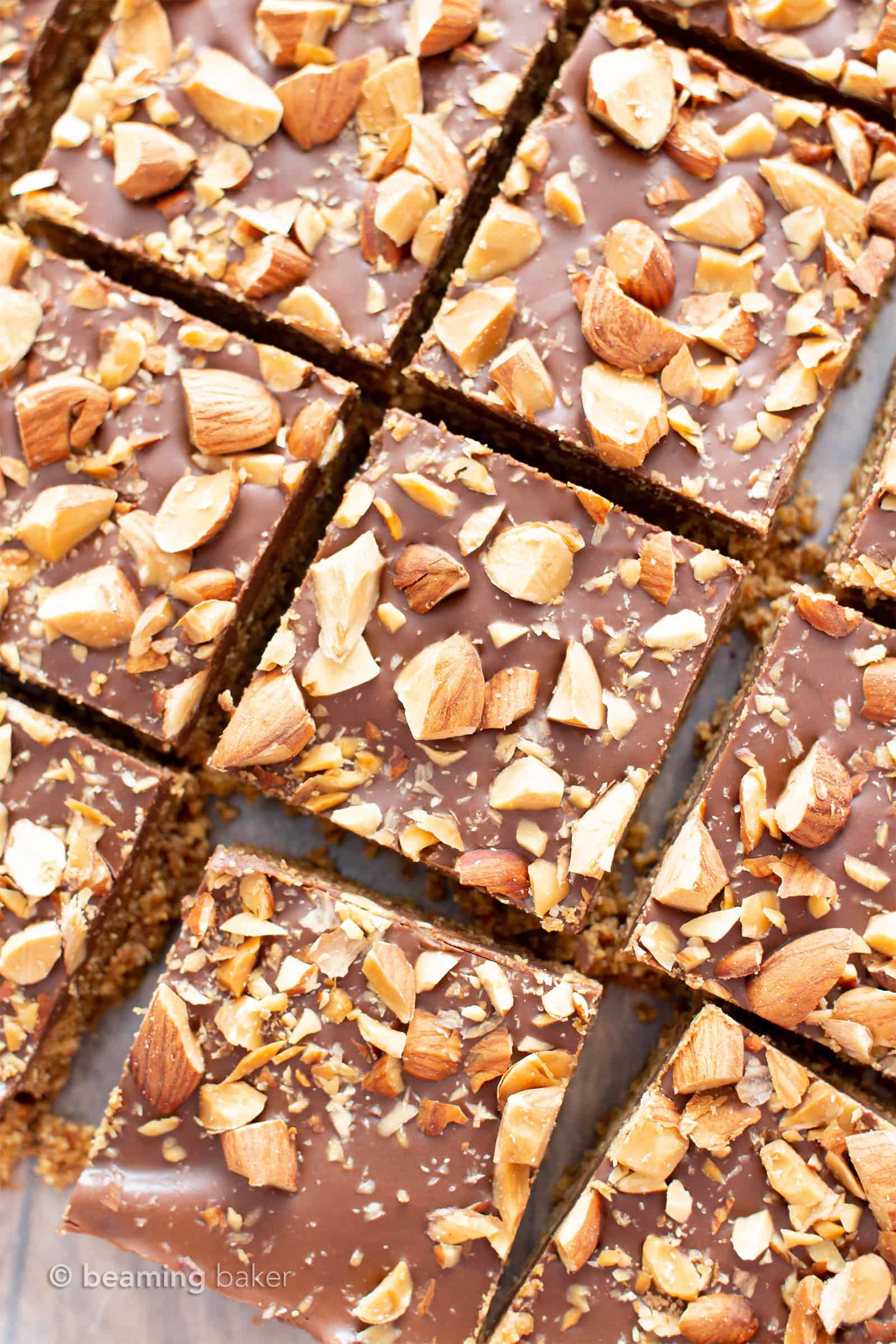 Can I Freeze this Easy No Bake Paleo Chocolate Almond Bar Recipe?
Yes! Slice the paleo chocolate almond bars first, then pack in a freezer-friendly airtight container or bag. Store in the freezer for up to 2 months. Allow no bake bars to thaw for about 10-20 minutes before enjoying.
Paleo Chocolate Almond Bar Recipe Substitutions
Dates: sub with favorite dried fruit, such as raisins. Flavor of fruit may change flavor of bars.
Almond butter: sub with cashew butter, sunflower seed butter, or peanut butter.
Almonds: sub with walnuts, cashews, etc.
Note: the more ingredients you change, the less likely the no bake squares will resemble my originally intended result. Also, strong-flavored ingredients such as peanuts will be more noticeable in the bars.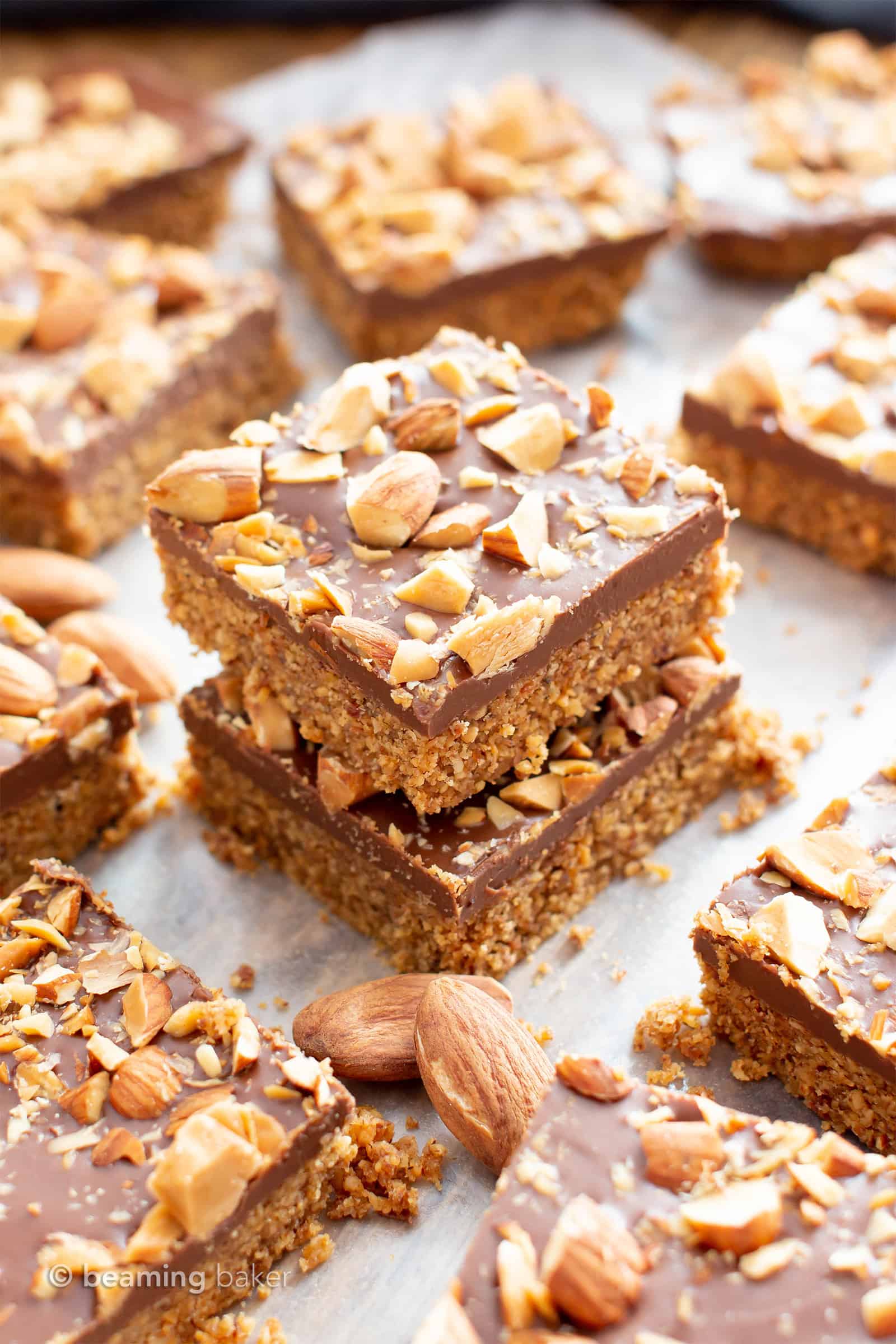 Thank you for celebrating 3 years of Beaming Baker with me. 🙂 It's my life's joy to make these wonderful treats with you. Erik's behind me shouting that it's his, too! 😉
I can't wait to hear what you and your loved ones think. In the meantime…
Sending you all my love and maybe even a dove, xo Demeter ❤️
.︎ Click below to Pin .︎

. Did you make this recipe? Take a pic and share it on Instagram with the hashtag #beamingbaker and tag @beamingbaker. I would love to see it! .︎
More Healthy Paleo Vegan Chocolate & Dessert Recipes
Print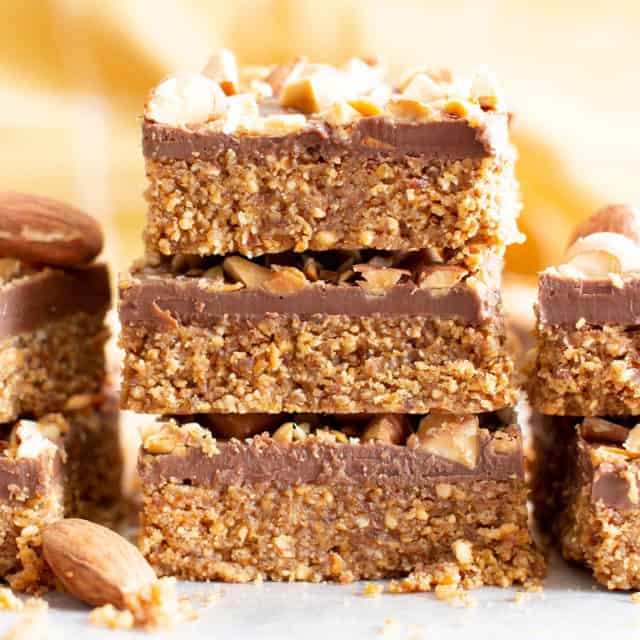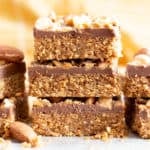 4 Ingredient No Bake Paleo Chocolate Almond Bars (Gluten Free, Vegan) – Easy No Bake Squares Recipe!
---
Description
4 Ingredient No Bake Paleo Chocolate Almond Bars (V, GF): this paleo no bake chocolate almond bars recipe is so easy with just 4 ingredients! It's the best no bake date nut bars recipe – healthy, vegan & gluten-free! Dairy-Free, Refined Sugar-Free.
---
Almond Layer
7

Medjool dates, pitted (

½ cup

, packed)

½ cup

+

2 tablespoons

unsalted, natural creamy almond butter

1 cup

unsalted almonds

1 teaspoon

pure vanilla extract (optional)

¼ teaspoon

salt (optional)
Chocolate Layer
¼ cup

+

1 tablespoon

unsalted, natural creamy almond butter
Topping
---
Instructions
Line an 8-inch square baking pan with parchment paper or wax paper. Set aside. Clear some space in the freezer for this pan—you will need it later.
Make the Almond Layer: Add dates and almond butter to a food processor. Blend until you get a somewhat cohesive, sticky mixture, like chunks of dough—the mixture will begin to pull away from the sides of the processor and roll into dough. This will take about 2 minutes. Scrape down the sides of the processor frequently, and take breaks in between to avoid overheating.
Add in 1 cup almonds, vanilla and salt. Blend until the almonds are fully-incorporated and very finely chopped. The mixture will be soft and crumbly. Thoroughly blend the almonds to avoid crumbly bars. The mixture is done when you can pinch it between your fingers and it holds firmly together.
Pour this mixture into the prepared baking pan. Press down and smooth into an even, very tightly-packed layer.
Make the Chocolate Layer: Use the double boiler method or the following. In a medium, microwave-safe bowl, add Chocolate Layer ingredients (1/2 cup chocolate chips and ¼ cup + 1 tablespoon almond butter). Heat in 20-second increments until softened and melted. Stir until smooth.
Pour this chocolate mixture over the almond bars. Using a rubber spatula, smooth into an even layer. Optionally, create swirls in the chocolate for fun! Sprinkle ¼ cup chopped almonds evenly over the bars. Press gently into the chocolate layer.
Freeze for 20-30 minutes. Remove from freezer and slice into 16 bars. Enjoy! Storing instructions below.

Also try my 5 Ingredient Raw Vegan Brownies (Paleo) and my 3 Ingredient Paleo Energy Balls (Fruit Sweetened).
Notes
– Storage notes: On the first day, bars will be a bit soft at room temperature–be sure to store them in the refrigerator. On Day 2, bars are okay to keep at room temperature, in a cool, dark place, or in the refrigerator, if you prefer them chilled.
– Freezing instructions: Store in an airtight container in the freezer for 1-2 months.
– Nutrition Information: is an estimate based on the best-selling, most common brands per ingredient. Also, it's estimated based on 16 servings per recipe, made without salt. .
Category:

No Bake, Dessert, Paleo, Vegan, Gluten-Free, Fruit-Sweetened, Dairy-Free
Nutrition
Serving Size:

1 bar

Calories:

203

Sugar:

12g

Sodium:

0mg

Fat:

15g

Carbohydrates:

18g

Protein:

6g
© beamingbaker.com. All content and images are protected by copyright. Please do not use my images or recipe without my permission. Please do not republish this recipe, instead, include a link to this post for the recipe.
SHOP THE RECIPE
Tools to Make No Cook Paleo Vegan Chocolate Almond Bars
Click the links below to check out my favorite tools & ingredients used to make this recipe.
This post may contain affiliate links, which allow me to make a small commission for my referral, at no additional cost to you.
Facebook ☀︎ Pinterest  ☀︎ Twitter ☀︎ Instagram