Easy Gluten Free Peanut Butter Cookies (V, GF): an easy recipe for soft and chewy gluten-free peanut butter cookies that taste just like a classic peanut butter cookie! Vegan, Gluten-Free, Dairy-Free.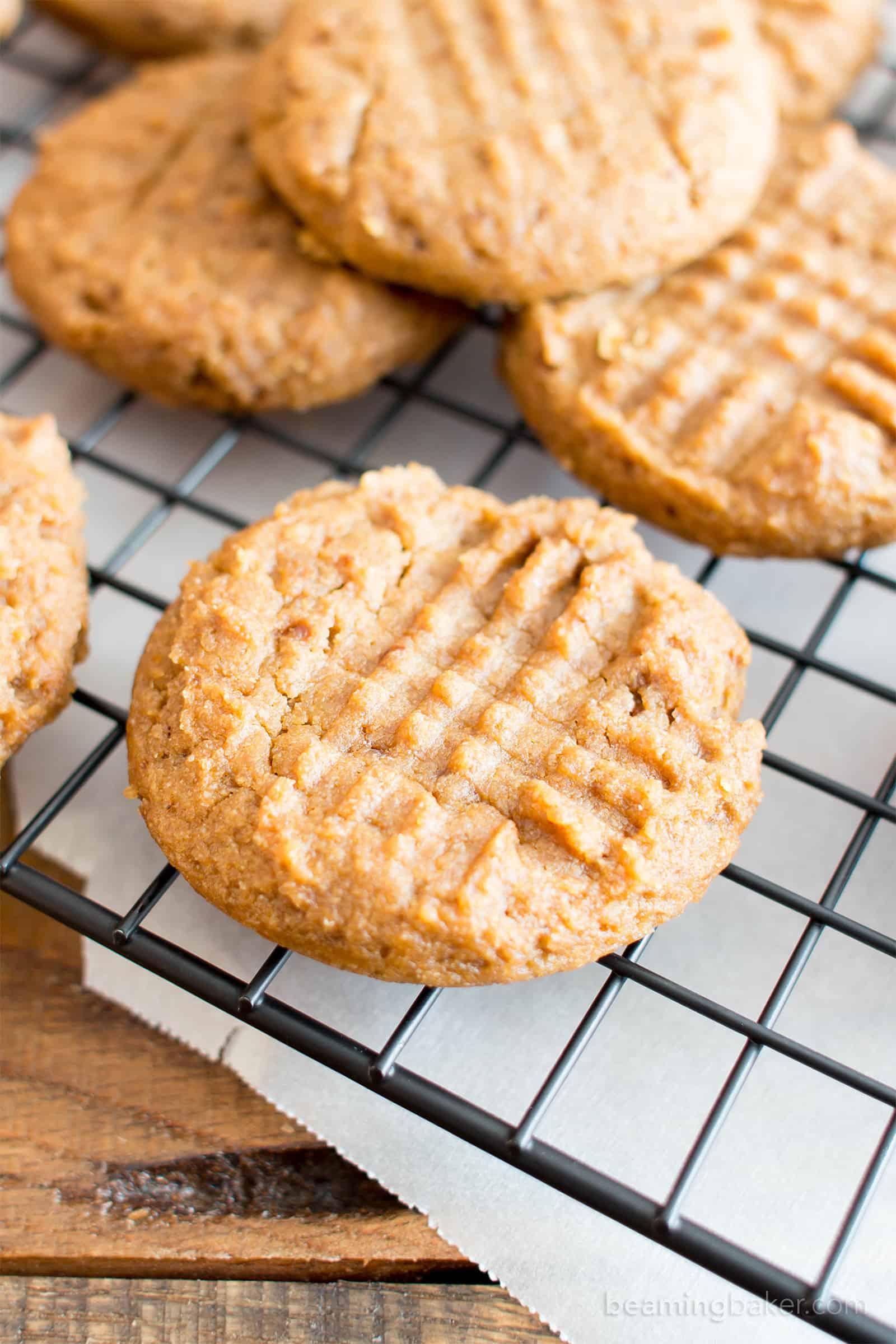 Peanut butter cookies to celebrate a 2 year anniversary?!? Heck yeah!! Just 2 years ago today (give or take a few weeks), I decided to finally start my own food blog. P.S. If you haven't yet, you've got to check out my post on how to start a food blog. 🙂
It was scary as heck, totally embarrassing, and the best decision I've ever made. And folks, let me tell you: I've made a lot of bad decisions! Wait a minute, did I totally negate what I was saying with what I just said? Meh!
What I meant to say was: I've made so many decisions in the past, that I felt were the right decision at the time, only to find later on that they were completely the wrong ones to make.
When I started this blog, all I could think about was: who would even care what I had to say? Why would anyone even try my recipes? Do I even know how to take photos of food that aren't horribly embarrassing?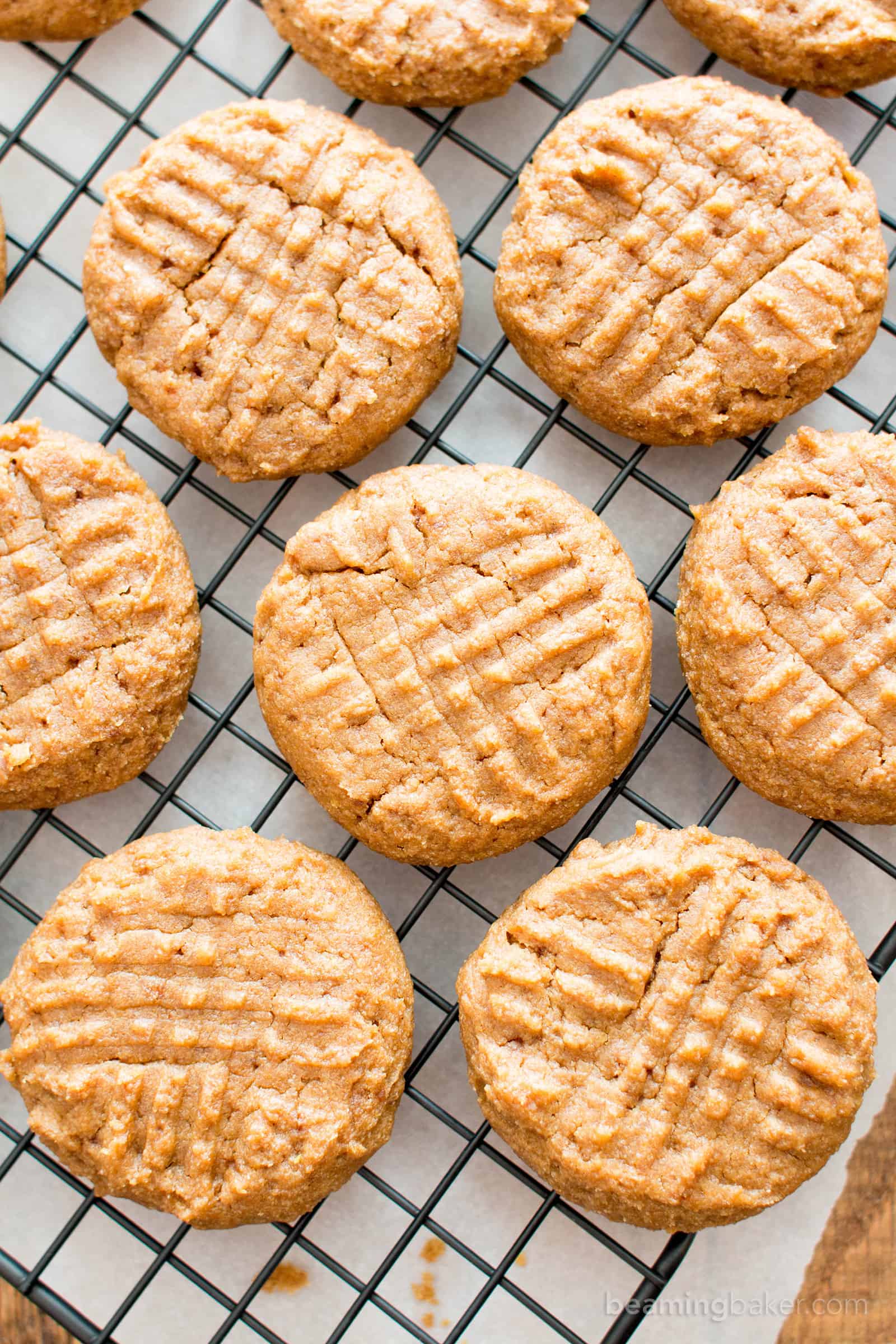 And, what if no one cares?
But throughout it all, one thing remained true: I cared. My mom cared. My family cared. And I really wanted this.
Even if it was embarrassing. Even if it was foolish. Even if I didn't have something "good enough" to say.
I knew that if I reached just one person, it would be worth it. If I reached one person who couldn't enjoy the desserts they used to because of a recent illness; one person who's daughter couldn't have treats like the other kids because of an allergy; one person, who, like my mom, couldn't have what she wanted, but truly deserved because of crappy circumstances.
If I inspired just one person to get into the kitchen for the first time ever to make a homemade treat, it was worth it.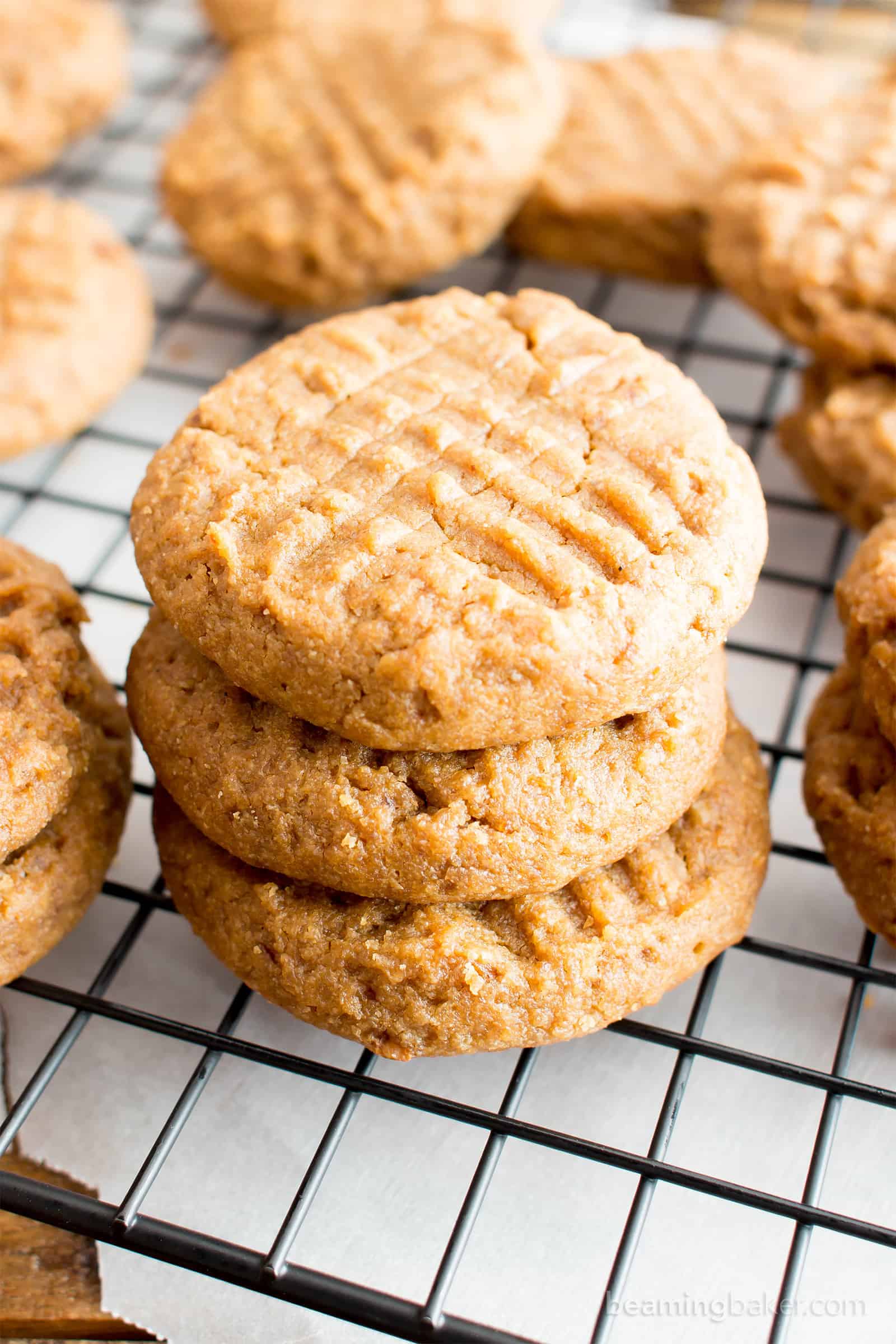 And guess what?
It IS WORTH IT.
The "embarrassment," the endless recipe testing, the sometimes hurtful comments, the 17-hour days, the self-doubt…
It is all worth it.
Because all of that gave me confidence, hope, happiness, inspiration, joy, excitement, and it brought me to you. Thank you for being here, reading, laughing, baking, sharing, drooling, and just having a grand ol' ball with me.
It's been an INCREDIBLE 2 years, and I hope to have many, many more with you. Some highlights from the past 2 years:
connecting with readers around the world
7,000,000 lifetime views
all the emails, comments, IG pics and more that you've shared ❤
55,000 Facebook likes
being inspired by you, every day, to make better, easier, healthier, and yummier recipes
60,000 Instagram followers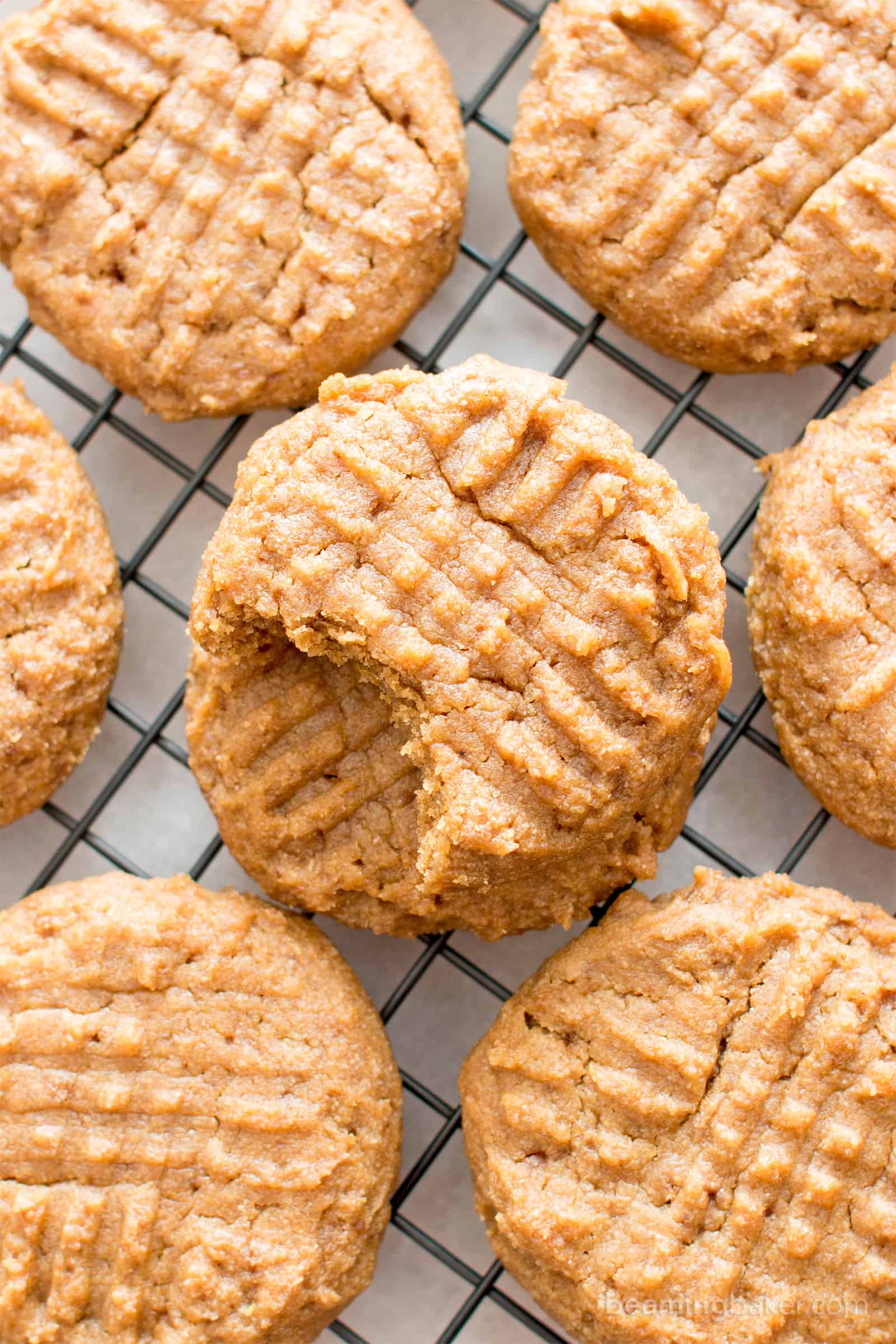 Here are some of my favorite recipes from the past 2 years:
It looks like last year, I shared this peanut butter coconut oatmeal cookie recipe to celebrate Beaming Baker's blogiversary! So let's keep this peanut butter cookie anniversary tradition going, shall we? 😉
This recipe is based off of a reader fave: Easy Vegan Peanut Butter Cookies. While that recipe is much-beloved, there was just one thing that kind of bothered me about it: how soft they get the next day.
So I went ahead and tweaked the recipe a bit to give you a denser, firmer cookie that truly takes to those goshdarn, gotta have 'em, this is a classic peanut butter cookie, for real, fork marks! The next day, these cookies are softer, but still hold together and have a great, deeper peanut butter taste. And just in case you're looking for more peanut butter cookies: try these droolworthy Gluten-Free Peanut Butter Cookies from Veggie Balance. Sub the honey with maple syrup and egg with a flax egg to make it vegan!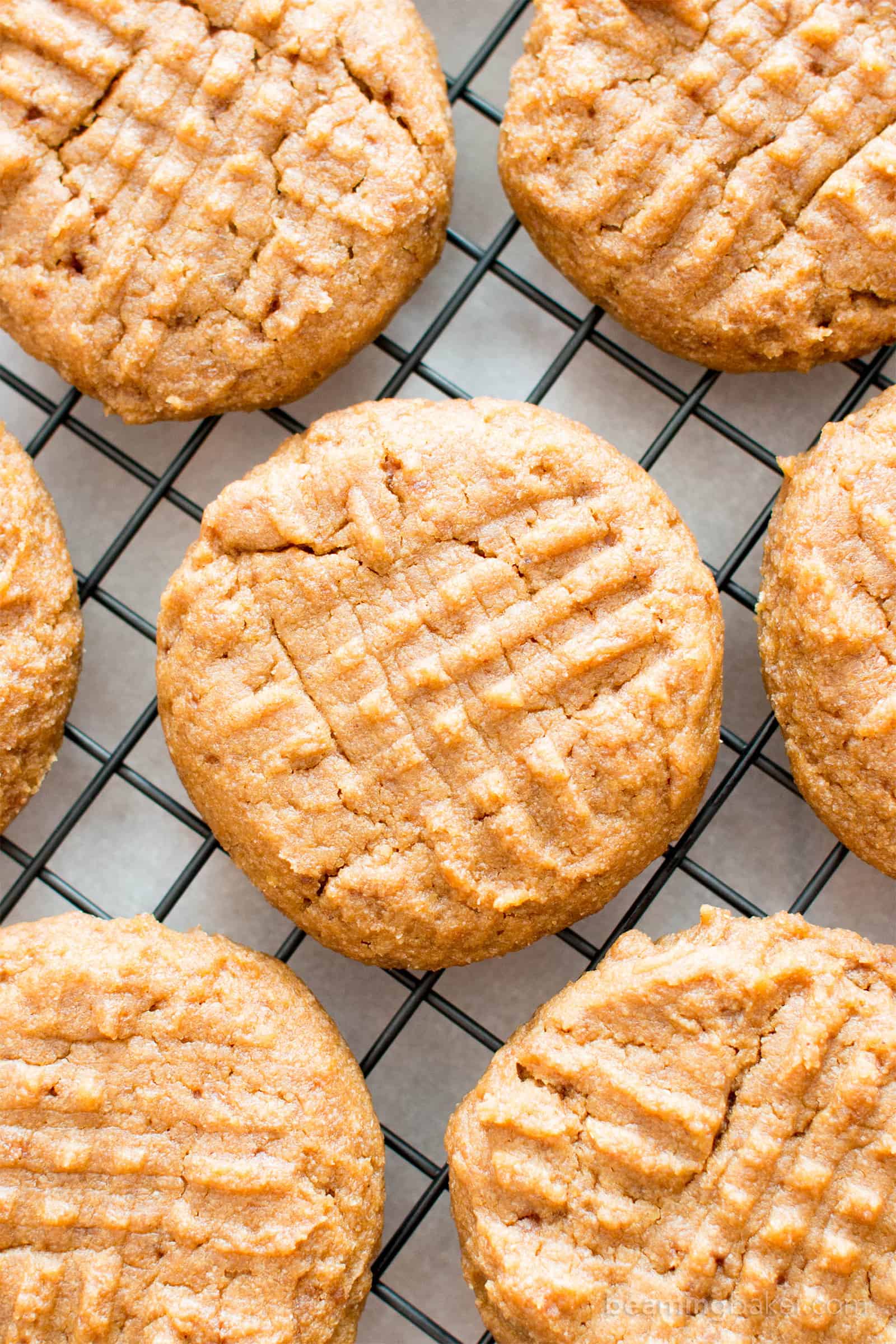 Here are a few of these Easy Gluten Free Peanut Butter Cookies best attributes! 😉 They're:
vegan, gluten-free and dairy-free
chewy, soft
bursting with peanut butter flavor
wonderfully refined sugar-free
the classic peanut butter cookie you've been looking for
or… the vegan peanut butter cookie you'll be adding to your vegan cookie recipe stash!
a great allergy-friendly cookie for snack time or dessert
the tastiest reason to celebrate our 2 year blogiversary together! 🙂
Make some room in your gluten free cookie jar, because it's about it have a new resident! (Too much?) 😉 Get your best fork, or really, any fork, and get ready to make these beautiful easy gluten free peanut butter cookie tops a reality. Let's do this! It's so much fun baking these gluten free treats with you. I can't wait to hear what you think! In the meantime, tell me:
What peanut butter dessert would you like to see next?
Sending you all my love and maybe even a dove, xo Demeter ❤
☀︎ Click below to Pin ☀︎

☀︎ Did you make this recipe? Take a pic and share it on Instagram with the hashtag #beamingbaker and tag @beamingbaker. I would love to see it! ☀︎
If you enjoyed these soft and chewy Easy Gluten Free Peanut Butter Cookies, then you'll just love these delicious peanut butter recipes:
☀︎ More Gluten-Free Peanut Butter Recipes ☀︎
Print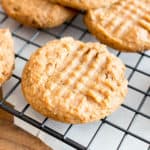 Easy Gluten Free Peanut Butter Cookies (Vegan, GF, Dairy-Free, Refined Sugar-Free)
---
Description
Easy Gluten Free Peanut Butter Cookies (V, GF): an easy recipe for soft and chewy gluten-free peanut butter cookies that taste just like the classics! Vegan, Gluten-Free, Dairy-Free.
---
Dry Ingredients
1 ¼ cups

gluten free oat flour

½ teaspoon

baking powder

½ teaspoon

baking soda

¼ teaspoon

salt
Wet Ingredients
¾ cup

natural, unsalted creamy peanut butter

3 tablespoons

melted coconut oil

½ cup

coconut sugar

¼ cup

pure maple syrup

2

flax eggs (whisk together

2 tablespoons

ground flax +

6 tablespoons

warm water, set for 15 mins)

1 teaspoon

pure vanilla extract
---
Instructions
Preheat oven to 350°F. Line a baking sheet with parchment paper or greased foil. Set aside.
In a large bowl, whisk together all of the dry ingredients: oat flour, baking powder, baking soda and salt.
In a medium bowl, whisk together all of the wet ingredients: peanut butter, oil, sugar, maple syrup, flax eggs and vanilla. Whisk until well mixed.
Pour the wet mixture over the dry mixture. Whisk thoroughly, as long as you can, until thickened and cohesive. Using a rubber spatula, fold until no flour patches remain.
Using a 2-tablespoon cookie scoop, scoop and drop cookie dough balls onto the prepared baking sheet. Using a fork, press down slightly to flatten cookies. Turn the fork and press down on the cookie to create a crisscross pattern on top.
Bake for 10-14 minutes. Mine took 11 minutes. Transfer cookie sheet to cooling rack. Allow cookies to cool on cookie sheet for 10 minutes. If desired, transfer cookies directly onto the cooling rack to cool completely. Enjoy! Storing notes below.
Category:

Cookies, Desserts, Vegan, Gluten-Free, Dairy-Free
© beamingbaker.com. All content and images are protected by copyright. Please do not use my images or recipe without my permission. Please do not republish this recipe, instead, include a link to this post for the recipe.
If you haven't yet, sign up for the Beaming Baker Email List! You'll be notified when a delicious new recipe is out! Click below to sign up. ↓


SHOP THE RECIPE
Here are a few items I used in today's recipe. 🙂
Cookie Sheet | Coconut Sugar | 2-Tablespoon Cookie Scoop | Maple Syrup | Silicone Spatulas | Unbleached Parchment Paper | Glass Mixing Bowls | Stainless Steel Measuring Cups
This post may contain affiliate links, which allow me to make a small commission for my referral, at no additional cost to you. Thank you for supporting Beaming Baker.
Facebook ☀︎ Pinterest  ☀︎ Twitter ☀︎ Instagram