4 Ingredient Gluten Free Soft Peanut Butter Cookies (V, GF): an easy recipe for deliciously super-soft, flourless peanut butter cookies made with just a few healthy ingredients. Vegan, Gluten-Free, Dairy-Free, Oil-Free.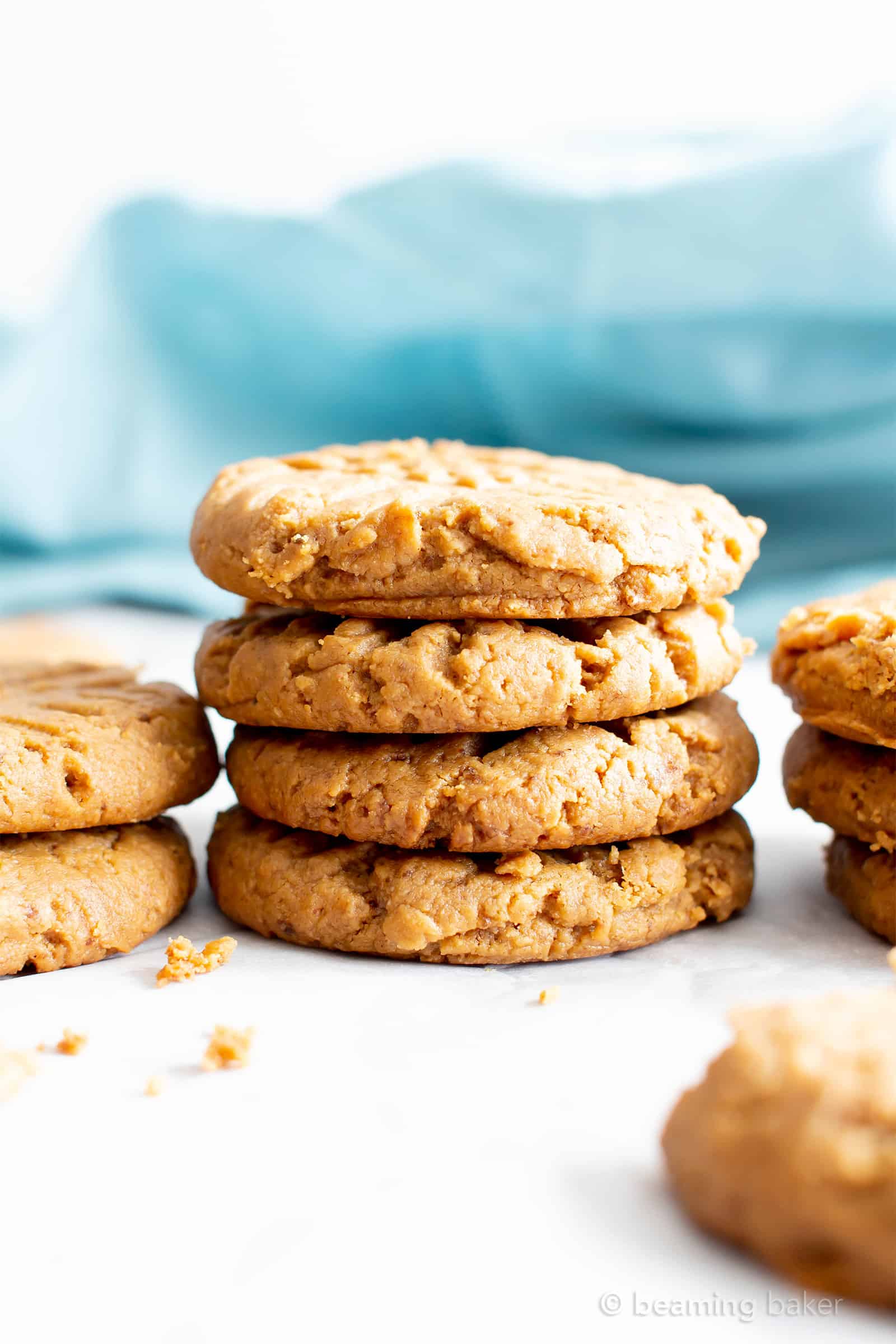 Can you ever have too many peanut butter cookie recipes? <– What a silly question, right? Dare I even ask it? ????
If you've been with me a while, then you know that peanut butter cookies are a big, big staple around here. Here are a few of my favorites (and yours too!): 3 ingredient no bake peanut butter oatmeal cookies, easy vegan peanut butter cookies (YUM), peanut butter banana breakfast cookies (yep, I said it), peanut butter chocolate chip oatmeal breakfast bars (basically cookies hehe).
The funny thing is, I had a kind of love/hate relationship with peanut butter growing up. I mean, it was no chocolate, ya know? Also, we weren't the type of household that had jars of peanut butter in the pantry at any given time.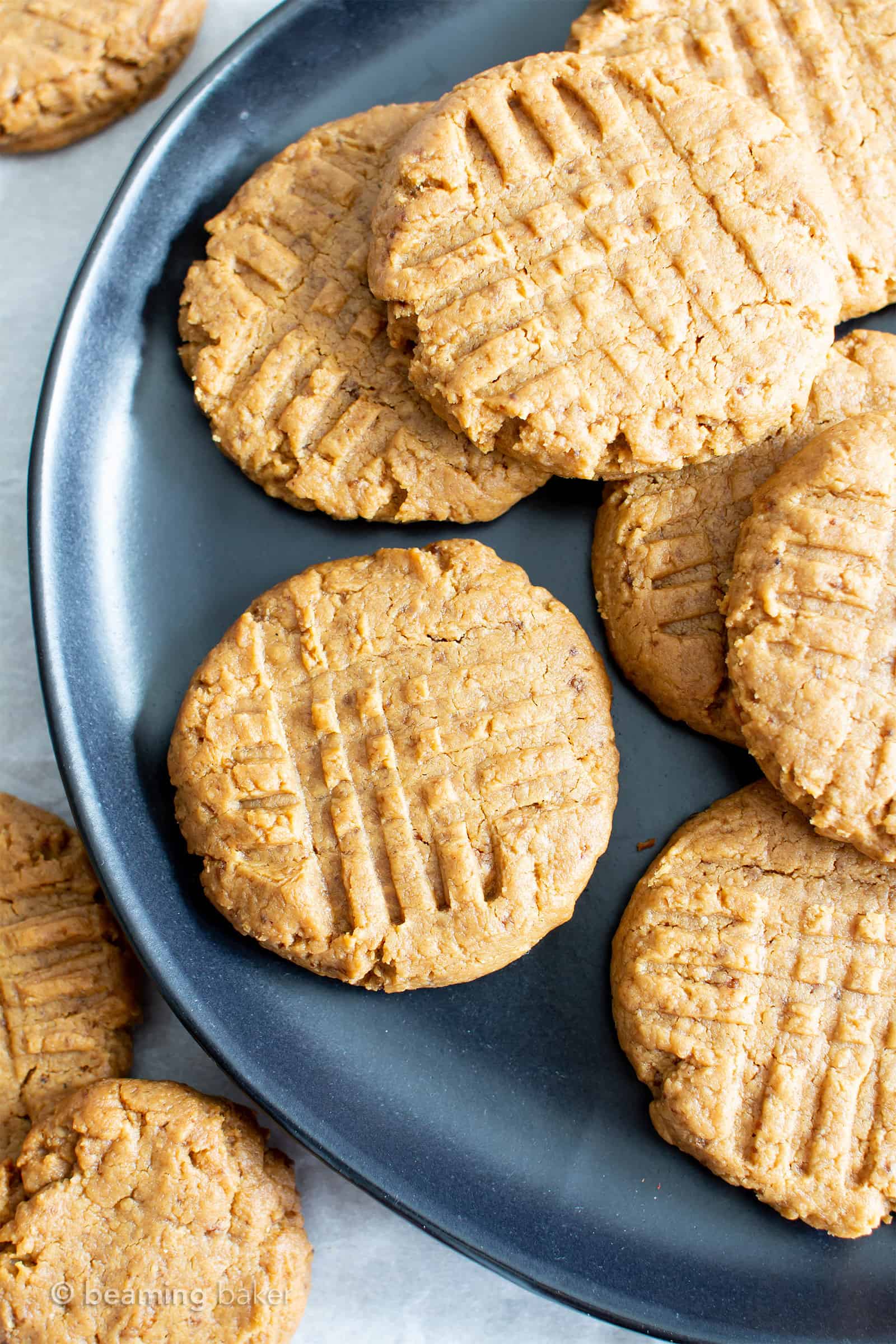 But when I did get a taste, my first thoughts were always as follows:
What IS this?
Why is my mouth so dry?
Man, this is yummy!
Can we add some/lotsa chocolate??
What is this, really?
However, OF COURSE, anything but straight shots of peanut butter were always good. Meaning = peanut butter cups, peanut butter chocolate chip bites, chocolate peanut butter rice crispy treats. Especially peanut butter ice cream!!
I didn't know then what I know now—straight shots/scoops of peanut butter are only for the peanut butter savvy. You've got to have a slower entrée into something with ingredients you're familiar with before you go for the pure stuff!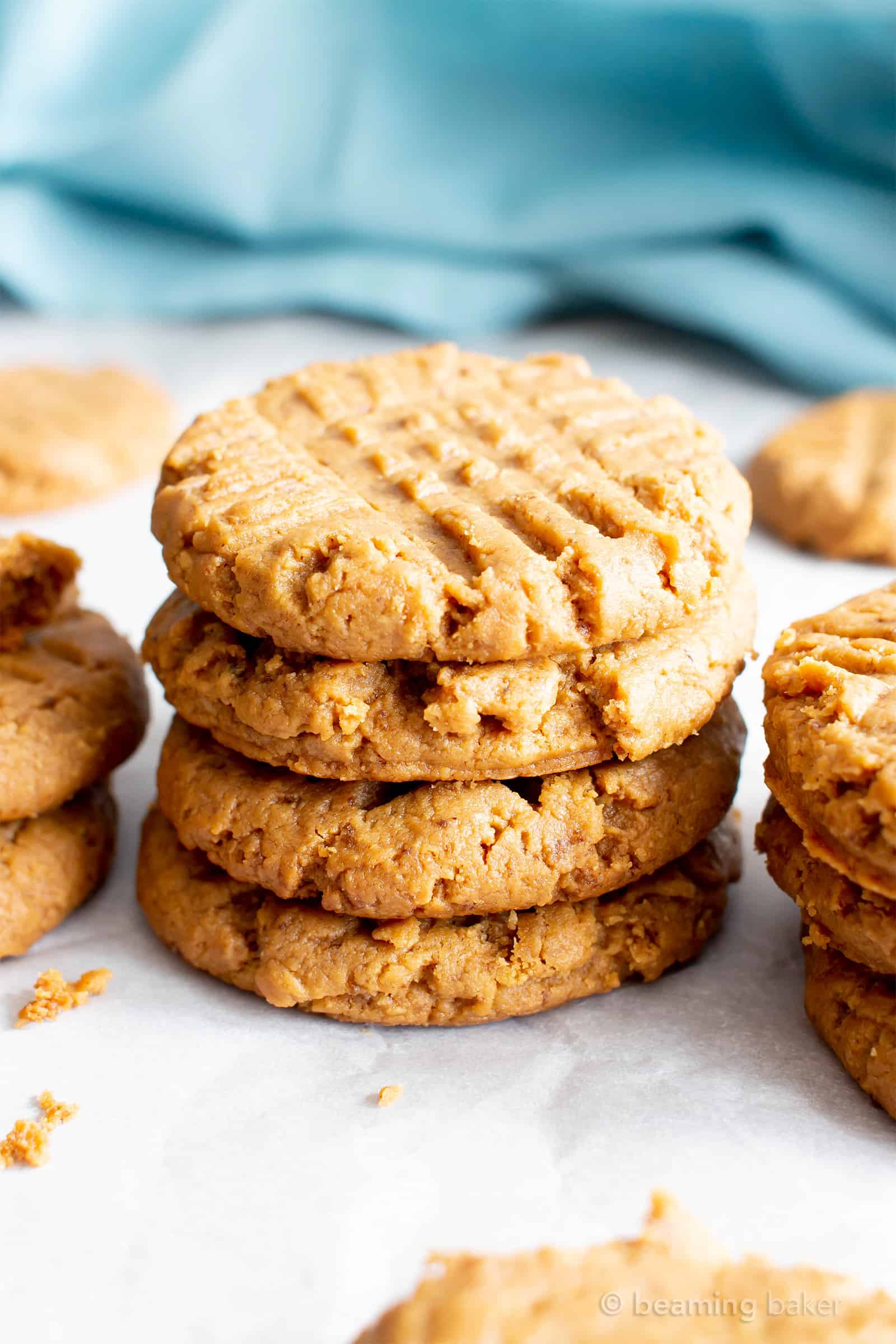 But anyway, as I grew older, and, well, started this blog, I truly learned the deep pleasure of peanut butter–some of that can be credited to one of my favorite bloggers and friend, Sally, who's a big pb lover. Point is, peanut butter is soooo filling, nutrient-rich, goes well with pretty much everything (pumpkin, oats, coconut, chocolate, fruits, you name it).
So, if you'll now join me at any level of Peanut Butter Expertise (expert or beginner), we can ALL enjoy these amazing gluten free vegan soft peanut butter cookies. They're sure to please even folks like 'lil me, who regarded peanut butter with passion and a little vitriol and a whole lotta curiosity. 😉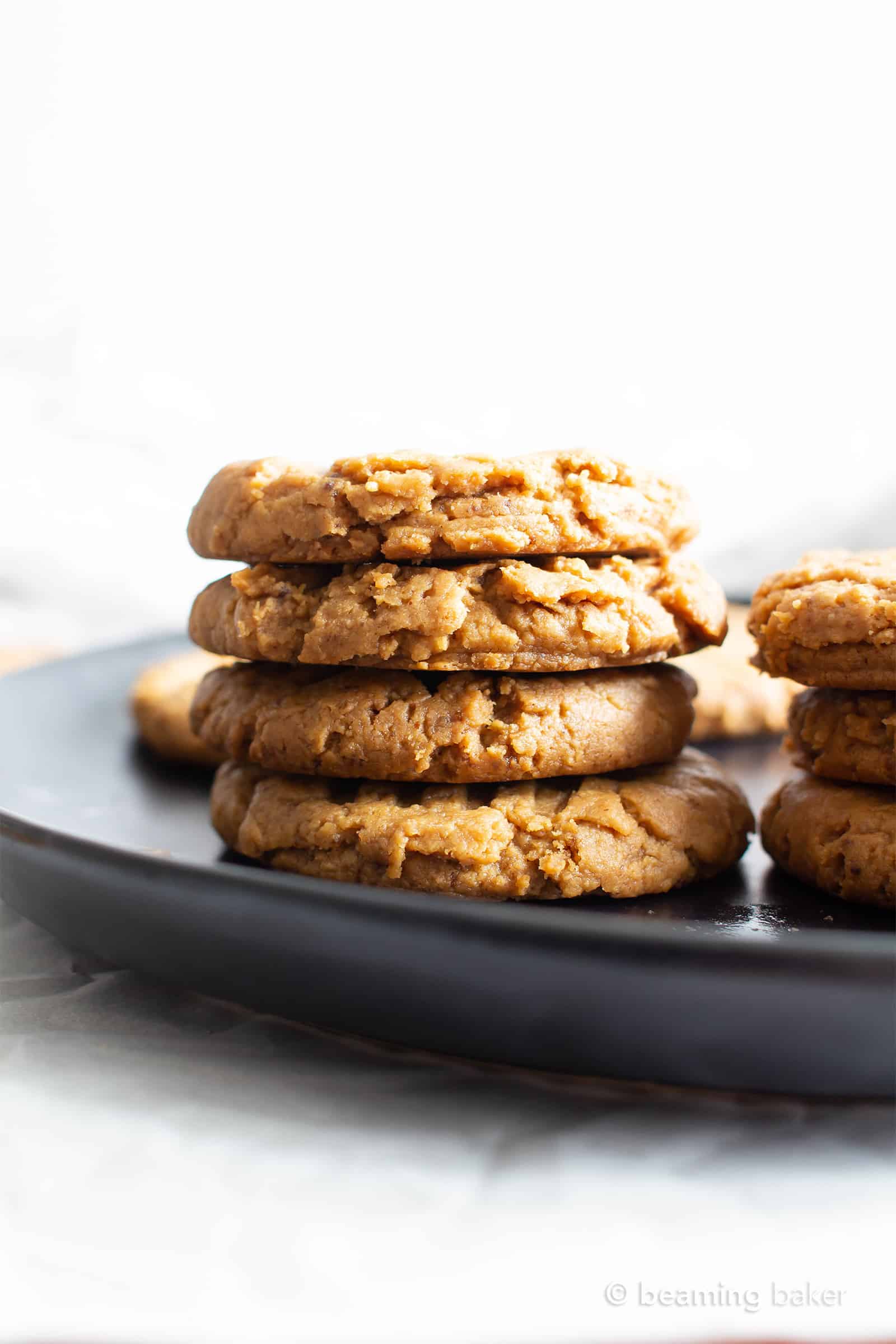 These Gluten Free Soft Peanut Butter Cookies are one of my absolute faves. They're super-soft (handle with care ;)), oh-so-decadent, sink-your-teeth in them GOOD, and bursting with sweet peanut butter YUM. Here's a little more about them… They're:
made with just 4 ingredients
so deliciously soft and decadent
protein-rich and refined sugar-free
vegan, gluten-free, dairy-free, flourless, and oil-free
soon-to-be your favorite healthy vegan peanut butter cookies recipe
go really well with this vegan strawberry peanut butter smoothie
plant-based and allergy-friendly
made with the whole, healthy, simple ingredients that you know and love
just the perfect easy dairy-free flourless peanut butter cookies to add to your vegan dessert recipe repertoire
Oh, and if you're peanut-free, try making them with almond butter, cashew butter or sunbutter (sunflower seed butter). There are also a couple of soy-nut options available as well. I might even try these with tahini! So are you ready to get your bake on? Let's do it! You grab your favorite nut butter and I'll grab the coconut sugar. 😉 Meet you in the kitchen! Just in case I don't say it enough, I'd like to share my gratitude for you. It's truly a joy to share in these kitchen adventures with you and your loved ones. 'Til next time…
Sending you all my love and maybe even a dove, xo Demeter ❤️
????︎ Click below to Pin ????︎

???? Did you make this recipe? Take a pic and share it on Instagram with the hashtag #beamingbaker and tag @beamingbaker. I would love to see it! ????︎
If you enjoyed this Gluten Free Soft Peanut Butter Cookies recipe, then you'll just love these delectable & healthy gluten free vegan peanut butter recipes:
4 Ingredient Gluten Free Soft Peanut Butter Cookies (Healthy, Vegan, GF, Refined Sugar-Free)
4 Ingredient Gluten Free Soft Peanut Butter Cookies (V, GF): an easy recipe for deliciously super-soft, flourless peanut butter cookies made with just a few healthy ingredients. Vegan, Gluten-Free, Dairy-Free, Refined Sugar-Free.
Author:
Demeter | Beaming Baker
Recipe type:
Cookies, Vegan, Gluten-Free, Dairy-Free, Refined Sugar-Free, Clean Eating
Ingredients
1 cup unsalted, creamy natural peanut butter
1 flax egg (1 tablespoon ground flaxseed + 3 tablespoons warm water, whisked together, set for 15 minutes)
¼ cup + 2 tablespoons coconut sugar
¾ teaspoon baking soda
½ teaspoon pure vanilla extract (optional)
¼ teaspoon salt (optional)
Instructions
Preheat oven to 350°F. Line a baking sheet with parchment paper or greased foil. Set aside.
In a medium bowl, add all ingredients. Whisk as long as you can. Switch to folding with a rubber spatula, until thoroughly mixed.
Using a 1.5-tablespoon cookie scoop, scoop and drop cookie dough balls onto the prepared baking sheet, spaced evenly apart. Using a fork, press down on cookie to flatten. Repeat in the opposite direction, creating crisscross marks. Cookie won't spread much.
Bake for 10-14 minutes. Mine took 12 minutes. Transfer cookie sheet to cooling rack, and allow to cool for 20-30 minutes—do not remove from sheet for at least 20 minutes, as cookies are very soft and fragile. Then, if desired, transfer cookies directly onto the cooling rack to cool until completely cooled. After cooling, cookies will be firm, but still fragile and melt-in-your-mouth. Handle with care. Enjoy! Storing notes below.

Also try my 4 Ingredient No Bake Chocolate Peanut Butter Bars and my 4 Ingredient No Bake Chocolate Peanut Butter Cup Oatmeal Bars.
Notes
- Store in an airtight container for up to 1 week. Cookies become super soft and fragile on Day Two. If making for a party, make and serve day of.
© beamingbaker.com. All content and images are protected by copyright. Please do not use my images or recipe without my permission. Please do not republish this recipe, instead, include a link to this post for the recipe.
Facebook ☀︎ Pinterest  ☀︎ Twitter ☀︎ Instagram