Chocolate Almond Butter Frosted Fudgy Paleo Brownies (V, GF, Paleo): a one bowl recipe for seriously fudgy paleo brownies topped with rich chocolate almond butter frosting! Vegan, Paleo, Gluten-Free, Dairy-Free.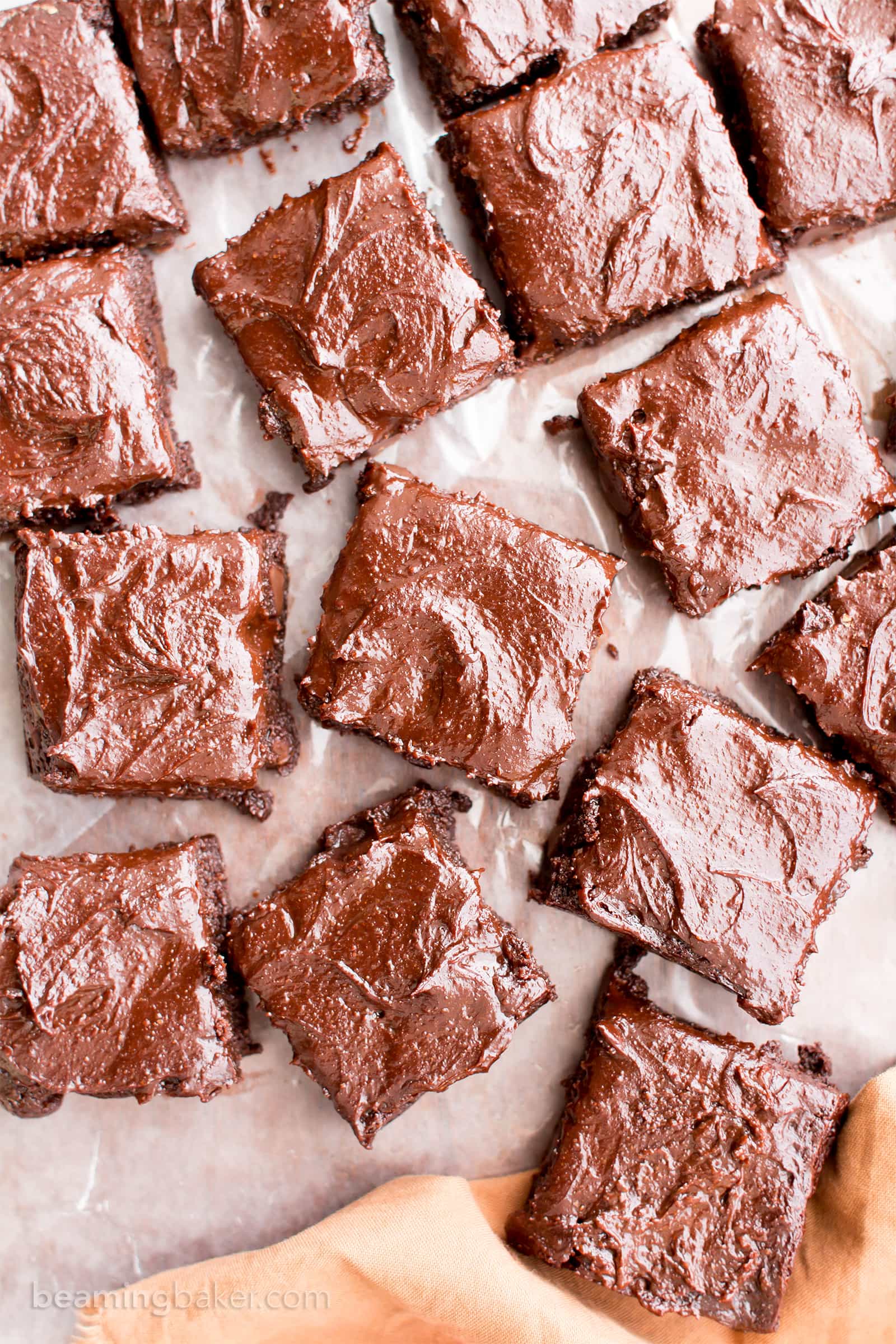 And just like that, we blinked, and it's almost Mother's Day. Are you ready? Have you decided on a final menu for your entirely home-cooked Mother's Day brunch (woah!!!), booked a wine cruise, or perhaps planned a picnic with daisies and a box of homemade candy for your mama?
It's all kinda crazy right? One day to celebrate a human being that has done so much, coordinated so much, conquered so much… and just done everything, so much. Maybe Mother's Day for you is celebrating a friend, your dad, or maybe a surrogate mom-figure in your life. 🙂 Whoever it is that's done so much for you. ❤️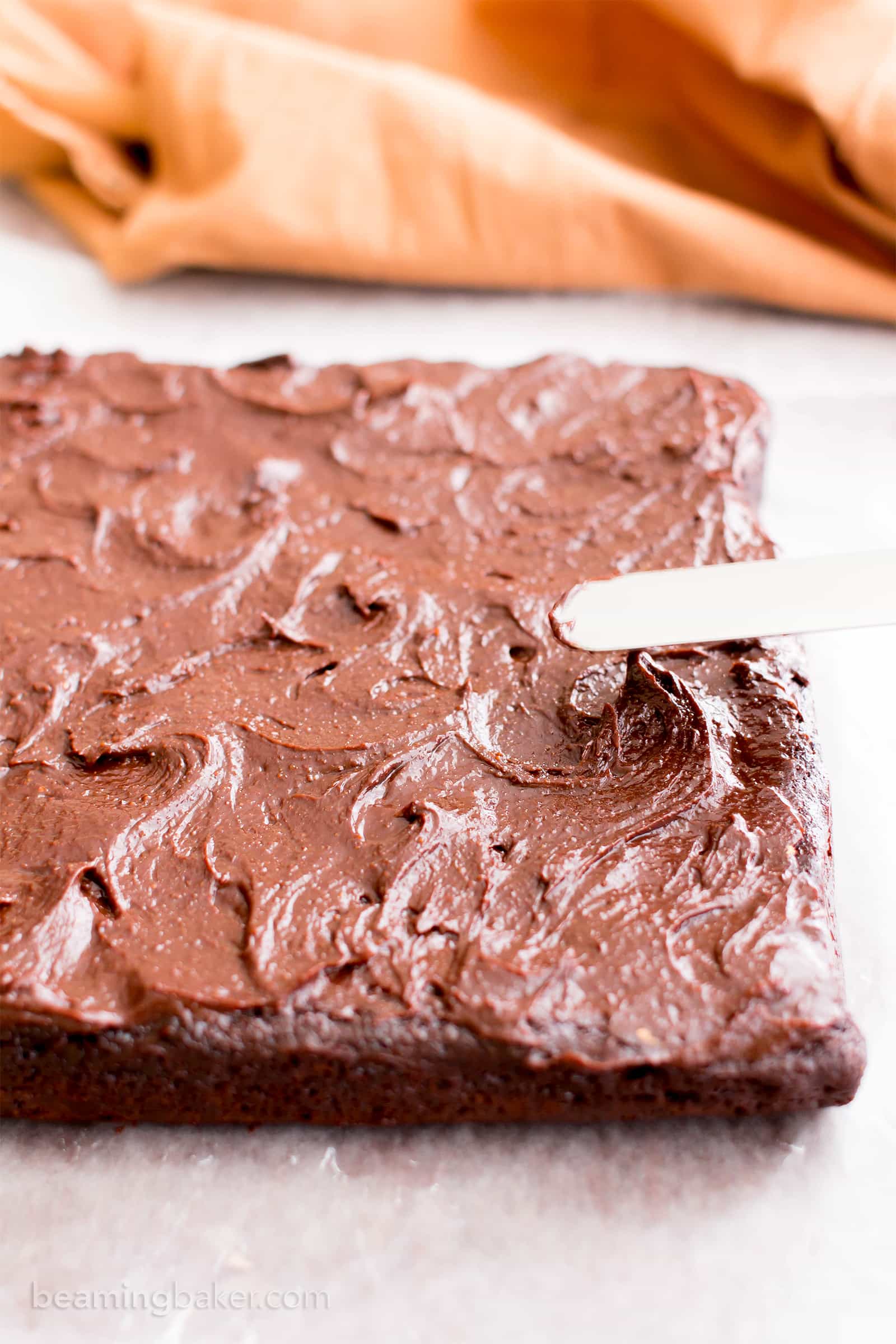 Either way, I love and totally get all anxious for this day because I always feel like I don't do enough. I mean, if I had the moola, I would buy my mom a mansion in Hawaii, complete with like 5 butlers, a full-time masseuse & chef, plus sign her up for the fanciest cruise lifetime membership. Oh, and get her a fully-equipped rocket ship, while we're at it.
But alas, Erik and I aren't quite there yet. Like, at all. (I know, Erik's especially sad about the not-getting-a-rocket-ship-business) . But we can make her a whole variety platter of sweets and treats! One such treat will be these Chocolate Almond Butter Frosted Fudgy Paleo Brownies. But you saw that coming, right?
Anyway, one of the biggest reasons why my mom is rocket ship-worthy is because… Oh, btw, she's totally going to ask me why I mentioned a rocket ship so many times after she reads this—blame Erik, Mommy! Blame Erik. But then, she'll be like, "I can't blame my son!! My son is the best!!" And then I'll have to clear my throat so she can then clarify that I, of course, am more better best than Erik. Ahem.
Back from that tangent… the thing that strikes me most about my mom is her strength. No matter what she's been through, no matter how tough things got growing up, how impossible, she'd always make everything seem… possible. Fun. Happy. Filled with love.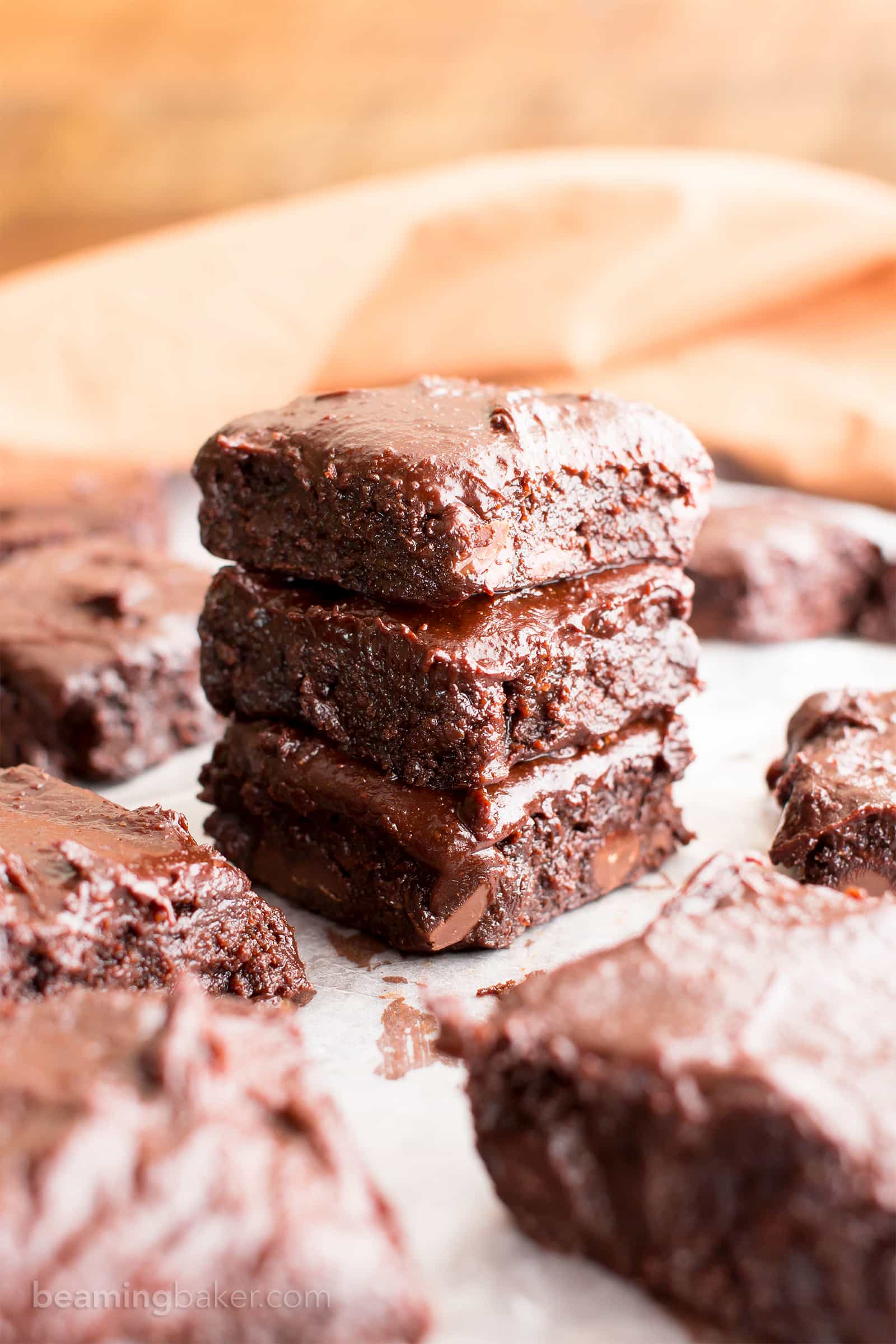 We didn't have much growing up, but she never let us dwell on that. After standing on her feet all day, working endless hours at her job, then rushing home to take care of four little girls, she always made the time to show us how much she cared. How much we mattered.
One thing that stands out so much to me is the food she made. Of course–the food. Are you surprised? 😉 No matter how little we had, she'd always put so much time, effort and love into our food. She'd take that extra moment to spice things up just the way we liked it, sneak in a hug between stirs, and joke around while she chopped (which sounds kind of dangerous now that I think about it).
And when that meal came out… we forgot that we were poor, we forgot that someone pushed us down at school, or that some boogerhead adult yelled at us. We'd forget it all and just be wrapped up in the love and light that she put into her food.
Now that we're older, Mommy is now Grams. Now that she has a grandkid to dote on, I can see it all happening again—the jokes, the love, the laughter. The hugs. And we're all so grateful for her. She is a blessing.
To this day, I know that I can never give my mom enough, do enough, or hug her enough to show how much I love her, how much I care. But I can try. Every day.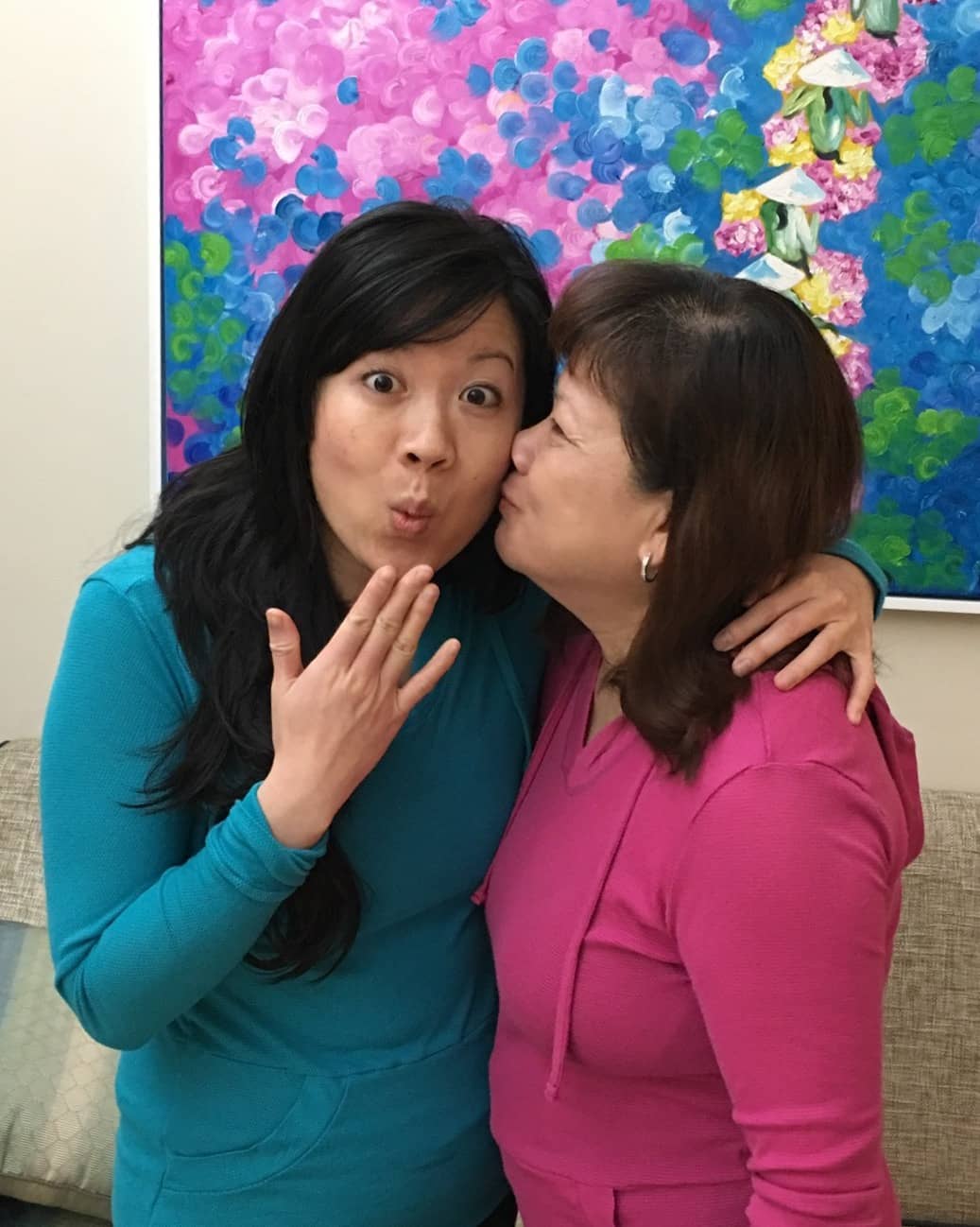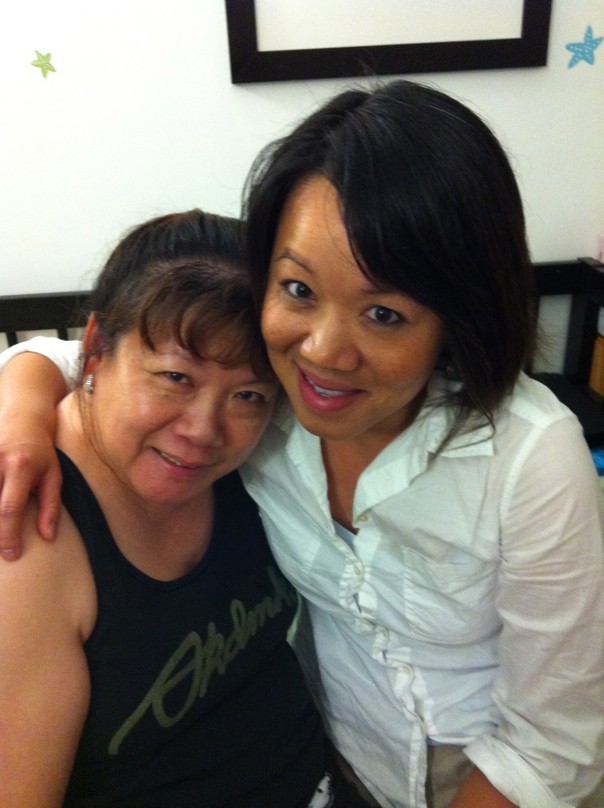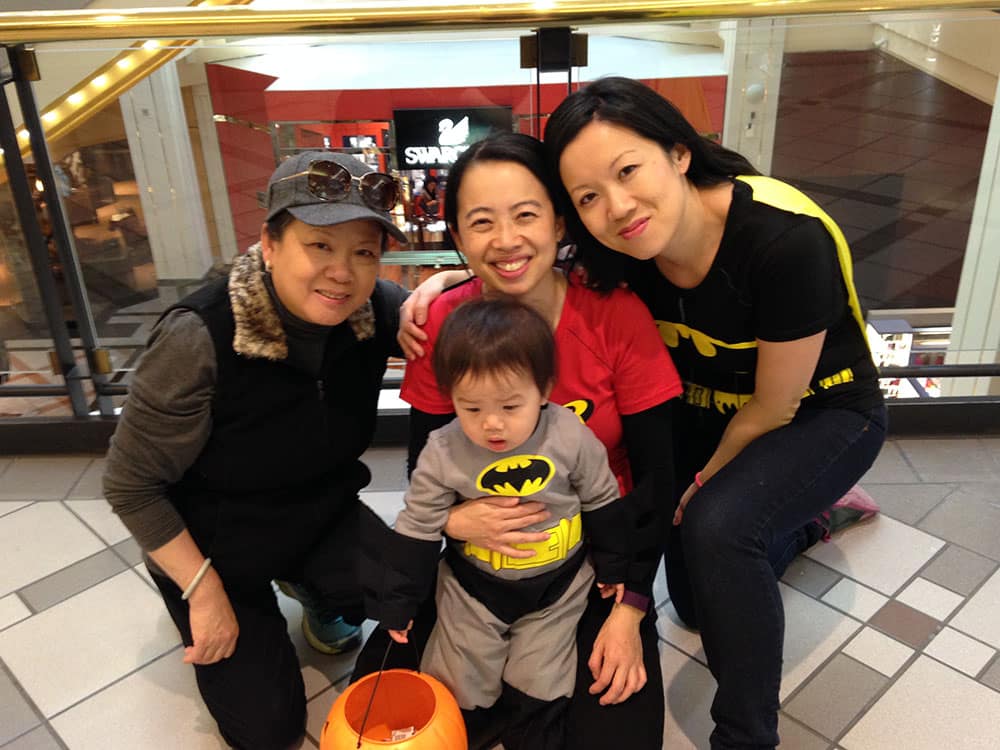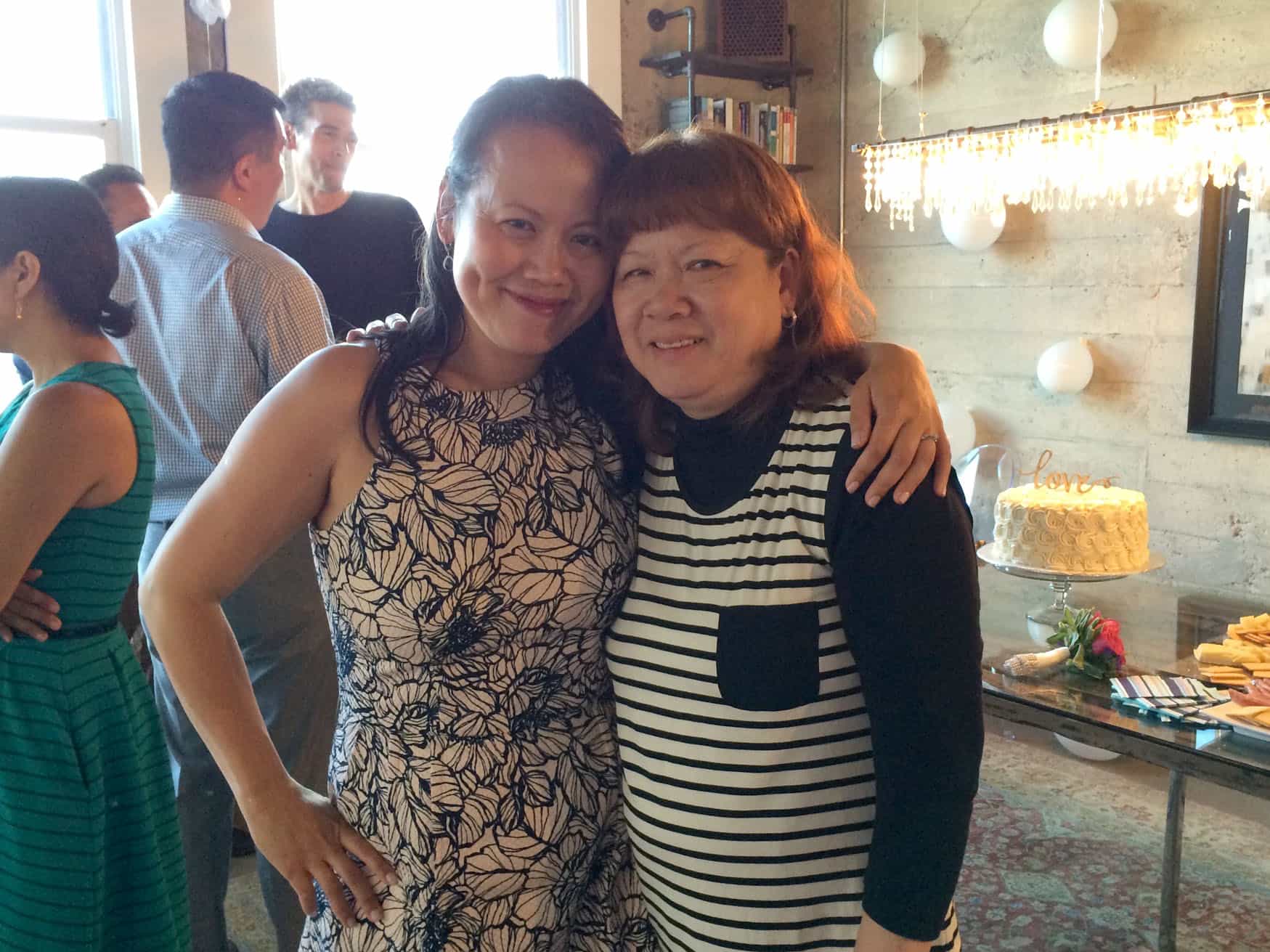 Happy Mother's Day, Mommy. We all love you to the moon and back. 😉 Thank you for everything.
Will you pick up an entire platter of chocolate almond butter frosted fudgy paleo brownies and tap it against my also oversized platter, to cheers all the amazing, rocket ship-worthy moms (dads, besties, surrogate mom-figures, and more) today?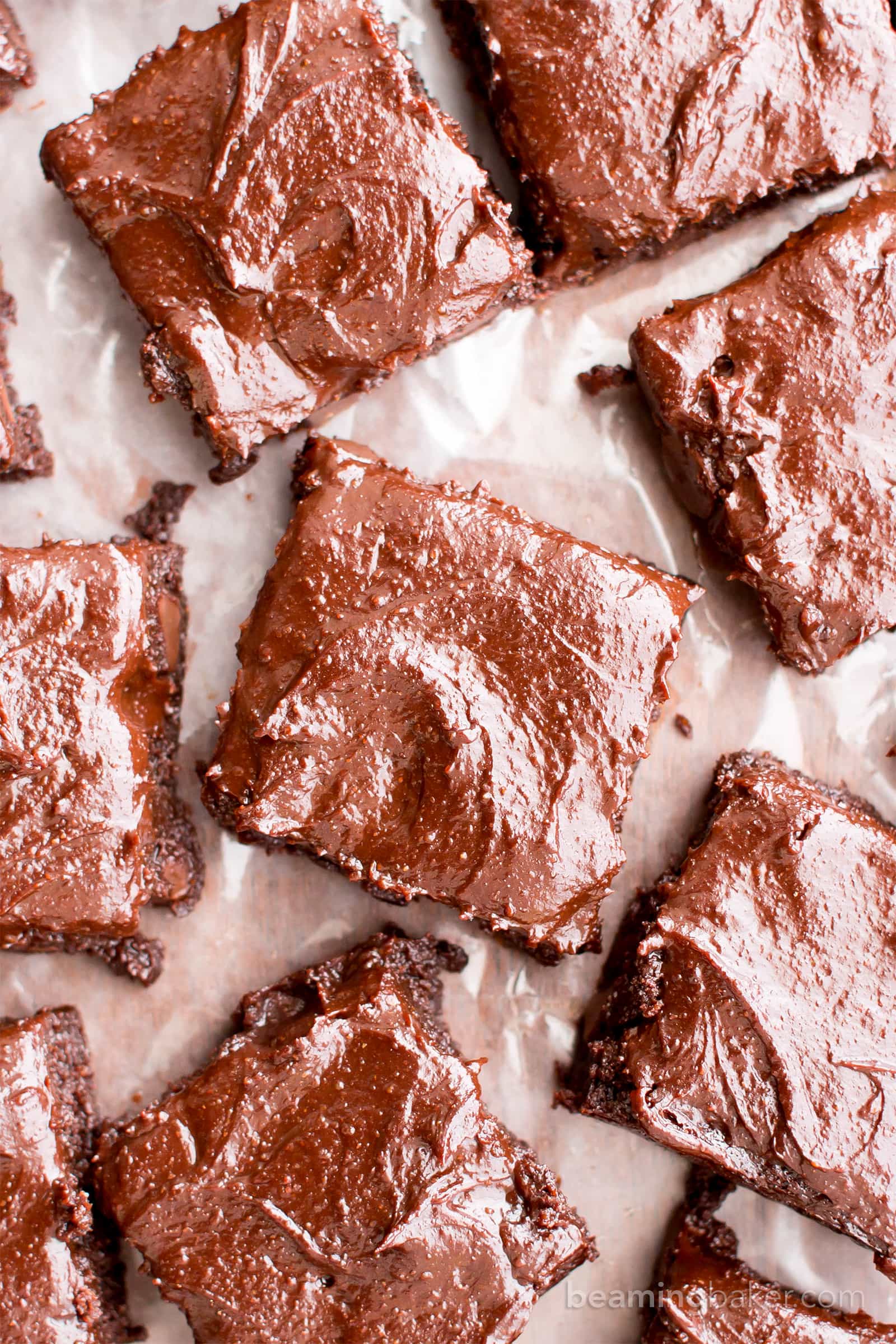 While I wait to hear all about the amazing person in your life, let me tell you all about these Chocolate Almond Butter Frosted Fudgy Paleo Brownies. They're:
made in just one bowl
okay, fine, the frosting requires a second bowl
super, decadently fudgy + gooey
vegan, paleo, gluten-free, dairy-free
rich, thick and oh-so chocolatey
plant-based and allergy-friendly
super special because they're made for my momma (and yours, too.) 😉
So are ya ready to make something special? Let's grab however many bowls pleases you, these simple ingredients, and head to the kitchen. It's time to get our bake love on! I can't wait to hear what you think of this recipe! In the meantime, tell me:
Who will you be celebrating this Mother's Day?
Sending you all my love and maybe even a dove, xo Demeter ❤️
☀︎ Click below to Pin ☀︎

☀︎ Did you make this recipe? Take a pic and share it on Instagram with the hashtag #beamingbaker and tag @beamingbaker. I would love to see it! ☀︎
Watch the video for these Fudgy Paleo Vegan Brownies here!
Print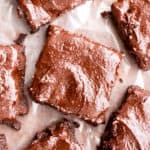 Chocolate Almond Butter Frosted Fudgy Paleo Brownies (Vegan, Gluten Free, Paleo)
---
Description
Chocolate Almond Butter Frosted Fudgy Paleo Brownies (V, GF, Paleo): a one bowl recipe for seriously fudgy paleo brownies topped with rich chocolate almond butter frosting! Vegan, Paleo, Gluten Free, Dairy Free.
---
Brownies
¼ cup

natural, unsalted almond butter

¼ cup

+

2 tablespoons

coconut sugar

1/3 cup

pure maple syrup

¼ cup

melted coconut oil

¾ cup

unsweetened cocoa powder

1 teaspoon

pure vanilla extract

¼ teaspoon

salt

2

flax eggs (

2 tablespoons

ground flax +

6 tablespoons

water, whisk together, set for 15 mins)

½ cup

finely ground, blanched almond flour

¾ cup

vegan chocolate chips
Chocolate Frosting
¼ cup

natural, unsalted creamy almond butter

2 tablespoons

pure maple syrup

2 tablespoons

unsweetened cocoa powder

2 tablespoons

water
---
Instructions
Preheat oven to 325°F. Line an 8-inch square baking pan with parchment paper or greased foil. Set aside.
Make the brownies: in a medium bowl, whisk together almond butter, coconut sugar, maple syrup and coconut oil. Whisk until it resembles caramel.
Add cocoa powder in ¼ cup increments, whisking until well mixed and thick like frosting. Scrape down the sides of the bowl as necessary. Whisk in vanilla, salt and flax eggs, until well incorporated. Using a rubber spatula, fold in almond flour until you get the consistency of soft dough or very thick batter, and no flour patches remain.
Fold in chocolate chips. Pour batter into pan. Using the rubber spatula, smooth batter into an even layer.
Bake for 28-36 mins. Mine took about 30 minutes. Cool for 2-3 hours. It must be completely cool before frosting. Once cool, it's time to make the frosting.
Make the frosting: In a medium bowl, whisk together all of the frosting ingredients: almond butter, maple syrup, cocoa powder and water. Whisk until this mixture thickens and resembles melty frosting.
Lift brownies out of the baking pan and set onto a baking sheet. Pour frosting over brownies. Using a rubber spatula, spread the frosting into an even layer. Place in the freezer for 20-25 minutes to harden the frosting tops for easier slicing. Enjoy! Storing instructions below.
Notes
– Adapted from my Best Vegan Brownies and Ultimate Fudgy Paleo Vegan Brownies.
– Store in an airtight container for up to a week. Store in the refrigerator for firm, fudge-like brownies. Frosting will absorb into the brownies after 1-2 days, creating thicker, fudgier brownies.
– These brownies freeze well. Wrap in parchment or wax paper. Store in an airtight freezer-friendly airtight container for up to a month. Thaw at room temperature for 30 minutes before enjoying. Or, heat in the microwave for 15-20 seconds.
– More paleo dessert recipes: homemade almond joy cups, vegan ice cream bars, almond butter fudge cups. All V, GF, Paleo.
Category:

Brownies, Dessert, Vegan, Paleo, Gluten Free, Dairy-Free
© beamingbaker.com. All content and images are protected by copyright. Please do not use my images or recipe without my permission. If you wish to republish this recipe, please re-write the entire recipe using your own words and include a link to this post for the recipe.
If you enjoyed these Chocolate Almond Butter Frosted Fudgy Paleo Brownies, then you'll just love these recipes:
☀︎ Delicious Paleo Plant-Based, Allergy-Friendly Recipes
Paleo Almond Joy (Vegan, Gluten-Free, Dairy-Free, Paleo) | No Bake Paleo Chocolate Almond Butter Bars (Paleo, Vegan, GF, Protein-Rich) | 4 Ingredient Paleo Chocolate Coconut Cups (Paleo, Vegan, GF, DF) | Paleo Mocha Frappe (Paleo, Vegan, GF, DF, Refined Sugar-Free) | Ultimate Fudgy Paleo Vegan Brownies (Paleo, V, GF, One Bowl) | Homemade Almond Joy Cups (Paleo, V, GF, DF) | Paleo Almond Butter Cups (Paleo, V, GF, DF)
Facebook ☀︎ Pinterest  ☀︎ Twitter ☀︎ Instagram