Warm, fresh-baked cinnamon sugar donuts that are soft & tender, packed with cinnamon spice and coated in delicious cinnamon sugar. The perfect fall treat to enjoy with a hot beverage!
Fresh-Baked, Tender 'n Sweet Cinnamon Sugar Donuts
Donut stop believin'… in the dream of delicious baked donuts! Yes, there is such a thing… and yes, I probably could've thought of a better pun, but we've got donuts, and that's all we really need to impress… so donut judge me. Heehehe!!
Today, we're making delicious cinnamon sugar donuts that are tender, packed with cinnamon YUM, and coated in the sweet crunch of cinnamon sugar. Let's go!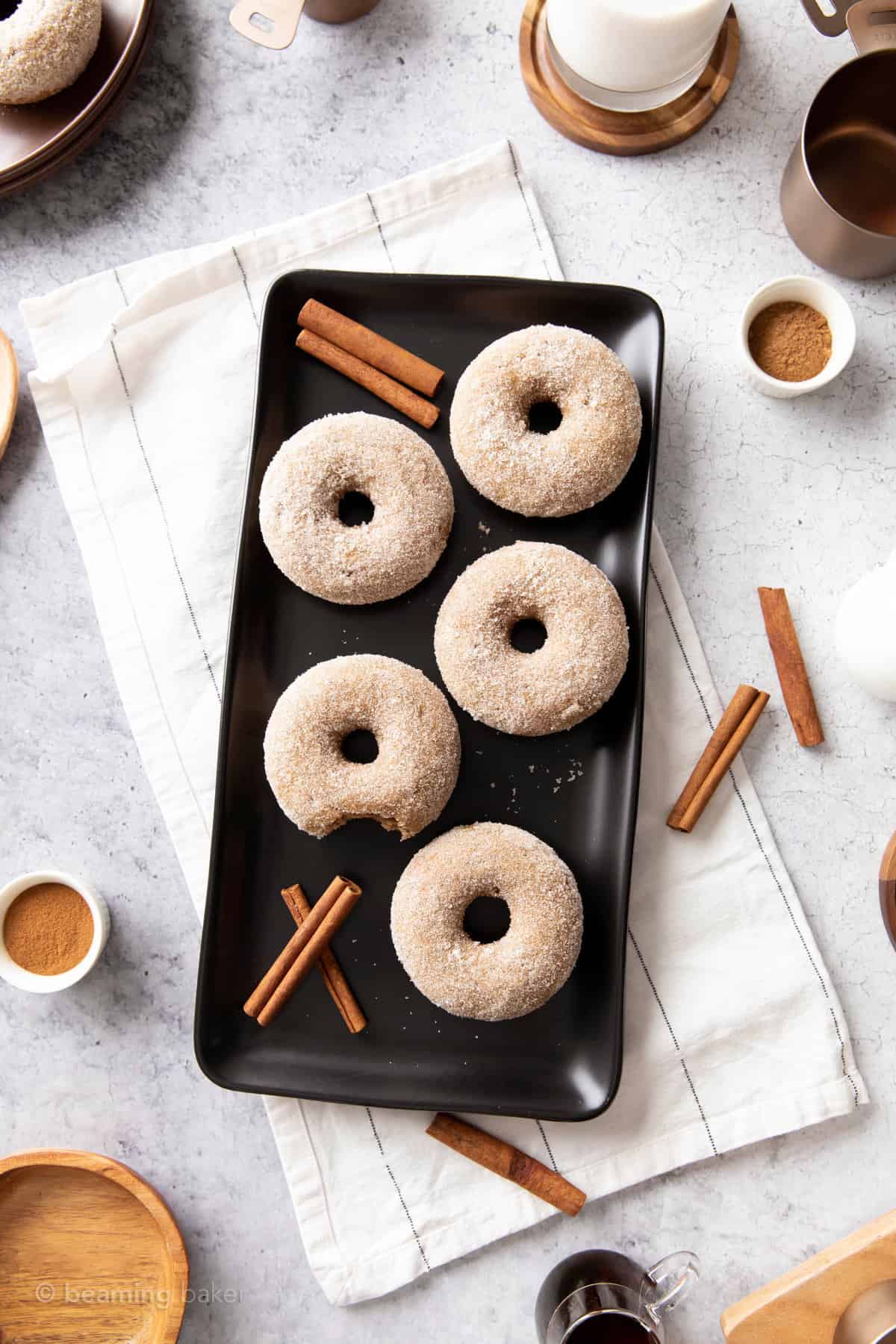 Cinnamon Sugar Donuts: The Key Ingredients
Whenever I share a recipe, I try to use ingredients that you'll most likely have in your pantry. If you don't have an ingredient like almond flour—it's time to invest in some! Here at BB, we use almond flour quite a bit to achieve a delicate, moist crumb. Once you've got that ingredient, and a few common others, we're ready to bake!
All purpose flour or gluten free oat flour
Almond flour
Ground cinnamon + nutmeg
Butter or coconut oil
Organic brown sugar
Maple syrup
How to Make Cinnamon Sugar Donuts
The secret to making delicious cinnamon sugar donuts is a bit of patience and a lot of fun. The donut batter takes a little doing to make, then a bit of panache is required to pipe the batter into the donut pan, and finally… the fun part: whacking the donut pan to pop out donuts. And the most fun part? Rolling each donut in beautiful melted butter to entice a cinnamon sugar topping to stay.
To make cinnamon sugar donuts, you'll first preheat the oven to 350°F, and set out two 6-cavity donut pans.
Then, you'll whisk together cinnamon and sugar in a shallow, wide bowl—suitable for dipping and rolling donuts.
Next, you'll make the donut batter. Start by whisking all the dry ingredients in a medium mixing bowl. After, whisk together all the wet ingredients in a large mixing bowl.
Combine the wet and dry ingredients to create your donut batter. You'll whisk the two components together in the large mixing bowl until a smooth, not-over-stirred batter forms.
Spoon this donut batter into a reusable piping bag, or a sealable zip bag that you'll later trim the tip off of.
Hold this bag of batter over the donut pan and carefully pipe the batter into each cavity of the pan. Repeat until all batter is used. Smooth batter into an even layer.
Bake for about 15 minutes.
Cool, then whack the pan vigorously over a cooling rack until donuts pop out. Cool for about 30 minutes. Then, coat in melted butter. Roll in cinnamon sugar. Enjoy the best baked donuts!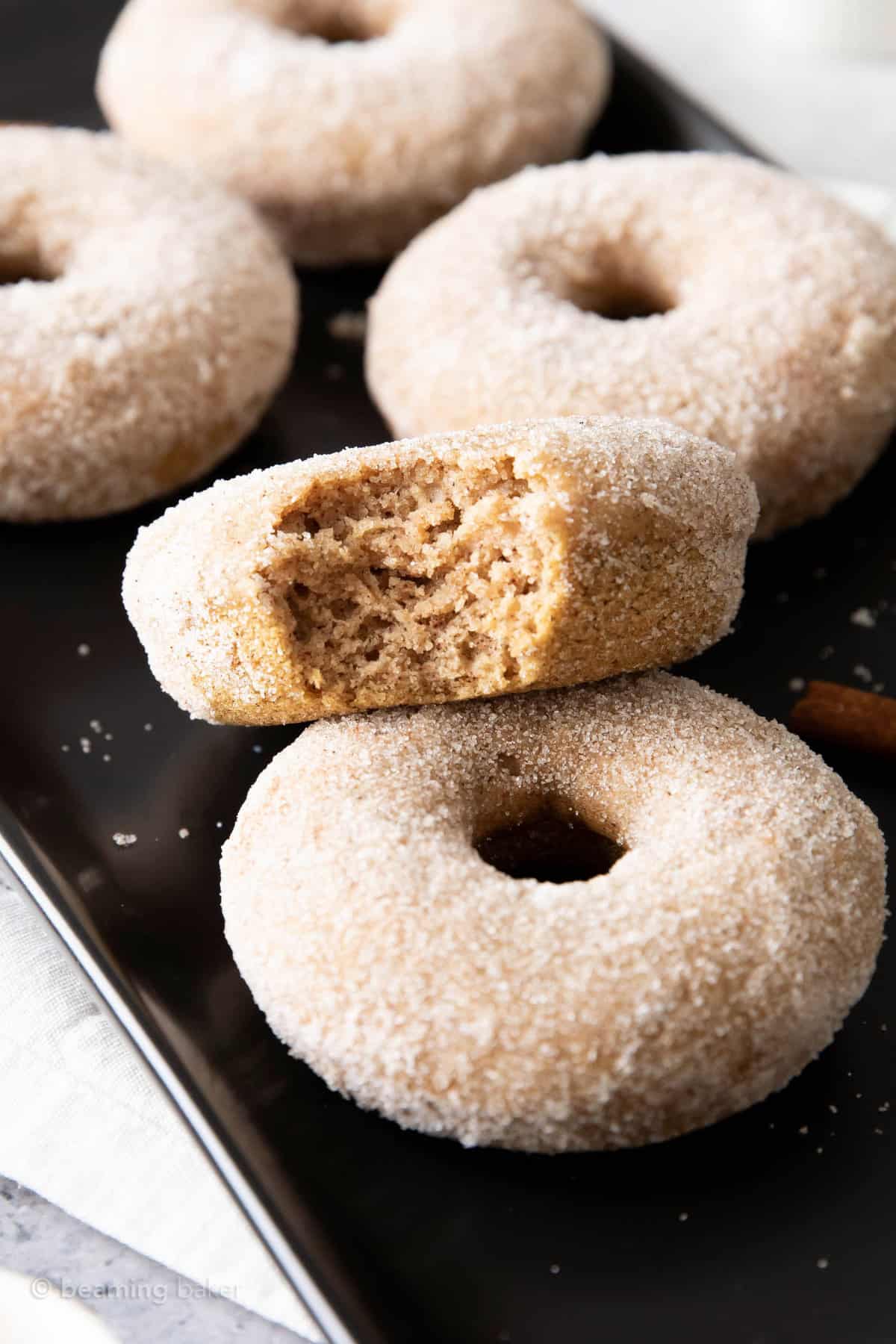 Tips for the Best Donuts
While these baked vegan donuts aren't the trickiest recipe in the world, they still require a bit of finesse and some elbow grease to make just right. Read the tips below for the best donut-making experience!
Practice & Patience Make For Pretty Donuts
The first couple of times you make baked donuts, you might feel like you can skip the whole piping bag technique.
Unfortunately, I can assure you, you're better off using the piping bag (or a resealable zip bag with the tip trimmed off). Using a piping bag makes the even distribution of donut batter So. Much. Easier. Trust me.
The more you use it, the better pace you'll set—somewhere between fast and slow. More of a patient, confident pace.
Elbow Grease Required
One specific part of this baked donut recipe calls for elbow grease: once the donuts are baked and they've cooled no longer than 5 minutes in the pan.
Go ahead and whack that pan against a countertop protected by a few kitchen towels (no need to dent a counter while making donuts here, folks).
Keep whacking the pan until the donuts pop out—you don't have to be gentle here. Give it some gumption and voila: the donuts will fall right out.
To Coat the Donuts: Skip the Coconut Oil, Use the Butter
When making the batter for these cinnamon sugar donuts, go ahead and use coconut oil, if you please. But when making coating, make sure to use vegan butter or butter of your choice. I tried, and the coconut oil made the donuts taste too much like coconut and not like cinnamon sugar. On that note…
More On Coating…. Skip the Coconut Sugar, and Use Organic Cane Sugar Instead.
Make sure to use organic cane sugar to make your cinnamon sugar topping. I tried first coating these donuts with coconut oil, then rolling in cinnamon sugar coating made with coconut sugar and the results just weren't great.
Coconut sugar just produced a drier, wildly less cinnamon-sugar tasting donut that looked kinda burnt. So if you still wanna try, don't say I didn't warn you. 😉 
Soft, Moist Cinnamon Sugar Donuts Coated with the Crunch of Cinnamon Sugar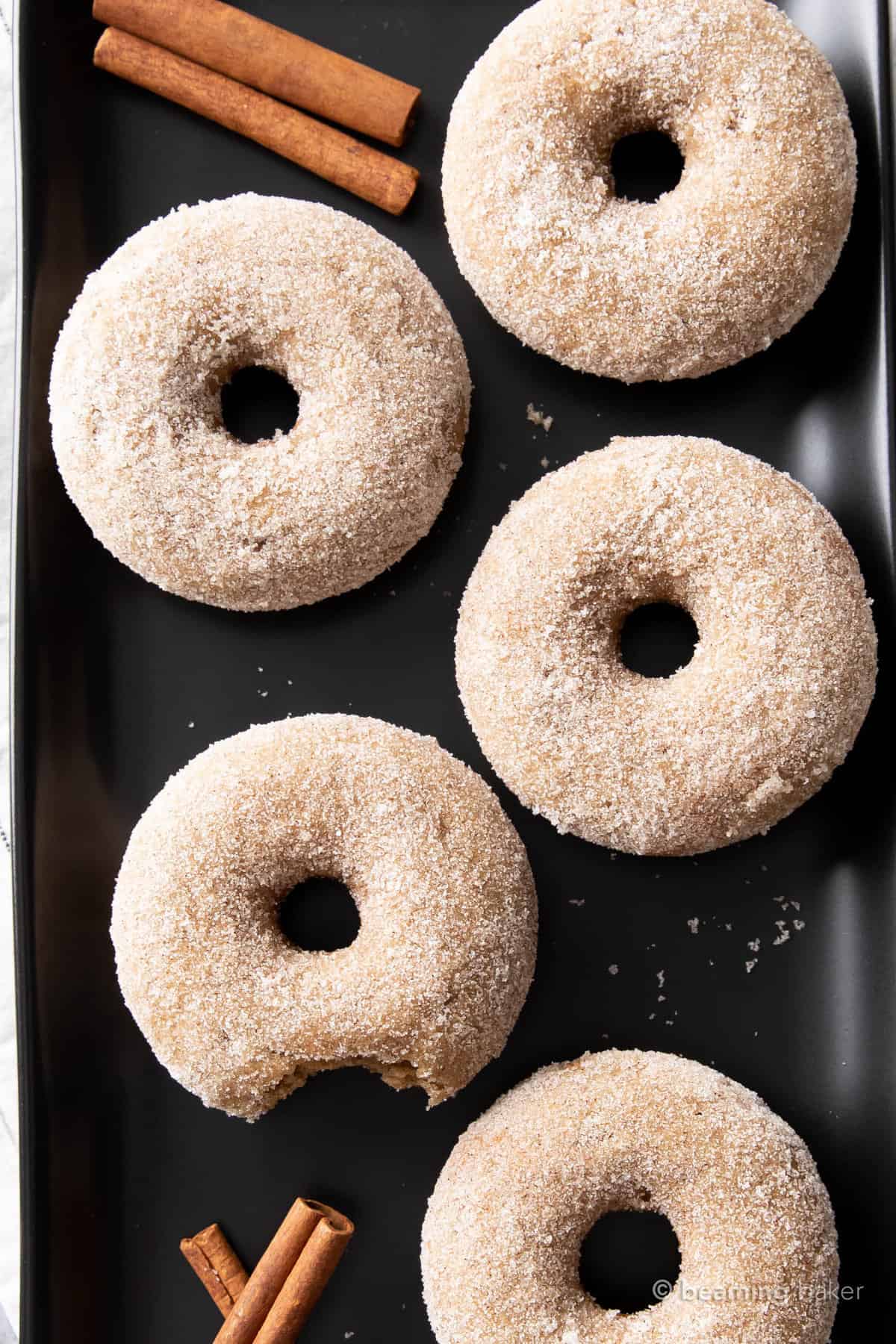 Tools You Need
You Donut Know How Much You Mean to Me
Truly. Your comments, love, and support keep me going… And I hope my recipes help to make your days that much sweeter. 🙂 Remember to leave a comment below, letting me know what you think of this recipe. I can't wait to read it! Thank you for stopping by and enjoying in these kitchen moments with me and your loved ones… 'Til the next one…
Sending you all my love and maybe even a dove, xo Demeter ❤️
♥️ 📸 🍩
📸 Did you make this cinnamon sugar donuts recipe? Take a pic and share it on Instagram with the hashtag #beamingbaker & tag @beamingbaker. I'd love to see it! 📸
More Sweet Recipes to Satisfy Your Sweet Tooth 🍪🍫🥧
Print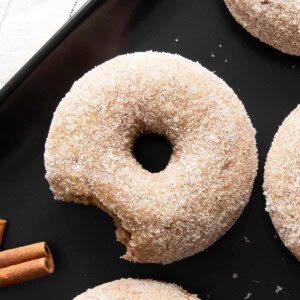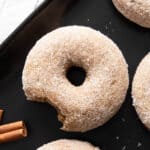 Cinnamon Sugar Donuts
---
Description
Warm, fresh-baked cinnamon sugar donuts that are soft & tender, packed with cinnamon spice and coated in delicious cinnamon sugar. The perfect fall treat to enjoy with a hot beverage!
---
Cinnamon Sugar Topping – you'll only end up using about ½ or less of this, but we're making extra to make it easier to dip!
¼ cup

organic cane sugar

¼ teaspoon

ground cinnamon
Note: I've tried dipping the donuts in coconut sugar and melted coconut oil—it's a bit on the drier side and tastes too much like coconut. I don't recommend unless you're looking for a dry coconut donut haha.
Dry Ingredients
2 ¼ cups

all purpose flour or gluten free oat flour – if using homemade, make sure it's very finely ground (not coarse)

½ cup

finely ground, blanched almond flour

2 ¼ teaspoons

ground cinnamon

¼ teaspoon

ground nutmeg

1 teaspoon

baking soda

½ teaspoon

baking powder

¼ teaspoon

salt
Wet Ingredients
¾ cup

water

½ cup

milk of choice

3 tablespoons

melted butter of choice or coconut oil

¼ cup

organic brown sugar (lightly packed) or coconut sugar

¼ cup

pure maple syrup

1 teaspoon

pure vanilla extract
For Coating Donuts:
¼ cup

melted butter of choice
The cinnamon sugar topping above
---
Instructions
Preheat the oven to 325°F. Set aside two 6-cavity, nonstick donut pans.
Make the Cinnamon Sugar Topping: Add sugar and cinnamon to a shallow, wide bowl. Whisk or stir the ingredients together until well mixed. Set aside for later.
Make the donut batter: Whisk all dry ingredients together in medium bowl: all purpose flour or oat flour, almond flour, cinnamon, nutmeg, baking soda, baking powder, and salt.
Whisk all wet ingredients together in a large bowl: water, milk, butter, brown sugar, maple syrup, and vanilla.
Pour the dry ingredients over the wet ingredients. Whisk until just mixed, with no flour patches remaining. Be careful not to over-stir.
Pour batter into a reusable piping bag, or a large gallon zip bag. If using the gallon bag, begin with a slightly wide tip trimmed off (not too big, but not super small) and test piping into one donut crevice. If it's too small, go ahead and trim the hole larger. Note: using the piping bag will require some skill and quick movement, and with some practice it'll get easier. Alternatively, you can use a small spoon to spoon the batter into each crevice, but it will be much messier.
Pipe the donut batter into the crevices of the nonstick donut pans, filling each crevice nearly to the top. If needed, use a spoon to smooth batter into an even layer.
Bake for 12-18 Minutes. Mine took 15 minutes. Test for doneness by sticking a toothpick into the thickest, tallest part of a donut. Once the toothpick comes out clean, the donuts are done. Set the donut pan onto a cooling rack and allow donuts to cool for about 5 minutes—or just until you can handle the pan with bare hands.
Once cool enough to handle, bang the donut pan on a protected, hearty surface until the donuts jump up out of their crevices. Once all donuts have "jumped" out, flip the pan upside down over the cooling rack to deposit the donuts onto the rack to cool completely. Repeat for the other donut pan.
Cool for about 30 minutes.
Coat the donuts: Melt the remaining butter in a small bowl. Grab a basting brush—I prefer this kind with silicone bristles. Brush each donut in butter—one side if you prefer a donut just half-covered in sugar, the whole thing if you want the entire donut covered in sugar.
Turn the butter-covered side of the donut into the pile of cinnamon sugar you prepared earlier. Gently press, twist and tilt the donut to coat. Repeat for all donuts. Enjoy!
Notes
Storing instructions: Donuts are best the first day as the sugar will dissolve over the course of the day. If you'd like to enjoy them the next day, wait until you're ready to eat them to coat the donuts.
Freezing Instructions: Donuts will last up to 1 month in the freezer. Again, it's best to coat the donuts in cinnamon sugar right before serving. Also, allow the donuts to thaw before coating or they'll freeze up the melted butter
How to make Vegan: use organic sugar or coconut sugar, non-dairy milk, and vegan butter.
How to make Gluten Free: Gluten free oat flour works best. I haven't tried using gluten free all purpose flour. If you do, comment below with which brand you used and how well it turned out. Your comments help readers to find baking success! 🙂
Prep Time:

25 minutes

Cook Time:

15 minutes

Category:

Dessert

Method:

Bake

Cuisine:

American
© beamingbaker.com. All content and images are protected by copyright. Please do not use my images or recipe without my permission. Please do not republish this recipe, instead, include a link to this post for the recipe.
Baked Donuts & Cinnamon Treats
This post may contain affiliate links, which allow me to make a small commission for my referral, at no additional cost to you.