Gluten Free Banana Chocolate Chip Oatmeal Breakfast Bars (Vegan, One Bowl, GF, DF)
Gluten Free Banana Chocolate Chip Oatmeal Breakfast Bars (V, GF): a 1-bowl recipe for simply delicious gluten free banana breakfast bars packed with your favorites for a good morning! My favorite vegan banana oat bars. 🙂 Vegan, Gluten-Free, Dairy-Free, Healthy.
Remember how I told you a few posts ago that my mom sometimes begrudgingly subjects herself to punch bowls of oatmeal morning after morning? And remember how I told you how much she totally loathed them?
Well, the thing is… Erik and I have our own bowls of oatmeal every morning, too. Except they're not punch bowl-sized. THANK. Goodness. Well, while I tend to enjoy the comforting semi-blandness of that morning oatmeal with a bit of mashed banana and a gentle topping of nut butter, seeds and perhaps a sassy topping of dried fruit, Erik begs to differ.
He'd very much rather enjoy this moist chocolate chip banana bread recipe in the morning.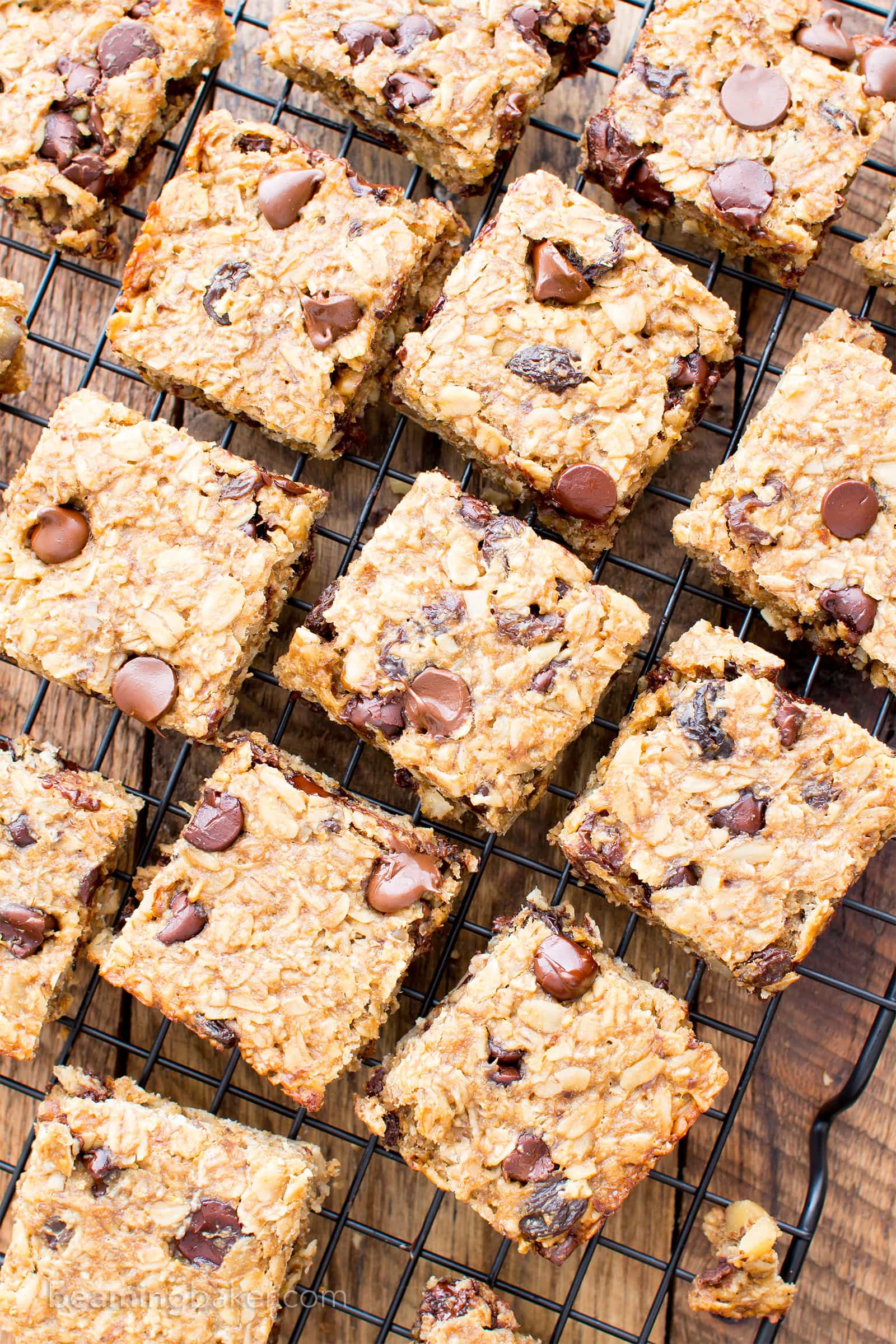 Every morning, we have our bowls of oatmeal and I'm serious—looking at Erik eating his bowl is like looking at my mom eating her gigantor bowl. Cue the Greek tragedy music. Lol. But I keep telling him, it's GOOD that it's bland! That way, we can keep eating it and we won't get sick of it (again, Erik begs to differ–how predictable). I mean, does he not remember when we used to "enjoy" cereal with water?? Alright, fine, they certainly weren't the good morning breakfast cookies he loves so much…
Gluten Free Breakfast Bars Recipe to the Rescue!
Anywho, after the 5 millionth morning of seeing that dour face, I decided enough was enough! I was right in the middle of pouring oats into our breakfast bowls. I started to grab a few bananas from our fruit bowl (okay, who are we kidding, we totally don't have a fruit bowl—it's just a huge colander that we cannot find the space to store).
The second the first few oats hit the bottom of the bowl, I could feel Erik sigh from the office. No, really.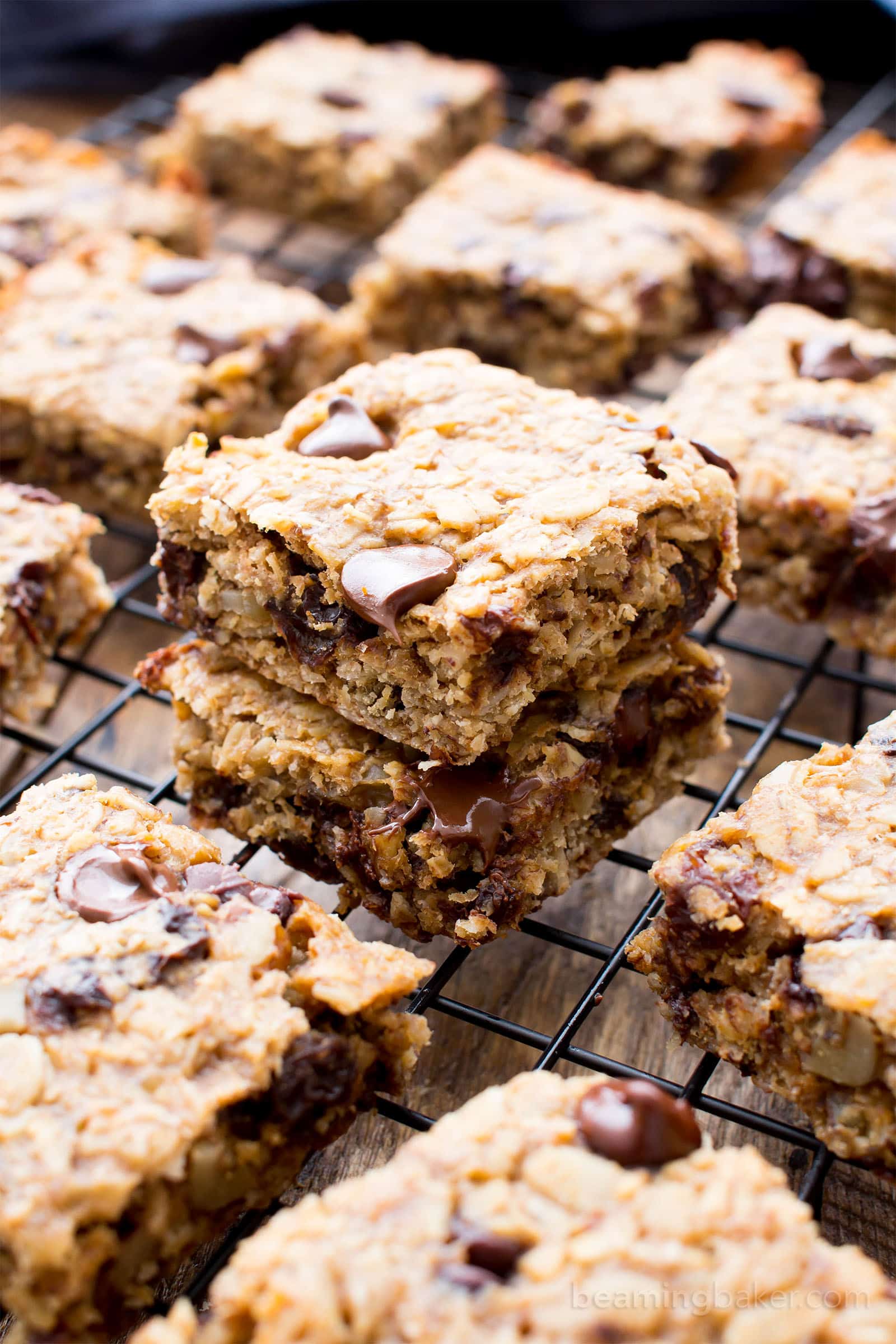 So I thought, to heck with it! Today's the day we recipe test for breakfast! Oh yeah! So I mashed a banana, added a bit of this and a bit of that, some peanut butter for pizzazz, a scoop of dried fruit for delicious sweetness… and guess what??
Gluten Free Banana Oatmeal Breakfast Bars with Chocolate!
I made gluten free banana breakfast bars!! Namely, I made these Gluten Free Banana Chocolate Chip Oatmeal Breakfast Bars. You like?
You should have seen Erik's face when he realized his usual morning oatmeal doom wasn't gonna happen. He popped his head out of the office, like, "UM, what's that heavenly scent?? Whatcha doin'?? Why are you so jazzed this morning??"
And then it hit him: no morning oatmeal bowls! And better yet, a surprise for breakfast. And even better better yet, that surprise held a striking resemblance to one of his favorite foods: vegan chocolate chip cookies. 🙂 Is there really anything better than whipping up a spontaneous treat for the ones you love?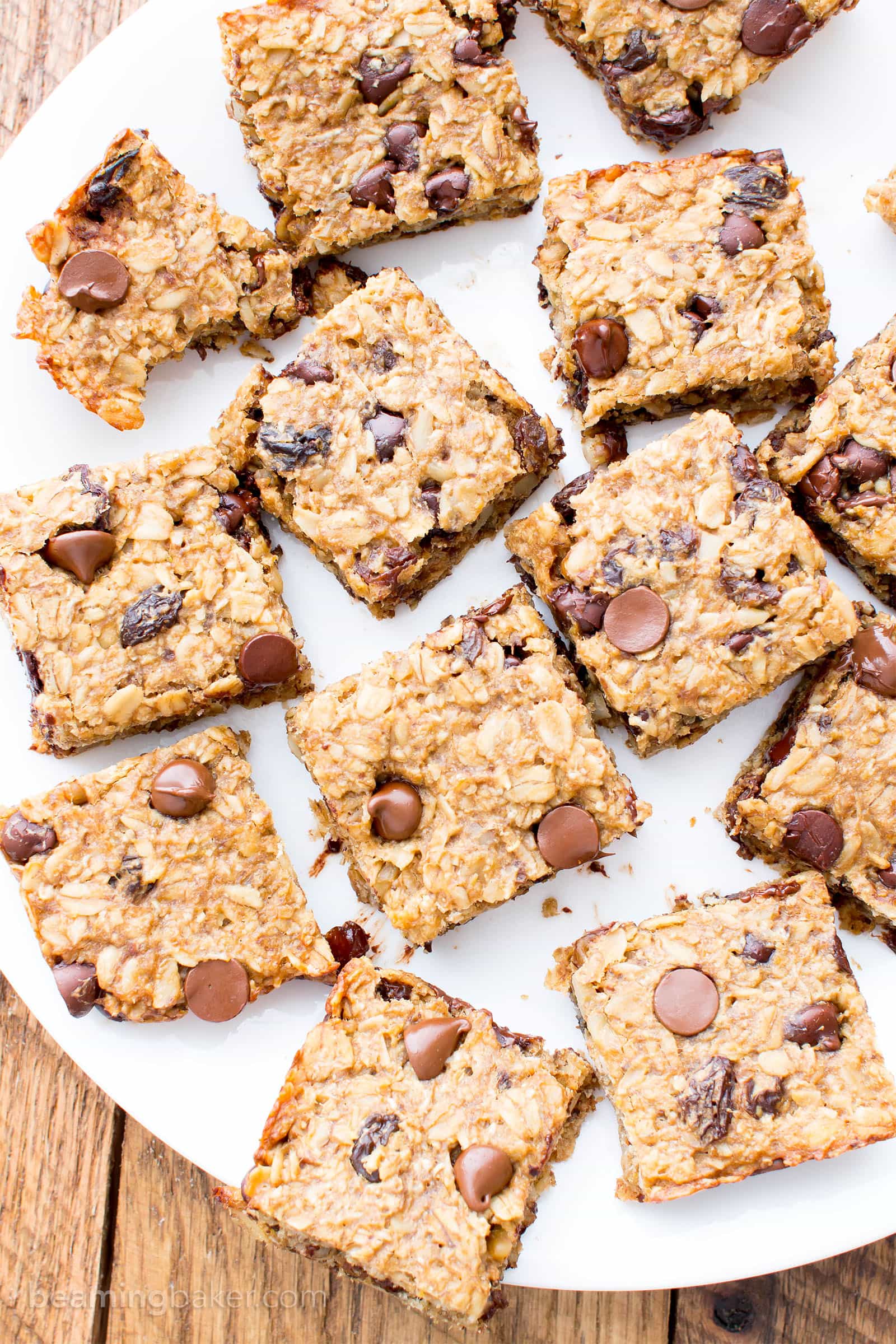 The second he bit into these (a little too fresh out of the oven, because waiting is sooo not his strong suit), he was in heaven. I, myself, was surprised that my AM kitchen shenanigans worked out, just like that! No tricky recipe testing, no ego-deflating-this-is-not-cooking-so-you-can't-just-throw-whatever-you-want-in-the-pan-like-it's-just-a-few-spices-also-no-offense-all-you-amazing-cooks-out-there. Just delicious morning yum!
I tried really hard to include as little oil and added sugar as possible, so ya know, we could throw in a BUNCH of chocolate chips! But if chocolate isn't your style, please, sit on my couch and tell me what is. I'm fascinated! 😉 J/k! The beauty of these gluten free banana chocolate chip oatmeal breakfast bars is that you can swap the add-ins for whatever tickles you pink first thing in the morning.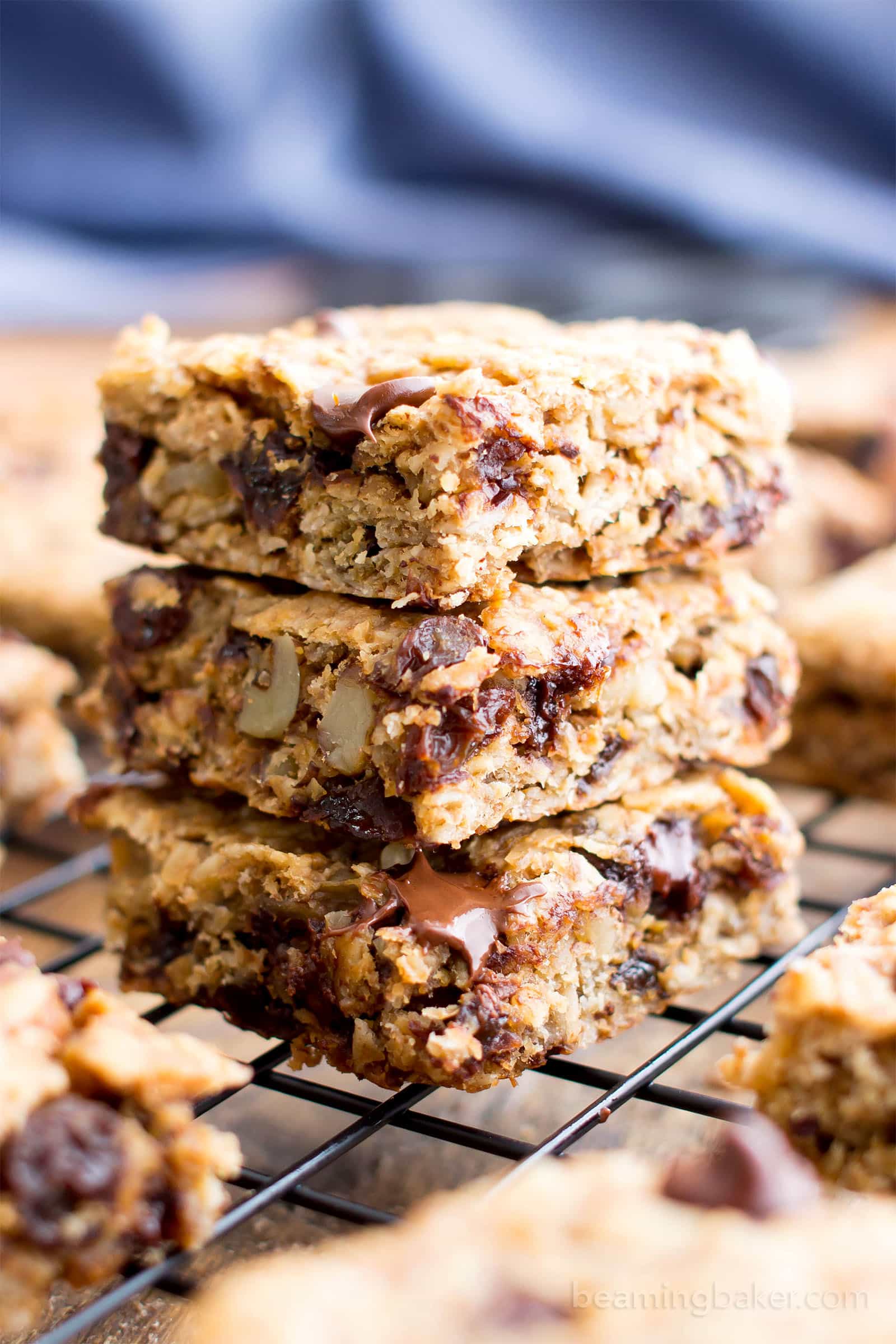 Vegan Banana Oat Bars: The Good Stuff!
Now, while I eagerly await to hear what you think of these, let me tell you all about them. My Gluten Free Banana Chocolate Chip Oatmeal Breakfast Bars are:
soft, chewy, satisfying
made in just one bowl
super easy to whip up (just like this 5 Ingredient Chocolate Chip Cookie Dough Bites Recipe)
vegan, gluten free, dairy-free
packed full of simple, whole ingredients to keep you going all day
refined sugar-free, like these Oil-Free Peanut Butter Oatmeal Breakfast Cookies
made with just 1 tablespoon each of coconut oil and maple syrup
deliciously customizable
SO not a semi-bland bowl of oatmeal (YEAH!!! <– that's Erik screaming in my ear–did you sense that?)
Are you ready to rock your morning breakfast routine? Like in the cool way, not the startling way. Dang it… I've got to get more slick. Anywho, I hope you love this vegan banana oat bars recipe as much as my family does. I'm so happy to join ya in the kitchen, whipping up all the wonderful treats you truly deserve. Looking forward to hearing what you think. 'Til the next kitchen adventure…
Sending you all my love and maybe even a dove, xo Demeter ❤️
☀︎ Click below to Pin ☀︎

☀︎ Did you make this vegan banana oat bars recipe? Take a pic & share it on Instagram with the hashtag #beamingbaker and tag @beamingbaker. I would love to see it! ☀︎
Banana & Oatmeal Recipes We Love
Print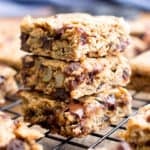 Gluten Free Banana Chocolate Chip Oatmeal Breakfast Bars (Vegan, One Bowl, GF, DF)
---
Description
Gluten Free Banana Chocolate Chip Oatmeal Breakfast Bars (V, GF): a one bowl recipe for simply delicious banana breakfast bars packed with your favorites for a good morning! Vegan, Gluten Free, Dairy-Free, Healthy.
---
Wet Ingredients
Dry Ingredients
Add-in Ingredients
---
Instructions
Preheat oven to 350°F. Line an 8-inch square baking pan with parchment paper or greased foil. Set aside.
In a large bowl, add peeled banana. Using a sturdy whisk or fork, mash until smooth. Add the remaining wet ingredients: peanut butter, maple syrup, coconut oil, flax egg and vanilla. Whisk until well incorporated.
Add the dry ingredients: oats, baking powder and baking soda. Using a rubber spatula, stir and fold until well incorporated. Fold in chocolate chips, raisins and walnuts.
Pour this mixture into the prepared pan. Using the rubber spatula, smooth into an even layer.
Bake for 12-18 minutes, until just lightly golden around the edges. Mine took 15 minutes. Cool for about 1 hour. Slice into bars. Enjoy! Storing instructions below.
Delicious Gluten Free Vegan Banana Recipes
Notes
Store in an airtight container at room temperature or in the refrigerator for up to 1 week.
Freezing Instructions: store in a freezer-friendly container for 1-2 months. Allow to thaw for 10-20 minutes before enjoying, or heat in the microwave in 10-second increments until just warm.
Prep Time:

25 mins

Cook Time:

15 mins

Category:

Breakfast, Bars, Vegan, Gluten Free, Dairy-Free, Whole Grain

Method:

Bake

Cuisine:

American
Keywords: gluten free breakfast bars recipe, vegan banana oat bars, gluten free banana recipes
© beamingbaker.com. All content and images are protected by copyright. Please do not use my images or recipe without my permission. Please do not republish this recipe, instead, include a link to this post for the recipe.
If you love these Gluten Free Banana Chocolate Chip Oatmeal Breakfast Bars, you'll really enjoy these recipes:
Facebook ☀︎ Pinterest ☀︎ Twitter ☀︎ Instagram