Dairy-Free Almond Joy Ice Cream Sundae (V, DF, Paleo): the perfect frozen, allergy-friendly treat to satisfy your Almond Joy cravings and cool you down this summer! Vegan Dairy-Free, Paleo, Gluten-Free.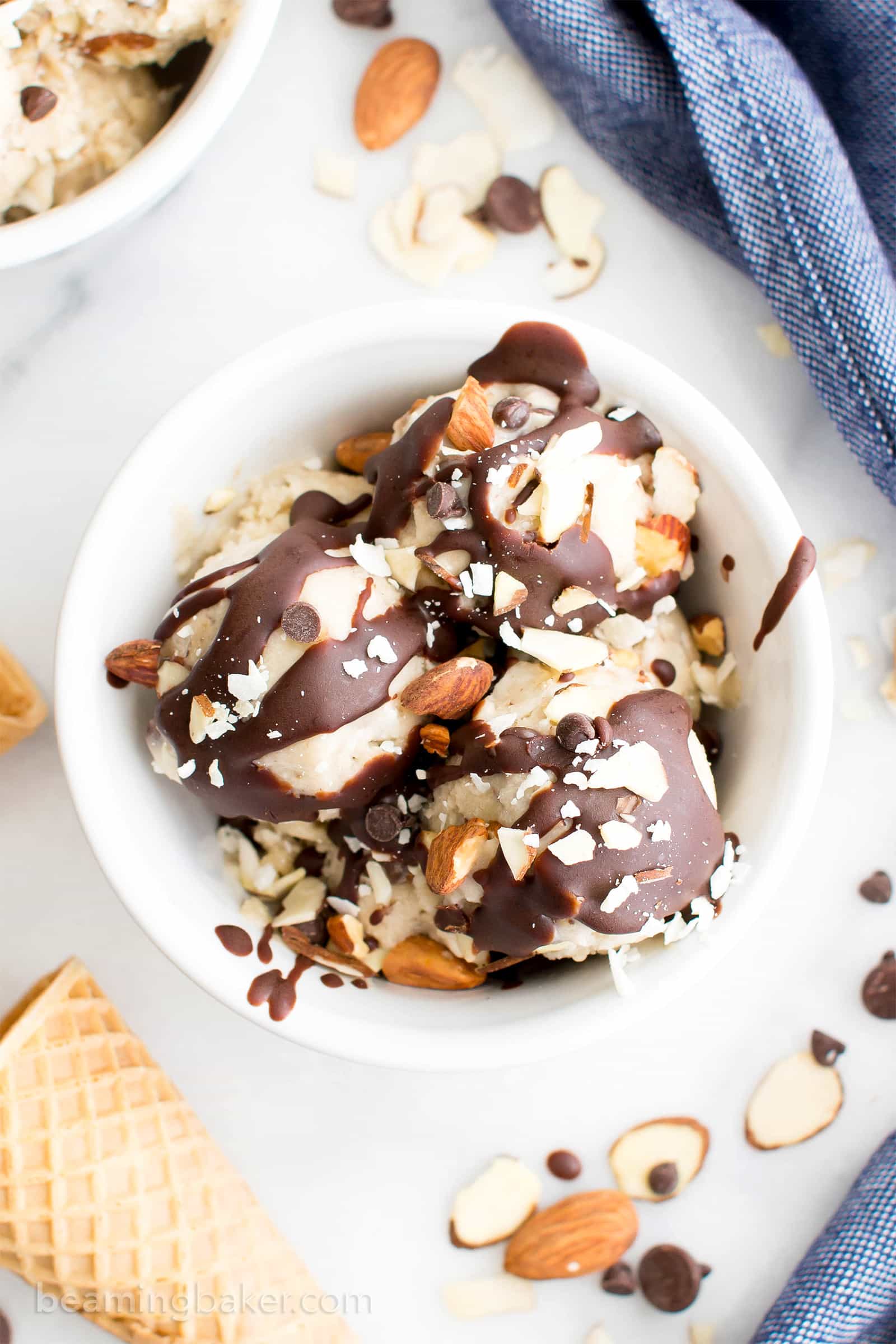 So… how was your weekend?? Did you celebrate the Fourth of July? Did you have all the fun and then some? 🙂
Tell me there was at least some ice cream, if not ice cream bars, or some popsicles and at least four milkshakes. Okay, fine… it's not all about food. Riiiiight? 😉 Did you get a chance to relax, unwind and just chill?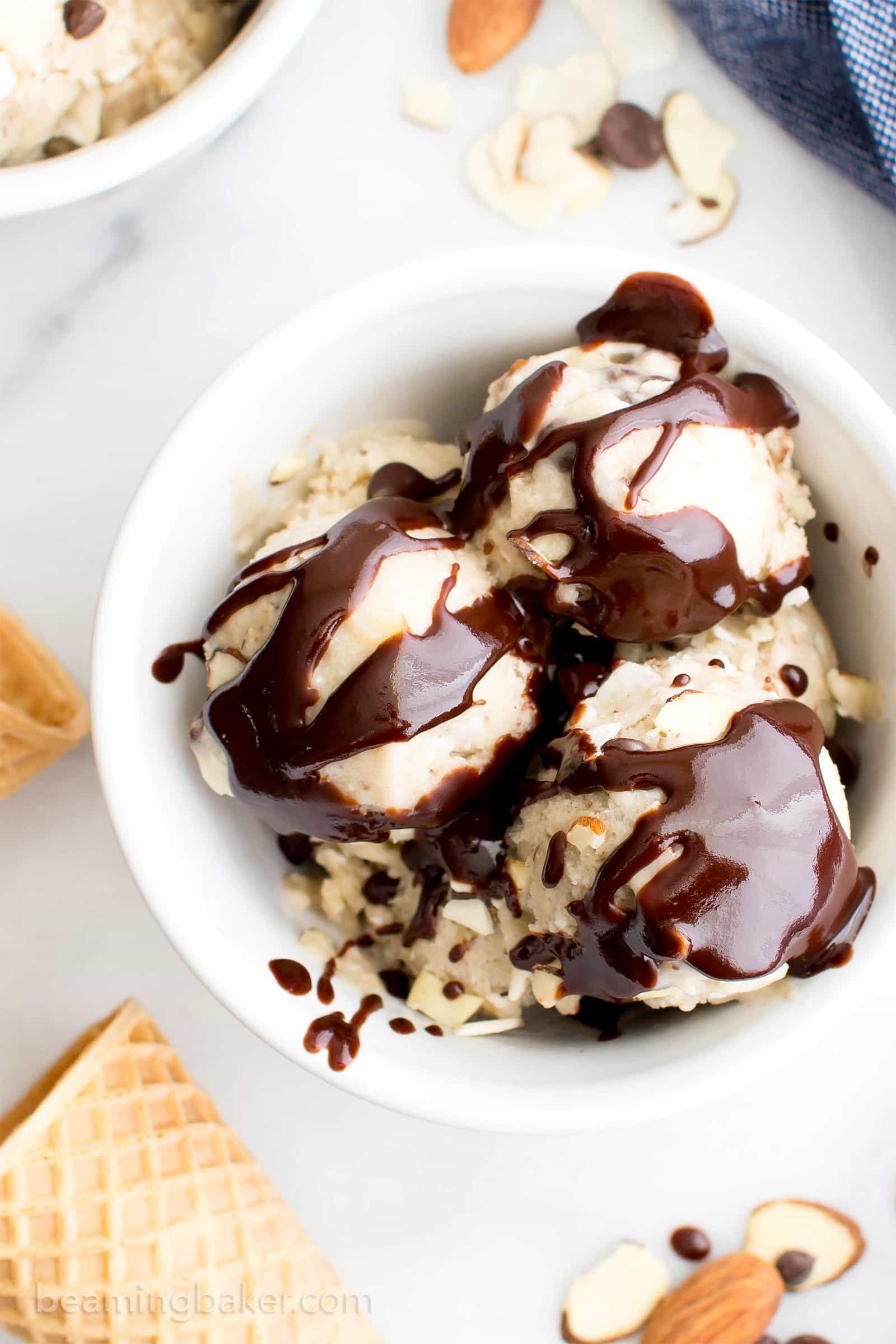 As for me and Erik, it was all about family time, relaxation and just… time away from all of our electronic devices. You totally just heard me happy sigh, right? 😉 We did so many fun things these past few days… but mostly, we just slowed down. And it was incredible.
We had plans to go bicycling along the Charles River, but we kinda just scrapped it to take care of our new home. You know we moved into our apartment two months ago, but we're still unpacking and figuring out just the right spot for our things.
Lately, we've been watching all of these DIY videos on Youtube, and getting ourselves all worked up about customizing our home. Yep, customizing our home. 😉 Have you seen some of the insanely creative things people do on YT? And don't even get me started on tiny homes… Like, now Erik and I've been looking at everything in our apartment and going, wait, there should definitely be like 4 storage cubbies hidden behind there, and at least three hidden elevator beds dispersed throughout the place.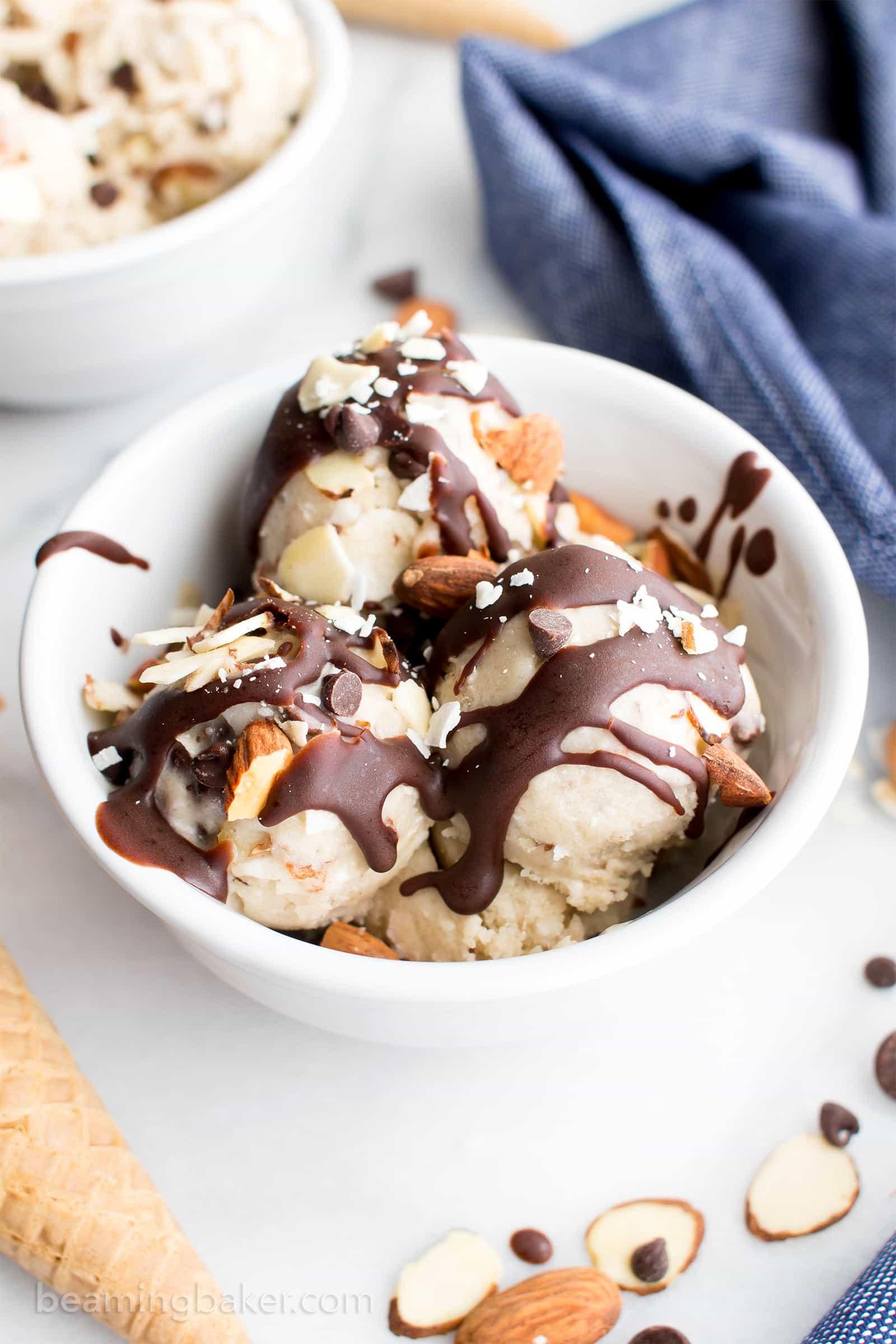 Anywho, we also went on a picnic with the Boston fam: Grams, PB (turning 4 sooon!!!!) and Jams (my sister Jenny). And boy can they eat!! J/k. Sometimes I think we all might qualify as competitive eaters, then while I'm thinking about that, I see something else I'd like to eat and completely forget what I was thinking. Thank goodness we walk so much. Lol.
It was nice just sitting, spreading out a blanket, laying out all of our sweet and savory goodies, enjoying each other's company and just… relaxing. As a family. 🙂 The night before, I whipped up a batch of the ice cream base for this Dairy-Free Almond Joy Ice Cream Sundae, froze it overnight, and it was just perfectly thawed by the time we got to our picnic spot.
Since the weather was so warm, the magic shell actually kept liquidy, can you believe?? We also thought about making some of this tasty looking Sugar-Free Low Carb Ice Cream Recipe from Wholesome Yum! To veganize it, I was going to use dairy-free butter. Okay, fine, I totally have ALL the ice cream on my brain right now! I was also going to try making a vegan version of this yummy Gluten Free No Churn Cookies and Cream Ice Cream from My Gluten-Free Miami. .
Other than that, we cleaned up the apartment a bit (the non-fun, non-DIY part), slept in (yes, it was just wonderful) and did a little retail therapy. How about you? I truly hope you got a chance to dial back and enjoy some quality times with the ones you love.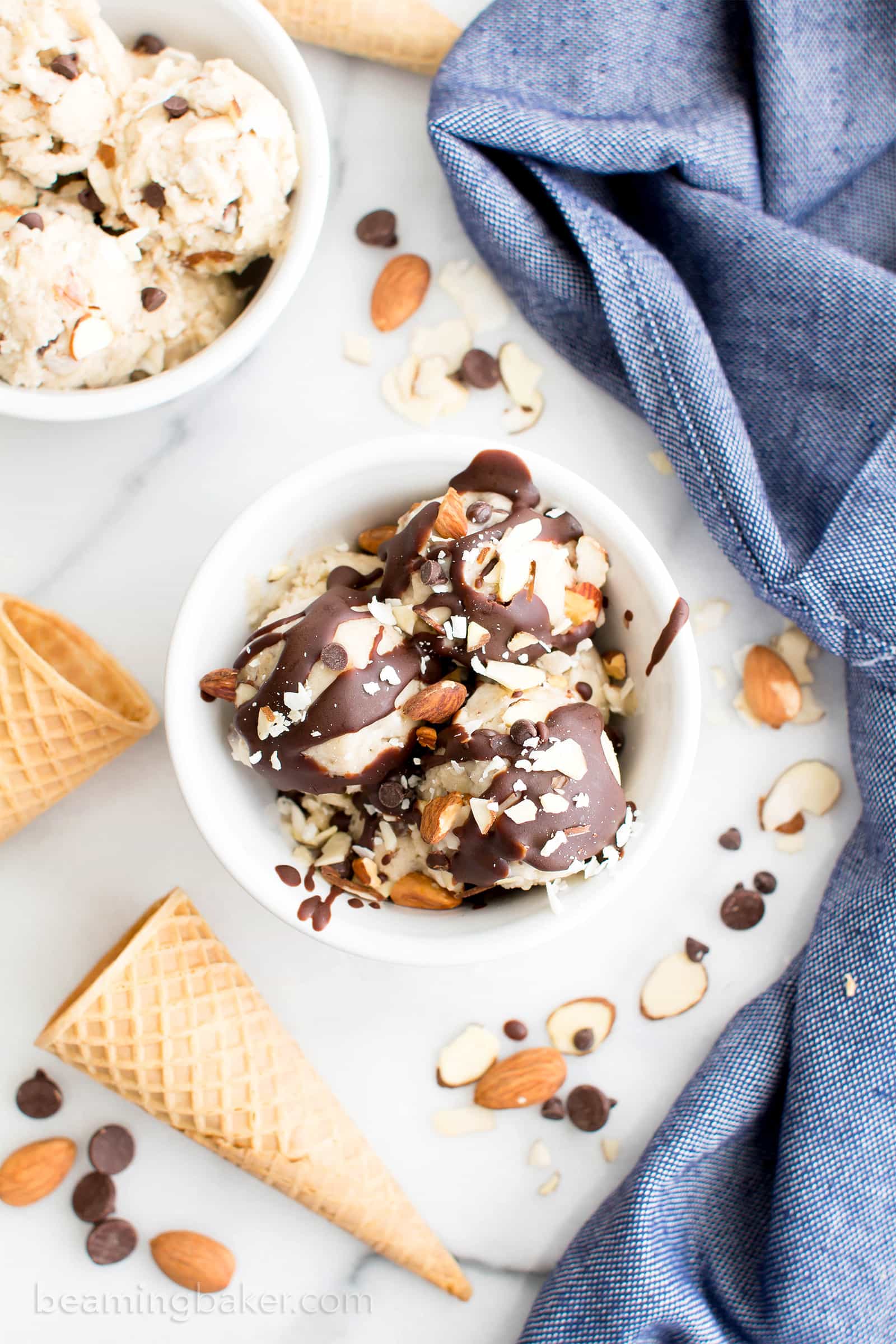 While I wait to hear all about your fabulous holiday weekend, allow me to tell you all about my Dairy-Free Almond Joy Ice Cream Sundae. It's:
so creamy and delicious
decadent, rich and sweet tooth satisfying
vegan, dairy-free, paleo, gluten-free
bursting with almonds, coconut, chocolate
… basically Almond Joy goodness in a bowl
plant-based and allergy-friendly
made with the healthy ingredients you love
perfect for a lazy afternoon, or a movie night dessert
straight up YUMMY
Isn't it fun making sundaes at home? I don't know why, but something feels super special and fun about it… like a sense of occasion or something. I'm so excited to join you in the kitchen, blending, whisking, stirring and sprinkling our way to homemade goody bliss. I hope you're enjoying a fantastic summer full of good vibes. While I wait to hear what you think of this recipe, tell me:
What's your favorite hobby to help you relax?
Sending you all my love and maybe even a dove, xo Demeter ❤️
☀︎ Click below to Pin ☀︎

☀︎ Did you make this recipe? Take a pic and share it on Instagram with the hashtag #beamingbaker and tag @beamingbaker. I would love to see it! ☀︎
See how EASY it is to make this sweet tooth satisfying Dairy-Free Almond Joy Ice Cream Sundae!
Print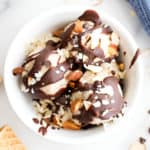 Dairy-Free Almond Joy Ice Cream Sundae (Vegan, Gluten Free, Dairy Free, Paleo)
---
Description
Dairy-Free Almond Joy Ice Cream Sundae (V, DF, Paleo): the perfect frozen, allergy-friendly treat to satisfy your Almond Joy cravings and cool you down this summer! Vegan, Dairy-Free, Paleo, Gluten Free.
---
---
Instructions
The night or 4-6 hours before, make a batch of Paleo Vegan Almond Joy Ice Cream. Allow to thaw for 5-15 minutes before scooping.
Scoop ½ cup to 1 cup Paleo Vegan Almond Joy Ice Cream into ice cream bowls. Place bowls into the freezer to chill.
Make a batch of Homemade Magic Shell. Remove ice cream bowls from freezer. Generously top each bowl with magic shell.
Sprinkle almonds and coconut flakes over magic shell. Optionally, top with coconut whip, cherries and your favorite toppings. Enjoy immediately!
Category:

Frozen Desserts, Ice Cream, Paleo, Vegan, Dairy-Free, Gluten-Free
© beamingbaker.com. All content and images are protected by copyright. Please do not use my images or recipe without my permission. If you wish to republish this recipe, please re-write the entire recipe using your own words and include a link to this post for the recipe.
If you loved this Dairy-Free Almond Joy Ice Cream Sundae recipe, then you'll love these allergy-friendly, plant-based frozen dessert recipes:
☀︎ Dairy-Free Frozen Dessert Recipes
The recipe that started it all: my easy, creamy and seriously satisfying Paleo Vegan Almond Joy Ice Cream. I know you'll just love it.
One of my family's very favorite recipes: Vegan Ice Cream Bars. Simple, whole, delicious and, wait for it… decadent.
When ya just can't get enough chocolate, coconut and, well, YUM: try my Coconut Chocolate Chip Vegan Ice Cream. You'll be so happy you did. 😉
Facebook ☀︎ Pinterest  ☀︎ Twitter ☀︎ Instagram