Vegan Magic Shell (Paleo, Dairy-Free, Gluten Free)
Vegan Magic Shell (V, GF, DF): a refined-sugar free, 3-ingredient recipe for the perfect homemade magic shell. Vegan, Paleo, Dairy Free, Gluten Free.
Do you remember when you were a little kid and so many things in the world seemed almost magical?
Some things were scary (monsters under the bed, garbage disposals, all vegetables), some were wayyy cool (bouncy houses, giant bubble makers, hoverboards), and some were just straight-up weird/inexplicable (egg slicers, rules, Barney, gravity).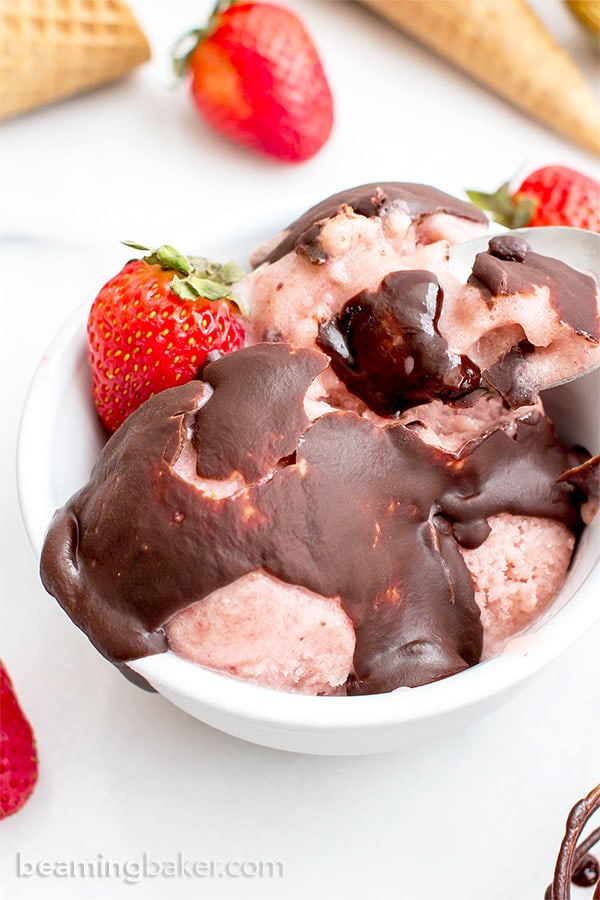 But one of the coolest things, by far, was magic shell. I don't know if you've heard of magic shell 'round your parts, but it's this fascinating marvel of science and food that made frozen desserts *that* much better. It came in these wide, flat plastic bottles, colored to look just like shiny, melted chocolate. In fact, it's still available in grocery stores today! Suddenly, this sounds like some kind of commercial.
See how this Homemade Magic Shell is made!
Ahem.
Well, if you were really lucky, you could get your mom or dad to splurge on one of these said bottles. That is, after you already convinced them to buy one of those large paint-bucket-sized ice cream vats. You'd rush home, pretend to help put away the groceries, all the while keeping a hawk eye on two very important things: the ice cream and the magic shell.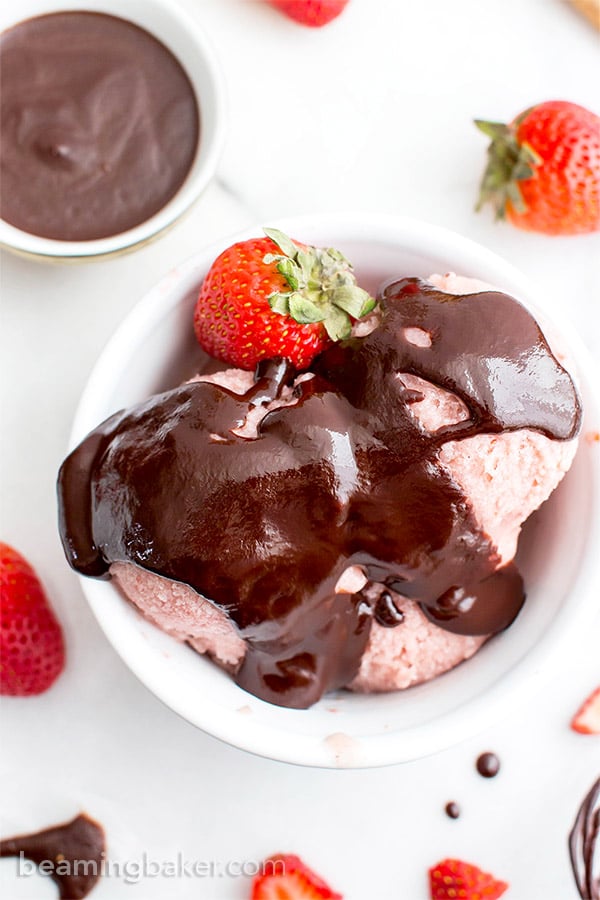 Once everything was put away (not with help from you, of course), you'd bring out the bowls and get ready for something magical to happen. One, two, three scoops of ice cream into each bowl. And then, the good part.
One shake, two shakes, three to be safe. The bottle of magic shell had to be well-incorporated, naturally. 😉 You'd flip the cap, tip the bottle and a most mystical and fantastical river of melted chocolate started pouring out.
The scent of chocolate filled the air, and everyone gathered around in awe. Even the adults.
As the magic shell made its glossy way over every ice cream scoop mountain, something quite miraculous happened: it started to harden.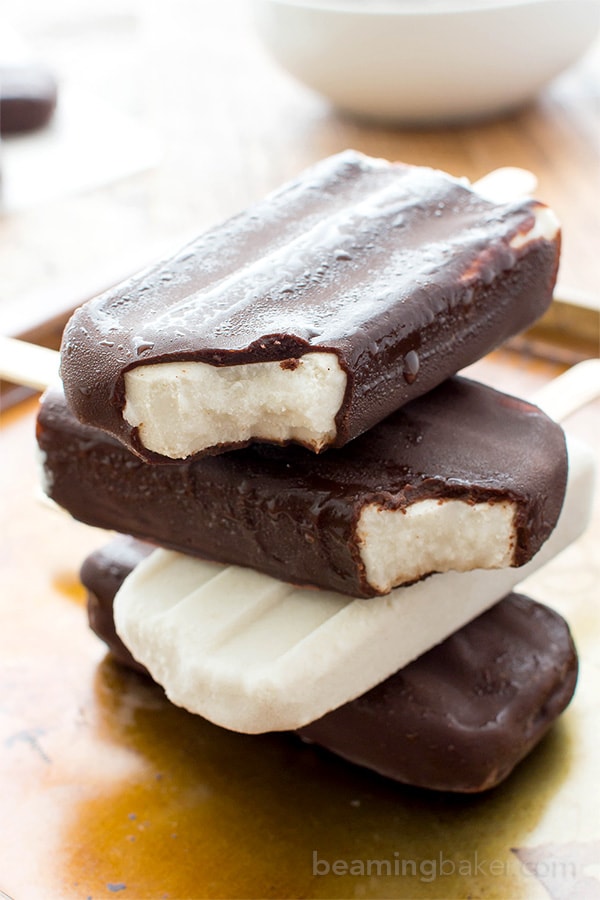 The chocolate gloss turned frosty. The soft meltiness turned into hardened deliciousness. Your cold ice cream mountains had frozen the magic shell river.
The best part? Still yet to come. You'd grab a sturdy spoon and start digging in. The crack of that shell was just everything and more. Even better than a Kinder surprise egg with an extra surprise on the inside. 😉
Do you remember that? I do. And I still dream about the yummy moments that made being a kid so much fun. That, and yelling "tag, you're it, Boogerhead!!!" til my lungs burned. And now that my lungs are a bit more mature and less inclined towards burn-y actions, I can still have magic shell. In fact, you and I can have vegan magic shell.
With just three simple ingredients, you're on your way to nearly color-changing levels of magic. Okay, this vegan magic shell doesn't change colors. But still! Add coconut oil, maple syrup and cocoa powder to a bowl. Whisk until you've made your very own melty-chocolate awesomeness. Grab your ice cream vat, or your nice cream, or a frozen peanut butter coconut bite, and get ready for some vegan magic shell action. Who says we can't be kids again?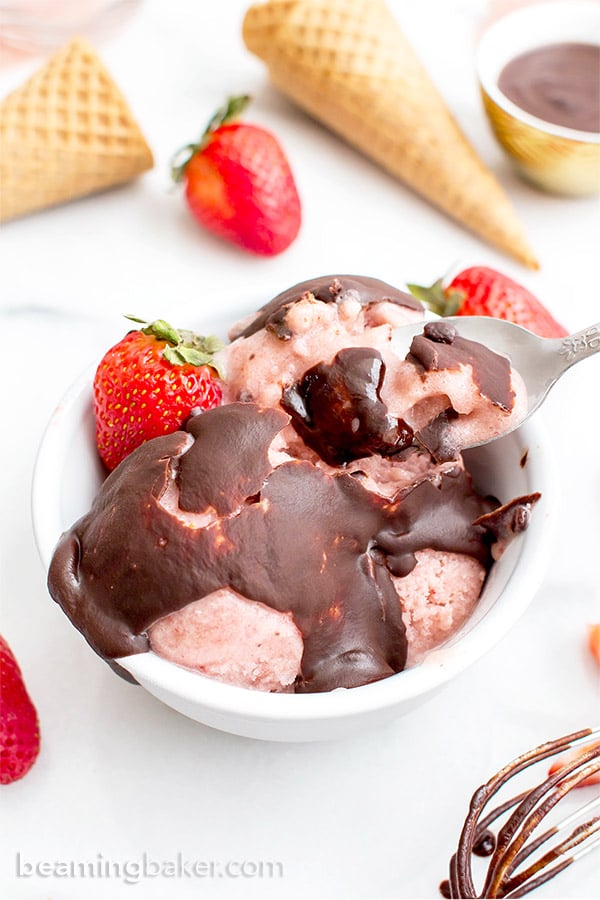 Check it out, this Vegan Magic Shell is:
made with just 3 ingredients
refined sugar free
super easy to make
vegan, gluten free, dairy free, paleo
perfect for pouring on everything (okay, not hot stuff, unless you want to.) 😉
plant-based and allergy-friendly
perfectly sweet, rich and chocolatey
kinda magical, don't you think?
Hey, maybe Barney isn't as weird anymore (scratch that), and monsters aren't as scary, but we can still dream about hoverboards, bouncy houses and maybe even making the biggest bubble while running across the beach. With the sun setting. 🙂 And while enjoying some vegan magic shell on nice cream.
Perfect day, right? Tell me about your perfect day below, and maybe, just maybe, one of your childhood favorites that you'll enjoy today. In the meantime, I'll be here, thinking of all the things, excuse me, foods to put this magic shell on. You with me? 😉
Sending you all my love and maybe even a dove, xo Demeter. ❤️
☀︎ Click below to Pin ☀︎

☀︎ Did you make this recipe? Take a pic and share it on Instagram with the hashtag #beamingbaker and tag @beamingbaker. I would love to see it! ☀︎
Print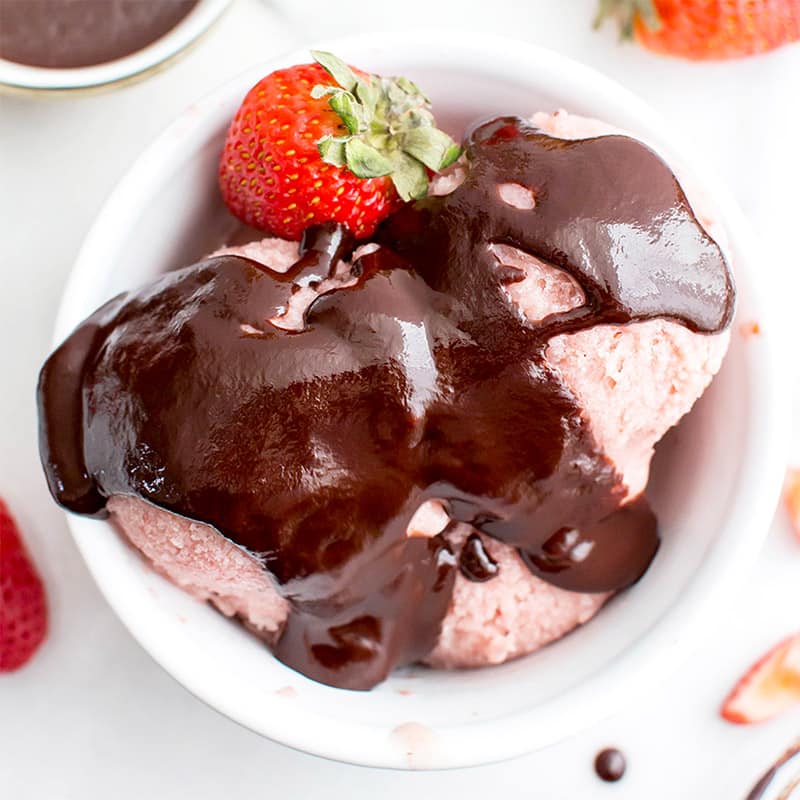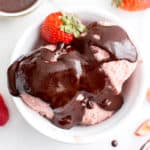 Vegan Magic Shell (Paleo, Dairy Free, Gluten Free)
---
Description
Vegan Magic Shell (V, GF, DF): a refined-sugar free, 3-ingredient recipe for the perfect homemade magic shell. Vegan, Paleo, Dairy-Free, Gluten-Free.
---
¼ cup

melted coconut oil

¼ cup

unsweetened cocoa powder

¼ cup

pure maple syrup
---
Instructions
Add coconut oil, cocoa powder and maple syrup to a medium bowl.
Whisk until smooth and thickened, like melted chocolate. Using a rubber spatula, scrape down the sides of the bowl as needed.
Use immediately. Pour over frozen treats–magic shell will harden when chilled. See storing notes below.
Category:

Dessert, Vegan, Paleo, Gluten Free, Dairy Free
© beamingbaker.com. All content and images are protected by copyright. Please do not use my images or recipe without my permission. If you wish to republish this recipe, please re-write the entire recipe using your own words and include a link to this post for the recipe.
☀Decadent Gluten Free | Vegan | Paleo Frozen Dessert Recipes
Tastes like chocolate-covered strawberries. But better. Instant bliss when you try my Chocolate Covered Strawberry Ice Cream Bars (Vegan, Paleo, Dairy Free, Gluten Free).
Just one scoop won't do. Toasted Coconut Chocolate Chip Nice Cream (Vegan, Gluten Free, Dairy Free).
Chocolate-covered DESSERT BLISS: Vegan Ice Cream Bars (Paleo, V, GF, DF).
You're just 4 Ingredients away from delicious Dark Chocolate Nice Cream (Paleo, V, GF, DF). Oh YES!
Facebook ☀︎ Pinterest  ☀︎ Twitter ☀︎ Instagram