Chewy Oatmeal Raisin Cookie Recipe (Vegan, Gluten-Free, Refined Sugar-Free)
Chewy Oatmeal Raisin Cookie Recipe (V, GF): my favorite easy recipe for moist and chewy oatmeal cookies bursting with plump raisins and amazing flavor! Vegan, Gluten-Free, Dairy-Free, Healthy.
Oatmeal Raisin Cookies: are you a fan or no? If you had to pick one, would you pick…
Oatmeal Chocolate Chip Cookies
OR
Oatmeal Raisin Cookies?
For the longest time, I would've answered, "duh!! No contest, make it Oatmeal Chocolate Chip Cookies!"
We've come a long way since those days… and I've shared many an oatmeal raisin recipe with you. See: no bake oatmeal raisin bites, oatmeal raisin granola bars, 4 ingredient no bake chewy oatmeal raisin cookies and more.
In fact, I've come such a long way that I consider today's recipe one of my proudest accomplishments: this Soft and Chewy Oatmeal Raisin Cookie Recipe. In fact, the best chewy oatmeal raisin cookies!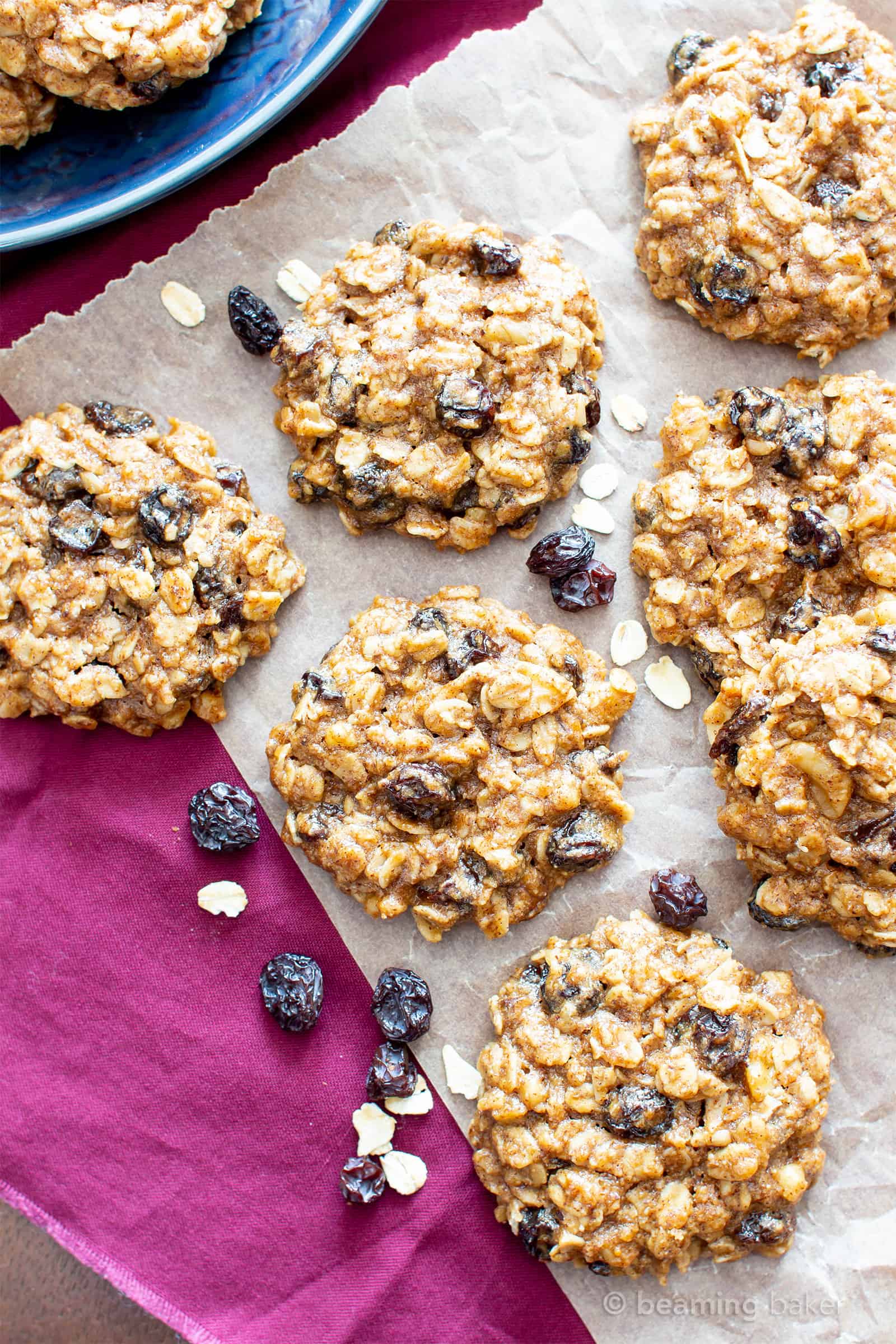 You guys, I nearly swooned when I tasted these oatmeal raisin cookies. Erik nearly swooned when he tasted these. Grams almost swooned. They're THAT GOOD.
So how did this all come about? Well, I currently have another vegan oatmeal raisin cookie recipe on the blog: these vegan gluten free oatmeal raisin cookies. Although they garner a lot of traffic, and a ton of you guys are fans of them… unfortunately some are not. Wha…what?!?
Here's the thing: those cookies are deliciously, wonderfully soft. I absolutely love their taste and texture. They're perfectly sweet and made with all of our favorite whole ingredients. But, unfortunately, there's one thing they're not:
CHEWY.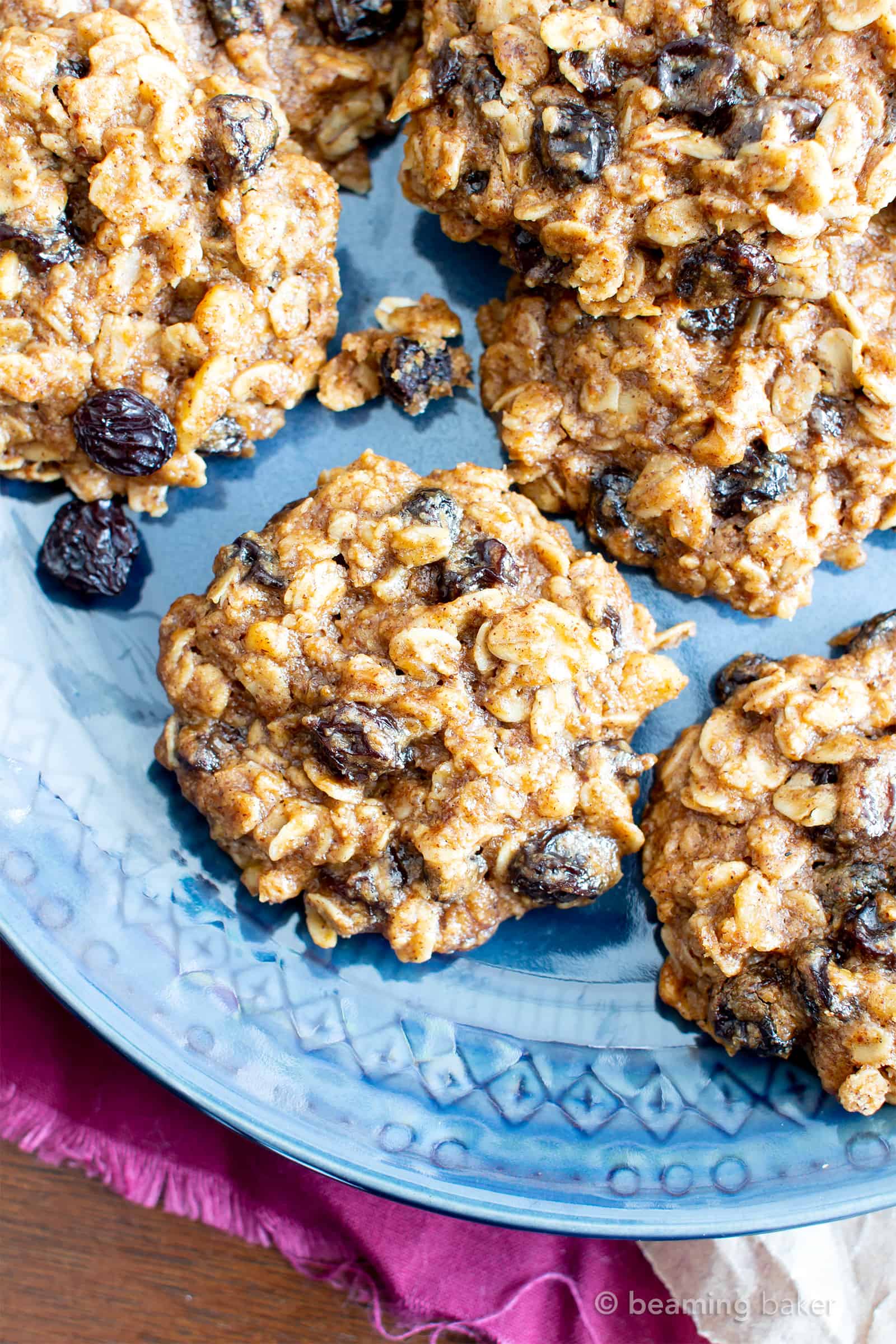 I said it. And I'll say it—wait, please don't make me say it again! People love chewy cookies the way they love moist brownies (unless you're just not a fan of that word, for some curious reason, do tell!).
Since I get comments, questions, emails and more about my OG vegan gluten free oatmeal raisin cookies, I find myself thinking about them all the darn time. And during all of these cookie times, I'm thinking one word over and over again: CHEWY.
How do I make a Chewy Oatmeal Raisin Cookie Recipe? There were two ways to go about this concept of chewy—chewy like… chewy… hard (aka old-ish) cookies and almost like chewing a piece of taffy… or chewy like fresh-baked cookies or even day-old cookies (who's a fan of these?? I am!!!) that have this delicious and satisfying texture to it. They're substantive in a way that soft-baked cookies aren't.
So guess what I went with? 😉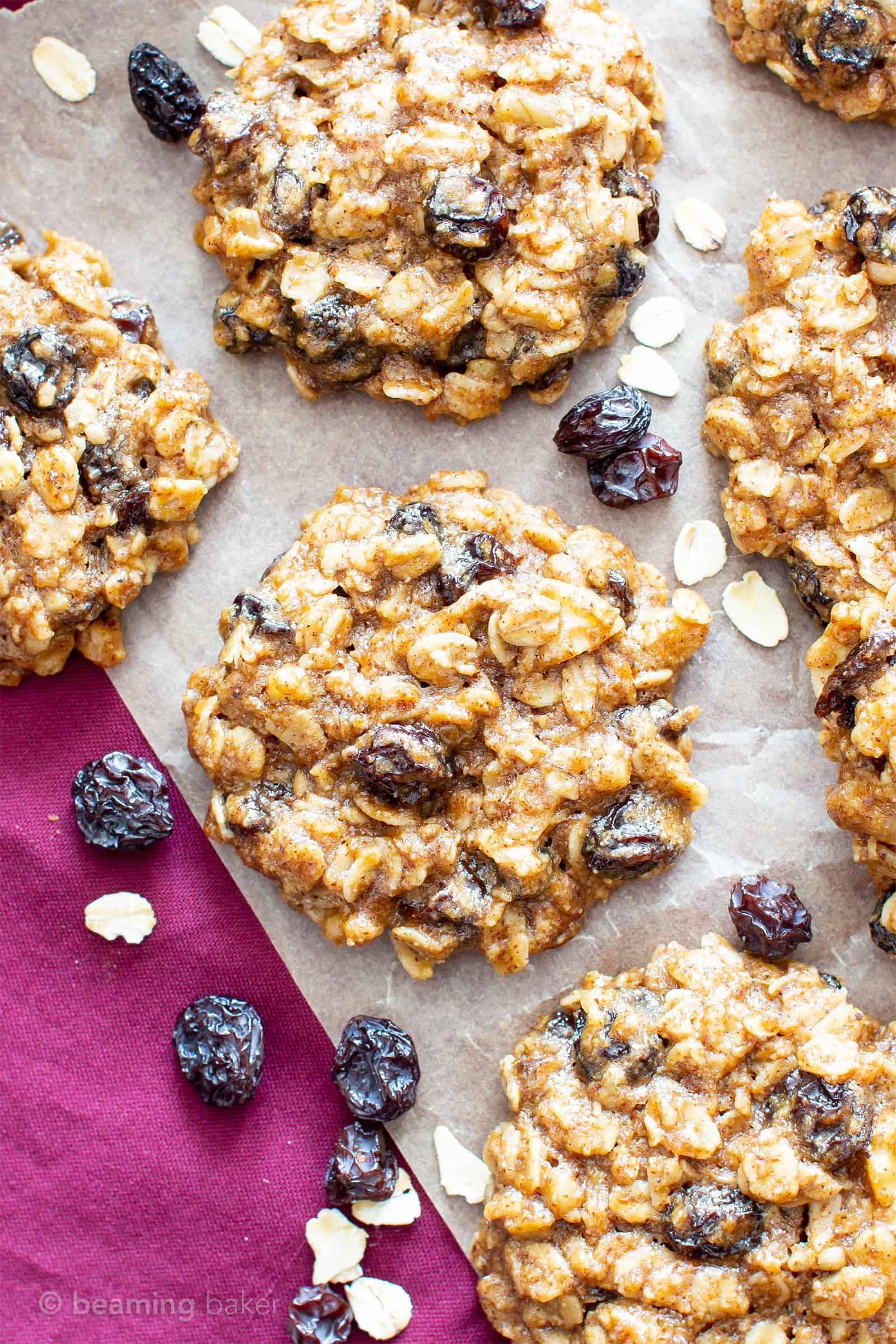 The latter, of course! I wanted to make a cookie that didn't fall apart super easily—that could, in fact, be thrown from one plate to another. Before you ask, I totally did this "throwing" test to gauge the sturdiness of my cookie recipe. I wanted to make an oatmeal raisin cookie with the same Beaming Baker standards that you expect—easy to make, simple ingredients, vegan and gluten free, and friggin' yummy—but with that junk-food level of chewiness.
In regular baking, that means more sugar, more butter. But that's not how we roll here, folks! We've got to be able to eat that cookie and still look at ourselves in the mirror in the morning. <— J/k!!! An occasional indulgent treat is totally fine and I'm not here to judge! Just here to help. 😉
So what did I do? I employed the super powers of almond butter! Almond butter adds this richness, cohesiveness, and delicious butteriness to the cookies that just can't be beat. No one's gonna feel guilty about adding a bit of almond butter into their cookie dough, and that's exactly what I wanted! Bonus, if you can't have almond butter, try cashew butter, sunflower seed butter, or your favorite nut butter. Just keep in mind that almond butter has the most subtle taste. That's why I love using it on the DL in a few amazing recipes.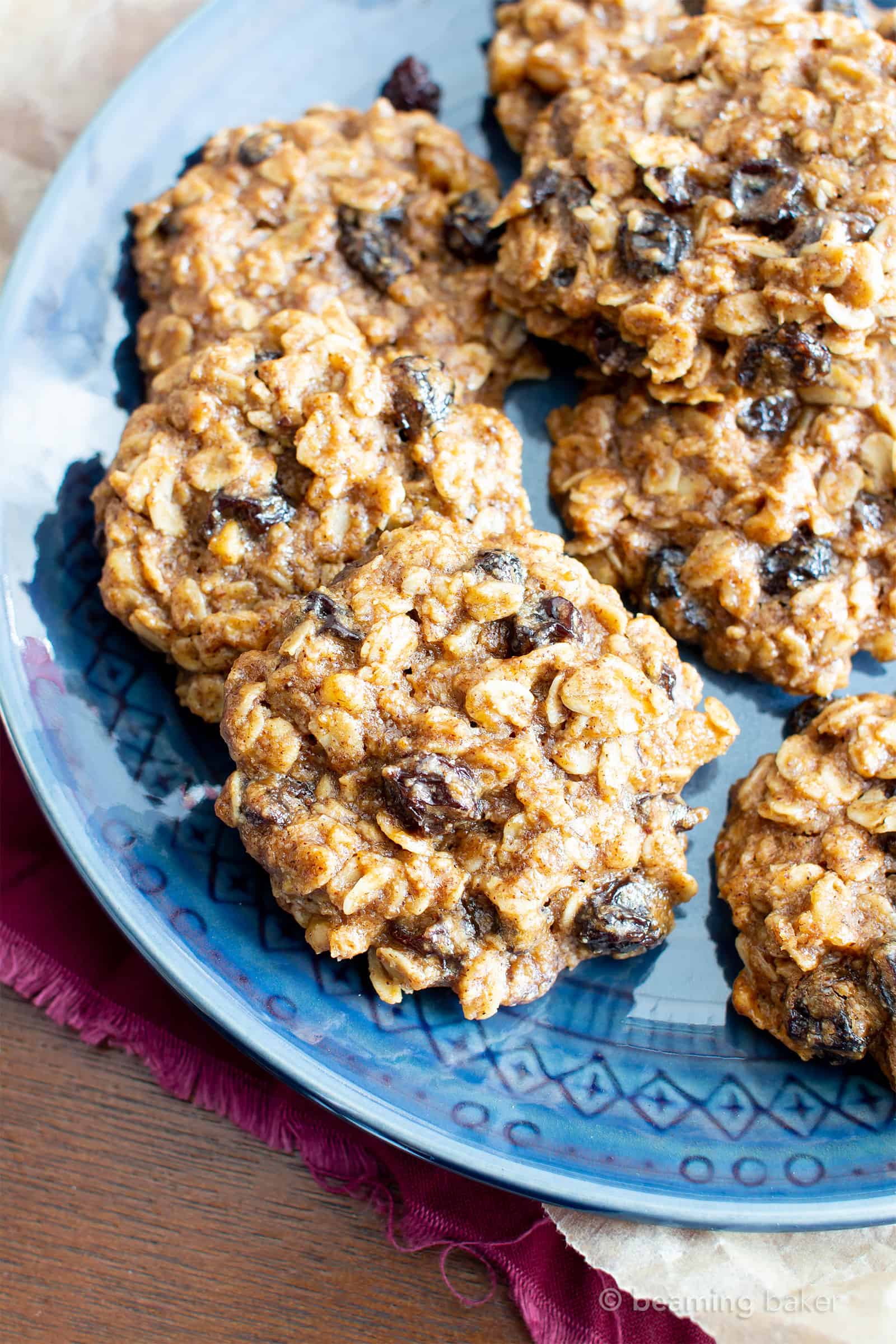 Give this chewy oatmeal raisin cookie recipe a try and faint prettily into a pile of delicious cookie bliss. Or faint no-longer hungrily into a sprint of happiness. How you went from a faint to a sprint, we'll never know… Here are these chewy vegan oatmeal raisin cookies' finest points, in case you were wondering. 😉 They're:
Try them and let me know what you think! You know I'm always just a comment, email, or IG story away. 😉 It's truly so amazing to be able to make, bake, and share in all of these homemade moments with you. Thank you for stopping by and sharing a slice of something sweet with me.
Sending you all my love and maybe even a dove, xo Demeter ❤️
.︎ Click below to Pin .︎

. Did you make this recipe? Take a pic and share it on Instagram with the hashtag #beamingbaker and tag @beamingbaker. I would love to see it! .︎
If you enjoyed this Chewy Oatmeal Raisin Cookie Recipe, then you'll just love these healthy gluten free vegan dessert recipes:
More Gluten Free Vegan Oatmeal Raisin Recipes & More…
Print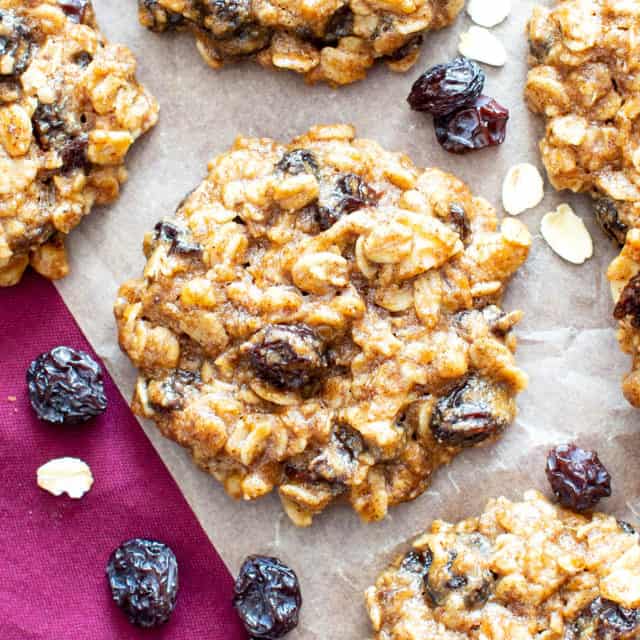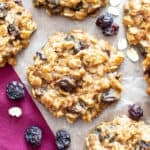 Chewy Oatmeal Raisin Cookie Recipe (Vegan, Gluten-Free, Dairy-Free, Refined Sugar-Free)
---
Description
Chewy Oatmeal Raisin Cookie Recipe (V, GF): my favorite easy recipe for moist and chewy oatmeal cookies bursting with plump raisins and amazing flavor! Vegan, Gluten-Free, Dairy-Free, Healthy.
---
Wet Ingredients
¼ cup

melted coconut oil

½ cup

unsalted, natural creamy almond butter

¼ cup

+

2 tablespoons

coconut sugar

¼ cup

+

2 tablespoons

pure maple syrup

2

flax eggs (

2 tablespoons

ground flaxseed +

6 tablespoons

warm water, whisked together, set for 15 minutes)

1 teaspoon

pure vanilla extract
Dry Ingredients
2 cups

gluten free rolled oats

¾ cup

gluten free oat flour – if using homemade, make sure it's very finely ground (not coarse)

1 teaspoon

baking powder

2 teaspoons

ground cinnamon

½ teaspoon

salt
Add-ins
1 cup

raisins

½ cup

chopped walnuts (or your favorite add-in)
---
Instructions
Preheat oven to 350°F. Line a baking sheet with parchment paper or greased foil. Set aside.
In a medium bowl, whisk together the wet ingredients: coconut oil, almond butter, coconut sugar, maple syrup, flax eggs and vanilla.
In a large bowl, using a rubber spatula, stir together all of the dry ingredients: oats, oat flour, baking powder, cinnamon and salt.
Pour the wet mixture over the dry mixture. Using the spatula, fold and stir until well mixed. Fold in raisins and walnuts.
Using a 2-tablespoon cookie scoop, scoop and drop cookie dough balls on the prepared cookie sheet, spread evenly apart. Using a fork, flatten cookies to desired thickness—cookies will only spread a tiny bit. Cookie dough will be sticky.
Bake for 12-16 minutes. Mine took 14 minutes. Allow cookies to cool on the cookie sheet for about 10 minutes (on a cooling rack). Transfer cookies directly to a cooling rack to cool completely before storing. Storing instructions below. Enjoy!

Try my favorite Oatmeal Raisin Recipes: Soft Baked Oatmeal Raisin Cookies, No Bake Oatmeal Raisin Energy Bites.
Notes
– Store in an airtight container for 1-2 weeks.
– Freezing Instructions: store in a freezer-friendly container or bag. Keep for up to 1-3 months. Thaw at room temperature for about 20 minutes before enjoying.
Category:

Cookies, Healthy Baking, Vegan, Gluten-Free, Dairy-Free, Refined Sugar-Free
© beamingbaker.com. All content and images are protected by copyright. Please do not use my images or recipe without my permission. Please do not republish this recipe, instead, include a link to this post for the recipe.
SHOP THE RECIPE
Here are a few items I used in today's recipe. 🙂
2-Tablespoon Cookie Scoop | Gluten Free Oat Flour | Maple Syrup | Cookie Sheet | Unbleached Parchment Paper | Cooling Rack | Gluten Free Rolled Oats | OXO Mixing Bowls
This post may contain affiliate links, which allow me to make a small commission for my referral, at no additional cost to you.
Facebook ☀︎ Pinterest  ☀︎ Twitter ☀︎ Instagram