The BEST Healthy Homemade Granola Recipes
BEST Homemade Granola Recipes: we've gathered the tastiest healthy granola recipes made with simple ingredients. From chocolate to low calorie, discover the best homemade granola recipes here!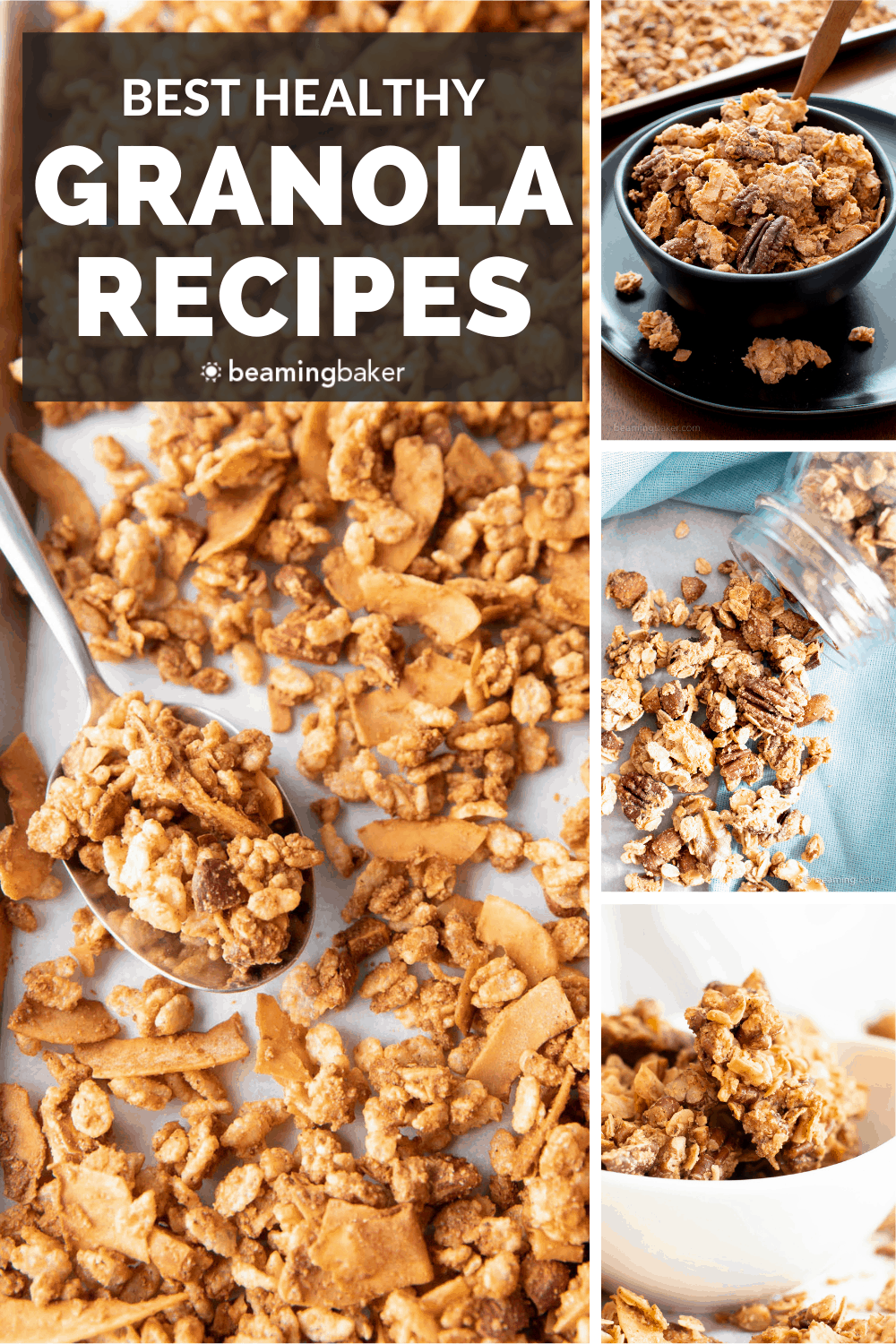 How many times have you picked up a bag of granola at the store, already drooling, flipped it around to the nutrition facts on the back, then slowly set that granola down and backed away?
Same.
Like, how hard is it to make healthy granola that's also actually yummy? Not that hard. Not if you make it yourself! 😉
Allow me to take you through the simplest, easiest, and tastiest healthy homemade granola recipes. You'll find some familiar favorites as well as a few new ones below.
Bonus: I've included my delicious basic granola recipe for your customizing pleasure. 🙂
Is Granola healthy?
Not all granola recipes were created equal—and thus, not all granola is healthy. Some are fabulously packed with nuts, seeds and other healthy ingredients; others are straight up crumbled cookies masquerading as a guilt-free snack.
When I develop & look for healthy granola recipes, I look for the following:
Low added sugar content
Nutrient-rich ingredients
No processed ingredients
Smaller number of ingredients
Simple to make
Most of today's homemade granola recipes are lower in sugar, made with simple, whole ingredients and boast yummy, nutrient-rich profiles that will satisfy your sweet tooth and your belly. 🙂
Don't worry, there are a few dessert-inspired granola recipes as well. (Who says we can't have it all?)
How to Make Healthy Granola
Preheat
First, preheat your oven to the directed temperature. Then, line a baking sheet with parchment paper.
Mix Ingredients
Add all of the ingredients listed into the directed mixing bowl(s). Mix thoroughly, until well incorporated.
Pour on Tray
Pour your granola mixture onto the baking sheet you prepared earlier. I like to spread my unbaked granola mixture into a single, even layer, with pockets of space to let air through.
Bake, Flip, Bake
Bake, then flip if needed, then bake again until golden brown, or as instructed by the recipe.
Cool & Enjoy
Cool, then enjoy the best homemade granola recipe!
Below, I've included my favorite basic healthy homemade granola recipe. Feel free to customize this recipe with your favorite add-ins, spices and more!
After the recipe below, you'll find a list of delectable homemade granola recipes with a variety of flavors and healthy ingredients!
Print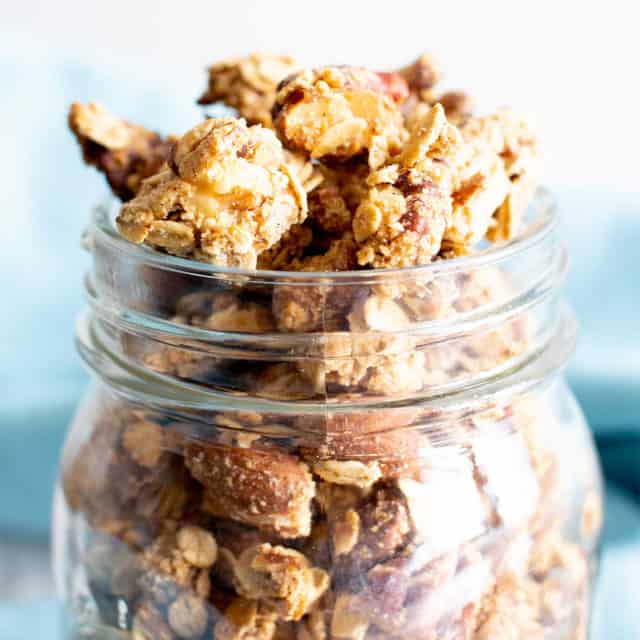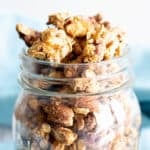 Deliciously Basic Healthy Granola Recipe
---
Description
BEST Homemade Granola Recipes: check out the tastiest healthy granola recipes made with simple ingredients. From chocolate to low calorie, discover the best homemade granola recipes here!
---
1 ½ cups

nuts or seeds, roughly chopped

1 cup

rolled oats

½ cup

finely ground, blanched almond flour*

¼

to

½

teaspoon spices (optional)

¼ teaspoon

salt (optional)

¼ cup

pure maple syrup
---
Instructions
Preheat oven to 325°F. Line a large baking sheet with parchment paper or greased foil. Set aside for later.
Add all ingredients to a large bowl. Using a rubber spatula, fold until clusters form and mixture is well mixed.
Pour onto the prepared baking sheet. Using the spatula, gently nudge granola into an even layer. Separate granola into small piles to create clusters. Make space between clusters to allow for air to flow through and crisp up the granola.
Bake for 20 minutes. Using a heatproof spatula, gently flip granola, making sure to keep clusters intact. Bake for an additional 5-15 minutes, until edges are a deep golden brown and granola is just slightly soft. Mine took a total of 30 minutes. Granola will crisp up while cooling.
Place baking sheet on a cooling rack. Allow to cool for about 30 minutes, or until completely cooled. Enjoy! Storing instructions below.
Equipment
Notes
For nuts & seeds: I love using a combo of pecans, walnuts and almonds. You can use whatever you'd like, as long as the nuts/seeds aren't too big (just chop 'em). You can use sunflower seeds, pumpkin seeds and more. Just make sure to keep the amount of nuts & seeds the same, at 1 ½ cups.
For spices: I like using ½ teaspoon ground cinnamon, but you can play around with this amount a bit or leave it out altogether. For example, you can use ¼ teaspoon cinnamon, 1/8 teaspoon of cardamom and 1/8 teaspoon of ground cloves for a warm, cozy flavor profile.
Storing Instructions: Store in an airtight container for 1-2 months at room temperature, keep out of direct sunlight.
Prep Time:

10 mins

Cook Time:

30 mins

Category:

Breakfast, Snacks

Method:

Bake

Cuisine:

American
Keywords: healthy granola recipe, homemade granola recipe, best granola recipe
© beamingbaker.com. All content and images are protected by copyright. Please do not use my images or recipe without my permission. Please do not republish this recipe, instead, include a link to this post for the recipe.
Homemade & Healthy Granola Recipes
Below, I've gathered the best homemade granola recipes that just happen to be healthy. Try each one for yourself and discover which healthy granola recipe is your fave!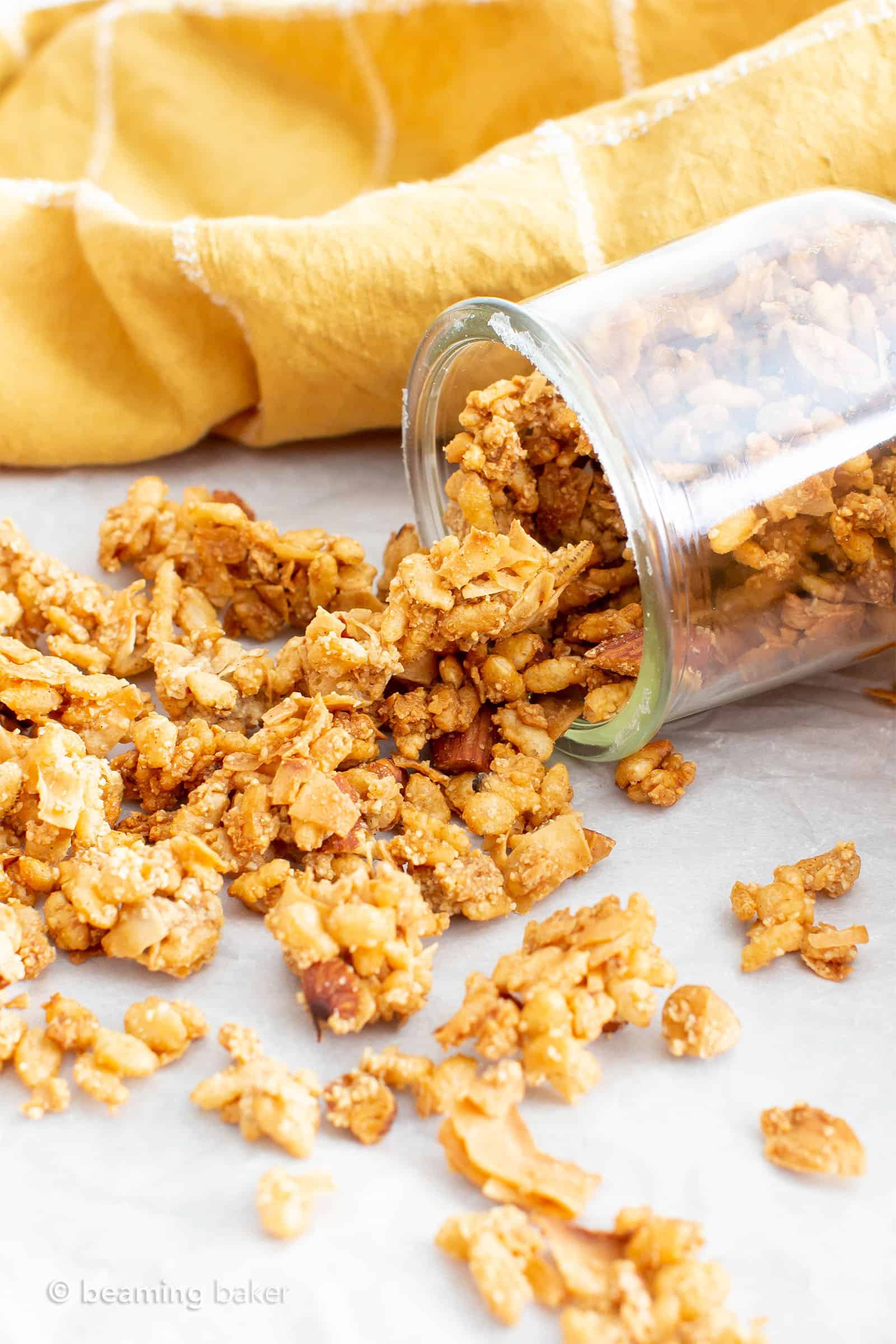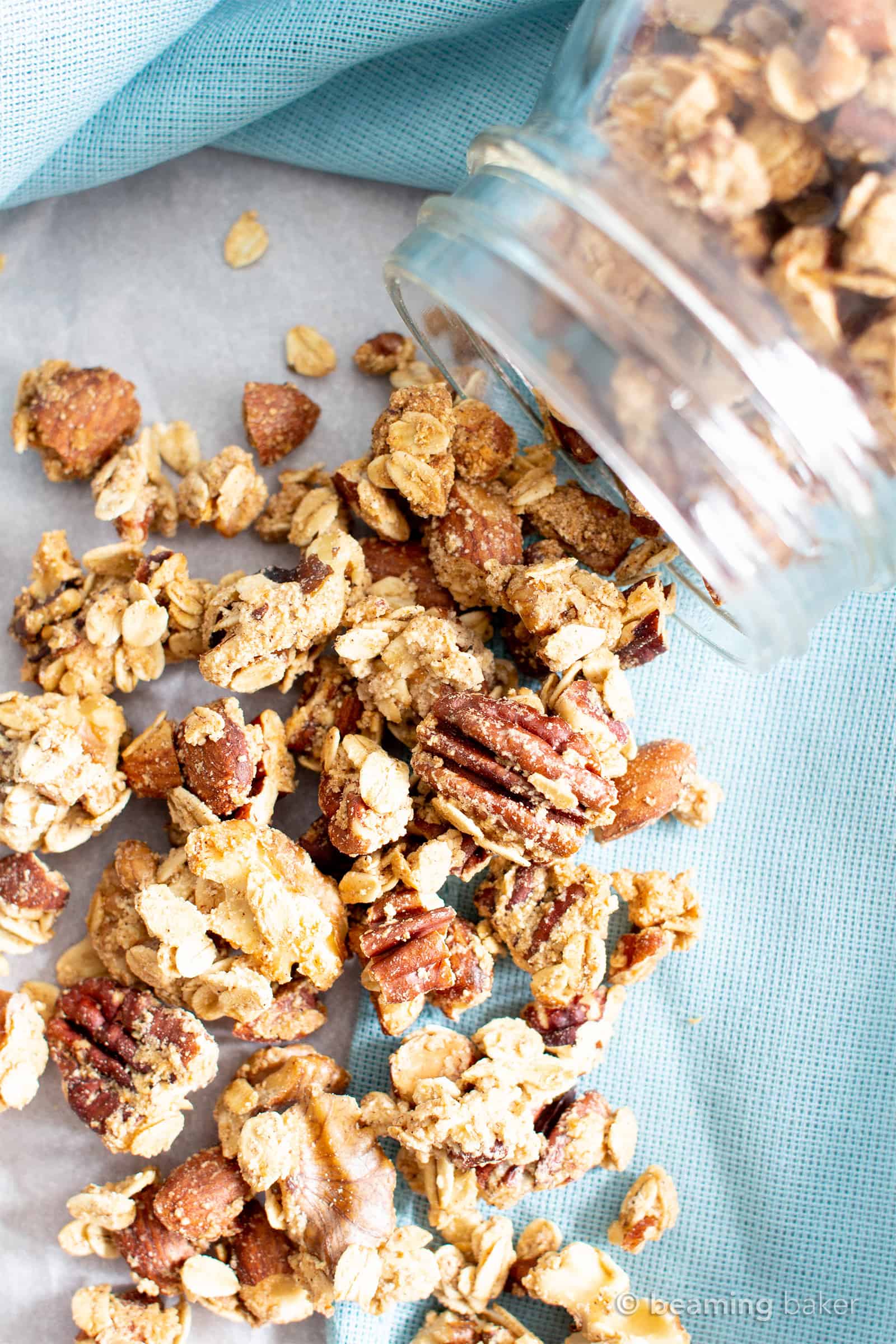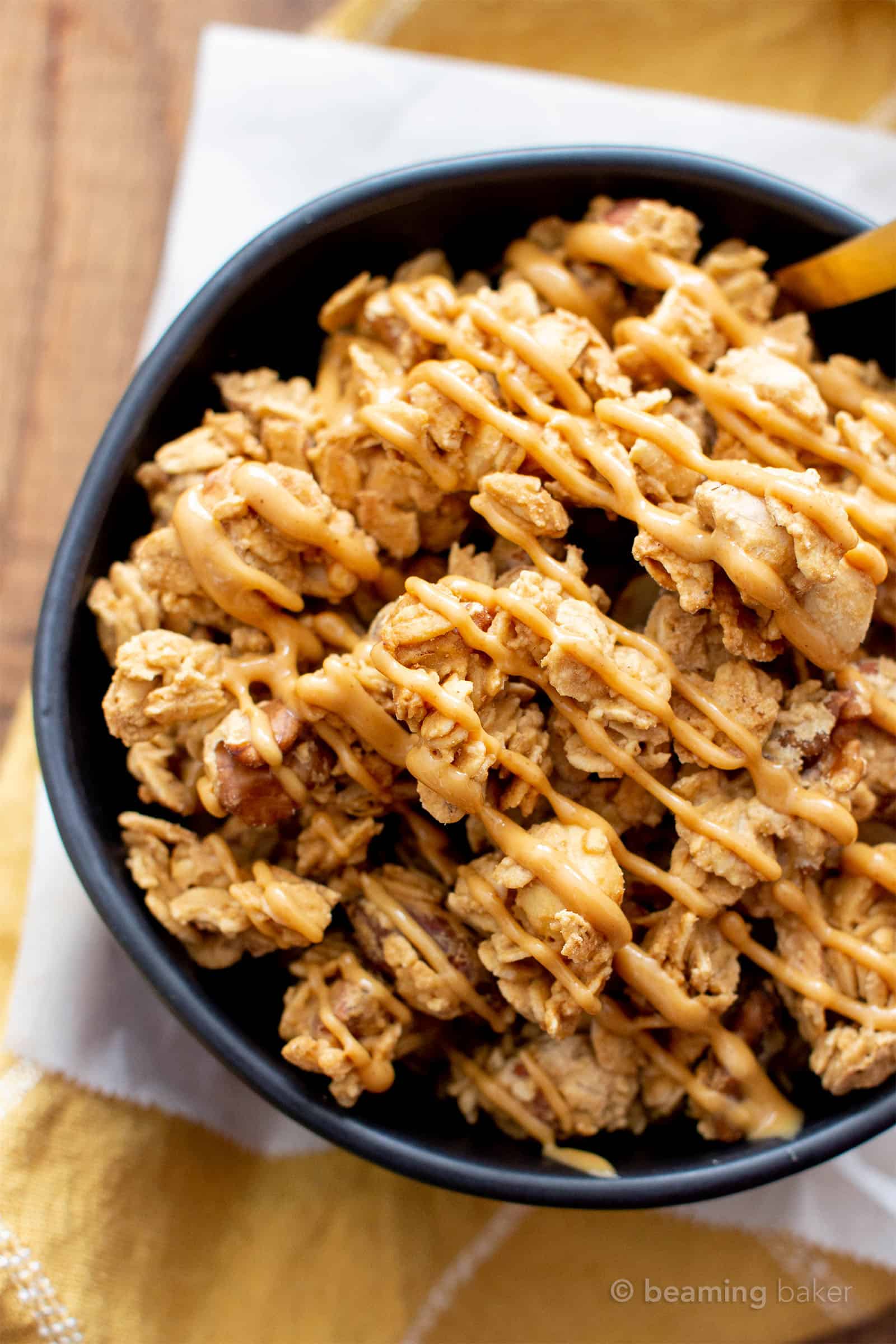 Ooooh! Oooh! Which one will you try first? I'm leaning towards my favorite low calorie granola… or perhaps will be making the healthy chocolate granola for a sweet tooth fix. I can't wait to hear which one you'll try next!
Thank you so much for stopping by & sharing in these joyful baking adventures with me and your loved ones. 'Til the next one…
Sending you all my love and maybe even a dove, xo Demeter ❤️
📸 Did you make these healthy granola recipes? Take a pic and share it on Instagram with the hashtag #beamingbaker & tag @beamingbaker. I'd love to see it! 📸
More Healthy Recipe Roundups
This post may contain affiliate links, which allow me to make a small commission for my referral, at no additional cost to you.