This homemade peanut butter granola recipe is so easy & healthy! It's crunchy with big clusters, salty, sweet and vegan, gluten-free, protein-rich, oil-free! 4 grams of protein per 1/4 cup!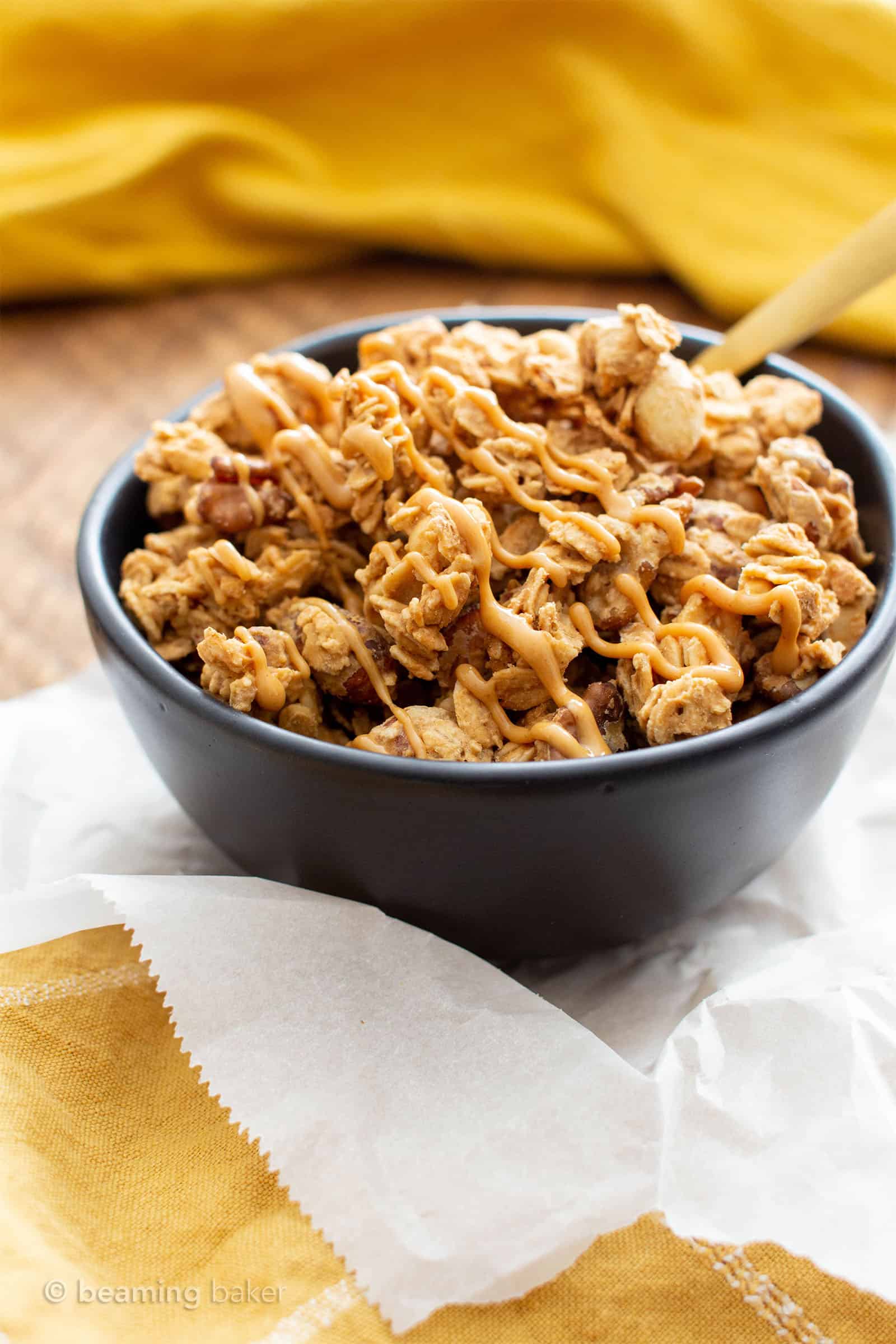 Some folks call me the Peanut Butter Monster. Okay, alright, no one calls me that. But they theoretically could… due to the obscene amounts of peanut butter I eat. This might be because of all the soft peanut butter cookies, no bake peanut butter bites, and no bake peanut butter oatmeal cookies lying around the house. 😉
Back in the day, before I could truly appreciate all the glory that is peanut butter, I'd read about folks eating entire jars of PB in one sitting.
In one sitting?!?
Woah. But now that I'm a fellow PB fanatic, I now consider that idea strangely enticing. If only I could figure out a way to eat that much peanut butter and not have to run 500 miles afterward, then dissolve into bed for 3 straight weeks after.
One jar in one sitting: not for me. But still strangely enticing… 😉 Meanwhile, fellow PB lovers, I've found a more practical, long-term way for you and me to enjoy all the yummy peanut butter treats that we desire… without the 500 miles of running. This:
4 Ingredient Healthy Peanut Butter Granola Recipe!!!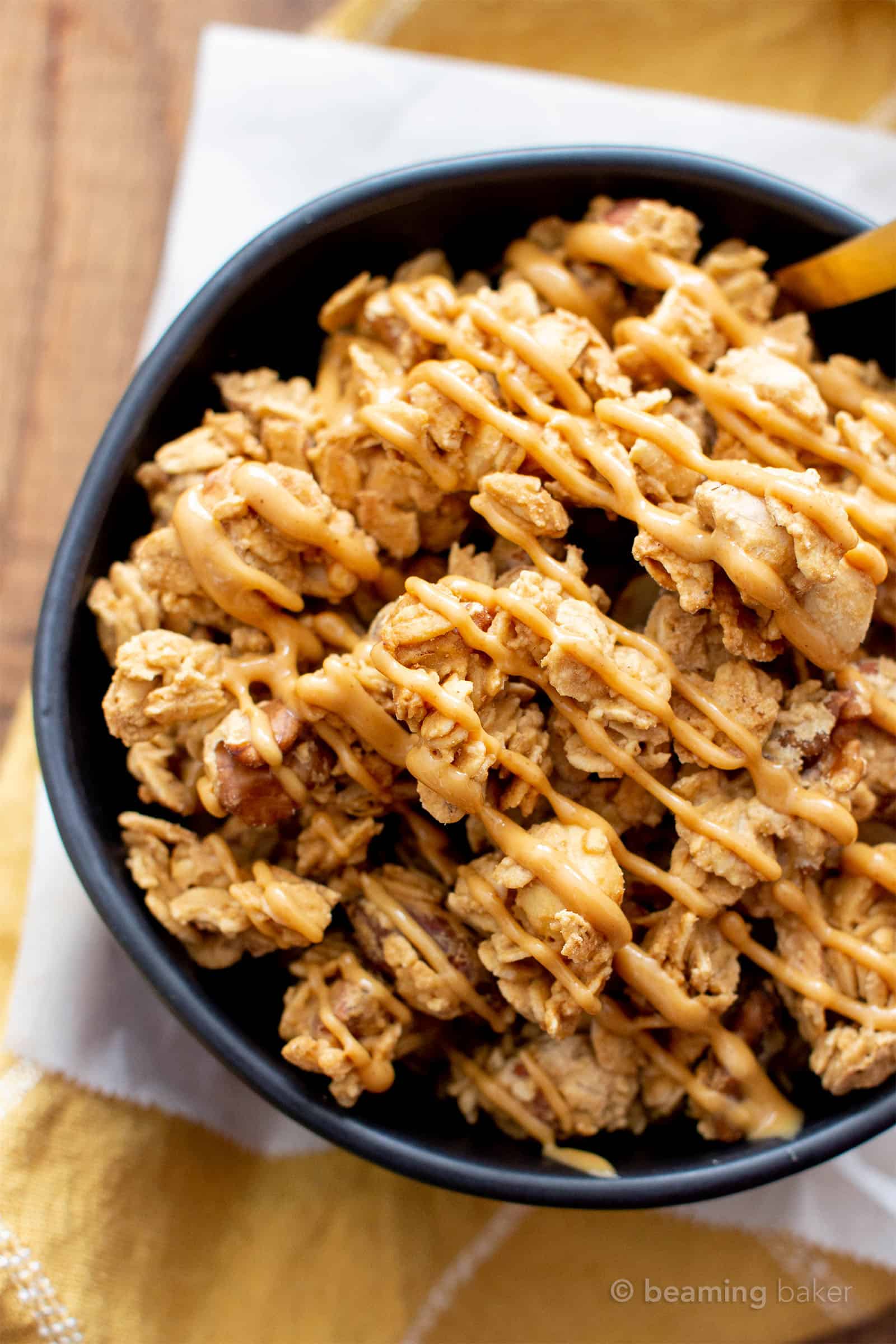 Anyone as excited about this as I am? This homemade pb granola is soon-to-be your favorite way to enjoy granola and peanut butter in one fell swoop. So you (and I) can avoid the whole "eating 1 entire jar of PB, then having to run 500 straight miles afterward" fiasco.
Capische? 😉
Let's dive in! In today's post, I'm going to be covering common questions about peanut butter granola (and bars!), substitution notes, tools for making this pb granola awesome and more!
How to Make Healthy Peanut Butter Granola
To make this peanut butter granola recipe, all you have to do is: add pb & maple syrup to a bowl. Whisk until smooth and thickened. Add the remaining ingredients and stir until well mixed. Pour yummy peanut butter granola mixture onto the prepared baking sheet (and make them clusters!) and bake. Cool, then eat. Simple. Related Recipe: Healthy Low Calorie Granola Recipe (Low-Carb)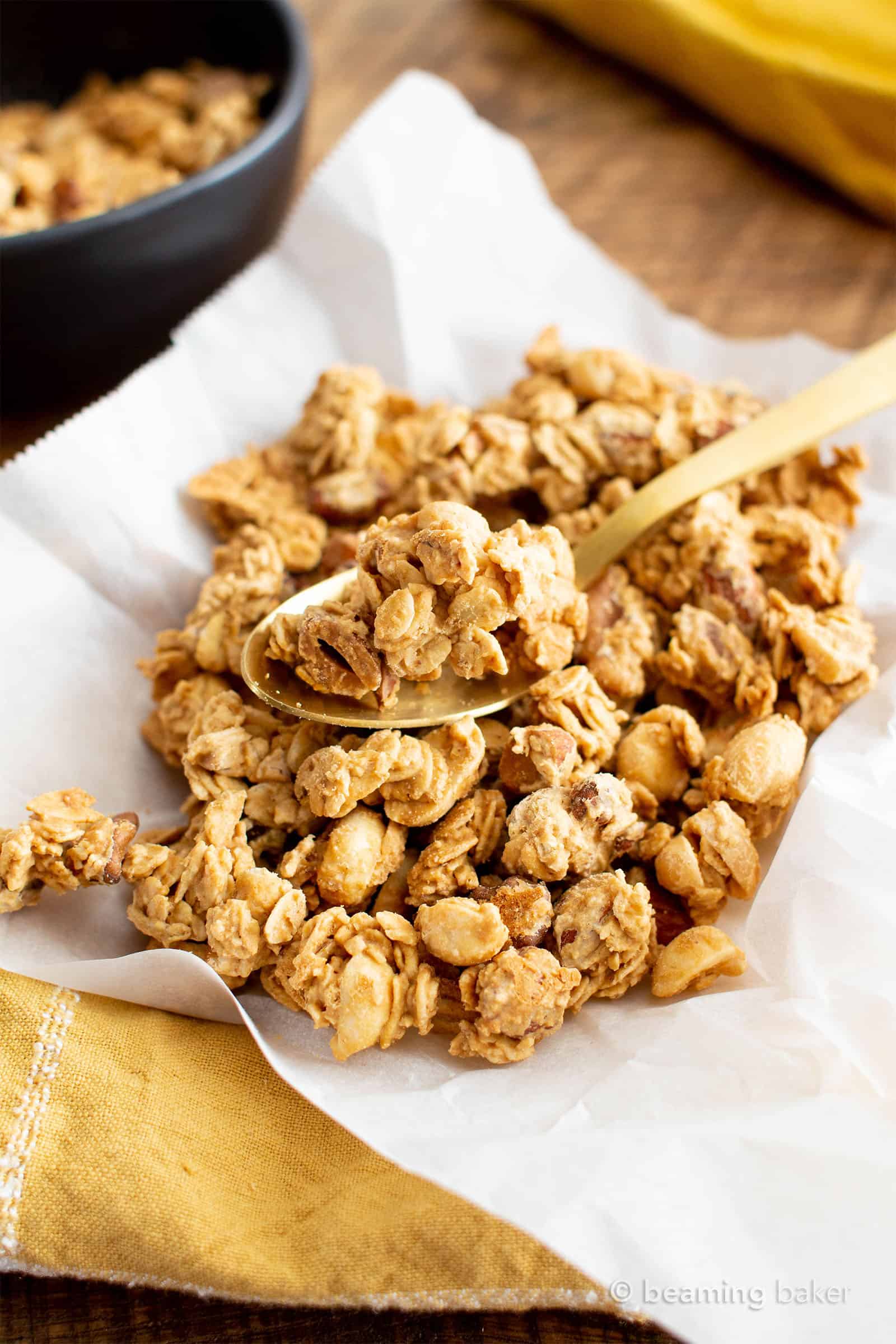 Tricks for the Best Homemade Peanut Butter Granola
This homemade peanut butter granola recipe is super easy to make. But here are some insider tips:
Use creamy, unsalted natural peanut butter. It should be drippy and runny, like a thick liquid, and made with just 1 ingredient: peanuts. Here's a homemade peanut butter recipe to try.
Stir the peanut butter really well, until smooth and creamy. Super greasy or just dry, chunky peanut paste ain't gonna cut it! 😉
Avoid chunky or salted PB: the peanut bits in chunky PB mess with the wet to dry ratio in the recipe. Salted PB takes away how much salt you choose to add to the recipe.
Create clusters before baking! See next section for more.
Cool completely before storing to ensure crispy pb granola clusters.
How Do I Get Big Clusters in My Homemade Peanut Butter Granola?
Before baking, create small piles of pb granola on the sheet. Keep the pb granola clusters somewhat chunky, but not too large, as they'll fall apart when flipping.
Space each pb granola cluster about ½" apart to allow air to flow through and crisp up clusters.
Very gently flip the clusters during the midway bake point. If the clusters start to fall apart (and the clusters aren't too browned), bake for another few minutes before flipping.
Two big cluster lover's recipes: homemade chunky paleo granola & this sweet 'n salty nut clusters recipe.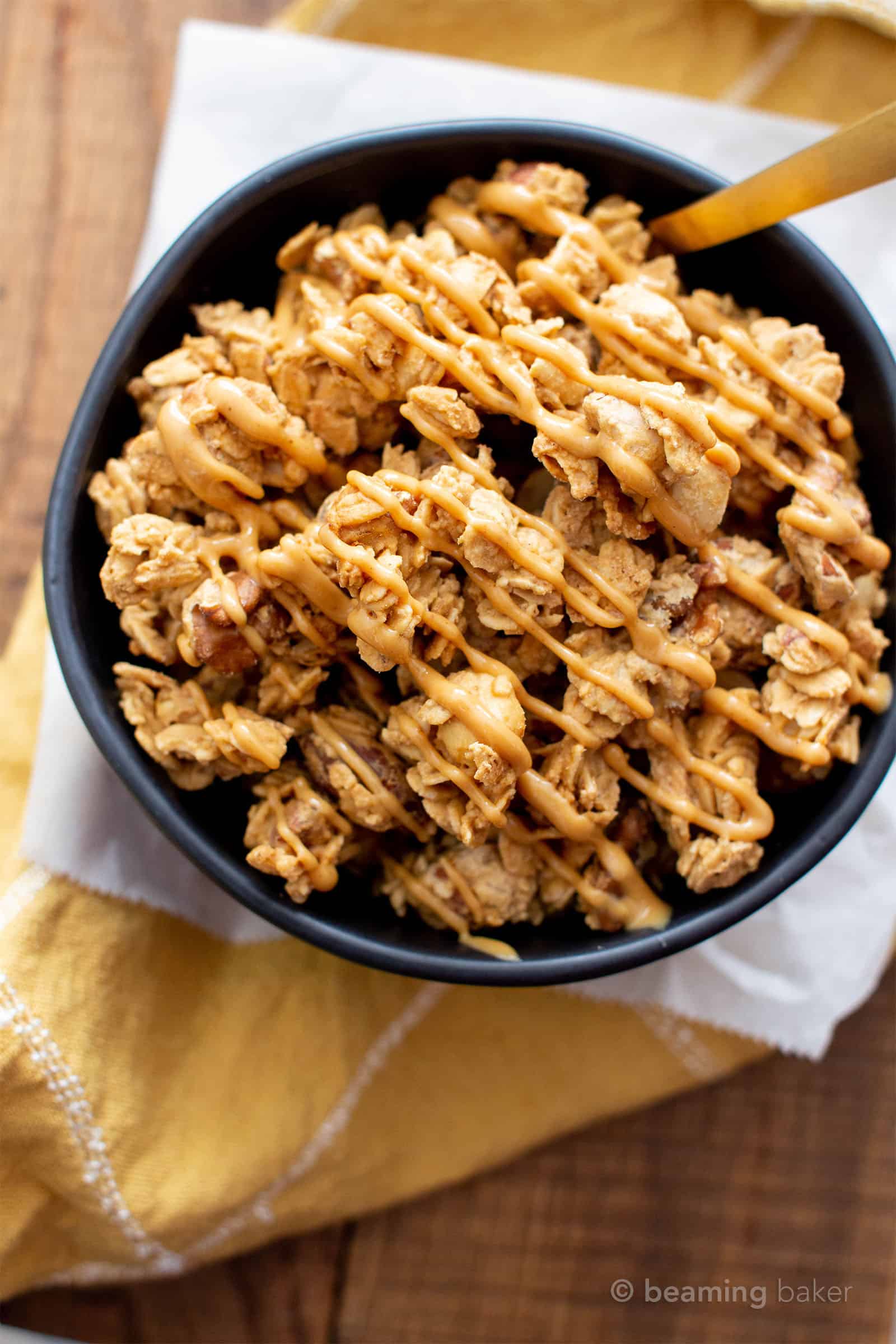 What Kind of Substitutions or Swaps Can I Make in This PB Granola Recipe?
Can I swap the peanut butter for another nut or seed butter? Yes! Almost any other kind of nut or seed butter will work, including: almond butter, sunflower seed butter (aka sunbutter), cashew butter, and more!
How to swap nuts, change add-ins: feel free to swap the peanuts in this recipe for your favorite nut, dried fruit (just make sure they're not too huge) and more!
Using other sweeteners: brown rice syrup, date syrup, honey. Different sweeteners will yield slightly different results. This peanut butter granola recipe isn't too risky, so for the most part it should work just fine!
Are you ready to show HOMEMADE who's boss?! Yeah, you are!! Let's grab all of our favorite homemade peanut butter treat tools (like… our appetites, hehe!!) and meet in the kitchen! It's so much fun seeing how your creations turn out! Make sure to take a photo, or shoot a quick vid and share it on IG stories! I can't wait to hear what you think. In the meantime…
Sending you all my love and maybe even a dove, xo Demeter ❤️
Click below to Pin

Did you make this recipe? Take a pic and share it on Instagram with the hashtag #beamingbaker and tag @beamingbaker. I would love to see it!
More Homemade Healthy Granola & Peanut Butter Recipes
Print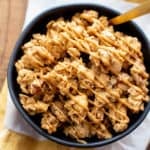 4 Ingredient Healthy Peanut Butter Granola Recipe (Vegan, Gluten-Free) – Easy & Homemade!
---
Description
4 Ingredient Healthy Peanut Butter Granola Recipe (V, GF): this homemade peanut butter granola recipe is so easy & healthy! It's crunchy with big clusters, salty, sweet and vegan, gluten-free, protein-rich! Vegan, Gluten-Free, Dairy-Free, Protein-Rich.
---
¼ cup

unsalted, natural creamy peanut butter

¼ cup

pure maple syrup

1 ¼ cups

nuts, variety

1 cup

gluten free rolled oats

¼ teaspoon

salt (optional)
---
Instructions
Preheat oven to 325°F. Line a large baking sheet with parchment paper. Set aside.
Add peanut butter and maple syrup to a medium bowl. Whisk until very well incorporated and smooth.
Add nuts, oats, and salt (if using). Using a rubber spatula, stir and fold until well mixed.
Pour onto the prepared baking sheet. Using the spatula, gently nudge granola into an even layer. Separate granola into small piles to create clusters. Make space between clusters to allow for air to flow through and crisp up the granola.
Bake for 20 minutes. Using a heatproof spatula, gently flip granola, making sure to keep clusters intact. Bake for an additional 5-15 minutes, until edges are a deep golden brown and granola is just slightly soft. Mine took a total of 27 minutes. Granola will crisp up while cooling.
Place baking sheet on a cooling rack. Allow to cool for about 30 minutes, or until completely cooled. Enjoy! Storing instructions below.

Also try my Chunky Paleo Granola (with big clusters!!), amazing Healthy Low Calorie Granola and my incredible Oil-Free Peanut Butter Oatmeal Breakfast Cookies!
Notes
– Store in an airtight container at room temperature for 1-2 months.
– Nutrition Information: is an estimate based on the best-selling, most common brands per ingredient. Also, it's estimated based on 14 servings per recipe & made without salt. .
Category:

Granola, Healthy Snack, Vegan, Gluten-Free, Dairy-Free, Refined Sugar-Free
Nutrition
Serving Size:

1/4 cup

Calories:

120

Sugar:

4g

Sodium:

0mg

Fat:

8g

Carbohydrates:

11g

Fiber:

2g

Protein:

4g

Cholesterol:

0mg
© beamingbaker.com. All content and images are protected by copyright. Please do not use my images or recipe without my permission. Please do not republish this recipe, instead, include a link to this post for the recipe.
Tools to Make the Best
Vegan Homemade Peanut Butter Granola
Click the links below to check out my favorite tools & ingredients used to make this recipe.
This post may contain affiliate links, which allow me to make a small commission for my referral, at no additional cost to you.
Facebook ☀︎ Pinterest ☀︎ Twitter ☀︎ Instagram