Gluten Free Almond Butter Chocolate Chip Cookies (V, GF): an irresistible recipe for perfectly chewy chocolate chip cookies made with smooth, creamy almond butter and a secret ingredient! Vegan, Gluten-Free, Dairy-Free.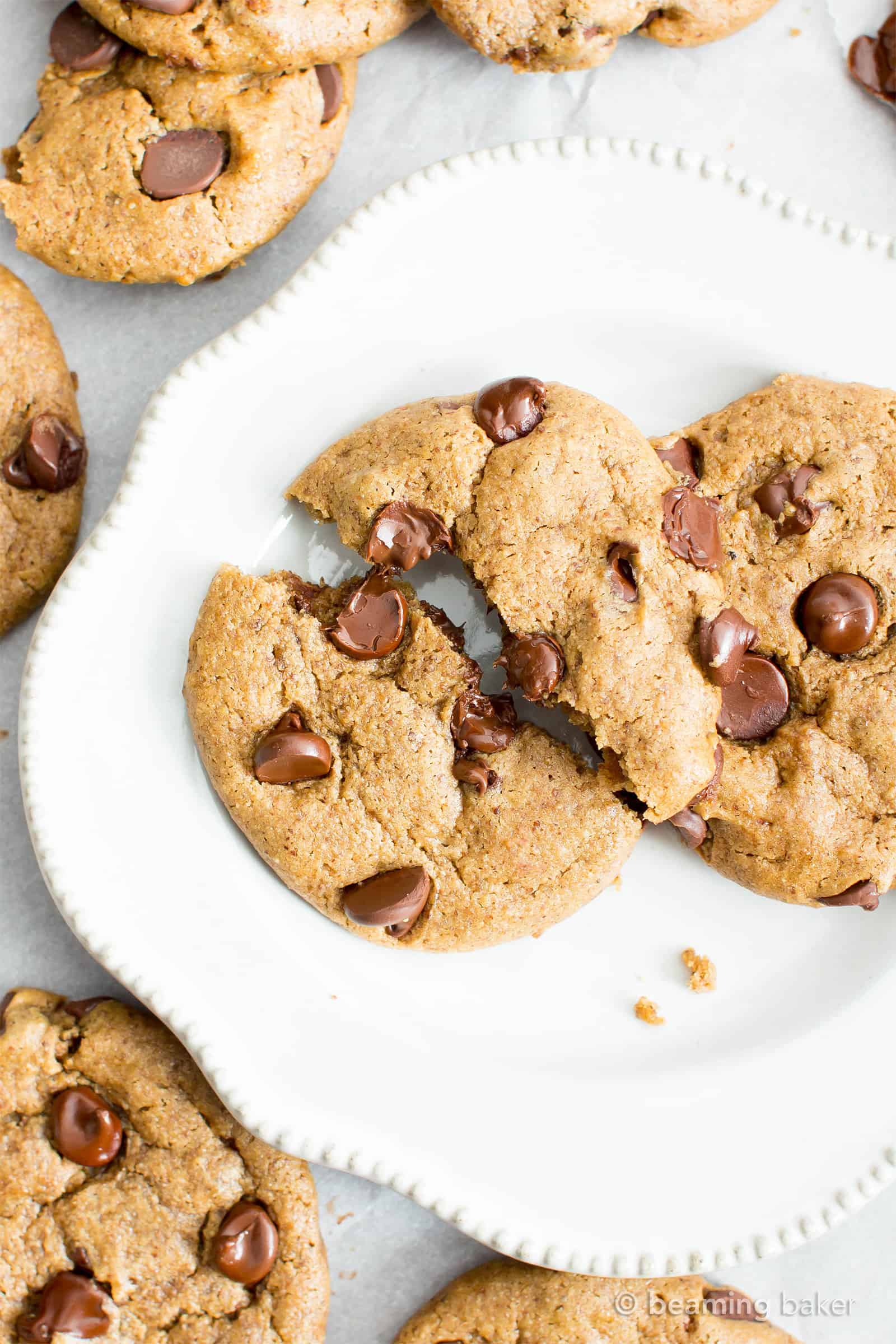 1,000 batches of cookies. That's how many cookies it feels like I've made since I started Beaming Baker. Realistically, it's probably closer to 500 batches. In 2 years and 3 months. That's 18.5 batches every month, for 27 months.
In those 500 batches, I learned A LOT about cookies. Here goes:
1. They're pretty much yummy, no matter what.
2. If they don't have chocolate chips in them, their yummy factor goes down by at least 50%.
3. You can increase/recoup that factor by adding in peanut butter or almond butter.
4. Okay, they don't actually taste good no matter what… especially if you forget to add in the coconut sugar (7th and not the last batch of cookies during a long, loooong day of kitchen testing).
5. TEXTURE IS EVERYTHING.
Everyone has an opinion about this: if I share a soft-baked cookie, like these oat flour chocolate chip cookies, folks request a chewier cookie. If I share a chewy cookie, like these vegan chocolate chip cookies, folks request a softer one. Ah… baking. Ah, life! 😉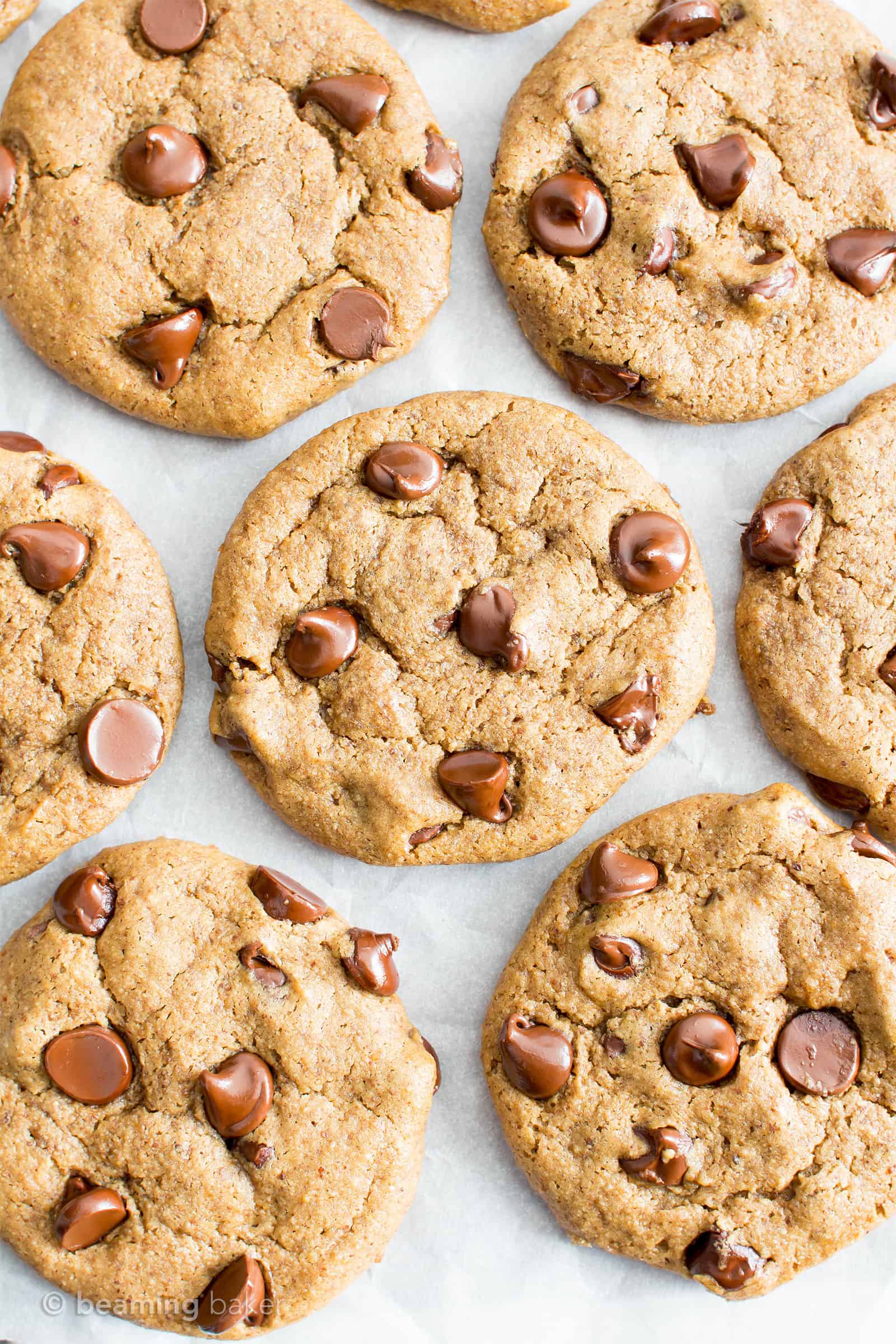 Well here I am today, with 500 cookies batches of cookies under my baking belt (what a visual), to announce the best darn Gluten Free Almond Butter Chocolate Chip Cookies. Like, ever. They will satisfy Team Chewy and Team Soft-Baked (is this possible?!?). They will meet and exceed all almond butter expectations.
And best of all: they include a secret ingredient. Cue the hush tones!
Drum roll please: they're made with almond oil! Make that Noosh Brands Virgin Almond Oil. And trust me, this almond oil takes these gluten free almond butter chocolate chip cookies up to the next level, says goodbye, thank you and see ya! to the proceeding next 100 levels and rockets up into the atmosphere.
Where there are no levels that can quantify how good these cookies are.
Mic drop. .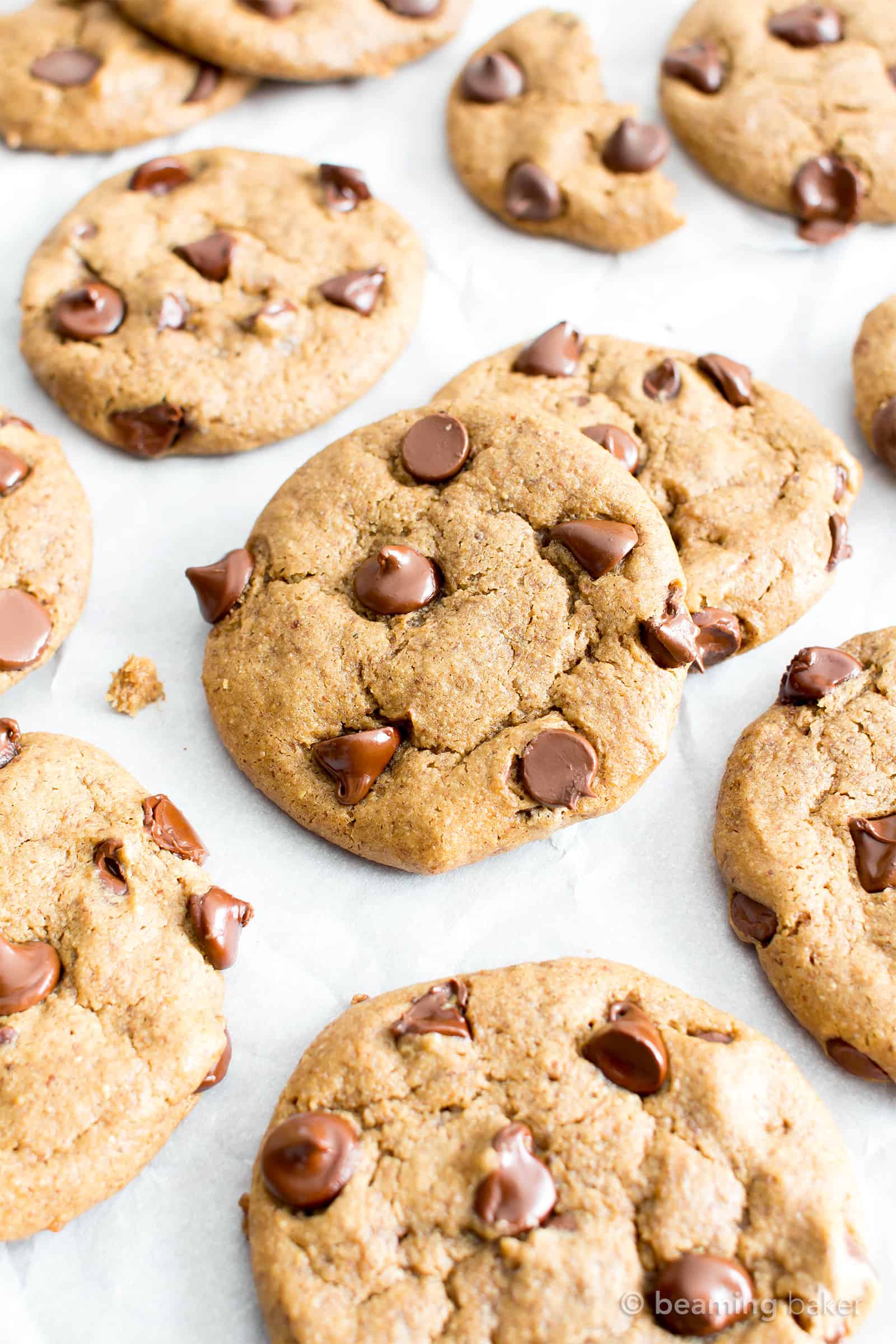 Somebody help me pick up my mic! .
Yes, they're THAT GOOD. Think: a mouthwatering crispy shell on the outside, with an indulgently chewy and slightly soft center… bursting with almond butter YUM. Erik and I cannot and will not stop eating these cookies. In fact, we had to freeze at least a dozen of them to get some semblance of control.
So I know what you're thinking: what about coconut oil? Can I use coconut oil? And what's the difference between almond oil and coconut oil?
Answer: Yes, you can absolutely use coconut oil in this recipe. But I highly recommend you use the Noosh Brands Virgin Almond Oil. Guys… I've been searching for an alternative baking oil for ages. Something that's healthy, delicious, and works seamlessly within my recipe style (yummy, easy, guilt-free).
And this IS IT. I'm even thinking about using it in these yummy, grain-free Almond Flour Chocolate Chip Cookies. To make 'em vegan, I'll probably be using flax eggs instead of eggs and dairy-free butter in place of the butter.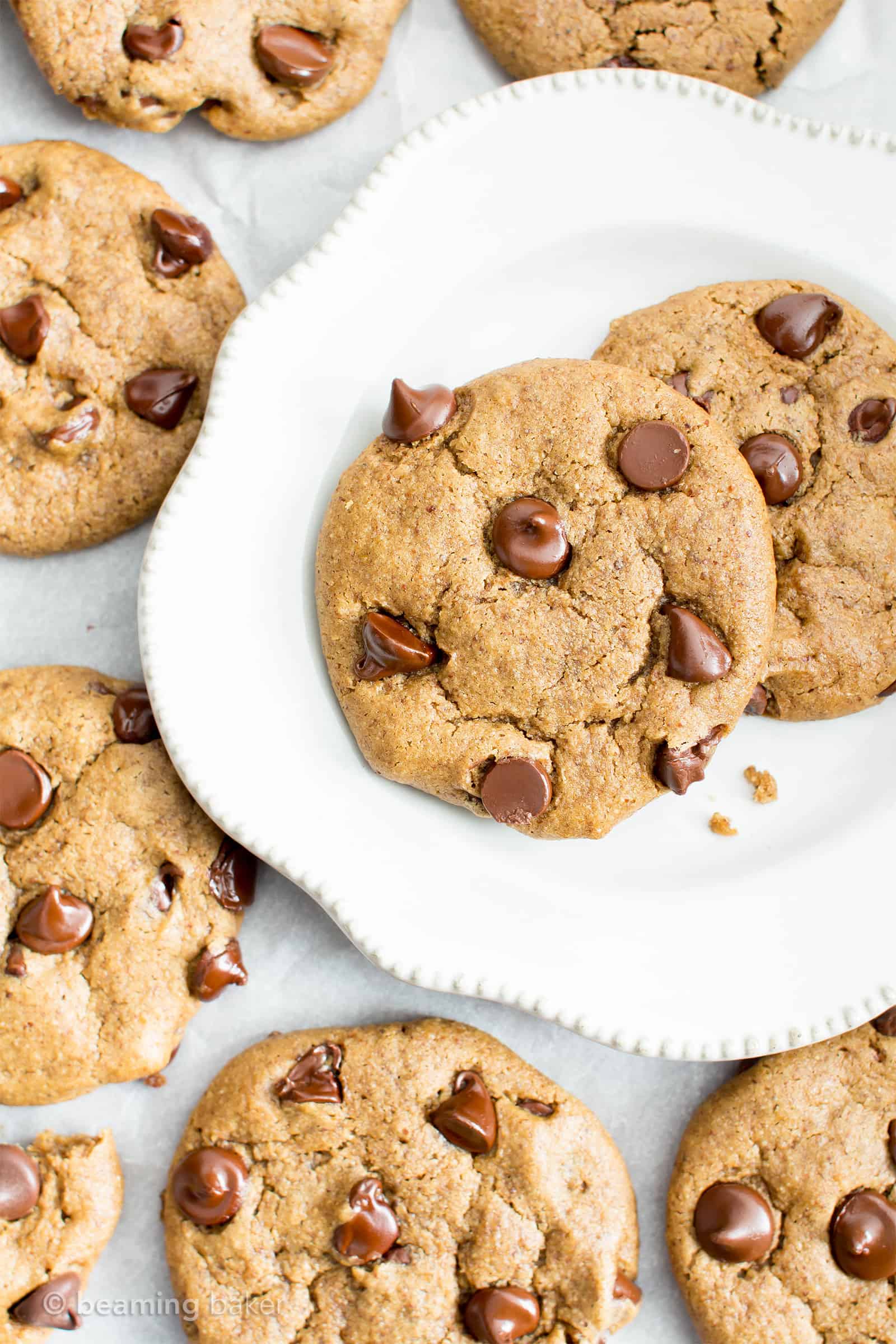 The Noosh Brands Virgin Almond Oil just complements the almond butter so well in this recipe. The second you smell the aroma of this oil, you know you're in for a treat.
Once you start whisking the almond butter, almond oil and the rest of the wet ingredients together, you just know you're baking something special. The almonds are front and center with these cookies, their flavor coming through so wonderfully. The almond oil joins the almond butter… together again, just like they were meant to be.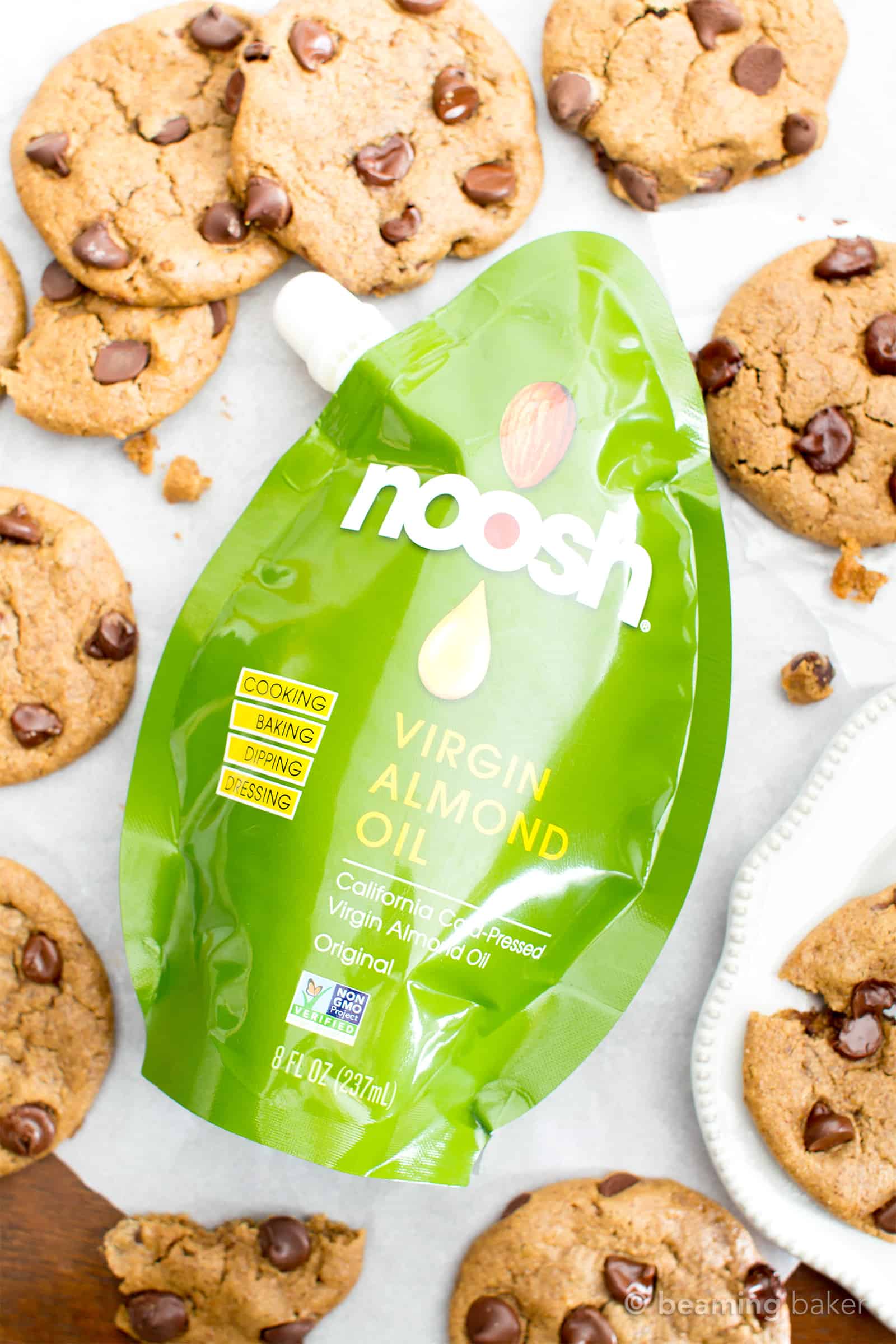 And guess what? This almond oil ticks off all the boxes and even the ones we didn't even know we had (Sorry, HAD to use that Talvin reference heh heh).
This amazing almond oil is vegan, paleo, gluten-free, non-GMO, keto and made with whole California-grown almonds. You can taste and see the quality. And if you're a huge almond everything fan like me, you'll be even more over the moon about this! Here's where you can get yours: → Noosh Brands Virgin Almond Oil.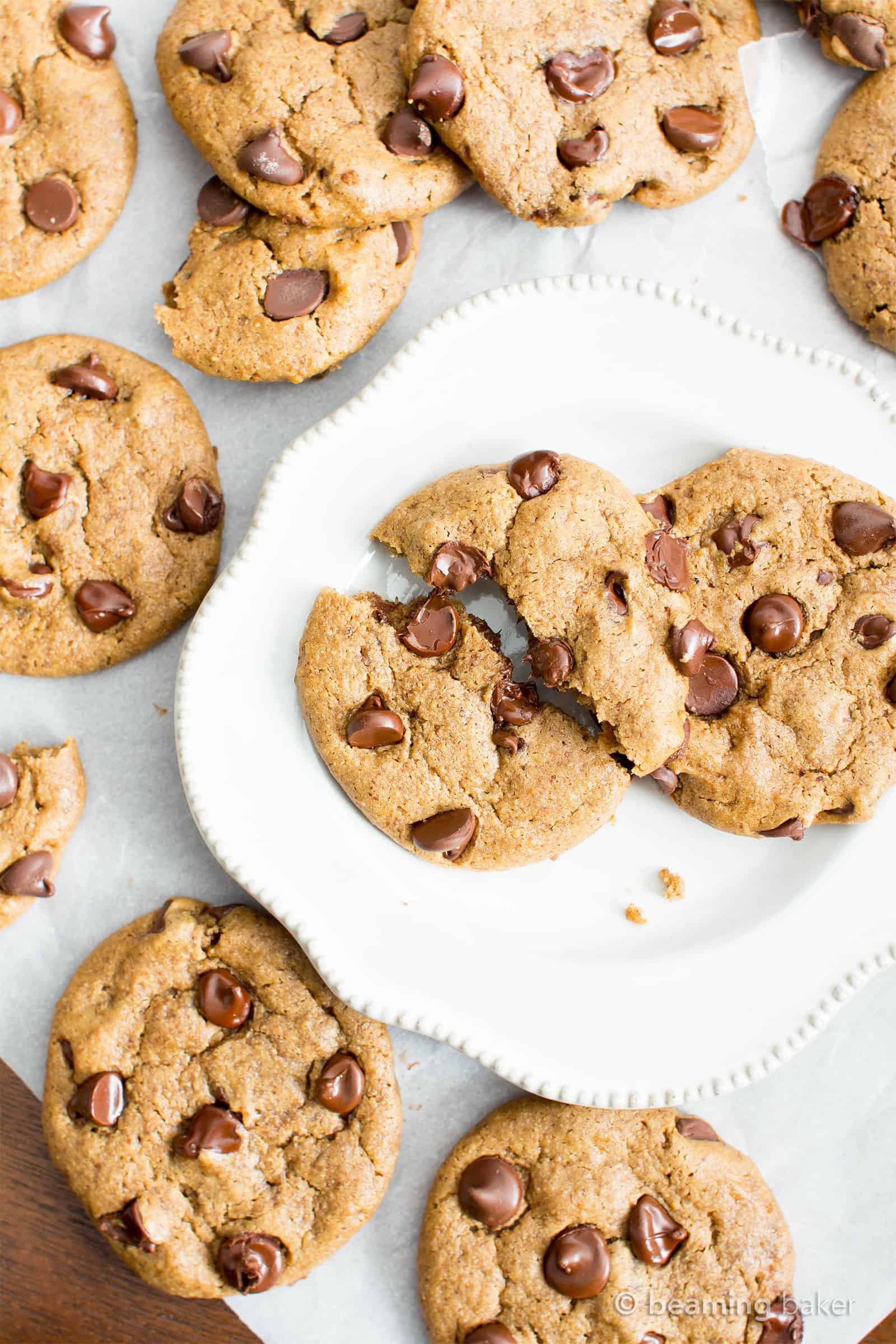 Meanwhile, are you ready to bake like it's nobody's business? Let's warm up with some of the finest points of these Gluten Free Almond Butter Chocolate Chip Cookies. They're:
deliciously chewy on the inside, crispy on the outside
vegan, gluten-free, dairy free
bursting with incredible almond flavor…
… from two sources: creamy almond butter and amazing, allergy-friendly Noosh Brands Virgin Almond Oil
made with the healthy, whole ingredients you know and love
including gluten free oat flour ← Instructions on how to make your own at home! 😉
just the perfect easy almond butter cookies you've been looking for
so good the first day and even better the next, and the next… and the next (as if they'd last that long)
the perfect excuse to use my Swarris (Tayvin?!) reference
Are you ready? Let's do this! I'll grab the creamy almond butter, you grab the almond oil! I'm so thrilled to be baking and sharing in these kitchen adventures with you. I can't wait to hear what you think! In the meantime, tell me:
Do you have any fun plans for the week?
Sending you all my love and maybe even a dove, xo Demeter ❤
. Click below to Pin .

☀︎ Did you make this recipe? Take a pic and share it on Instagram with the hashtag #beamingbaker and tag @beamingbaker. I would love to see it! ☀︎
If you enjoyed these perfectly chewy and crispy Gluten Free Almond Butter Chocolate Chip Cookies, then you'll just love these delicious healthy dessert recipes:
More Gluten Free Vegan Cookie Recipes
Print
Gluten Free Almond Butter Chocolate Chip Cookies (Vegan, GF, Dairy-Free, Refined Sugar-Free)
---
Description
Gluten Free Almond Butter Chocolate Chip Cookies (V, GF): an irresistible recipe for perfectly chewy chocolate chip cookies made with smooth, creamy almond butter and a secret ingredient. Vegan, Gluten-Free, Dairy-Free.
---
Dry Ingredients
Wet Ingredients
¾ cup

natural, unsalted creamy almond butter

3 tablespoons

Noosh Brands Virgin Almond Oil* or coconut oil

½ cup

coconut sugar

¼ cup

pure maple syrup

2

flax eggs (whisk together

2 tablespoons

ground flax +

6 tablespoons

warm water, set for 15 mins)

1 teaspoon

pure vanilla extract
Add-in Ingredients
1 cup

vegan chocolate chips
Optional Topping
3

–

4

tablespoons vegan chocolate chips
---
Instructions
Preheat oven to 350°F. Line a baking sheet with parchment paper or greased foil. Set aside.
In a large bowl, whisk together all of the dry ingredients: oat flour, baking powder, baking soda and salt.
In a medium bowl, whisk together all of the wet ingredients: almond butter, Noosh Brands almond oil, sugar, maple syrup, flax eggs and vanilla. Whisk until well mixed—it's ready when it's sticky and difficult to whisk.
Pour the wet mixture over the dry mixture. Using a rubber spatula, stir and fold until well incorporated and until no flour patches remain. Fold in chocolate chips.
Using a 2-tablespoon cookie scoop, scoop and drop cookie dough balls onto the prepared baking sheet, with enough space to spread while baking. Optionally, press chocolate chips into cookies. Do not flatten cookies–they will spread on their own.
Bake for 10-14 minutes. Mine took 12 minutes. Transfer cookie sheet to cooling rack and allow cookies to cool on cookie sheet for about 20 minutes. Optionally, after 20 minutes, transfer cookies directly onto the cooling rack to cool completely. Enjoy! Storing notes below.
Category:

Dessert, Cookies, Vegan, Gluten-Free, Dairy-Free, Whole Grain
© beamingbaker.com. All content and images are protected by copyright. Please do not use my images or recipe without my permission. Please do not republish this recipe, instead, include a link to this post for the recipe.
SHOP THE RECIPE
Here are a few items I used in today's recipe. 🙂
Noosh Brands Virgin Almond Oil | Gluten Free Rolled Oats | Unbleached Parchment Paper | Coconut Sugar | Maple Syrup | Cookie Sheet | 2-Tablespoon Cookie Scoop | Cooling Rack | Glass Mixing Bowls
This recipe is sponsored by Noosh Brands. This post may contain affiliate links, which allow me to make a small commission for my referral, at no additional cost to you. Thank you for supporting Beaming Baker.
Facebook ☀︎ Pinterest  ☀︎ Twitter ☀︎ Instagram