Chocolate Covered Peanut Butter Cookies (Gluten Free, Vegan, Dairy-Free, Refined Sugar-Free)
Chocolate Covered Peanut Butter Cookies (V, GF): an easy recipe for soft 'n chewy peanut butter cookies wrapped in a velvety layer of chocolate and topped with crunchy peanuts. Vegan, Gluten-Free, Dairy-Free.
First there were the Easy Vegan Peanut Butter Cookies. Then, there were these firmer & thicker Gluten Free Peanut Butter Cookies (done in the more classic style). Now there is… wait for it… CHOCOLATE! If you didn't think I'd be thinking of all the ways in which I could work chocolate into these peanut butter cookies, then you don't know me at all.
But you totally do, don't you?
And you wanted it as much as I did. 😉
Didn't you?
Who knew Chocolate Covered Peanut Butter Cookies could be so sultry, so sexy? Alright, that was totally weird, calling cookies "sexy." But I seriously felt like I was in a steamy 90s TV movie commercial when I was in the ill-thought-out midst of writing those first few lines.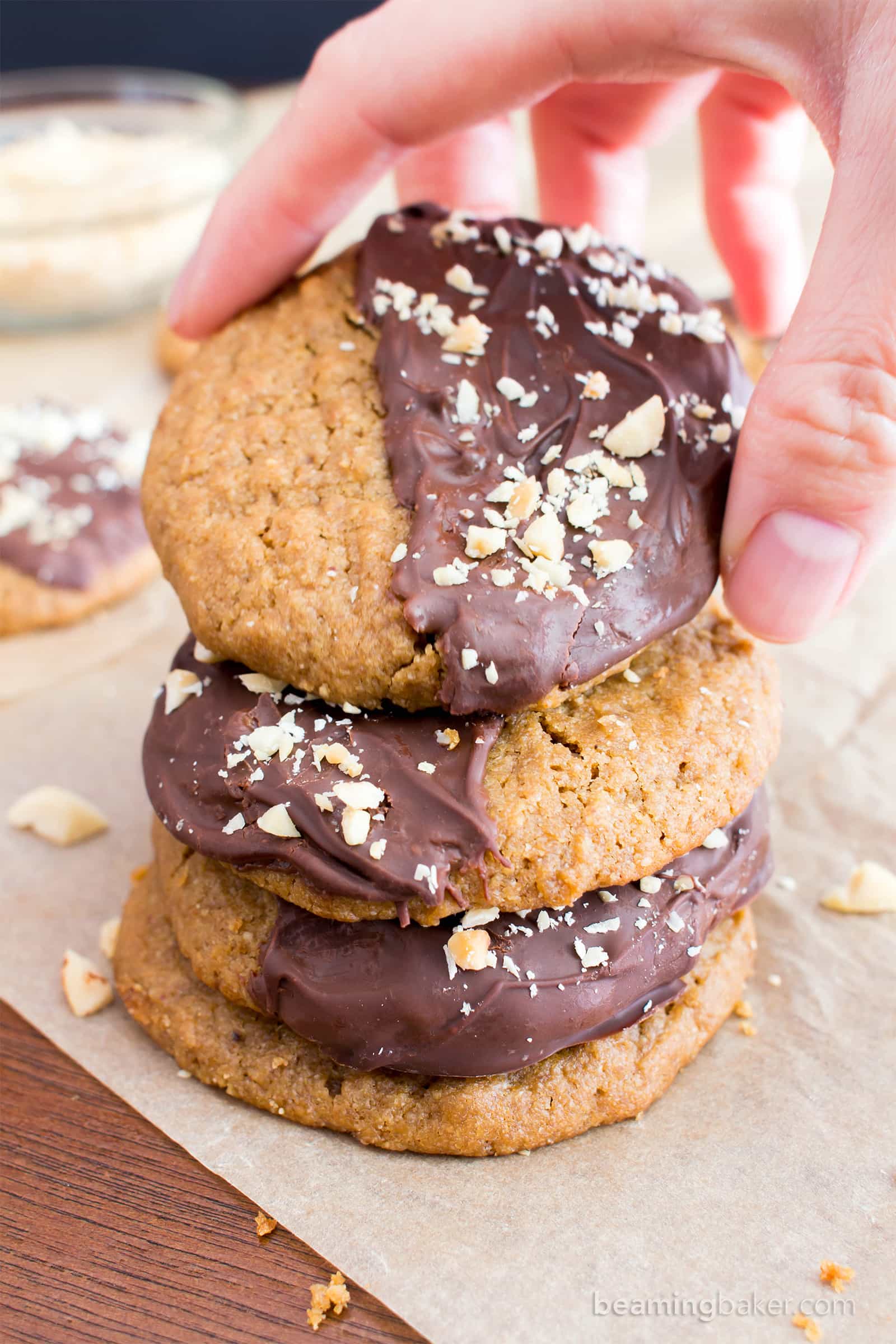 What was I thinking??
Oh, right, Chocolate. And. Peanut Butter. Oh my! <— Here we go again!
It's just… How are you not drooling, dreaming, fantasizing about these cookies right now? Remember in the peanut butter cookies recipe, I told you that I had to ask Erik to hide those cookies from me? Well, with these chocolate-covered treats, neither of us even bothered.
Actually, we put them straight into the freezer, on the yet-again ill-gotten logic that if they were frozen, the whole wait-to-thaw part would afford us some time to rethink eating All the Cookies.
Alas, that soooo did not work. And guess what?
These cookies are even better straight out of the freezer.
I don't know what it is about frozen desserts that aren't supposed to be frozen! In most cases, there's just something tastier about them. Like a frozen peanut butter cup. Or a frozen Almond Joy. Or a frozen vegan brownie.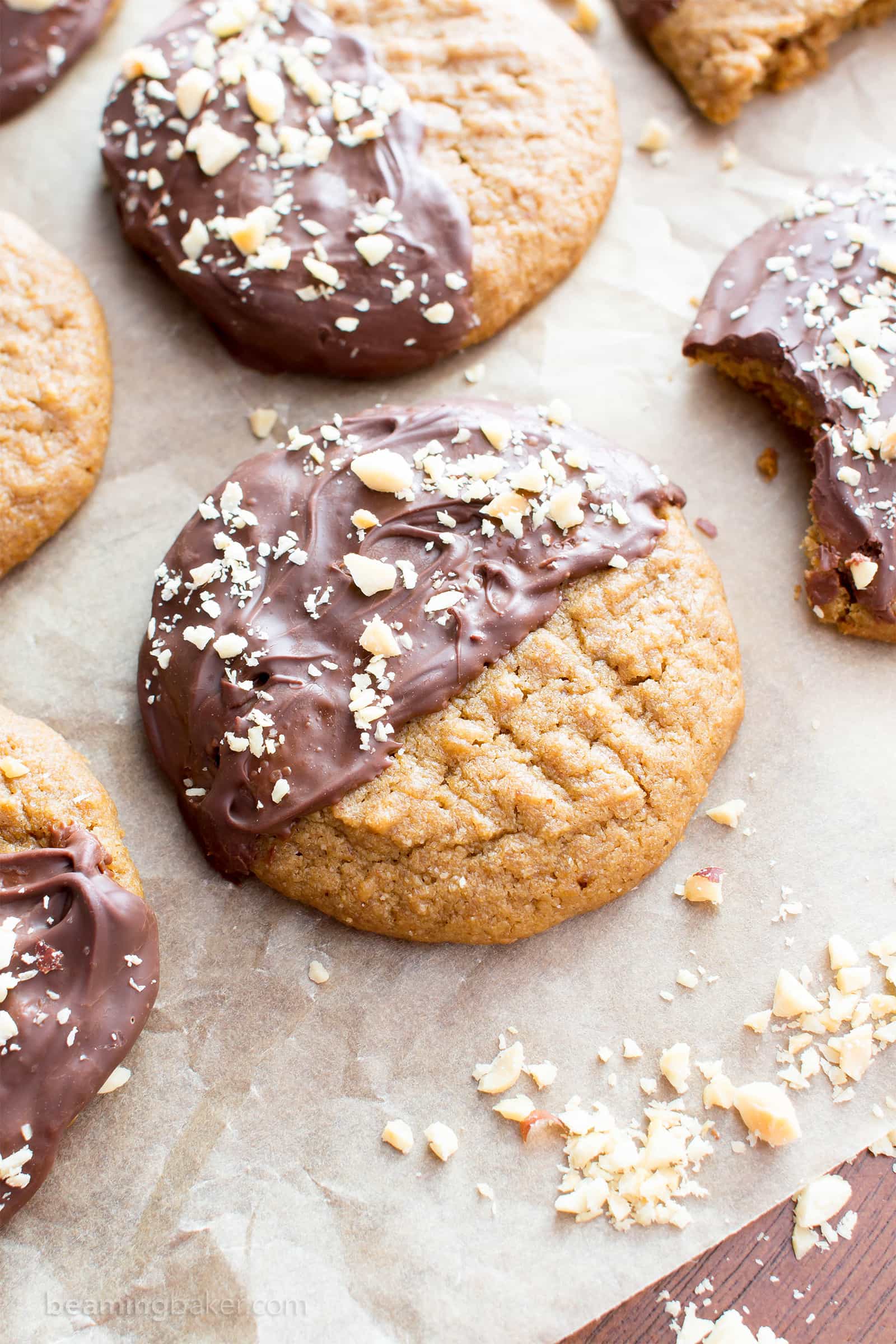 I've had this convo with my sister Jenny before, and she's always like, "Why WOULDN'T you freeze it??"
To her, every single dessert should be frozen: peanut butter chocolate chip oatmeal cookies, crunch bars, chocolate cupcakes, pudding, chocolate peanut butter freezer fudge (oh okay, we'll give her that one), gummy candy, paleo brownies, Twizzlers, brownie cookies, the list goes on and on.
I kind of wanted to sneak over to her house and take a pic of her freezer so you could see how stuffed it is with like 200 different desserts. But like 199 of them are not usually stored in the freezer.
So you can blame her and thank her for this frozen chocolate covered peanut butter cookies business! 😉
Meanwhile, all I have in my freezer are boring, normally-frozen desserts and an endless abyss of frozen treats from multiple recipe tests going on at the same time. That's also coincidentally where you'll find Erik, half of his torso disappearing into the freezer as he picks and chooses his treat for the day.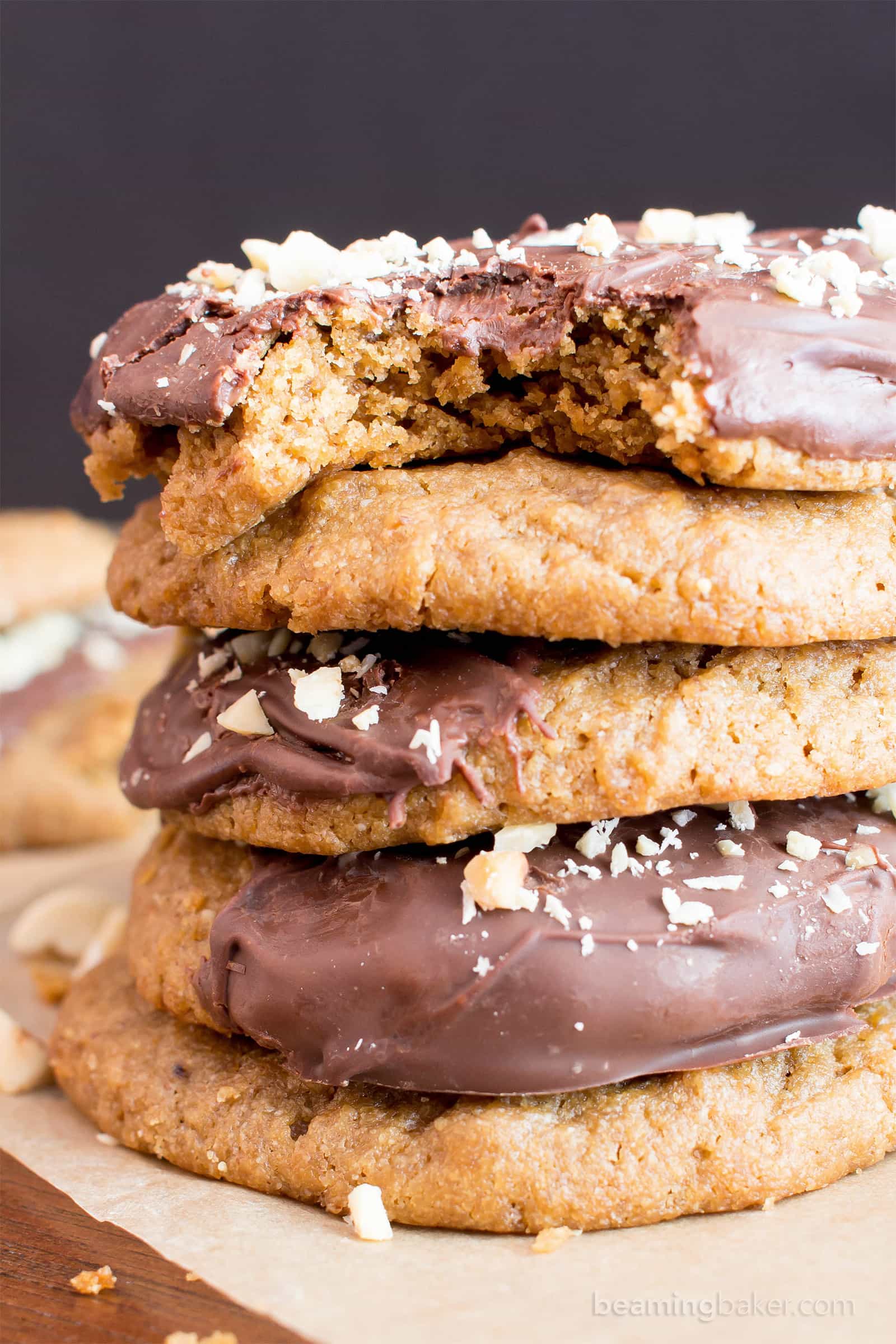 Ah… my family is awesome—and not at all weird. Right?
And now I've realized that we've gone so far off topic, we shall never hope to recover again. But yet, these photos give me the strength, nay the appetite, to begin again!
For some reason, I'm feeling extra dramatic and rambly this morning. Must be all the frozen desserts I wasn't supposed to freeze but did, then ate like the happiest kid in the world.
Back on point, these Chocolate Covered Peanut Butter Cookies are so fudging good. You're gonna need some tactics of your own to hold back on eating the entire batch. Good luck! My tips: invite some friends over—make that friends with GENEROUS appetites—before you whip these up. And heck with it, clear some space in the freezer to try them frozen!
Do I hear a pajamas 'n movies bake night/friends night in the works?
I think I do!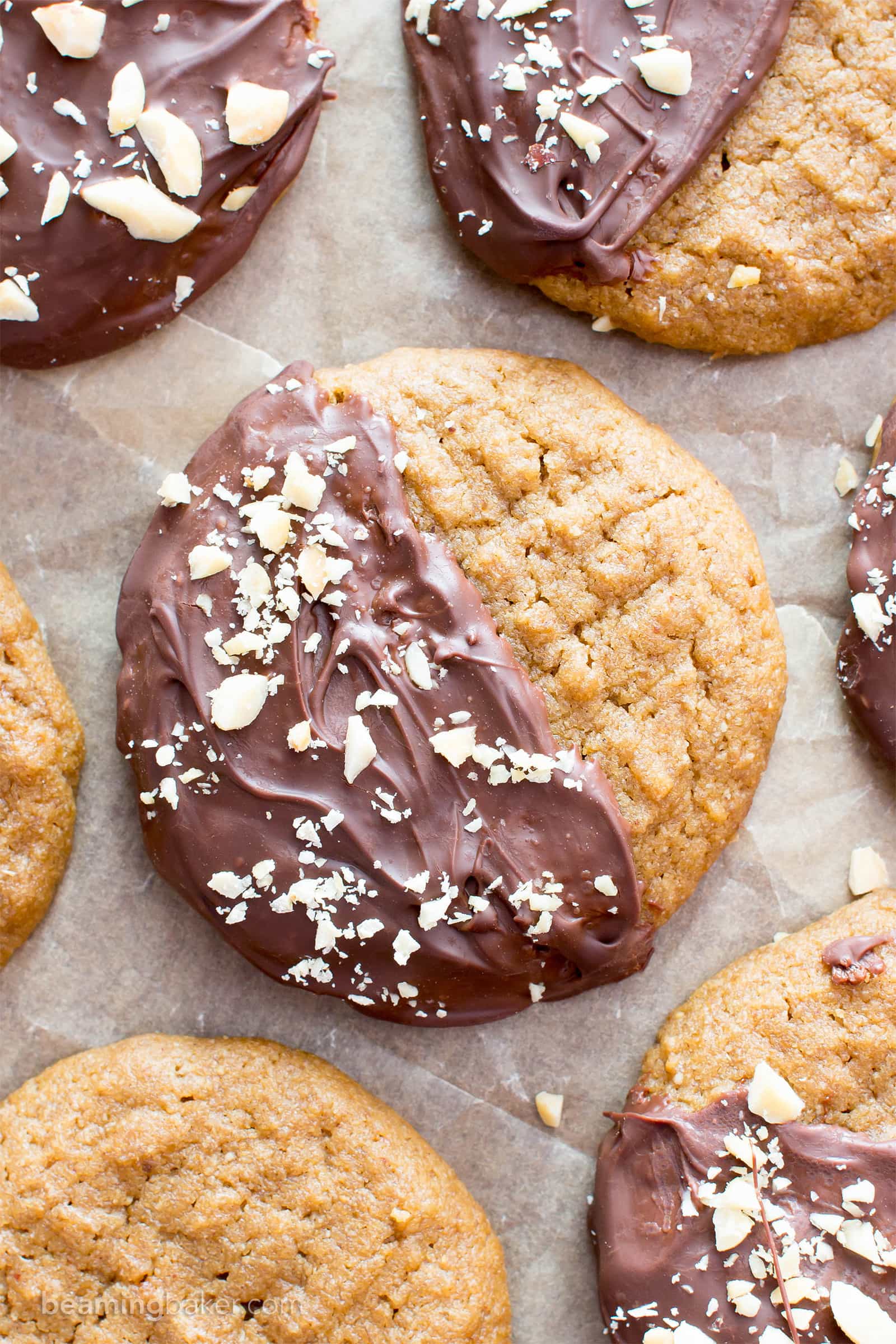 While I wait to hear all about this most awesome night, allow me to tell you all about these Chocolate Covered Peanut Butter Cookies. They're:
made with my favorite peanut butter cookies to date
now my family's favorite chocolate peanut butter dessert (behind the now ashamed no bake chocolate peanut butter bars) .
so fun to make—especially the chocolate-covering part
soft, chewy, and lightly crispy on the outside
incredibly satisfying: just think of the crunch of that chocolate coating
your favorite new vegan dessert!
vegan, gluten-free, dairy-free, refined sugar-free
just the perfect healthy peanut butter cookie you've been looking for
made with the simple, whole, healthy ingredients you love to bake with
deliciously allergy-friendly (try using sunflower seed butter & chopped seeds on top for nut-free cookies!)
the perfect sweet excuse to plan a pajamas 'n movie bake night with your best friends!
Just think of the bonding that will ensue! You ready to whip up a nice, big batch of vegan chocolate covered peanut butter cookies? I'm so happy to share in the experience of baking homemade treats with you. I'm waiting on pins and needles to hear what you and your loved ones think of this recipe. While I wait, tell me:
What are your favorite bake night activities? (Besides baking, heh heh)
Sending you all my love and maybe even a dove, xo Demeter ❤
☀︎ Click below to Pin ☀︎

☀︎ Did you make this recipe? Take a pic and share it on Instagram with the hashtag #beamingbaker and tag @beamingbaker. I would love to see it! ☀︎
If you enjoyed these sweet tooth satisfying Chocolate Covered Peanut Butter Cookies, then you'll just love these dairy-free cookie recipes:
☀︎ More ­­­­­­Gluten Free Vegan Cookie Recipes ☀︎
Print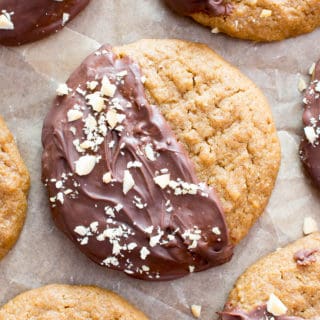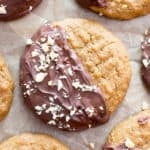 Chocolate Covered Peanut Butter Cookies (Gluten Free, Vegan, Dairy-Free, Refined Sugar-Free)
---
Description
Chocolate Covered Peanut Butter Cookies (V, GF): an easy recipe for soft 'n chewy peanut butter cookies wrapped in a velvety layer of chocolate and topped with crunchy peanuts. Vegan, Gluten-Free, Dairy-Free.
---
Dry Ingredients
Wet Ingredients
¾ cup

natural, unsalted creamy peanut butter

¼ cup

melted coconut oil

½ cup

coconut sugar

¼ cup

pure maple syrup

2

flax eggs (whisk together

2 tablespoons

ground flax +

6 tablespoons

warm water, let set for 15 mins)

1 teaspoon

pure vanilla extract
Chocolate Coating
½ cup

vegan chocolate chips

1/8 teaspoon

coconut oil
Peanut Topping
2 tablespoons

roasted, unsalted peanuts, chopped
---
Instructions
Make the cookies: Preheat oven to 350°F. Line a baking sheet with parchment paper or greased foil. Set aside.
In a large bowl, whisk together all of the dry ingredients: oat flour, baking powder, baking soda and salt. In a medium bowl, whisk together all of the wet ingredients: peanut butter, oil, sugar, maple syrup, flax eggs and vanilla. Whisk until well mixed.
Pour the wet mixture over the dry mixture. Whisk thoroughly, until thickened and cohesive.
Using a 2-tablespoon cookie scoop, scoop and drop cookie dough balls onto the prepared baking sheet. Space cookies evenly apart, with enough space to spread considerably during baking. Using a fork, press down slightly to flatten cookies. Turn the fork in the opposite direction and press down on the cookie to create a crisscross pattern on top.
Bake for 10-14 minutes. Transfer cookie sheet to cooling rack. Allow cookies to cool on cookie sheet for 10 minutes. If desired, transfer cookies directly onto the cooling rack until completely cooled, before coating in chocolate. About 1 hour.
Line a large baking sheet with wax paper. Clear some room in the freezer for this sheet. Transfer cooled cookies onto this sheet. Set aside while melting chocolate.
Coat the cookies: Melt the chocolate using the double boiler method or the following. In a medium, microwave-safe bowl, add chocolate and coconut oil. Heat in 20-second increments until melted. Stir in between heating, until smooth.
Spoon about ½ teaspoon of melted chocolate onto half of one cookie. Using the spoon, spread the chocolate across half the cookie, until somewhat smooth. Sprinkle chopped peanuts onto melted chocolate. Repeat for all remaining cookies.
Place cookie sheet into freezer. Freeze for 5-10 minutes, or until chocolate is fully hardened. Enjoy! Storing instructions below.
Category:

Cookies, Dessert, Chocolate, Peanut Butter, Vegan, Gluten-Free, Dairy-Free
© beamingbaker.com. All content and images are protected by copyright. Please do not use my images or recipe without my permission. If you wish to republish this recipe, please re-write the entire recipe using your own words and include a link to this post for the recipe.

SHOP THE RECIPE
Here are a few items I used in today's recipe. .
Cookie Sheet | Maple Syrup | Cooling Rack | 2-Tablespoon Cookie Scoop | Glass Mixing Bowls | Silicone Spatulas | Coconut Oil
This post may contain affiliate links, which allow me to make a small commission for my referral, at no additional cost to you. Thank you for supporting Beaming Baker.
Facebook ☀︎ Pinterest  ☀︎ Twitter ☀︎ Instagram