Granola Bars Recipe – 6 Ways
6 delicious ways to make granola bars with one simple base. Chewy and healthy with crispy edges and packed with healthy ingredients—the best granola bar recipes!
The Only Homemade Granola Bar Recipe You Need
For real. Ever wonder how anyone manages to juggle it all? Kids, work, friends, homemade meals, health and fitness? Well, I think the answer is: No one does. And that's okay. 🙂 But if there's one way that we can make things better, then we should do it! Hence, today's super easy, super guilt-free granola bar recipes. They're so easy to make just the way you like, with 6 ways included… and your imagination for so many more! Ready? Let's bake granola bars!
Simple Ingredients for Perfect Granola Bars
Oats and Flaxseed: two hearty ingredients sure to keep you going. I love using fiber-rich oats because they're heart-healthy and keep you fuller for longer. Also, with a ¼ cup of ground flaxseed, you're looking at an abundance of heart-healthy fats and nutrients [1].
Nuts, Seeds and Dried Fruit: pick your favorite nuts and dried fruits to create your own custom recipe. Can't have nuts, but love seeds? No problem. Use chia seeds, sunflower seeds or pumpkin seeds to create delicious seed-packed healthy granola bars.
Nut or Seed Butter: grab whatever nut or seed butter you have on hand for this ingredient. Just make sure it's unsalted and natural to keep the dough for these granola bars the perfect texture.
Coconut Sugar, Maple Syrup and Coconut Oil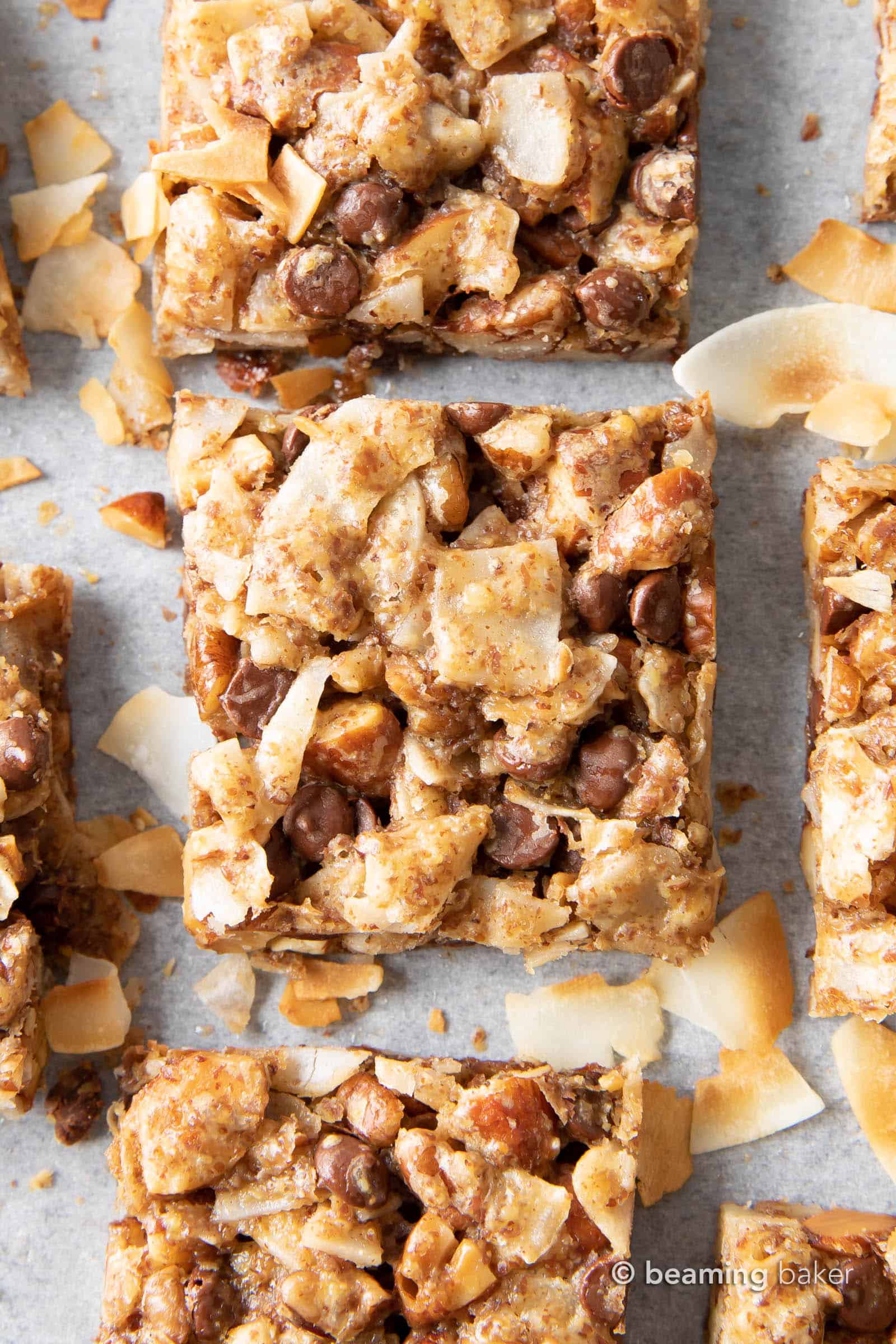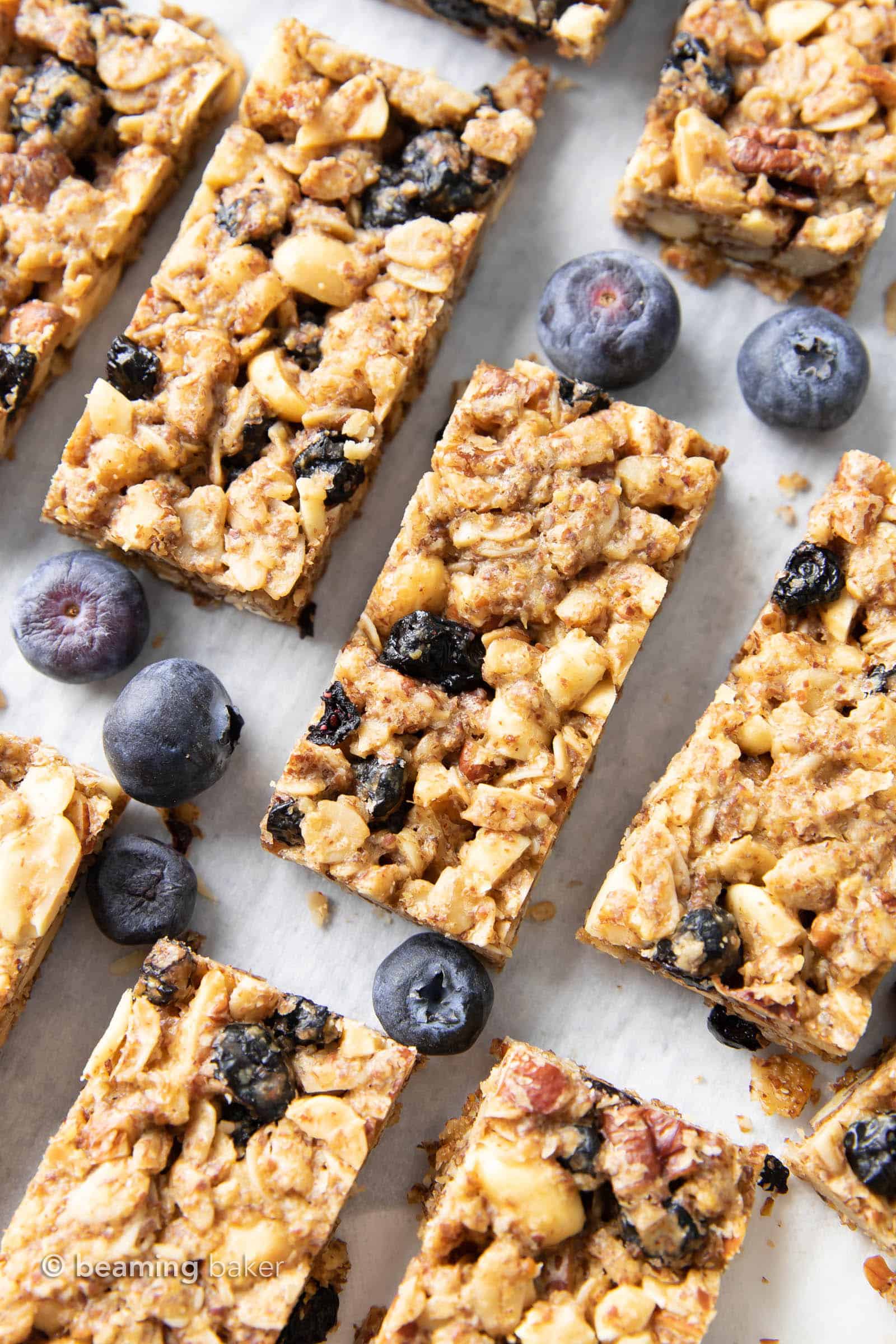 How to Make Granola Bars
Learn how to make granola bars that are delicious, healthy and easy to customize! Once you get used to making the base healthy granola bar recipe, you'll find it super easy to change up the add-ins to create your favorite treat.
Preheat
I always like to head to the oven, first thing, when starting a baked recipe. Turn on the oven to preheat it to 325°F. Grab a roll of unbleached parchment paper and line an 8-inch square baking pan. Or, use this granola bar pan.
Whisk the Wet
Add all the wet ingredients into a large mixing bowl. Whisk the ingredients together until it's cohesive.
Add in the Dry
Add in the oats, flaxseed and salt (if using) to that same large mixing bowl.
Choose Your Add-ins
Now, choose your favorite add-ins and add them to the bowl.
Combine
Grab a rubber spatula, then stir and fold everything together until you get a well-mixed dough. Make sure there are no dry patches, as the wet ingredients coat and "glue" the granola bars together.
Pour
Transfer the granola bar dough into the pan you prepared earlier. Smooth and flatten the granola bar mixture into a tightly-packed, even layer.
Bake, Cool, Slice and Enjoy
Bake for about 25 minutes. Then, cool, slice and enjoy!
Healthy & Homemade Granola Bars Recipes - 6 Ways
Are you ready to see try all the recipes for homemade granola bars? Let's do it! I'm going to start with the basic granola bar recipe, then show you multiple flavor combos to get you going. Once you nail those, you'll be so comfortable customizing these bars to your own unique and personal taste. 
Here's the basic granola bar recipe we'll be working off. It features a general outline for nuts, seeds and dried fruit, so you can easily pick your favorite combo to include!
If you love blueberries, you'll love these blueberry granola bars. Dried blueberries ensure little pops of tart sweetness to entice your palate.
Did someone say coconut? If you've been with me a while, you know how deep my love for the versatility of coconut goes. In this coconut granola bars recipe, we'll be combining coconut chips and chocolate chips to make a delicious, dessert-like homemade granola bar. Never fear, if you're not a fan of chocolate chips, you can absolutely use a different add-in.
More Ways
Looking for more ways to create your very own homemade granola bars? Try one of these combos! Once you get the hang of it, you'll be creating your own unique flavors.
4. Cherry chocolate chip
For the add-ins:
3/4 cup nuts, chopped
¼ cup mini chocolate chips
¼ cup chopped dried cherries
5. Cinnamon pecan
For the add-ins
For the dry ingredients:
Add in ½ teaspoon to ¾ teaspoon ground cinnamon
6. Almond Apricot Delight
For the add-ins
1 cup finely chopped almonds and/or slivered almonds
¼ cup chopped dried apricots
For the wet ingredients, mix in:
¼ teaspoon pure almond extract
My favorite berry granola bars! They're bursting with three kinds of berry goodness: strawberries, blueberries and cranberries.
Glorious Granola Recipes To Grace Your Golden Breakfast Table (See What I Did There?)
Tools You Need
Sending you lots of Homemade Love
What is it about homemade… everything that feels so good? Must be some kind of primal coziness thing that makes you feel warm, happy, and fierce all at the same time. Just know that I'm beaming you all the homemade love vibes. 'Til our next homemade adventure…
Sending you all my love and even a dove, xo Demeter ❤️
📸 ☀️ 📸
📸 Did you make any of these granola bar recipes? Take a pic and share it on Instagram with the hashtag #beamingbaker & tag @beamingbaker. I'd love to see it! 📸
Print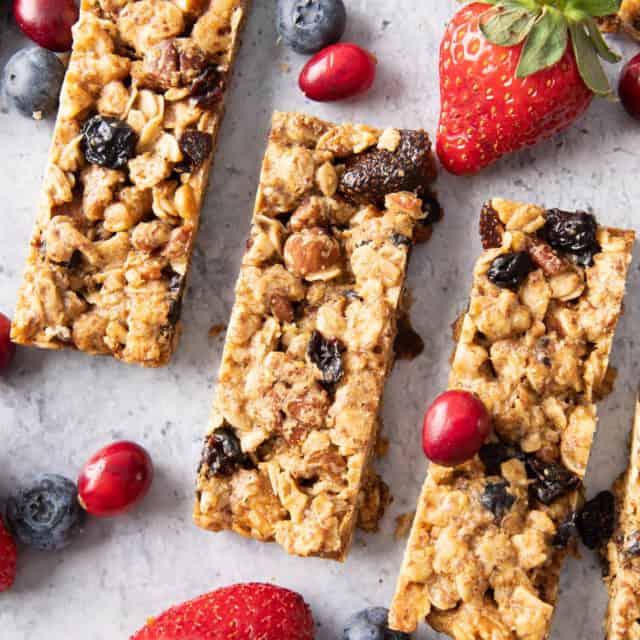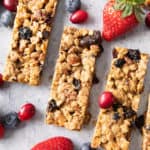 Granola Bars Recipe – 6 Ways
---
Description
6 delicious ways to make granola bars with one simple base. Chewy and healthy with crispy edges and packed with healthy ingredients—the best granola bars!
---
Wet Ingredients
1 tablespoon

coconut sugar

2 tablespoons

melted coconut oil

1 tablespoon

unsalted, natural nut or seed butter

3 tablespoons

pure maple syrup
Dry Ingredients
Add-ins
1 cup

nuts, finely chopped* or seeds

¼ cup

dried fruit, finely chopped*
For specific flavor pairings, check out the post!
---
Instructions
Preheat the oven to 325°F. Line an 8-inch square baking pan with parchment paper or greased foil. Set aside for later. You can also use this Energy Bar Mold to make rectangular granola bar-style bars.
Add all wet ingredients to a large bowl: coconut sugar, coconut oil, nut or seed butter and maple syrup. Whisk until well incorporated.
Add oats, flaxseed, and salt (if using) to the same bowl.
Select your favorite add-ins (nuts or seeds and dried fruit) and add to the bowl.
Using a rubber spatula, combine the wet and dry ingredients by stirring and folding until very well mixed. Make sure the dry ingredients are evenly coated in the wet ingredients.
Pour the mixture into the prepared baking pan. Using the spatula, nudge the mixture until loosely and evenly spread out. Then, use the spatula to press the mixture firmly down into an even, very tightly-packed layer.
Bake for 23-27 minutes. Mine took 25 minutes.
Place baking pan onto a cooling rack to cool for about 30 minutes, or until completely firm. After, lift bars and parchment paper onto the cooling rack to finish cooling for 1-2 hours. Slice and enjoy! Storing instructions below.
Notes
*Make sure to chop nuts and dried fruit finely. The larger the nut/fruit, the less likely the bars will smooth into an even layer, and thus, hold together.
Storing Instructions: Store in an airtight container for 1-2 months at room temperature.
Freezing Instructions: Store in a freezer friendly container for 1-3 months.
Prep Time:

10 minutes

Cook Time:

25 minutes

Category:

Snacks

Method:

Bake

Cuisine:

American
Keywords: granola bars, healthy granola bars, granola bar recipe
© beamingbaker.com. All content and images are protected by copyright. Please do not use my images or recipe without my permission. Please do not republish this recipe, instead, include a link to this post for the recipe.
This post may contain affiliate links, which allow me to make a small commission for my referral, at no additional cost to you.