Healthy Homemade Blueberry Granola Bars (Vegan, GF)
Blueberry Granola Bars (GF): this healthy homemade granola bars recipe is chewy, nutrient-rich & EASY to make! Plant-Based, Refined Sugar-Free, Vegan.
Have you ever tried dried blueberries? Omigosh, they are one of the tastiest, yummiest things ever!! Just in case some of you are like, "I don't like dried blueberries because they're sweetened with cane sugar!" Let me reply, "I finally found some sweetened with just apple juice!"
Cool, right? 🙂 And if you're against that as well, try raisins! See, win win for everyone. Anyway, back to the dried blueberries… they're so delicious, sweet and chewy. Plus, they kinda look like special little gems in these homemade blueberry granola bars, dontcha think?
Well, today, we're gonna use all the dried blueberries to make my favorite healthy homemade blueberry granola bars! Are you ready? Let's talk about it.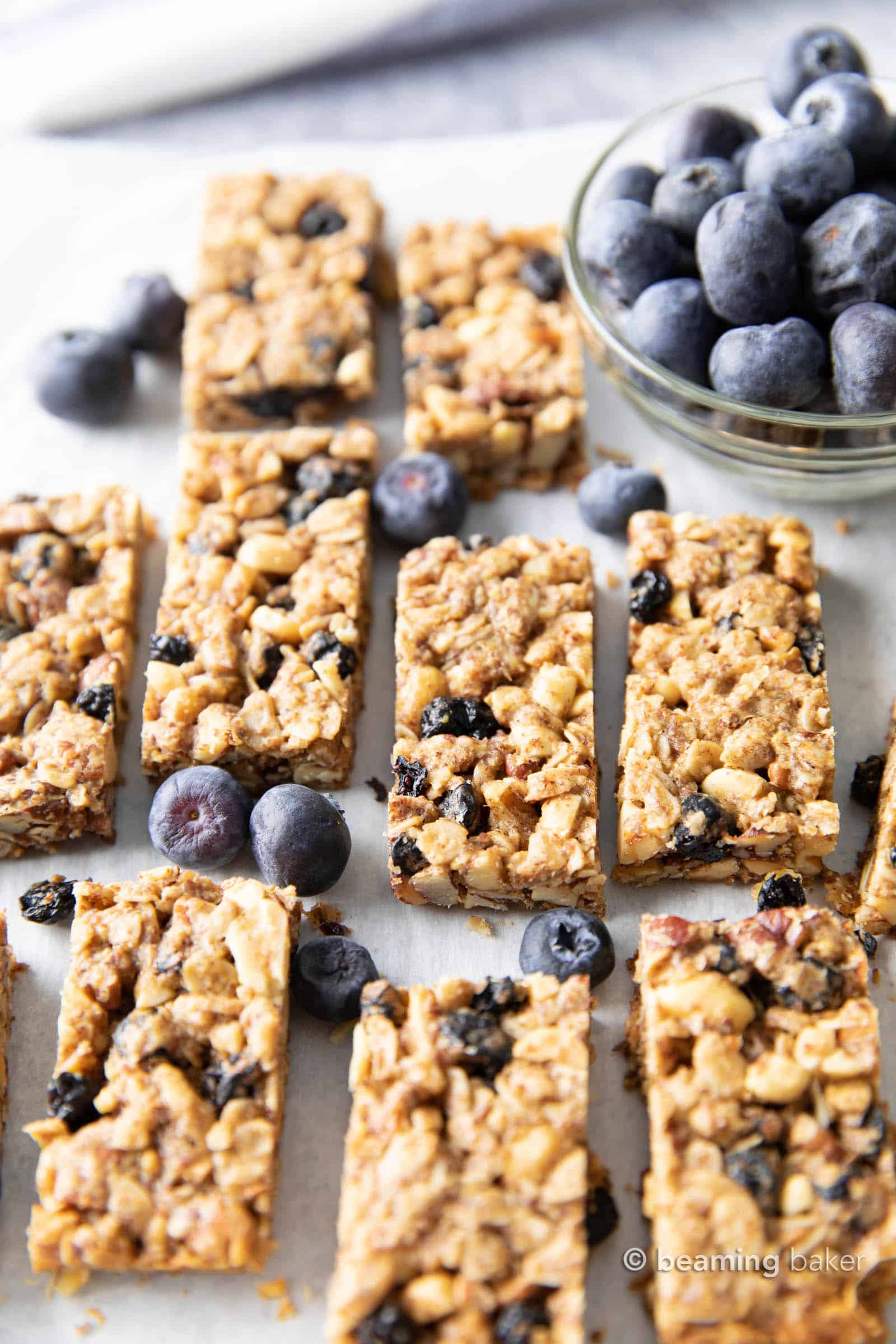 Healthy Homemade Blueberry Granola Bars
The last few months, Erik and I've been on an odyssey to find the best store-bought healthy granola bars. Yes, even we must buy store-bought granola bars from time to time. Like, if we don't take a break from the kitchen, we'll hate the kitchen, ya know?
Anyway, it's been a whole thing! Like how hard is it to make a healthy granola bar…um, healthy? Turns out, really hard. Lol. So today I thought it'd be awesome to share a healthy homemade granola bar that's healthy, vegan, dairy-free, refined sugar-free and gluten free. Yes!!
Healthy Blueberry Recipes You'd Love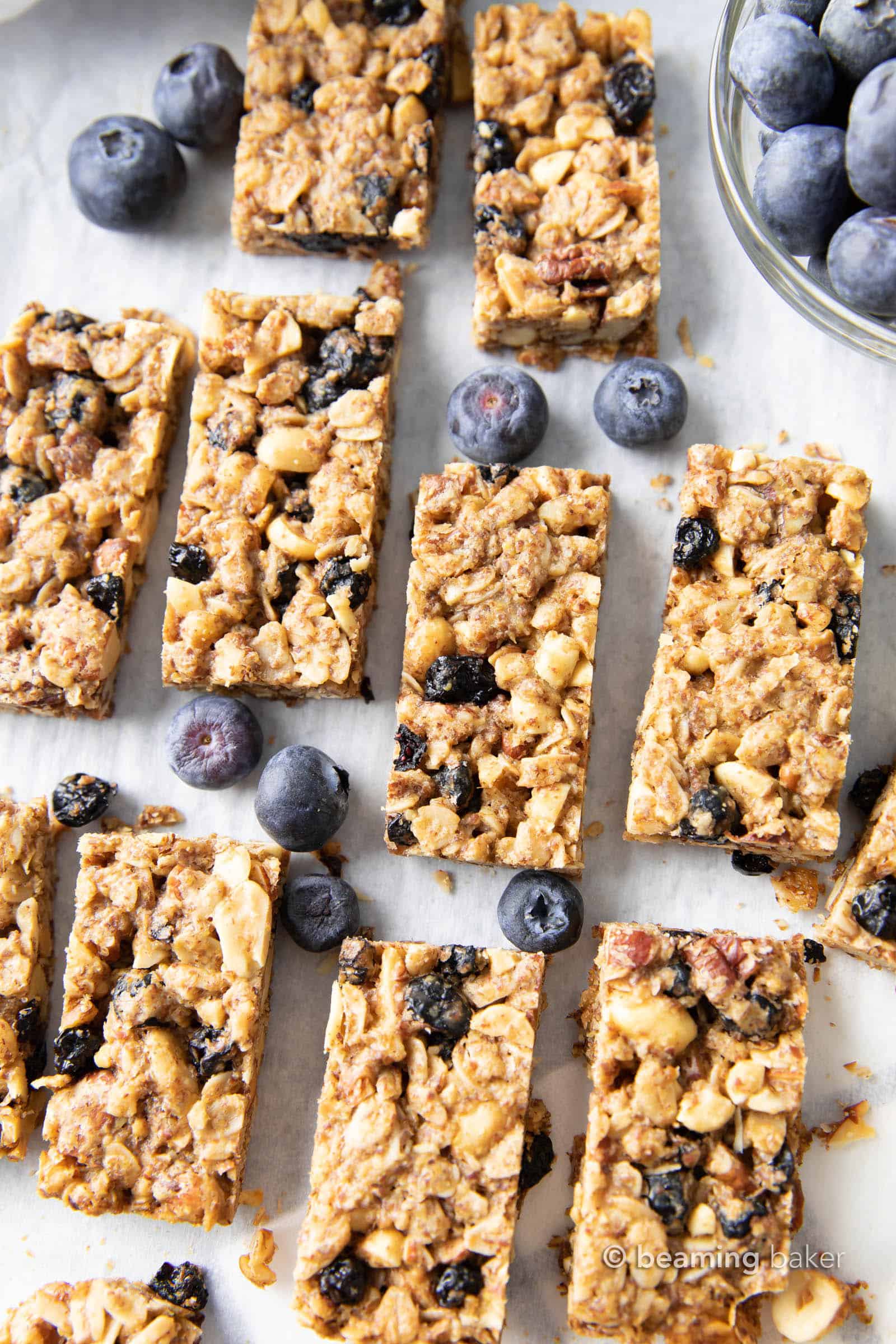 How to Make this Quick & Easy Healthy Granola Bars Recipe with Blueberries!
Best of all? This healthy homemade granola bars recipe is quick & easy to make. Simply whisk together all dry ingredients in one bowl, then whisk together all wet ingredients in another. Combine, then fold in blueberries. Pour mixture into a prepared pan and smooth into an even layer. Bake, cool and slice your homemade granola bars. That's it!
How do these Healthy Homemade Blueberry Granola Bars Taste?
These homemade blueberry granola bars taste AWESOME. Hehe. Okay, that wasn't enough of an actual description. So… they're chewy & satisfyingly dense, with a lightly crispy texture. The sweetness of these healthy granola bars is balanced out with nuttiness from ¼ cup of ground golden flaxseed and 1 whole cup of nuts and a hint of natural almond butter. So. Good.
Looking for more healthy bars? Try these: Chocolate Pistachio Healthy Vegan Snack Bars (Gluten Free) & Easy Paleo Snack Bars Recipe (Gluten Free, Vegan)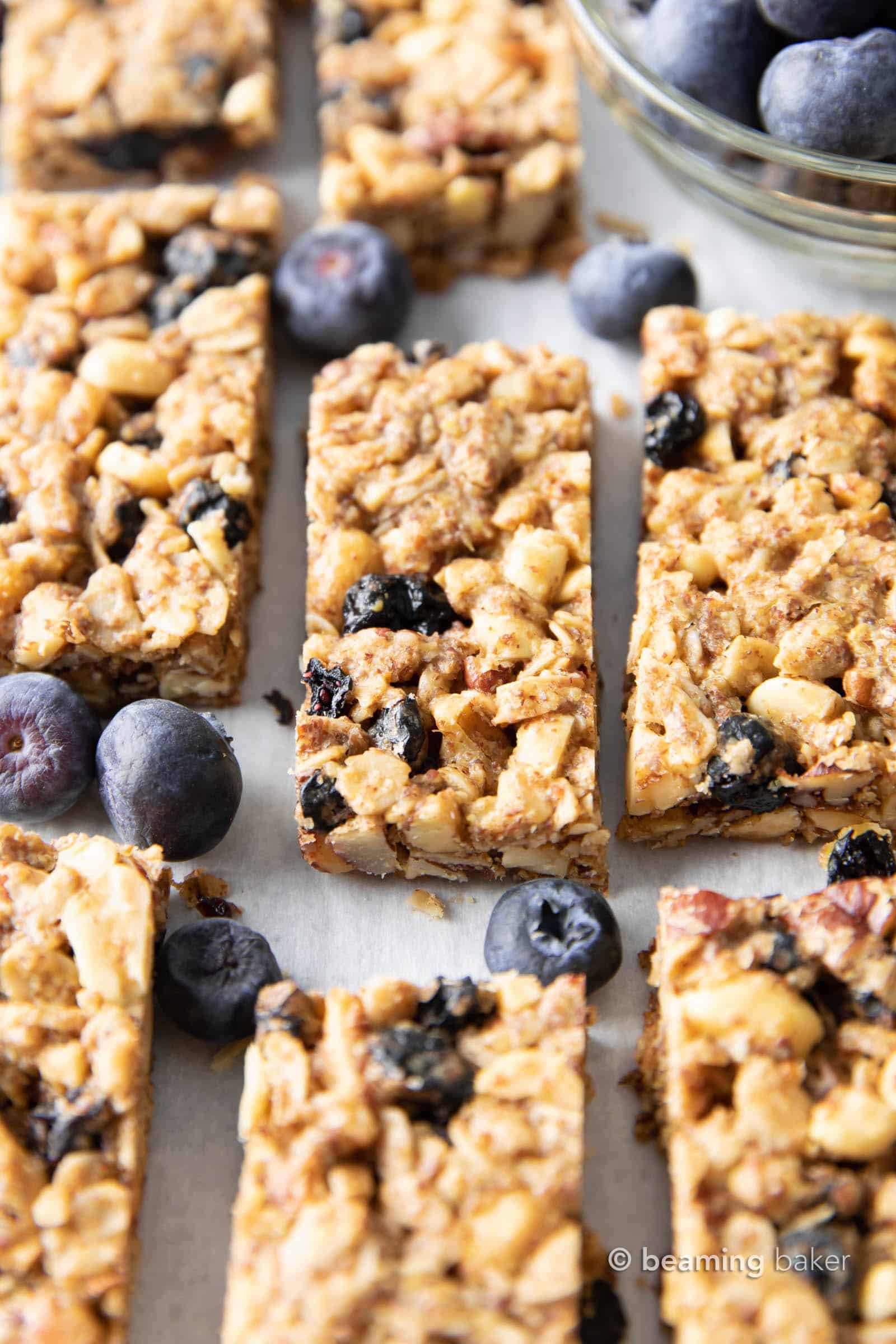 Tools for the Best Healthy Granola Bars
You're totally craving all the blueberries and healthy homemade granola bars, right? Let's do it! I can't wait to hear what you think—let me know in the comments below. 🙂 Thankful that you're here, enjoying in these kitchen adventures with me! 'Til the next one…
Sending you all my love and maybe even a dove, xo Demeter ❤️
Click below to Pin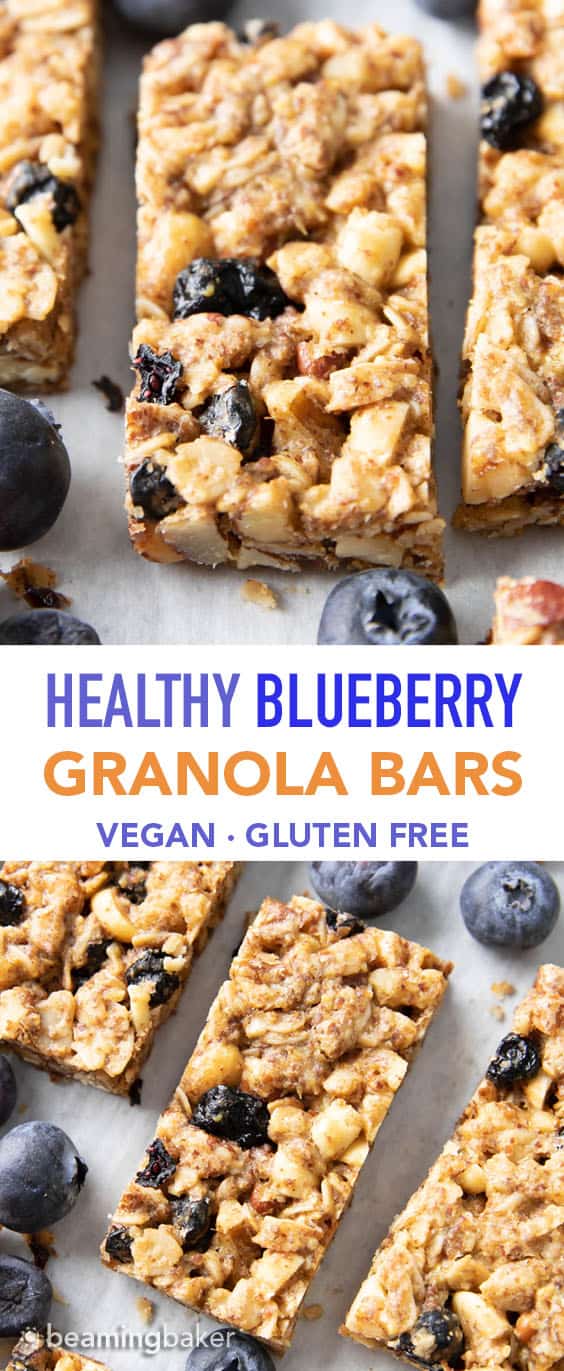 📸 Did you make this healthy blueberry granola bars recipe? Take a pic and share it on Instagram with the hashtag #beamingbaker & tag @beamingbaker. I'd love to see it! 📸
Healthy Homemade Granola Bars Recipes
Print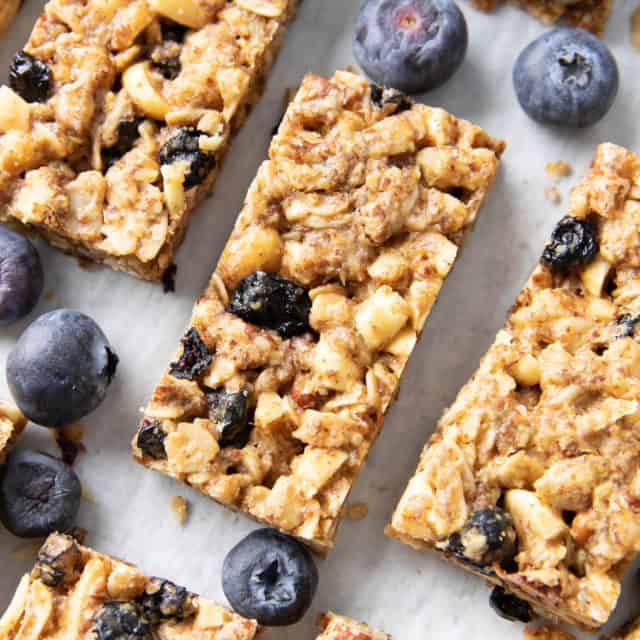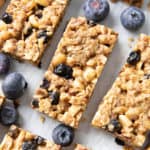 Healthy Homemade Blueberry Granola Bars (Vegan, GF)
---
Description
Blueberry Granola Bars (GF): this healthy homemade granola bars recipe is chewy, nutrient-rich & EASY to make! Plant-Based, Refined Sugar-Free, Vegan.
---
Dry Ingredients
Wet Ingredients
Optional Topping
---
Instructions
Preheat oven to 325°F. Line an 8-inch square baking pan with parchment paper or greased foil. Set aside for later. You can also use this Energy Bar Mold to make rectangular granola bar-style bars.
Add all dry ingredients to a large bowl: nuts, oats, dried blueberries, flaxseed, and salt (if using). Stir until well mixed.
Add all wet ingredients to a medium bowl: coconut sugar, coconut oil, almond butter and maple syrup. Whisk until well incorporated.
Pour wet ingredients over dry ingredients. Using a rubber spatula, stir and fold until very well mixed.
Pour the mixture into the prepared baking pan. Using the spatula, nudge the mixture until loosely and evenly spread out. Then, use the spatula to press the mixture firmly down into an even, very tightly-packed layer. Optionally, press blueberries into the bars.
Bake for 22-27 minutes. Mine took 25 minutes.
Place baking pan onto a cooling rack to cool for about 30 minutes, or until completely firm. After, lift bars and parchment paper onto the cooling rack to finish cooling for 1-2 hours. Slice and enjoy! Storing instructions below.
More Healthy Recipes:
Equipment
Prep Time:

10 minutes

Cook Time:

25 minutes

Category:

Healthy Snacks

Method:

Bake

Cuisine:

American
© beamingbaker.com. All content and images are protected by copyright. Please do not use my images or recipe without my permission. Please do not republish this recipe, instead, include a link to this post for the recipe.
This post may contain affiliate links, which allow me to make a small commission for my referral, at no additional cost to you.