Homemade Dark Chocolate Sea Salt KIND Nut Bars (Gluten Free, Vegan, Dairy-Free, Protein-Packed)
Homemade Dark Chocolate Sea Salt KIND Nut Bars (V, GF, DF): a protein-rich recipe for homemade KIND bars drizzled in dark chocolate and sprinkled with sea salt. Vegan, Gluten Free, Dairy-Free, Protein-Packed.
Dark Chocolate and Sea Salt. Otherwise known as… the BEST flavor combo ever. Like, EVER.
So remember when I said I had plans for my basic 5 Ingredient Homemade Nut Bars? Remember when I said it'd be… GOOD? And tasty? And saucy? And All the Things? Okay, maybe I didn't say that because I didn't want to spoil the surprise. But you know what I mean!
And does the combo of dark chocolate and sea salt equal "saucy?" I think it does.
Well, here ya go. 😉 Allow me to present to you my Homemade Dark Chocolate Sea Salt KIND Nut Bars.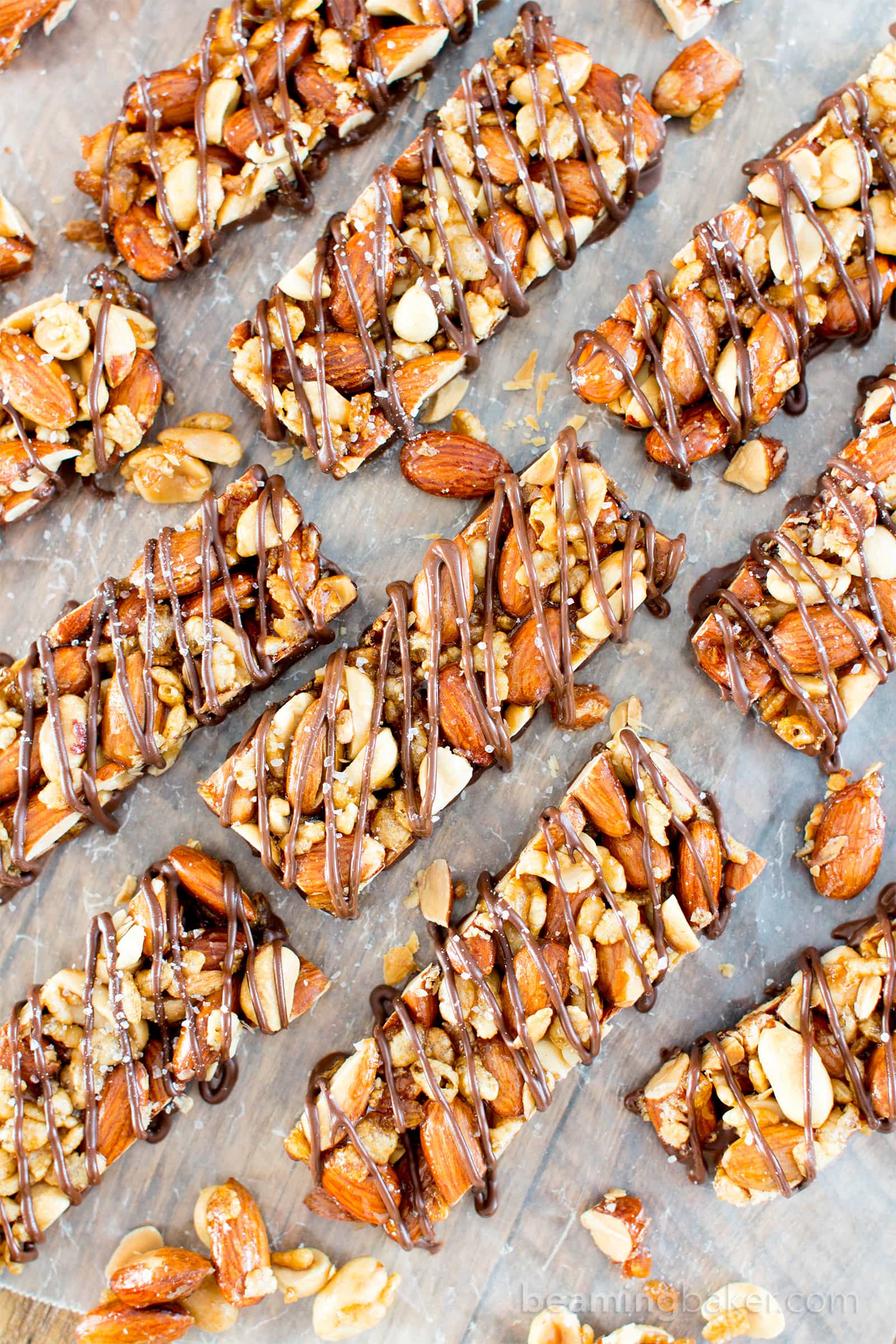 Quick show of hands, who here is a HUGE fan of the dark chocolate + sea salt combo?
Okay, fine, I can't really see you raise your hands, as this is the internet… but I can feel your excitement due to my vivid imagination. Go imagination!!
Alright, it's starting to sound a bit desperate and lonely up in here. Moving on…
If you've been around BB for long enough, you know that healthy homemade snacks that actually taste like candy/dessert awesomeness is a BIG thing around here. Like, a really. Big. Thing. Let's just say that I spend my days and nights thinking of excuses/ways/recipes to allow us hard-working, sweet tooth (like, woah), folks ways to enjoy what we love in the afternoon, in the morn, and for sure, after the gym. Oh. YES.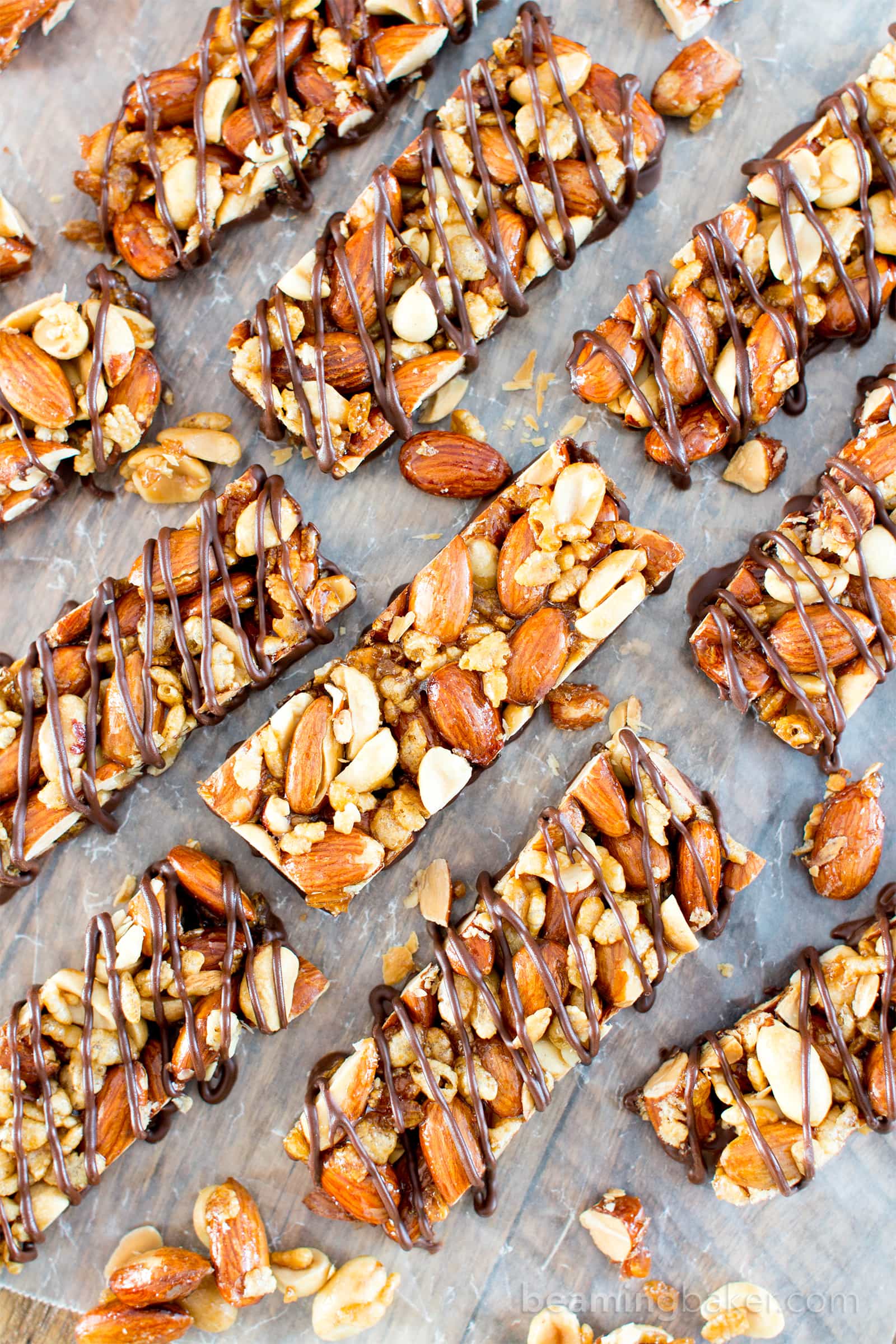 I mean, have you tried my no bake Peanut Butter Cup Oatmeal Bars? <— They seriously taste like peanut butter cups and granola bars got together and made sweet, sweet, kitchen creations. Let's keep it family-friendly here, folks. 😉 The combo of velvety peanut butter and chocolate layered atop a thick, dense, chewy foundation of satisfying peanut butter bars… it's just beyond.
Or, have you tried my 4 ingredient No Bake Peanut Butter Coconut Oatmeal Cookies? These cookies are one of my absolute favorites. They're so easy to make, they remind me of an old, old favorite: honey-roasted peanuts, and they're the perfect chewy combo of peanut butter, oats and coconut. Admit it, you're drooling right now. And guess what?
You can eat them for breakfast and totally get away with it.
Or, or, have you tried my no bake Cherry Chocolate Chip Chia Energy Bites? They taste like chocolate cherry pie. But in poppable, portable and potent (alright, I was desperately looking for another "p")… uh, protein-rich (bingo) form! If you like cherries and LOVE chocolate, these little bites of dessert protein are for you.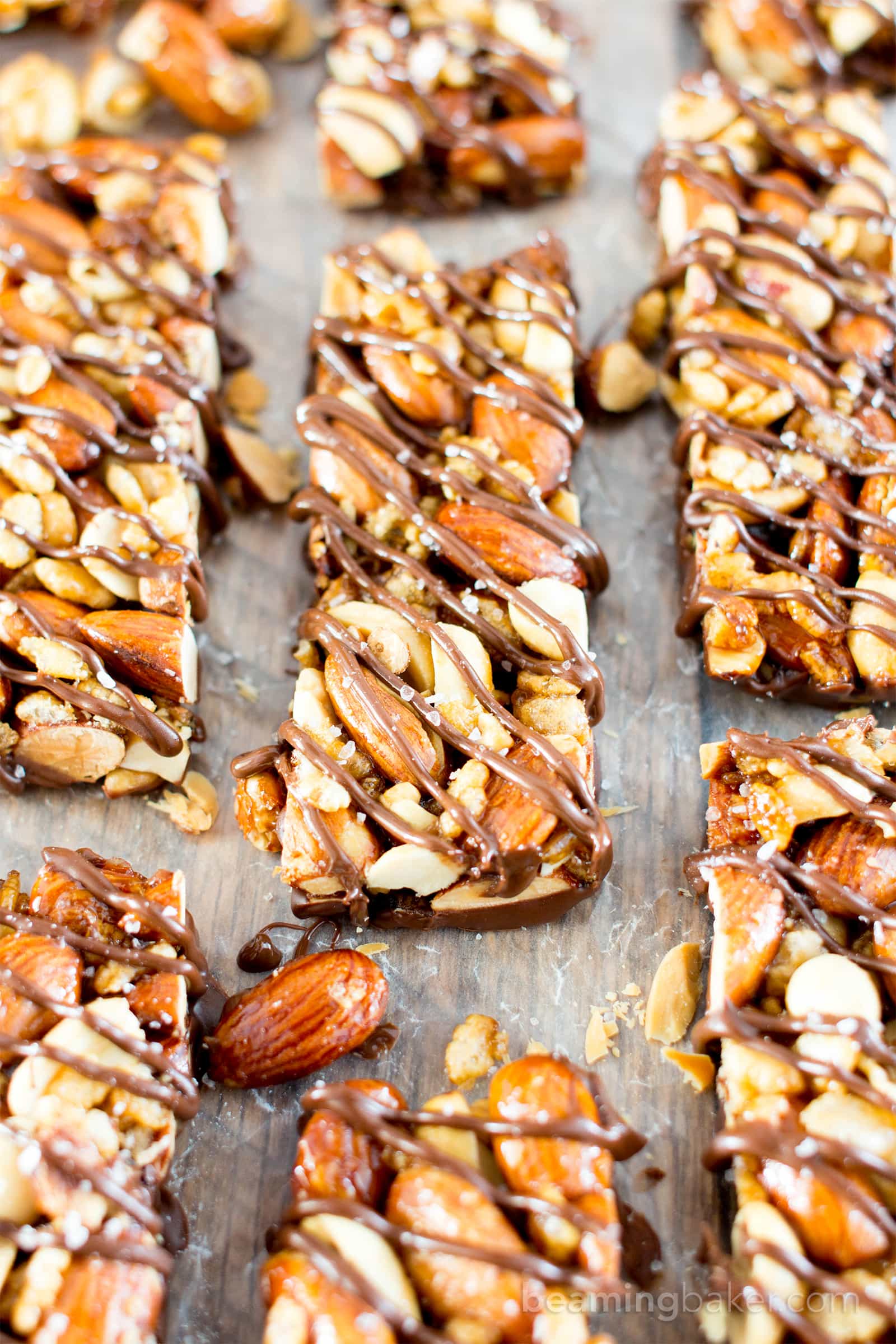 And don't even get me started on my Almond Butter Cookie Dough Granola Bars, No Bake Chocolate Peanut Butter Oatmeal Cookie Dough Bars, Double Chocolate Banana Muffins, or my Peanut Butter Chocolate Chip Oatmeal Breakfast Bars.
They ALL. Taste. Like. Dessert.
But you can eat them for breakfast.
Because that's how we roll here. ..
See what I mean? Dessert-level snacks are kind of my thing. And they're kind of our thing, don't you think? 🙂
Anywho, I get requests all the time for more candied nut recipes and more granola bar recipes… so I figured it was time to once again mashup the two in the most delicious way possible. These Homemade Dark Chocolate Sea Salt KIND Nut Bars taste like your favorite skillet-roasted, warm, cozy candied nuts… but coated in velvety, smooth, dark chocolate—your favorite kind of course. Then, lightly or generously (depending on how you like it) sprinkled with perfectly coarse gems of sea salt.
Tell me you can seriously resist the sound of that. Come on.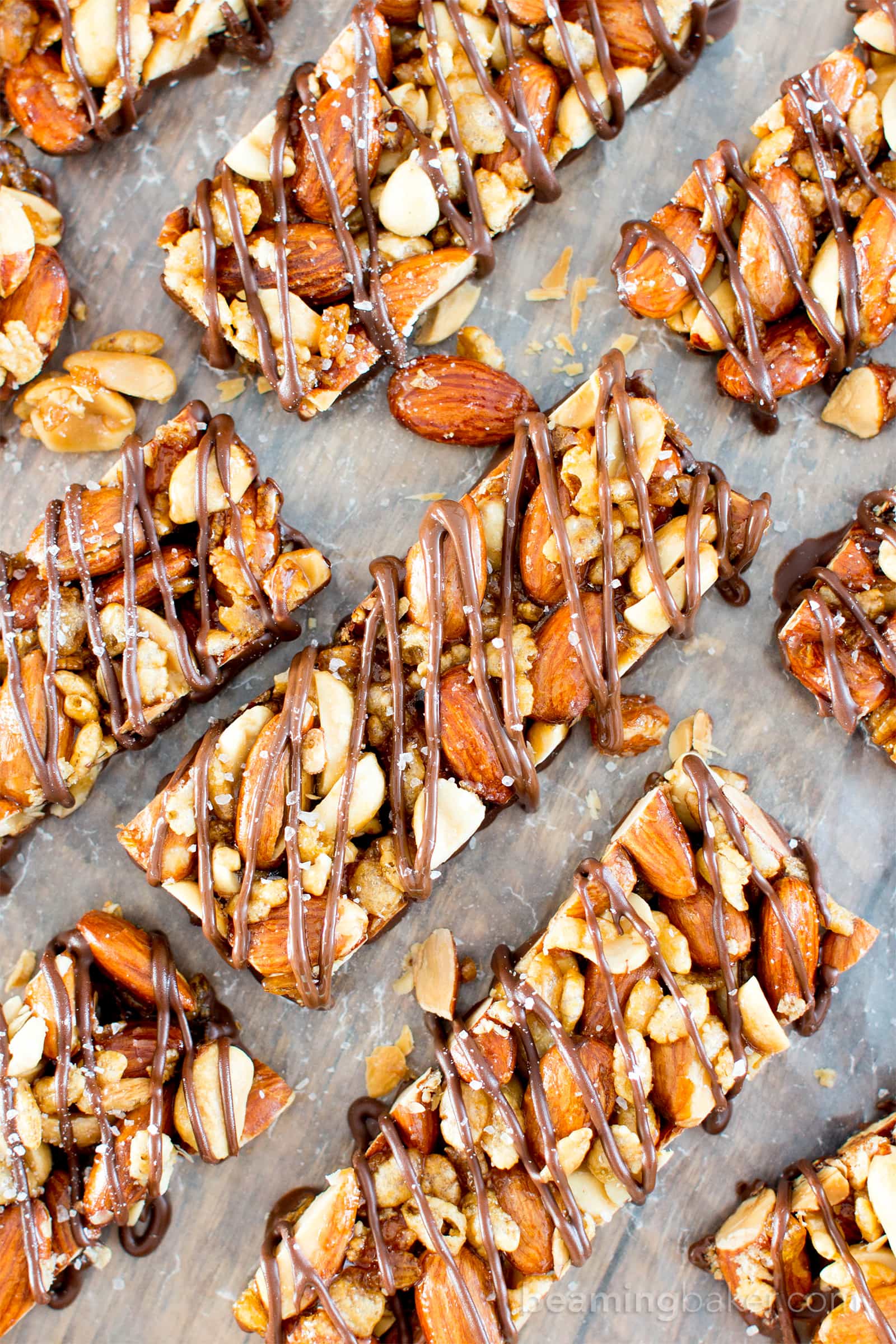 Best thing about these homemade dark chocolate sea salt KIND nut bars? They're made with just 1/4 cup of pure maple syrup for the entire batch. Yep, the ENTIRE batch. That's 12 bars worth. In case you're still not convinced, allow me to tell you all about these Homemade Dark Chocolate Sea Salt KIND Nut Bars. They're:
made with just 7 ingredients
SO much fun to dip and drizzle
vegan, gluten-free, dairy-free
scrumptiously salty and sweet
crunchy, chewy, satisfying
deliciously protein-packed
plant-based and allergy-friendly
perfect for dessert or a snack
made with the simple, healthy whole ingredients you love
all of your nutty chocolate dreams come true
(like, who doesn't have those?)
one of my favorite desserts. I mean snacks. I mean dessert. ..
So whaddya think? Are you ready to get your homemade KIND bar on? Let's SO do this! You've got to tell me how you like dipping and drizzling these guys. Erik and I had waaaaaay too much fun during the dreamy melting chocolate stage. Let's just say we may or may not have "accidentally" made a chocolate mess, which we had to "clean up" by eating. Yes, by eating…it ALL! I can't wait to hear what you think of this recipe! In the meantime, tell me…
What dessert-inspired snack would you like to see next on Beaming Baker?
Sending you all my love and maybe even a dove, xo Demeter ❤️
☀︎ Click below to Pin ☀︎

☀︎ Did you make this recipe? Take a pic and share it on Instagram with the hashtag #beamingbaker and tag @beamingbaker. I would love to see it! ☀︎
More Homemade Snack Recipes
Print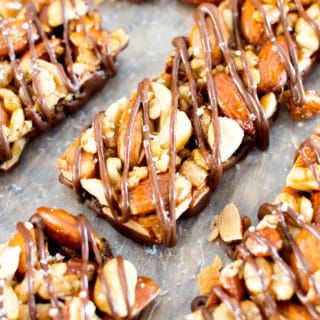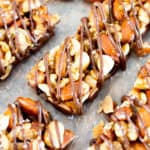 Homemade Dark Chocolate Sea Salt KIND Nut Bars (Gluten Free, Vegan, Dairy-Free, Protein-Packed)
---
Description
Homemade Dark Chocolate Sea Salt KIND Nut Bars (V, GF, DF): a protein-rich recipe for homemade KIND bars drizzled in dark chocolate and sprinkled with sea salt. Vegan, Gluten Free, Dairy-Free, Protein-Packed.
---
KIND Bars
1 cup

almonds

½ cup

peanuts

½ cup

vegan gluten free brown rice crisp cereal

¼ teaspoon

sea salt

¼ cup

pure maple syrup
Chocolate Coating
1/3 cup

vegan chocolate chips

½ teaspoon

coconut oil
Chocolate Drizzle
3 tablespoons

vegan chocolate chips

¼ teaspoon

coconut oil
Topping
---
Instructions
Preheat oven to 325°F. Line an 8-inch square baking pan with parchment paper. Set aside.
Make the bars: Add almonds, peanuts, cereal and salt to a large bowl. Stir until well mixed. Pour maple syrup over this mixture. Fold until well incorporated.
Pour this mixture into the prepared baking pan. Using a rubber spatula, smooth into a tightly packed, even layer. Bake for 30-40 minutes (mine took 35 mins). Bars must bake thoroughly, or they won't hold together when cooled.
Allow to cool for 1 hour, or until completely cooled. Use a heatproof spatula to gently lift and loosen bars from parchment. Slice into 12 bars (6 rows by 2 columns).
Line a large baking sheet with parchment paper or wax paper. Clear some room in the freezer for this sheet–you will need it later. Set the sheet on a clear work area.
Dip the bars: Melt the chocolate using the double boiler method, or doing the following. Add Chocolate Coating ingredients to a medium microwave-safe bowl (large enough to dip bars in). Heat in the microwave in 15-second increments until softened and melted. Stir in between heating, until smooth.
Dip the bottom of one bar into the melted chocolate, scraping off excess on the side of the bowl. There should be enough chocolate for a thin layer on each bar. Place on the prepared baking sheet. Repeat, spacing each bar evenly apart, until all bars are dipped.
Drizzle the bars: Add Chocolate Drizzle ingredients to a clean, microwave-safe bowl. Repeat heating instructions, until chocolate is smooth. Spoon melted chocolate into a zip bag with a tiny corner snipped off. Drizzle each bar in a zigzag pattern. Sprinkle sea salt over bars.
Place bars carefully into the freezer. Freeze for 10-20 minutes, or until chocolate is completely hardened. Enjoy! Storing instructions below.
Notes
– Adapted from my 5 Ingredient Homemade KIND Nut Bars (V, GF, DF).
– Storing instructions: for the first day, store in an airtight container in the refrigerator. After the first day in the fridge, you may store them at room temperature in a cool, dark environment for up to 1 month.
– More easy homemade snacks (all V, GF, DF): peanut butter cup oatmeal bars, cherry chocolate chip chia energy bites, peanut butter cookie energy bars, cranberry almond butter breakfast bars.
Category:

Energy Bars, Snacks, Vegan, Gluten-Free, Dairy-Free, Refined Sugar Free, Protein-Packed.
© beamingbaker.com. All content and images are protected by copyright. Please do not use my images or recipe without my permission. If you wish to republish this recipe, please re-write the entire recipe using your own words and include a link to this post for the recipe.
If you enjoyed this Homemade Dark Chocolate Sea Salt KIND Nut Bars recipe, then you'll just love these plant-based, allergy-friendly recipes:
Facebook ☀︎ Pinterest ☀︎ Twitter ☀︎ Instagram