No Bake Gluten Free Peanut Butter Fruit & Nut Cookies (GF, Vegan, Dairy-Free, One Bowl)
No Bake Gluten Free Peanut Butter Fruit & Nut Cookies (V, GF, DF): an easy, one bowl recipe for no bake peanut butter cookies bursting with dried fruits and nuts! Protein-Packed, Vegan, Gluten-Free, Dairy-Free.
Good morning! 🙂 I just literally wrote "Happy Monday," then crossed it out because apparently reading such a thing (make that an allegedly false thing) makes certain folks even grumpier. Let's just say I may or may not have friends who have a bad case of the Mondays.
O-kaaaay… I might be part of that group, too. Let's be honest.
So what's a gal to do when those Mondays just keep, er, coming? Well, COOKIES!! Make that No Bake Gluten Free Peanut Butter Fruit & Nut Cookies. Take that, Monday! Take that, sir! Ya know, my case of the Mondays really isn't even that bad this week. And I have PB2 to thank for that.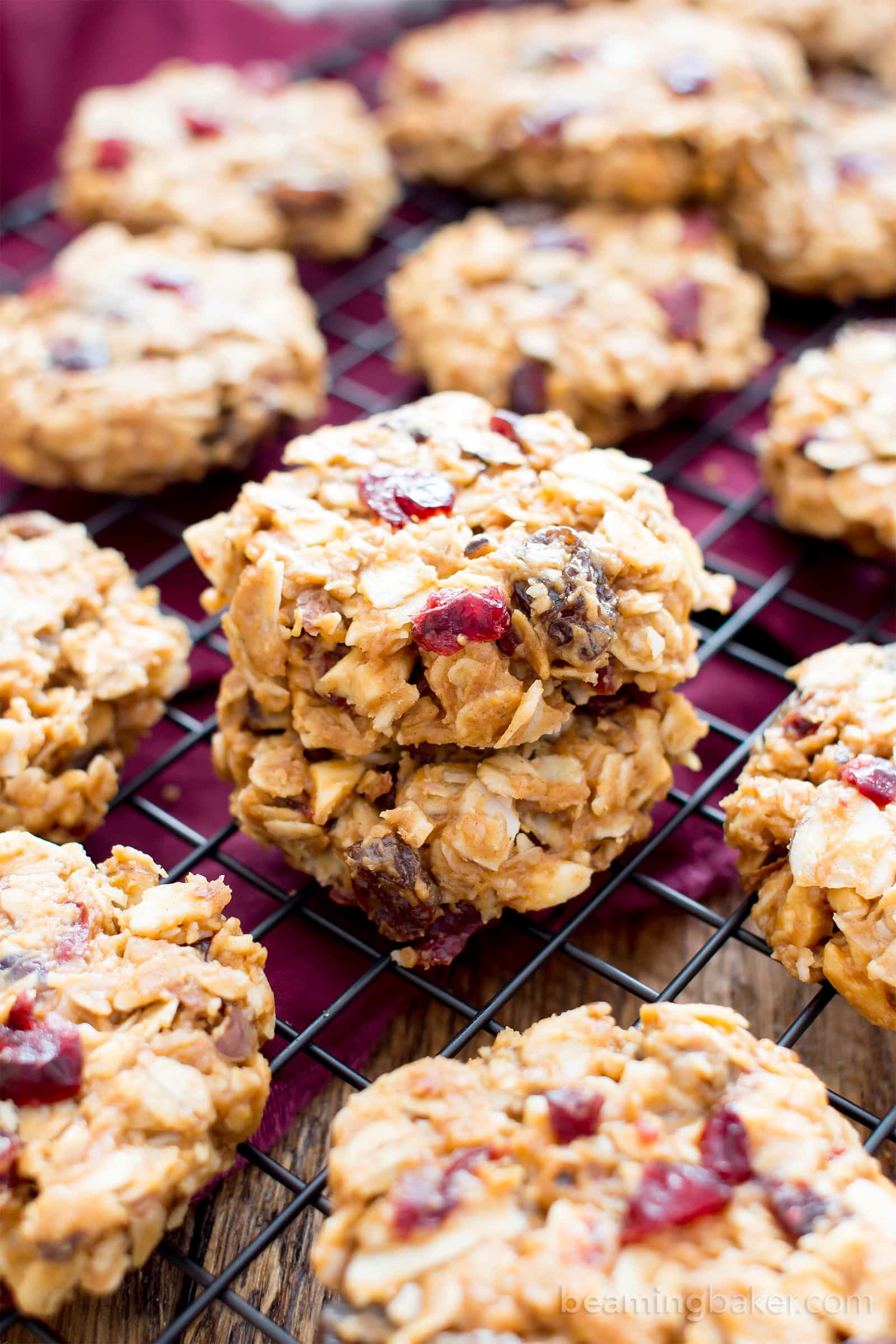 Before I get all rambly, as is my M.O., I'd like to dedicate these peanut butter cookies to PB2. Because, ya know… peanut butter!!
In case you missed it, in my last post, I mentioned a new addition to our family—wait, before you get too excited, it's not Erik and mine's, it's my sister Jenny's! Can you imagine me being pregnant and not even saying one word to you guys and just popping the sucker out?
Okay, don't tell Jenny I called a baby a "sucker."
So if you've been following along with BB for awhile, you know about PB. PB is the nickname for my recently turned four-year-old nephew Dylan. He's the pride and joy of our entire family, and a delightfully sassy little sir. He's basically a fast-moving ball of energy that's always bouncing off the walls, calling people funny names (like Mr. Tooty) and just growing up so fast.
He's the first grandchild in the family, first little nephew for all of us aunties, and has basically opened all of our eyes to how important it is to make time to slow down, live life and make time for hugs (my fave, of course). Here's a little more about him in this post, this one and this one.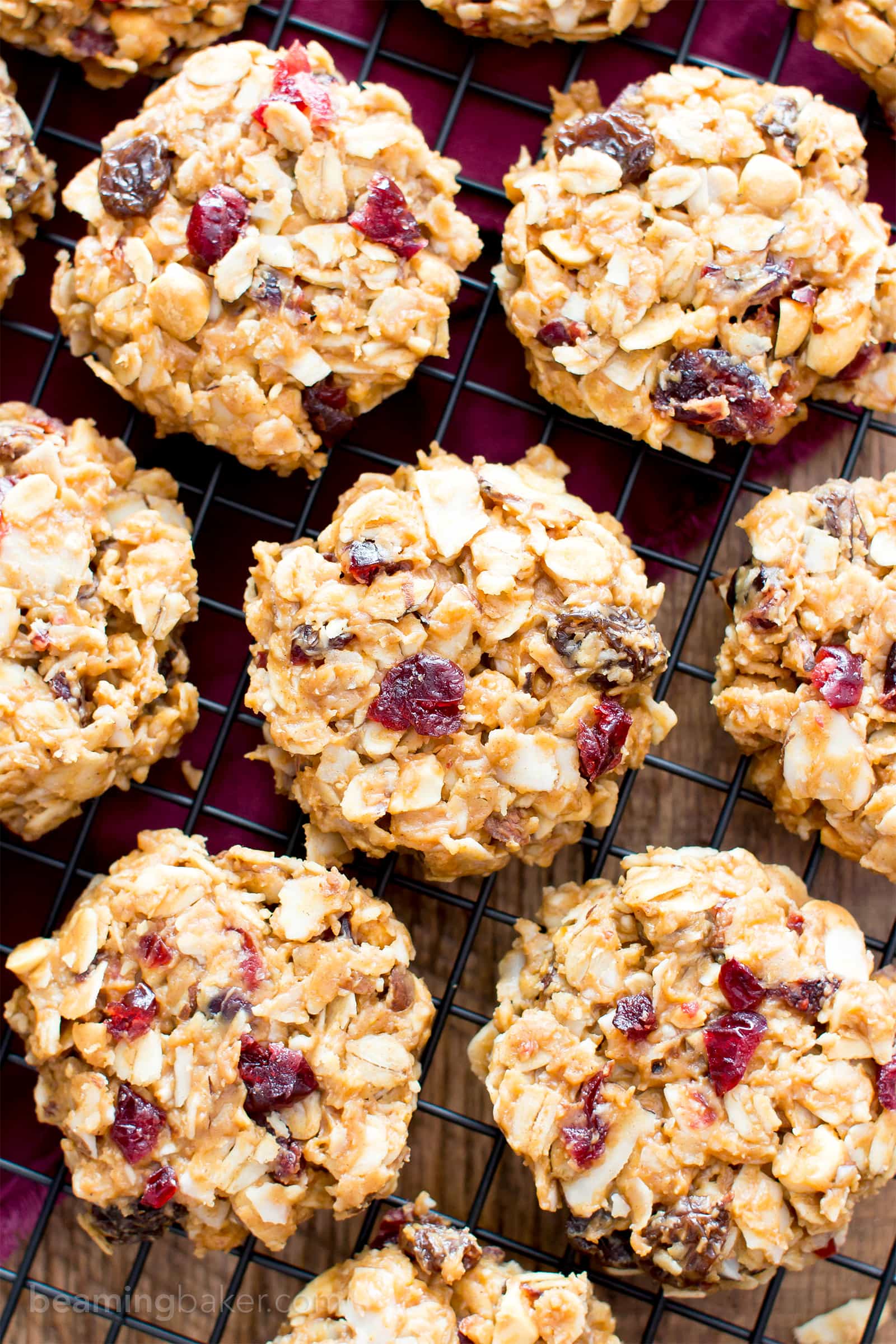 So a few months into Jenny getting pregnant, he started calling the baby PB2. We've all had a little laugh over that one… but all jokes aside, once the baby came out, I may or may not have accidentally called him "PB" once or twice…
Anyway, recently, we were SO excited to welcome PB2 aka/real name: Kai to the world. Isn't his name amazing? It's so beautiful and unique. I mentioned this in the other post, but, while Erik and I were frantically finishing up work so we could go see Kai, his dad sent a pic over. And I just started bawling. Like a baby.
I know, how appropriate. 😉
Erik teared up big time. Like red eyes and everything. It's just so crazy to think that this time, just four years ago, Kai's big bro came into the world, completely changing our lives. And now that PB2 is out, and looking exactly like his brother did as a wee one, I can't help but reflect.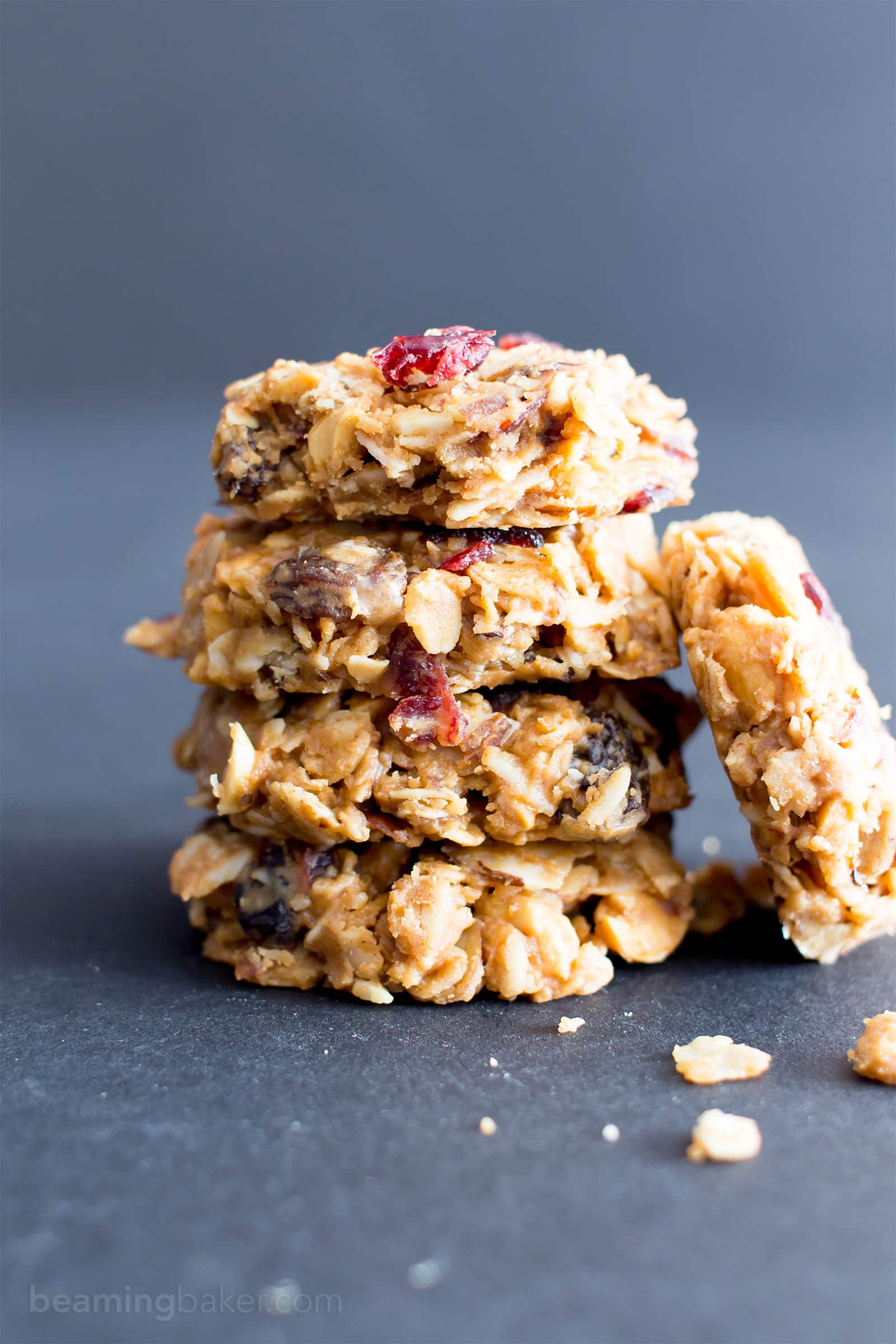 Like, where were we 4 years go? How did we feel about everything? Where were we in our careers, our relationships, our whole life-progess chart? Intense, I know. But I'm pleased to report that things are so much better.
When PB was born, we'd just starting recovering from family tragedy and plenty of heartbreak. It was like PB came into this world as a beacon of hope, a signal that everything would change, for the better. And thank goodness, it DID. Dylan made us laugh again, smile again, feel light again.
And now that PB2 aka Kai is here, we can't wait to show him this bright new world. There will be so many firsts, so many new, fun embarrassing stories to share (you can't wait, I'm sure), so much joy.
So will you join me in welcoming Kai? 🙂 I hereby dedicated these No Bake Gluten Free Peanut Butter Fruit & Nut Cookies to PB2. We love you, little sir.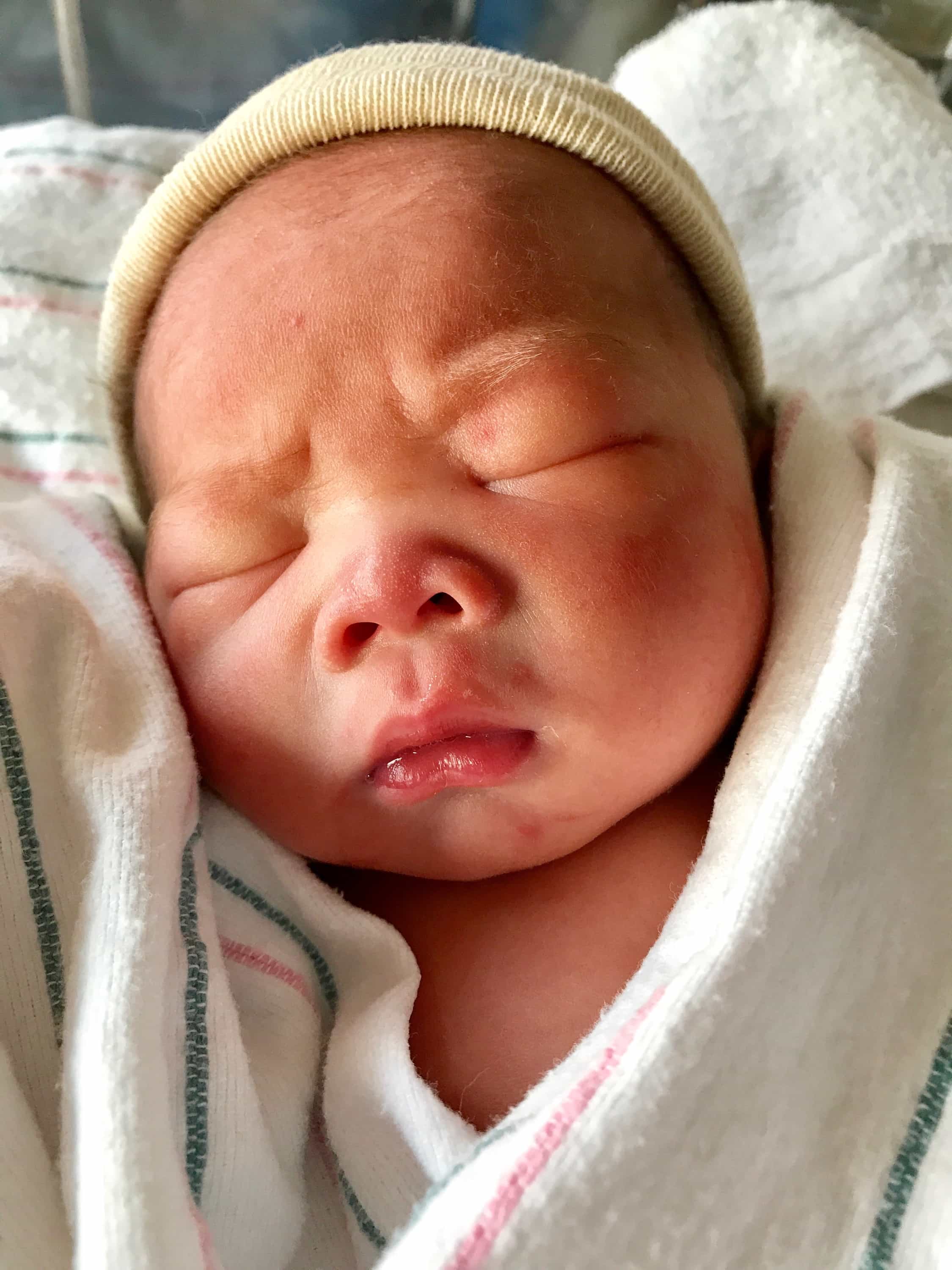 Now let's talk about the recipe! These no bake delights are one of my current biggest faves! Erik's already talking about making batch after batch. You know, recently, he's really gotten into making my recipes. He gets a bit nervous operating the kitchen equipment (think: whisk and spatula lol), and is super careful about measuring out every ingredient.
Once he's done, he's like a proud child! Chest puffed up, biggest smile you've ever seen on his face. Glowing like the sun, I like to say. And when I bite into that cookie/muffin/bar and grin, he jumps up and down and wiggles his eyebrows like, see!!! I knew I could do it!! And I'm like, of course you can!!!
Anywho, back to the recipe (darn it, maybe I do have a case of the Mondays… or just a regular and consistent inability to focus on one subject lol). These cookies are soft, chewy, deliciously textured and packed FULL of your favorites: peanut butter, oats, dried cranberries, raisins, almonds and more. Oh, and while I'm on the subject of totally delish cookies, you've got to check out my friend Maya's gluten-free shortbread cookies on her amazing blog, Wholesome Yum. Just remember to use vegan butter or coconut oil to make them vegan & dairy-free. 😉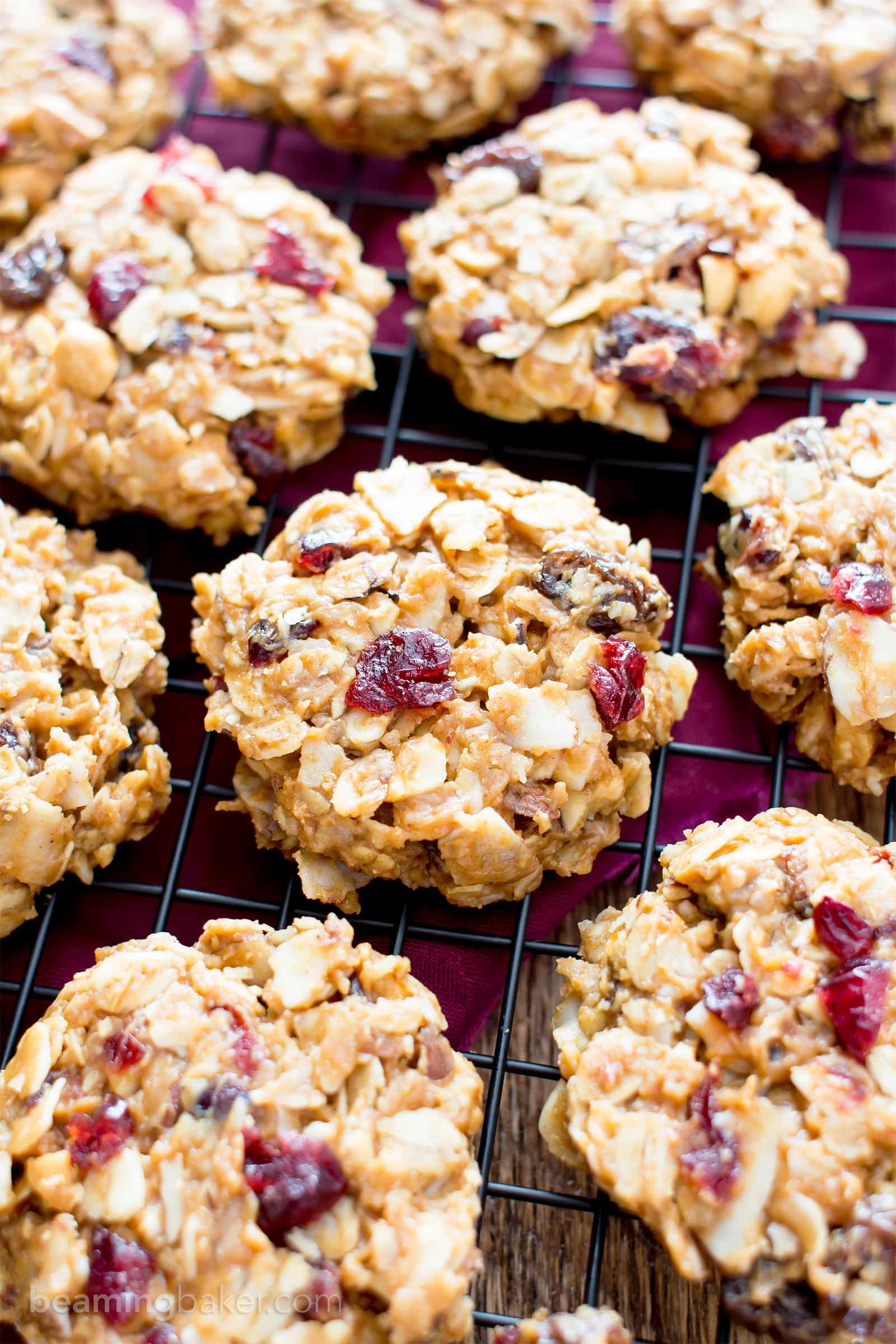 Aaaaand… there I go again with my tangents! Blushing over here… Back to these fab cookies. They're SO easy to make. No baking, no heating, no cooling required! Okay, there's a little freezing. D'oh! They come together pretty quickly. And once you're done, you'll be very pleased with yourself. Kind of like Erik, I like to think. 😉
Here are a few highlights, just in case. These No Bake Gluten Free Peanut Butter Fruit & Nut Cookies are:
made in just one bowl
wonderfully soft and chewy
vegan, gluten-free, dairy-free
bursting with delicious dried fruit
packed with nuts
awesomely protein-packed
made with the simple, healthy, whole ingredients you love
plant-based and allergy-friendly
whole grain and refined-sugar free
super easy to customize with your favorites
perfect as on-the-go healthy snacks
great for a post-workout energy boost
amazing as a guilt-free dessert
dedicated to a super special little guy, PB2
Grab a bowl and your favorite fruits and nuts (or follow the recipe, whatever floats your boat) and meet me in the kitchen! It's high-time we get our no-bake on! It's truly such a pleasure to make these homemade bites of delight with you. I seriously can't wait to hear what you think of this recipe. In the mean time, tell me:
What no bake cookies would you like to see me make next?
Sending you all my love and maybe even a dove, xo Demeter ❤️
☀︎ Click below to Pin ☀︎

☀︎ Did you make this recipe? Take a pic and share it on Instagram with the hashtag #beamingbaker and tag @beamingbaker. I would love to see it! ☀︎
Print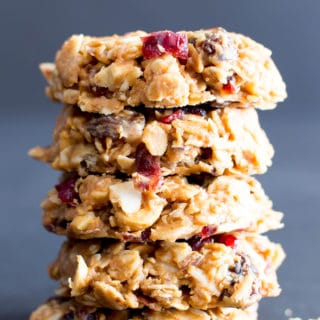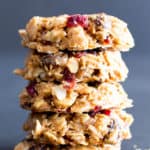 No Bake Gluten Free Peanut Butter Fruit & Nut Cookies (GF, Vegan, Dairy-Free, One Bowl)
---
Description
Gluten Free No Bake Peanut Butter Fruit & Nut Cookies (V, GF, DF): an easy, one bowl recipe for no bake peanut butter cookies bursting with dried fruits and nuts! Protein-Packed, Vegan, Gluten Free, Dairy-Free.
---
Dry Ingredients
¾ cup

gluten free rolled oats

½ cup

unsweetened coconut flakes

¼ cup

sliced almonds

¼ cup

peanuts, chopped

¼ cup

dried cranberries, chopped

¼ cup

raisins
Wet Ingredients
¾ cup

natural, unsalted creamy peanut butter

¼ cup

pure maple syrup
Optional
2 tablespoons

raisins & chopped cranberries
---
Instructions
Line a baking sheet with parchment paper or wax paper. Set aside.
In a large bowl, stir together the dry ingredients: oats, coconut, almonds, peanuts, cranberries and raisins. Stir until well mixed.
Add peanut butter and maple syrup. Stir and fold until thoroughly combined and thickened, like cookie dough.
Using a 2-tablespoon cookie scoop, scoop and drop balls of cookie dough onto the prepared baking sheet, evenly spaced apart. Using a fork, flatten cookies to desired thickness. Optionally, press raisins and cranberries into the tops of each cookie.
Chill in the freezer for 10-20 mins, until firm. Enjoy! Storing instructions below.
Category:

Cookies, No Bake, Vegan, Gluten Free, Dairy Free, Whole Grain
© beamingbaker.com. All content and images are protected by copyright. Please do not use my images or recipe without my permission. If you wish to republish this recipe, please re-write the entire recipe using your own words and include a link to this post for the recipe.
If you enjoyed this No Bake Gluten Free Peanut Butter Fruit & Nut Cookies recipe, then you'll just love these plant-based, allergy-friendly recipes:
☀︎ More Gluten Free Vegan Protein-Packed No Bake Cookies & Bites Recipes
4 Ingredient No Bake Peanut Butter Cookie Energy Bars (Vegan, GF, DF) | 4 Ingredient No Bake Peanut Butter Coconut Energy Bites (V, Gluten-Free, Dairy-Free) | Easy Oatmeal Raisin Cookies (V, GF, Flourless, Whole Grain) | No Bake Almond Joy Bites (Vegan, GF, Dairy-Free) | No Bake Chocolate Peanut Butter Bars (Gluten-Free, Dairy-Free, GF) | Gluten Free No Bake Brownie Energy Bites | and just for fun… Gluten Free Maple Pecan Pumpkin Muffins! 😉
This post may contain affiliate links, which allow me to make a small commission for my referral, at no additional cost to you. Thank you for supporting Beaming Baker.
Facebook ☀︎ Pinterest  ☀︎ Twitter ☀︎ Instagram