Gluten Free Cranberry Almond Butter Oatmeal Breakfast Bars (V, GF): an easy recipe for soft, texture-rich energy breakfast bars bursting with cranberries and almonds. Whole Grain, Vegan, Gluten-Free, Dairy-Free.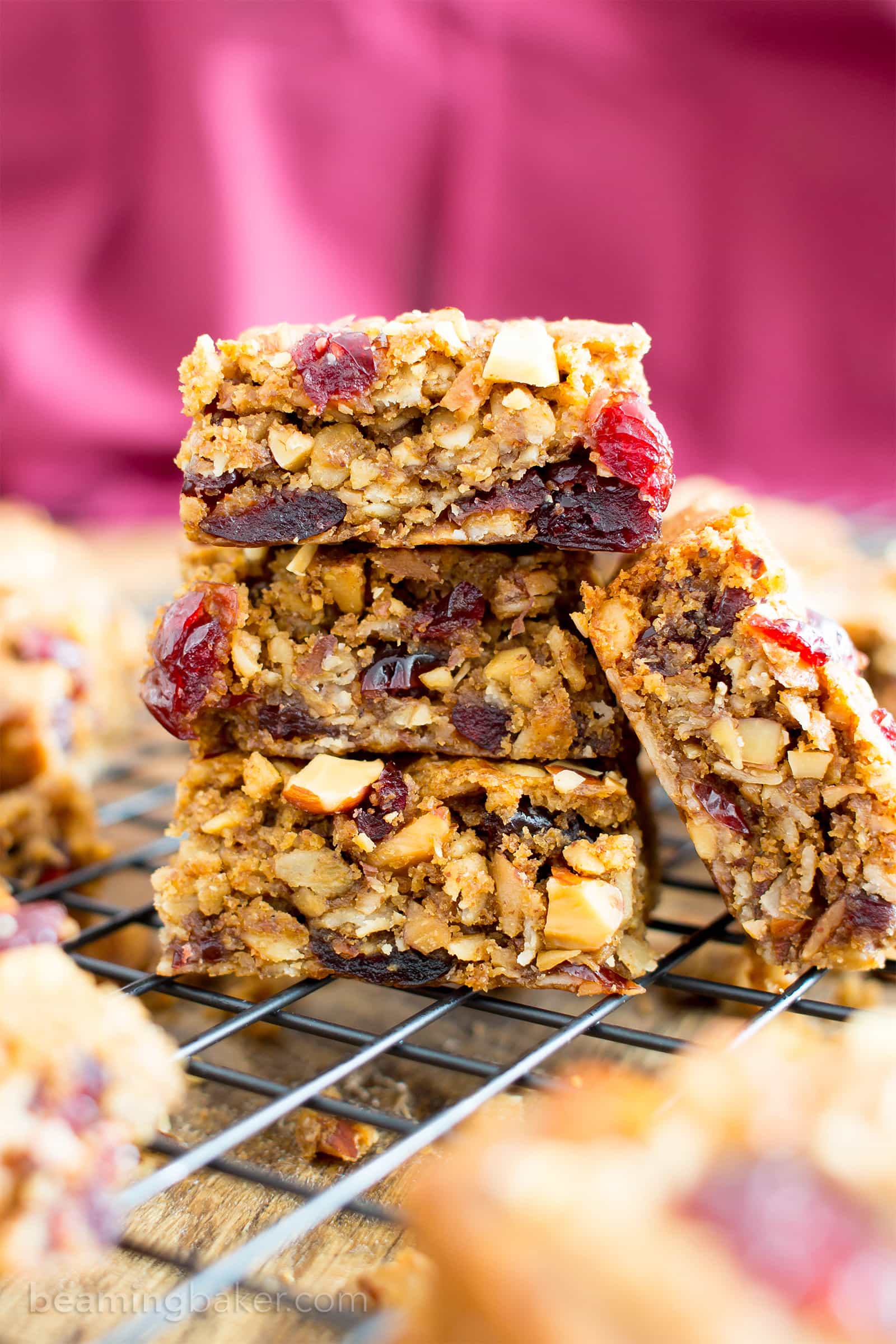 By now you might know that I have some ridiculously awesome sisters. Like, seriously. Yeah, sometimes I'm like, whyyyyyyy are you guys so amazing? Can you guys tone it down a bit so other folks (i.e. me) don't look so bad? Or… maybe y'all should write a book about how to be BEYOND awesome. And while you're at it, find me the perfect synonym for "awesome" because you guys do it ALL. 😉
Also because I really need a brand spanking new, but equally enthusiastic word replacement for awesome. Any suggestions y'all? Any at all? I don't want things to get stale here or anything…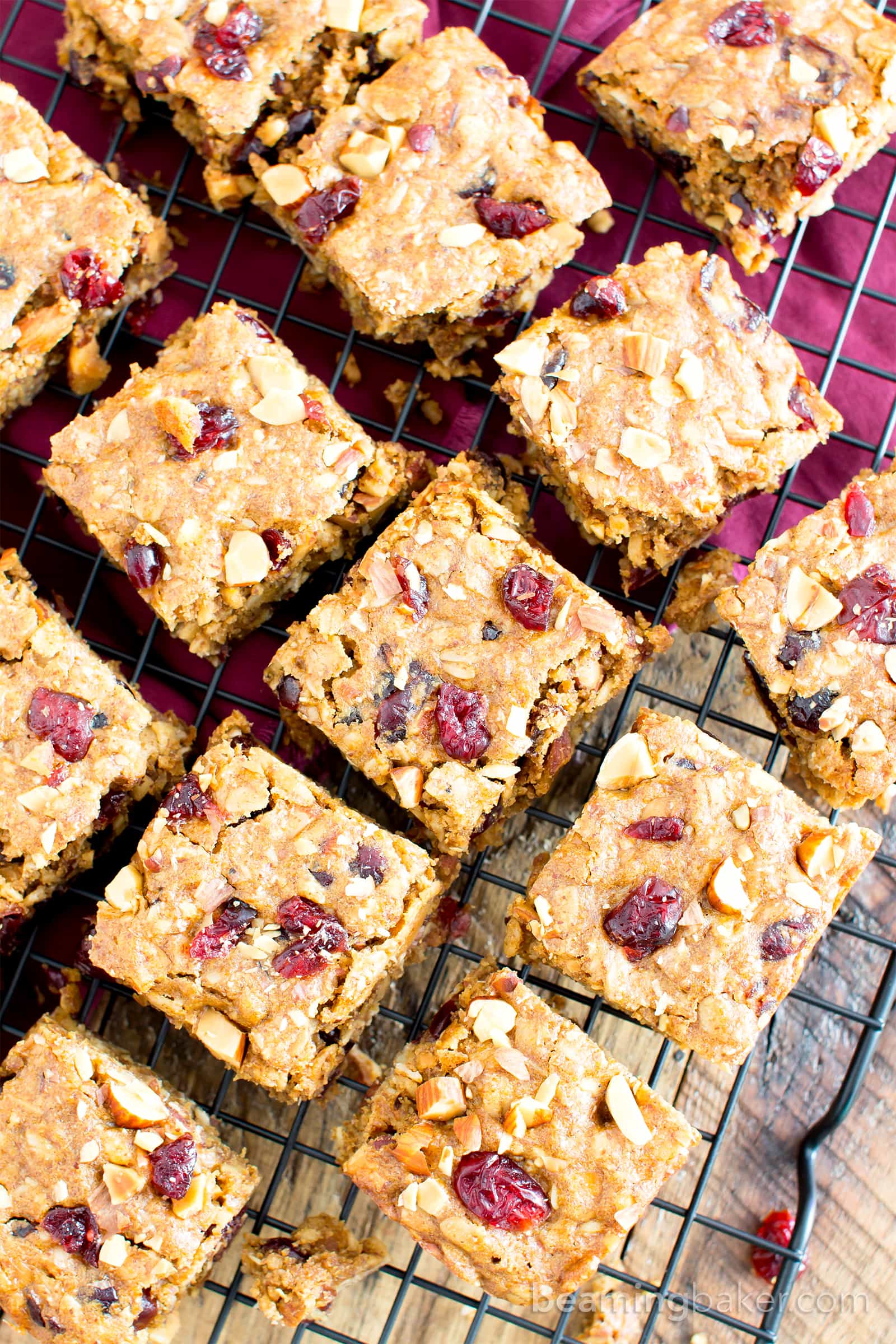 Anywho, with it being my sister Jenny's birthday's season (yes, an entire season for birthday celebrations, because: why not), I got to thinking about why this gal is so freaking awesome cool beans.
Like, did you know that Jenny is the reason why these gluten free Cranberry Almond Butter Oatmeal Breakfast Bars exist? Take it back even further and well… Jenny is one of the main reasons why this blog even exists! She's one of the very first folks that told me to create a food blog.
YES, Jenny, I've finally admitted it. You get loads and loads of credit for this here Beaming Baker. 🙂 She'd been telling me for years and years that I should create a food blog. In fact, she'd been telling me for years that I could and should do anything and everything I dreamed of.
That's the kind of sister she is. Encouraging, inspiring, has your back 'til the end of time kind of sis. Yep, I'm totally lucky. Well, for her birthday, I made these appropriately pink (she loves pink) Gluten Free Cranberry Almond Butter Oatmeal Breakfast Bars. And I thought it might be high time for a super fun Top 5 List, in celebration of Jenny's awesomeness (see, I need more words!). So without further ado, let's get this birthday party/listicle started!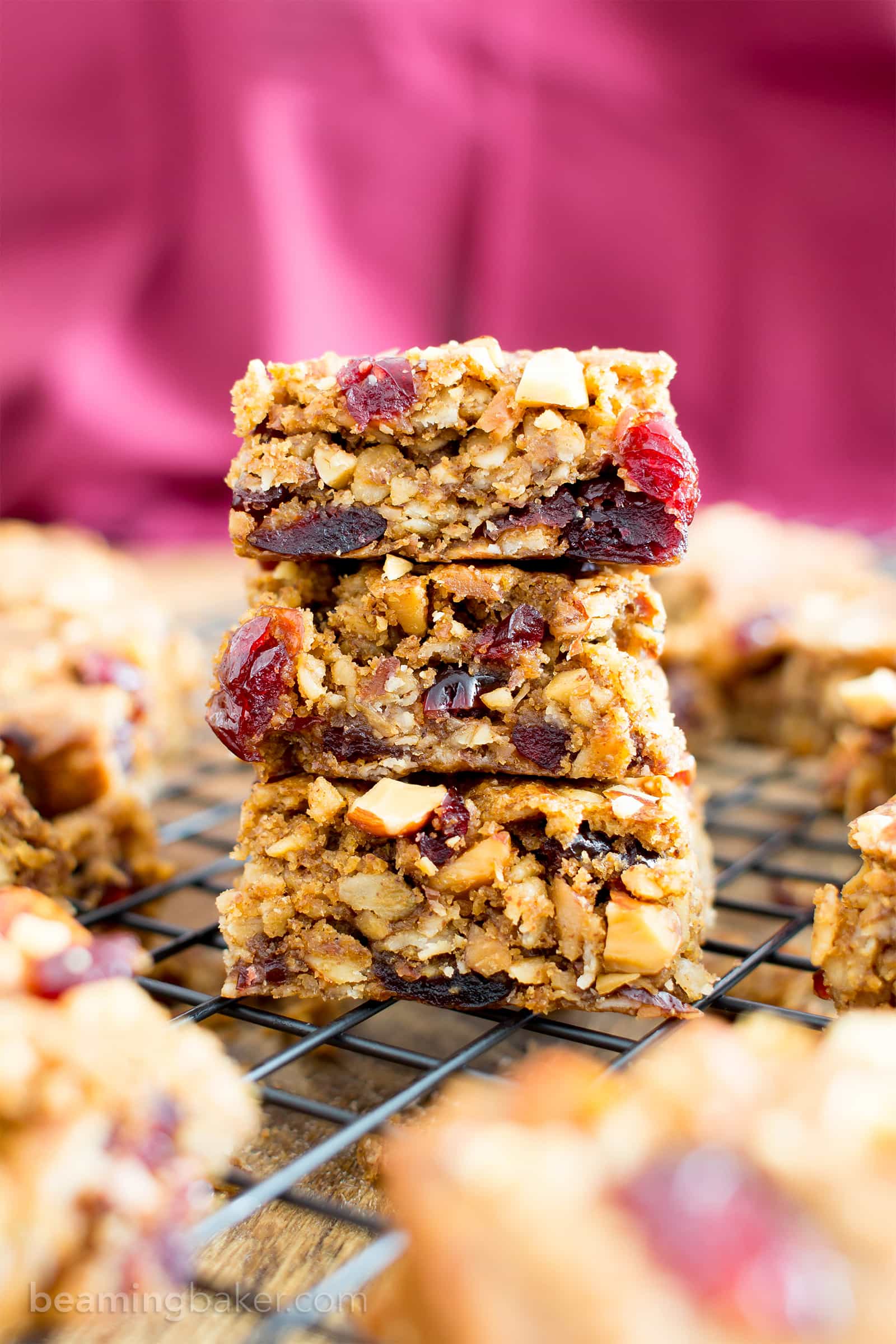 Top 5 Reasons Why Jenny Rocks/Happy Birthday Jammy!!!
5
Buffy the Vampire Slayer
Alright, WHO saw this coming??? Any Buffy fans out there? 🙂 As a youngin', Jammy exposed me to all kinds of amazing, intellectual and highbrow pop culture (yes, I'm joking, but not really .). There was sassy and strong AF Buffy, there was the New Adventures of Superman, and even… well, let's not spoil Number 3. Anyway, I love that Jenny loved Buffy because it makes me think so much about how Jenny appeared so shy and rules-following on the outside, but was totally a brave and kickass gal on the inside. Sometimes, ya just gotta break a few rules to save the world, right? 😉
4
Kindness, Generosity, Loyalty
If I could go on with this list, I would. But then everyone would fall asleep and be like, "WHERE are these so-called Gluten Free Cranberry Almond Butter Oatmeal Breakfast Bars I came here for?" And, "you write too much." Also, "Why are you always writing such long, boring posts that no one wants to read?" <— This here is the OPPOSITE of how Jenny is. And yes, I DO get these "constructive" comments.
Back on point (sorry, Jenny), her kindness, generosity and loyalty is unparalleled. She understands when no one else does. She'll give you everything she has, even if she doesn't have anything left for herself (I know). And she'll have your back no. Matter. What. ❤️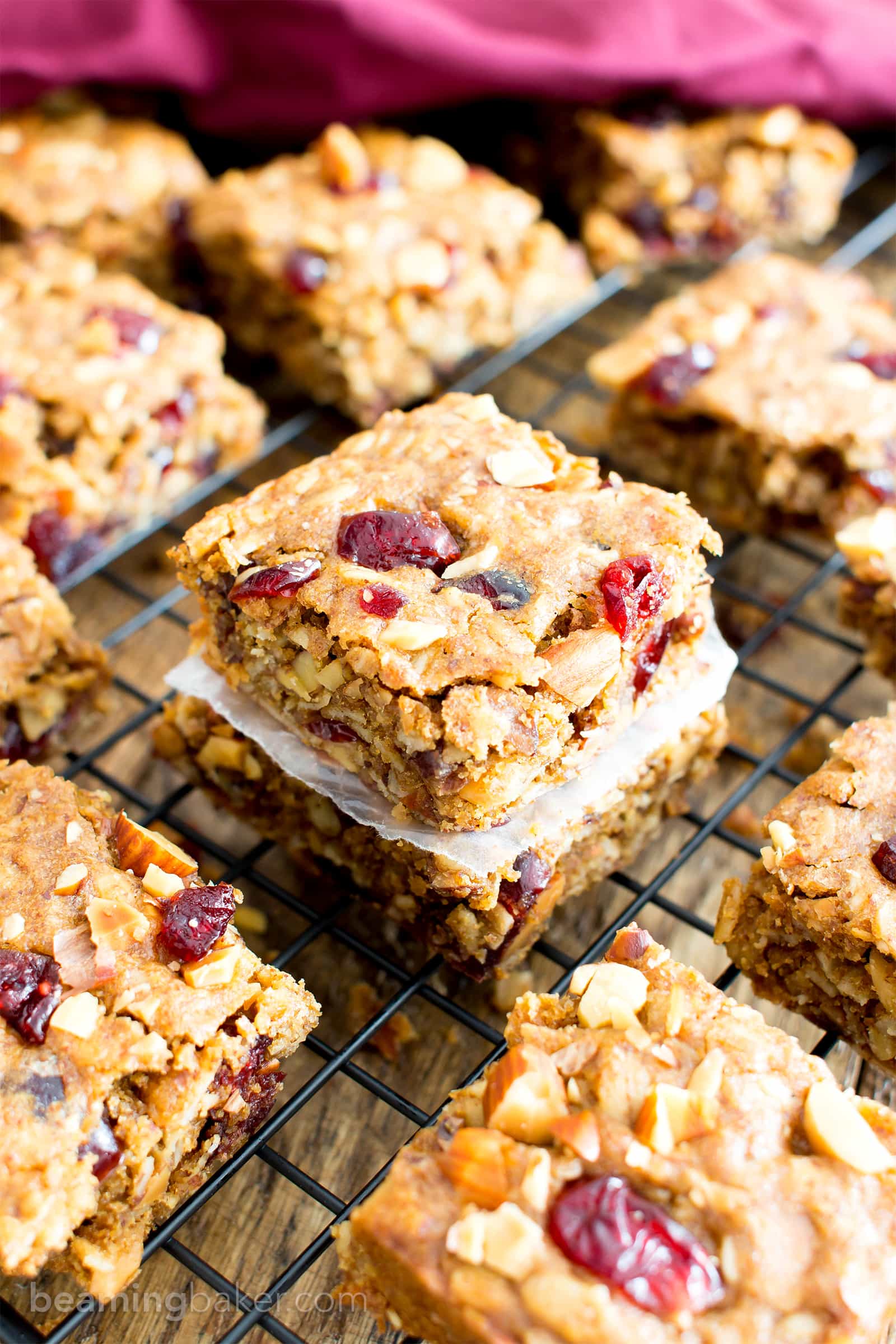 3
X-Files
UM… heck yeah this is one of the Top 3 reasons why Jenny Rocks (I'm really trying not to use the word awesome here, folks!!!) Any X-philes out there?? Any chance you guys get a little confused when someone says "X-phile" out loud and you think that they're just referring to the show and not the fact that they're a fan? Oy, I'm off track again now!! X-Files = I Want to Believe. That's Jenny in a nutshell. Sometimes no one else believes in you, but you ALWAYS have to believe in yourself. And the people you love. Thank you for always believing in us, Jenny.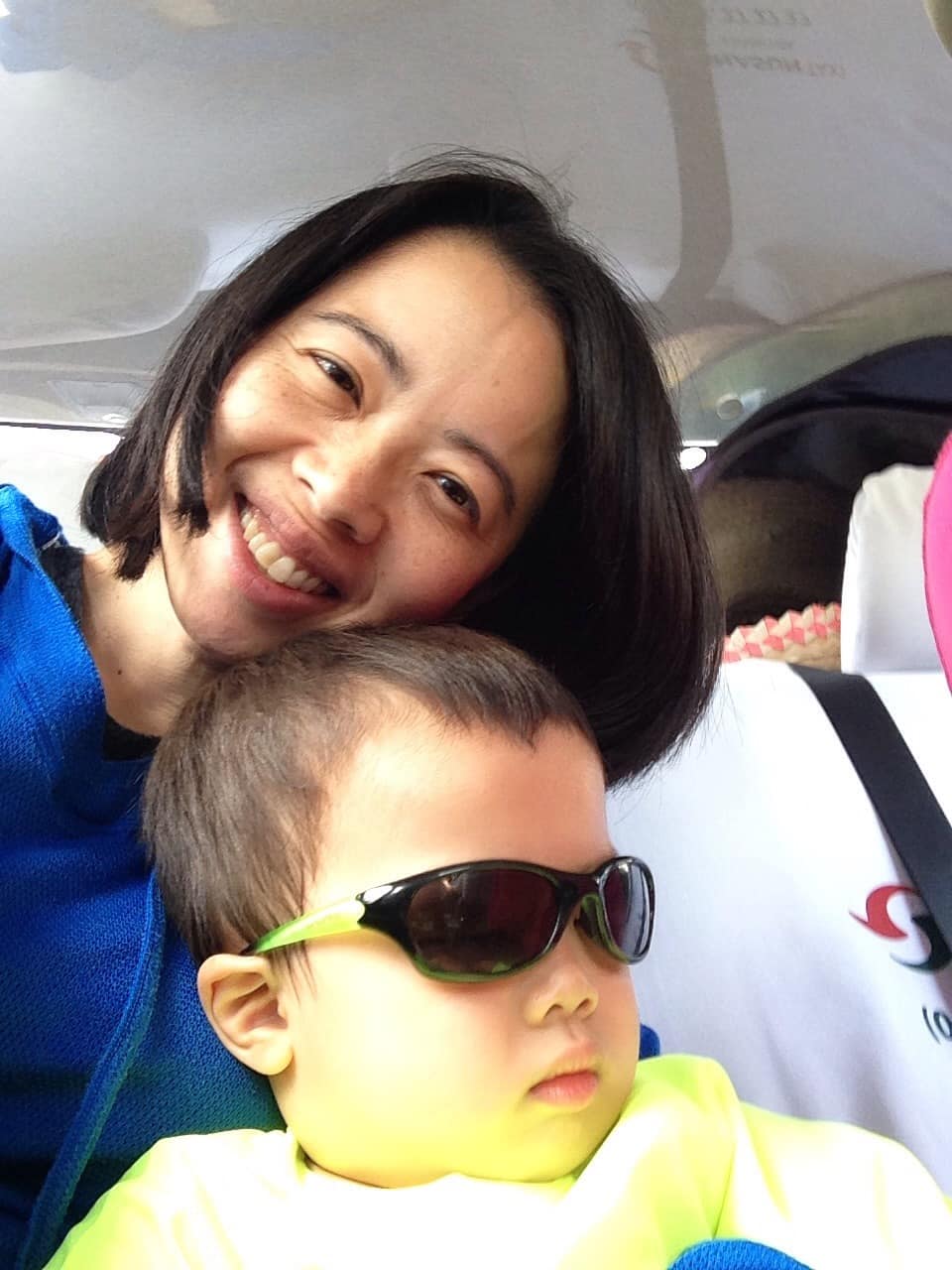 2
#MomGoals
Jenny is the BEST mom ever. But not to be outdone by our mom, who—okay, I'm gonna stop before I Chandler this. It's just… I knew Jenny before she was a mom. I spent most of my life thinking of her as my sister. And suddenly, to see her in this new role, to see everything change… it's just one of the most beautiful and meaningful things I've ever experienced. As a mom, she's more patient, she's stronger—like STRONGER than anyone I've ever met, she's more empathetic, she's… peaceful. It's like I'm meeting her for the first time, and each time I have something new to learn, and it's amazing. <3
One day, if I ever become a mom, I'll know exactly who to look up to, who to ask for advice, who to just… #MomGoals, y'all.
1
Biggest Heart EVER.
I'll just leave it at that. Love you Jenny, even if you're too uncomfortable to say it back. 🙂 I can be mushy, gooey and cheesy enough for the both of us.
Happy Birthday, to the best sister ever (not to be compared/confused with my other best sisters ever, Monica and Penny). Did anyone call for Chandler?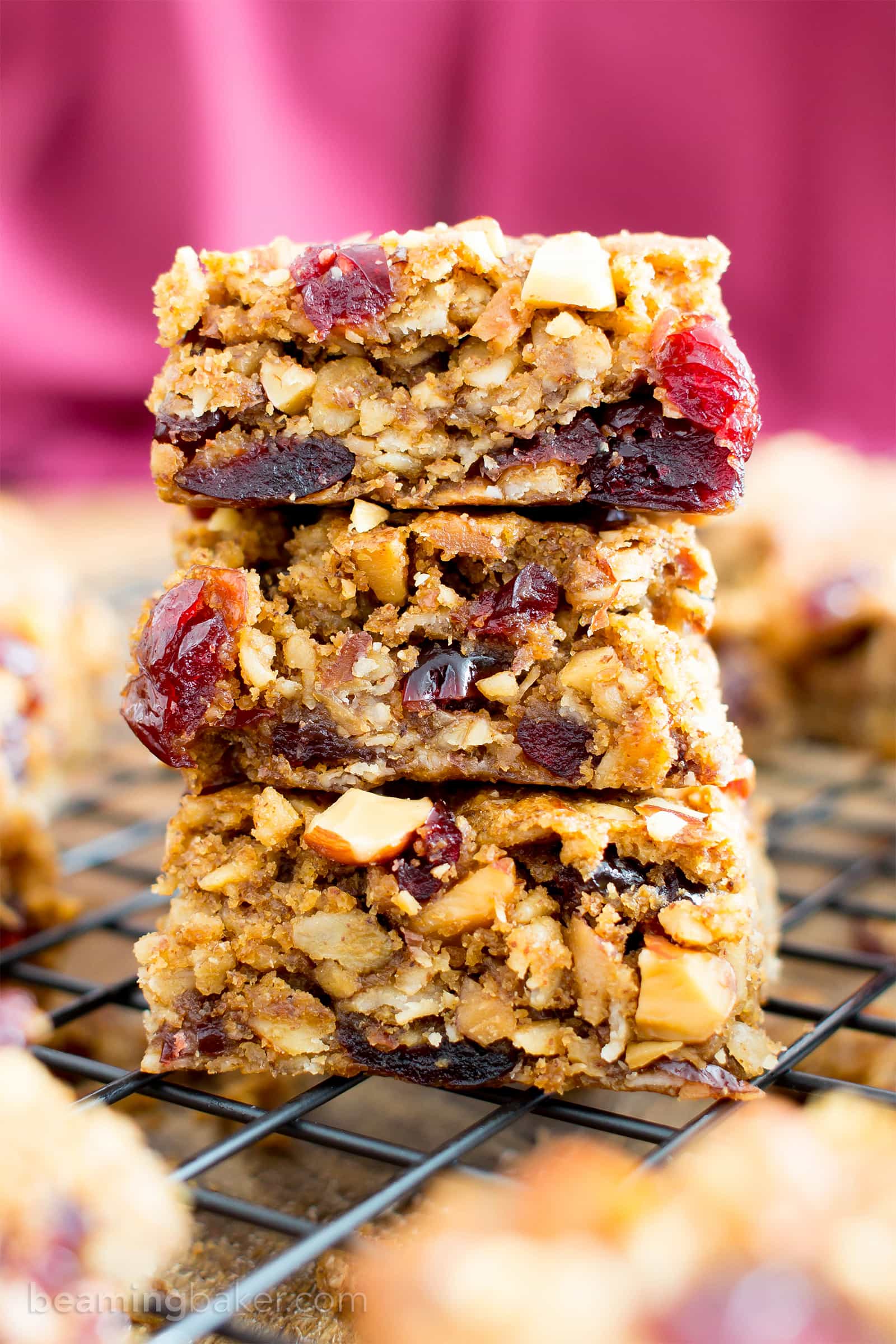 And now, onto the annual birthday dedication recipe: welcome to my Gluten Free Cranberry Almond Butter Oatmeal Breakfast Bars aka Happy Birthday Jenny Breakfast Bars! Here are all the awesome (but not bc we're holding a casting call for "awesome" synonyms) things about these bars!
They're:
easy to make, in just two bowls
nutrient-rich, like, woah
soft, thick and satisfying
vegan, gluten-free, dairy-free
deliciously packed with oats, nuts and fruits
wonderfully refined sugar free
the perfect balance of sweet, tart and nutty
made with the whole, healthy ingredients you love
plant-based and allergy-friendly
the tastiest way to enjoy your protein
the perfect on-the-go breakfast snack
…or gym snack, or dessert!
So what do you think? Would you like to whip up a batch of these gluten free cranberry almond butter oatmeal breakfast bars and raise a few in celebration of Jenny's birthday with me? We may or may not be brainstorming how to use layers of this, then use almond butter frosting, then layers of cranberries and almonds, to turn this into a layer cake. 😉 Hmm… now I'm really hungry.
Speaking of which, just in case you're a HUGE cranberry fan like some of the folks in my fam are, may I suggest to you a few cranberry recipes for your enjoyment? 🙂 First off, you can finally learn how to make cranberry sauce, deliciously vegan and gluten free, from my good friend Erin from Texanerin. She's a GENIUS, just sayin'. Next stop on your cranberry journey? Gingerbread Oatmeal Homemade Breakfast Bars! Chewy, thick, bursting full of festive flavors and just the right way to start your morning. Then, perhaps make these (just to, ya know, round it all off nicely): vegan cranberry chocolate chip cookies, no bake cranberry coconut energy bites, and gluten free vegan pumpkin bread (just for fun). Enjoy!
Anywho! I'm so happy to be here with you, mixing/stirring/baking all the fantastically homemade treats that you and your family deserve. I can't wait to hear what you think of this recipe! In the meantime, tell me…
What flavor combo of breakfast bars would you like to see next?
Sending you all my love and maybe even a dove, xo Demeter ❤️
☀︎ Click below to Pin ☀︎

☀︎ Did you make this recipe? Take a pic and share it on Instagram with the hashtag #beamingbaker and tag @beamingbaker. I would love to see it! ☀︎
A few easy Gluten Free Vegan Breakfast Recipes you might like…
Print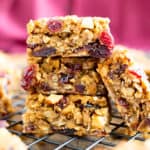 Gluten Free Cranberry Almond Butter Oatmeal Breakfast Bars (Vegan, GF, Dairy-Free)
---
Description
Gluten Free Cranberry Almond Butter Oatmeal Breakfast Bars (V, GF): an easy recipe for soft, texture-rich energy breakfast bars bursting with cranberries and almonds. Whole Grain, Vegan, Gluten-Free, Dairy-Free, Refined Sugar Free.
---
Dry Ingredients
¾ cup

gluten free rolled oats

¼ cup

gluten free oat flour

¼ teaspoon

baking powder

¼ teaspoon

baking soda

¼ teaspoon

salt
Wet Ingredients
2

flax eggs (whisk together

2 tablespoons

ground flax +

6 tablespoons

water, let set for 15 mins)

2 tablespoons

melted coconut oil

¼ cup

+

2 tablespoons

natural, unsalted almond butter

¼ cup

coconut sugar

½ teaspoon

pure vanilla extract
Add-in Ingredients
½ cup

dried cranberries, roughly chopped

½ cup

almonds, chopped
Optional Topping
1 tablespoon

dried cranberries, chopped

1 tablespoon

almonds, chopped
---
Instructions
Preheat oven to 350°F. Line an 8-inch square baking pan with parchment paper or greased foil. Set aside.
In a large bowl, whisk together all of the dry ingredients: oats, flour, baking powder, baking soda and salt.
In a medium bowl, whisk together all of the wet ingredients: flax eggs, coconut oil, almond butter, coconut sugar and vanilla. Whisk until smooth.
Pour the wet mixture over the dry mixture. Using a rubber spatula, fold until well combined. Fold in cranberries and almonds.
Pour into the prepared baking pan. Using the rubber spatula, spread into an even layer. Optionally, sprinkle with cranberries and almonds.
Bake for 22-28 minutes. Mine took 25 minutes. You'll know it's done when the edges turn a dark, golden brown.
Place on a cooling rack for 1 hour, or until completely cool. Slice into 16 bars. Enjoy!
Category:

Breakfast, Bars, Vegan, Gluten Free, Dairy-Free, Whole Grain
© beamingbaker.com. All content and images are protected by copyright. Please do not use my images or recipe without my permission. If you wish to republish this recipe, please re-write the entire recipe using your own words and include a link to this post for the recipe.
If you enjoyed this Gluten Free Cranberry Almond Butter Oatmeal Breakfast Bars recipe, then you'll just love these plant-based, allergy-friendly recipes:
☀︎ Gluten Free Vegan Protein-Rich Breakfast Recipes
Gluten Free Banana Chocolate Chip Oatmeal Breakfast Bars | Peanut Butter Chocolate Chip Oatmeal Breakfast Bars | Easy Vegan Peanut Butter Banana Breakfast Cookies | No Bake Cranberry Coconut Energy Bites
Facebook ☀︎ Pinterest  ☀︎ Twitter ☀︎ Instagram