No Bake Blueberry Almond Chia Energy Bites (Vegan, Gluten Free, Dairy-Free, One Bowl)
No Bake Blueberry Almond Chia Energy Bites (V, GF): a quick 'n easy snack recipe for protein-rich no bake bites made with your favorite healthy ingredients! Vegan, Gluten-Free, Protein-Packed, Healthy Snacks.
Before we get started today, let me just say, Happy Birthday, Jenny!!! Jenny is my incredible, amazing, hardworking, Best Mom Ever (except our mom hehe) to her kiddos, sister. 🙂 She's turning—nope, wait a minute, I'm not allowed to say—even more amazing soon on her special day.
Today, we're gonna shake things up a bit and go super clean. Lately, I've been sharing all kinds of dessert-ready sweets with you: cookie dough bites, peanut butter chocolate chip cookies and lemon coconut macaroons… so I thought it was high-time for a good old-fashioned gym-friendly no bake snack.
How's your fitness regimen going? I like to joke with Erik that it can sometimes feel like more of a regime than a regimen, but that's when it's time to shake things up, right? 😉 In the summer months, I never know whether I should feel more motivated to get moving or if I should just lay back and relax. And snack on some no bake almond butter coconut energy bites while I'm at it.
But then I'm like, I should really get moving and do it. Haha.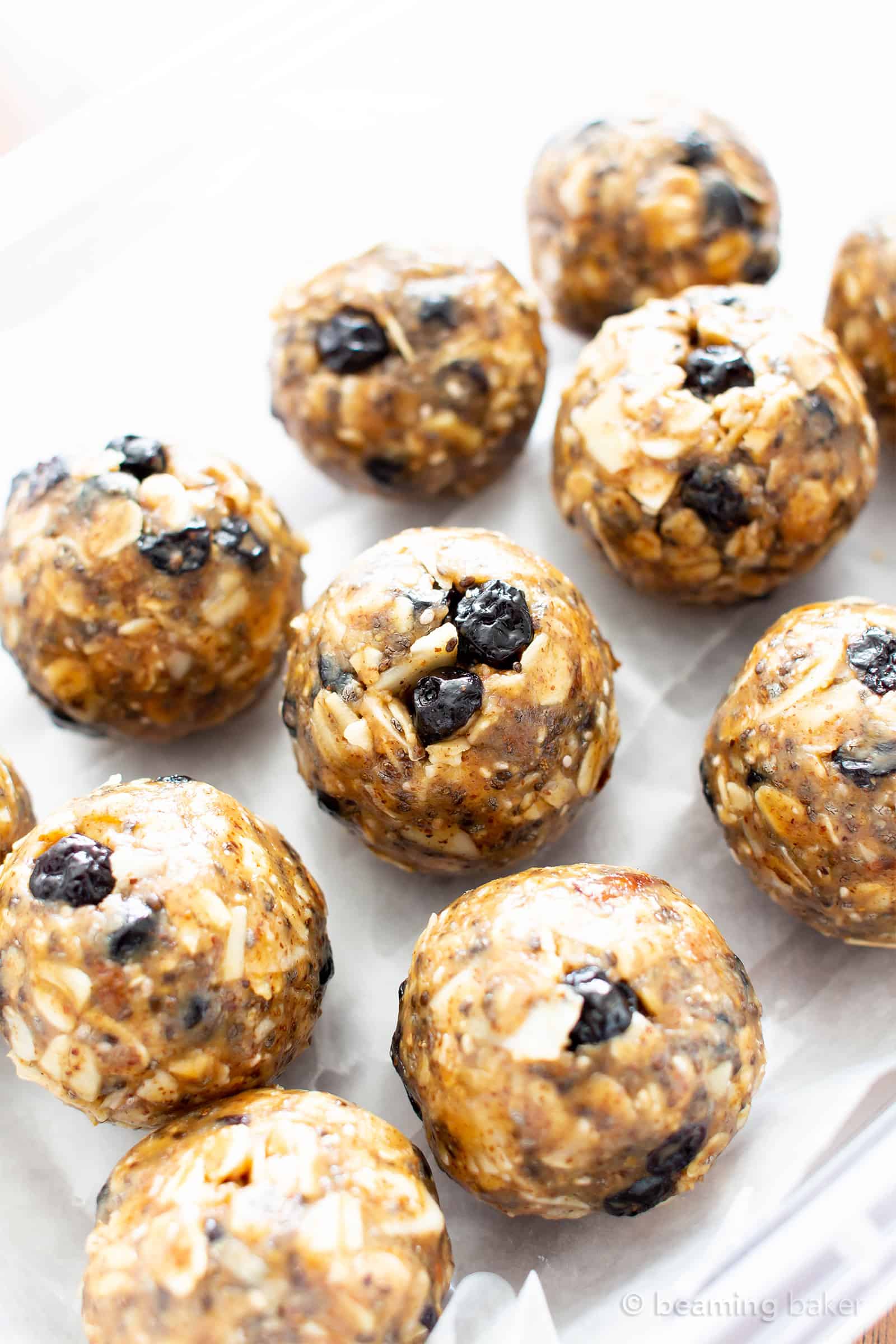 Hence, these No Bake Blueberry Almond Chia Energy Bites. They're packed with all of the good stuff: gluten free oats, coconut, blueberries for delicious sweetness, almond butter, and of course, our biggest gym-friend, chia seeds! Chia seeds are bawesome at keeping me full and satisfied through that last rep (okay, let's face facts, the last 100 reps).
Back in the day, when Jenny was in college and I was in high school, I'd go visit her on the weekends and she'd show me what fitness and fun was all about. She was a kick-butt member of the Taekwondo team at her school, and almost all of her friends were crazy/awesomely active. They walked everywhere and, on top of that, they all worked out 4-6 hours a day!! And there I was thinking that only olympic gymnasts did that…
It was then that I went from being super duper sedentary (seriously I would not leave my room all day) to craving activity, and craving outdoor adventures on a daily basis.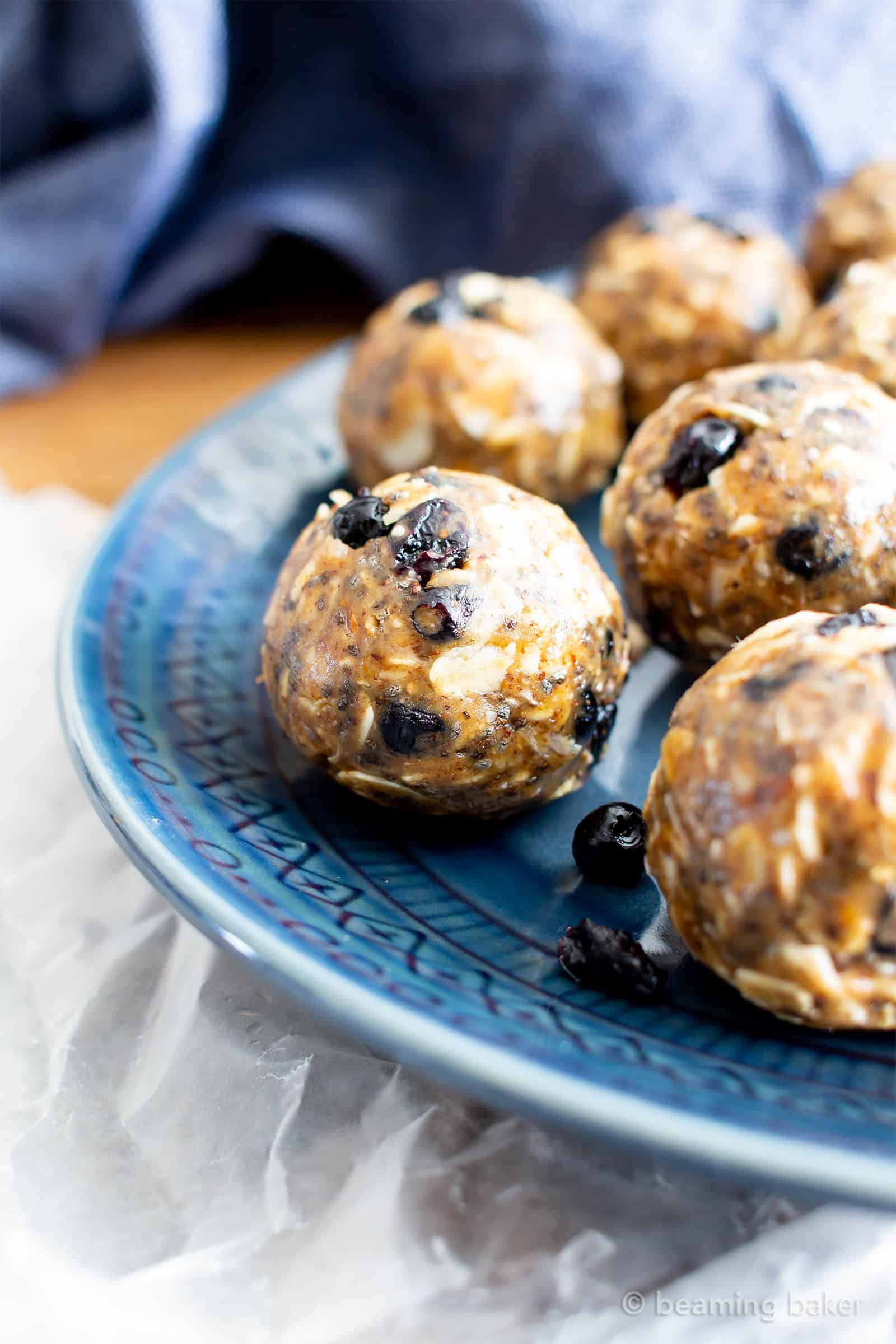 My other sisters, Monica and Penny, were super lazy. Just kidding!!! They were really big on working out and just getting out of the house to move too. I was a tad the late bloomer. 😉 But anyway, we're talking about Jenny here, not those other scene-hogging sisters. J/k!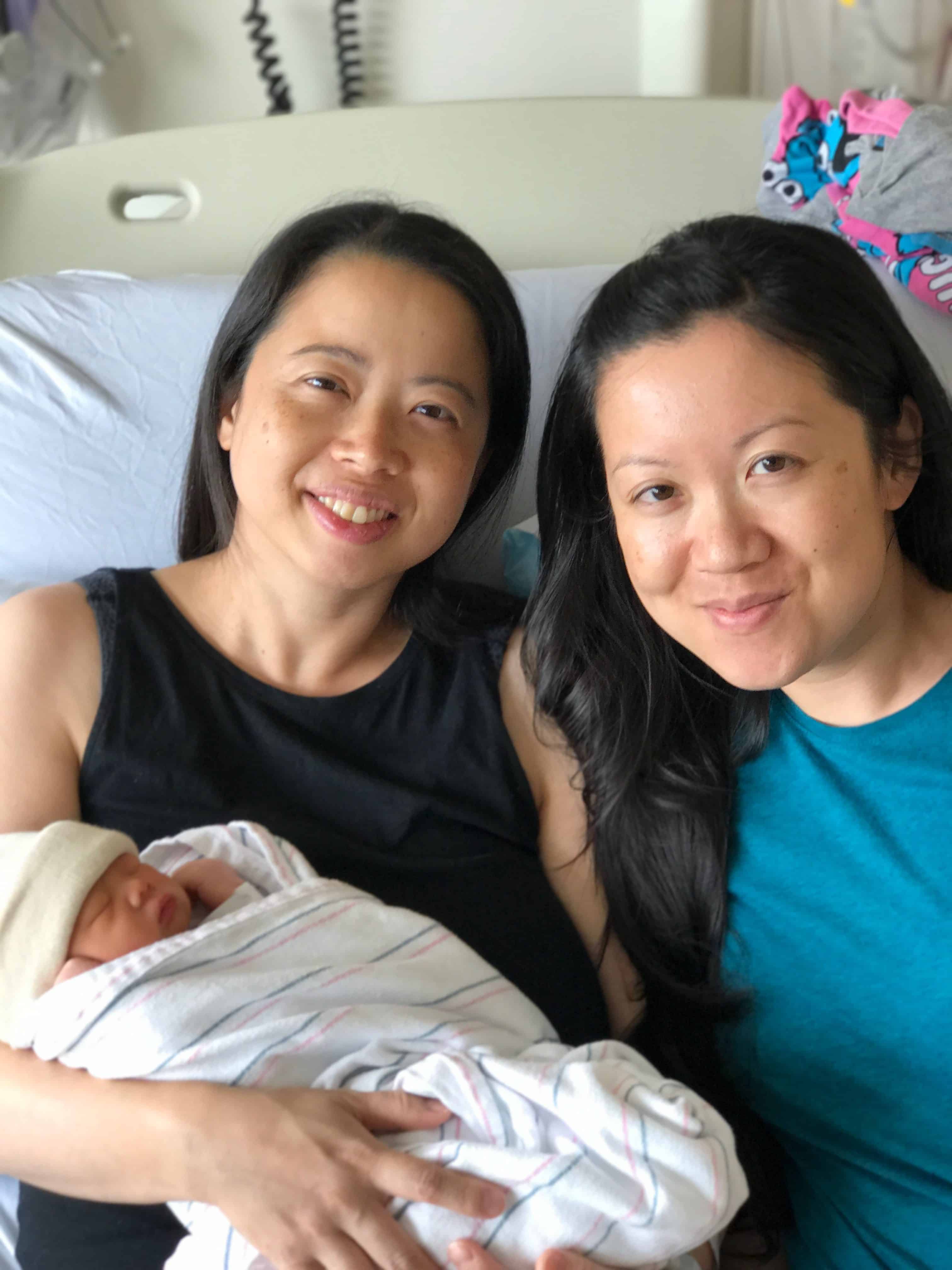 Jenny just had this way about her—she was ultra focused, really determined and never considered giving up an option. Seeing how she applied herself to fitness, to work, to the people she loved—it was amazing. Today, she's grown and blossomed into an incredible working mom/adult/super sister/wonderful human being, but she's still the same at her core: kind, focused, hard-working, loyal like you wouldn't believe, and loving.
So wonderfully loving. ❤️
I thank my lucky stars that there's someone like her in the world, making it better and better every day.
So will you raise a no bake blueberry chia bite in toast with me?
To Jenny! Happy Birthday, my splendid sister. <3 We all love you loads!!!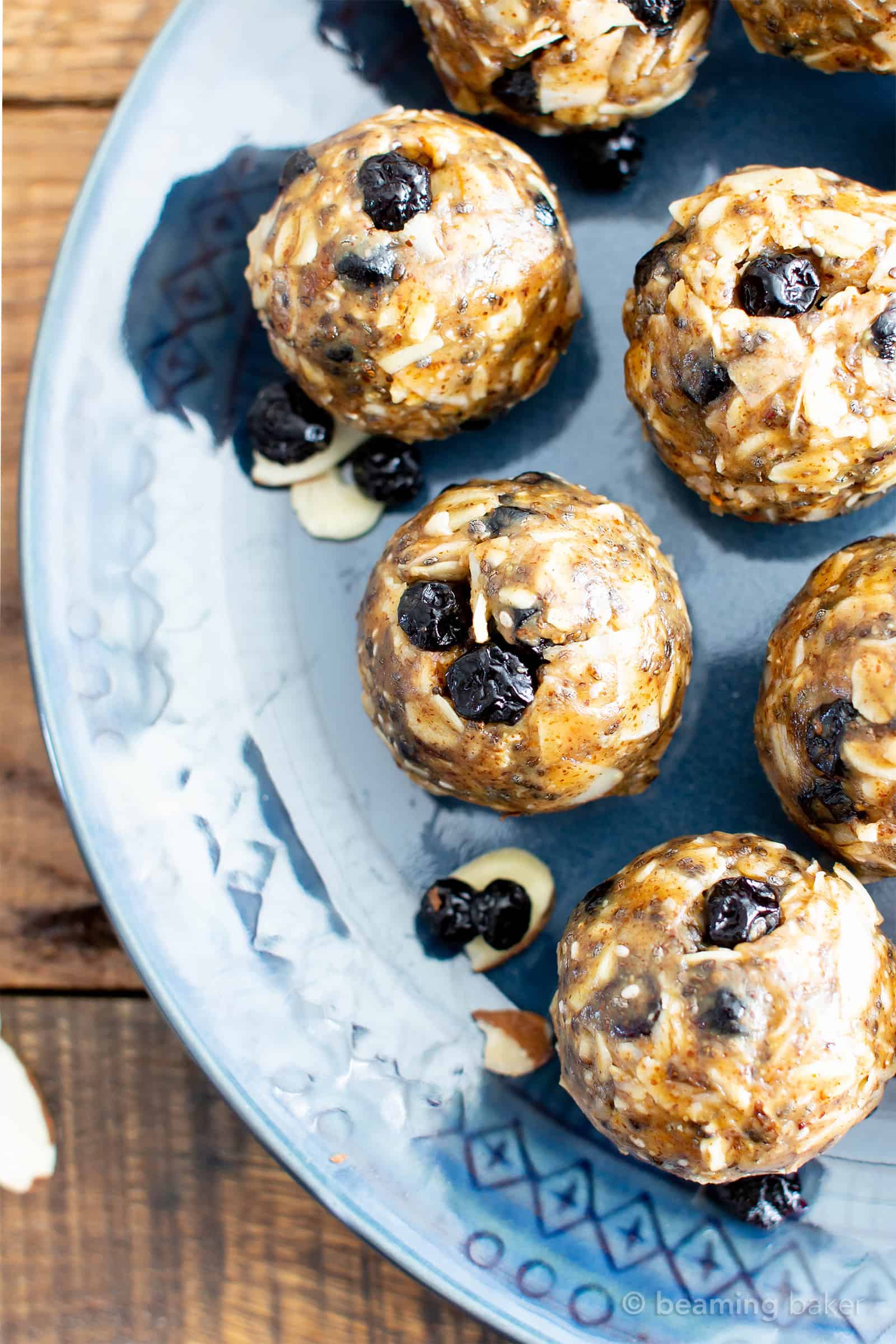 How will you love these No Bake Blueberry Almond Chia Energy Bites? Let us count the ways! They're:
so easy to make
deliciously chewy, texture-rich and refined sugar-free
vegan, gluten-free, dairy-free
soon-to-be your favorite gluten free no bake energy bites! (Or, try these 3 ingredient no bake peanut butter granola bars if you're so inclined.) 🙂
the perfect grab and go breakfast treat
made with the simple, whole, healthy ingredients that you know and love
wonderfully plant-based and allergy-friendly
just the healthy energy balls recipe you've been searching for
perfect with a side of no bake paleo chocolate almond butter bars (cuz… why not?) 🙂
a wonderful addition to your no bake energy ball recipe bank
one of the easiest protein-rich snacks you'll find!
seriously one of my favorite quick 'n easy healthy snacks
You grab the blueberries, I'll grab, like everything else!!! I run the Official BB Test Kitchen, after all! 😉 Let's make these tasty gluten free energy bites! It's always a true pleasure, making and sharing in these heartwarming kitchen adventures with you. I can't wait to hear what you think of this recipe!
Sending you all my love and maybe even a dove, xo Demeter ❤️
.︎ Click below to Pin .︎

. Did you make this recipe? Take a pic and share it on Instagram with the hashtag #beamingbaker and tag @beamingbaker. I would love to see it! .︎
If you enjoyed this No Bake Blueberry Almond Chia Energy Bites recipe, then you'll just love these easy & healthy snack recipes:
More Healthy Easy Protein-Rich Vegan Gluten Free Snack  Recipes
Print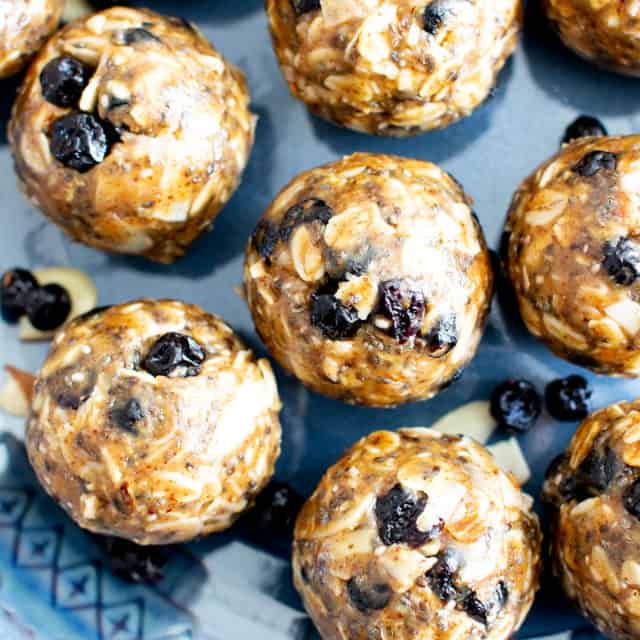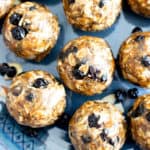 No Bake Blueberry Almond Chia Energy Bites (Vegan, Gluten Free, Dairy-Free, One Bowl)
---
Description
No Bake Blueberry Almond Chia Energy Bites (V, GF): a quick 'n easy snack recipe for protein-rich no bake bites made with your favorite healthy ingredients! Vegan, Gluten-Free, Dairy-Free, Protein-Packed.
---
Dry Ingredients
½ cup

dried blueberries

¼ cup

sliced almonds

¾ cup

gluten-free rolled oats

½ cup

unsweetened coconut shreds or flakes

¼ cup

chia seeds
Wet Ingredients
¾ cup

natural, unsalted creamy almond butter or peanut butter (mine is very liquidy)*

¼ cup

pure maple syrup
Optional Topping
1 tablespoon

dried blueberries

1 tablespoon

sliced almonds
---
Notes
– Store in an airtight container for up to 1 month.
Category:

No Bake, Healthy Snacks, Vegan, Gluten-Free, Dairy-Free, Plant-Based
© beamingbaker.com. All content and images are protected by copyright. Please do not use my images or recipe without my permission. Please do not republish this recipe, instead, include a link to this post for the recipe.
SHOP THE RECIPE
Here are a few items I used in today's recipe. 🙂
2-Tablespoon Cookie Scoop | Gluten Free Rolled Oats | Maple Syrup | Glass Mixing Bowls | Silicone Spatulas | Blue Stoneware Plate | Stainless Steel Measuring Cups
This post may contain affiliate links, which allow me to make a small commission for my referral, at no additional cost to you.
Facebook ☀︎ Pinterest  ☀︎ Twitter ☀︎ Instagram