Gluten Free Vegan Blueberry Applesauce Muffins (V, GF, DF, Oat Flour, Refined Sugar-Free)
Gluten Free Vegan Blueberry Applesauce Muffins (V, GF): a one bowl recipe for soft & satisfying healthy blueberry muffins made with oat flour and applesauce. Vegan, Gluten Free, Whole Grain, Dairy Free, Refined Sugar-Free.
Are you having a great week so far? I know, it's too soon to say… but I thought I'd just put that positive vibe out there for you. Just in case we can actually shape these things… with the power of our minds!!! <– Did you totally just hear me say that in a booming, dramatic voice? 😉
But just to be safe, I highly suggest you bake a batch of these Gluten Free Vegan Blueberry Applesauce Muffins. They're soft, satisfying, bursting with all the blueberry goodness, and sure to make your week decidedly awesome. Because you totally just decided that with the power of your mind, right?
YEAH!!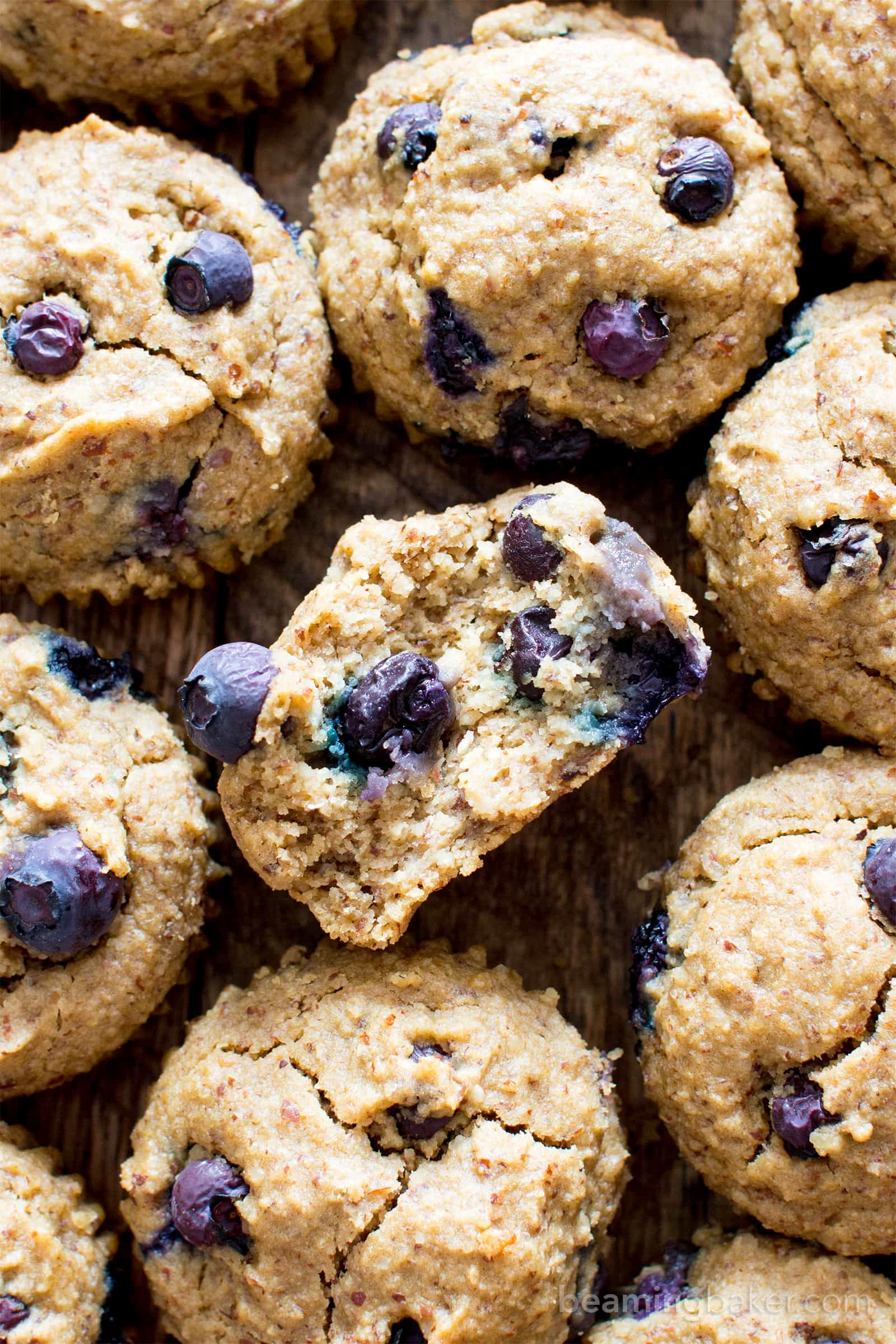 And since when did fresh-baked muffins (be they of the chocolate, banana or pumpkin variety) not make everything all better with their simple existence? I mean, just looking at these Paleo Blueberry Muffins from my super talented friend Chrystal over at Gluten-Free Palate makes me drool. I'm gonna try making these with flax eggs to make 'em vegan. 😉 Or maybe I'll make these yummy Vegan Pumpkin Muffins from my girl Erin at Texanerin. I mean… drooling!
Meanwhile, when you start putting this batter together, you just know it's gonna be good. Do you ever get those happy vibes from baking like I do? It's just that when I start to scoop oat flour… admire the beautiful texture of almond meal… and breathe in the scent of coconut sugar… I just feel GOOD. Ya know what I mean?
And the excitement over creating something: nothing really compares.
Anywho, how did this recipe come about, you might be asking. Wait, where do I put the question mark in that last sentence? Do I put a question mark in? Ah… the fine intricacies of writing. Let's just throw all of those stodgy writing rules out for now and enjoy the moment.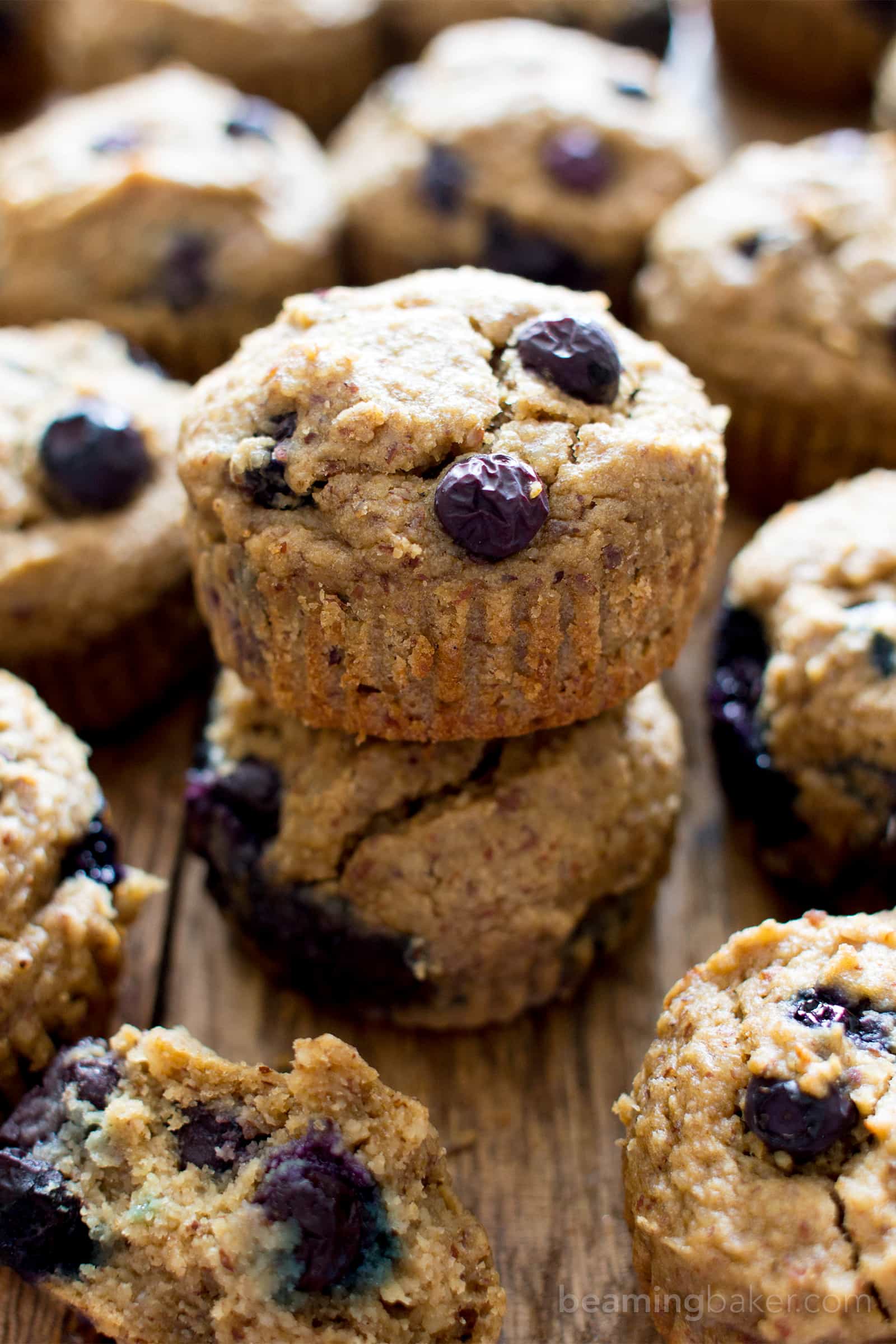 As I was saying… a truly kickass reader (Hey, Chrissy!!) asked for blueberry muffins and here I am delivering. I'm not quite ready to release my master muffin batter yet. Plus, I'd like some more time to fiddle with different flours/meals, etc. to create that perfect muffin texture. So this time around, I thought I'd employ the powers of applesauce and just go for it!
How do you feel about applesauce? Fan or foe? Or meh?
Applesauce reminds me of childhood and the comforts of simple things. It's definitely not first on my grocery list, but it's an ingredient I like to use when the cravings call for it. Speaking of which, check out this Gluten-Free Applesauce Bread from Meaningful Eats for yet another yummy GF applesauce treat! Just remember to swap the eggs with flax eggs and use organic sugar to make it vegan.
Or, if you're in the mood for pumpkin muffins, try these Healthy Pumpkin Cream Cheese Muffins from Veggie Balance. Be sure to use flax eggs, maple syrup and dairy-free cream cheese to make them vegan. 😉 Lastly, if you'd prefer some more blueberry muffins, you've got to try these delicious Grain Free Blueberry Muffins from What the Fork Food Blog! To make vegan: sub the eggs with flax eggs and honey with maple syrup. YUM!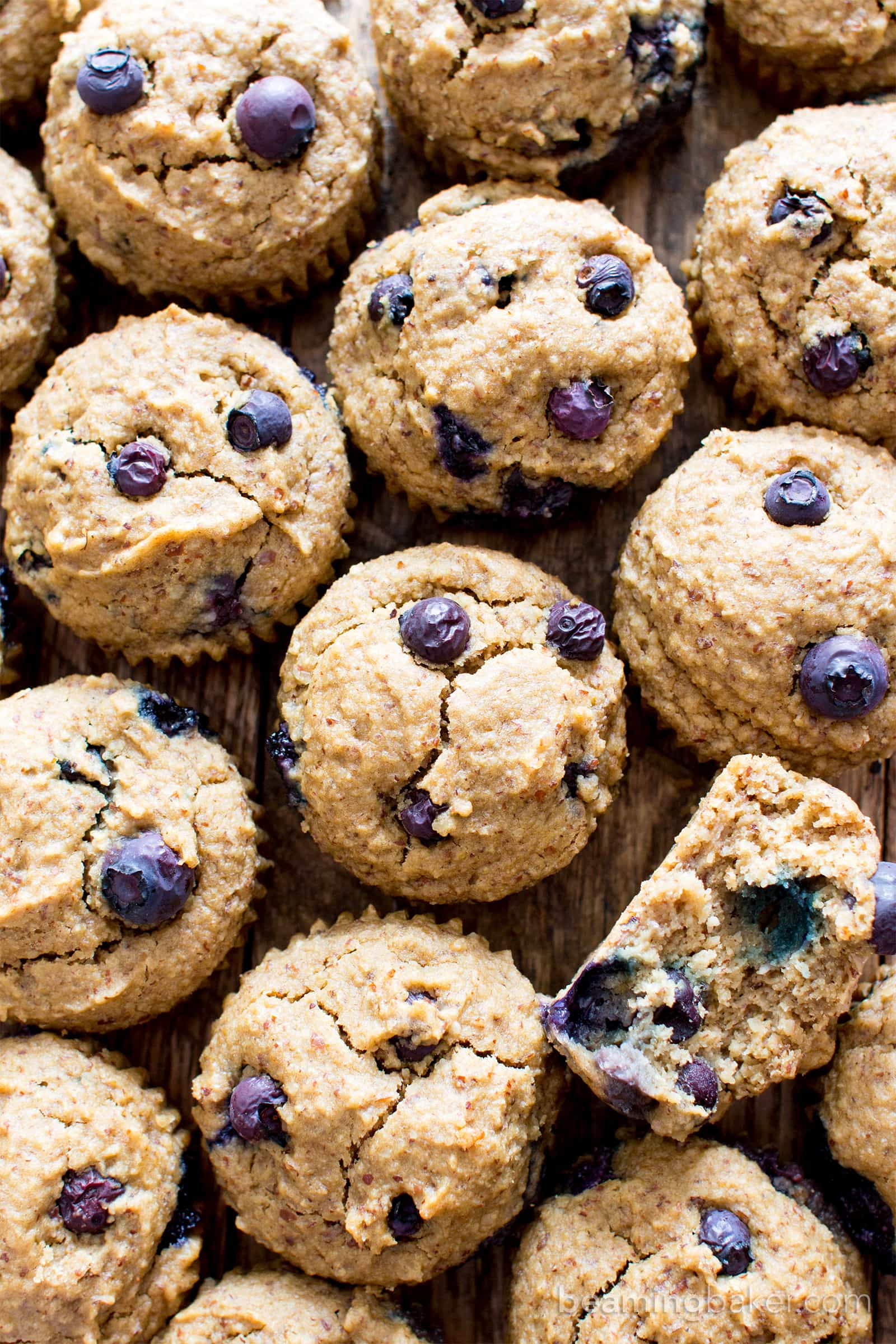 In any case…
The combo of blueberries and applesauce make for a deliciously moist, soft and texture-rich muffin. I hope you truly enjoy these babies! In case you're not quite convinced yet, let me tell you all about them.
These Gluten Free Vegan Blueberry Applesauce Muffins are:
made in just one bowl
(come on, you're totally excited about that. Admit it!!)
soft, moist
deliciously whole grain
gluten-free, vegan, dairy-free
bursting with blueberry antioxidant YUM
awesomely refined sugar-free
More Gluten Free Vegan Blueberry Recipes
Ready to get your bake on? Grab just one bowl, a basket of fresh, tasty blueberries and join me in the kitchen! I've already got it preheated!!!! 😉 Just so you know, I always appreciate the time we spend baking together. There aren't many things better than making something special for the ones we love (and yes, that includes ourselves hehe). I can't wait to hear what you think. In the meantime, tell me:
What's your favorite muffin flavor?
Sending you all my love and maybe even a dove, xo Demeter ❤
☀︎ Click below to Pin ☀︎

☀︎ Did you make this recipe? Take a pic and share it on Instagram with the hashtag #beamingbaker and tag @beamingbaker. I would love to see it! ☀︎
☀︎ Gluten Free Vegan Muffin Recipes & More ☀︎
Print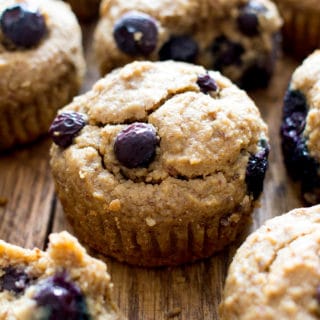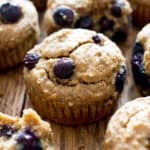 Gluten Free Vegan Blueberry Applesauce Muffins (V, GF, DF, Oat Flour, Refined Sugar-Free)
---
Description
Gluten Free Vegan Blueberry Applesauce Muffins (V, GF): a one bowl recipe for soft, satisfying blueberry muffins made with oat flour and applesauce. Vegan, Gluten Free, Whole Grain, Dairy-Free, Refined Sugar-Free.
---
Wet Ingredients
1 cup

unsweetened applesauce, room temperature

¼ cup

melted coconut oil

¼ cup

coconut sugar

1

flax egg (

1 tablespoon

ground flax +

3 tablespoons

water, whisk together, set for 15 mins)

1 teaspoon

pure vanilla extract
Dry Ingredients
1 ½ cup

gluten free oat flour

¾ cup

almond meal

¾ teaspoon

baking powder

½ teaspoon

baking soda

¼ teaspoon

salt
Add-ins
Optional for topping
2 tablespoons

blueberries
---
Instructions
Preheat the oven to 350°F. Line a 12-cup muffin pan with muffin liners.
In a large bowl, whisk together all the wet ingredients: applesauce, coconut oil, coconut sugar, flax egg, and vanilla. Whisk until well incorporated.
Add oat flour, almond meal, baking powder, baking soda and salt. Whisk together until just incorporated, making sure no flour patches remain. Gently fold in blueberries.
Using a large cookie scoop, scoop and drop batter evenly into muffin cups.* Smooth batter into an even layer, with a domed top (rise) in the center. Optional: press blueberries gently into the tops of the muffins.
Bake for 16-22 minutes. Mine took 19 minutes. Insert a toothpick in the center of one muffin to check for doneness. It will come out clean when the muffins are ready. Allow to cool on a cooling rack for about 1 hour. Lift out and enjoy! Storing instructions below.
Category:

Muffins, Breakfast, Vegan, Gluten-Free, Dairy-Free, Refined Sugar-Free, Whole Grain
© beamingbaker.com. All content and images are protected by copyright. Please do not use my images or recipe without my permission. If you wish to republish this recipe, please re-write the entire recipe using your own words and include a link to this post for the recipe.
If you enjoyed this Gluten Free Vegan Blueberry Applesauce Muffins recipe, then you'll just love these plant-based, allergy-friendly recipes:
Gluten Free Vegan Whole Grain Muffins + Quick Breads
One Bowl Gluten Free Pumpkin Chocolate Chip Muffins (Vegan, GF, Dairy-Free) | Double Chocolate Banana Almond Mini Muffins (V, DF, Gluten-Free) | Gluten Free Vegan Pumpkin Chocolate Chip Bread (V, GF, DF) | One Bowl Double Chocolate Banana Muffins (Vegan, Gluten-Free, Whole Grain) | Vegan Chocolate Banana Nut Bread (Dairy-Free, Gluten Free, V)
This post may contain affiliate links, which allow me to make a small commission for my referral, at no additional cost to you. Thank you for supporting Beaming Baker.
Facebook ☀︎ Pinterest ☀︎ Twitter ☀︎ Instagram