Paleo Blueberry Banana Chia Smoothie (V, GF, Paleo): a 4-ingredient recipe for antioxidant-rich and refreshing blueberry banana chia smoothies. Vegan, Paleo, Gluten Free, Dairy-Free.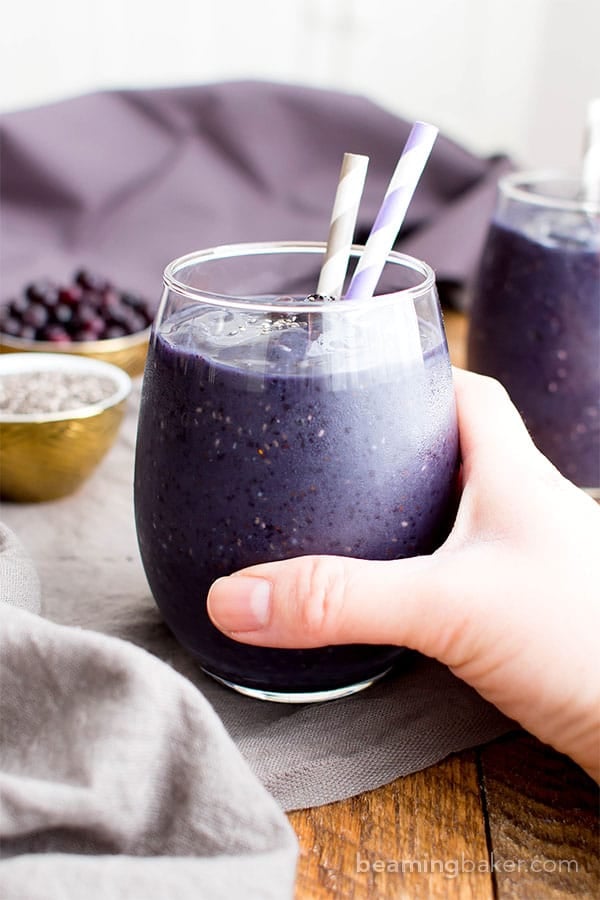 Happy March! Can you believe it's March already? Not to rush things or anything, but something about this month gets me super excited for the summer. Ahem, I mean spring… 😉 Okay, fine, I mean summer! I've been testing out summer recipes for quite a while now. Don't make fun of me, but I totally started working on my summer recipes back in December. 😉
It's just, during that time, it was candy-making all day, every day. I thought that whipping up some smoothies, nice cream, and even more nice cream would help balance out the candy factory my kitchen had become.
Plus, something about making and eating nice cream in the winter gives me a sense of delightful rebellion (and hope for the summer to come, like quick). 😉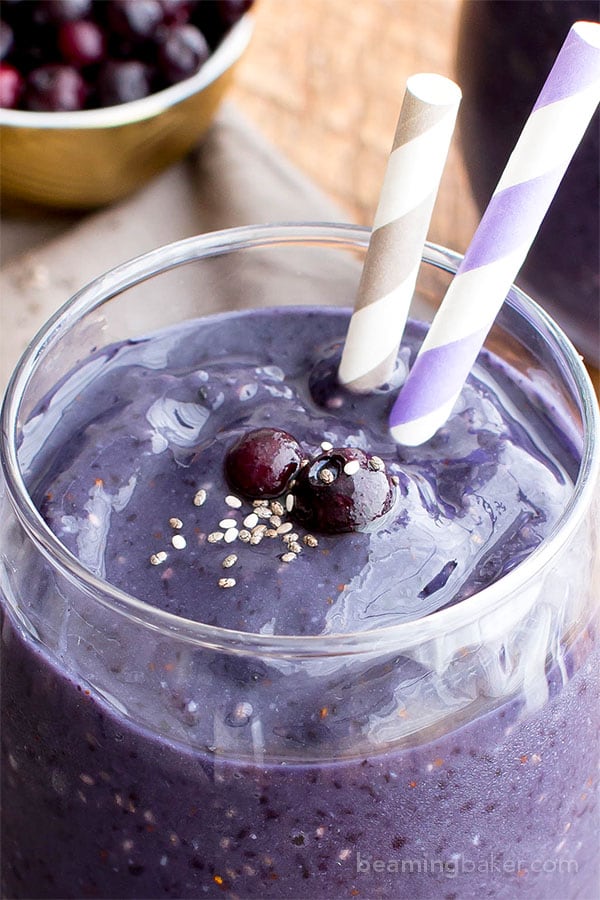 Anywho, before I start sharing all of the chocolate-amazing recipes I have in store for you this month, I thought it would be a refreshing change of pace to enjoy some beautiful blueberries, sweetly versatile bananas, and of course, the healthy-powerhouse that is chia seeds. You game?
It's been quite awhile since I've shared a blueberry recipe on the blog. Have you missed the little blue powerballs of antioxidant YUM? Or are you more of a fan of raspberries, blackberries, or even… dare I say it?? Oranges??? Like, woah. What do oranges have anything to do with blueberries?
Alright, fine, I admit it… I've got summer chillaxing vibes on the brain. As such, I'm a tad bit rambly and dreamy today. Nothing wrong with that, right? Especially when you have this frosty, refreshing and amazingly feel-good smoothie in hand. And just in case you've been daydreaming about berry smoothies all along, you've got to check out this Dairy Free Berry Smoothie from A Mind-Full Mom! It's refreshing, paleo and vegan (score!!). Anywho, what was I saying? Right…
So the funny thing is, the other day, my sister Monica texts me and says that she just tried one of my recipes and loved it. Any guesses as to which one it was?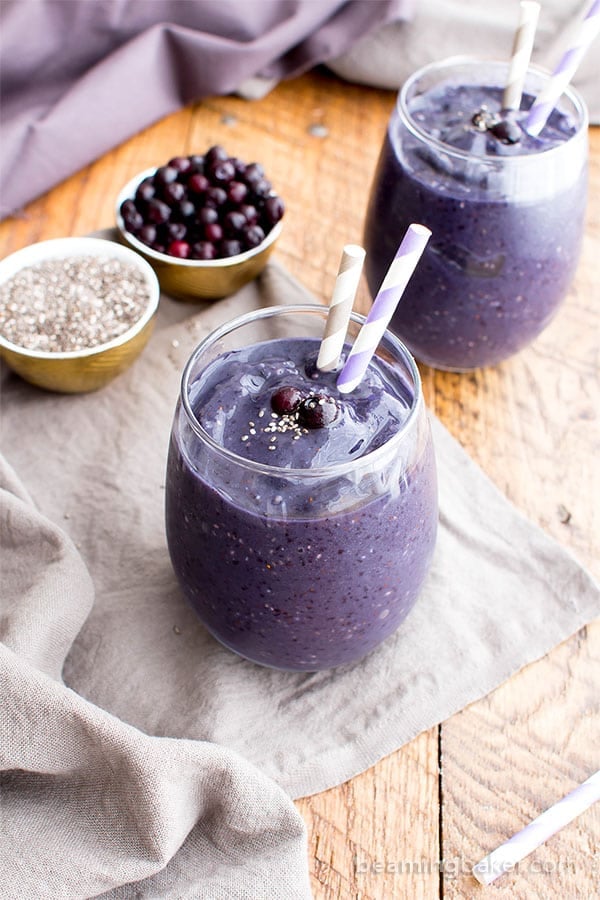 …
Times up! It was my blueberry coconut smoothie bowl.
Okay, you might be sitting there thinking, what's the big deal with that? That's an everyday occurrence, or at least a fairly regular occurrence right? Nope! My sisters rarely try out my recipes (don't judge them—I'll do that for you). 😉 So when one happens to try one and totally love it, I've got to drop everything and make sure I've got a similar one coming down the pipeline for her to enjoy!
Yeah, I'm cool like that. 😉 So Monstee, here ya go: may I present to you my Paleo Blueberry Banana Chia Smoothie. I know you love blueberries, bananas and chia seeds together, so here's one that's sure to satisfy ya, Sis! Also, dear reader, make sure to totally rib any of my three sisters for not trying my recipes more often when you meet them in person. It's your sworn duty as my friend. Riiiiiiiight?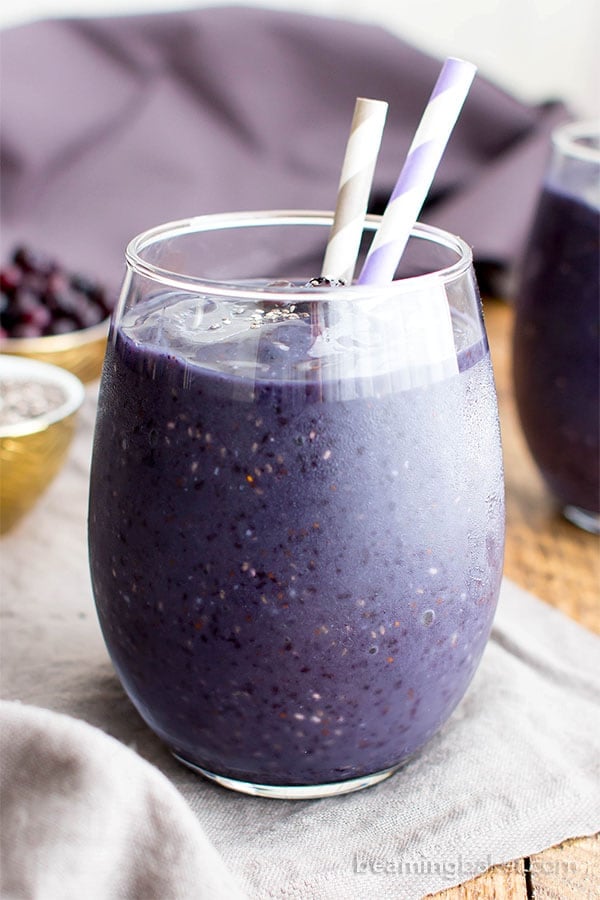 While you plot and plan this most satisfying ribbing, allow me to tell you all about this Paleo Blueberry Banana Chia Smoothie. It's:
made with just 4 ingredients
packed with antioxidants
sweetened only with fruit
vegan, gluten free, dairy-free and paleo
refreshing, cool and satisfying
bursting with chia seed goodness
packed with blueberries and coconut YUM
super easy to make
perfect for a snack or dessert
capable of giving you all the summer vibes
may or may not be made by one of my sisters (maybe even soon…) 😉
Grab four simple ingredients, dust off that blender and join me in the kitchen. Are you ready to do this? I'm so happy to be blending, no-baking, and maybe even doing some future baking with you. Be sure to let me know what kind of recipes you want to see on the blog. In the mean time, tell me…
What recipes do you want me to make for the summer?
Sending you all my love and maybe even a dove, xo Demeter ❤️
☀︎ Click below to Pin ☀︎

☀︎ Did you make this recipe? Take a pic and share it on Instagram with the hashtag #beamingbaker and tag @beamingbaker. I would love to see it! ☀︎
Print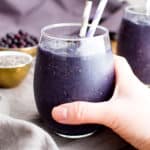 Paleo Blueberry Banana Chia Smoothie (Vegan, Paleo, Gluten Free, Dairy-Free, 4 Ingredient)
---
Description
Paleo Blueberry Banana Chia Smoothie (V, GF, Paleo): a 4-ingredient recipe for antioxidant-rich and refreshing blueberry banana chia smoothies. Vegan, Paleo, Gluten Free, Dairy-Free, No Sugar Added.
---
2 tablespoons

chia seeds

1 ½ cups

unsweetened almond milk, divided

3

medium bananas, sliced and frozen

1 ½ cups

frozen blueberries
---
Instructions
In a small bowl, add chia seeds and ½ cup almond milk. Whisk until thoroughly combined. Cover and chill in the refrigerator for about 10 minutes.
Add bananas and remaining 1 cup almond milk to a blender. Blend until smooth, scraping down the sides of the blender as needed.
Add blueberries, blending until smooth.
Remove the chia seed mixture from the refrigerator—it should have thickened to a gel-like consistency. Whisk until well mixed. Using a rubber spatula or spoon, scrape the chia seed mixture into the blender. Blend until smooth.
Pour into two cups. Enjoy immediately!
Category:

Smoothies, Frozen Drinks, Paleo, Vegan, Gluten Free, Dairy-Free, Refined Sugar-Free
© beamingbaker.com. All content and images are protected by copyright. Please do not use my images or recipe without my permission. If you wish to republish this recipe, please re-write the entire recipe using your own words and include a link to this post for the recipe.
☀︎ More incredible Smoothie recipes
If you enjoy this Paleo Blueberry Banana Chia Smoothie, you'll just love my…
Vegan Strawberry Peanut Butter Smoothie (Protein-Rich, Vegan, Gluten Free, Dairy-Free, Refined Sugar-Free)
Blueberry Coconut Smoothie Bowl (Paleo, V, GF, DF, No Added Sugar)
Mango Chia Seed Smoothie (Paleo, V, GF, DF, Refined Sugar-Free)
Paleo Mocha Frappe (Paleo, V, GF, DF, No Added Sugar)
☀︎ Even more refreshing recipes
Mango Chia Seed Smoothie Bowl (Paleo, V, GF, DF, No Added Sugar)
Vegan Blueberry Coconut Popsicles (Paleo, V, GF, DF)
Chocolate Peanut Butter Banana Smoothie (Protein-Rich, V, GF, DF)
Facebook ☀︎ Pinterest  ☀︎ Twitter ☀︎ Instagram