Vegan Healthy Banana Blueberry Muffins Recipe (Gluten-Free, Dairy-Free, Refined Sugar-Free)
Vegan Banana Blueberry Muffins (GF): moist 'n healthy vegan muffins bursting with bananas & blueberries! The ultimate vegan breakfast muffins—Gluten Free, Refined Sugar Free.
Healthy Banana Blueberry Muffins Recipe. Well, well, well. We meet again. Okay, we've never met. But I just wanted that start to be appropriately dramatic. If y'all knew the shenanigans we've been through these past few days with blueberries!! Ah, blueberry shenanigans. When shall you stop tormenting us?
While gathering ingredients for these vegan banana blueberry muffins… Erik and I've recently had a ridiculous time hunting down fresh, tasty and, well, non-spoiled blueberries. Everywhere we went, the blueberries were past their… edible prime.
We searched high and low. We even searched through my mom's fridge (Sorry, Mommy!). We even searched through my sister Jenny's fridge (Sorry, Jammy!). We even made a pit stop and baked these gluten free banana oat muffins, then gluten free dark chocolate muffins, and then this best vegan gluten free moist chocolate muffins recipe.
For energy, a morale booster, and some good muffin mojo, of course.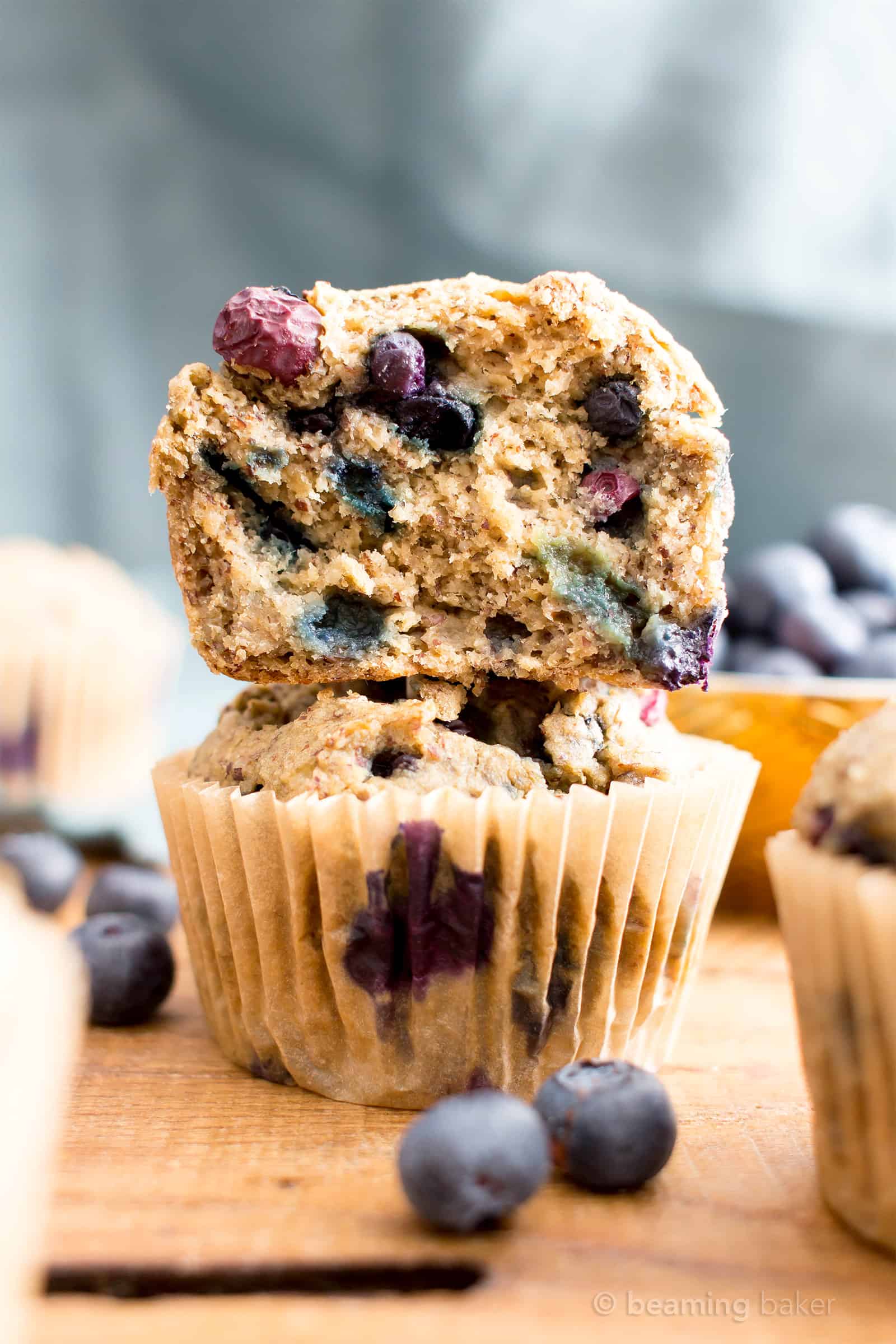 Guess what? The good muffin mojo worked. Make that good healthy vegan muffins mojo. We actually found all the fresh blueberries we needed. We bought those. Then we bought even more because: caution. Hehe.
Vegan Banana Blueberry Muffins
First, I made these delicious blueberry-upgraded muffins aka my the best vegan banana blueberry muffins. Then I started munching on a few warmed-up and totally deliciously melty vegan chocolate chip cookies (if good muffin mojo worked, why not throw in some good cookie mojo?)
Then then, I started thinking about all the other spring- and summer-ready recipes I could make with my ample blueberry supply. Any guesses as to what I made? I'll just munch on these amazing blueberry vegan breakfast muffins while I wait for your response…
Any requests? 🙂
Before I began baking, I requested Erik's fine recall powers (he has the best memory ever… it's pretty annoying) and suggested we rap about reader favorite recipes–and not just healthy vegan muffins bc that's all we were thinking about.
Yes, rap.
Why does it give me so much joy to say "rap" instead of talk?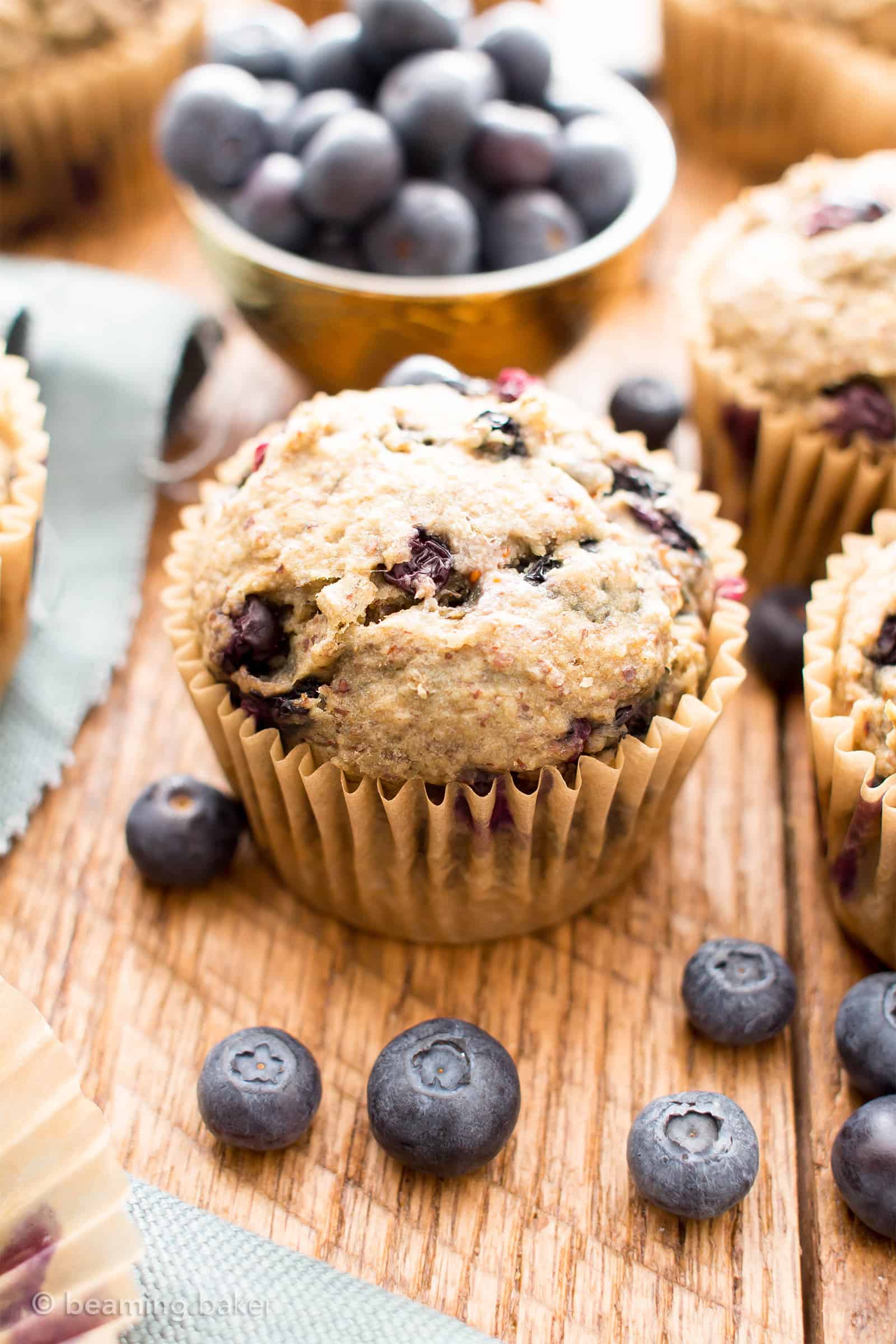 We rapped about the most popular recipes on the site, ranging from our popular refined sugar free muffins: double chocolate banana muffins to banana chocolate chip oatmeal breakfast bars to paleo apple crisp and easy vegan peanut butter banana breakfast cookies.
We went through a ton of feedback and requests from readers and settled on a few upcoming blueberry recipe ideas. We even had some time to test them. 😉 And eat them. Then switch over to healthy vegan muffins for good measure.
Come on, you're totally intrigued right? Are you on the edge of your seat waiting for a hint? (Yep, I really do need to find some hobbies).
Healthy Gluten Free Muffins: Banana & Blueberry!
Alright, here's a hint… crispy. breakfast-y. blueberry-y. (I just had to tack on that extra y, for consistency, of course!) And that may or may not be one recipe. Just know, they're amazing. Update: here it is… Vegan Gluten Free Blueberry Crisp! While you wait for those blueberry recipes, allow me to tide you over with my current breakfast fave: these healthy banana blueberry muffins!
These Vegan Banana Blueberry Muffins are easy to make in just one bowl, deliciously moist (just like my reader fave Best Moist Chocolate Chip Banana Bread Recipe), completely satisfying to enjoy in the morning (noon and night, lbh), and totally feel like an honest-to-goodness accomplishment… that you can eat. 😉 Basically, one of the yummiest healthy gluten free muffins ever!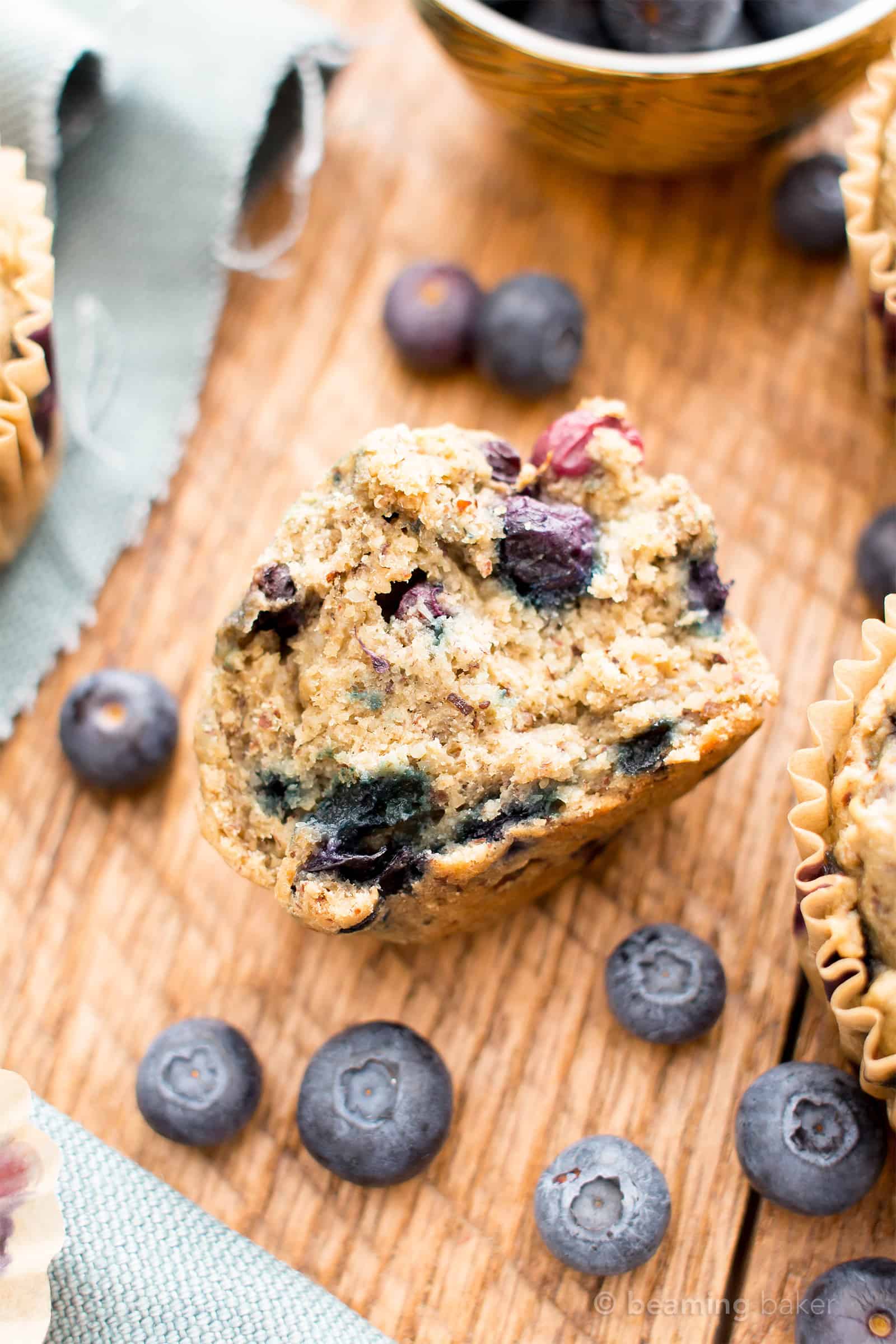 What could possibly beat an edible accomplishment?
Vegan Banana Blueberry Muffins: In Sum…
If I haven't sold you on these healthy vegan muffins yet, allow me to tell you all about them. They're:
made in just one bowl
moist, deliciously dense and just a hint of nutty
perfect for those ripened bananas sitting on your counter
vegan, gluten-free, refined sugar-free, dairy-free
just the vegan banana blueberry muffins you've been searching for
made with the healthy, whole ingredients you know and love
p.s. here's how to make homemade oat flour (super easy) in case you're curious
the tastiest gluten free refined sugar free muffins you'll ever have
just the reason to go buy fresh blueberries!
btw… should we try adding blueberries to this Moist Vegan Gluten Free Zucchini Bread Recipe? 🙂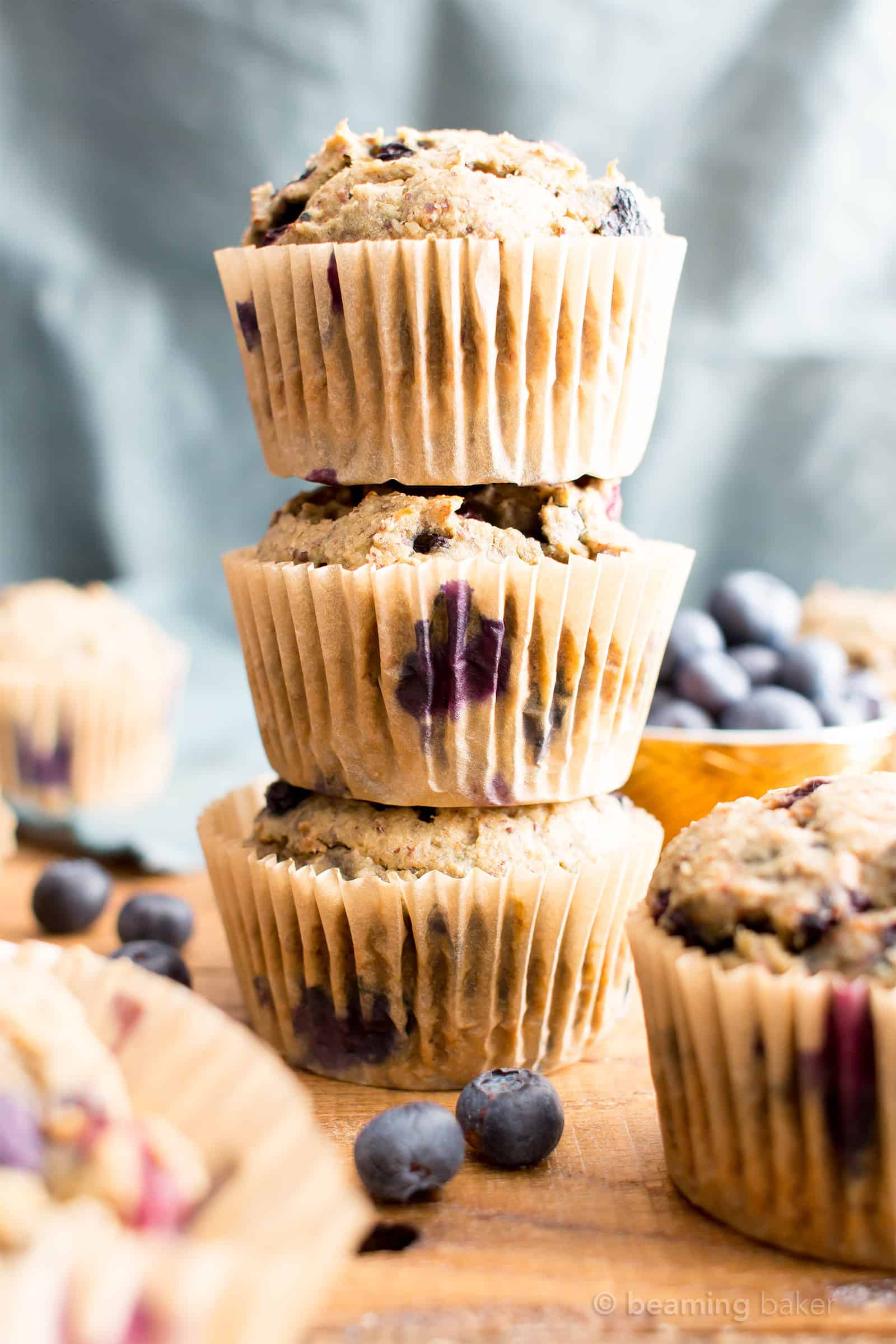 Tools for the Best Vegan Banana Blueberry Muffins
Are you ready for some homemade healthy vegan muffins goodness? Let's do this! You grab the ripened bananas, I'll grab the fresh blueberries. Thank you for stopping by and creating these tasty, guilt-free treats with me. I truly can't wait to hear what you think of my vegan breakfast muffins!
Sending you all my love and maybe even a dove, xo Demeter ❤
Click below to Pin

Did you make this vegan banana blueberry muffins recipe? Take a pic & share it on Instagram with the hashtag #beamingbaker & tag @beamingbaker. I'd love to see it!
If you enjoyed this Healthy Banana Blueberry Muffins Recipe, then you'll just love these delicious refined sugar free muffins recipes:
Healthy Vegan Muffins & More: Refined Sugar Free Muffins!
Print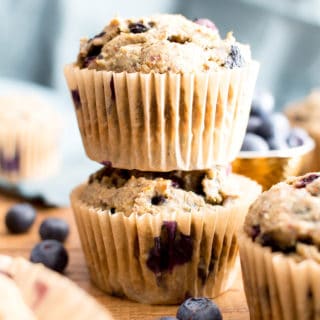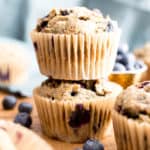 Healthy Banana Blueberry Muffins Recipe (Gluten-Free, Vegan, Dairy-Free, Refined Sugar-Free)
---
Description
Vegan Banana Blueberry Muffins (GF): moist 'n healthy vegan muffins bursting with bananas & blueberries! The ultimate vegan breakfast muffins—Gluten Free, Refined Sugar Free.
---
Wet Ingredients
Dry Ingredients
Add-ins
1 cup

fresh blueberries, washed and dried
Optional for topping
2

–

3

tablespoons blueberries
---
Instructions
Preheat the oven to 350°F. Line a 12-cup muffin pan with muffin liners.
Add peeled bananas to a large mixing bowl. Using a sturdy whisk or pastry cutter, mash bananas until smooth. Add the oil, sugar, flax egg, and vanilla. Whisk until well incorporated.
Add oat flour, almond meal**, baking powder, baking soda and salt. Whisk together until just incorporated, making sure no flour patches remain. Fold in blueberries.
Using a large scoop, scoop and drop batter evenly into muffin cups. I use this ice cream scoop for easy scooping and a beautiful round top***. If not using the scoop, smooth batter into an even layer, with a domed top (rise) in the center. Optional: press blueberries on top of the muffins.
Bake for 16-22 minutes. Mine took 18 minutes. Allow to cool on a cooling rack for about 1 hour. Lift out and enjoy!
Healthy Vegan Breakfast Muffins
Equipment
Prep Time:

25 mins

Cook Time:

18 mins

Category:

Breakfast, Snack, Dessert

Method:

Bake

Cuisine:

American
Nutrition
Serving Size:

1 muffin

Calories:

171

Sugar:

8g

Sodium:

54mg

Fat:

10g

Saturated Fat:

4g

Unsaturated Fat:

0g

Carbohydrates:

21g

Fiber:

3g

Protein:

3g

Cholesterol:

0mg
© beamingbaker.com. All content and images are protected by copyright. Please do not use my images or recipe without my permission. Please do not republish this recipe, instead, include a link to this post for the recipe.
Tools for the BEST Vegan Breakfast Muffins
Muffin Pan | Coconut Sugar | Gluten Free Rolled Oats | Parchment Cupcake Liners | OXO Trigger Ice Cream Scoop | Glass Mixing Bowls | Stainless Steel Measuring Cups | Coconut Oil
This post may contain affiliate links, which allow me to make a small commission for my referral, at no additional cost to you. Thank you for supporting Beaming Baker.
Facebook ☀︎ Pinterest ☀︎ Twitter ☀︎ Instagram