Oatmeal Raisin Cookie Bars (Vegan, Gluten Free)
Oatmeal Raisin Cookie Bars (V+GF): an easy recipe for soft, chewy cookie bars made from simple ingredients, bursting with juicy raisins and walnuts. Vegan and Gluten Free.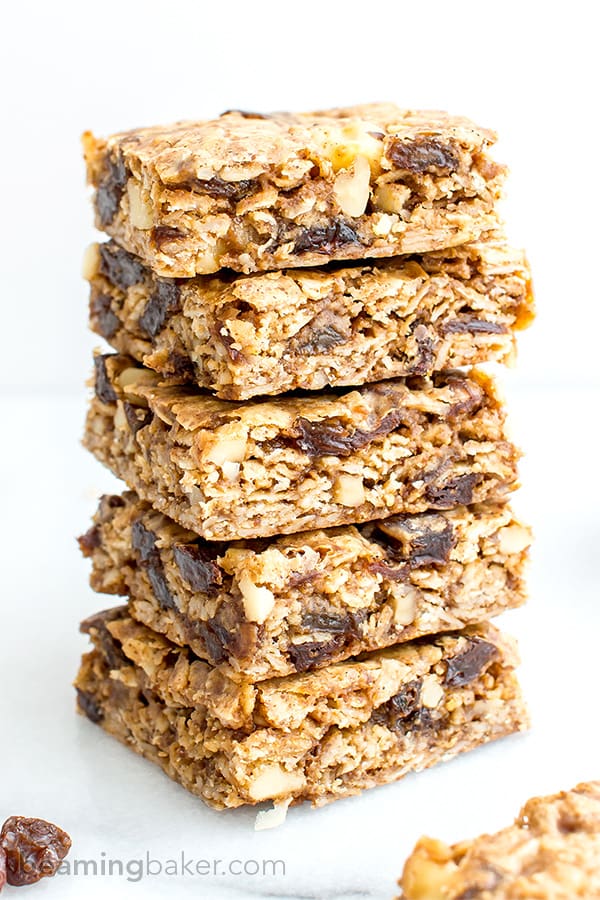 Cookie bars are the best, aren't they? And my, have we come a long way since our younger days, when we may or may not have been very distrusting of oatmeal raisin cookies. Just sayin'.
If you have no clue what I'm talking about, or you've loved oatmeal raisin cookies from the start, read this and everything will make sense.
In any case, when I was a kid, I had a lot of zany ideas about things. But that was half of the fun, ya know? When you're a kid, anything can be real. Anything is possible. Back then, I spent a lot of time tinkering around the house by myself because my folks were off working and my sisters were busy collecting neon stickers and listening to Vanessa Williams. Yes, they will kill me for revealing this to you.
Since I'm in trouble anyway, I might as well tell you that they also listened to Michael Bolton. Can you imagine, seven-year-olds listening to Michael Bolton?
*Raises eyebrows*
Before they come and get me, let's talk about some of these youthful kitchen shenanigans. Quick, before it's too late! Alright, so you might've already heard about my childhood fear of peanut butter. That evil TV was always leading me astray, let me tell ya!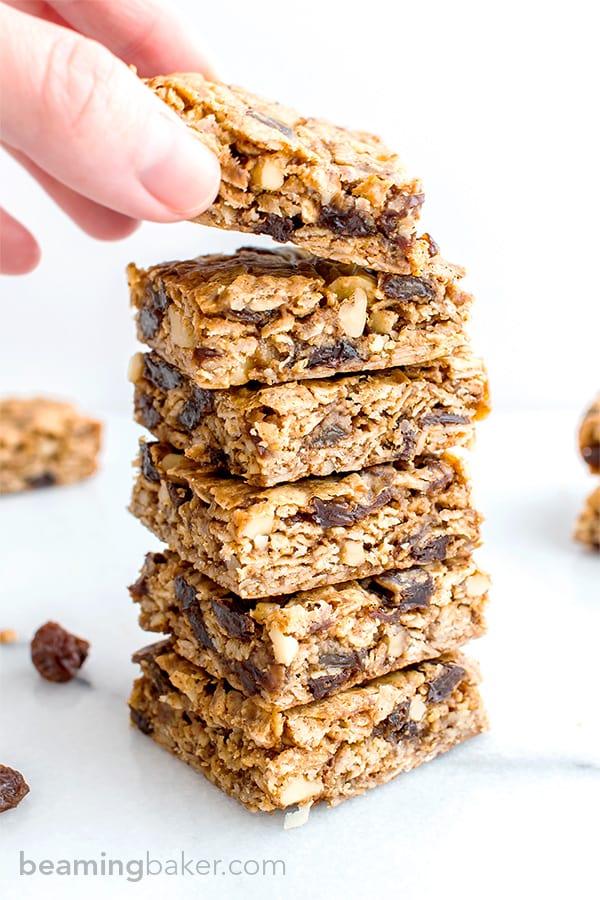 Well, when I was seven or so, I saw this incredible infomercial for this neon green device that could do, like anything. Yes, anything! Well, at least the important anythings. Consider this: this small, compact-sized tool was battery-operated, and, wait for it…
A travel-friendly whisk.
And (yes and) a mini fan.
Dude. Just… DUDE.
Literally, one second during this infomercial, the presenter person would be drenched in sweat, ready to pass out, holding this bright green device near his face, enjoying the cool breeze. The next second, this magical device was in a big glass bowl, happily whipping its way through eggs.
What the?!? I mean, if you're a kid that believes becoming a Firefighter Astronaut Figure Skater Gymnast one day could happen, you're not gonna be super astounded by much. And did I mention that was just the day job?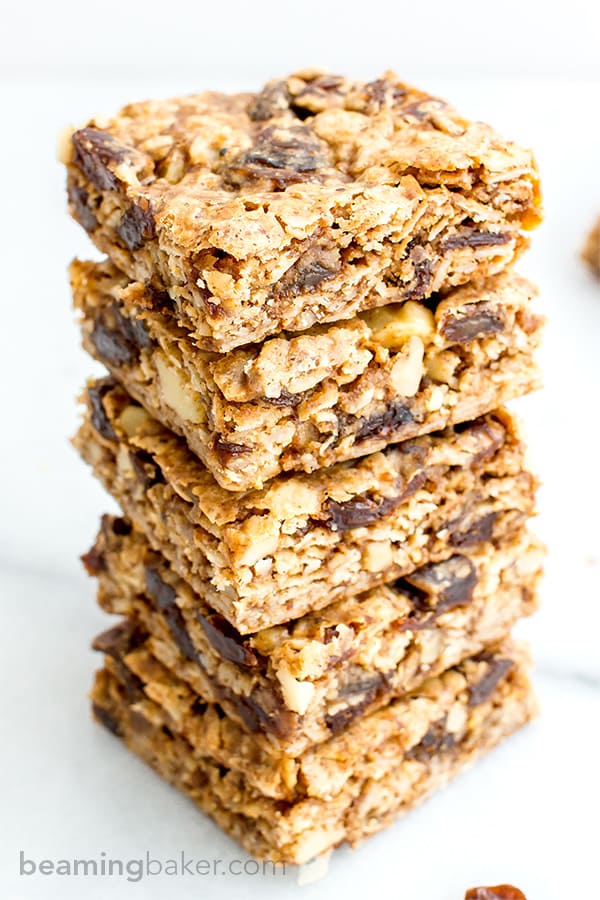 But THIS. This battery-operated, bright green… thing… it was clearly the answer to everything. I mean, what one thing can solve profuse sweating and non-aerated eggs in one fell… whip? This. This travel-friendly whisk/mini-fan hybrid.
Can you imagine?
So there I stood, in my fruit-print jumpsuit, with shiny purple buttons I'd asked my mom to sew on (to match the grapes, of course), eyes big as saucers, staring/wanting/wishing/hoping for this fan whisk. Oh, the food I could make with this whisk; the sweat I could dry! The possibilities were endless.
But before I could even think about asking my mom to buy it for me, I just had to make my own version. To test it out, of course. So I rifled through all of the cabinets, til I found the straws from McDonald's. I grabbed a scissor, snipped it off in a way I thought was very clever (see: purple grape-matching buttons genius), then I stuck a chopstick on the other end. I cracked some eggs into a bowl, removed the yolks, and rolled the chopstick/straw/"whisk" vigorously between my two palms.
I held my breath, waiting for the magic to happen. I rolled and rolled til I, funnily enough, got pretty sweaty.
A few bubbles started to form. But no whip. Now, sweating profusely and completely unaware of the meaning of irony, I rolled again. Could I simulate the magic fan whisk? Could I make these eggs fluffy with my self-made prototype?
No. I couldn't. The experiment failed. But. Isn't there always a but? I brought the sad bowl of bubbly eggs to my mom and showed her anyway.
After she got done yelling at me for wasting food, she waited for an explanation. I told her at once how my home experimenting and color-matching cleverness was reason enough to hear my case. The thing is, my chopstick straw whisk didn't work because I didn't have the exact infomercial product. Duh!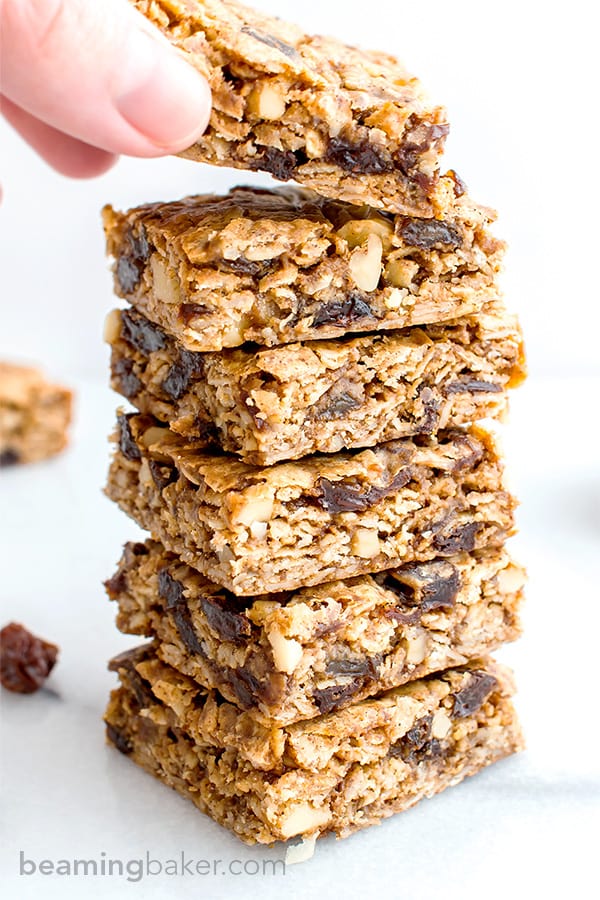 That infomercial was not to blame for me wasting eggs. In fact, it should've been given extra shiny gold star stickers for turning me into an engineer. Or something. A food scientist? Who knows! All I knew was that those words sounded important and might lead to me getting that magic toy.
And guess what? 4-6 weeks later, it arrived in the mail.
And I whipped egg whites like it was no one's business. Then, I rinsed it off, because eggs can be really, really gross. Especially on your face. Then I fanned myself… then climbed up my special step stool and fanned my mom. Because, she rocked. And she was sweaty.
I don't have that otherwordly, uber magical multitasking invention of the century anymore, but I do have a great, great love for experimenting in the kitchen. And I still have a mom that's always willing to root for me. And support me in all of my kitchen "experiments."
So join me, would ya? Whip up this super simple, whisk/fan-not required oatmeal raisin cookie bars goodness. Spoiler alert: this kitchen experiment is gonna work. 😉
These Oatmeal Raisin Cookie Bars are made full of love and…
super easy to make
vegan and gluten free
chewy, soft and satisfying
packed full of raisins, oats and walnuts
made of the simplest ingredients
whipped up by a color-matching genius
Try it out and let me know what you think! And while you're at it, perhaps you'd like to check out these amazing gluten free lemon bars from Noshtastic. To make 'em vegan, swap the eggs for flax eggs and use organic sugar! Or, if you're in the mood for chocolate, you could whip up these Gluten-free Chocolate Chip Cookie Bars from My Gluten-Free Kitchen. Just be sure to use dairy-free butter, dairy-free cream cheese, vegan chocolate chips and flax eggs to make them vegan. Back to what I was saying… 😉 whether or not you have your own fruit-print jumpsuit (with matching buttons), you'll have tons of fun whipping up these cookie bars in the kitch.
☀︎Click below to Pin ☀︎

☀︎ Did you make this recipe? Take a pic and share it on Instagram with the hashtag #beamingbaker and tag @beamingbaker. I would love to see it! ☀︎
Oatmeal Recipes We Love
Print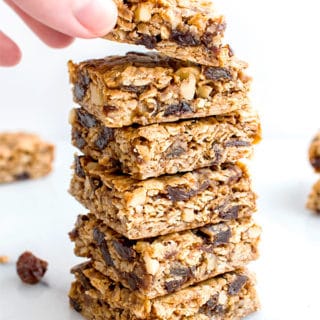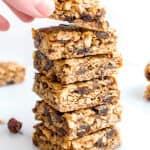 Oatmeal Raisin Cookie Bars (Vegan, Gluten Free)
---
Description
Oatmeal Raisin Cookie Bars (V+GF): an easy recipe for soft, chewy cookie bars made from simple ingredients, bursting with juicy raisins and walnuts. Vegan and Gluten Free.
---
Wet Ingredients
2 tablespoons

melted coconut oil

¼ cup

unsalted, natural almond butter

¼ cup

pure maple syrup

¼ cup

coconut sugar

1 teaspoon

pure vanilla extract
Dry Ingredients
1 cup

gluten free rolled oats

¼ cup

gluten free oat flour

2 tablespoons

ground flax

1 teaspoon

cinnamon

¼ teaspoon

salt
Add-ins
½ cup

raisins

½ cup

chopped walnuts
---
Instructions
Preheat oven to 350°F. Line an 8×8 pan with parchment or greased foil. Set aside.
In a medium bowl, whisk together the wet ingredients: coconut oil, almond butter, maple syrup, coconut sugar and vanilla.
In a large bowl, whisk together all of the dry ingredients: oats, flour, flax, cinnamon and salt.
Pour the wet mixture over the dry mixture. Using a rubber spatula or wooden spoon, fold until well mixed. Fold in raisins and walnuts.
Pour this mixture into your baking pan. Using a rubber spatula, spread into an even layer.
Bake for 15-20 minutes. Keep in mind that the bars will harden as they cool.
Allow to cool on a cooling rack. Slice into 16 bars. Enjoy!
© beamingbaker.com. All content and images are protected by copyright. Please do not use my images without my permission. If you wish to republish this recipe, please re-write the entire recipe using your own words and include a link to this post for the recipe.
If you love oatmeal raisin cookie bars, try out my No Bake Oatmeal Raisin Granola Bars (Vegan, Gluten Free).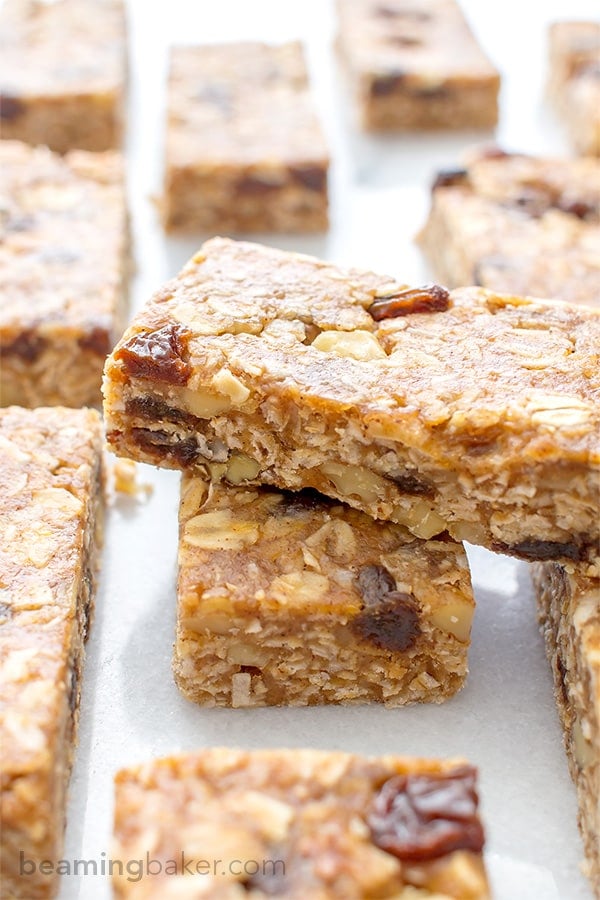 Breakfast just got so much happier. Try my Good Morning Breakfast Cookies (Vegan, Gluten Free).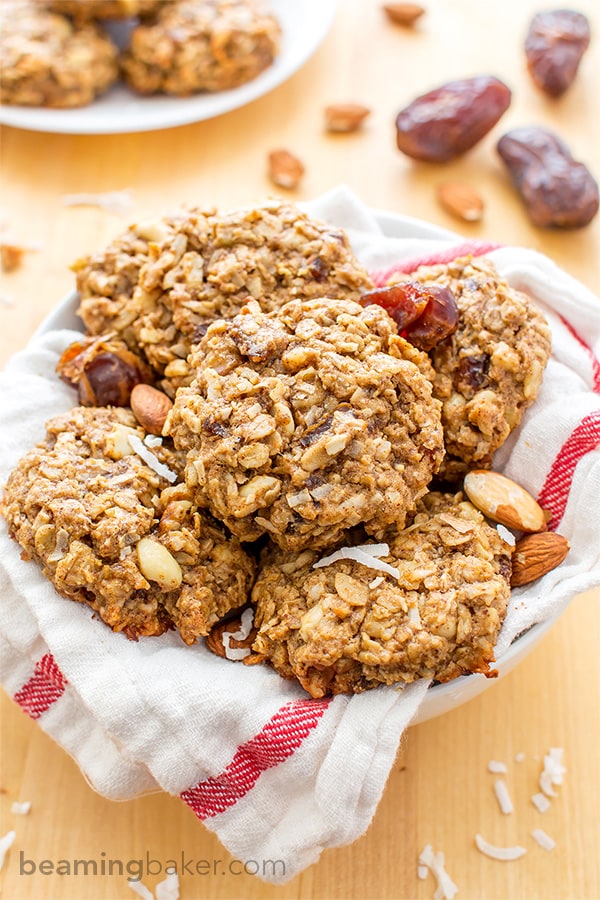 More Oatmeal Raisin Recipes
I've totally been eyeing these Gluten Free Oatmeal Raisin Cookies with Irish Cream Icing from Fearless Dining! Don't they sound amazing?
In case you're feeling more like a no bake bite, try my No Bake Oatmeal Raisin Bites! They're deliciously vegan and gluten free. 🙂
What inspires you to cook?
I can't wait to hear your responses.