One Bowl Double Chocolate Banana Muffins (Vegan, Gluten Free, Dairy Free)
One Bowl Double Chocolate Banana Muffins (V+GF): a one bowl recipe for moist, rich chocolate banana muffins dotted with chocolate chips. Vegan, One Bowl, Gluten Free, Dairy Free.
Do you remember the emo post? Ya know, the one about my emotional baking breakdown double chocolate banana nut bread? I told you about the self-imposed crazy-high, unrealistic, doomed-to-fail standards that I put on myself. I told you about how I realized that maybe, just maybe, we all put too much pressure on ourselves to be perfect.
And if we're not perfect, we really give ourselves the crappiest time.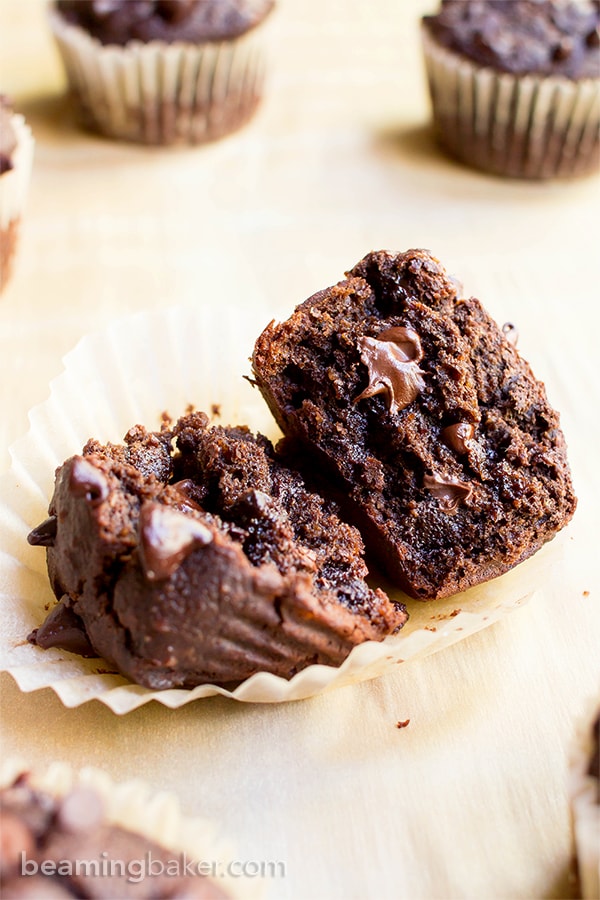 I was hoping you'd relate. And you did. In fact, many of you felt the same way too. Your support helped me to realize that I'm not this major fudge-up (censored for the kiddies, of course); your support helped me to realize that we're all in this together. So thank you. ❤
But yet, how did the saga end? Did those infamous double chocolate banana muffins ever get made? Did I ever show them who's really the boss?
Take a look-see. 😉 'Cuz… I DID. Oh yeah!! I just pushed my super cool sunglasses up my forehead and crossed my arms over my chest like I was a cool person. As if I even knew what that entailed.
I'm not gonna lie though… I was kinda/really/super seriously nervous about making these babies. I mean, what if I dropped the entire pan, AGAIN? What if I didn't follow all the tips from the top minds of baking geniuses around the world? What if I didn't add in enough baking soda in the banana bread recipe or I really should have cranked up the heat super high at the beginning of the batch, then turn it down low towards the end (or something)? What if??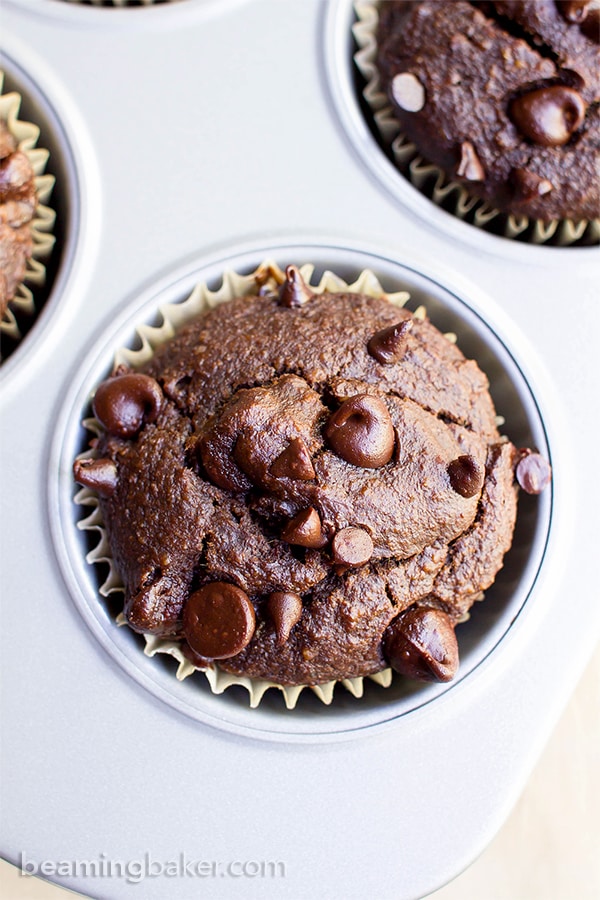 But the recipe was good. I mean, it was really good. Like, domed tops GOOD. These one bowl double chocolate banana muffins are perfectly moist, super chocolatey and taste, for realsies, BETTER than chocolate cake. Yeah, I had to shout that. <–Let me have this, would ya? 😉
Anyway, just as I was worrying and fretting about this recipe, this shoot, and everything else, I was in the middle of summer craziness. There were three birthdays in my family, a wedding, LOTS of travel (think stuffy buses and moist subway stations… ew), literal mountains of coconut chocolate chip vegan ice cream, and two partridges and a pear tree. Like literally.
Except for the last two (or is it three??). *Clears throat*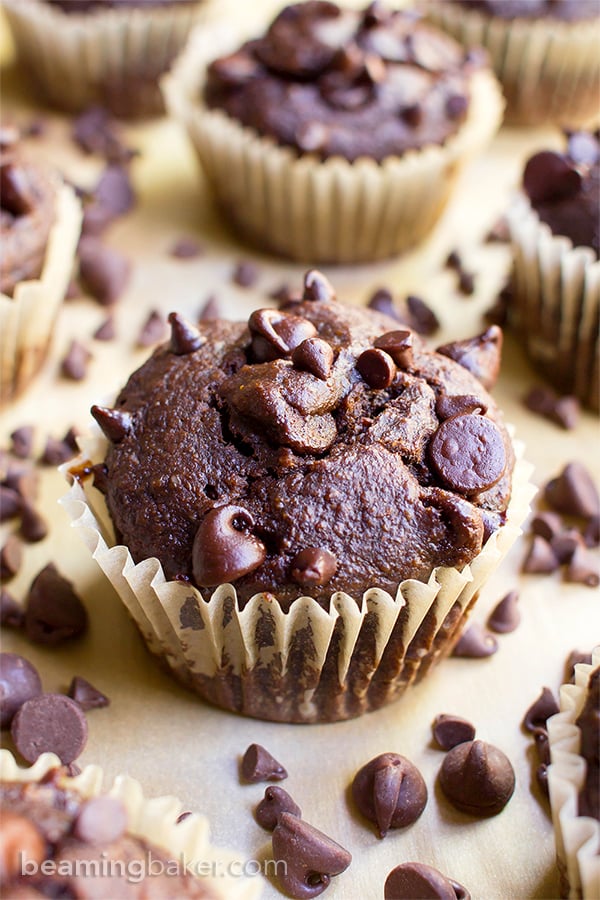 I was doing the same things again—doing too much, expecting too much, and sleeping too little. Work lasted longer and longer each day. Conversations, bonding time, hugs and all that good stuff became less and less frequent. I picked computer time over family time. I picked work over life.
And that sucked. A LOT.
I started questioning a lot of things that I was doing, and I started making new plans. This time, I'm gonna change. For real. Work less, live more. Spend less time chatting online and more time chatting in person. Take a walk in the morning with Erik, instead of turning the computer on and doing internet stuff til my eyes burn.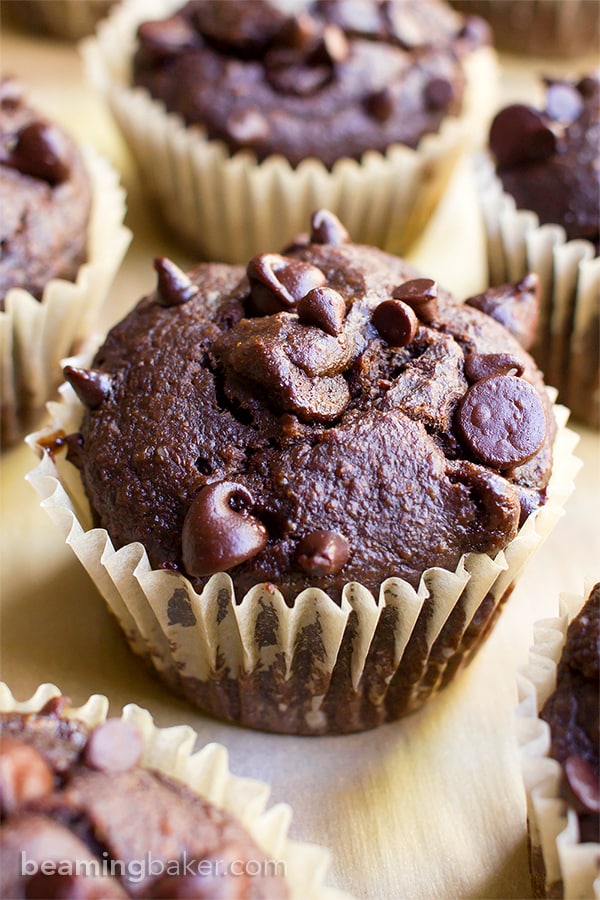 Will you join me? I mean, after you're done reading this post, then pinning it and sharing it to your social media? <—Just. Kidding. 😉 Let's make some time for meeting a friend at a coffee shop. Or playing catch with the kiddos at the park. How about spending an afternoon baking with Grams? Or maybe even inviting some friends over to make a batch of healthy lemon poppy seed muffins?
However you do it, let's do it together. Tell me, what are your favorite IRL activities? Surfing? Knitting? Ooooh, a book club?? I've always wanted to be in one! What's it like?
In the meantime, I'll tell you all about these one bowl double chocolate banana muffins. Hey, maybe you and Grams can make these this weekend?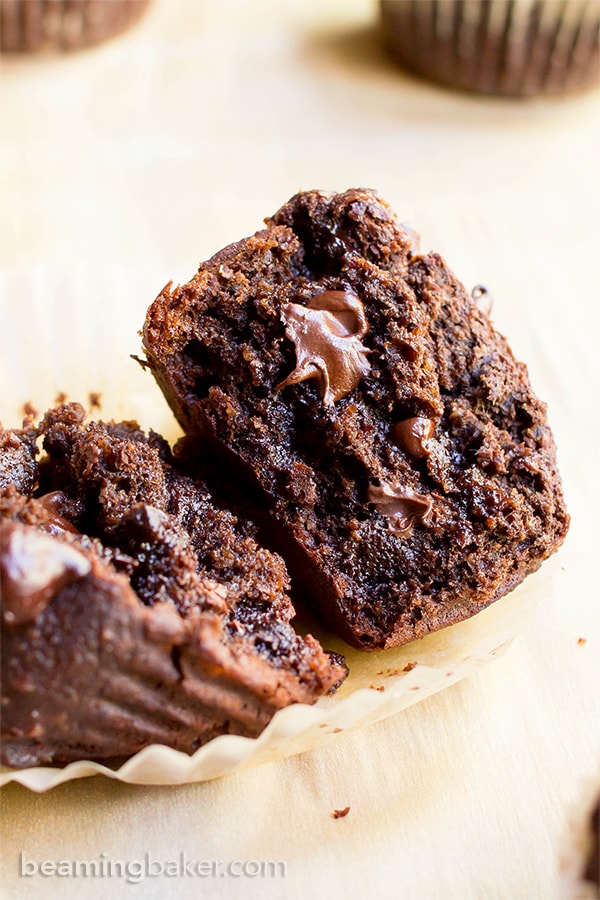 These One Bowl Double Chocolate Banana Muffins are:
made in just one bowl (in case you weren't listening)
vegan, gluten free and dairy free
rich, chocolatey and delicious
made of the simplest whole ingredients
moist and better than chocolate cake, yep, I said it.
plant-based and allergy-friendly
great for freezing to save you time
refined sugar-free
perfect for an afternoon of baking with Grams
Making something with your own two hands is one of the best feelings in the world. Will you try your hand (or hands…) at this today? And maybe, just maybe, you can plan an entire day of outdoorsy fun while you're at it. No computers allowed. 🙂
Sending you all my love and maybe even a dove, xo Demeter. ❤
☀︎ Click below to Pin ☀︎

☀︎ Did you make this recipe? Take a pic and share it on Instagram with the hashtag #beamingbaker and tag @beamingbaker. I would love to see it! ☀︎
Print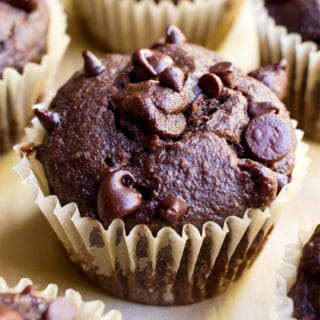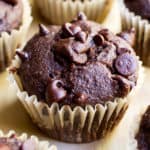 One Bowl Double Chocolate Banana Muffins (Vegan, Gluten Free, Dairy Free)
---
Description
One Bowl Double Chocolate Banana Muffins (V+GF): a one bowl recipe for moist, rich chocolate banana muffins dotted with chocolate chips. Vegan, Dairy Free, Gluten Free.
---
Wet Ingredients
3

medium, very ripe bananas (a little over

1 cup

)

¼ cup

melted coconut oil

¼ cup

pure maple syrup

¼ cup

coconut sugar

1

flax egg (

1 tablespoon

ground flax +

3 tablespoons

water, whisk together, set for 5 mins)

1 teaspoon

pure vanilla extract
Dry Ingredients
1 ¼ cups

gluten free oat flour

¾ cup

almond meal

½ cup

unsweetened cocoa powder

1 teaspoon

baking powder

½ teaspoon

baking soda

¼ teaspoon

salt
Add-ins
½ cup

vegan chocolate chips
Optional: 2 tablespoons assorted vegan chocolate chips for topping
---
Instructions
Preheat the oven to 350°F. Line a standard 12-muffin pan with cupcake liners.
Peel bananas and add to a large mixing bowl. Using a sturdy whisk or fork, mash bananas until completely smooth. Add the rest of the wet ingredients: coconut oil, maple syrup, sugar, flax egg, and vanilla. Whisk until well incorporated.
Add all dry ingredients: oat flour, almond meal, cocoa powder, baking powder, baking soda and salt. Whisk together until just incorporated, making sure no flour patches remain. Be careful not to overmix.
Pour batter evenly into cupcake liners. Optional: sprinkle chocolate chips on top of the muffins.
Bake for 25-30 minutes.
Place the muffin pan on a cooling rack. Allow to cool for about 1 hour. Lift out and enjoy!
Cook Time:

25 mins

Category:

Muffins, Vegan, Gluten Free, Dairy Free
© beamingbaker.com. All content and images are protected by copyright. Please do not use my images without my permission. If you wish to republish this recipe, please re-write the entire recipe using your own words and include a link to this post for the recipe.
Vegan Double Chocolate Banana Nut Bread (V, Gluten Free, Dairy Free) | Gluten Free Banana Oat Muffins (Vegan, GF, Dairy Free) | Gluten Free Vegan Brownies (V, GF, Dairy-Free) | Gluten Free Banana Chocolate Chip Oatmeal Breakfast Bars (V, GF, DF, Whole Grain)