Paleo Almond Joy Milkshake (V, DF, Paleo): a deliciously decadent recipe for thick, creamy milkshakes bursting with coconut, chocolate and almonds! Paleo, Vegan, Dairy-Free, Gluten-Free.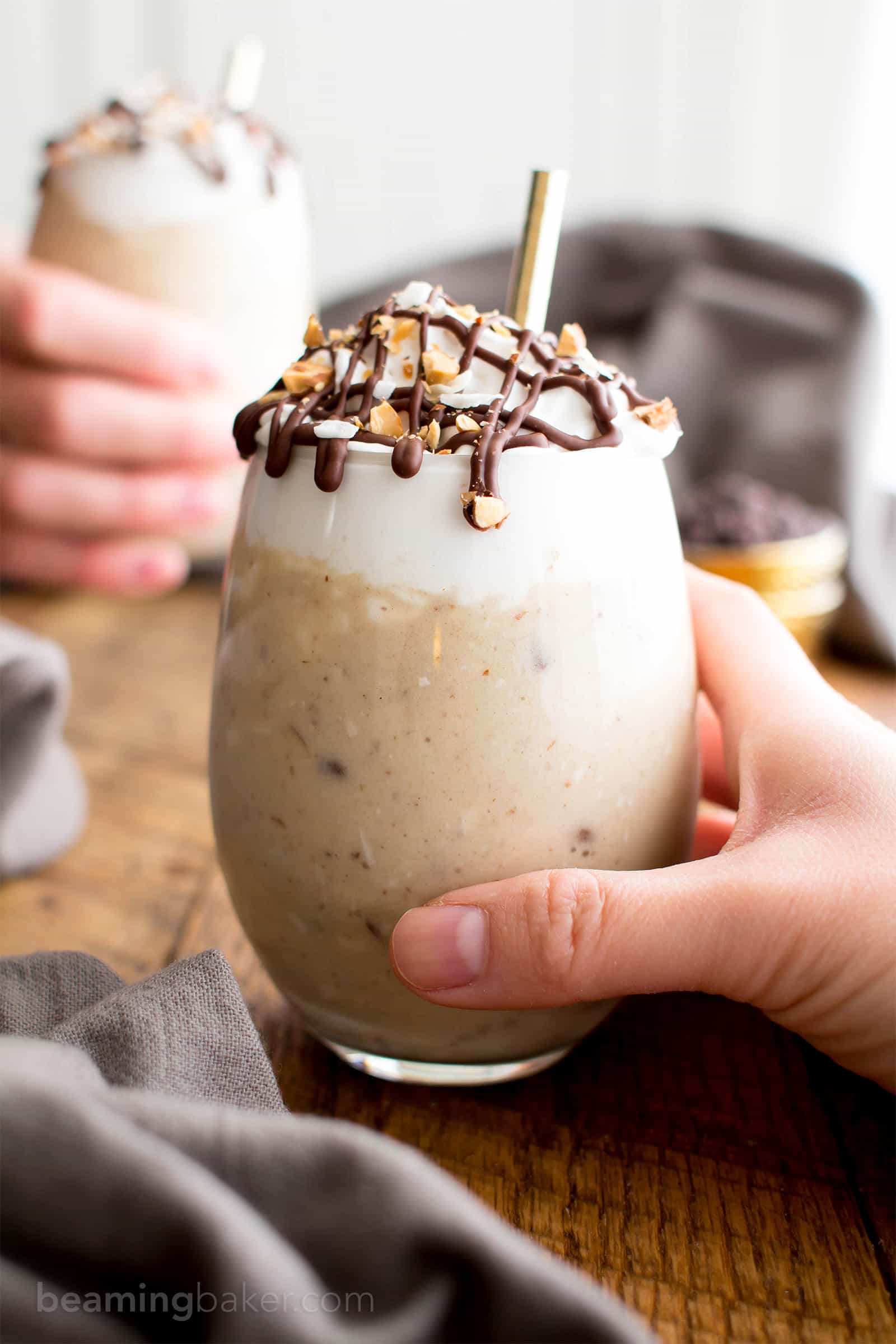 Because one Almond Joy recipe is never enough. And apparently neither are 5 (??). Wow… that many?? On some levels, I think that's a lot… on others it seems like there should be more. But anyway, truth time: are you a fan of Almond Joy or no?
With us being in the thick of the summer, I thought, what the heck, why not drop all the Almond Joy treats I can possibly think up? So this might actually be the last one of the summer because I don't want to scare you away or anything… we'll save that for September when I will probably test the limits again by sharing another AJ recipe. .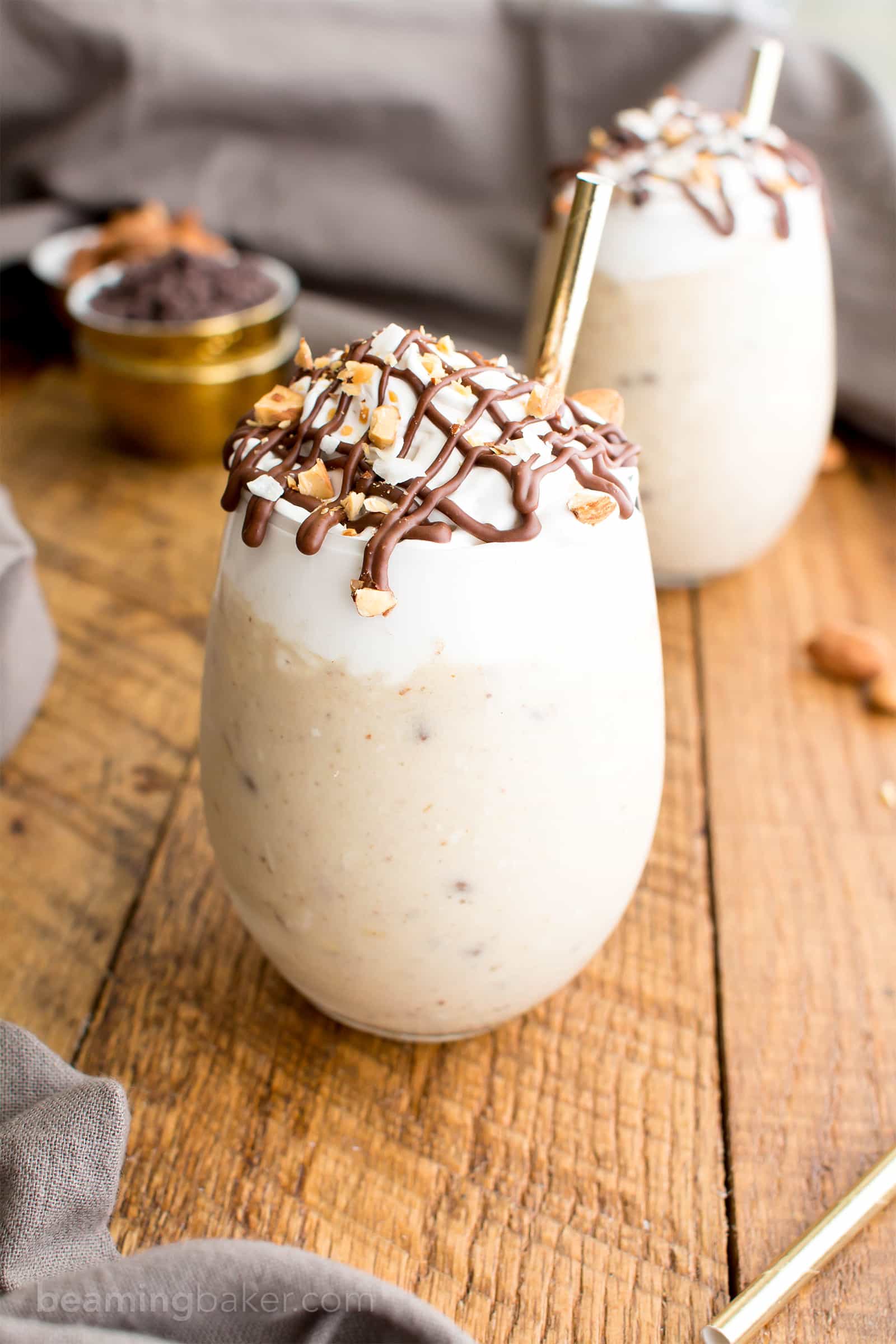 Meanwhile, today's recipe: Paleo Almond Joy Milkshake is slurpable, sippable, edible and so many 'ibles that I can't even count. Btw, when did counting become such a theme of today's post anyway?
About a month ago, I mentioned that BB readers seem to really enjoy milkshakes! Be it strawberry coconut milkshakes, mango milkshakes, (pretty-much a milkshake, but called a smoothie for some reason) peanut butter ice cream smoothie and more… but what if I called up one of BB readers' (yep, that's totally you) most beloved flavor combos: Almond Joy?
I mean, did ya really get enough almond joy goodness in the ice cream I shared, or the sundae that just came out? Oh, alright, if you did, I promise this is the last one for a while. 😉
For those of you who can't get enough, allow me to present to you, my Paleo Almond Joy Milkshake. It's thick, creamy, frosty, and seriously packed with so much yummy coconut, almond and chocolate goodness.
I made a few different versions 'til I got this recipe to that perfect spot between too much add-ins and not enough.
Et voila: the Milkshake of the Summer!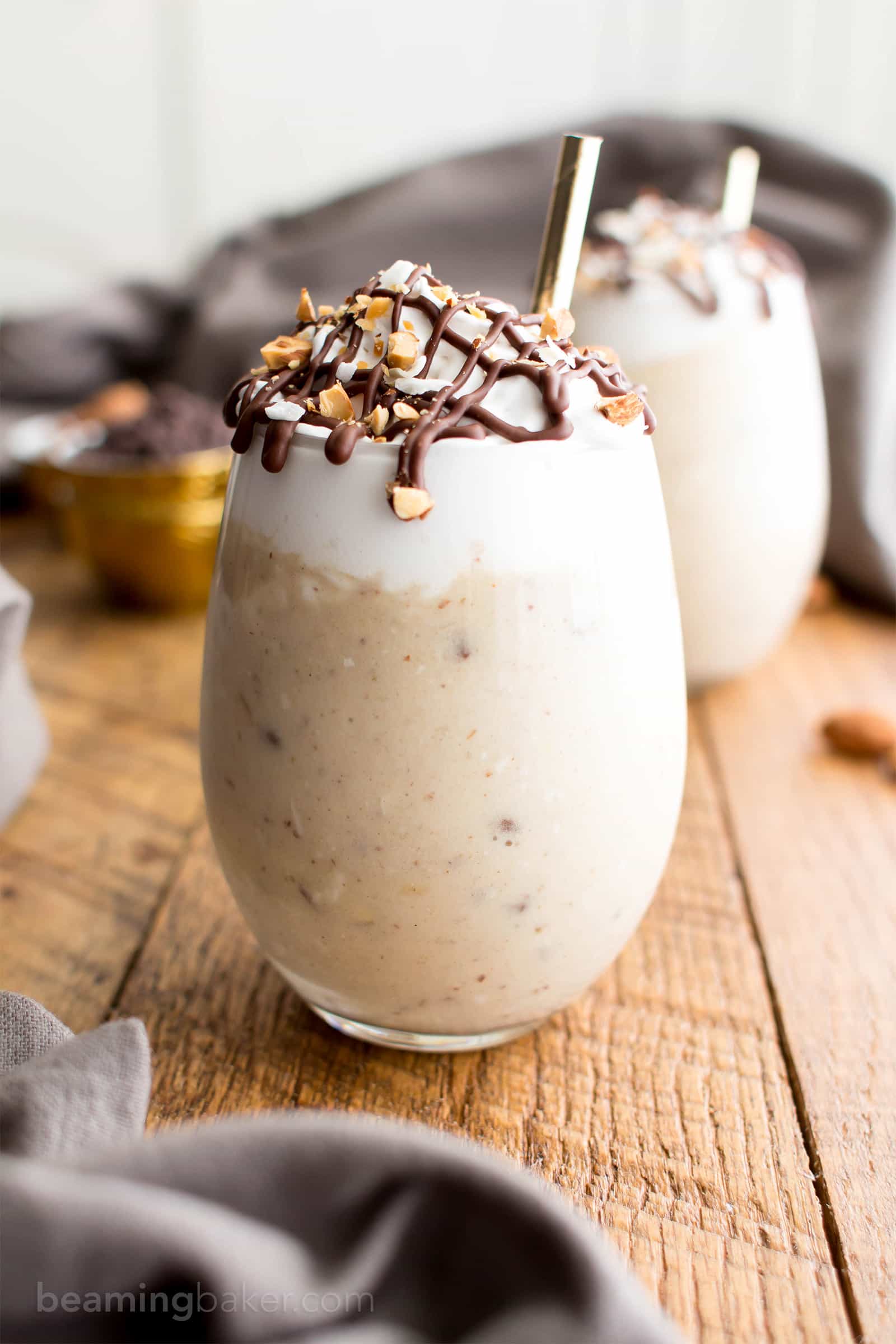 Can we just announce that and make a thing? Like this is the Song of the Summer, but you can eat it? So. Much. Better. It might not be the last milkshake of the summer (oooh, intrigue), but it's definitely one of my faves. In fact, I've definitely been eyeing this Minty Cookie Shake from My Gluten-Free Miami! Just be sure to use dairy-free versions of each ingredient to keep it vegan. 😉
While I wait on pins and needles (seriously, that sounds ridiculously uncomfortable), allow me to tell you all about this drinkable frozen dessert treat. This Paleo Almond Joy Milkshake is:
easy to make
super quick to whip up
thick, creamy, frosty
vegan, dairy-free, paleo, gluten-free
bursting with almond, coconut and chocolate flavor
aka Almond Joy paradise
full of delicious texture
made with the simple, whole, healthy ingredients you know and love
plant-based and allergy-friendly
a most tasty way to eat fruit
perfect for dessert, a snack or breakfast (because: SUMMER)
made just for you Milkshake Lovers out there
You ready for this? Let's grab our blenders, our ripened bananas and our favorite spatulas (you totally have one, right?). It's time to get our milkshake on! It's just wonderful making all the tasty treats with you this summer. I can't wait to hear what you think of this recipe! In the meantime, tell me:
What's your favorite milkshake flavor?
Sending you all my love and maybe even a dove, xo Demeter ❤️
☀︎ Click below to Pin ☀︎

☀︎ Did you make this recipe? Take a pic and share it on Instagram with the hashtag #beamingbaker and tag @beamingbaker. I would love to see it! ☀︎
Print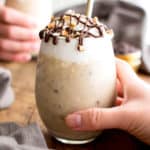 Paleo Almond Joy Milkshake (Vegan, Gluten Free, Dairy-Free, Paleo)
---
Description
Paleo Almond Joy Milkshake (V, DF, Paleo): a deliciously decadent recipe for thick, creamy milkshakes bursting with coconut, chocolate and almonds! Paleo, Vegan, Dairy-Free, Gluten Free.
---
Milkshake
3

medium bananas, sliced and frozen

1/3 cup

coconut cream*

1

–

2

tablespoons pure maple syrup

½ teaspoon

pure vanilla extract

½ cup

paleo-friendly vanilla ice cream**

3 tablespoons

unsweetened coconut, shreds or flakes

3 tablespoons

unsalted almonds, chopped or sliced

2 tablespoons

mini vegan chocolate chips
Optional Topping
Dairy-free whip, chocolate sauce, almonds, coconut
---
Instructions
Add bananas to a blender or food processor. Blend until crumbly. Add coconut cream, maple syrup and vanilla, blending until smooth. Scrape down the sides of the blender as needed.
Add ice cream, coconut, almonds and chocolate chips, blending until well incorporated.
Pour into cups. Optionally, top with coconut whip, chocolate sauce and your favorite toppings. Enjoy!
Category:

Frozen Drinks, Paleo, Vegan, Dairy-Free, Gluten-Free
© beamingbaker.com. All content and images are protected by copyright. Please do not use my images or recipe without my permission. If you wish to republish this recipe, please re-write the entire recipe using your own words and include a link to this post for the recipe.
If you just loved this Paleo Almond Joy Milkshake, then you'll truly enjoy these deliciously plant-based, allergy-friendly recipes:
☀︎Paleo Vegan Dairy-Free Frozen Drink Recipes
Since you're in the neighborhood… make that the delicious Paleo Vegan Frozen Drinks Neighborhood (okay, that was a long name)… why don'y you try my Paleo Mocha Frappe? Easy to make and super refreshing.
Sip your way to sweet summer bliss: 3 Ingredient Paleo Mango Coconut Milkshake.
Did someone say they needed a java boost? Try my simple, yummy recipe for Coconut Coffee Frappuccino. You'll be so pleased that you did. 😉
Facebook ☀︎ Pinterest ☀︎ Twitter ☀︎ Instagram