Perfectly spiced, crunchy pumpkin granola packed with pecans and pumpkin seeds for an easy & wholesome autumn treat.
Wholesome & Delicious Pumpkin Granola to Warm Up the Fall Breakfast Table
Cue the pumpkin spice recipes!!
We've already been celebrating the Season of All Things Deliciously Pumpkin here at BB. How've you enjoyed the pumpkin bars? How about my fave baked pumpkin donuts?
Well, I thought it was the perfect time to drop a cozy pumpkin granola for your fall pleasure—ya know, to level out the desserts! Ready? Let's make this!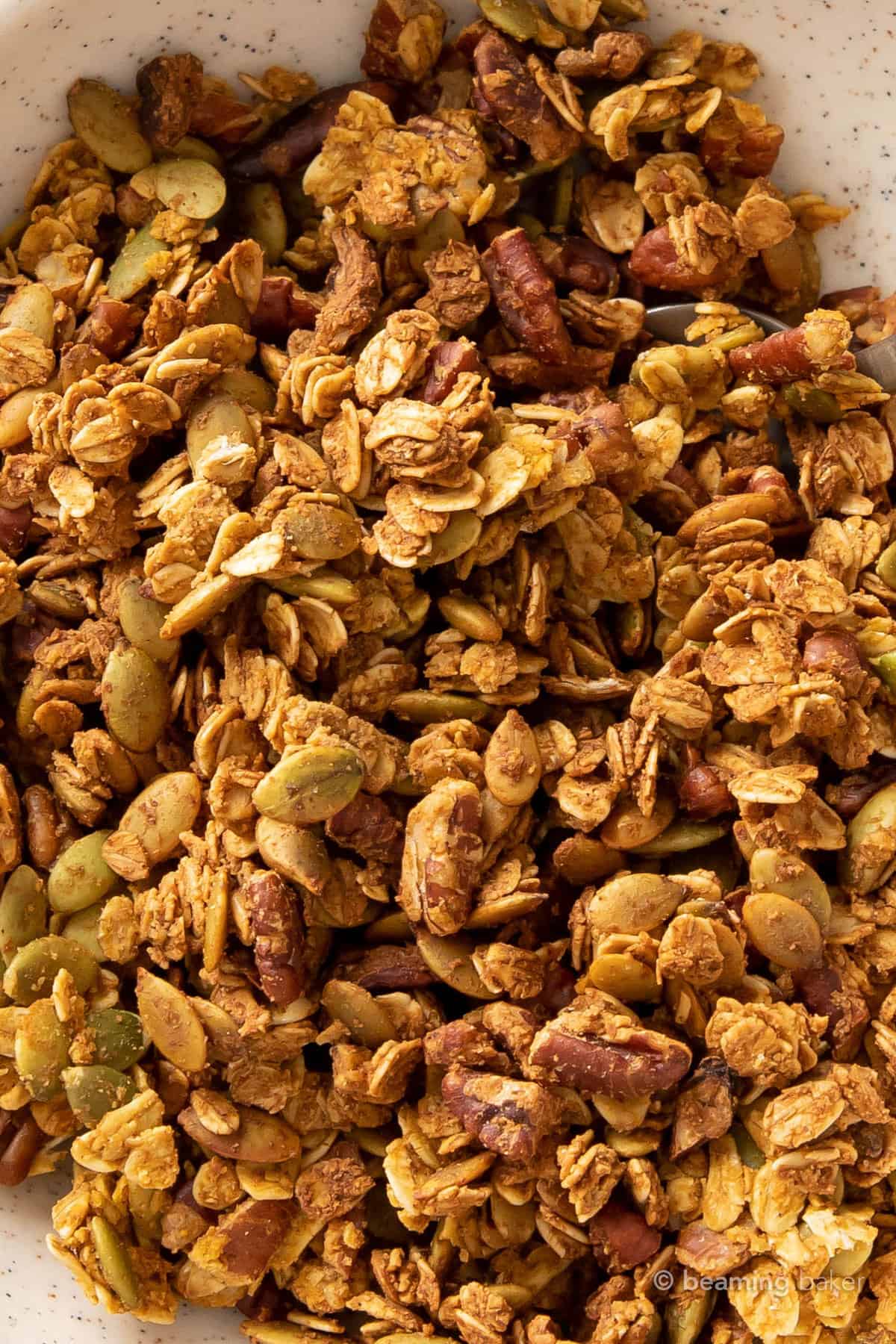 Pumpkin Seed Granola Ingredients
You know one thing I really, really don't like about complicated granola recipes? The looooooong ingredients lists that usually come with them. Today, we're making pumpkin spice granola with a short ingredients list, but with long (or big heehee) flavor!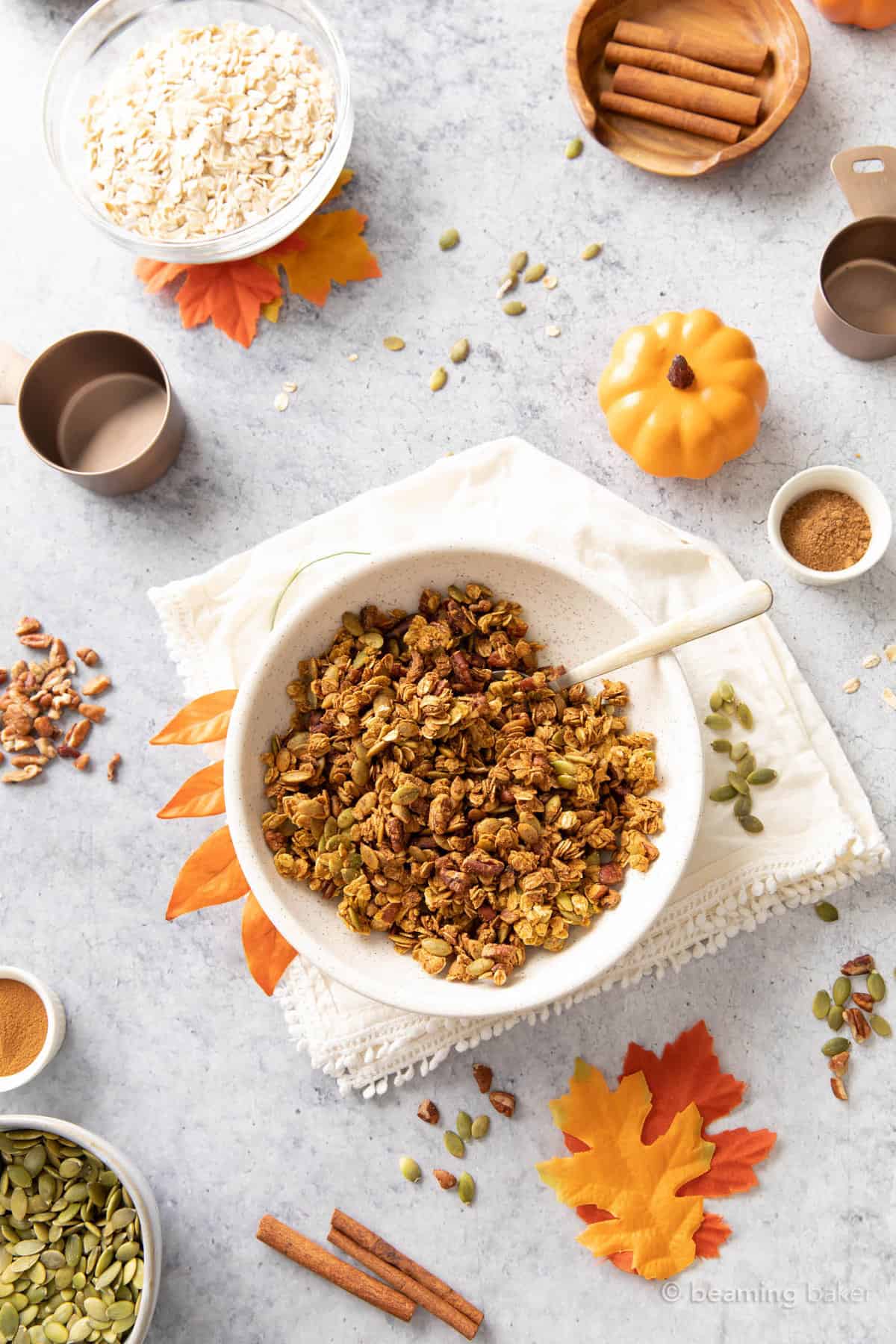 How to Make Pumpkin Flax Granola
Wondering how to make granola with pumpkin seeds taste… actually good? This pumpkin flax granola is not only tasty, but super easy to put together, in 7 simple steps. Check 'em out: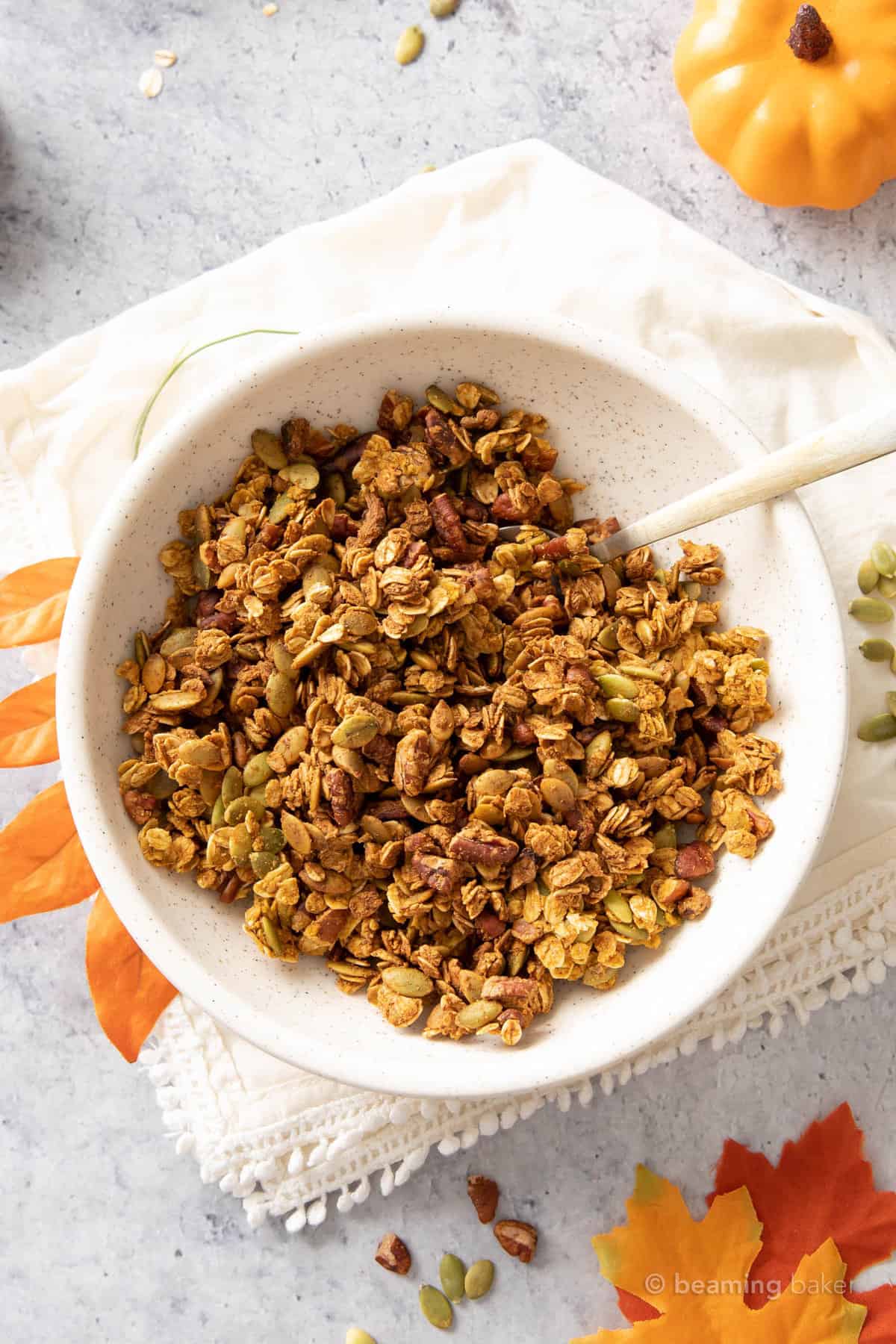 How to Customize This Recipe For Pumpkin Granola
Customizing this pumpkin granola recipe is super easy. While I don't usually recommend making too many changes to a recipe, here are some that will satisfy and ensure you get the yummy results you deserve.
Change up the Nuts + Seeds
For the 1 ½ cups of nuts called for in this pumpkin granola recipe, I used ¾ cup pecans and ¾ cup pumpkin seeds. You totally do not have to do this! You can use any combination of seeds and nuts to your liking. Just make sure to keep it to 1.5 cups. 😉
Swap Some Nuts for Dried Fruit
Not a fan of nut- and seed-rich granola recipes? You can swap some of the nuts/seeds for chopped dried fruit. Some lovely add-ins would be dried cranberries, raisins, cherries, or even dried apricots (no one will see this coming haha).
Switch up the Spices
When developing this recipe, I leaned toward more traditional pumpkin-enhancing spices, such as pumpkin pie spice and ground cinnamon. You might feel like going a little saucier. You could add in a pinch of ground black pepper to enhance the pumpkin flavor or go a bit bolder with ground ginger. It's up to you!
Add in Chocolate!
After you finish baking your granola, pour the still-hot granola into a heatproof mixing bowl. Then, add in about ½ cup chocolate chips (white chocolate chips can be a fun addition). Stir and fold the chocolate into the pumpkin granola. The chocolate will melt and coat the granola, cooling into sweet granola clusters.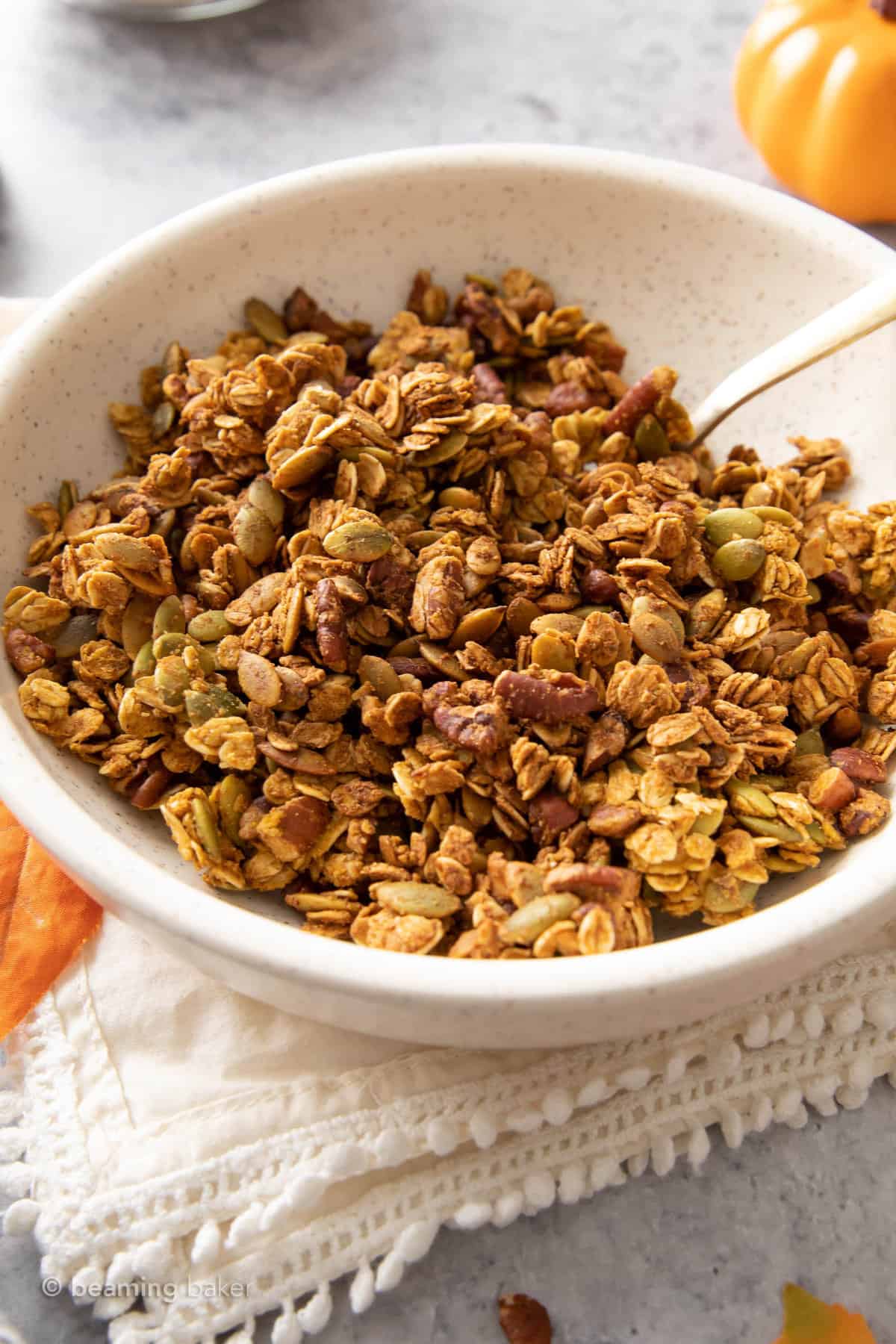 Pumpkin Recipes You'll 🎃
Tools You Need
It's the Great Pumpkin Granola, Charlie Brown!
Who said they weren't really talking about pumpkin flax granola, anywho?? I truly hope you love this super easy, super simple, fall-inspired recipe. Be sure to let me know in the comments below when you make it! You know I love hearing from you. 'Til our next sweet adventure…
Sending you all my love and maybe even a dove, xo Demeter ❤️
🎃 📸 🌅
📸 Did you make this pumpkin flax granola recipe? Take a pic and share it on Instagram with the hashtag #beamingbaker & tag @beamingbaker. I'd love to see it! 📸
Print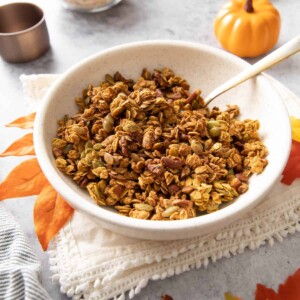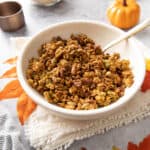 Pumpkin Granola
---
Description
Perfectly spiced, crunchy pumpkin granola packed with pecans and pumpkin seeds for an easy & wholesome autumn treat.
---
Dry Ingredients
1 ½ cups nuts/seeds, chopped

¾ cup

pecans, roughly chopped

¾ cup

pumpkin seeds

1 ½ cups

old-fashioned, rolled oats

¼ cup

ground flaxseed

1 teaspoon

pumpkin pie spice

¼ teaspoon

ground cinnamon

¼ teaspoon

salt
Wet Ingredients
3 tablespoons

coconut sugar

1 tablespoon

melted coconut oil

2 tablespoons

pure maple syrup

3 tablespoons

100% pumpkin puree
---
Instructions
Preheat oven to 325°F. Line a baking sheet with parchment paper or greased foil. Set aside for later.
Add all dry ingredients into a large bowl: nuts, oats, flaxseed, pumpkin pie spice, ground cinnamon, and salt. Using a rubber spatula, fold and stir until well mixed.
Add all wet ingredients into a smallish-medium bowl: coconut sugar, melted coconut oil, pure maple syrup, and pumpkin puree. Whisk until well mixed.
Pour the wet ingredients over the dry ingredients, making sure to scrape the bowl clean. Using the rubber spatula, stir and fold the wet and dry ingredients together until everything is very well coated.
Pour the granola mixture onto the prepared baking sheet, spreading into an even layer with intermittent pockets to let air through.
Bake for 20 minutes. Rotate the sheet, then bake for an additional 15-19 minutes (I did 17 additional minutes). Mine took a total of 32 minutes to bake.
Place baking sheet onto a cooling rack to cool for about 20 minutes. Enjoy!
Equipment
Notes
Storing Instructions: Cool granola completely, then store in an airtight container at room temperature, in a cool, dark environment for 1-2 months. Make sure to store granola out of direct sunlight and away from heat sources.
To make Vegan: Keep the recipe exactly as-is. All ingredients are vegan.
To make Gluten Free: Make sure to use gluten free-certified rolled oats. The rest of the ingredients are gluten free!
Prep Time:

10 minutes

Cook Time:

32 minutes

Category:

Breakfast, Snacks

Method:

Bake

Cuisine:

American
© beamingbaker.com. All content and images are protected by copyright. Please do not use my images or recipe without my permission. Please do not republish this recipe, instead, include a link to this post for the recipe.
This post may contain affiliate links, which allow me to make a small commission for my referral, at no additional cost to you.
🎃 Pleasing Pumpkin Recipes 😄