3 Ingredient Chocolate Walnut Fudge (V, GF): a 5-min recipe for thick squares of rich, velvety paleo vegan fudge packed with delicious walnuts. Made with healthy ingredients. Vegan, Gluten-Free, Dairy-Free, Paleo.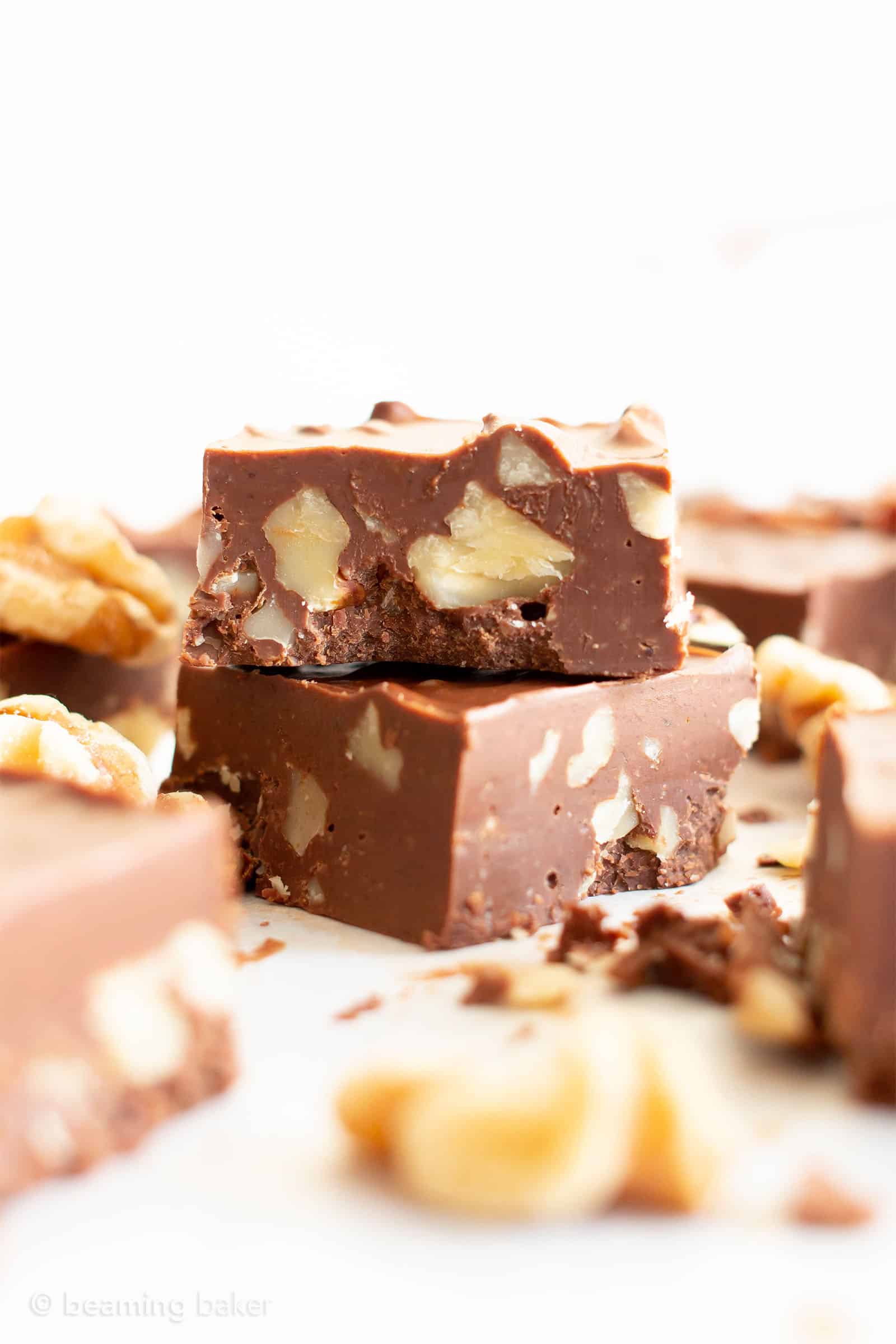 My favorite kind of candy to make during the holidays is FUDGE!!
Fudge has had so many wonderful moments in my life. Highlights reel: fudge shops in airports (yep, airports), this little candy shop with homemade fudge in Old Town when we used to live in San Diego, and stumbling across this random fudge shop during one of our travels in Maryland.
But I never had to, or wanted to, make my own homemade fudge until I started getting more health-conscious. Wah wah. Darn, that wasn't supposed to come out so un-fun, and obviously, not judgy or anything at all! Life is all about having some fun and having some tasty indulgences…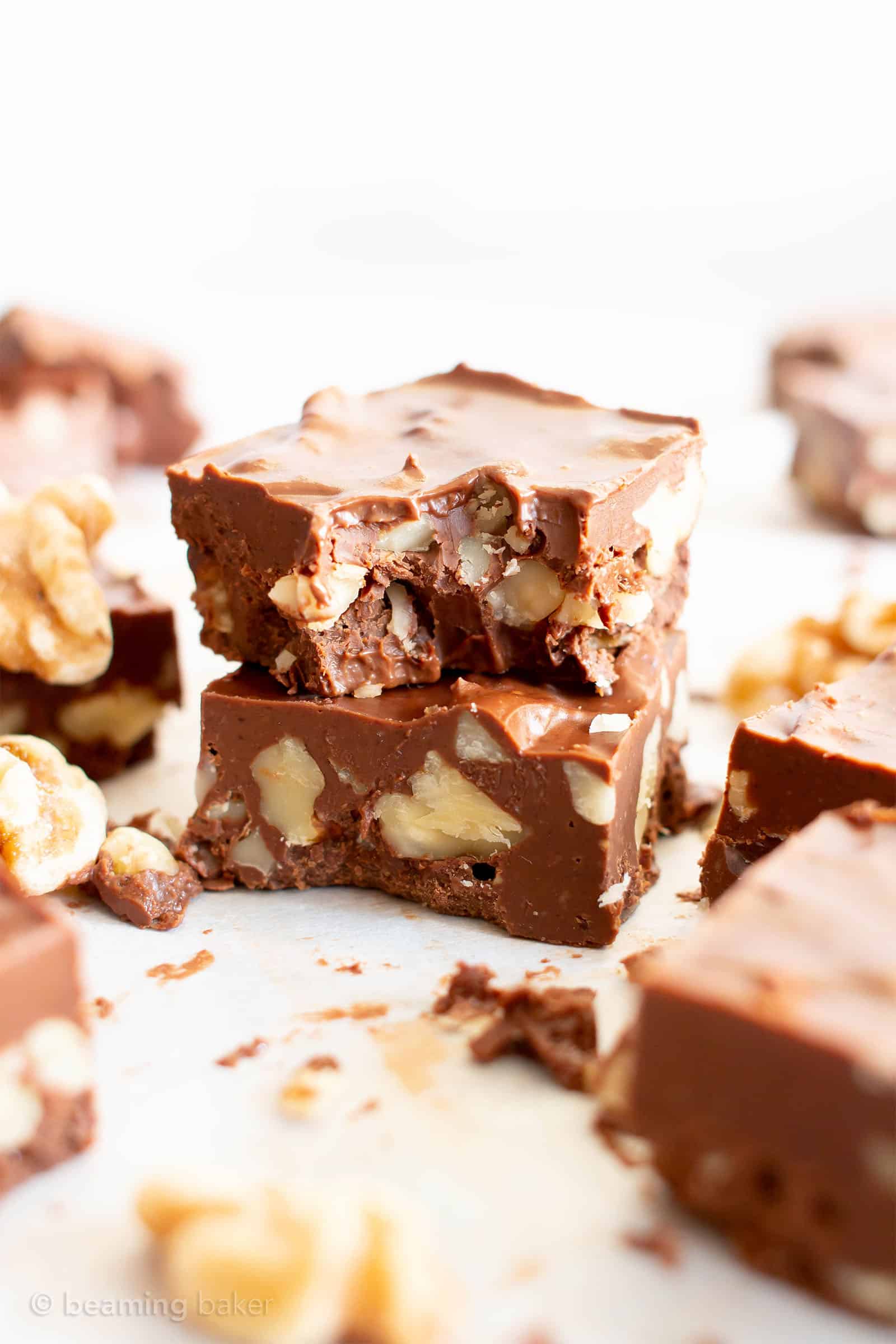 But as I get older, I prefer to have my indulgences without all the guilt. I like to recreate childhood faves, the classics you and I grew up with, in a sneakily/secretly healthy way. 😉
And, since the holidays are upon us, I thought it'd be high-time to remake a huge holiday fave: Chocolate Walnut Fudge… but with just 3 ingredients!
Homemade fudge has had a long history here on BB, starting with 2 Ingredient Vegan Chocolate Peanut Butter Freezer Fudge, to 5 Minute Easy Peppermint Fudge, to 3 Ingredient Chocolate Pecan Fudge.
But it wasn't until February of last year that I felt like I truly cracked the perfect recipe for healthy homemade fudge, with just the measurements to have you gifting and eating fudge at room temperature. Oh YES. No freezer or refrigerator needed.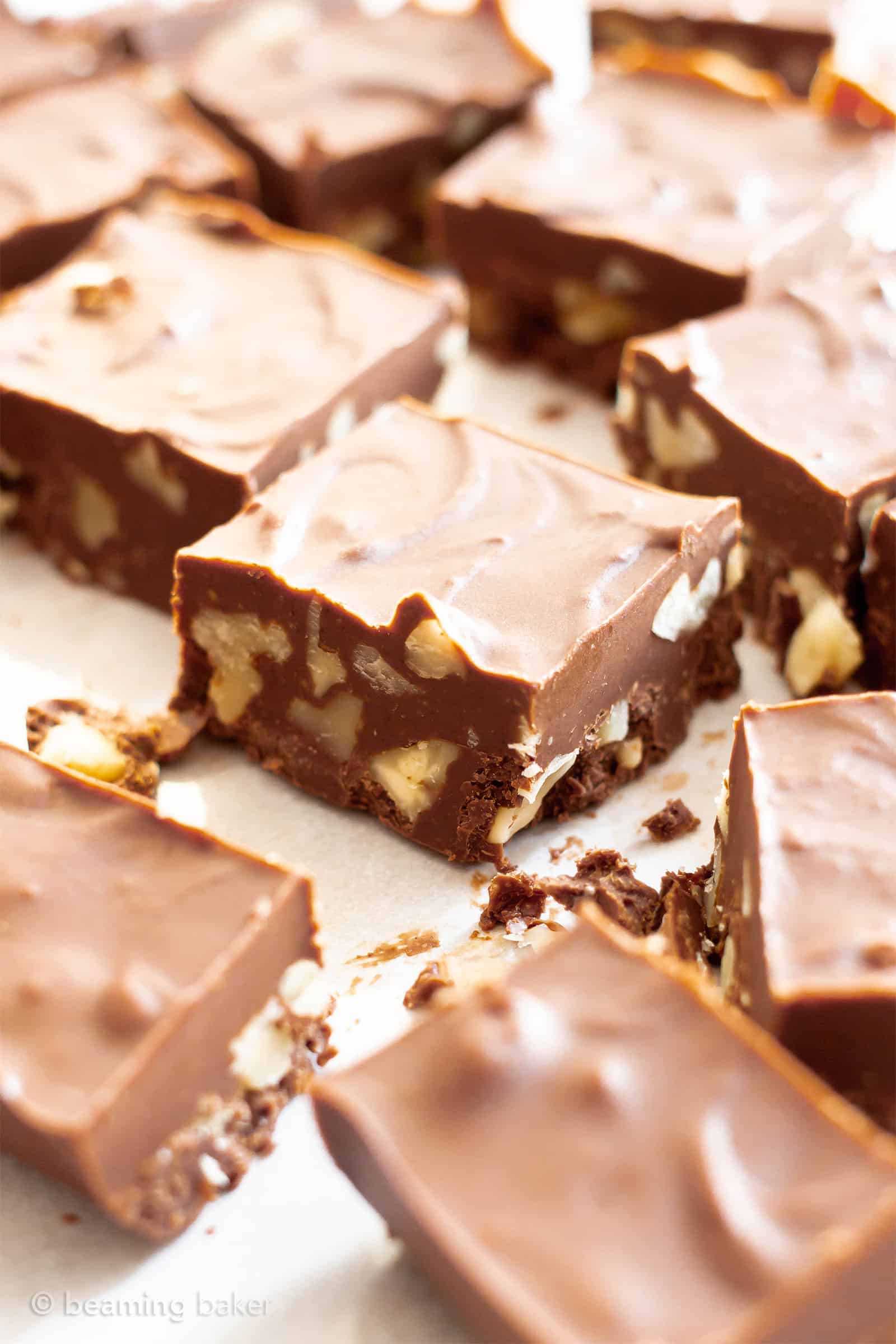 Since then, I've done a few fun twists with that fudge… and I'm in the process of cookin' up some ways to add it into a few recipes. Perhaps not unlike these No Bake Chocolate Peanut Butter Bars that have this incredible fudge base on top. (Yep, it's as good as it sounds).
Back on point… this 3 Ingredient Chocolate Walnut Fudge is exactly what you're looking for to satisfy those fudge cravings, and/or, if you're in the mood to share, the perfect homemade gift to give this holiday season. Your loved ones are going to be so bowled over when you proudly present this fudge to them, and tell them it's homemade. They're gonna have the biggest smiles on their faces.
And you'll secretly smirk to yourself, in relief and a healthy dash of smugness, knowing that it took, what, 5 minutes to whip up. WHOOP WHOOP!! Sound good?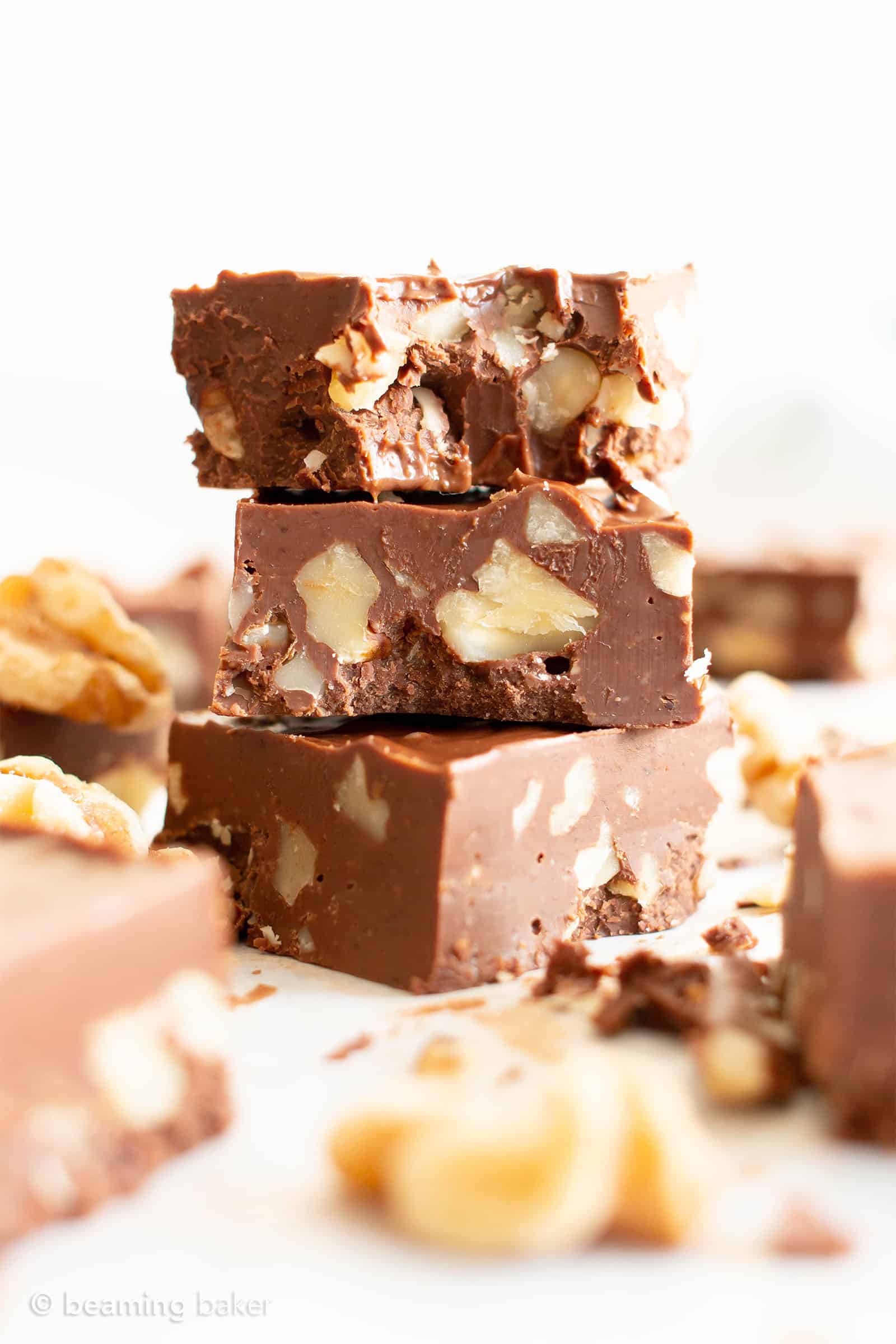 Here's a few of this 3 Ingredient Chocolate Walnut Fudge recipe's finest points, in case ya need a little more convincing. It's:
Happy December! Let's make it the sweetest! You grab your favorite creamy nut butter, I'll grab the vegan chocolate. Meet ya in the kitchen! It's truly such an honor to spend the holidays with you, making these sweets from the heart. I can't wait to hear what you and your loved ones think! 'Til next time… 
Sending you all my love and maybe even a dove, xo Demeter ❤️
.︎ Click below to Pin .︎

. Did you make this recipe? Take a pic and share it on Instagram with the hashtag #beamingbaker and tag @beamingbaker. I would love to see it! .︎
Vegan Gluten Free & Paleo Chocolate Recipes
If you enjoyed this 3 Ingredient Chocolate Walnut Fudge, then you'll just love these healthy chocolate recipes:
What kind of chocolate to use in this recipe:
Print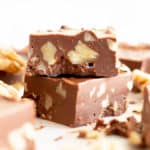 3 Ingredient Chocolate Walnut Fudge (Paleo, Vegan, Gluten Free, Dairy-Free)
---
Description
3 Ingredient Chocolate Walnut Fudge (V, GF): a 5-min recipe for thick squares of rich, velvety paleo vegan fudge packed with delicious walnuts. Made with healthy ingredients. Paleo, Vegan, Gluten-Free, Refined Sugar-Free, Healthy Dessert.
---
---
Instructions
Line an 8-inch loaf pan with parchment paper or wax paper. Set aside. Clear some space in the freezer for this pan—you will need it later.
Use the double boiler method or the following to melt the chocolate: Add paleo vegan chocolate chips and almond butter to a medium, microwave-safe bowl. Heat in 20-second increments until chocolate is softened and melty. Stir in between heating increments, until smooth. Fold in walnuts.
Pour this mixture into the prepared loaf pan. Tap the pan to create an even layer. Optionally, use a spoon to make swirls on top.
Transfer pan to freezer. Freeze for 40-60 minutes or until completely firm. Remove from freezer and slice into 18 squares. Enjoy! Storing instructions below.

Adapted from my 2 Ingredient 5 Minute Homemade Fudge.

Also try my Paleo Dark Chocolate Sea Salt Almond Clusters and my Vegan Gluten Free Fudgy Walnut Brownies.
Notes
– The first day, the fudge will be a bit soft at room temperature—it's best to store in the refrigerator for Day 1. The second day, it will be firm at room temperature. Store in an airtight container in a cool, dark area at room temperature, or in the refrigerator, for up 2-3 weeks.
– Freezing instructions: store in an airtight, freezer-friendly container in the freezer for 1-2 months. Very firm, but enjoyable straight out of the freezer. If preferred, thaw for 10 minutes.
– *If you're looking for chocolate chips that aren't made with cane sugar (Paleo), try chopping up this Hu Paleo Dark Chocolate Bar to use in place of the chocolate chips!
Category:

Candy, Paleo, Vegan, Gluten-Free, Refined Sugar-Free, Healthy Dessert
© beamingbaker.com. All content and images are protected by copyright. Please do not use my images or recipe without my permission. Please do not republish this recipe, instead, include a link to this post for the recipe.
Facebook ☀︎ Pinterest  ☀︎ Twitter ☀︎ Instagram