Gluten Free Chocolate Chocolate Chip Oatmeal Banana Breakfast Bars (Vegan, One Bowl, GF, DF)
Gluten Free Chocolate Chocolate Chip Oatmeal Banana Breakfast Bars (V, GF): a one bowl recipe for whole ingredient breakfast bars bursting with double the chocolate. Vegan, Gluten-Free, Dairy-Free, Whole-Grain. 
Well hello there! Did you have a good weekend? Did you have some good family time, celebrating the amazing dads, moms, and all the loved ones this weekend? I hope you did and that you had a bit of adventure too. 😉
This weekend, my family and I had a little too much fun (no such thing, of course) cavorting all over Boston. Since Erik and I moved from Maine to Boston, we've been so much happier. We both still miss California something fierce, but Boston feels like home. At least for right now. 😉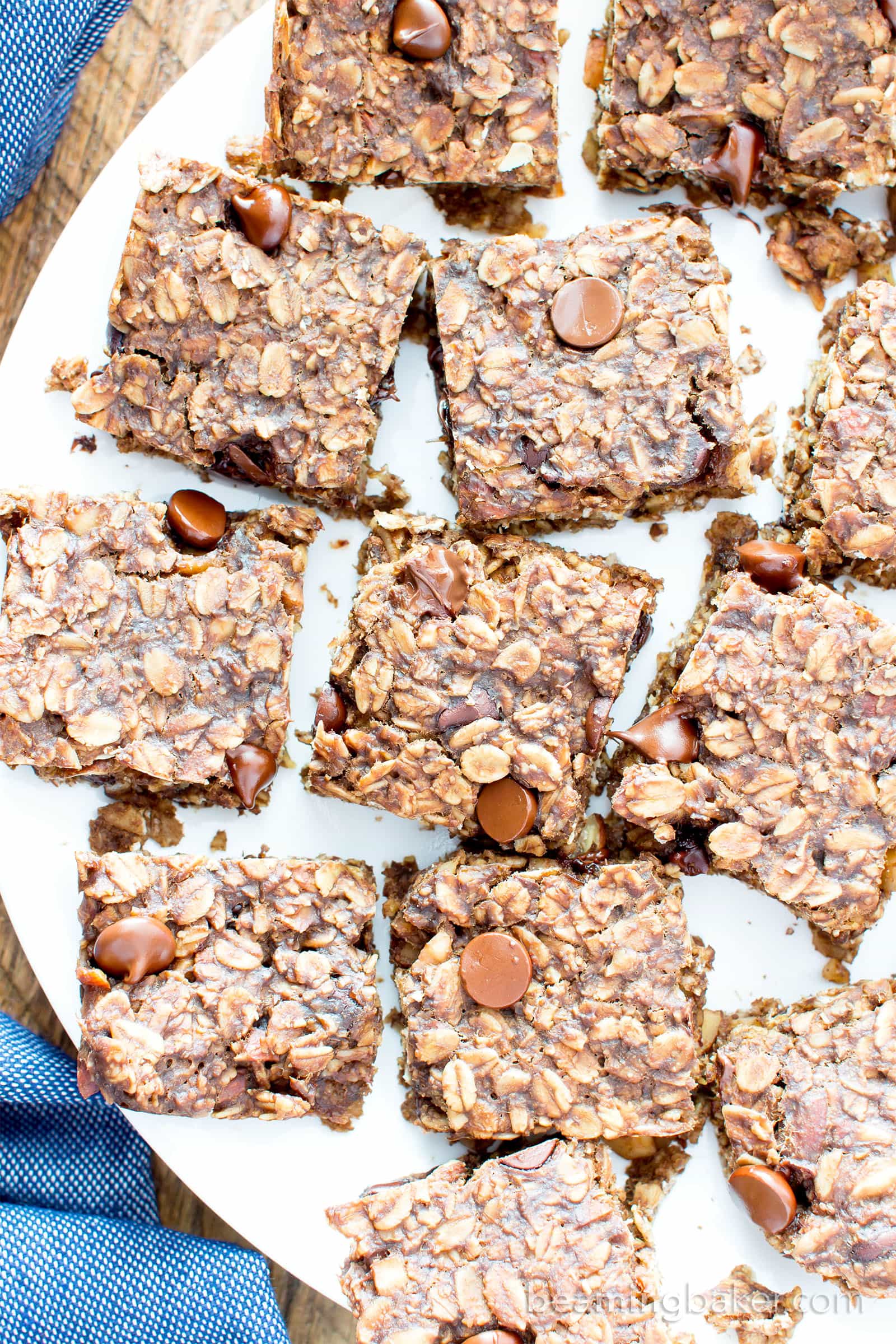 Of course, it helps that my super cute nephew, Dylan aka "PB" makes everything seems shinier, happier, more special. He's gonna be turning 4 years old soon… and I'm here thinking about how it seems like yesterday that he was just the size of a large banh mi… or a large burrito. And then I get all hungry thinking about it. Then I forget what I was even talking about. Note to self: must go get banh mi this weekend.
Wait, what was I talking about? Oh, right, PB! Not to be confused with Peanut Butter, of course. Ahem. It's just… time passes by so ridiculously quickly, don't you think? One second ago, PB was just born and could barely open his eyes. ❤️ And now he's asking about the next time he can help me bake something.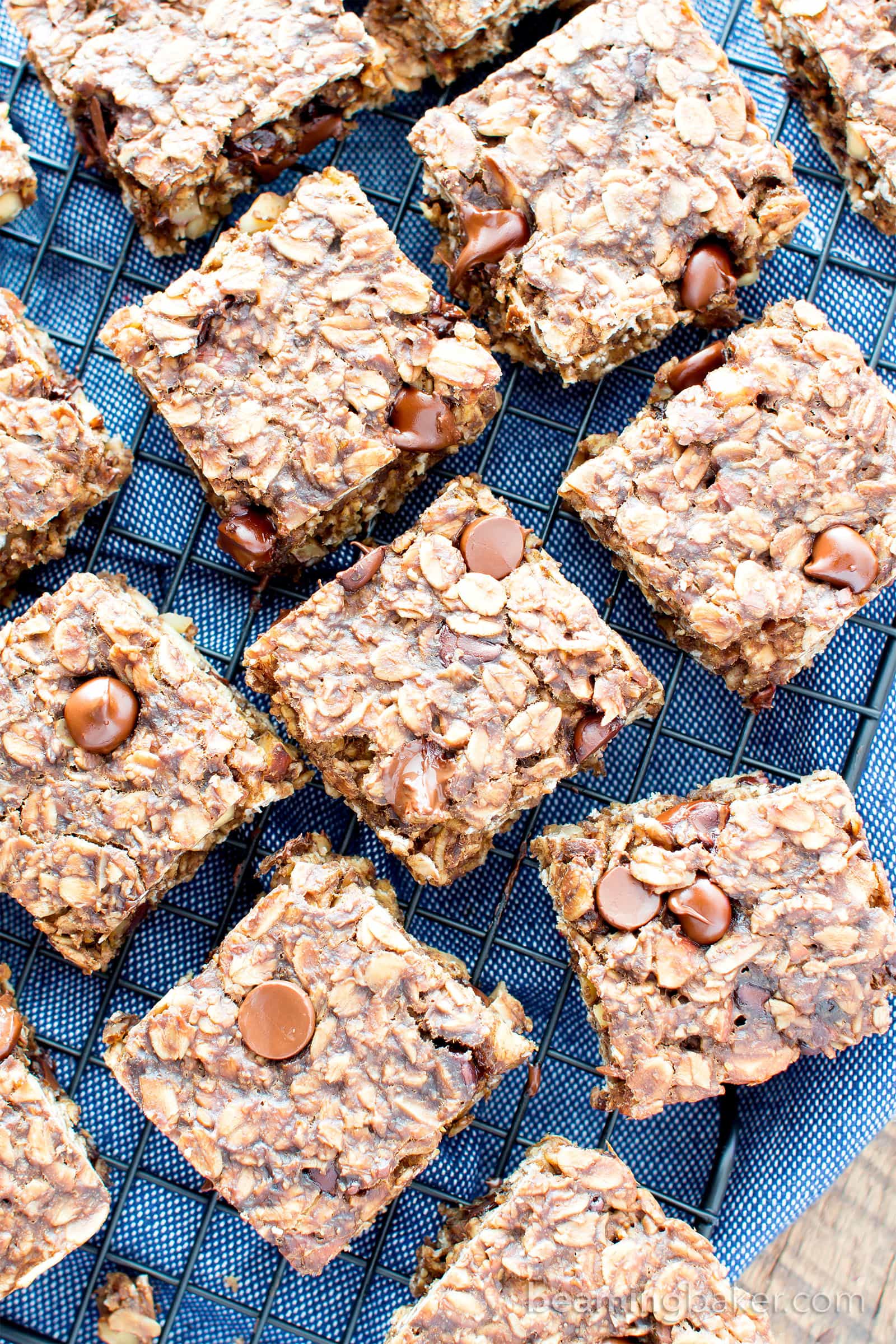 In all honesty, the first few times he asked, and the first 100 times his mamma/my sister Jenny suggested it, I was like… um, 'xcuse me? But what if something happens to him? What if he gets too close to the oven, or his bright, neon yellow butter "knife" goes rogue? Or what if the step stool he uses to boost himself up to my height gets sassy and tries to throw him off?
Then my sister, and then Erik, and then Grams, reassure me that he's a tough kiddo and that he's actually quite skilled in the food-making department. I mean, he does have a kitchen and barbecue playset that he's pretty much running real bakeries and restaurants out of. Ahem. 😉
Then then I realize that life's too short to worry about All the Things. Since then, he's helped out with making a few smoothies, ice creams and milkshakes. Far, faaaaaar away from the blender, of course. And all of those highly dangerous and unpredictable neon plastic kid's knives.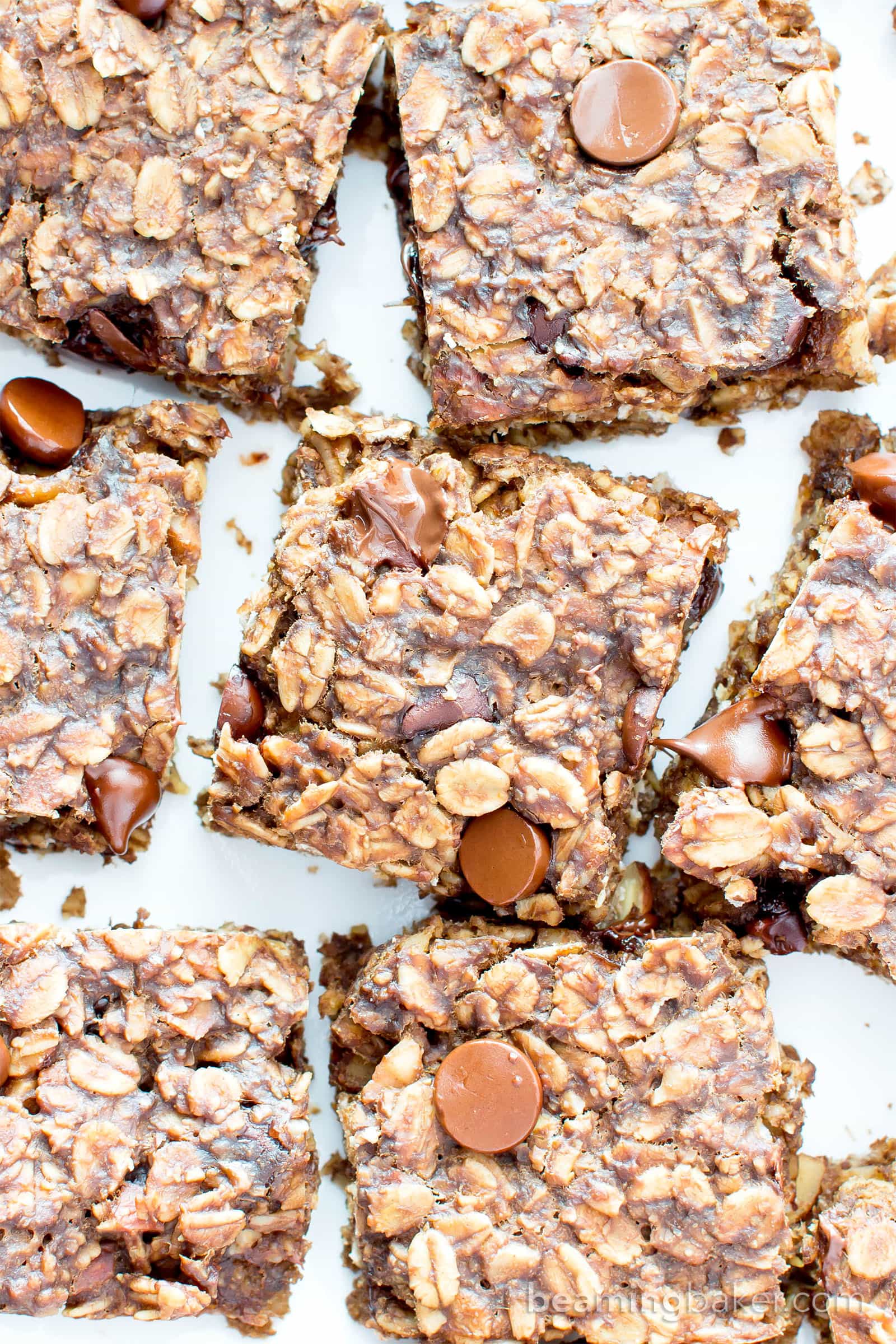 Now I'm working my way up to relaxing enough to have PB help me with making these gluten free chocolate chocolate chip oatmeal banana breakfast bars. Think he'll love mashing the bananas? <– Erik just said, "DUH!! He LOVES smashing things" over my shoulder. And I've got Jenny in my mind saying, "He's very advanced for his age, thoroughly mashing those bananas for you." Jenny, as long as I can wrap my entire kitchen in bubble wrap first, then put PB in a large, safe bubble… that's when we can really get the safe fun started. 😉
He'll just LOVE the bubble theme.
Meanwhile, since I know you're way less crazy and paranoid than me, I think this recipe would be great to make with your fam. As long as all the sharp/hot/dangerous objects are at a safe, 10-mile-away distance. Or, if you're in the mood for some oatmeal cookies with a pumpkin kick, you could make these amazing Gluten-free Pumpkin Cranberry Cookies from My Gluten-Free Kitchen! Be sure to swap the egg for a flax egg, use dairy-free white chocolate and dairy-free butter to make them vegan. 🙂
Anywho, these Gluten Free Chocolate Chocolate Chip Oatmeal Banana Breakfast Bars are sooo easy to make, even easier than my beloved breakfast cookies, about the same as my also-beloved peanut butter chocolate chip oatmeal breakfast bars, and about the same difficulty level as my no bake chocolate peanut butter bars. –>Alright, I was on a roll and I so could not stop.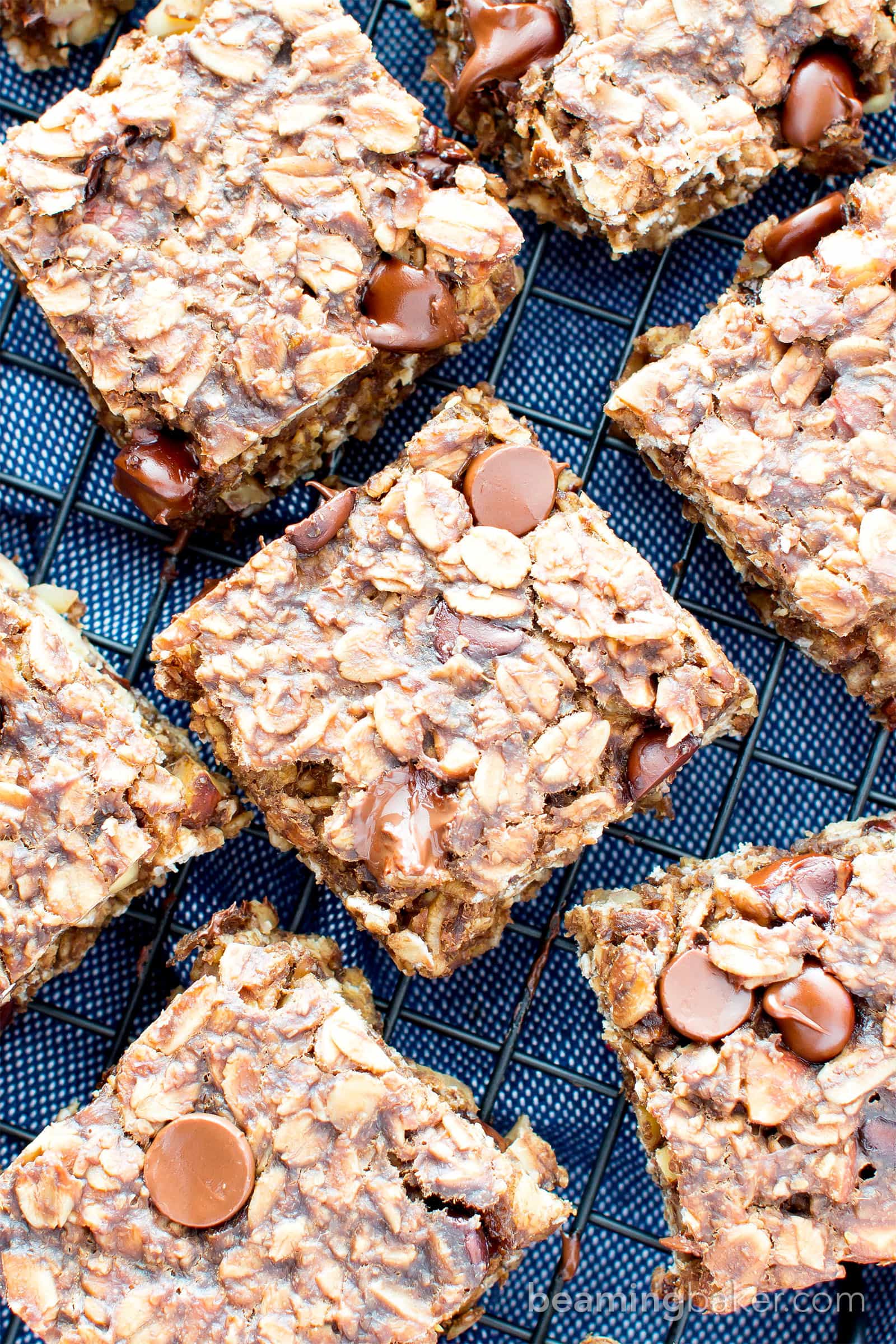 Allow me to tell you all about my Gluten Free Chocolate Chocolate Chip Oatmeal Banana Breakfast Bars. They're:
made in just one bowl
easy to make
soft, chewy, delicious
vegan, gluten-free, dairy-free
made with whole, healthy ingredients you can feel good about
packed with nut and fruit goodness
bursting with whole grain deliciousness
your best bet for a family-friendly make-together recipe (as long as all sharp/hot/dangerous-or-even-semi-okay-ish-objects are at least 100 miles away)
low in added sugar (1 Tablespoon of maple syrup for the entire recipe)
plant-based, allergy-friendly
perfect for breakfast, an afternoon snack, or even dessert
So whaddya say? Wanna go halfsies on a giant roll of bubble wrap with me? 😉 I'm just about to order the dullest kid-friendly kitchen tools, like ever. Okay fine, I just ordered a bunch of coasters. Made of Play-Doh. PB will figure out how to help me in the kitchen with those… Ahem. All jokes aside, I'm so happy to be here with you, creating all the wonderful, plant-based treats our loved ones deserve. Thank you for hanging out with me. 🙂 I can't wait to hear what you think of this recipe, in the meantime, tell me:
What's your favorite family-friendly activity?
Sending you all my love and maybe even a dove, xo Demeter ❤️
☀︎ Click below to Pin ☀︎

☀︎ Did you make this recipe? Take a pic and share it on Instagram with the hashtag #beamingbaker and tag @beamingbaker. I would love to see it! ☀︎
Print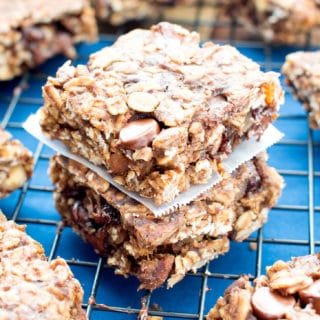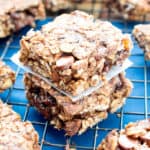 Gluten Free Chocolate Chocolate Chip Oatmeal Banana Breakfast Bars (Vegan, One Bowl, GF, DF)
---
Description
Gluten Free Chocolate Chocolate Chip Oatmeal Banana Breakfast Bars (V, GF): a one bowl recipe for whole ingredient breakfast bars bursting with double the chocolate. Vegan, Gluten-Free, Dairy-Free, Whole Grain.
---
Wet Ingredients
1

medium banana, ripened

¼ cup

natural, unsalted creamy peanut butter

1 tablespoon

pure maple syrup

1 tablespoon

melted coconut oil

1

flax egg (

1 tablespoon

ground flax +

3 tablespoons

water, whisked together, set for 15 minutes)

½ teaspoon

pure vanilla extract
Dry Ingredients
1 ½ cups

gluten free rolled oats

2 tablespoons

unsweetened cocoa powder

¼ teaspoon

baking soda

¼ teaspoon

baking powder
Add-in Ingredients
1/3 cup

vegan chocolate chips

¼ cup

raisins (or your favorite dried fruit)

¼ cup

walnuts, finely chopped
---
Instructions
Preheat oven to 350°F. Line an 8-inch square baking pan with parchment paper or greased foil. Set aside.
In a large bowl, add peeled banana. Using a sturdy whisk or fork, mash until smooth. Add the remaining wet ingredients: peanut butter, maple syrup, coconut oil, flax egg and vanilla. Whisk until well incorporated.
Add the dry ingredients: oats, cocoa powder, baking soda and baking powder. Using a rubber spatula, stir and fold until well mixed. Fold in chocolate chips, raisins and walnuts.
Pour this mixture into the prepared baking pan. Using the rubber spatula, smooth into an even layer.
Bake for 12-18 minutes, until just lightly browned around the edges. Mine took 15 minutes. Cool for about 1 hour. Slice into bars. Enjoy! Storing instructions below.
Category:

Breakfast, Bars, Vegan, Gluten Free, Dairy-Free, Whole Grain.
© beamingbaker.com. All content and images are protected by copyright. Please do not use my images or recipe without my permission. If you wish to republish this recipe, please re-write the entire recipe using your own words and include a link to this post for the recipe.
If you enjoyed this Gluten Free Chocolate Chocolate Chip Oatmeal Banana Breakfast recipe, then you'll just love these plant-based, allergy-friendly recipes
☀︎ Gluten Free Vegan Breakfast Recipes
Have a good morning with these, wait for it… Good Morning Breakfast Cookies. Deliciously vegan and gluten free. 🙂
Because you're just in the mood for all the breakfast bars: try my Peanut Butter Chocolate Chip Breakfast Bars (Vegan, Gluten-Free, Dairy-Free).
Homemade breakfast never tasted so good. Try a batch of my Easy Vegan Peanut Butter Banana Breakfast Cookies and have the tastiest start to your day.
Just a few ingredient to snack-time awesomeness: whip up these 3 Ingredient No Bake Peanut Butter Oatmeal Cookies and enjoy!
Facebook ☀︎ Pinterest  ☀︎ Twitter ☀︎ Instagram