Healthy Zucchini Brownies (Vegan, GF)
Healthy Zucchini Brownies (Vegan, GF): this chocolate zucchini brownies recipe yields moist, tender cakey brownies with rich chocolate flavor & a lightly fudgy texture. Vegan, Healthy.
Happy Saturday! Ahhh, that never does get old does it? I feel like a kid every time I get to shout that out loud (and type it, let's be honest). Do you have any big plans for today? Perhaps a little kite-flying, perhaps a little baking, perhaps a little adventuring?
Whatever it is you do, I hope that it's fun, joy-filled and totally awesome. 😉 In the meantime, it's my sole job to get you excited about zucchini season!!!
Okay, I totally know that zucchini is available all the gosh-dang time, but this time of year is pretty much the best time to partake in all of the zucchini recipes: I mean, there's Healthy Zucchini Bread, there's Healthy Moist Zucchini Muffins, there's even Zucchini–wait a minute, let me get back on point!
Now you totally have all the reasons to harvest the zucchini you've been growing in your backyard (go you), or put in a grocery delivery order for zucchini by the ton (or something).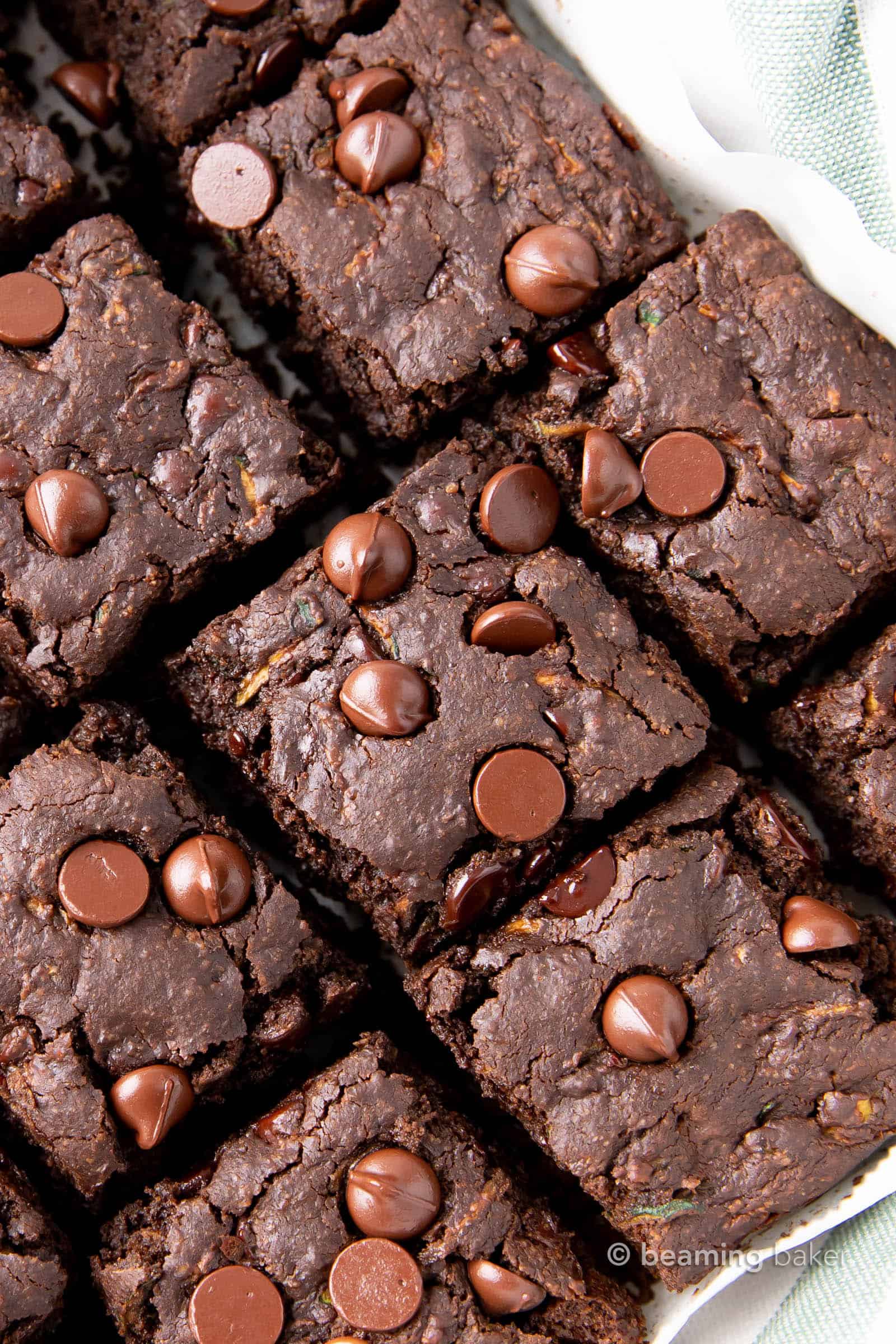 Healthy Zucchini Brownies (Vegan, GF)
'Cuz today, we're making healthy zucchini brownies—vegan and gluten free! I'm so excited to share this super chocolatey chocolate zucchini brownie recipe! Are you ready for that, and potentially more exclamation marks? Hold onto your butts! (I just had to. Lol.)
Healthy Zucchini Brownies: the Taste & Texture
The taste & texture of these healthy zucchini brownies is beyond. You'd never know that they're vegan; you'd never know that they're made with all of the healthy ingredients.
These healthy zucchini brownies are moist, cakey brownies with a lightly fudgy texture, and oh-so-rich, deep chocolate flavor. The soft and tender crumb of these healthy zucchini brownies are what make them melt in your mouth—all while you bask in the melty chocolate chips in each and every brownie.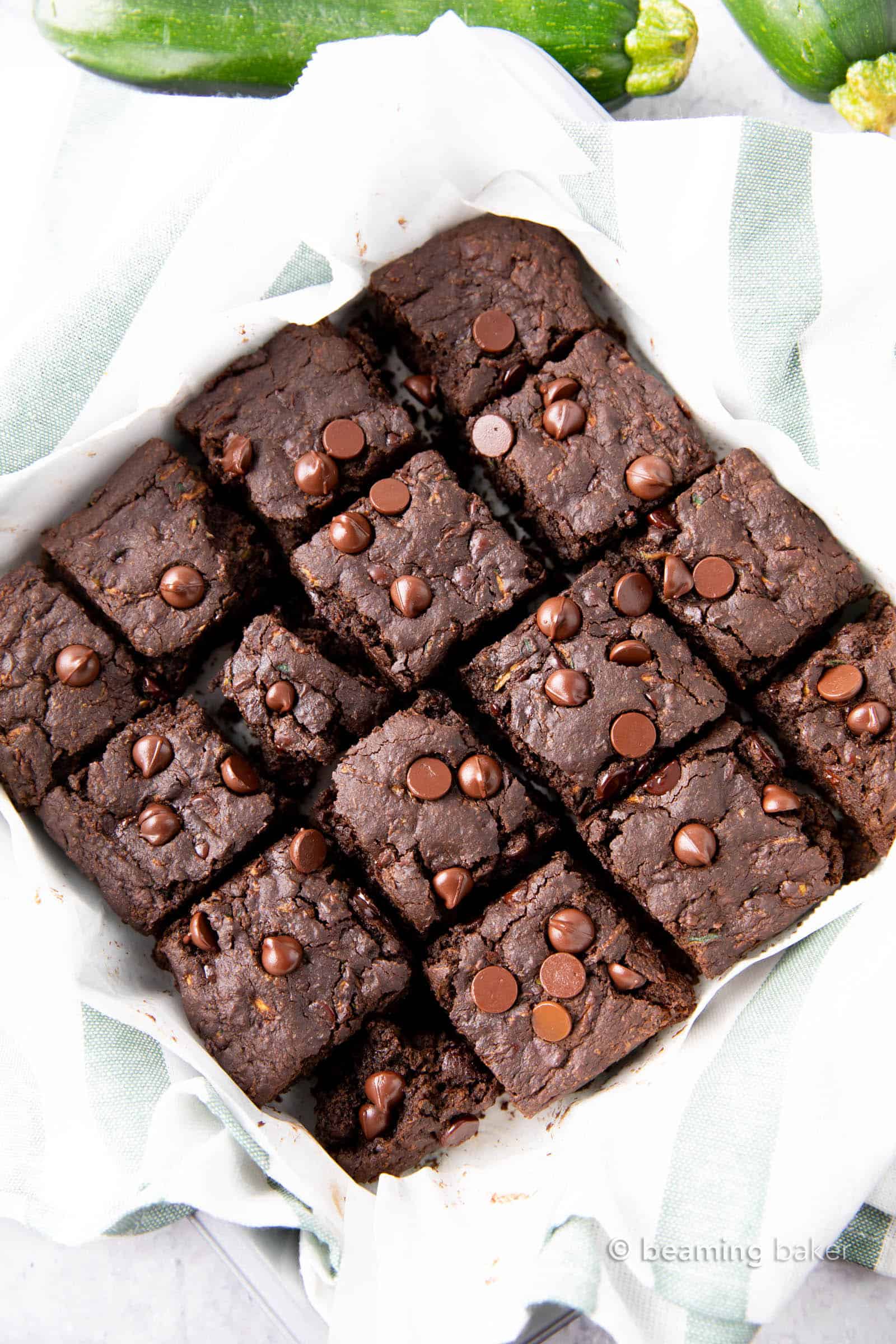 How to Store Healthy Zucchini Brownies
Room Temperature: I don't recommend storing your healthy zucchini brownies at room temperature. The fresh nature of your zucchini (and its inherent juiciness) can cause the zucchini brownies to spoil if not refrigerated.
Refrigeration: store your healthy zucchini brownies in the refrigerator for up to 5 days. However, zucchini brownies are best the first day or two or three if you're lucky. To revive your brownies, simply heat them up in 10-second increments in the microwave until just warm. Enjoy!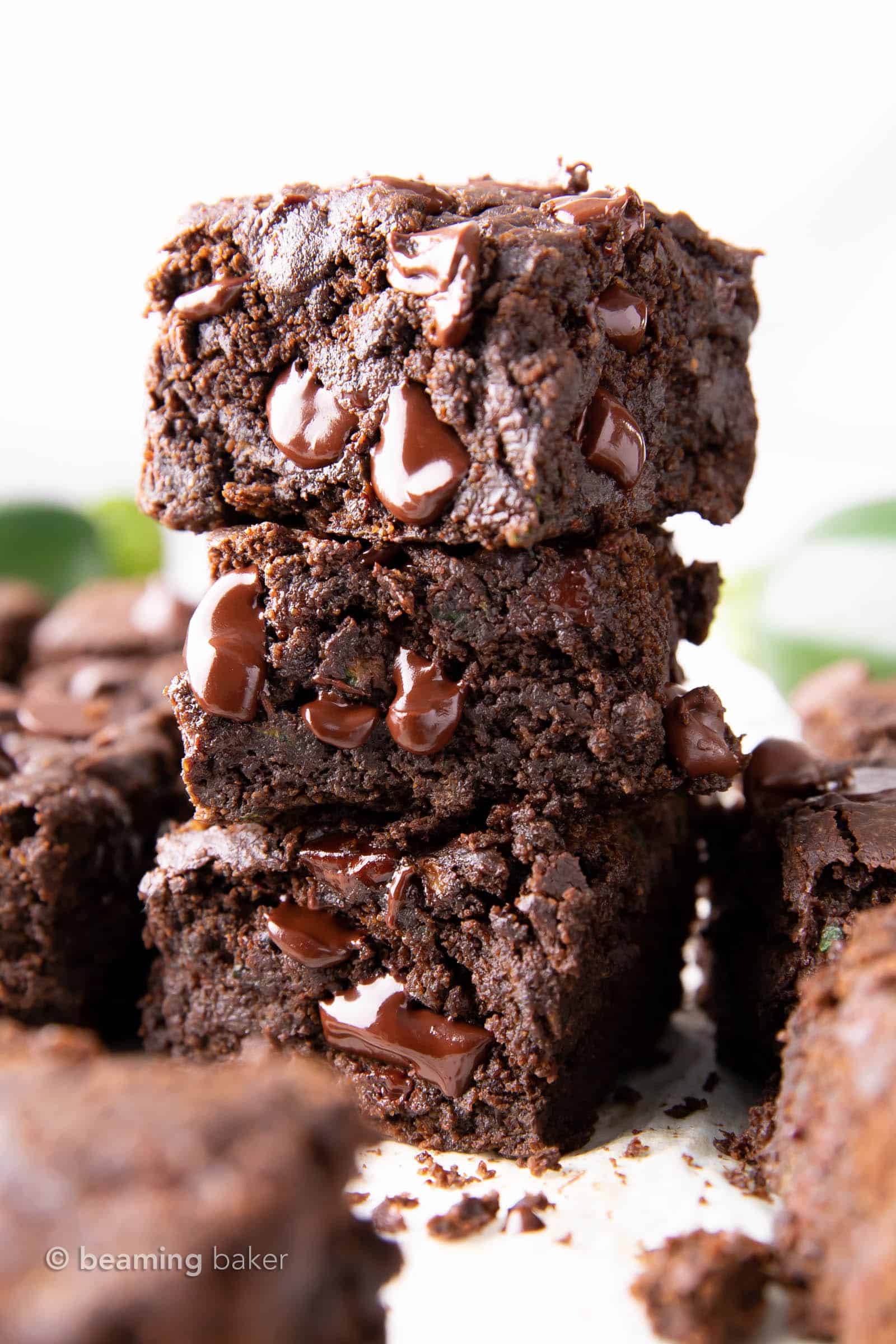 Recommended Tools for the Best Healthy Zucchini Brownies Recipe
Happy Saturday! Sorry, I just had to say it again. 😉 But didn't it feel just as good the second time? I can't wait to hear what you and your loved ones think of my recipe—be sure to comment below to let me know! I'm so thankful that you're here, sharing in these kitchen adventures with me. 'Til the next one…
Sending you all my love and maybe even a dove, xo Demeter ❤️
☀ Click below to Pin ☀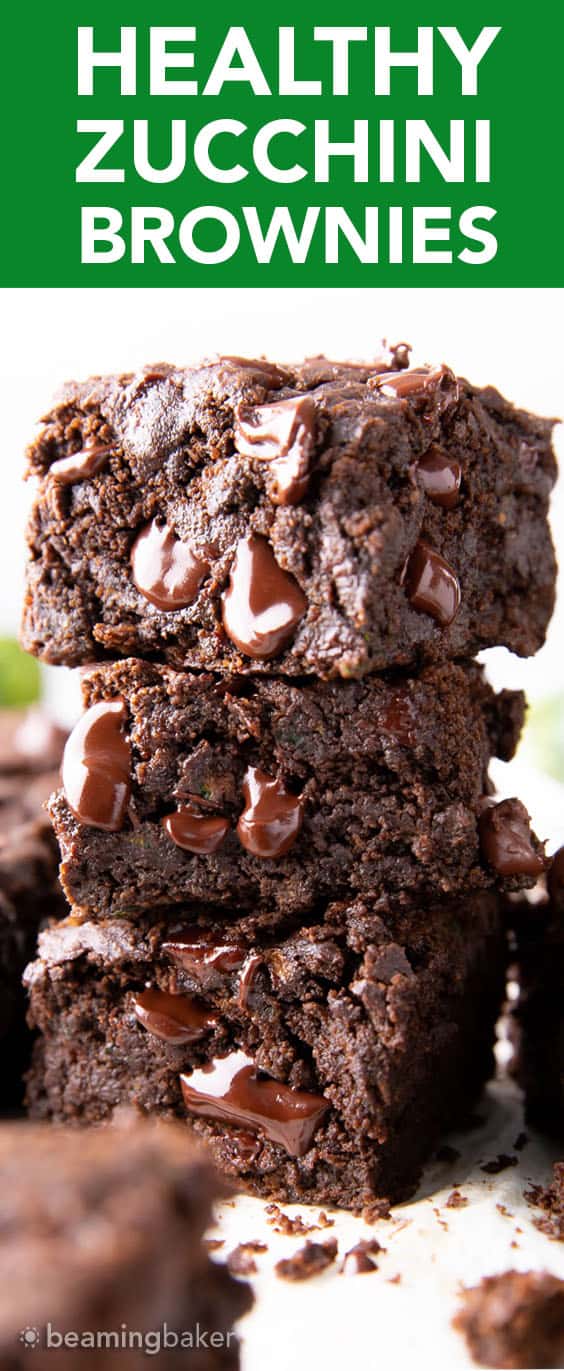 📸 Did you make this healthy zucchini brownies recipe? Take a pic and share it on Instagram with the hashtag #beamingbaker & tag @beamingbaker. I'd love to see it! 📸
Healthy Zucchini & Brownies Recipes (Vegan)
Print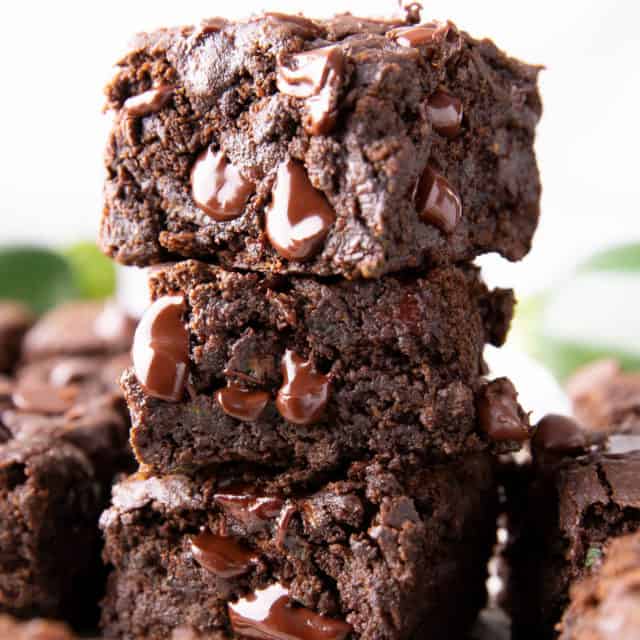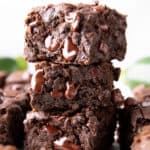 Healthy Zucchini Brownies (Vegan, GF)
---
Description
Healthy Zucchini Brownies (Vegan, GF): this chocolate zucchini brownies recipe yields moist, tender cakey brownies with rich chocolate flavor & a lightly fudgy texture. Vegan, Healthy.
---
Dry Ingredients
1 cup

+ 2 tablespoons gluten free oat flour – if using homemade oat flour, make sure it's very finely ground (not coarse)*

½ cup

raw cacao powder or unsweetened cocoa powder

½ teaspoon

baking soda

1 teaspoon

baking powder

½ teaspoon

instant coffee granules

½ teaspoon

ground cinnamon

¼ teaspoon

salt
Wet Ingredients
Fold-in Ingredients
Optional Topping
---
Instructions
Preheat the oven to 350°F. Line an 8-inch square baking pan with parchment paper or greased foil. Set aside.
In a medium bowl, sift together all the dry ingredients.
In a large bowl, whisk together all the wet ingredients.
Add dry ingredients to wet ingredients. Whisk until just incorporated, making sure no flour patches remain. Thoroughly press and fold in zucchini and chocolate chips, until zucchini is very well incorporated (about 30 seconds)—lightly smash the zucchini into the batter. The batter will be very, very thick—do not add additional liquids to thin out the batter.
Pour batter evenly into prepared pan. Using a rubber spatula, smooth batter into an even layer. The batter is very thick and sticky—you might need to grab a clean spatula to finish smoothing the layer. Optionally, press chocolate chips into the top of the batter.
Bake for 28-38 minutes. Mine took 35 minutes. Insert a toothpick to check for doneness—once it comes out clean with just a few moist bits, it's done.
Allow to cool in the pan, placed on a cooling rack for about 1 hour. Lift out of pan, transferring brownies along with parchment paper directly onto the cooling rack. Allow to finish cooling for about 2 hours before slicing. Slice into 12-16 brownies. Enjoy!
Healthy Zucchini & Brownies Recipes (Vegan)
Equipment
Prep Time:

25 mins

Cook Time:

35 mins

Category:

Dessert

Method:

Bake

Cuisine:

American
Nutrition
Serving Size:

1 brownie

Calories:

172

Sugar:

11g

Sodium:

5mg

Fat:

10g

Saturated Fat:

7g

Carbohydrates:

21g

Fiber:

3g

Protein:

3g

Cholesterol:

0mg
© beamingbaker.com. All content and images are protected by copyright. Please do not use my images or recipe without my permission. Please do not republish this recipe, instead, include a link to this post for the recipe.
This post may contain affiliate links, which allow me to make a small commission for my referral, at no additional cost to you.