the BEST chocolate overnight oats recipe—satisfyingly rich and deep chocolate taste with creamy vanilla goodness.
Happy Monday! Are you having a great start to the week so far? 🙂 Just in case you needed a little sumthin' sumthin' (translation: chocolate), I thought it would be the perfect time for some chocolate breakfast inspo!
Cue the coconut cream, the raw cacao powder and ALL the vegan chocolate chips!! I know, you were most definitely waiting for me to say chocolate chips for the last like 800 minutes. Haha.
Well, we're gonna kick the week off nice and chocolatey with one of my favorite quick & easy healthy breakfast ideas: chocolate overnight oats! Are you ready to make your morning simpler, tastier and yummier? Let's do it!
What are Overnight Oats?
If you haven't heard of overnight oats before, let me catch you up to speed. Overnight Oats are a make-ahead healthy breakfast recipe that consists of oats soaked in a usually sweetened mixture that thickens overnight. You typically make overnight oats the night before, and enjoy them the morning after. Here are 7 Ways: to enjoy Easy Vegan Overnight Oats (Healthy).
You can keep overnight oats for up to 5 days, unless you're using homemade almond milk or another kind of homemade nut milk, which typically only stays fresh for 2-3 days.
What are Chocolate Overnight Oats?
Chocolate overnight oats are a tasty flavor variation on classic overnight oats. In today's recipe, I'm infusing three kinds of chocolate to create the best chocolate overnight oats.
1st chocolate: cacao powder or cocoa powder. Cocoa powder is mixed together with creamy oats and cream to create the chocolate overnight oat base.
2nd chocolate: Then, layers of chocolate chips are interspersed between each layer of overnight oats.
3rd chocolate: chopped up chocolate bar! I just love the look and taste of chopped up chocolate. 🙂
Rich 'n creamy chocolate overnight oats that are super easy to make and even easier to eat.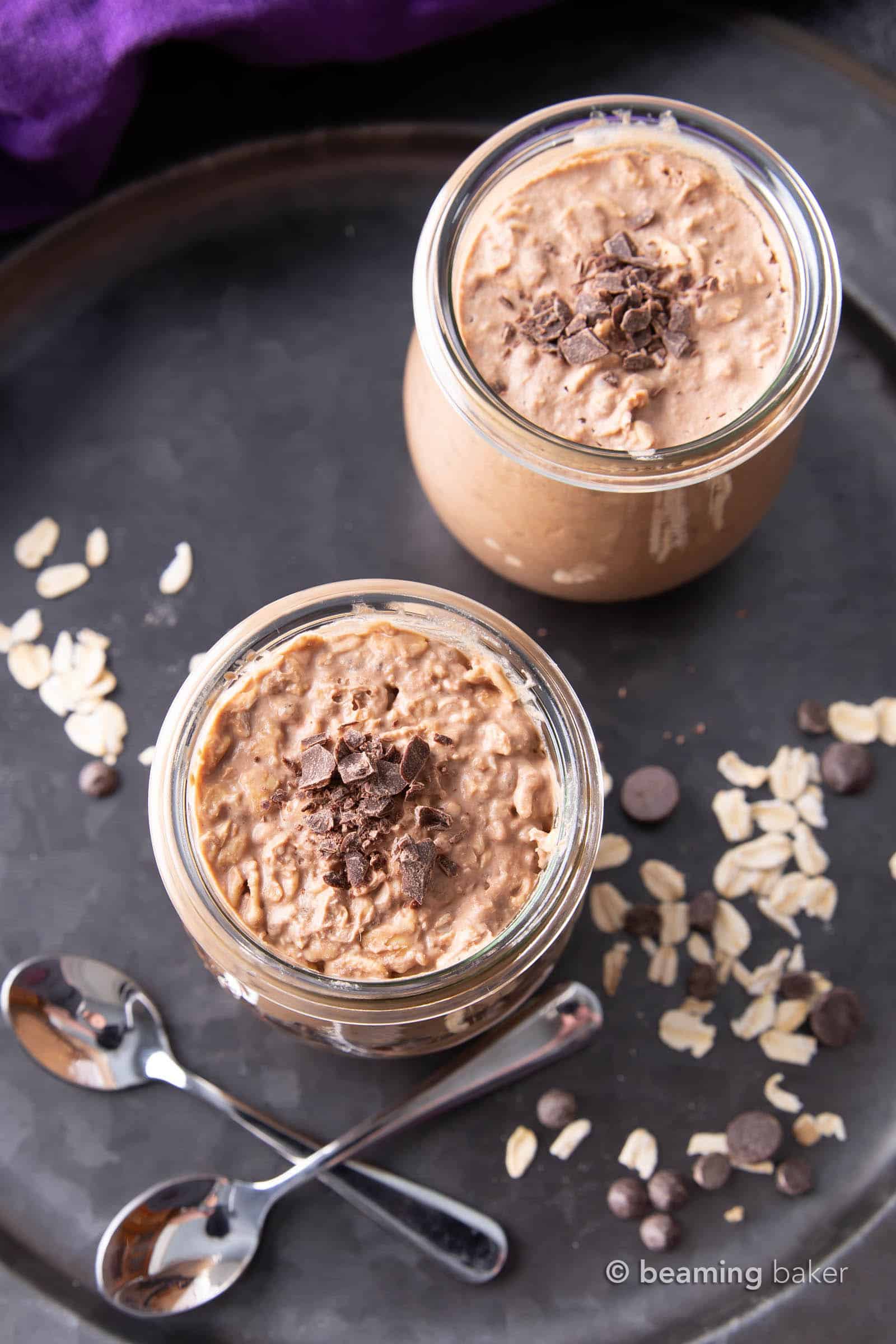 What Ingredients Do I Need to Make Chocolate Overnight Oats?
Rolled Oats: Otherwise known as "old-fashioned oats", rolled oats are a crucial ingredient in chocolate overnight oats because they become chewy and delicious during the overnight soak. I find that quick oats become plain ol' mushy.
Chia Seeds: the magic overnight oats binder! Chia seeds are seriously so amazing because, when added to a liquid, they become sticky and thicky. This texture helps to thicken your perfect chocolate overnight oats.
Coconut Cream
Raw Cacao Powder: If you only have unsweetened cocoa powder on hand, this'll work, too!
Pure Vanilla Extract
Pure Maple Syrup
Mini Chocolate Chips: You can use mini chocolate chips, chopped up chocolate bar or even your favorite white chocolate chips!
How to Make Chocolate Overnight Oats
Get the Jars
Before you start making your chocolate overnight oats, make sure to order these super cute mini jars. Wash them and set aside.
Mix the Ingredients
Add all overnight oats ingredients to a mixing bowl for easy stirring: rolled oats, chia seeds, raw cacao powder, milk, coconut cream, vanilla and maple syrup.
You can absolutely add the ingredients into the mini jars from the get-go, but I think it's much easier to add them to a mixing bowl. Stir until all ingredients are well incorporated and no clumps remain (I'm looking at you, coconut cream!) Pour overnight oat mixture into jars.
Add Topping
If you'd like, you can add dry topping to each jar. For wet toppings, such as fruits, add those right before serving.
Store Overnight & Enjoy
Store your chocolate overnight oats… erm, overnight, and enjoy the next day! You can also eat your overnight oats about 4 hours later if you can't wait. 😉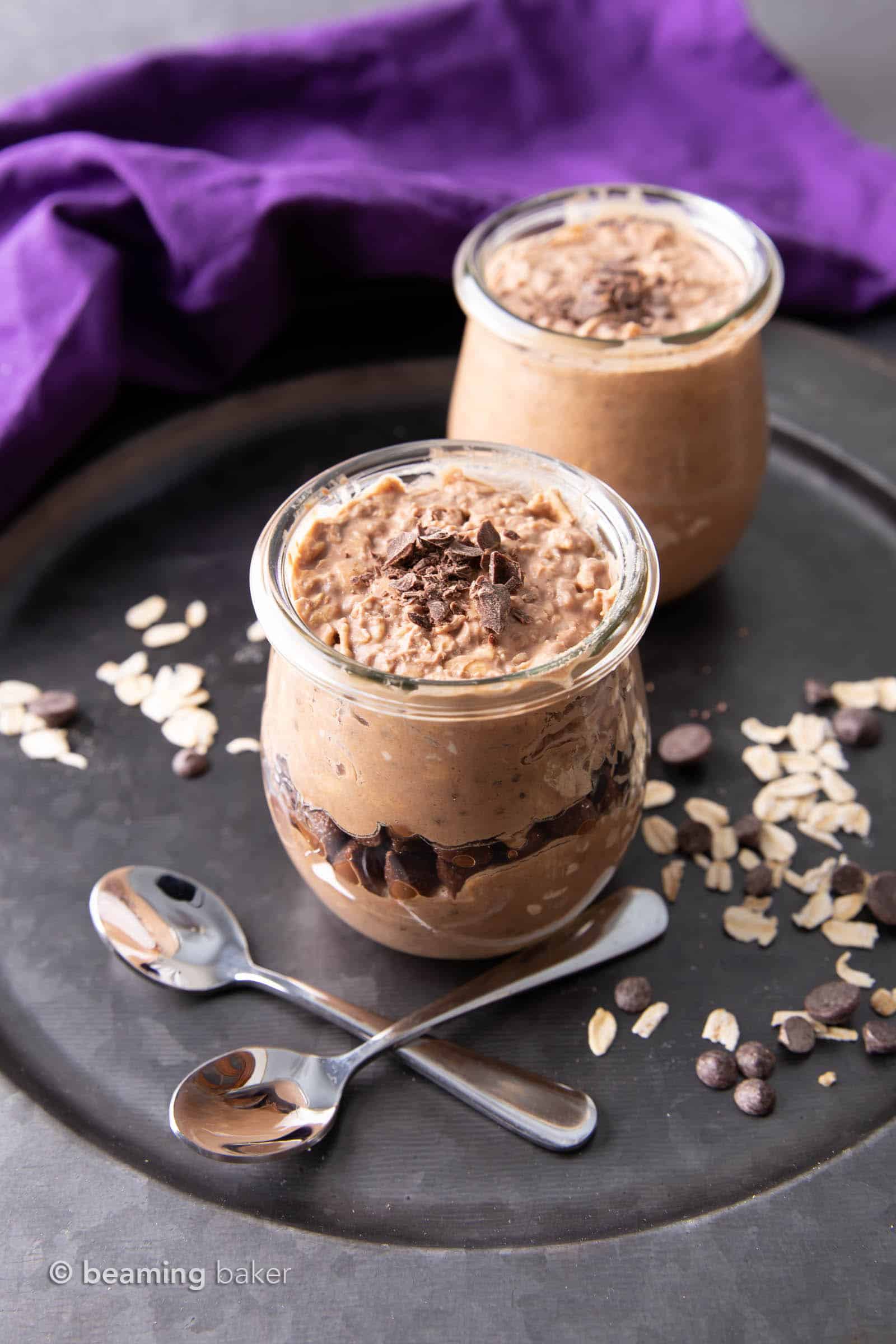 How do these chocolate overnight oats taste?
To make this chocolate overnight oats recipe, I added raw cacao powder and vegan chocolate chips to my reader favorite Classic Overnight Oats recipe.
With just the right amount of both, you get a satisfyingly rich and deep chocolate taste while still enjoying the creamy vanilla flavors of overnight oats.
Easy Chocolate Overnight Oats in a Jar!
You can make your overnights oats in almost any kind of container. However, I love making my easy chocolate overnight oats in a jar. Reason being, overnights in a jar = highly portable, already-portioned out amounts of overnight oats that are super convenient. Plus, I get to use my super cute resealable glass mini jars! I mean, how cute are these?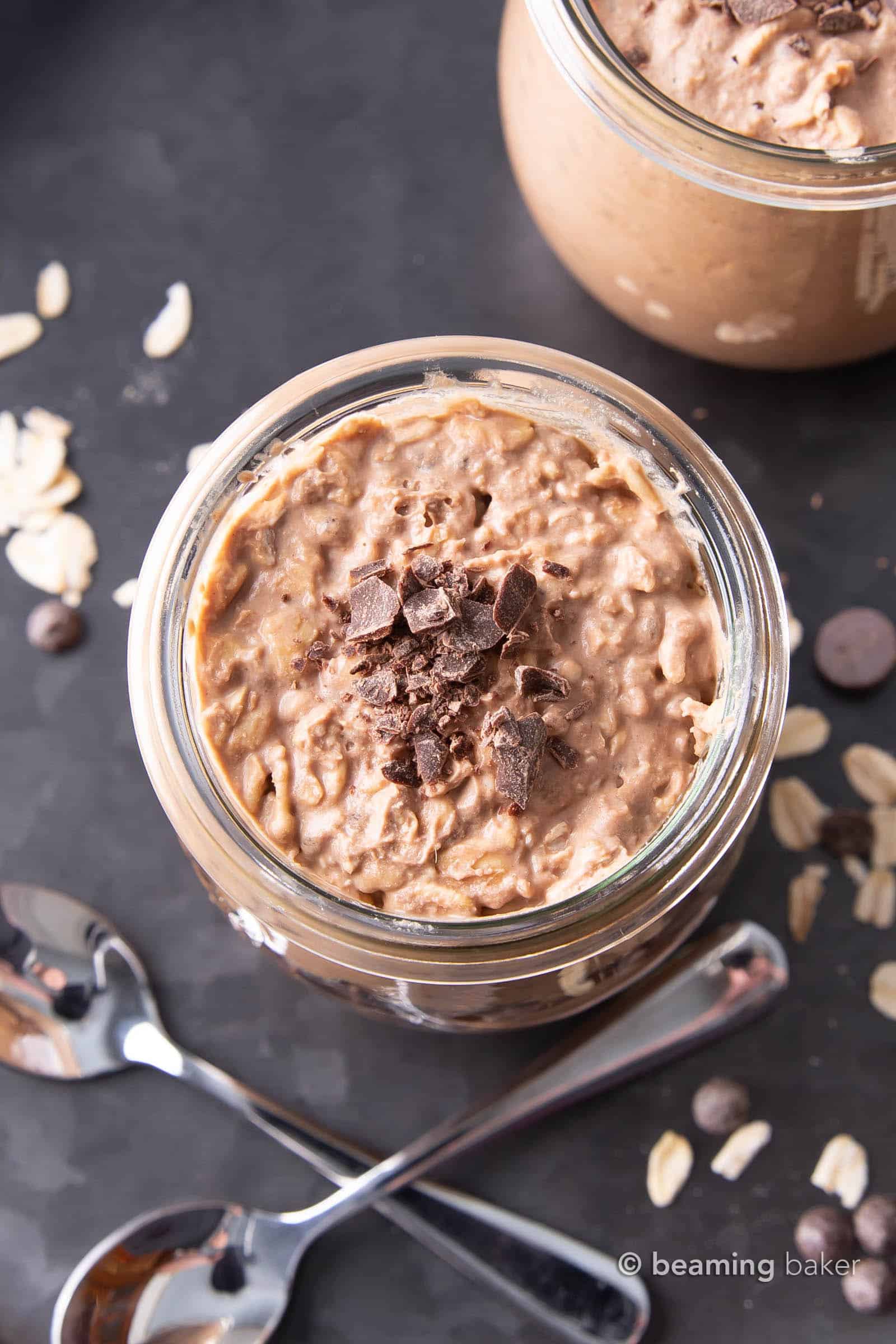 Recommended Tools for ­­­Chocolate Overnight Oats Recipe (Vegan)
Mini Overnight Oat Jars – my #1 jars to make overnight oats in, and the very jars you see in these photos. Yes, they are even cuter in person. Yes, they're compact, but hold so much more than they seem to. Highly recommend these!
Coconut Cream – my key ingredient in making super delicious overnight oats. I've tried every yogurt under the sun to make these overnight oats, and, simply put, nothing compares to using coconut cream instead. Creamy, rich and oh-so satisfying, coconut cream adds healthy fats, richness and flavor to your overnight oats.
Chia Seeds – you can't make overnight oats without chia seeds! Okay, you can do whatever you dang well please, but you know what I mean. Chia seeds are the superfood that pump these overnight oats up with nutrients, and they lend the creamy, thick texture you love in your overnight oats. Bonus: they keep you full longer!
Ready for the best chocolate overnight oats recipe ever?? 🙂 Let's do it! I'm so excited to hear what you think of this recipe. Thanks for stopping by and enjoying a few moments of kitchen sweetness together. 'Til the next kitchen adventure…
Sending you all my love and maybe even a dove, xo Demeter ❤️
Click below to Pin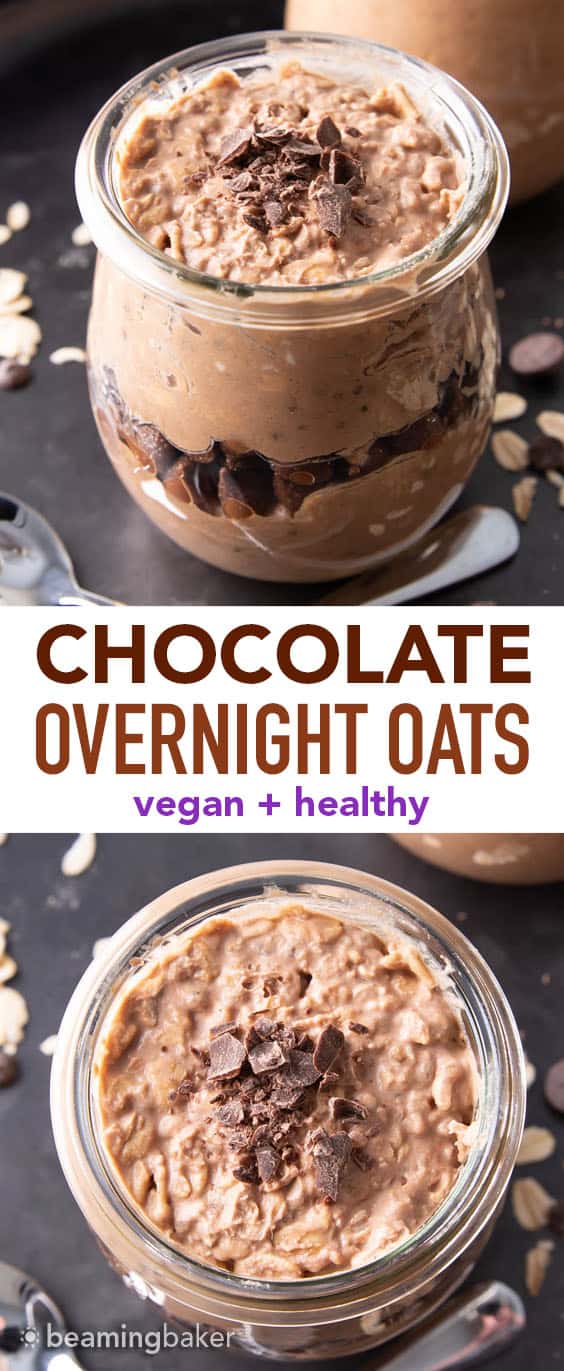 📸 Did you make this chocolate overnight oats recipe? Take a pic and share it on Instagram with the hashtag #beamingbaker & tag @beamingbaker. I'd love to see it! 📸
Delicious Overnight Oats Recipes
Print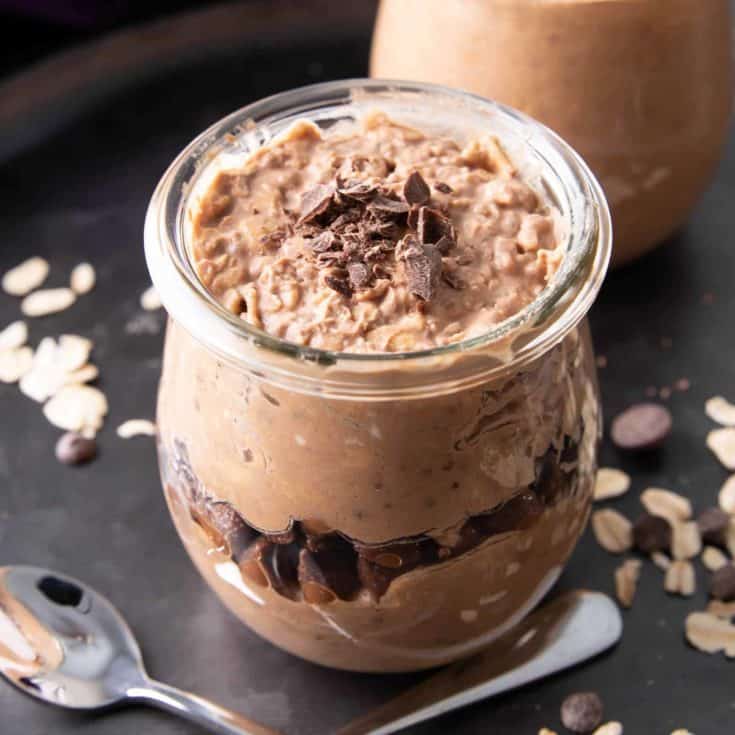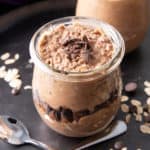 Chocolate Overnight Oats
---
Description
Chocolate Overnight Oats: the BEST chocolate overnight oats recipe—satisfyingly rich and deep chocolate taste with creamy vanilla goodness. Easy to make, Vegan.
---
Chocolate Overnight Oats
Optional Topping
---
Instructions
Set aside 2-3 resealable jars. Here are the resealable mini glass jars that I use–if using these, set aside 3 jars.
Add all ingredients to a mixing bowl for easier stirring. Stir until well mixed, then pour into jars when done. If using coconut cream, make sure no coconut cream clumps remain after stirring.
Add optional dry topping. Seal jars.
Store overnight in the refrigerator for up to 5 days.** Overnight oats will become thicker as each day passes. If desired, add non-dairy milk and mix well to thin it out. Enjoy cold, or heat in the microwave in 20-second increments until warm.
Adapted from my Chocolate Peanut Butter Vegan Overnight Oats Recipe.
Delicous Overnight Oats Recipes:
Notes
Where to Buy Ingredients – Coconut Cream | Raw Cacao Powder | Gluten Free Rolled Oats | Chia Seeds | Pure Maple Syrup | Vegan Chocolate Chips
*I prefer using coconut cream in overnight oats—it lends a thick, creamy and delicious texture. If using non-dairy yogurt, make sure to choose your favorite kind—the flavor will be very present. Also, use vanilla yogurt for a tasty addition!
**Storing Instructions: Overnight oats can be kept for up to 5 days. However, if using homemade almondmilk or another ingredient that is highly perishable, overnight oats will stay fresh for a shorter period (such as 2-3 days).
Nutrition Information: is an estimate based on the ingredients listed in Where to Buy Ingredients. Also, it's estimated based on 2 servings per recipe, made without optional ingredients and 1 tablespoon of maple syrup.
Recommended Tools – Mini Overnight Oat Jars | Glass Mixing Bowls for making large batches easily.
Prep Time:

10 minutes

Cook Time:

0 minutes

Category:

Breakfast, Snack

Method:

Chill

Cuisine:

American
Nutrition
Serving Size:

1 serving (half recipe)

Calories:

336

Sugar:

7g

Sodium:

101mg

Fat:

15g

Saturated Fat:

10g

Carbohydrates:

39g

Fiber:

7g

Protein:

9g

Cholesterol:

0mg
Keywords: chocolate overnight oats
© beamingbaker.com. All content and images are protected by copyright. Please do not use my images or recipe without my permission. Please do not republish this recipe, instead, include a link to this post for the recipe.
This post may contain affiliate links, which allow me to make a small commission for my referral, at no additional cost to you.