No Bake Caramel Apple Tartlets (V+GF): a whole ingredient recipe for mini caramel pecan tarts bursting with sweet apple flavor. Vegan, Gluten Free, Dairy Free.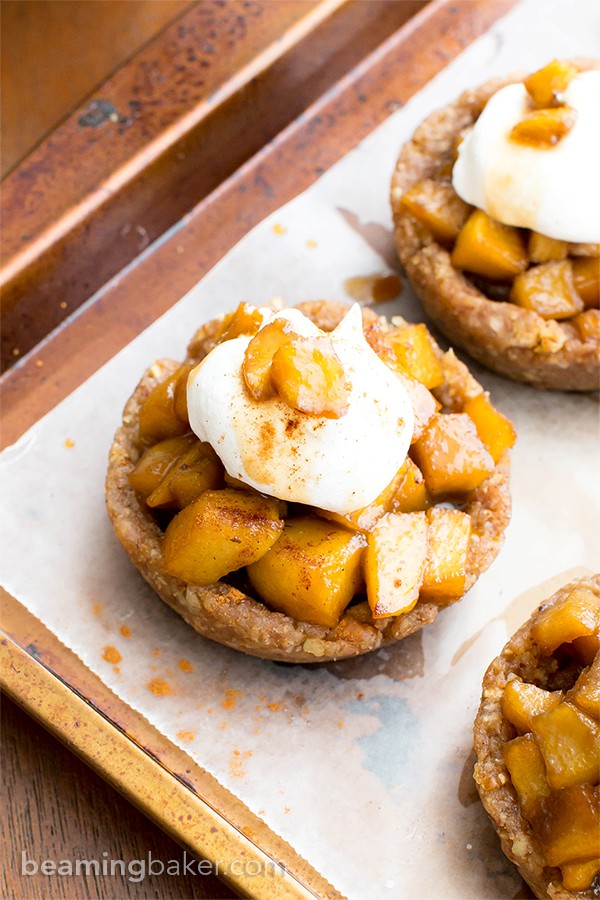 We're only 1 week away from the first day of autumn. 🙂 How does it feel? Is it getting a bit brisk on your end? Are the temperatures low enough for you to start eyeing your coziest, oldest, worn-in, at-home-only sweater?
Here in Maine, I can tell you the temperatures are dropping already. And while we still have some slightly toasty days, the rainy days are becoming more frequent and the sun doesn't stick around as long anymore. To that I say, "See ya, summer! And hello there, good lookin'. Um, I mean… hello, Fall! Didn't mean to be disrespectful or anything. Carry on." 😉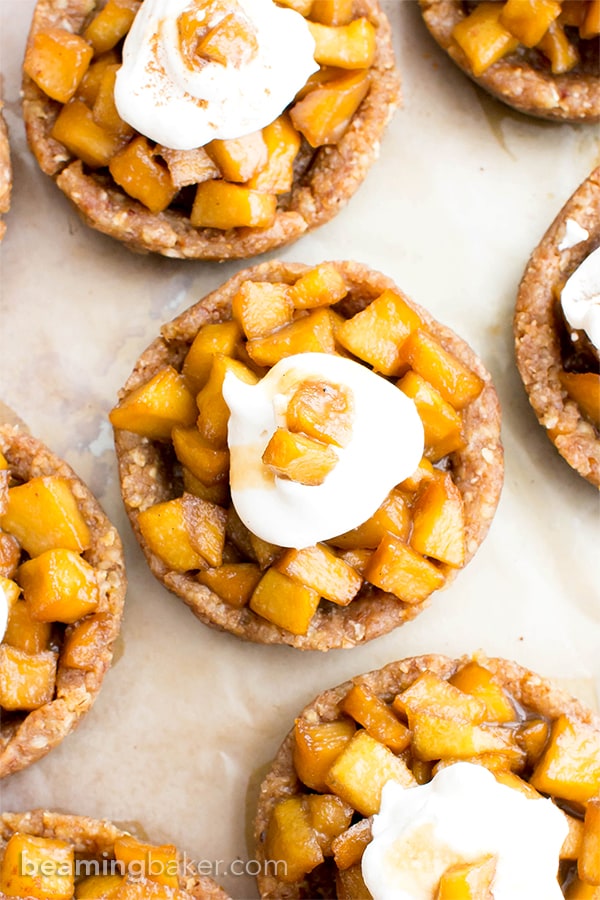 There's just something about fall that feels like a fresh start. We've all come back from our summer vacays, had our mental-check-out days from work, and spent the laziest times at the beach. But now that the kiddies are back in school and we're starting to poke around the back of our coat closets for that one jacket that's warm, but still fashionable, it's time for a change.
There's excitement in the air. A new sense of energy and occasion. Fall is like a new beginning, in the middle of the year. And what could be better than that?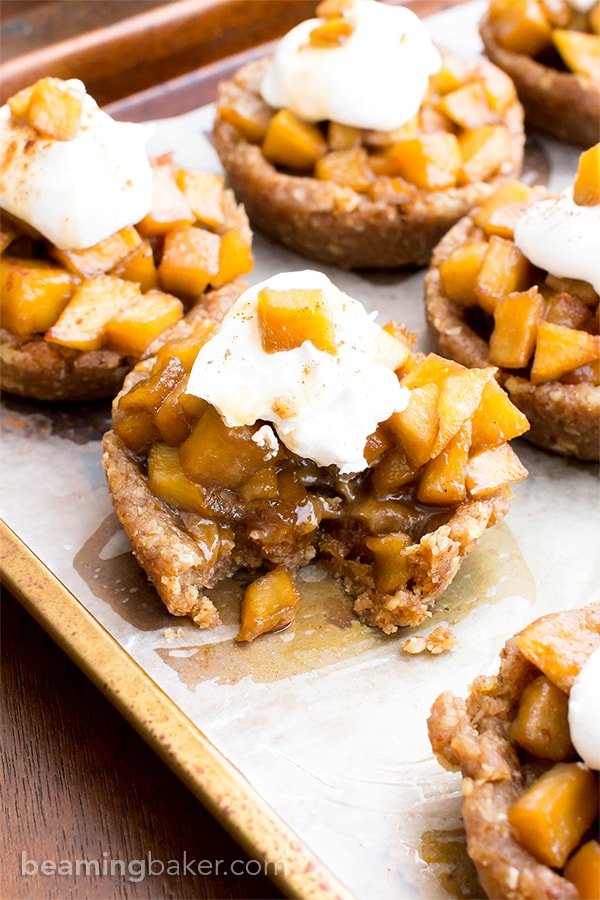 It's time to usher in the wonder of fall, starting with its loveliest flavors: pumpkin, caramel apple, hot cocoa, spiced rum, chocolate and peanut butter (PB cups soooo = fall) and so much more. It's time to warm up the oven again and start thinking about our best recipes.
And while you and your oven gently transition towards autumn, allow me to help you along with these no bake caramel apple tartlets. All the tastes of fall without any of the heating requirements. All the impressiveness of a baked wonder without the whole "baked" part. Just in case you're all about the no bake tarts, you've got to try my friend Taylor from Food Faith Fitness' Neapolitan No Bake Chocolate Tart! It's deliciously vegan (if you use agave) and paleo! 🙂 And if you're in the mood for a bake-bake tart (hehe), try this Gluten-free Apple Pear Tart from My Gluten Free Kitchen! I'm thinking of swapping the butter for vegan butter and using coconut whip for the topping to make it deliciously vegan. 😉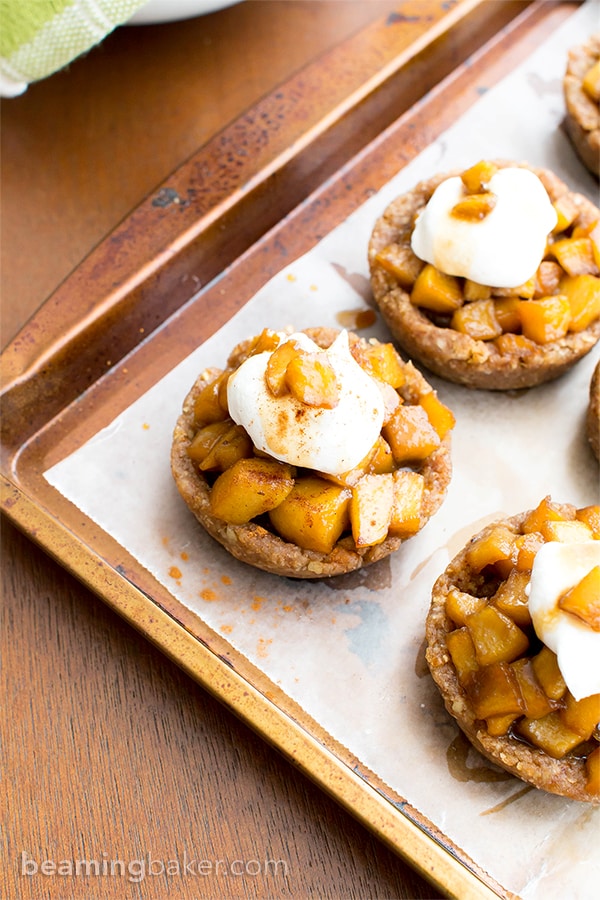 I hope that these caramel apple tartlets become one of your family favorites, for the holidays and til the end of time. Is that really too much to hope for? 😉 Okay, maybe it is. But still! Ahem, anyway, as I was saying… there's something about the fall that always reminds me of family and great recipes.
Growing up, times were kinda tough and money was definitely tight. But no matter how hard things got, my mom always made us kids feel special. For my mom, there was always time to get excited about something, always time to have fun, and always time to cook up something wonderful.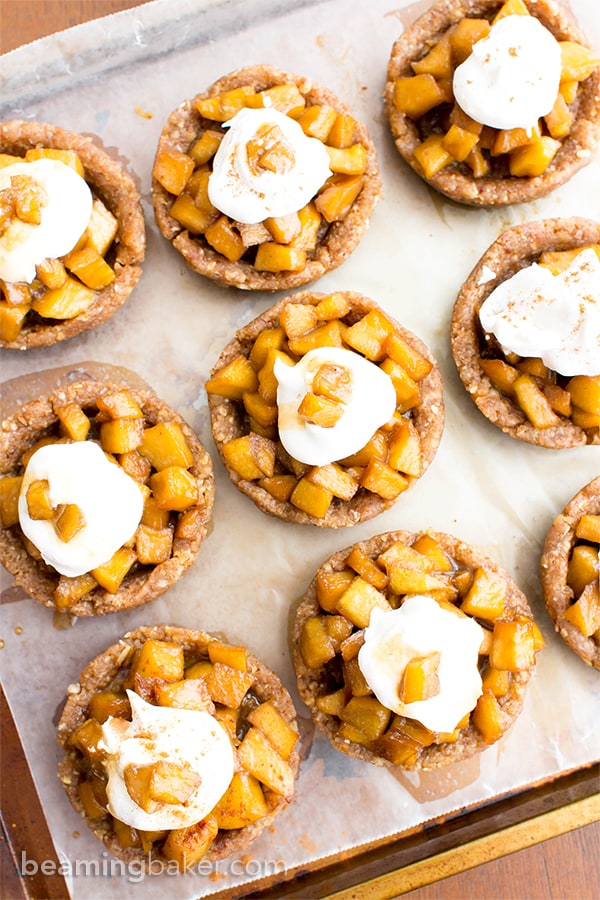 It didn't matter if she had already worked a 15-hour day, or if she still had 20 loads of laundry to do and 500 more meals to cook. She always made the time to bring a smile to our faces. I'll always remember how great it felt to forget, just for a moment, that we didn't have it all. Because she made it feel like we kinda did. ❤️
To this day, she's still loves cooking for us, planning trips and getting dressed up with us. But now it's our turn to take care of her. It always gives me great pleasure to create something that will bring a smile to her face. Even if it brings up some embarrassing memories. I'm talking to you, Mommy! 😉
I'm so grateful to my mom for showing me that the holidays are all about making the most of what you've got to bring joy and happiness to the ones you care for. To me, cooking and baking are one of the best and tastiest ways to achieve that. So I hope you get the chance to try your hand at these no bake caramel apple tartlets. The effort of each step is totally worth it. For you and your loved ones.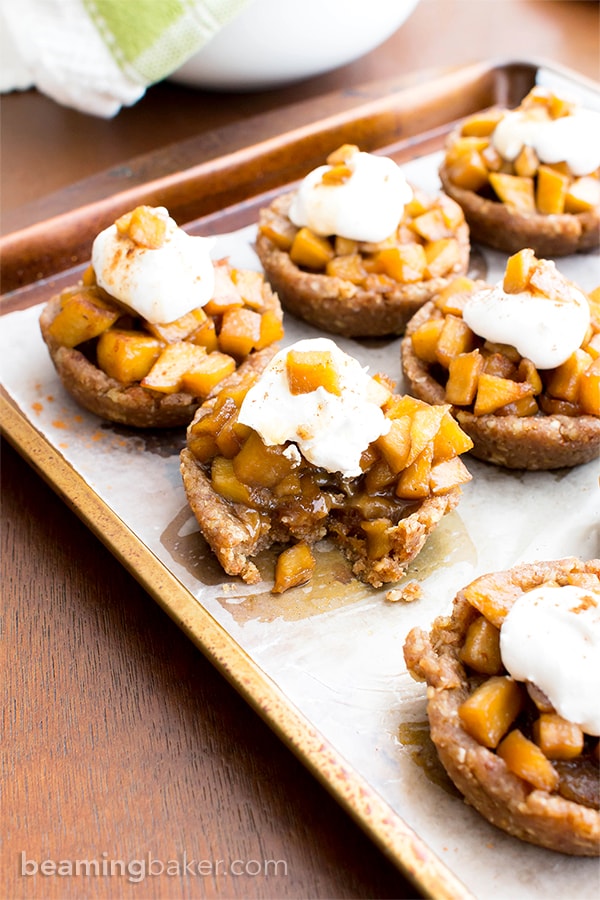 Let me tell you all about these amazing no bake caramel apple tartlets. They're:
I can't wait to holiday with you. Yes, I insist on using "holiday" as a verb. 😉 Will you join me in making something wonderful for your family and friends this holiday season? More importantly, will you join me in using "holiday" as a verb? This could really turn into something.
Tell me all about your favorite holiday traditions. What do you look forward to doing with friends and family every year?
Sending you all my love and maybe even a dove, xo Demeter. ❤️
☀︎ Click below to Pin ☀︎

☀︎ Did you make this recipe? Take a pic and share it on Instagram with the hashtag #beamingbaker and tag @beamingbaker. I would love to see it! ☀︎
A few gluten free vegan recipes you might like: Paleo Apple Pecan Coconut Crisp | Healthy Banana Blueberry Muffins Recipe | Vegan Chocolate Cake Recipe | Homemade Chunky Paleo Granola with Clusters ❤️
Print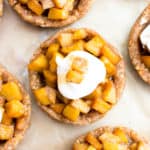 No Bake Caramel Apple Tartlets (Vegan, Gluten Free, Dairy Free)
---
Description
No Bake Caramel Apple Tartlets (V+GF): a whole ingredient recipe for mini caramel pecan tarts bursting with sweet apple flavor. Vegan, Gluten Free, Dairy Free.
---
Crust
3

Medjool dates, pitted

1 ½ cup

pecan halves, divided

1 tablespoon

water

½ cup

gluten free rolled oats

¼ teaspoon

ground cinnamon

¼ teaspoon

salt
Date Caramel Filling
4

Medjool dates, pitted

¼ cup

unsalted, natural peanut butter or almond butter

1 tablespoon

water

1/8 teaspoon

salt

¼ teaspoon

pure vanilla extract
Apple Topping
3

large Granny Smith apples, cored and peeled (about

4 ½ cups

chopped apples)

¼ cup

+

2 tablespoons

coconut sugar

2 tablespoons

coconut oil

1 tablespoon

unsweetened almond milk

1 ½ teaspoons

pure vanilla extract

¼ teaspoon

salt
Optional Topping
coconut whip
ground cinnamon
---
Instructions
Set aside a standard, 12-cup muffin pan. Clear some space in the freezer for this pan.
Make the crust: Add 3 dates and ½ cup pecans to a food processor. Blend until crumbly. Add in water and blend until sticky. Scrape down the sides of the processor as needed. Add in the remaining 1 cup of pecans, oats, cinnamon and salt. Blend until you get a sticky and crumbly dough-like mixture, resembling wet sand.
Scoop about 1 ½ tablespoons of this crust mixture into each muffin cup. Using your hands, press and shape the dough into a cup with a deep center that fills half of the muffin cup. Repeat until all cups are done. Place the muffin pan into the freezer for 15 minutes or more while you prepare the caramel filling.
Make the date caramel filling: Add 4 dates and nut butter to the food processor. Blend until dates turn into small pieces and the mixture is sticky. Add water, salt and vanilla. Blend until you get a crumbly, sticky mixture. There should not be any visible pieces of dates. Scrape down the sides of the processor as needed.
Line a baking sheet with parchment or wax paper. Remove muffin pan from freezer. Using a spoon, nudge and lift the crust until it lifts out. Place the crust on the prepared baking sheet. If needed, reshape the crust to fix any dents that occurred while removing it from the pan. Repeat until all crusts are on the prepared baking sheet.
Scoop about 1 ½ to 2 teaspoons of caramel filling into each cup. Using your hands, gently press and smooth into an even layer. Place the baking sheet back into the freezer while you prepare the apple topping.
Make the apple topping: Chop apples into small cubes. Set a large saucepan over medium-low heat on the stovetop. Add coconut sugar, coconut oil, milk, vanilla and salt. Stir until hot and bubbly, about 3-5 minutes. Add apples and stir until fully coated. Increase heat to medium. Stir occasionally until very little liquid remains. Remove from heat.
Take the baking sheet out of the freezer. Evenly distribute apple topping onto each cup. Save any extra apple topping for garnishing. Top with coconut whip, cinnamon, apple topping or your favorite toppings. Enjoy immediately. Or, see storing instructions below.
Category:

No Bake, Dessert, Vegan, Gluten Free, Dairy Free
© beamingbaker.com. All content and images are protected by copyright. Please do not use my images without my permission. If you wish to republish this recipe, please re-write the entire recipe using your own words and include a link to this post for the recipe.
Just one bowl to fall perfection. Try my One Bowl Gluten Free Vegan Pumpkin Bread (V, GF, Dairy Free). You'll simply love it.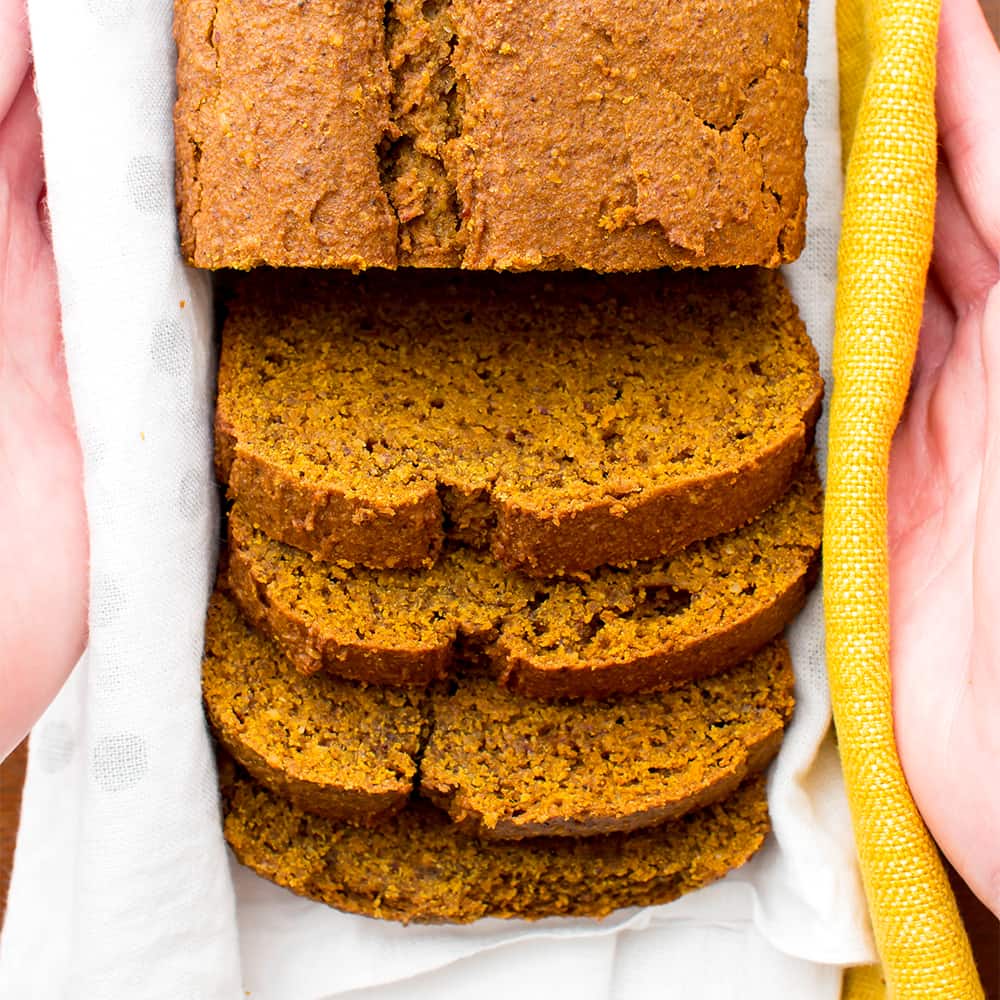 Homemade candy = the best showstopper for all of your holiday gatherings. Like, for realsies. Try my Vegan Almond Joy (V, Gluten Free, Dairy Free).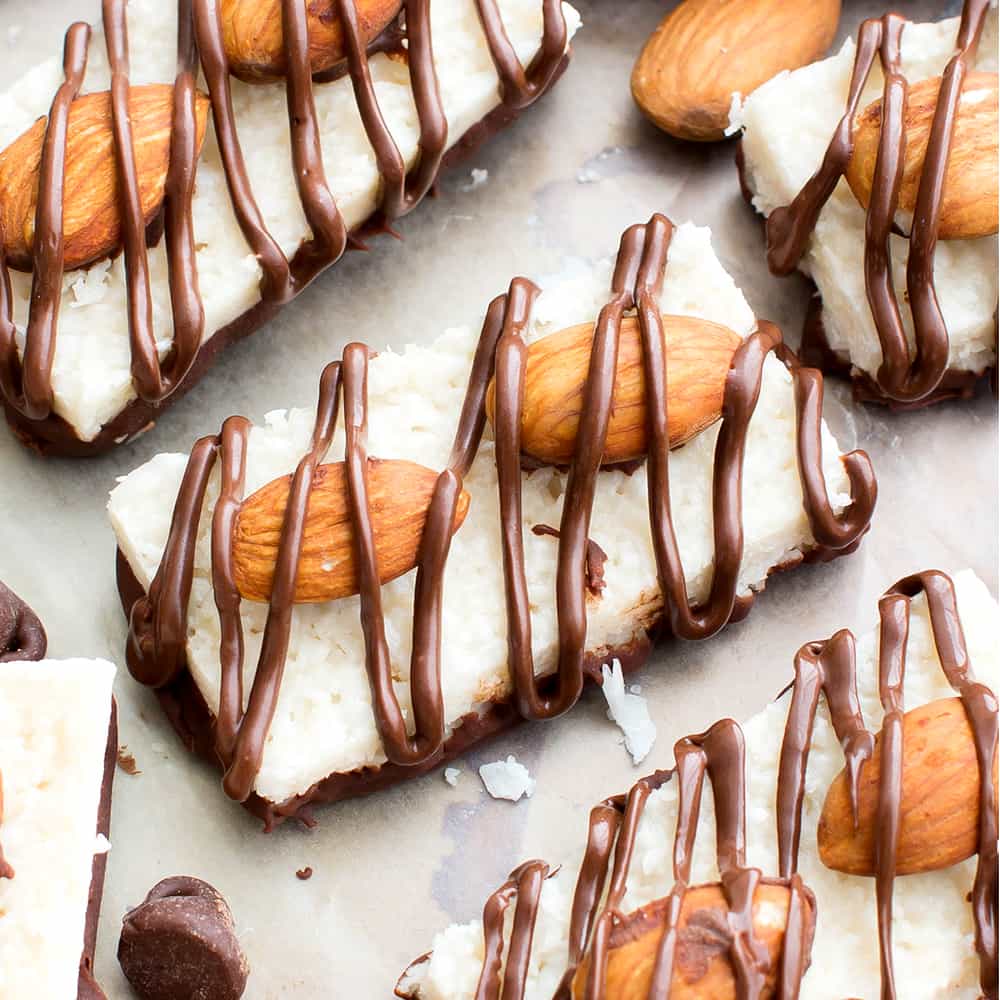 Because PB Cups always love getting an upgrade. Brownie style. 😉 Try my Gluten Free Vegan Peanut Butter Cup Brownies (V, GF, Dairy Free). So. Crazy. Good.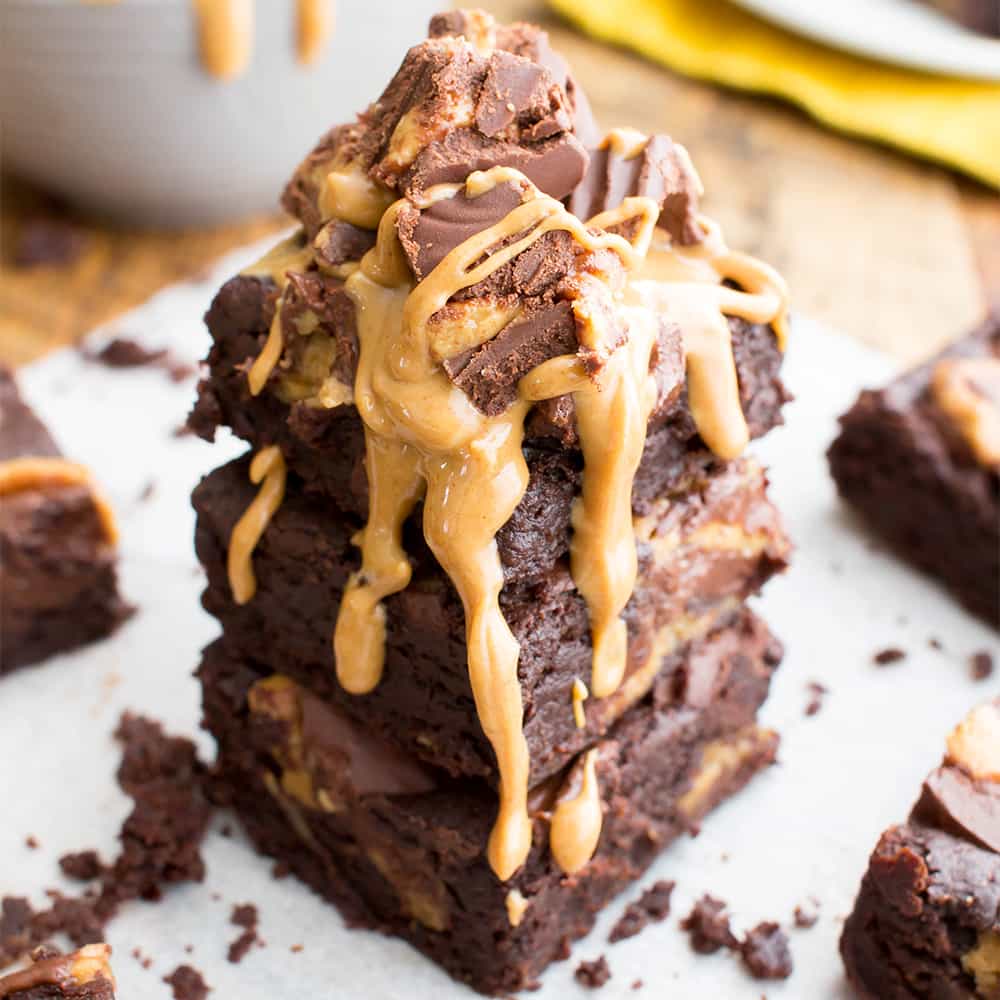 What are your favorite family traditions during the holidays?
I can't wait to hear your responses.