Vegan Chocolate Brownie Cookies (Gluten Free, Oat Flour, Vegan, Dairy-Free, One Bowl)
Vegan Chocolate Brownie Cookies (GF, V, DF): a one bowl recipe for soft, thick, chewy cookies that taste just like a rich, chocolate brownie! Vegan, Gluten Free, Oat Flour, Dairy-Free.
Before I most definitely lose track of my thoughts, I want to first say:
Happy birthday, Penny!!
If you're new to the blog, you may not know that Penny is my biggest sister. And by biggest, I mean highest up on the ranking chart of the family tree (the first born, not oldest because we don't like to use such terminology 'round these parts), not actually big. Wow! Who knew there were so many conversational pitfalls in a birthday greeting anyway?
Anywho, I've been calling Penny my biggest sister since we were in our diapers. Or, more aptly, when I was in a diaper and Penny was changing it bc that's how awesome of a big sis she was. 🙂 Since we were kids, she's been my hero, my best friend and my inspiration for All the Things.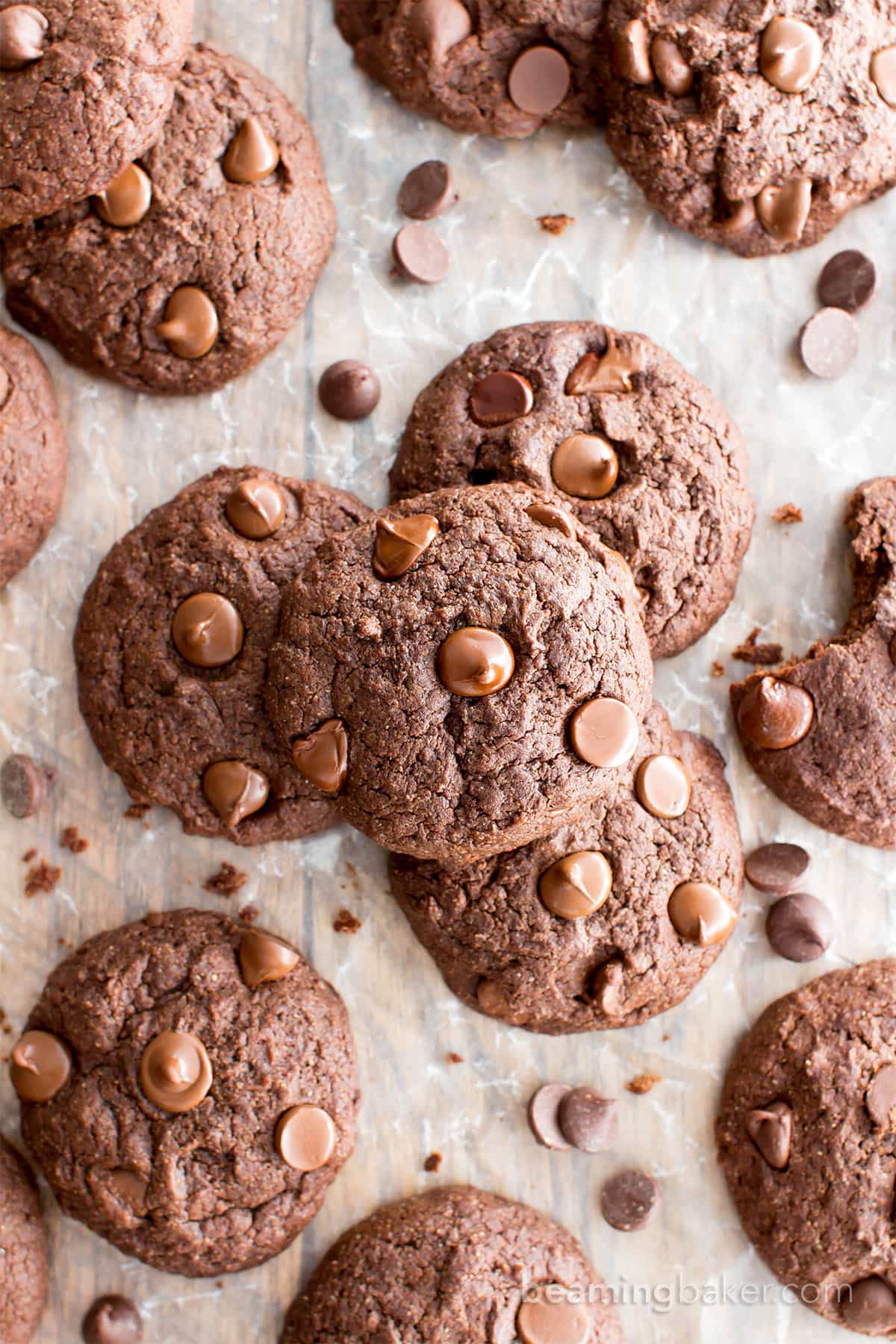 Nowadays, she's a big bad lawyer that kicks so much legal butt everyday. She's smart, successful, kind, loving, and generous. Anyone who meets her immediately falls in love with her. She's got the biggest heart. Like, ever. I'm still floating on a happy cloud from last summer, when we all went to her wedding. ❤️
Anyway, when we were little kids, I had a lot of trouble falling asleep. So Penny decided to start writing stories for me. At first the stories were just a few pages, with a few characters and simple plots. Over time, she started writing more and more elaborate plots and even began drawing illustrations for those stories.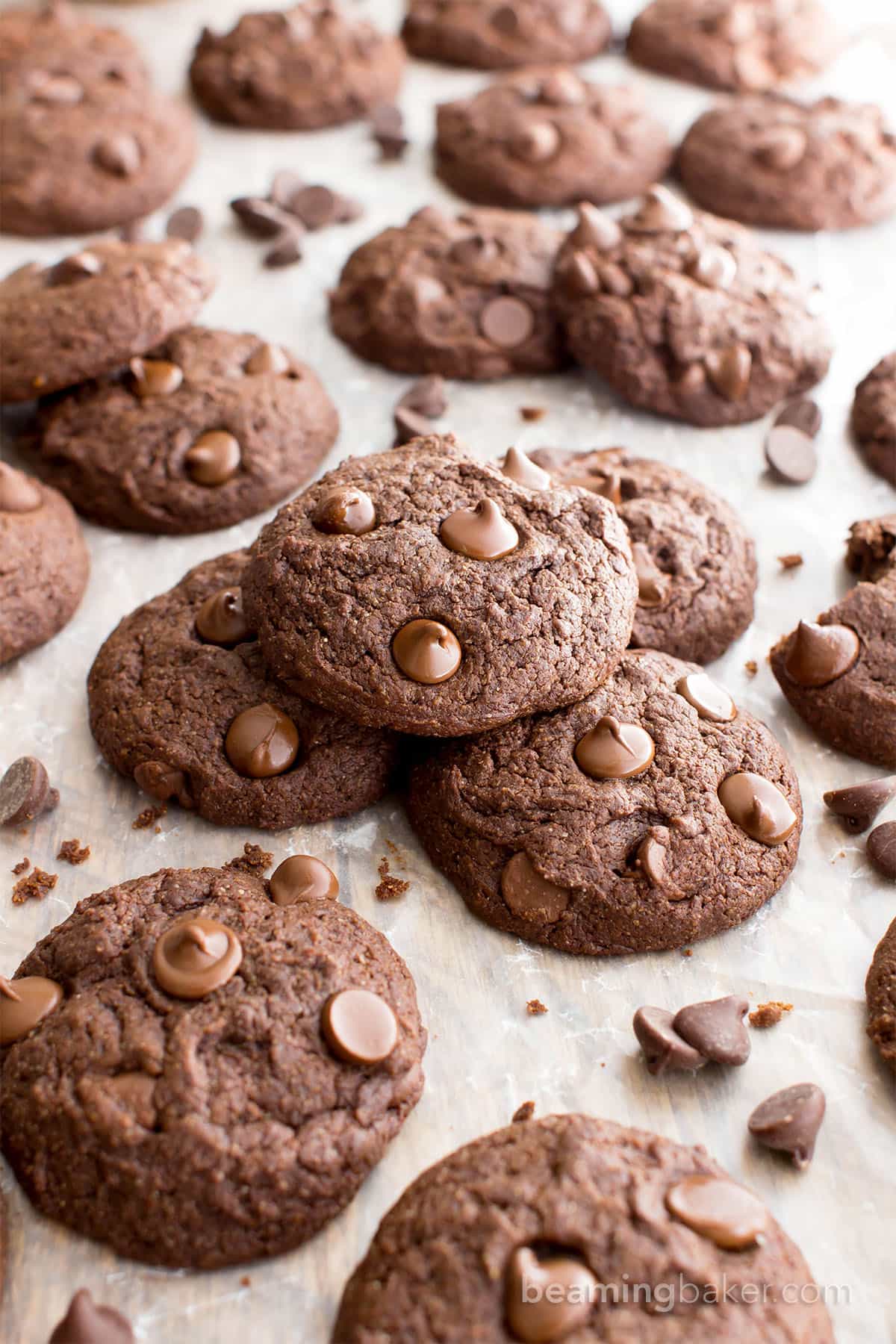 Before I knew it, she had made me my very own children's book. The cover would be an old, soft and worn manila folder that my parents had cast aside. The pages were made up of typewriting paper with the circles on the side. Remember those? She would painstakingly type up the stories, on an actual typewriter (!!), bind the pages together with string, and then draw illustrations in ballpoint pen and color pencils.
And then every night, before bed, Penny would drop everything—helping my mom with dishwashing, doing her homework, making sure Monica and Jenny stopped fighting over who knows what—and tuck me in.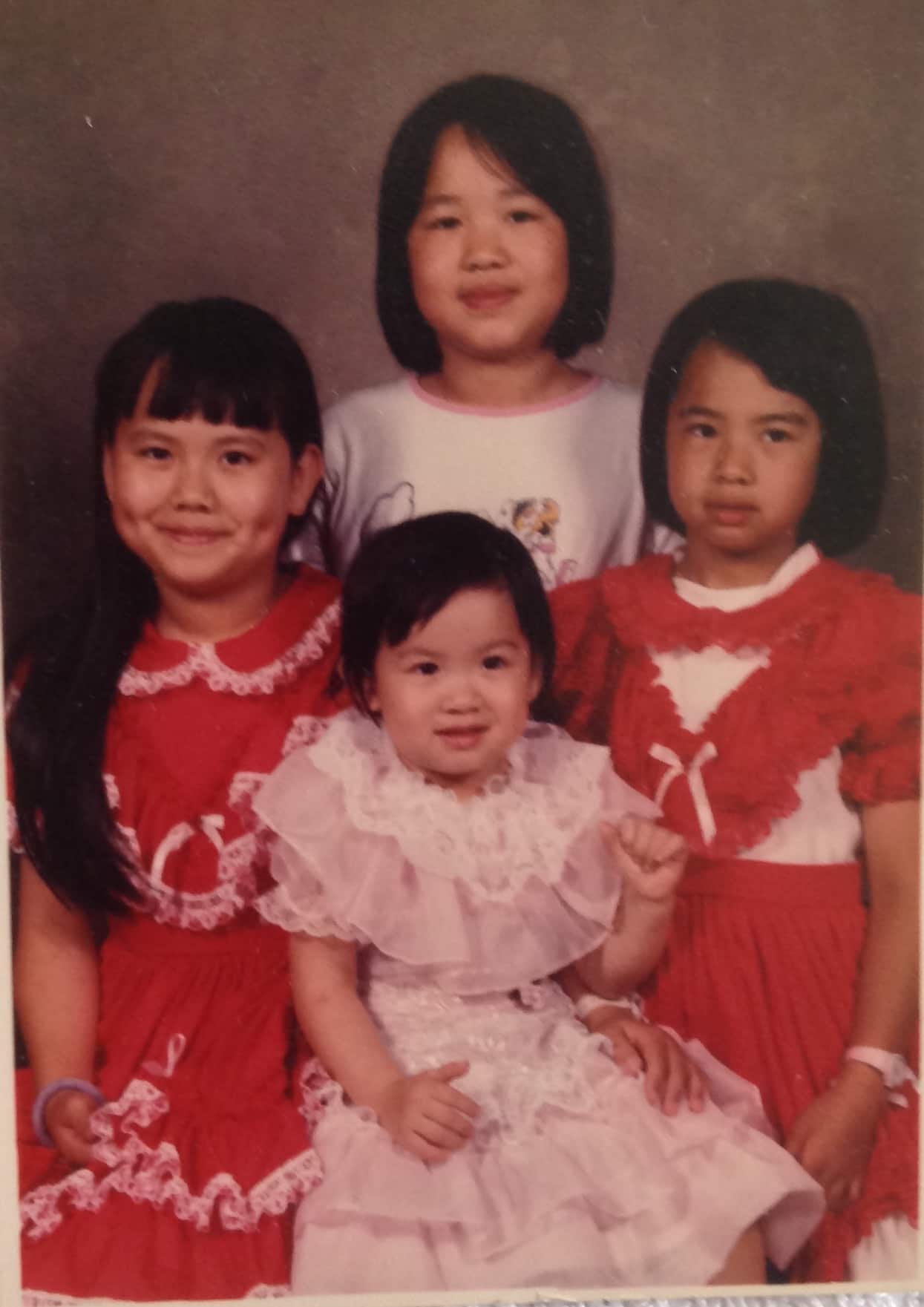 I would hear the squeak of the bedspring as she hopped onto my bed, the crinkle of those typewriter pages… and smell her familiar coconut scent, and just feel so loved and safe. With every word she read, every funny voice she made, I would feel my anxieties and fears melt away.
I would fall asleep knowing that everything was right in the world, and that there was nothing to be afraid of.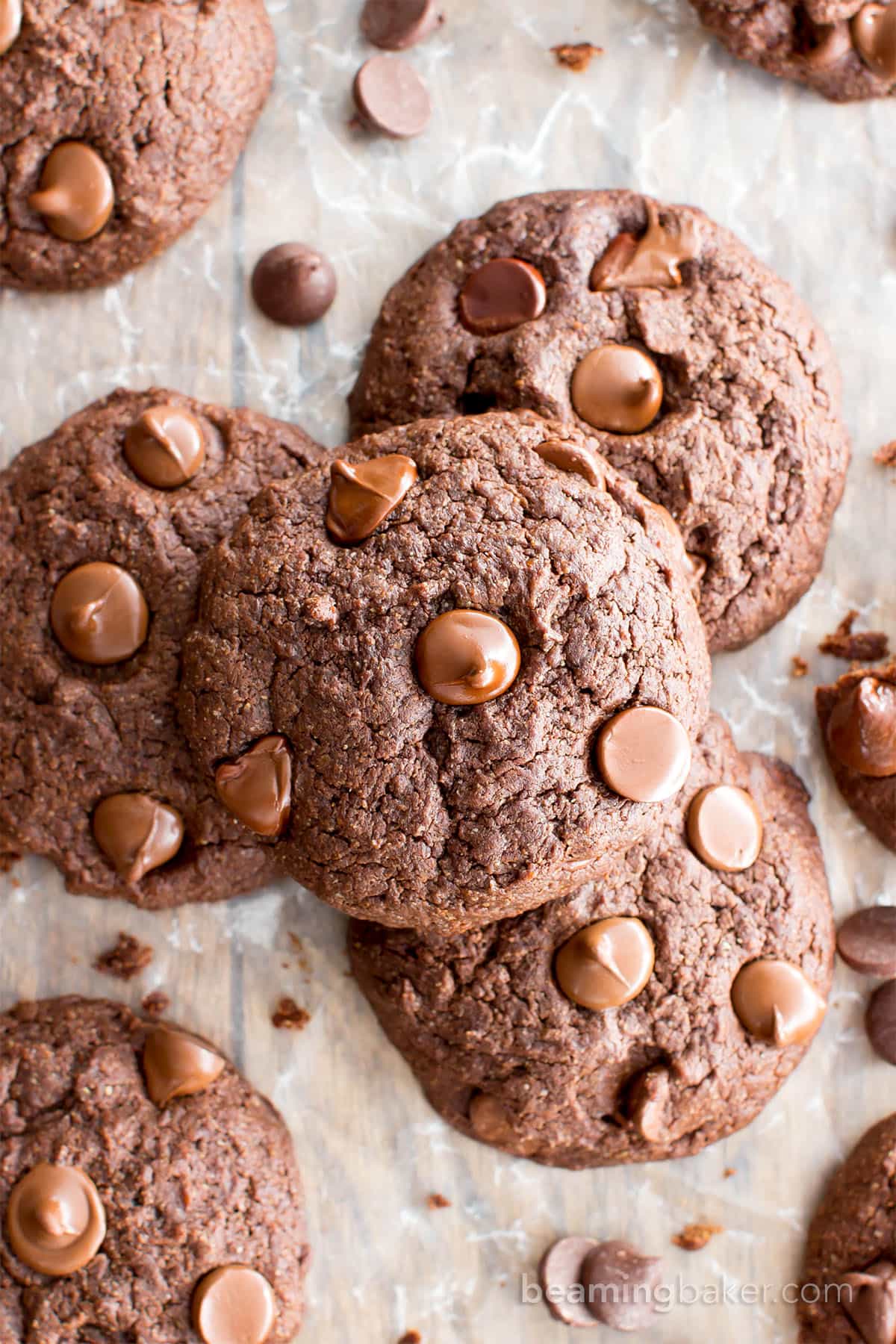 To this day, she's still doing unbelievably thoughtful things like that. Sometimes, when I get negative or cynical about the world, I think about Penny and know that things are okay. They're gonna be okay.
Penny is one of my favorite people in the entire world. So on the day (but not really for internet privacy purposes) of her birthday, let's all raise a brownie cookie in a toast!
Happy Birthday, Penny! Your love changes the world.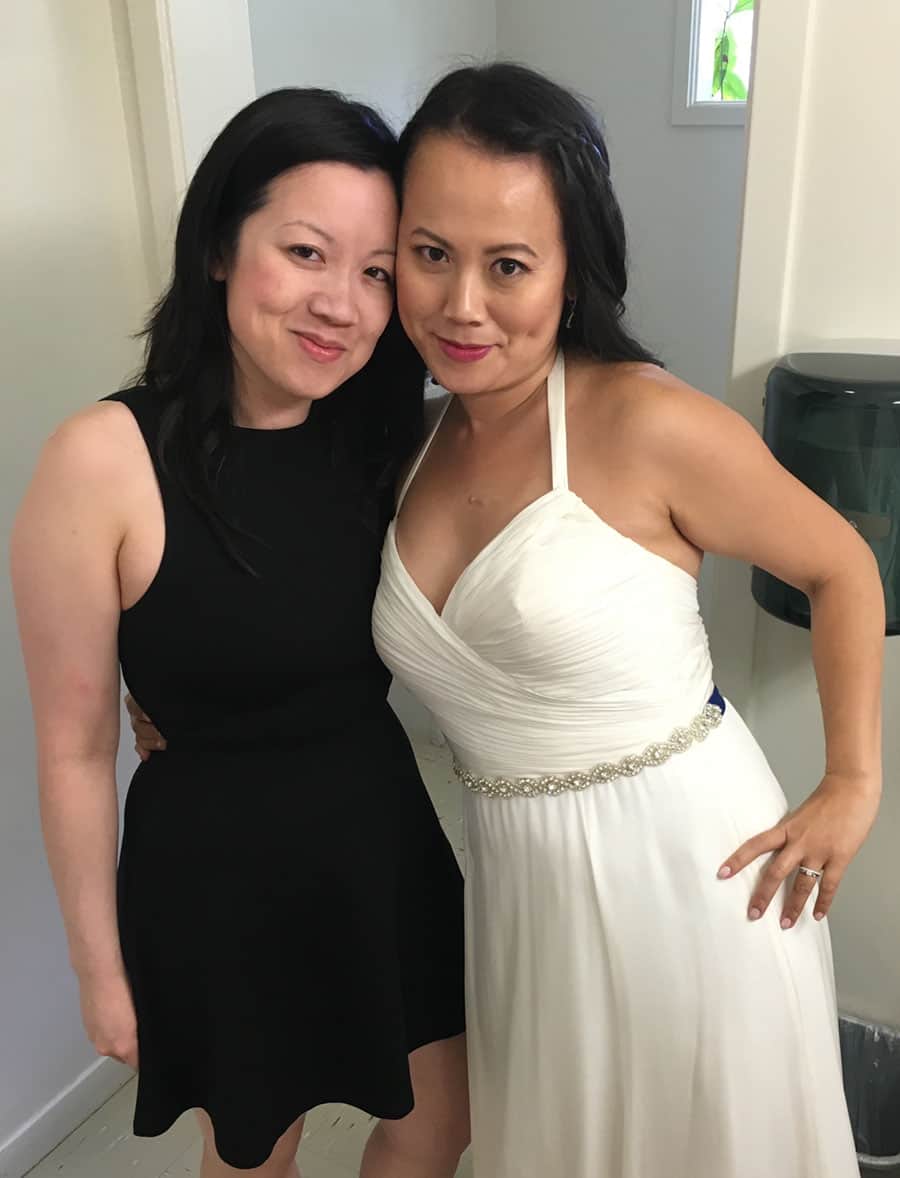 Now, in celebration of All Things Awesome in the World, who wants to make cookies??? More importantly, who wants to make Vegan Chocolate Brownie Cookies?? I just sent Penny and Andrew (her hubs) a nice, big box of these brownie cookies and a super mysterious, top secret recipe that I'm currently working on. Ooh… intrigue! 😉
Side note: I'm also seriously drooling over these brownie bombs from Vegetarian Mamma. Something about chocolate covered chocolate goodness that gets me. Every time! While I'm at it, I've also got to tell you about my friend Lindsay's amazing paleo cookie recipe (once you get me talking about cookies, I just can't stop!). I love how clever and creative her vegan Mexican Hot Chocolate Sugar Cookies are–featured on her spectacular Cotter Crunch blog. Must try!
Meanwhile, I'm pleased to report that these Vegan Chocolate Brownie Cookies have the Pandy seal of approval! Penny told me that they both polished off like a dozen of these in two days. Impressed yet? If not, allow me to tell you all about these delightful, heavenly chocolate treats…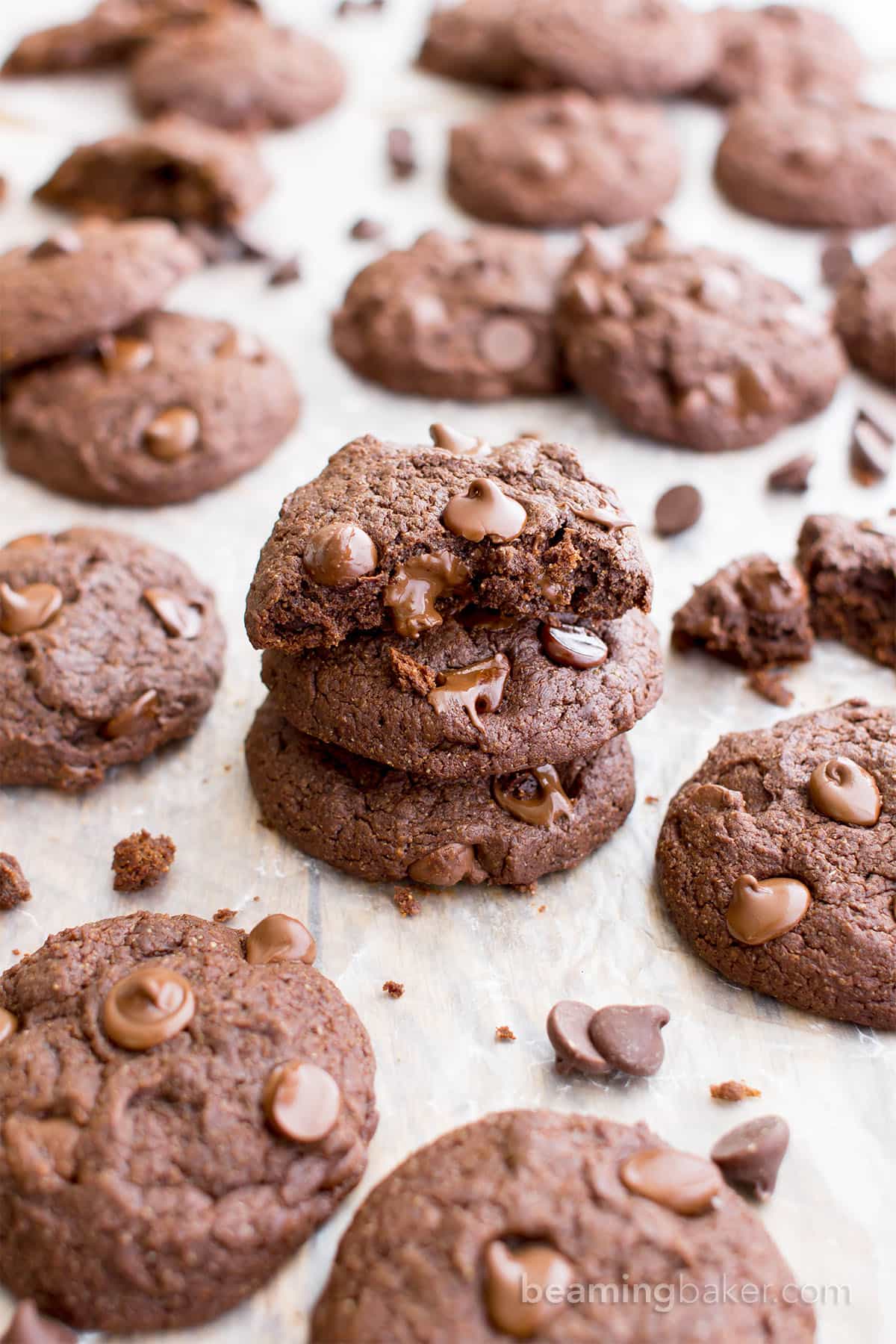 My Vegan Chocolate Brownie Cookies are:
super easy to make
tasty, exactly like a brownie in cookie form
rich, chocolatey, decadent
vegan, gluten free, dairy-free
totally flourless!
scrumptiously soft, thick and chewy
made in just one bowl!
allergy-friendly and plant-based
bursting with melt-in-your-mouth chocolate flavor
inspired by my insanely popular Best Vegan Brownies
So whatcha waiting for? I think it's totally time to break out the bakeware, just one bowl (oh yeah!), and get your appetite ready! Let's get our bake on and toast to all the awesome loved ones we have in our lives. I can't wait to hear what you think of these. In the meantime, tell me:
Who makes your life awesome?
Sending you all my love and maybe even a dove, xo Demeter ❤️
☀︎ Click below to Pin ☀︎

☀︎ Did you make this recipe? Take a pic and share it on Instagram with the hashtag #beamingbaker and tag @beamingbaker. I would love to see it! ☀︎
Print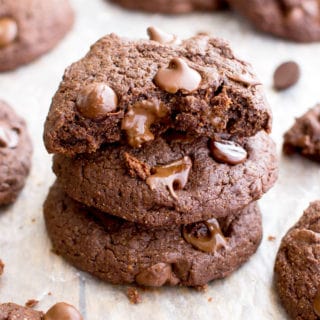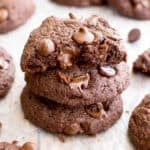 Vegan Chocolate Brownie Cookies (Gluten Free, Oat Flour, Vegan, Dairy-Free, One Bowl)
---
Description
Vegan Chocolate Brownie Cookies (GF, V, DF): a one bowl recipe for soft, thick, chewy cookies that taste just like a rich, chocolate brownie! Vegan, Gluten-Free, Dairy-Free, Oat Flour, Whole Grain.
---
Brownie Cookies
¼ cup

natural, unsalted creamy almond butter

½ cup

coconut sugar

1/3 cup

pure maple syrup

¼ cup

+

2 tablespoons

melted coconut oil

1 teaspoon

pure vanilla extract

¼ teaspoon

salt

¾ cup

unsweetened cocoa powder

2

flax eggs (

2 tablespoons

ground flax +

6 tablespoons

water, whisk together, set for 15 mins)

¾ cup

+

2 tablespoons

gluten free oat flour

½ teaspoon

baking powder

½ cup

vegan chocolate chips
Optional Topping
2

–

3

tablespoons vegan chocolate chips
---
Instructions
Preheat oven to 350°F. Line a baking sheet with parchment paper or greased foil. Set aside.
In a medium bowl, whisk together almond butter, coconut sugar, maple syrup, coconut oil, vanilla and salt. Whisk until it resembles caramel.
Add cocoa powder in ¼ cup increments, whisking until shiny and smooth. Scrape down the sides of the bowl as necessary. Add flax eggs, whisking until well incorporated.
Add oat flour and baking powder. Using a rubber spatula, fold until well incorporated and no flour patches remain. Dough will be sticky. Fold in chocolate chips.
Using a 2-tablespoon cookie scoop, scoop and drop cookie dough onto the prepared baking sheet, spaced evenly apart. Using your fingers, shape cookies into round discs. Optionally, press chocolate chips into the tops of each cookie. Tap the pan a few times to lightly flatten the cookies.
Bake for 8-12 mins. Place the baking sheet of cookies on a cooling rack; allow to cool for 10-15 minutes. Using a heatproof spatula, lift cookies onto the cooling rack to completely cool. Enjoy! Storing instructions below.
Category:

Dessert, Cookies, Vegan, Gluten Free, Dairy-Free, Whole Grain
© beamingbaker.com. All content and images are protected by copyright. Please do not use my images or recipe without my permission. If you wish to republish this recipe, please re-write the entire recipe using your own words and include a link to this post for the recipe.
☀︎Delicious Chocolate Recipes
If you enjoy these Vegan Chocolate Brownie Cookies, you'll just love these recipes…
Best Vegan Brownies (V, DF)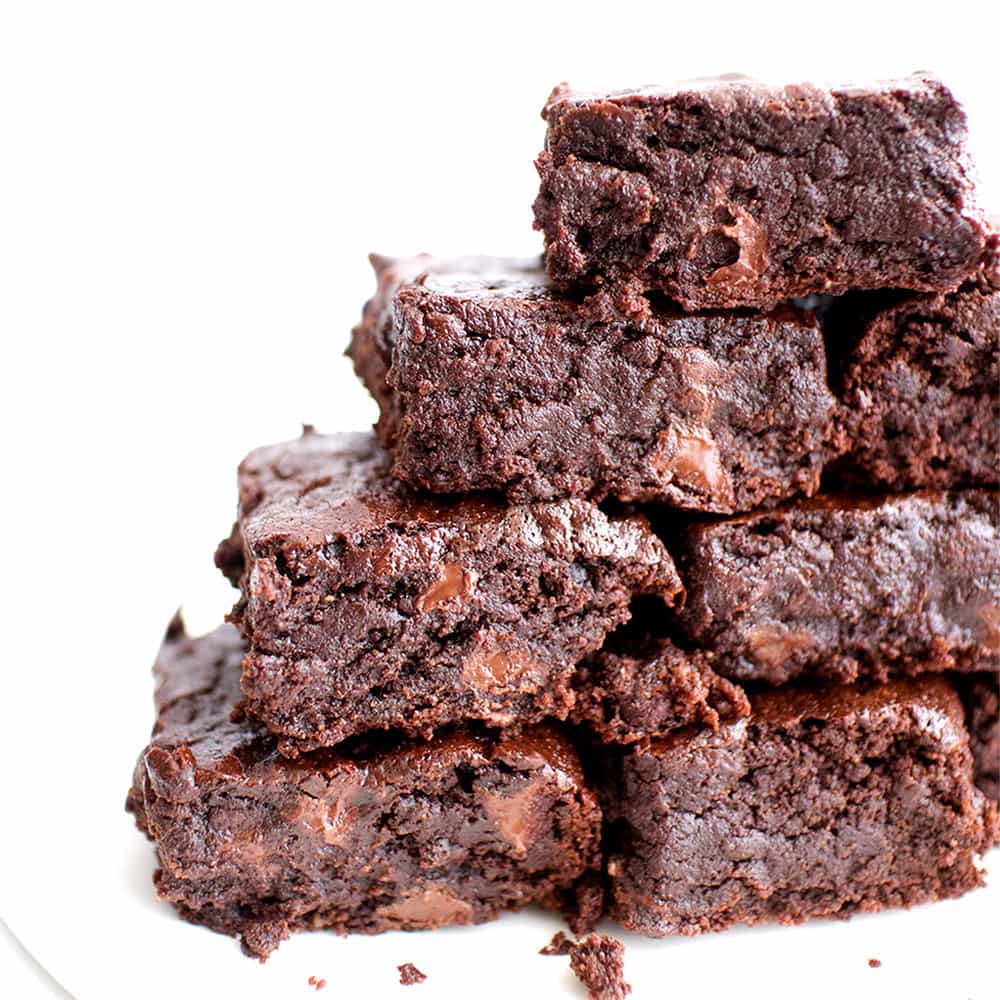 Homemade Crunch Bars (V, GF, DF, 3 Ingredient)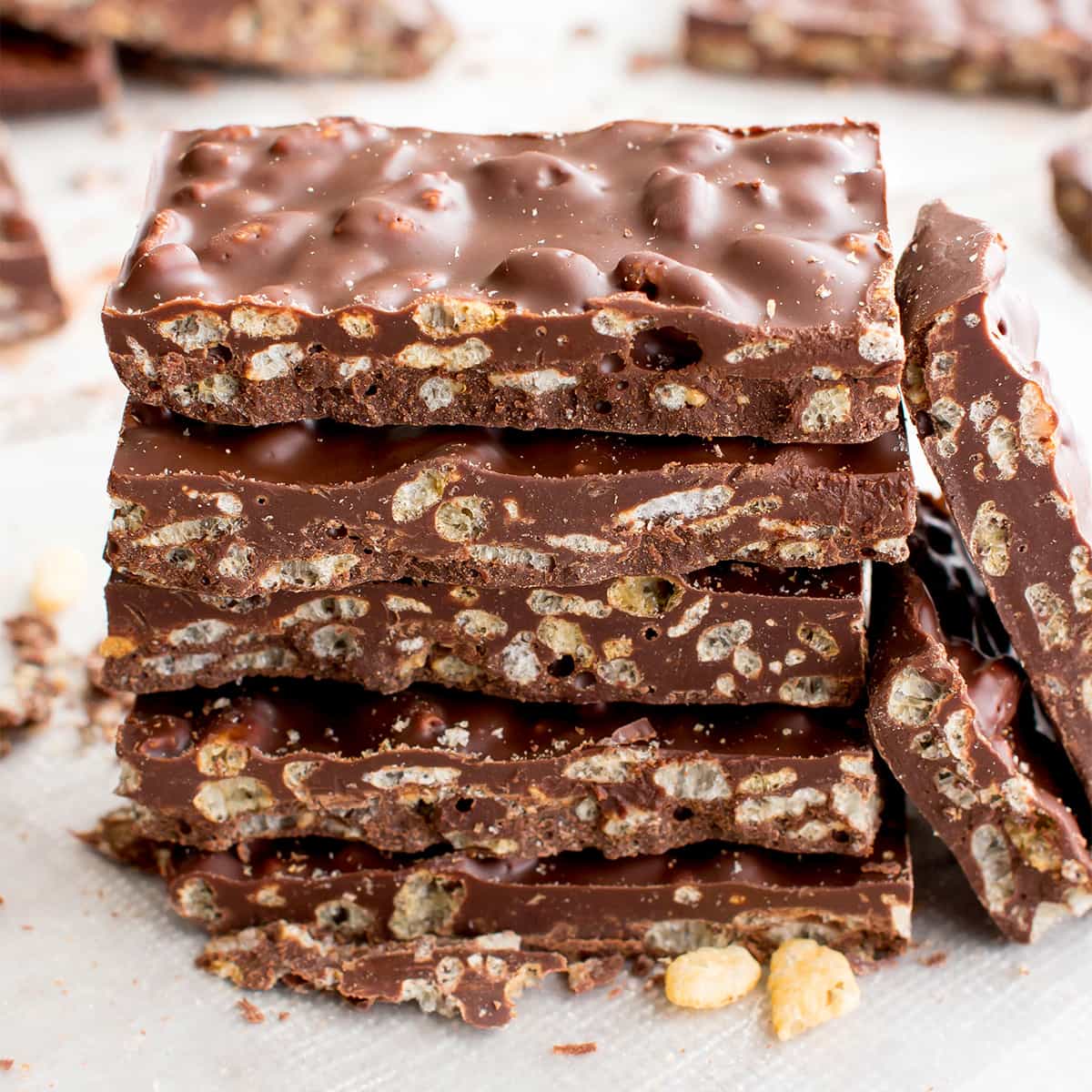 No Bake Paleo Chocolate Almond Butter Bars (Paleo, V, GF, DF)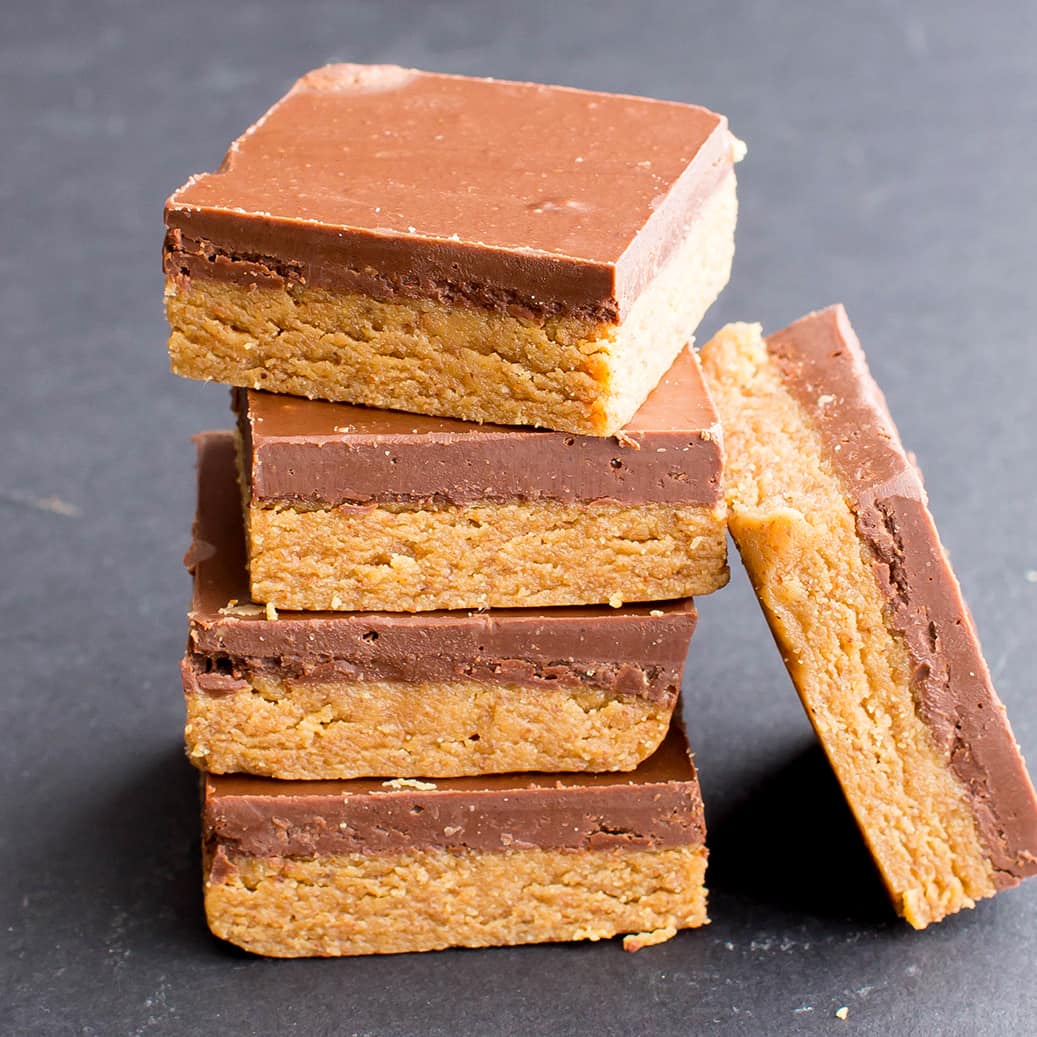 Gluten Free Vegan Brownies (V, GF, DF)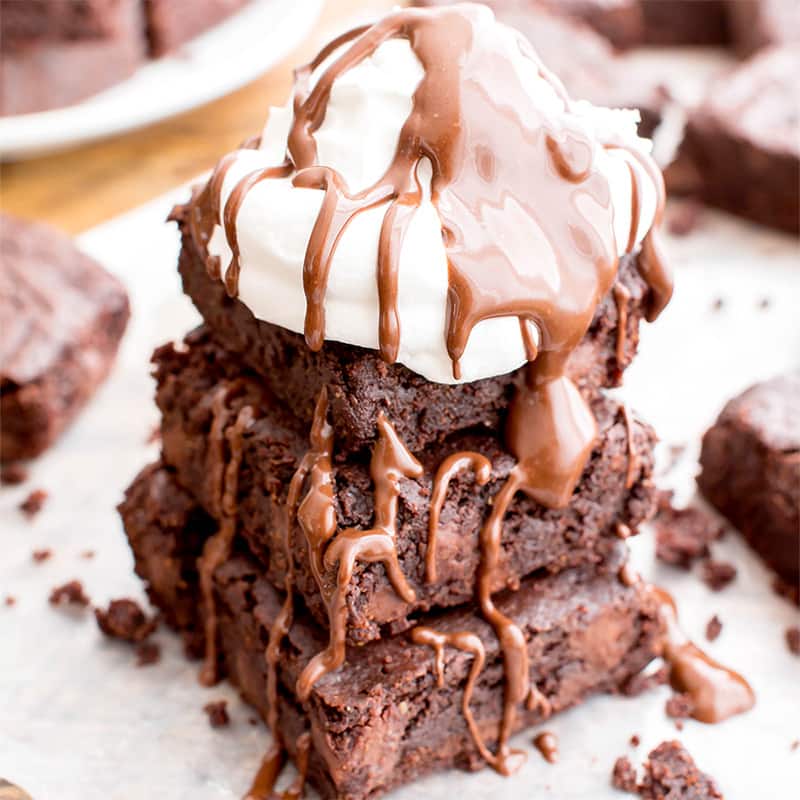 More chocolate recipes:
Drizzled Chocolate Walnut Oat Flour Cookies (V, GF, DF, Whole Grain)
Chocolate Peanut Butter Freezer Fudge (2 Ingredient, V, GF, DF)
Vegan Almond Butter Chocolate Chip Walnut Cookies (V, GF, DF, Whole Grain)
Facebook ☀︎ Pinterest  ☀︎ Twitter ☀︎ Instagram