Drizzled Chocolate Walnut Oat Flour Cookies (V, GF, DF): an easy recipe for decadent, double chocolate oat flour cookies soft-baked to perfection. Vegan, Gluten Free, Dairy-Free, Whole Grain.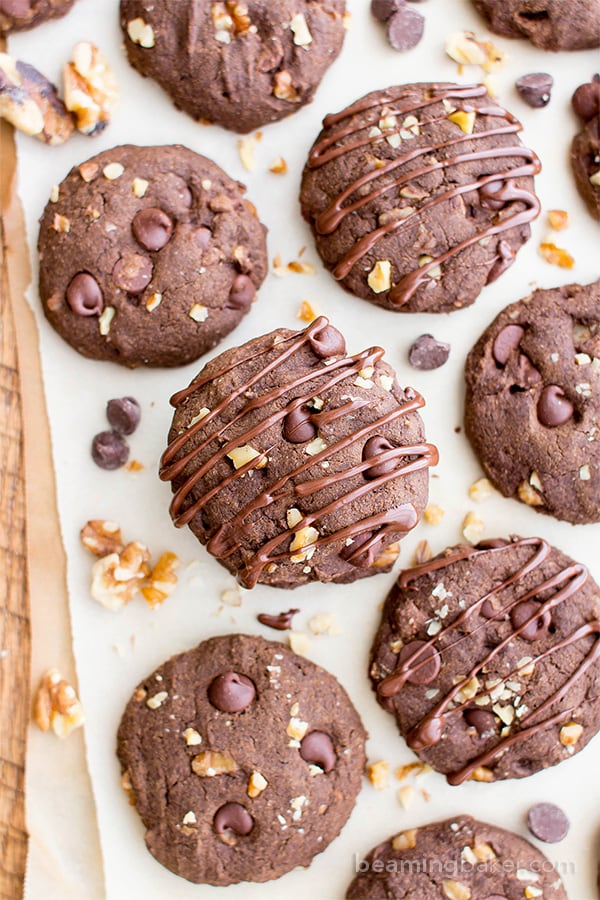 It's almost Valentine's Day!! Can you believe?? Are you a fan? A foe? A… "Meh, who cares, it's not really a holiday" type of person?
However you feel about Valentine's Day, it's hard to deny the allure of… CHOCOLATE. Sure, it's kind of a greeting card company holiday, it's totally wayyyy too much pressure to be meaningful and sweet and also be in the mood to receive said meaningful and sweet gestures… but it's also a most fantastic chance to enjoy CHOCOLATE!!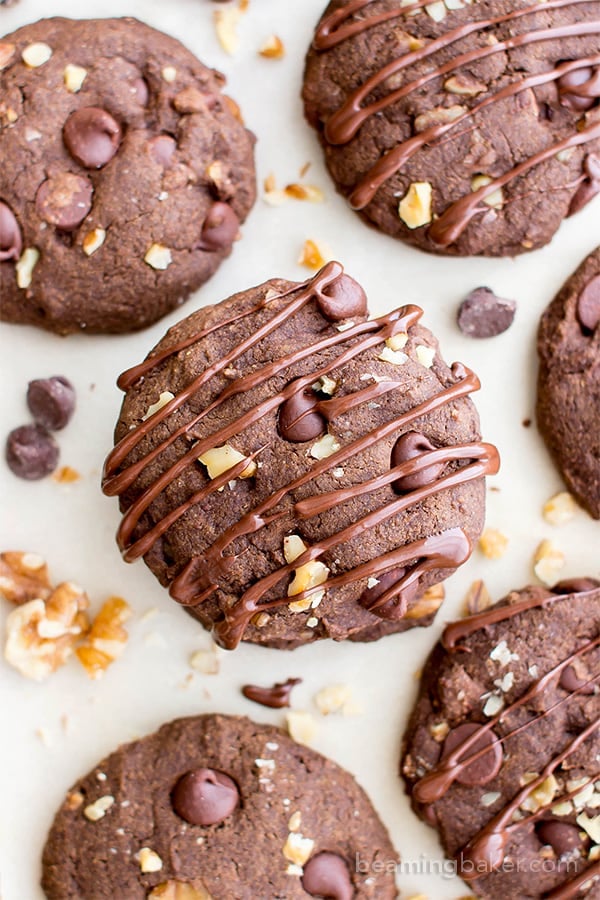 What better excuse do ya need?
Oh okay, here's one more excuse: these Drizzled Chocolate Walnut Oat Flour Cookies. Oh YES.
A few years back, when Erik and I were first dating, we made a big whoop out of Valentine's Day. What can I say, that's when we had more energy and such. I remember during one of our first V-Days, I pulled out all the stops.
You might be a bit surprised, but I actually make savory things in my kitchen. Shocker!!! 😉 Yep, I even own pots and pans that are dedicated to savory cooking. Now now, don't be afraid, I didn't mean to scare you with this knowledge. I am more than the beaming baker. I am also a person who enjoys food. And LOTS of it. Be it salty, sweet, spicy (oh, that's a big one for me), and crunchy! As for interests outside of food… meh. Those don't really matter, right?
😉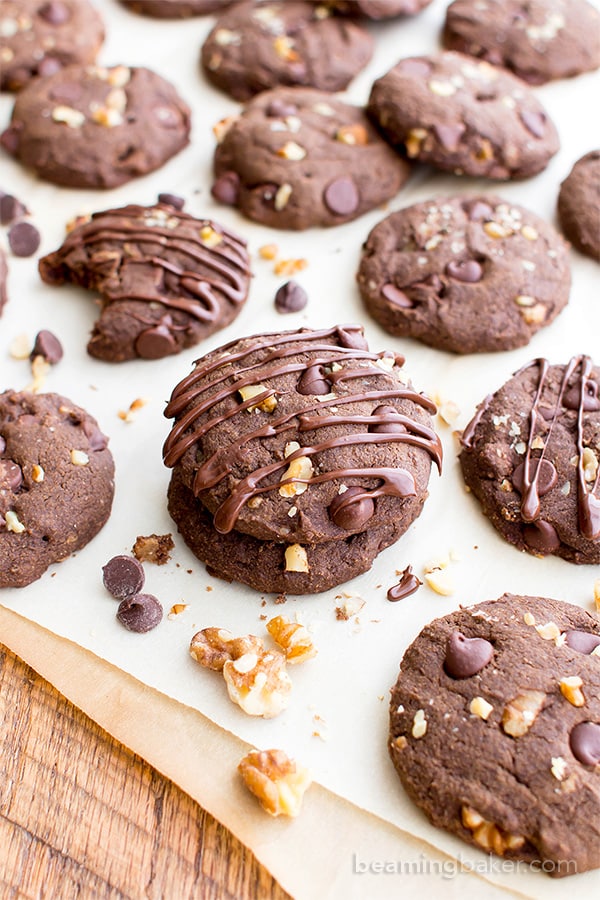 Just kidding! But anyway, as I was saying, Erik and I pulled out all the stops back in the day—make that the savory day. I called my mom and told her I wanted to make her famous curry, so how would I go about that? She rattled off something about how she never writes recipes down, how she likes to toss in a dash of this and a dash of that… and oh, wait a minute, add two cups of this, three cups of that, and make sure you completely caramelize the sweet potatoes, and don't forget to add in extra tofu!! And, why don't I come over and just make it for you?? Why don't I make some mushroom soup, spring rolls and lemongrass tofu, too?? Have you eaten yet? Are you sure?? You get too skinny when you're living by yourself!!
My mom, folks. Could I be any luckier? ❤️
After somehow jotting down the recipe, I promised my mom I'd be home to visit soon and, yes, could you please make extra lemongrass tofu? And maybe I can do two loads of laundry while I'm home and yes, I love you, too. I got off the phone and went to work!
Little did I know, at this exact moment, Erik was racing across town, picking up all kinds of treats. At 8 o'clock that night (my goodness did we eat late when we were youngins'), Erik walked through the door, his hands full of two deep dish pizzas, garlic bread, a wrapped gift and a neon green and pink paper rose clamped down in his mouth. Covered in sweat and totally frantic, of course.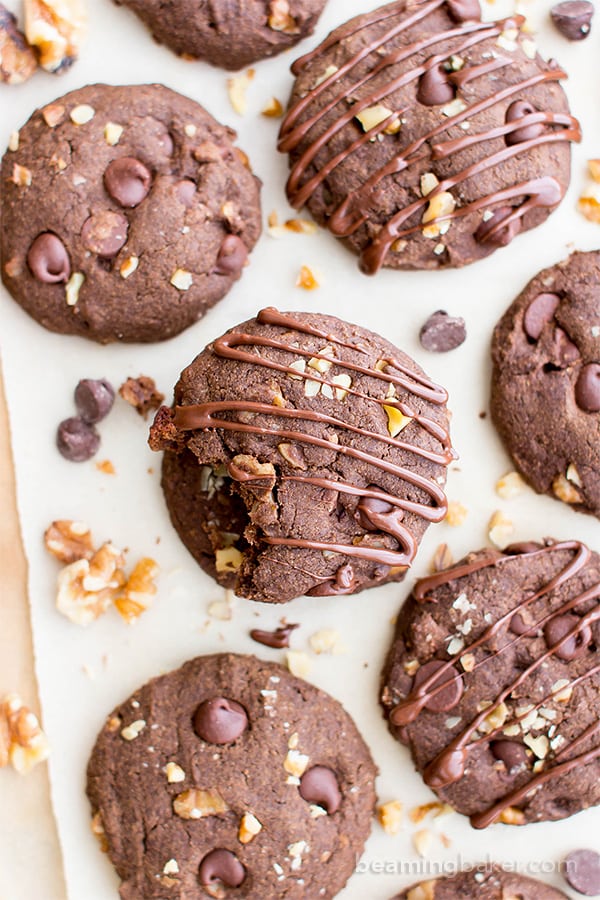 I came out of the kitchen, hair flattened completely to one side of my head in the outline of a phone (courtesy of the one-hour convo I had with my mom about the super "quick" recipe), curry all over me, and a big loaf of bread baking in the oven.
Me: "Whatcha got there?"
Erik: "I…" *wheezing* "Got…"
Me: "Here, let me help you."
E: "Dinner. Happy Valentine's…" *wheezing* "Day. My love!"
Me: "Sit down, you look like you're gonna faint!! Also… I made dinner!!"
E: "Oh, crap!"
Me: "What a lovely Valentine's Day sentiment!"
E: "It's just–now we have two dinners!"
He immediately turns bright red, and I just hug him. The big oaf. After all, what could be more perfect than not one, but two amazing dinners for Valentine's Day?
We lay out a huge blanket on the living room floor and set up the goodies he brought, plus my mom's curry. We have this big, lovely picnic while he tells me all about how long it took to decide which craft to make before he finally landed on the paper rose. It's a project from the Instructables book I got him on our third (or fifth, who can remember) date.
I eat the pizza and he eats the curry. It was one of the most fun V-Days I've ever had. Which reminds me… I've got to call my mom for another "quick" recipe for this year's V-Day. Might as well pull out all the stops this year. Oh, and ask her to make another big batch of lemongrass tofu, for old time's sake. 😉
This year, I hope you and your loved ones have an amazing Valentine's Day. And if you're not celebrating, who cares, let's eat all the chocolate. Together! 🙂 Or, we could all enjoy a fresh pot of tea and some of these wonderful Gluten Free Russian Tea Cookies from Fearless Dining! Just be sure to use dairy-free butter and organic powdered sugar to make them vegan. 🙂 Either way, these Drizzled Chocolate Walnut Oat Flour Cookies are just one more reason to get your chocolate on this weekend.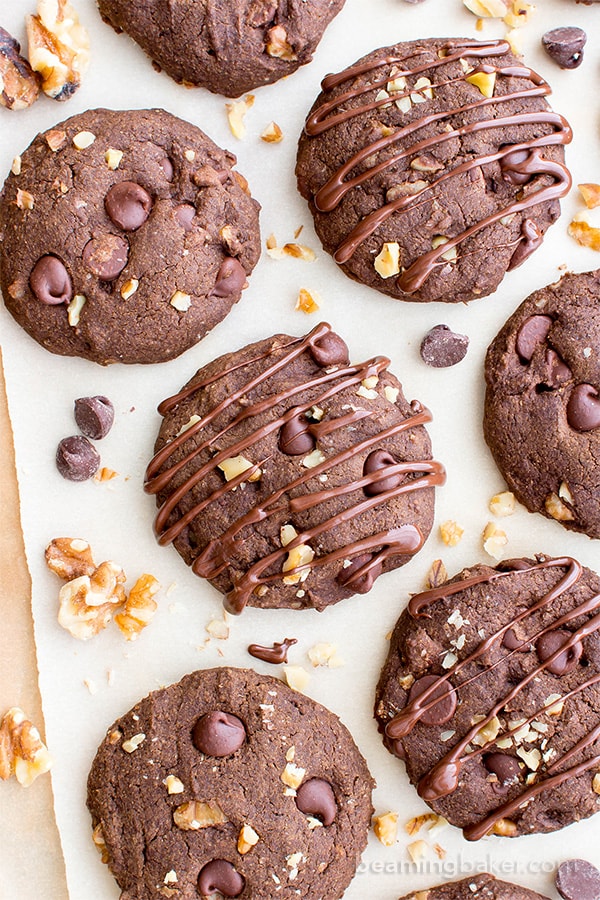 What's your most memorable Valentine's Day?
While I wait to hear all about it, allow me to tell you about my Drizzled Chocolate Walnut Oat Flour Cookies . They're:
so easy to make
vegan, gluten free, dairy free and whole grain
soft-baked and delightfully pillowy
perfectly balanced with chocolate and walnuts
plant-based and allergy-friendly
great for Valentine's Day, or just for fun baking
incredibly fun to drizzle
no, really, SO fun to drizzle
Grab a few ingredients and meet me in the kitchen! After all, it's time you treat yourself and perhaps someone you care about, to something really special. 🙂 I can't wait to hear what you think of this recipe! In the meantime, tell me:
What are you planning for V-Day?
Sending you all my love and maybe even a dove, xo Demeter ❤️
☀︎ Click below to Pin ☀︎

☀︎ Did you make this recipe? Take a pic and share it on Instagram with the hashtag #beamingbaker and tag @beamingbaker. I would love to see it! ☀︎
Some of my favorite Gluten Free Vegan Treats:
Vegan Gluten Free Chocolate Cupcakes | Gluten Free Oatmeal Raisin Cookies | Gluten Free Vegan Pumpkin Bread | Paleo Candied Pecans | Gluten Free Vegan Brownies | Easy Gluten Free Peanut Butter Chocolate Chip Oatmeal Cookies | Gluten Free Vegan Pumpkin Bread | and… Paleo Apple Pecan Coconut Crisp, just for fun. 😉

Drizzled Chocolate Walnut Oat Flour Cookies (Vegan, Gluten Free, Dairy-Free, Soft-Baked)
Drizzled Chocolate Walnut Oat Flour Cookies (V, GF, DF): an easy recipe for decadent, double chocolate oat flour cookies soft-baked to perfection. Vegan, Gluten Free, Dairy-Free, Whole Grain.
Author:
Demeter | Beaming Baker
Recipe type:
Cookies, Vegan, Gluten Free, Dairy-Free, Whole Grain
Ingredients
1 ¼ cups gluten free oat flour
¼ cup unsweetened cocoa powder
½ teaspoon baking soda
½ teaspoon baking powder
¼ teaspoon salt
Wet Ingredients
¼ cup + 2 tablespoons melted coconut oil
¼ cup coconut sugar
¼ cup pure maple syrup
2 flax eggs (2 tablespoons ground flax + 6 tablespoons water, whisked together, set for 10 minutes)
1 teaspoon pure vanilla extract
Add-in Ingredients
½ cup vegan chocolate chips
½ cup walnuts, chopped
Optional Topping
1 tablespoon each: vegan chocolate chips, chopped walnuts
Drizzle
¼ cup vegan chocolate chips
¼ teaspoon melted coconut oil
Instructions
Preheat oven to 350°F. Line a baking sheet with parchment paper or greased foil. Set aside for later.
In a medium bowl, whisk together all the dry ingredients: oat flour, cocoa powder, baking soda, baking powder and salt.
In a large bowl, whisk together all the wet ingredients: coconut oil, coconut sugar, maple syrup, flax eggs and vanilla. Whisk until thoroughly combined.
Add the dry ingredients to the wet ingredients. Whisk until you get a sticky, soft dough-like mixture. Fold in chocolate chips and walnuts.
Cover the bowl of cookie dough. Let sit for 10-15 minutes at room temperature—this allows the dry mixture to absorb the wet mixture and become more cohesive.*
Using a cookie scoop, scoop 2 tablespoons of cookie dough onto the prepared baking sheet. Using a fork, flatten cookies into a round disc of desired thickness—they won't spread much during baking. Press chocolate chips and walnuts into the tops of the cookies.
Bake for 8-14 minutes. Mine took 10 minutes. Using a flat, heatproof spatula, carefully lift cookies off the baking sheet and transfer to a cooling rack. Allow to cool completely.
In a microwave safe bowl, add ¼ cup chocolate chips and ¼ teaspoon melted coconut oil. Heat in 20-second increments until softened and melted. Stir until smooth. Spoon melted chocolate into a small zip bag and trim a tiny corner off. Pipe chocolate in a zigzag pattern across the top of each cookie.
Enjoy! Storing instructions below.
Notes
- *You can skip this step, but the dough is more likely to be too sticky to flatten with a fork. Also, the cookies are less likely to have a beautiful textured on top.
- Adapted from my
Double Chocolate Chip Cookies (V, GF, DF)
.
- Store in an airtight container at room temperature for up to 1 week.
- Freezing instructions: Store in an airtight, freezer-friendly container in the freezer for 1-2 months. Before enjoying, allow to thaw for 5-10 minutes at room temperature. Or, heat in the microwave in 10-second increments until warm.
- More delicious Cookie recipes (all V, GF, DF):
Dark Chocolate Almond Trail Mix Cookies
,
Peanut Butter Chocolate Chip Oatmeal Cookies
,
Chocolate Chip Almond Butter Walnut Cookies
.
- More Chocolate Indulgence recipes (all V, GF, DF):
Gluten Free Vegan Brownies
,
Almond Butter Fudge Cups (Paleo)
,
3 Ingredient Homemade Crunch Bars
.
© beamingbaker.com. All content and images are protected by copyright. Please do not use my images or recipe without my permission. If you wish to republish this recipe, please re-write the entire recipe using your own words and include a link to this post for the recipe.
☀︎ More Cookie Recipes
Triple Chocolate Peppermint Cookies (Vegan, Gluten Free, Dairy-Free, Whole Grain)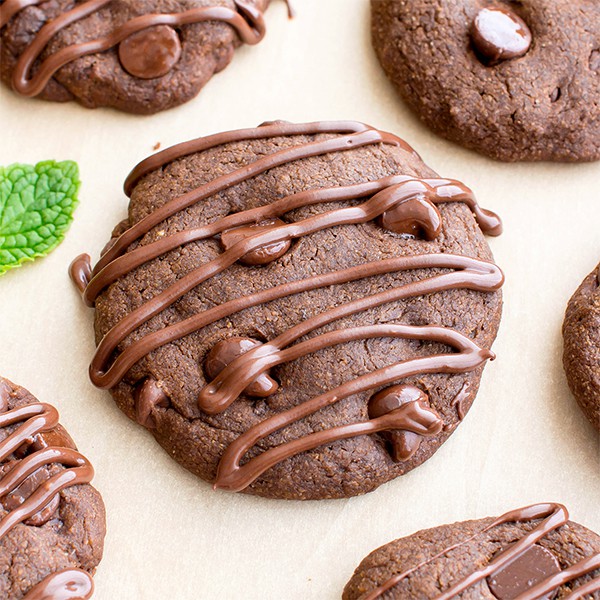 Almond Butter Chocolate Chip Walnut Cookies (Vegan, Gluten Free, Dairy-Free, Whole Grain)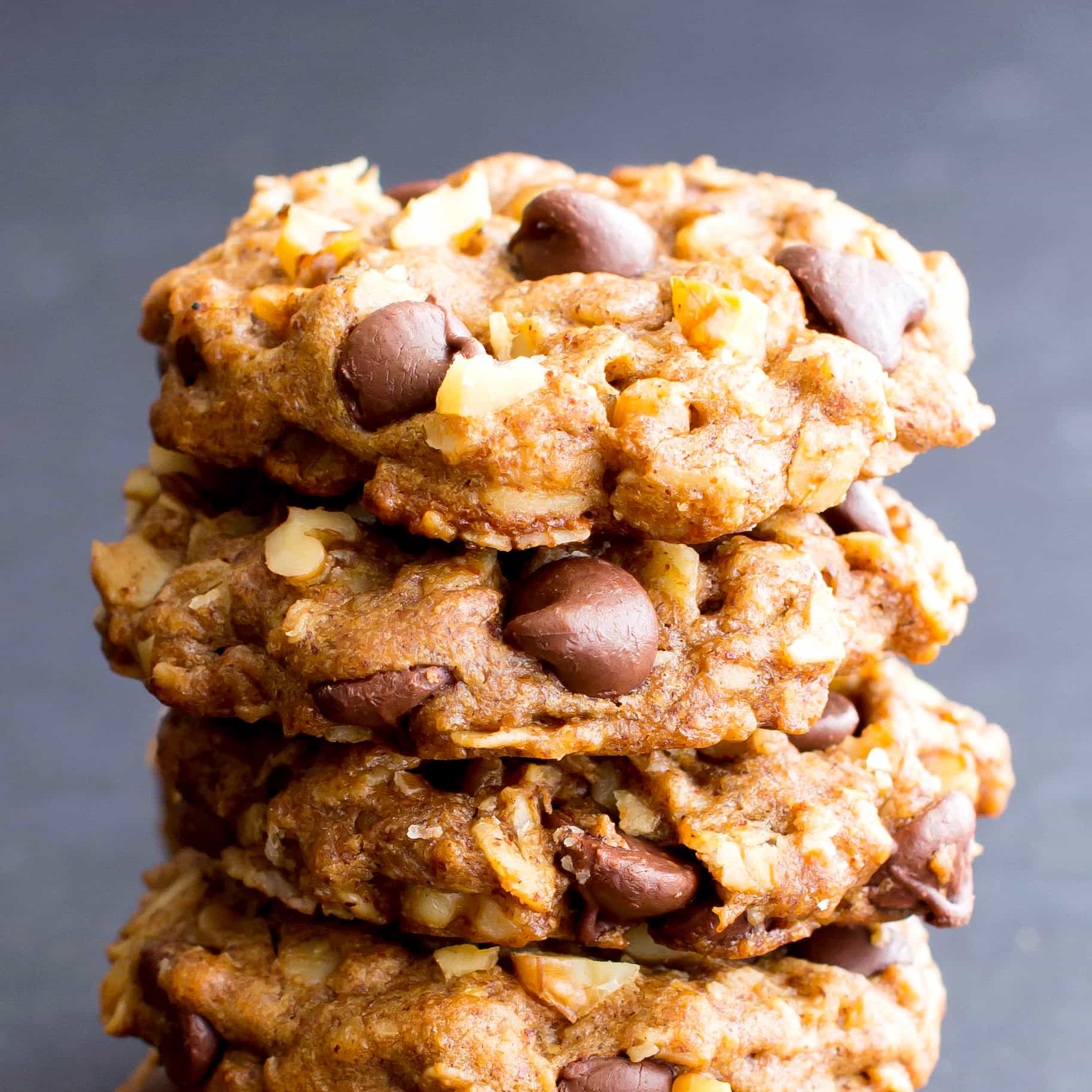 Peanut Butter Chocolate Chip Oatmeal Cookies (Vegan, Gluten Free, Dairy-Free, Whole Grain)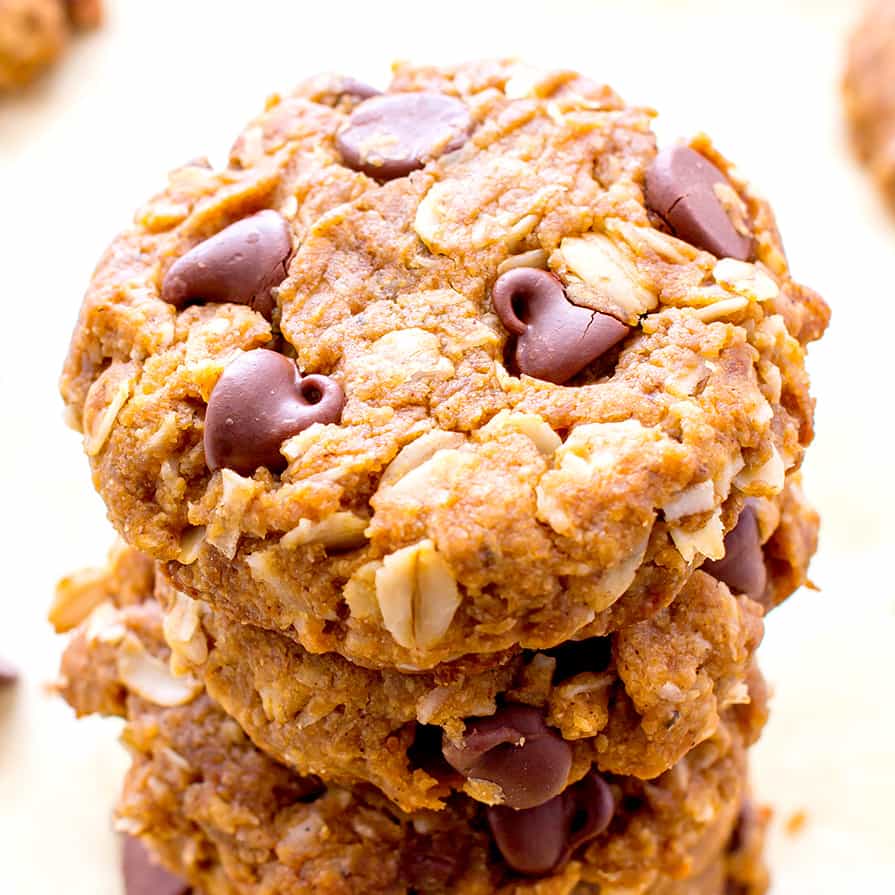 ☀︎ Even more dessert deliciousness
Dark Chocolate Almond Coconut Trail Mix Cookies (V, GF, DF, Whole Grain)
Gluten Free Vegan Brownies (V, GF, DF, Whole Grain)
Homemade Crunch Bars (V, GF, DF, 3 Ingredient)
Facebook ☀︎ Pinterest  ☀︎ Twitter ☀︎ Instagram