One Bowl Gluten Free Vegan Pumpkin Bread (V, GF, DF): an easy, one bowl recipe for perfectly rich and moist classic pumpkin bread. Vegan, Gluten Free, Dairy Free.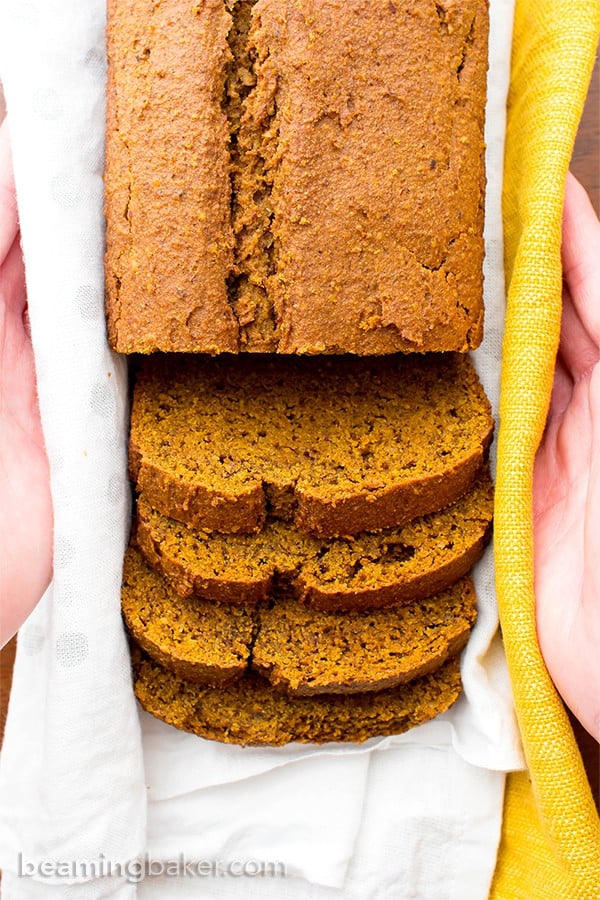 Welcome to fall! Yep, at the beginning of September. That's how we roll 'round these parts. 😉 You see, if we start this early… you can make this super easy pumpkin bread recipe once, twice, or even ten times just for the fam before bringing it to super important, perfect-recipe-required gatherings.
Sound good?
Yes!!!! Okay, I had to answer my own question because… it's sad just leaving it there to hang all by it's lonesome. Don't you think?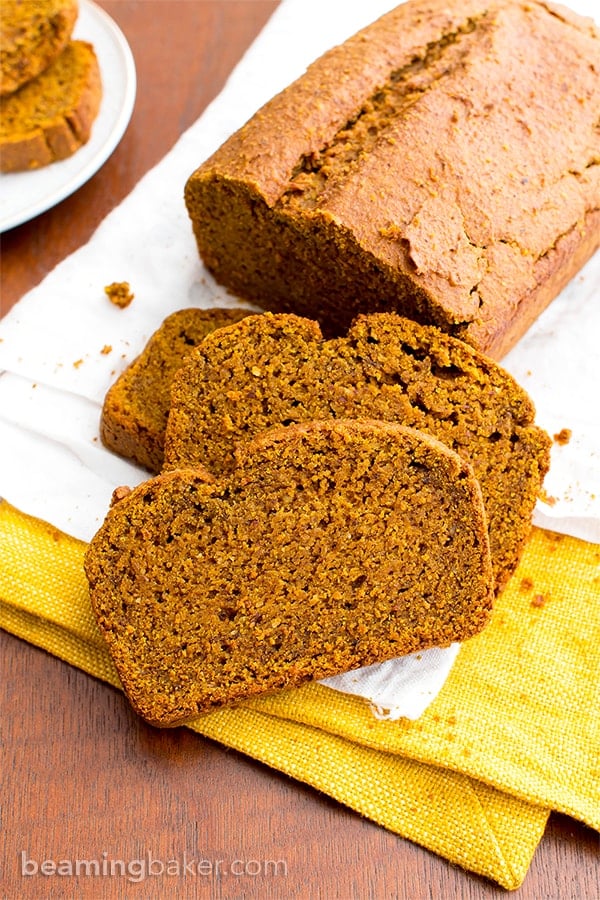 *Clears throat* (See what I mean??)
Anywho, the recipe testing for this now-beloved, but before not-so-much recipe was… embarrassing. Like, cringeworthy, hide your face and change your name because you don't need that ruined name anymore EMBARASSING.
Before I got to the glory that is this one bowl gluten free vegan pumpkin bread marvel, there were trials. Let's just say "trials" is the nicest word for what occurred, and I mean that word in every sense. 😒
For fun, and as a lovely confidence booster for you (you = waaaay cooler than me), let's go over these baking torture pumpkin bread trials. 🤓
Trial #1: Extremely dry. Like, drier than any desert known to man. Drier than a piece of toast that's been put into a dehydrator and soaked in salt or whatever they call it during the Wild West times. In fact, this pumpkin bread might've been a great contender for throwing in the ol' saddlebag for a good, three-month journey to avenge so-and-so's brother over The Saloon Incident. Or something. Plus, it totally would have made for an amazing weapon.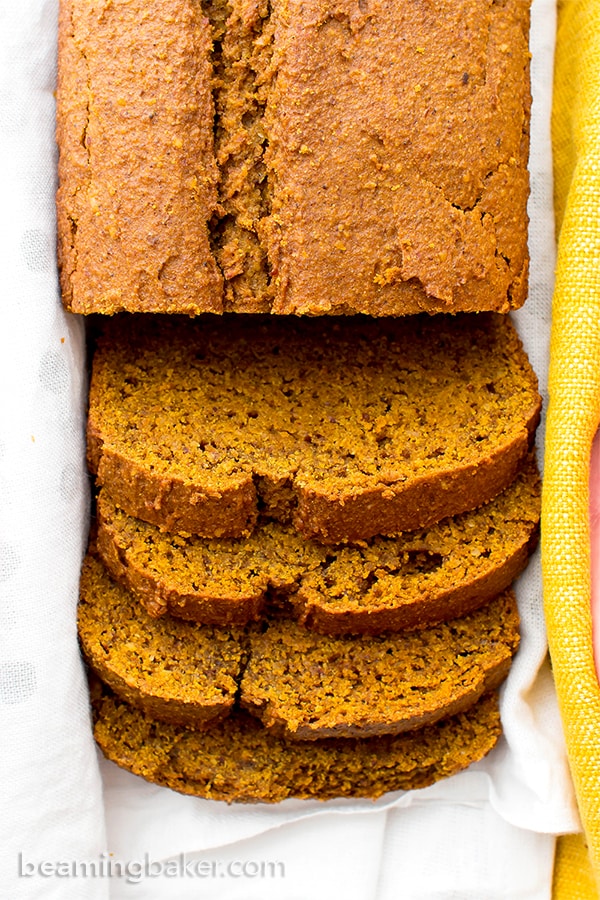 Trial #2: Less dry, too spicy. Yes, I said it. TOO SPICY. Note that I did nothing to the spice ratio… sometimes a good bit of ironic kitchen uncool magic happens and you get super spicy, in a weird savory way, pumpkin bread. My friend, I truly, madly, deeply (oh haaaay, Savage Garden!!) love spicy foods, but this one was too unfortunate and oddly… "unique" to bear.
Trial #3: Straight-up savory. And while some folks might argue that savory pumpkin bread can be quite the treat… allow me to convince you that this particular loaf was quite the trick. See what I did there??? Aw… come on, give me something for these foolhardy kitchen shenanigans!
I actually thought about saving this trial to turn into sandwich bread. I think it would've been really good with spicy hummus (inspired by Trial #2, of course) and a healthy dosing of jalapeños and olives. Yummmy!!!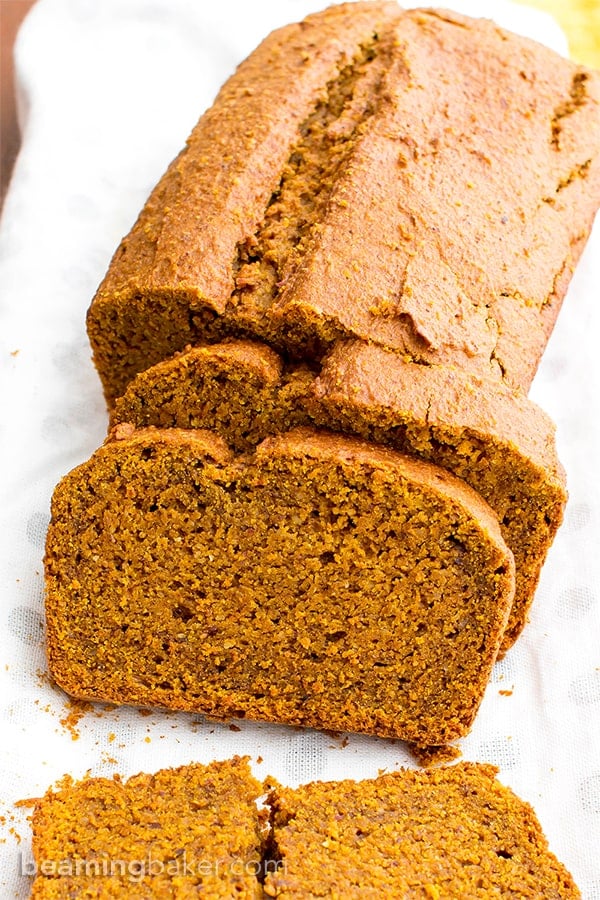 Trial #4 (aka the "How do I even have the stones to call myself a 'baker'" trial): Moist AF. Hide the kiddies and covers their gentle ears. AF. Yep, I said it!! There comes a time when all you can do is scream into a stack of oven mitts and throw a stare cruelly at your mixing bowl and in-cahoots whisk. This loaf actually looked pretty good on the outside. Good crust, strong structure.
Alas, a mere two hours of waiting for it to cool later… a hearty slice of a center piece revealed… like, an ENTIRE can of pumpkin. It's almost like it re-found itself inside the loaf. Like, it knew that it never wanted to meld with other ingredients ever again. It would just stay as one. 100% pumpkin puree. Forever and ever.
Trial #5 (aka the "Congratulations for being the BEST reader ever, you!! Can't believe you're still here, my favorite reader" trial): Meh. Yep, the Meh pumpkin loaf. The… if I brought this to a bakesale, no one would say a thing about it because… MEH. Eaten and promptly forgotten. The "Beaming Baker can DO better than this, come on, girlfriend!!" pumpkin loaf.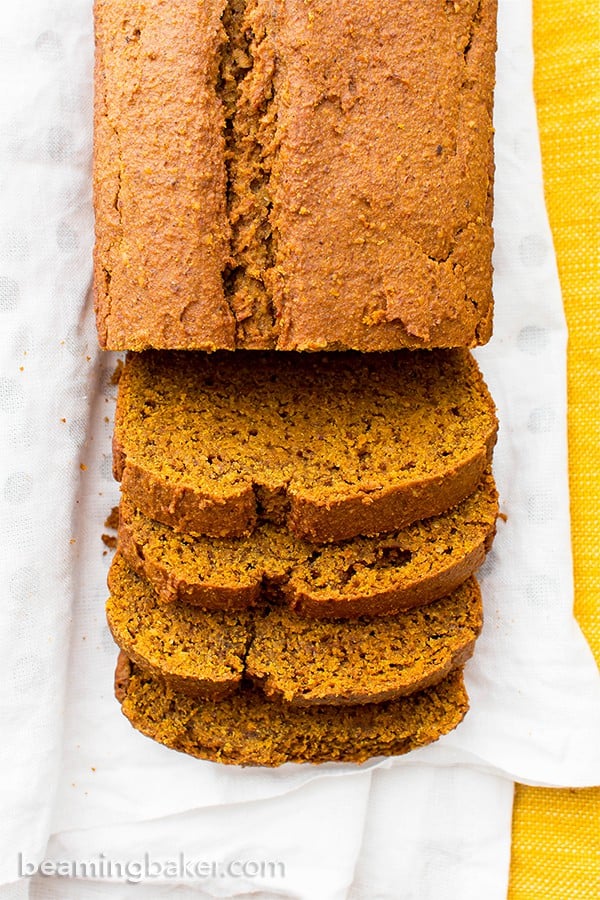 Trial #6 (aka There is Meaning in the World, Never Give Up on Your Dreams, Statues Will Be Named After Us Pumpkin Bread): 💯. From -1 million to so ridiculously positive, Rocky Balboa would be proud, 100 One Bowl Gluten Free Vegan Pumpkin Bread. But not with a 100 bowls. Like… it would be rated 100 out of 100. Oh, you know what I mean!
Dear reader, dear friend, dear best person ever for making it THIS far down this testing post, I'm here to tell you: IT. WAS. ALL. WORTH. IT. This pumpkin bread is WORTH IT.
You will make this bread like the bosslady or bossgentleperson-folk-being that you are. You will hold that whisk firmly and proudly in your ONE bowl. You will bake it like it's hot. Because, well, it will be due to high oven temps… and then, you will wait 2-3 hours, most patiently for a thorough cooling. And then, you will slice this bread like you're carrying the shiniest baton past the most reputable strip thingy at the end of marathons.
Then, you will bring this loaf to your mother-in-law, or IRL boss (even tho we know who's really the boss), or most important bakesale of the century, and present this loaf with a smirk. Because, it's AWESOME.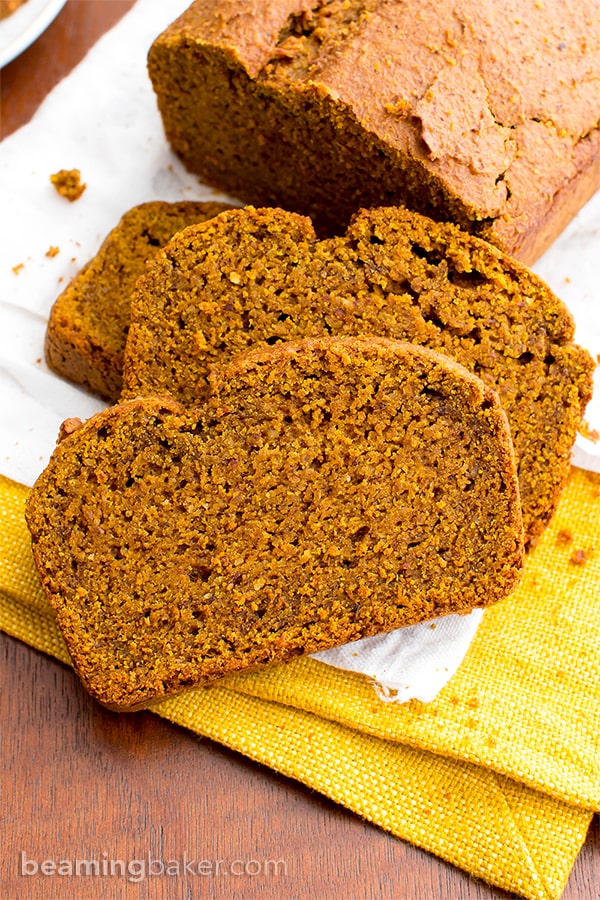 Allow me to present its best qualities. This One Bowl Gluten Free Vegan Pumpkin Bread is:
made in just one bowl (yeah, I had to say it again)
incredibly simple and easy to make
vegan, gluten free, and dairy free
the perfect amount of moist: not too much, not too little
lightly sweet with just a hint of spice
plant-based and allergy-friendly
full of simple ingredients you can feel good about
just the perfect slice of fall, or autumn, if you prefer 😉
refined sugar-free
rigorously tested, just for you
So don't fret about the holidays, I've got you covered. Especially since we're getting the ball rolling nice and early! Pumpkin = friend, not foe. YAAASSS!! Holiday, let's do this! Also, if you're looking for another amazing GF bread recipe, try my friend Sharon from What the Fork's gluten free cornbread. 😍
Are you excited about the holidays? What flavor of quick bread do you like the best?
Sending you all my love and maybe even a dove, xo Demeter ❤️
☀︎ Click below to Pin ☀︎

☀︎ Did you make this recipe? Take a pic and share it on Instagram with the hashtag #beamingbaker and tag @beamingbaker. I would love to see it! ☀︎
One Bowl Gluten Free Vegan Pumpkin Bread (V, GF, DF)
One Bowl Gluten Free Vegan Pumpkin Bread (V, GF, DF): an easy, one bowl recipe for perfectly rich and moist classic pumpkin bread. Vegan, Gluten Free, Dairy Free.
Author:
Demeter | Beaming Baker
Recipe type:
Quick Bread, Vegan, Gluten Free, Dairy Free
Ingredients
Wet Ingredients
1 cup 100% pure pumpkin puree (not pumpkin pie mix)
¼ cup melted coconut oil
¼ cup + 2 tablespoons pure maple syrup
¼ cup + 2 tablespoons coconut sugar
1 flax egg (1 tablespoon ground flax + 3 tablespoons water, whisked together, set for 5 mins)
1 teaspoon pure vanilla extract
Dry Ingredients
2 cups gluten free oat flour
½ cup almond meal
1 teaspoon baking soda
½ teaspoon baking powder
1 teaspoon ground cinnamon
½ teaspoon ground cloves
½ teaspoon ground nutmeg
¼ teaspoon salt
Instructions
Preheat the oven to 350°F. Line an 8.5x4.5 or 9x5 inch loaf pan with parchment paper or greased foil. Set aside.
Add the wet ingredients to a large bowl: pumpkin, coconut oil, maple syrup, sugar, flax egg, and vanilla. Whisk until well incorporated.
In the same bowl, add the dry ingredients: oat flour, almond meal, baking soda, baking powder, cinnamon, cloves, nutmeg and salt. Whisk together until just incorporated, making sure no flour patches remain.
Pour batter into prepared loaf pan and spread into an even layer. Using a butter knife, cut a slit down the top of the loaf, making it slightly off center. This will create a beautiful split down the top of the loaf. Bake for 50-65 minutes.* Test for doneness by sticking a toothpick into the center of the loaf. The toothpick will come out clean when the loaf is done.
Allow to cool on a cooling rack for 2-3 hours, or until completely cool. Lift out, slice and enjoy!
Notes
- *Bake time for each loaf: In an 8.5x4.5 inch loaf pan, mine took about 60 minutes. In an 9x5 inch loaf pan, mine took about 55 minutes.
- Adapted from my
Chocolate Banana Nut Bread
(Vegan, Gluten Free, Dairy Free).
- Storage notes: Cool completely, then store in an airtight container for up to 1 week.
- This loaf freezes well. Wrap in parchment paper and store in an airtight container in the freezer for up to 1 month. Allow to thaw at room temperature for 30 minutes, or pop in the microwave for 20 second increments until warm.
© beamingbaker.com. All content and images are protected by copyright. Please do not use my images without my permission. If you wish to republish this recipe, please re-write the entire recipe using your own words and include a link to this post for the recipe.
Here's another one bowl recipe that'll help you Holiday this year: try my Vegan Chocolate Banana Nut Bread (V, Gluten Free, Dairy Free). Seriously better than chocolate cake.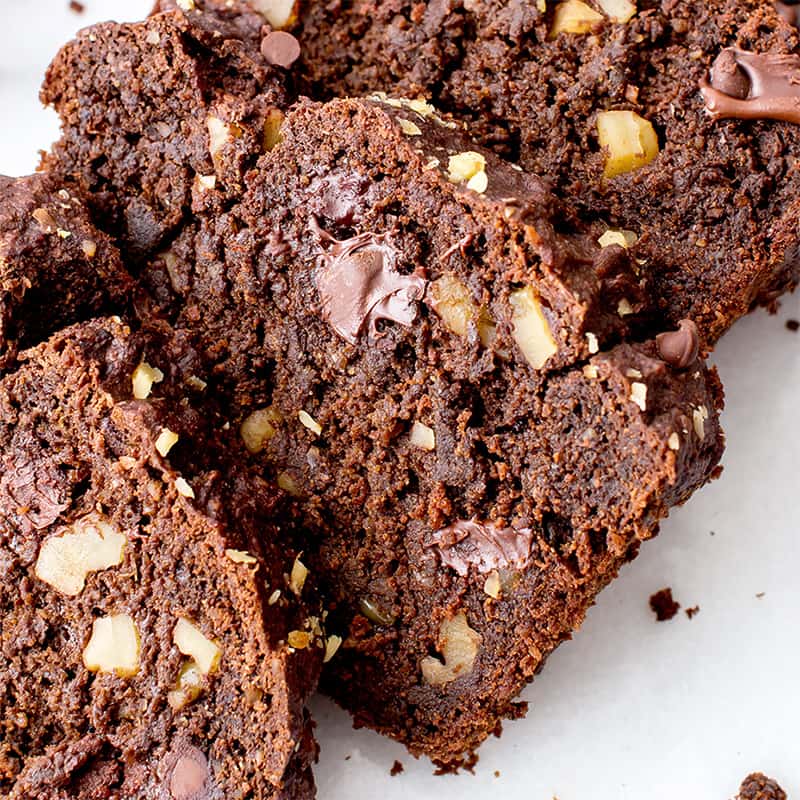 Not all brownies were created equal. Just ask my incredible Gluten Free Vegan Peanut Butter Cup Brownies (V, GF, Dairy Free).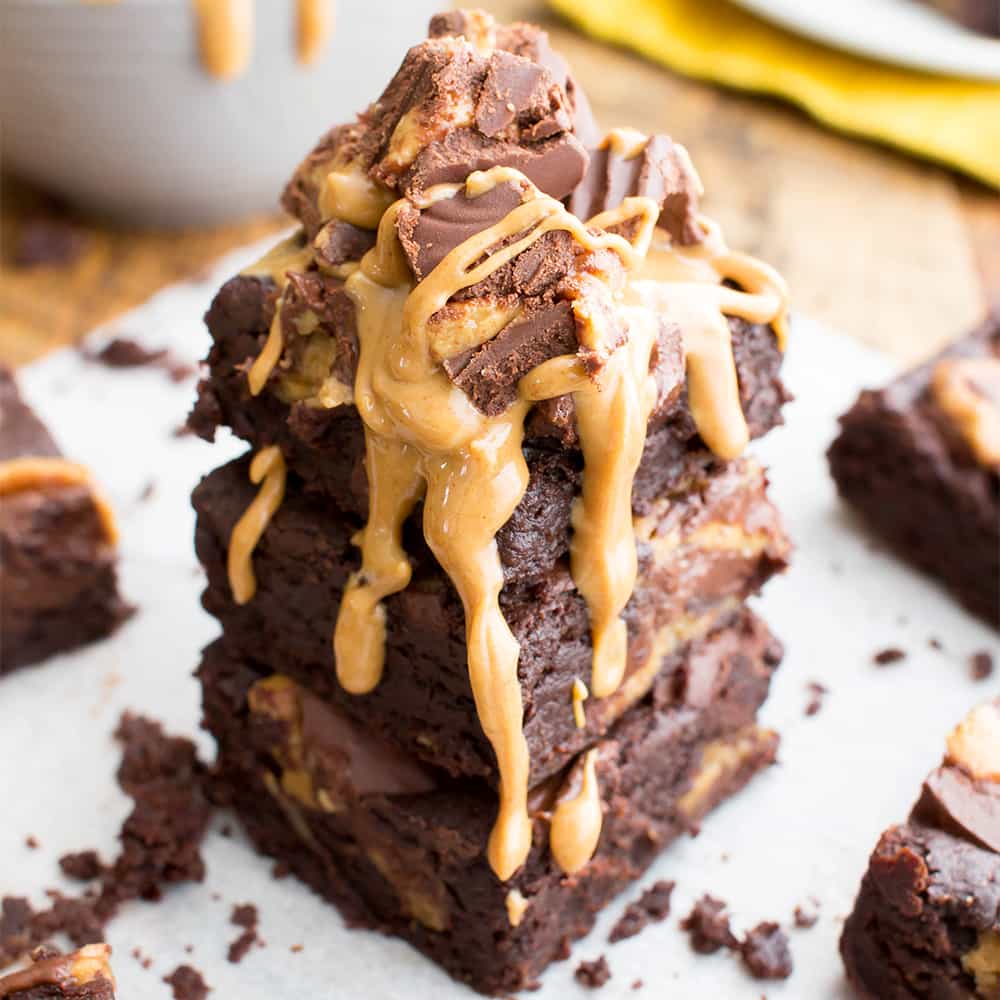 If you're ever feeling a bit nutty… 😉 Try my Maple Sesame Almonds (Vegan, Gluten Free, Dairy Free, Paleo). Crunchy, sweet, and simply delicious.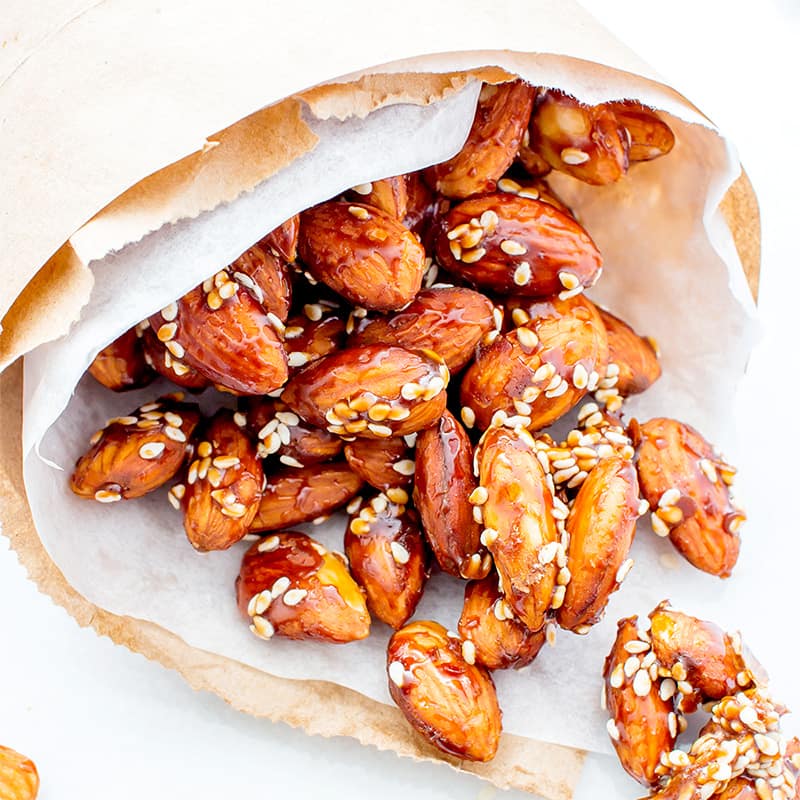 What's your favorite fall recipe?
I can't wait to hear your responses.