5 Ingredient Vegan Peanut Butter Coconut Truffles (V, GF): an easy recipe for decadent peanut butter coconut truffles enrobed in a thick layer of chocolate, and topped with coconut flakes. Made with healthy ingredients. Vegan, Gluten-Free, Dairy-Free, Refined Sugar-Free.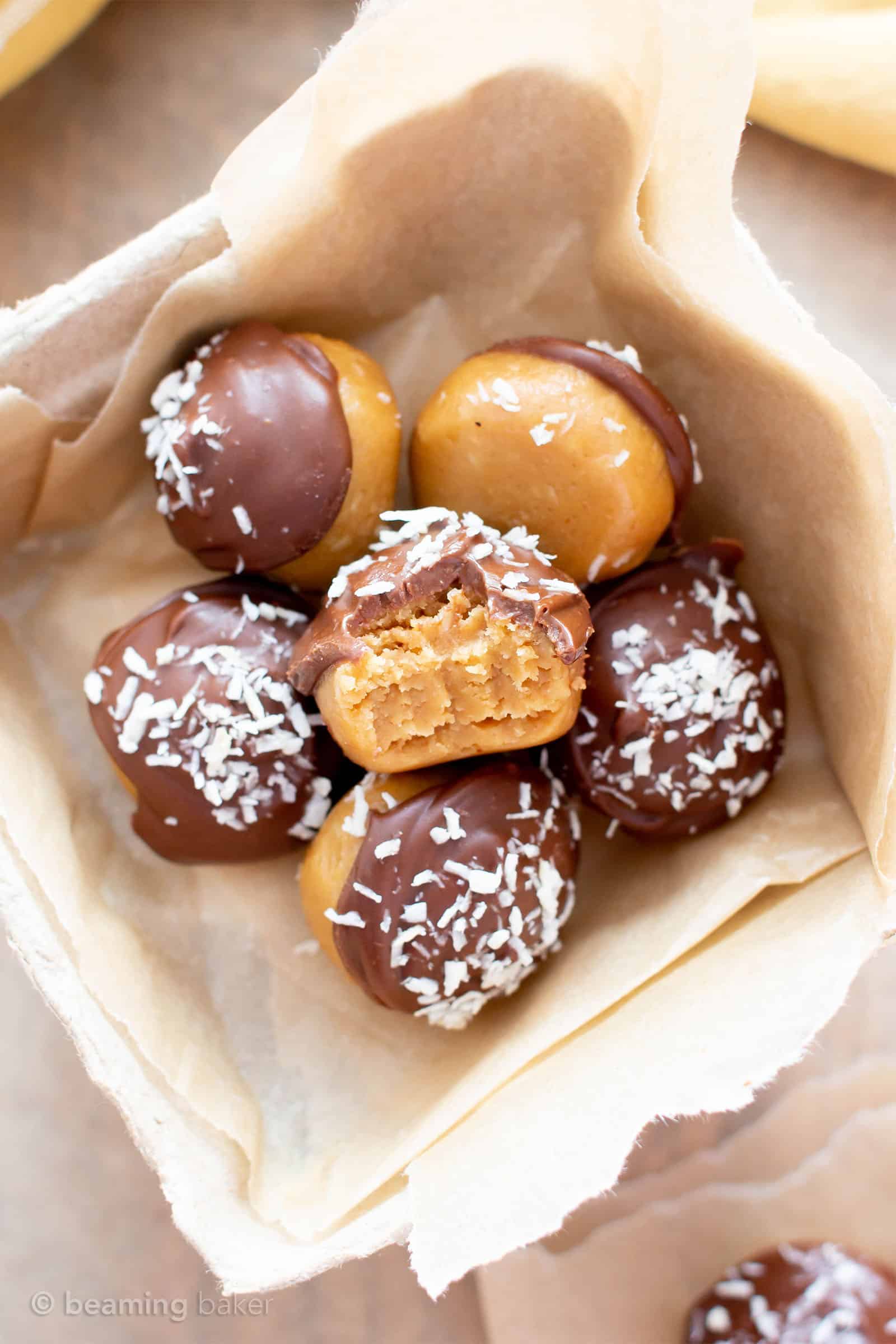 Funny thing about having food be your job: food is everywhere, and you have to think about it constantly. For better or for worse. Make that for better or for hungrier. Hehe. Couple that with a person who already thinks about food 24/7… well, you've got a recipe for… oh, never mind.
Case in point: I wasn't even going to do a homemade truffle candy-ish recipe this year until I went grocery shopping. Then I went again. And again, and again. Thing is, there are so many advertisements/pressures to make candy for the holidays!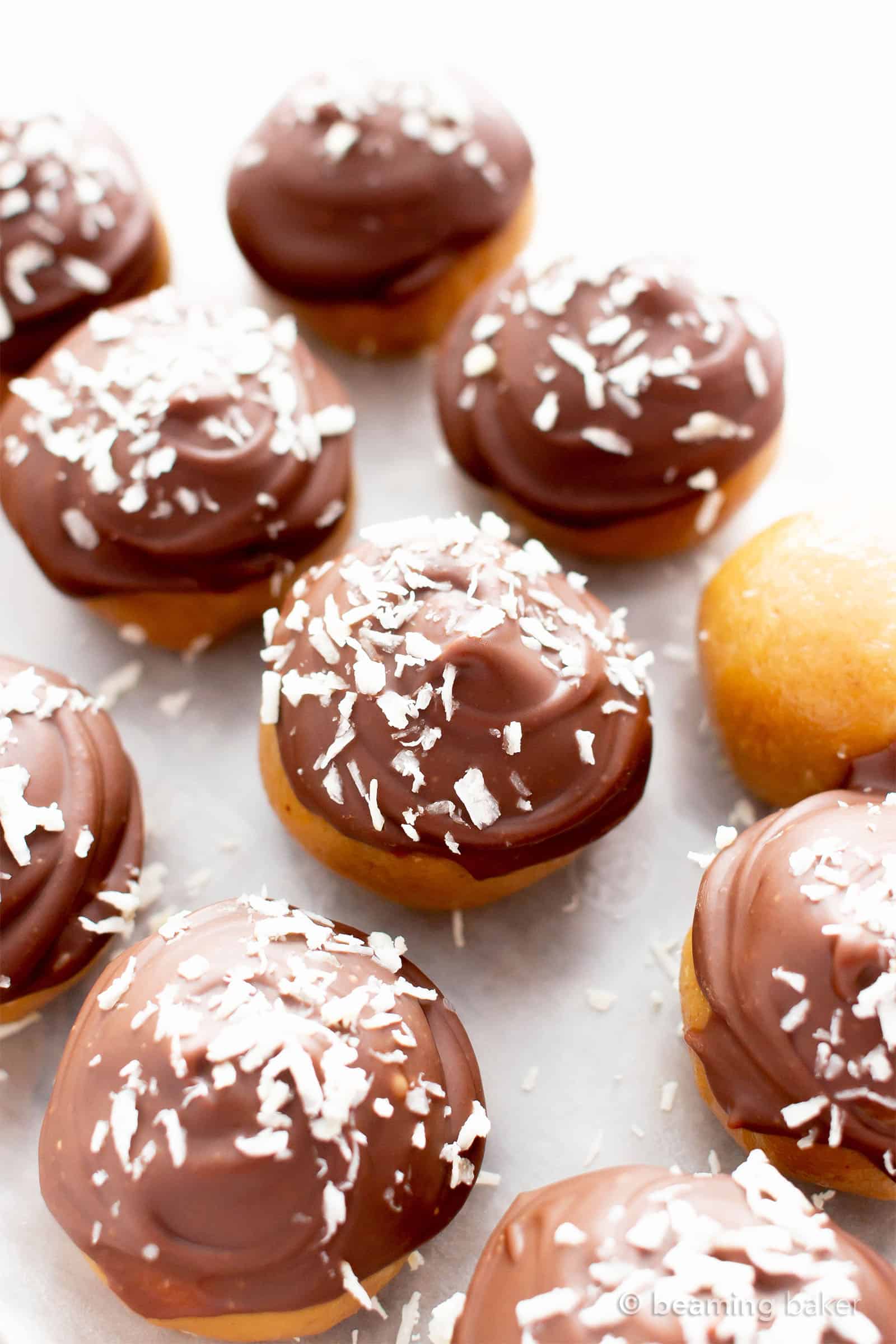 And here I was, looking back at all of these past holiday shenanigans and thinking I was the sole reason to blame for the pop-up Beaming Baker homemade candy factory that rises up in my house every year. 😉 You can "blame" that for these admittedly yummy and fun-to-make recipes:
5 Minute Homemade Fudge Recipe
Paleo Vegan Chocolate Coconut Truffles
3 Ingredient Homemade Crunch Bars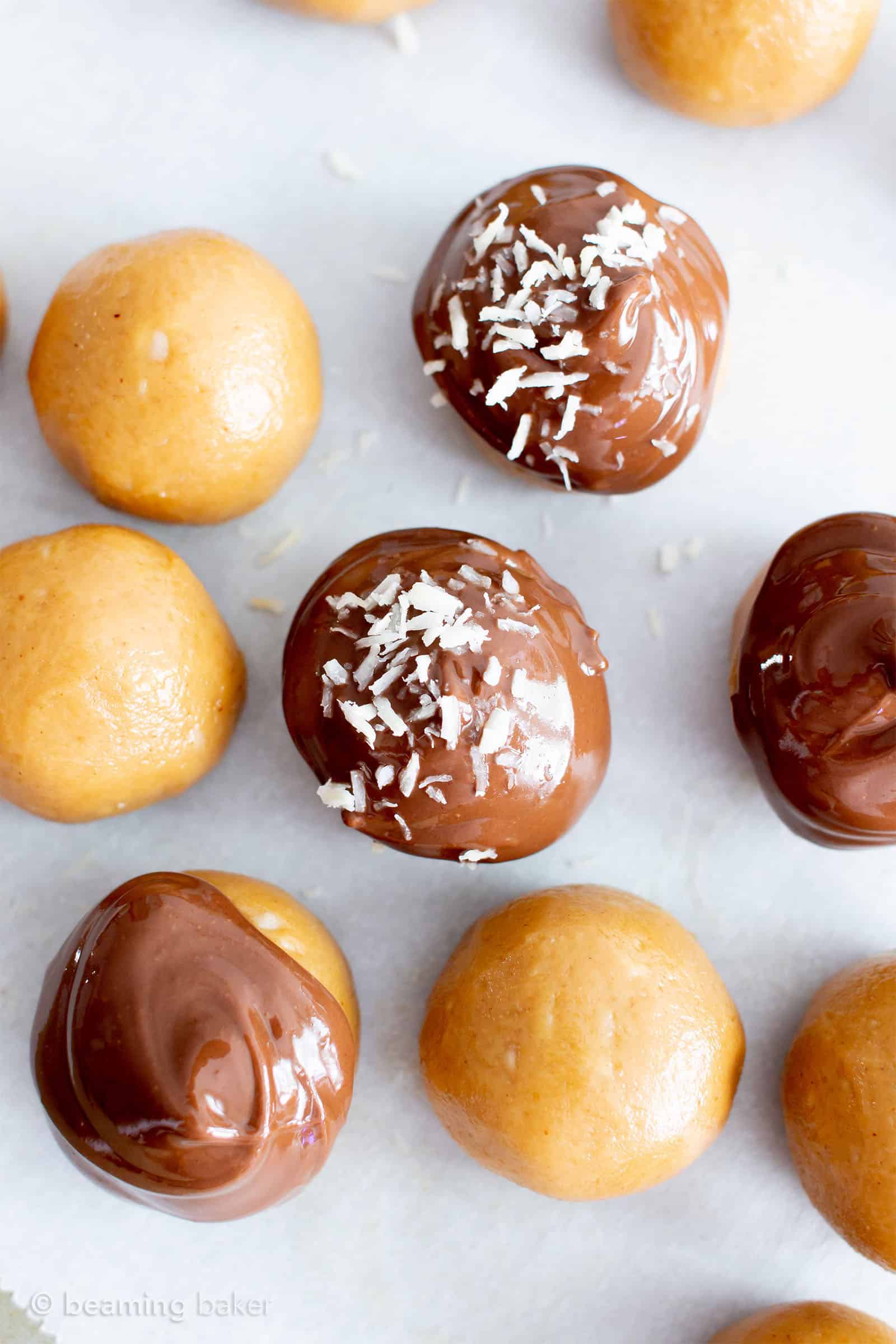 Anyway, every grocery shopping trip I went on, I saw ad after ad with the most gorgeous homemade truffles everywhere! I was convinced that homemade vegan truffles were THE only gift to give this holiday season, and that I am way too susceptible to advertising. Dang it!
So here I am relenting, and sharing the easiest, but still totally impressive peanut butter truffle recipe with you: gluten free and vegan peanut butter coconut truffles. They're made with just 5 ingredients, just a few steps more than making homemade energy balls, and totally make you feel like a chocolatier, or candy connoisseur, or something else totally fancy and amazing. And who doesn't want that? 😉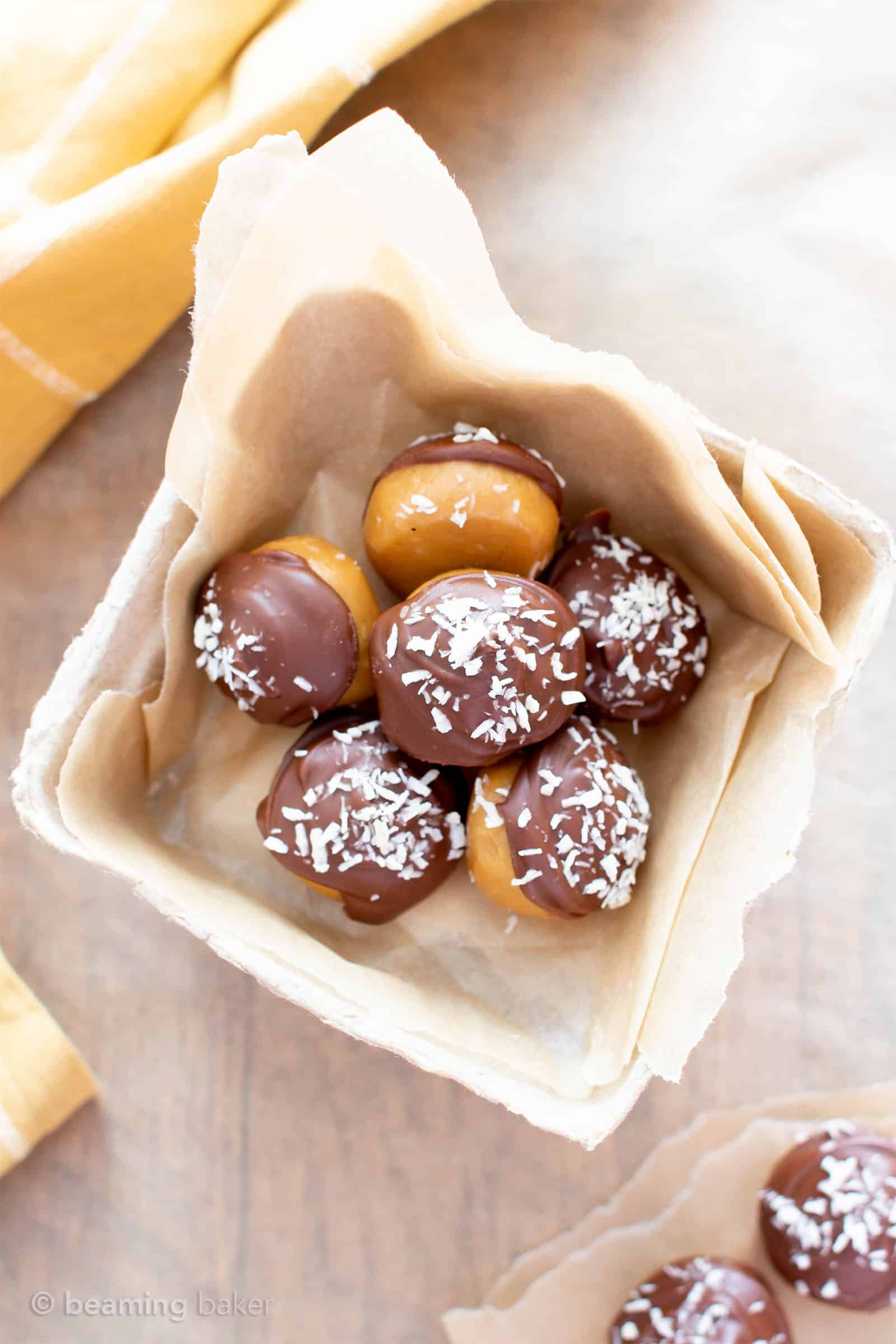 Alright, enough chit chat, let's get down to the good stuff! Here are these Vegan Peanut Butter Coconut Truffles' finest points (aka TL;DR). They're:
made with just 5 ingredients
super easy to make, in just two bowls — seriously such an easy peanut butter truffles recipe!
delightfully vegan, gluten-free, dairy-free, and refined sugar-free
easily customizable: just go ahead and mix in whatever add-ins you'd like, if you're not a fan of coconut. Try: nuts, chopped up candy, seeds and more!
the best vegan gluten free healthy homemade truffles you'll ever have! (including: Gluten Free Vegan Chocolate Peanut Butter Truffles and Chocolate Chip Cookie Dough Truffles)
made with the simple, whole and healthy ingredients you know and love
so delicious paired with Peanut Butter Coconut Oatmeal Cookies and No Bake Peanut Butter Coconut Energy Bites (just 4 ingredients!)
the tastiest way to enjoy a satisfyingly sweet protein-rich treat!
soon to be your favorite homemade vegan peanut butter truffles or dark chocolate peanut butter truffles (if you use dark chocolate goodness to make these!)
Are you ready to learn how to make peanut butter truffles? 😉 Let's do it! I'll grab the creamy peanut butter, you grab the vegan chocolate. I'm so happy to be here with you, making all of the homemade treats for our loved ones this holiday season. Make sure to carve out a little time for yourself. You deserve it. 'Til next time…
Sending you all my love and maybe even a dove, xo Demeter ❤️
.︎ Click below to Pin .︎

. Did you make this recipe? Take a pic and share it on Instagram with the hashtag #beamingbaker and tag @beamingbaker. I would love to see it! .︎
Gluten Free Vegan Peanut Butter Recipes
If you enjoyed this Vegan Peanut Butter Coconut Truffles recipe, then you'll just love these healthy peanut butter dessert recipes:
Print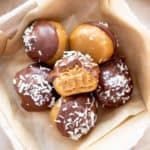 5 Ingredient Vegan Peanut Butter Coconut Truffles (Gluten-Free, Dairy-Free, Protein-Rich, Healthy)
---
Description
5 Ingredient Vegan Peanut Butter Coconut Truffles (V, GF): an easy recipe for decadent peanut butter coconut truffles enrobed in a thick layer of chocolate, and topped with coconut flakes. Made with healthy ingredients. Protein-Packed, Dairy-Free, Vegan, Gluten-Free, Refined Sugar-Free.
---
Peanut Butter Coconut Balls
1 cup

natural, unsalted creamy peanut butter

1/3 cup

pure maple syrup

½ cup

coconut flour
Chocolate Peanut Butter Topping
Coconut Garnish
---
Instructions
Line a baking sheet with parchment paper or wax paper. Clear some space in the freezer for this sheet. Set aside at room temperature.
In a medium bowl, add peanut butter, maple syrup, and coconut flour. Whisk as long as you can. When the mixture gets harder to stir, use a rubber spatula to fold until well incorporated. Fold until thickened. Fold in coconut. Cover bowl and freeze for 15-25 minutes, until firm.
Remove from freezer. Using a 1-tablespoon cookie scoop, scoop and drop peanut butter balls onto the prepared baking sheet, spaced evenly apart. Here is the 1-tablespoon cookie scoop that I use. Place in the freezer to chill while preparing the topping.
Use the double-boiler method to make the chocolate topping, or do the following. Add Chocolate Peanut Butter Topping ingredients to a small, microwave-safe boil. Heat in 20-second increments until chocolate is softened and melty. Stir in between heating increments, until smooth. Spoon ¼ to ½ teaspoon of chocolate topping onto each ball. Sprinkle Coconut Garnish on top.
Chill in the freezer for about 10-15 minutes, or until chocolate topping is firm. Enjoy! Storing instructions below.

Adapted from my 3 Ingredient Peanut Butter Bites.

Also try my Peanut Butter Coconut Oatmeal Cookies and my Paleo Vegan Almond Joy Truffles.
Notes
– Truffles will become firmer and less moist the next day.
– Store in an airtight container at room temperature or in the refrigerator for up to 1 month.
– Freezing instructions: store in an airtight container in the freezer for 1-2 months. Very firm, but soft enough to eat straight out of the freezer.
Category:

Candy, Snacks, Dessert, Vegan, Gluten-Free, Dairy-Free, Protein-Rich
© beamingbaker.com. All content and images are protected by copyright. Please do not use my images or recipe without my permission. Please do not republish this recipe, instead, include a link to this post for the recipe.
Facebook ☀︎ Pinterest  ☀︎ Twitter ☀︎ Instagram