Chocolate Chia Pudding – 3 Ways
3 easy ways to make decadent, rich and satisfying chocolate chia pudding that's packed with superfood chia seeds, creamy coconut milk, and nutrient-dense raw cacao powder.
Creamy, Dreamy, Decadent Chocolate Chia Pudding. 3 Indulgent Ways To Enjoy This Delight.
Thinking about trying a new dessert, perhaps one that's healthier, tastier, and yet, still oh-so-indulgent? Well, the proof is in the chia pudding. 😉 In this case, the proof comes in a dreamy, creamy and super easy to make chocolate chia pudding. This sweet treat is packed with nutrient-rich and filling chia seeds, while coconut milk adds dessert-worthy richness. Add in raw cacao powder and you've got the chocolate chia pudding recipe of your dreams—3 delicious ways. Ready? Let's make chia pudding!
Key Ingredients For Making The Very Best Chocolate Chia Pudding
When I say "key ingredients," I mean all the ingredients for just this recipe. 😉 Since chocolate chia pudding is made with so few ingredients, all the ingredients are key, from the creamy coconut milk to the super chocolatey cacao powder to the superfood chia seeds and the sweet maple syrup. All four ingredients come together to create a dreamy chocolate chia seed pudding that's undeniably good.
What is Chocolate Chia Pudding?
What is chocolate chia pudding? Better yet, what the heck is chia pudding? Chia pudding is a dessert that's made by combining milk and chia seeds together to create a thick pudding. You can easily make chia pudding with the drinking type of milk (think almond milk or the kind you grew up pouring on your cereal) or, like I prefer, thick coconut milk which comes in a can.
Therefore, chocolate chia pudding is chia seeds plus milk plus a chocolate element. Alright, that sounded pretty awkward, even to me. 😉 Chocolate chia pudding is the chocolate version of chia pudding! So you can still expect the chia seeds, the milk, and the sweetness… but you'll also be getting the irresistible flavors of chocolate from cacao powder.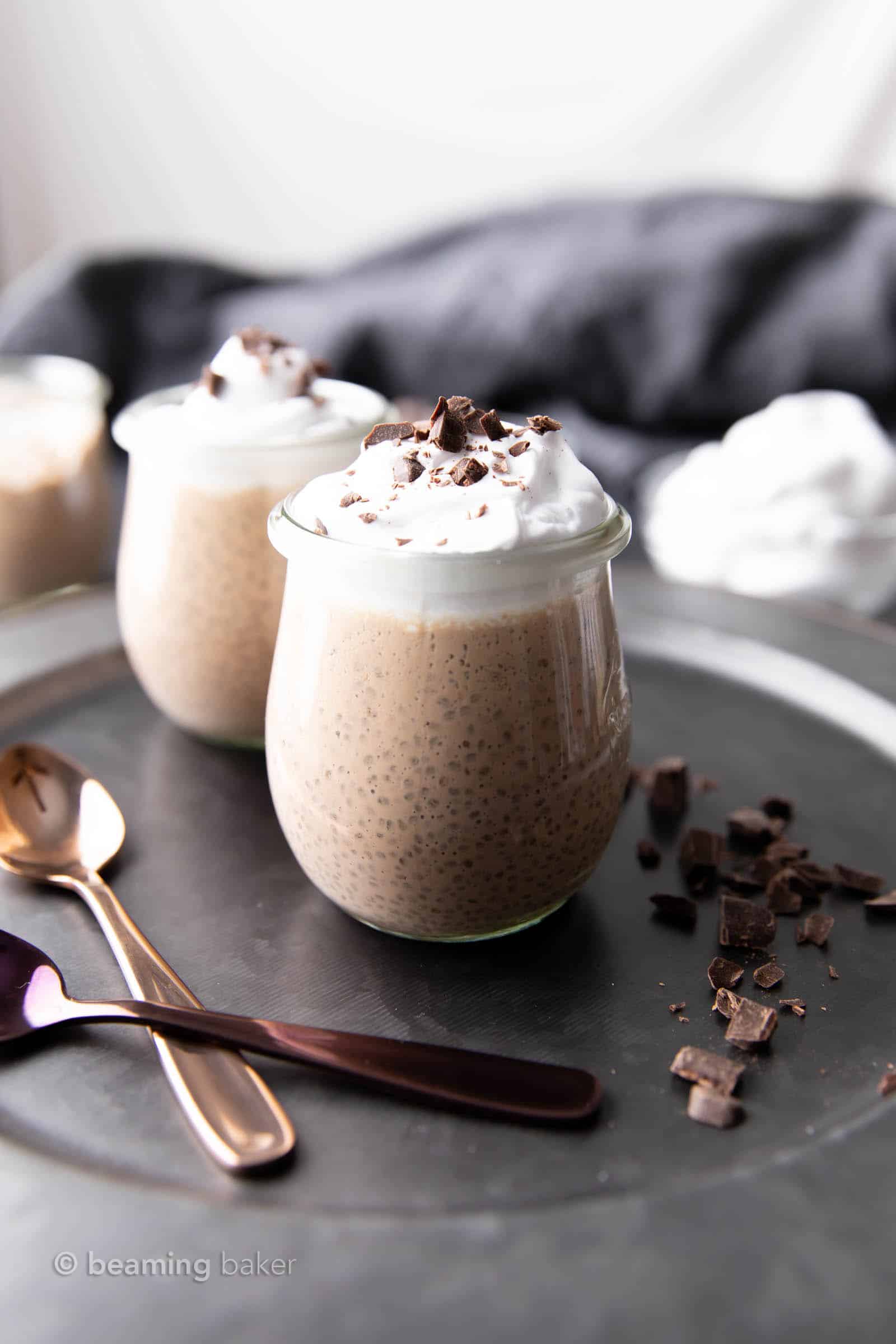 How to Make Chocolate Chia Pudding with Coconut Milk
Set
Set out your favorite jars.
Melt
Melt the coconut milk.
Blend
Add coconut milk, raw cacao powder and maple syrup to a blender.
Blend all three ingredients until well mixed.
Whisk
Pour the sweetened chocolate chia pudding mixture into a mixing bowl. Add in chia seeds. Using a whisk, whisk everything together until the chia seeds are well dispersed throughout the chia pudding. Set for 5 minutes, then whisk again thoroughly.
Pour
Next, pour the liquidy chocolate chia pudding into the jars you set out earlier. Cover the jars.
Refrigerate
Chill your chia pudding in the refrigerator for 2-4 hours, or overnight, until thickened.
Enjoy
Enjoy the best ever chocolate chia pudding!
No. 1: Vegan Chocolate Chia Pudding
The creamy, dreamy base to all of my chocolate chia pudding recipes. This chocolate chia seed pudding is made with coconut milk, plus it's vegan, dairy free, paleo and gluten free. It's made with just 4 ingredients and comes together easily. The recipe is below in this post.
No. 2: Keto Chia Chocolate Pudding
Looking for a chocolate chia pudding that's keto? Look no further that this keto chia chocolate pudding. It's low carb at just 2g of net carbs per serving and still wonderfully dairy free and vegan. This chocolate chia seed pudding is keto and made with just 5 ingredients.
No. 3: Mint Chocolate Chia Pudding
One of my favorite flavor combos of all time is mint chocolate (I mean, check out this mint chocolate protein shake and tell me you don't agree). It's rich and creamy, refreshing and minty… what more do you need? To make your very own mint chocolate chia pudding, simply follow the directions below for making the chia pudding, but add in ¼ to ½ teaspoon of organic peppermint extract to taste. If you like it super minty, add in a greater amount, if you're a bit sensitive to mint, add in less.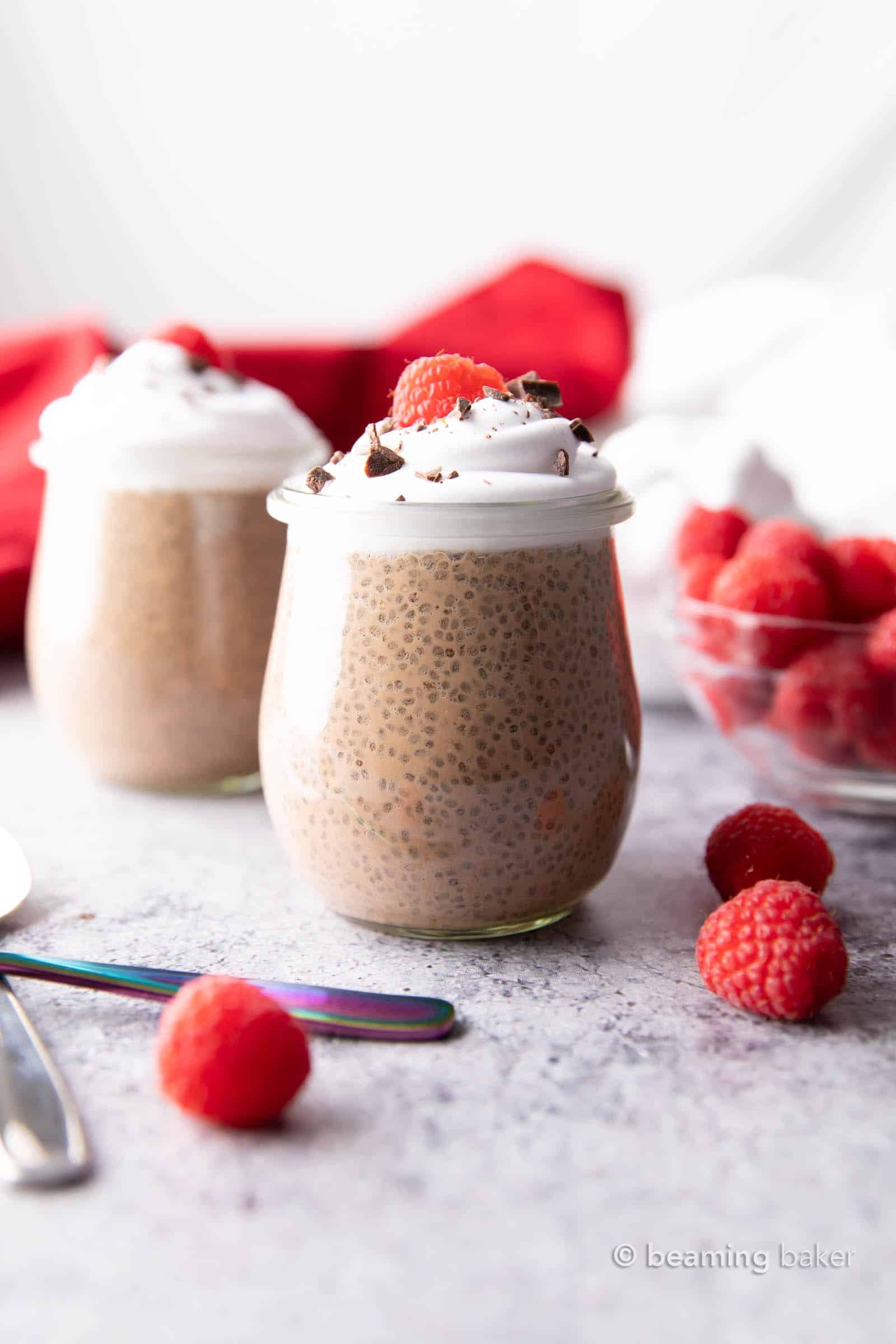 More Sweet Dessert Recipes
Tools You Need
Tasting The Proof In The Chia Pudding
What better evidence than edible evidence? If we can eat it, we soooo will. 😉 Imagine Erik and I giggling, waving, and sending great big virtual hugs your way. Thank you for stopping by and pudding up with us. 'Til our next sweet adventure…
Sending you all my love and maybe even a dove, xo Demeter ❤️
🍫 📸 🥛
📸 Did you make this chocolate chia pudding recipe? Take a pic and share it on Instagram with the hashtag #beamingbaker & tag @beamingbaker. I'd love to see it! 📸
Print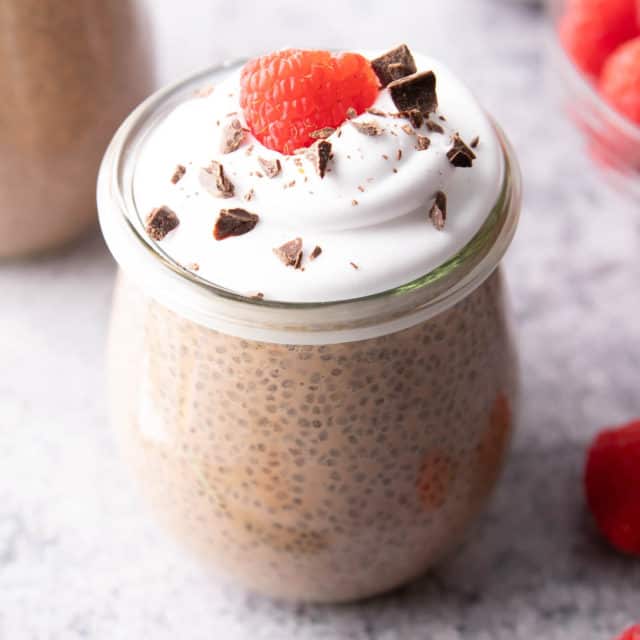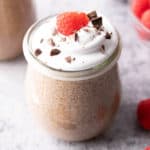 Chocolate Chia Pudding – 3 Ways
---
Description
3 easy ways to make decadent, rich and satisfying chocolate chia pudding that's packed with superfood chia seeds, creamy coconut milk, and nutrient-dense raw cacao powder.
---
Chocolate Chia Pudding
Optional Topping
Fresh cut fruit
Coconut whip
mini vegan chocolate chips
---
Instructions
To Make Vegan Chocolate Chia Pudding:
Set aside 3 mini jars. For Microwave: Scoop entire can of coconut milk into a heatproof, microwave-safe bowl. Heat in 10-second increments in the microwave until fully melted. Or, if using drinkable milk (like almond milk), skip this step. For Stovetop: Set a medium saucepan over low heat and transfer the entire can of full-fat coconut milk into the pan. Heat and stir just until melted and completely smooth. Transfer to a heatproof bowl.
Add melted coconut milk or other milk, raw cacao powder and maple syrup to a blender. I use this personal blender for easier cleanup. Blend until thoroughly mixed and no cacao powder clumps remain.
Pour this mixture into a medium bowl. Add chia seeds and whisk until very well mixed. Allow to set for 5 minutes. Whisk again, clearing out any clumps that formed.
Pour mixture into mini jars, filling each jar almost to the top and cover.
Refrigerate for 2-4 hours (or overnight if desired) to allow chia pudding to thicken. Optionally, top with fruit, coconut whip and more. Enjoy! Storing instructions below.
To Make Keto Chocolate Chia Pudding:
To Make Mint Chocolate Chia Pudding:
Notes
*I highly recommend using full-fat coconut milk instead of non-dairy milk. Milk is much thinner and less creamier—although it can be a good choice if you're keeping things lighter. For a true dessert-like chia pudding, use full-fat coconut milk; it makes your chia pudding deliciously thick and creamy.
**I used 4 tablespoons of maple syrup. Use less if you like it less sweet, more if you like it sweeter.
Why not add chia seeds directly into the blender? I don't recommend blending the chia seeds along with the rest of the mixture because the chia seeds will be only partially obliterated–so you won't have a smooth chia pudding, nor a chia pudding delightfully dotted with whole chia seeds. Plus, the chia seeds will be stuck all over your blender. Ugh!
Storing Instructions: Store in an airtight container, such as these mini jars, for up to 4-7 days. If using just-made homemade nut milk, keep for up to 2-3 days.
Prep Time:

10 minutes

Cook Time:

0 minutes

Category:

Dessert

Method:

Blend

Cuisine:

American
© beamingbaker.com. All content and images are protected by copyright. Please do not use my images or recipe without my permission. Please do not republish this recipe, instead, include a link to this post for the recipe.
Delicious Chocolate Recipes
This post may contain affiliate links, which allow me to make a small commission for my referral, at no additional cost to you.