an easy vegan overnight oats recipe that's creamy, rich and chockfull of vegan chocolate chips!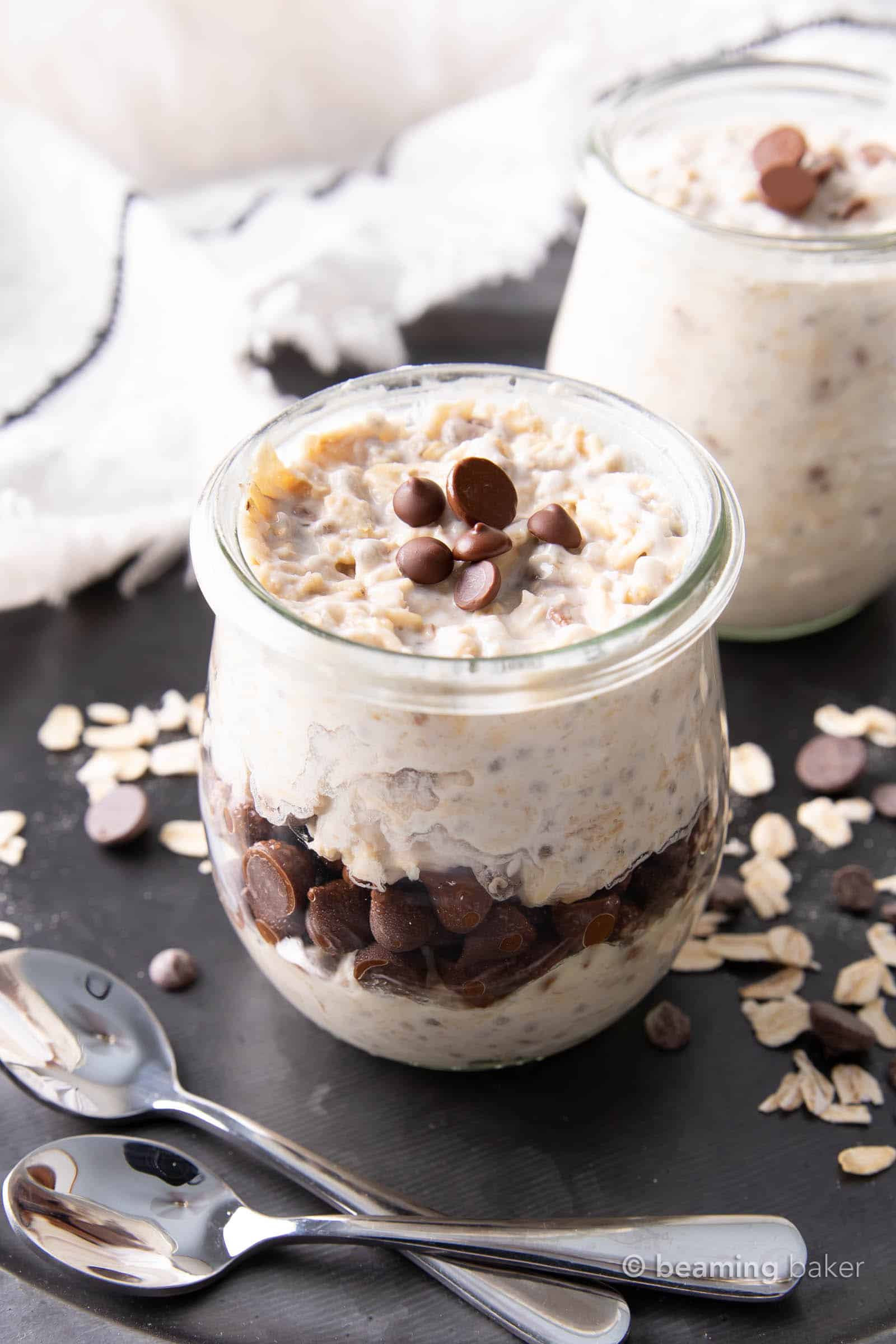 How's fall been treating you? Have you been enjoying all the fall scents, flavors and yummy treats available?
Erik and I've been enjoying a super yummy set of holiday-dessert flavored fragrance oils. Hint: there's brown sugar and pumpkin pie in it! There's just something about getting these autumnal-diffuser vibes going that makes everything extra cozy.
Plus, if we make pumpkin bread on top of all of this, we have layers upon layers of fall dessert scents. Who wouldn't want that, right? (Yes, we're obsessed with the holidays here!!)
Amidst of all this holiday-hecticness, I thought it would be a nice time to share a super duper easy vegan overnight oats recipe. It's simple, classic vegan overnight oats with a delightful dotting of chocolate chips!
Ready to make this? Let's do it!
How to Make Chocolate Chip Vegan Overnight Oats
Get the Jars
Set aside two to three of these super cute mini jars.
Add all Ingredients
Add all overnight oat ingredients to a mixing bowl: rolled oats, chia seeds, non-dairy milk, coconut cream, vegan chocolate chips, vanilla and maple syrup. Stir until well-mixed.
Fill Jars
Fill jars with your overnight oat mixture.
Seal Overnight
Seal the jars and store overnight for up to 5 days. Enjoy the best vegan overnight oats the next day (or a few hours later, if you so please).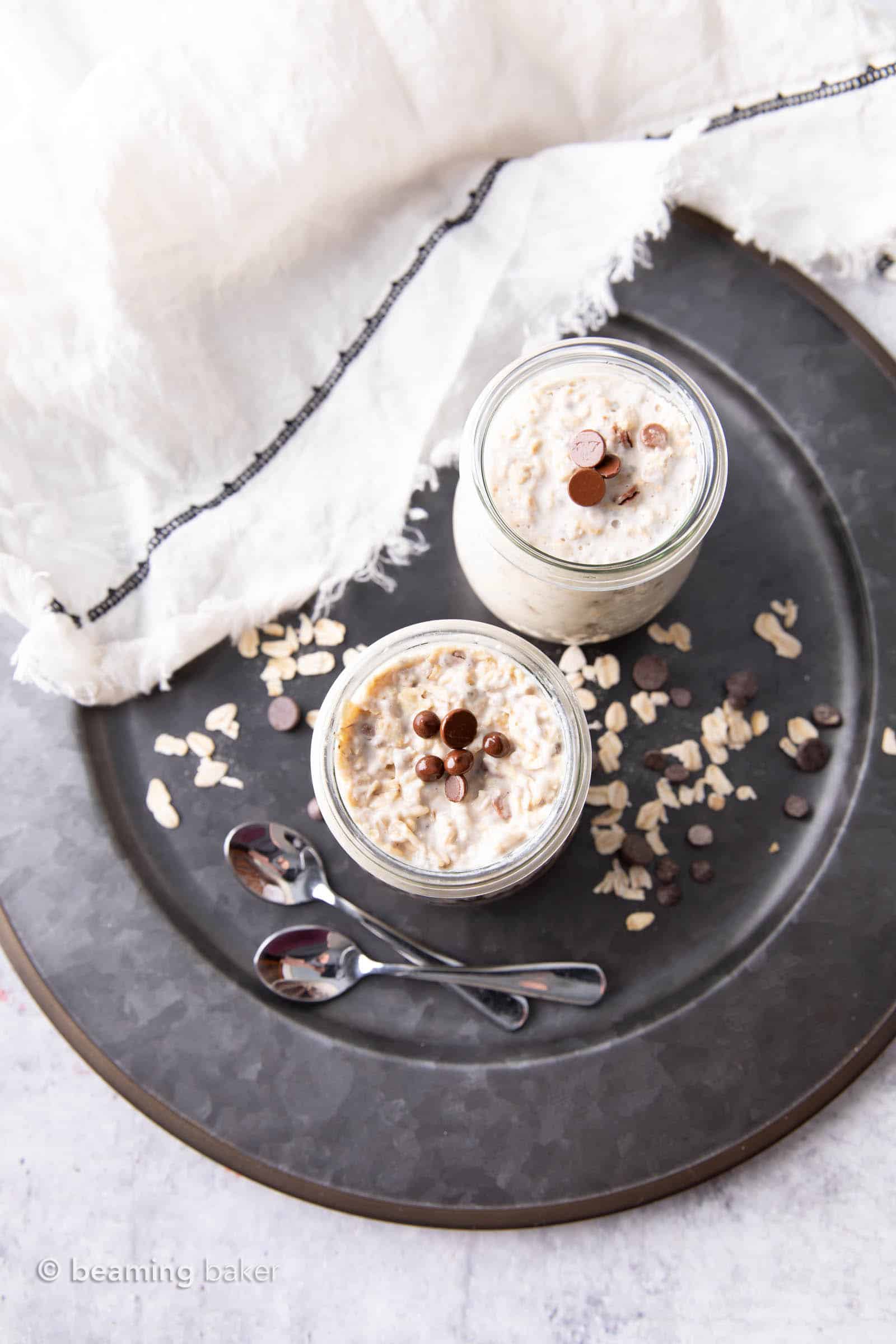 How to Store Your Vegan Overnight Oats
Store overnight for up to 5 days. If you're using homemade almondmilk or any kind of homemade milk, the overnight oats will only store for 2-3 days.
How to Make This Overnight Oats Recipe Gluten Free
Easy! Use gluten free rolled oats to make this overnight oats recipe gluten free.
Rich & creamy vegan overnight oats dotted with delicious vegan chocolate chips!

Great Tools for the Best Chocolate Chip Overnight Oats
Didn't I promise it'd be easy? 🙂 Drop me a comment and let me know what you think! It's truly the best hearing from you. Thank you so much for stopping by! I can't wait to hear what you and your loved ones think. 'Til the next kitchen adventure…
Sending you all my love and maybe even a dove, xo Demeter ❤️
☀ Click below to Pin ☀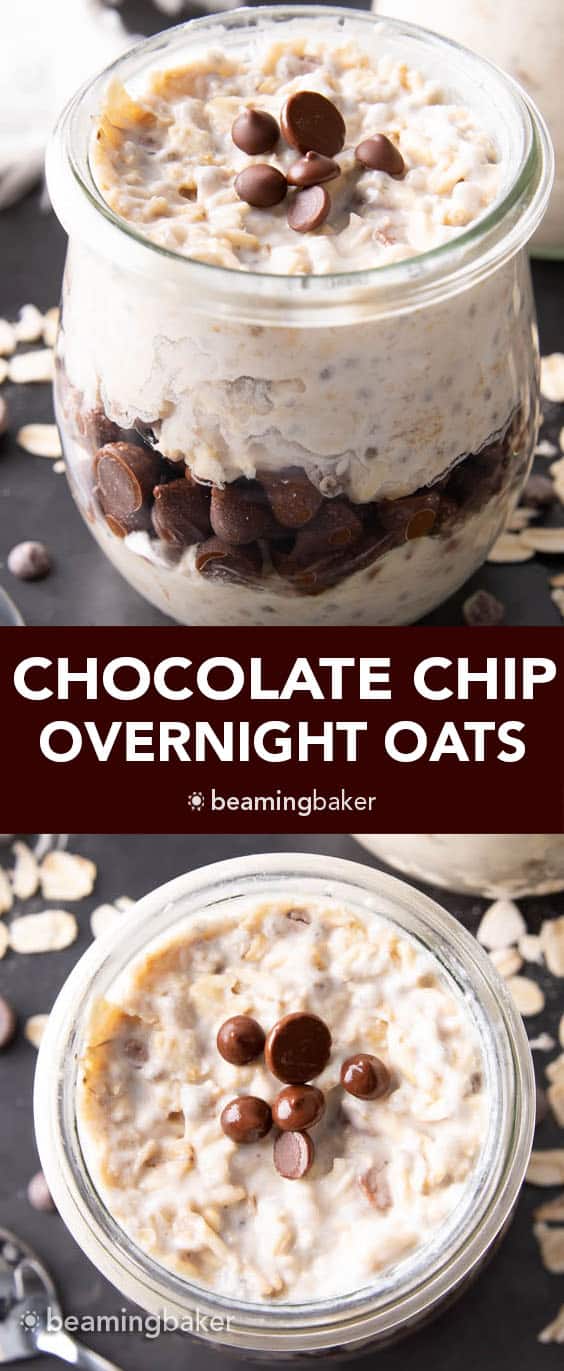 📸 Did you make this chocolate chip overnight oats recipe? Take a pic and share it on Instagram with the hashtag #beamingbaker & tag @beamingbaker. I'd love to see it! 📸
Healthy Overnight Oats Recipes
Print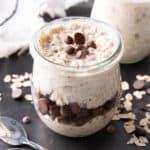 Chocolate Chip Overnight Oats (Vegan)
---
Description
Chocolate Chip Overnight Oats: an easy vegan overnight oats recipe that's creamy, rich and chockfull of vegan chocolate chips! A quick breakfast made the night before.
---
Chocolate Chip Overnight Oats
Optional Toppings
1 teaspoon

vegan mini chocolate chips

¼ cup

fresh fruit, sliced

1 tablespoon

chopped nuts or seeds

1 tablespoon

seed or nut butter
---
Instructions
Set aside 2-3 resealable jars. Here are the resealable mini glass jars that I use–if using these, set aside 3 jars.
Add all ingredients to a mixing bowl for easier stirring. Stir until well mixed, then pour into jars when done. If using coconut cream, make sure no coconut cream clumps remain after stirring.
Seal jars.
Store overnight in the refrigerator for up to 5 days. Overnight oats will become thicker as each day passes. If desired, add non-dairy milk and mix well to thin it out. Enjoy cold, or heat in the microwave in 20-second increments until warm. Add optional toppings before serving.
Adapted from my Chocolate Overnight Oats Recipe (Vegan).
Delicious Overnight Oat Recipes
Category:

Breakfast, Dessert

Method:

Chill

Cuisine:

American
Keywords: chocolate chip overnight oats, overnight oats vegan
© beamingbaker.com. All content and images are protected by copyright. Please do not use my images or recipe without my permission. Please do not republish this recipe, instead, include a link to this post for the recipe.
This post may contain affiliate links, which allow me to make a small commission for my referral, at no additional cost to you. Thank you for supporting Beaming Baker.