Easy Gluten Free Coconut Chocolate Chip Banana Breakfast Bars (V, GF): a quick and easy recipe for healthy homemade breakfast bars made with simple, whole ingredients. Vegan, Gluten-Free, Dairy-Free.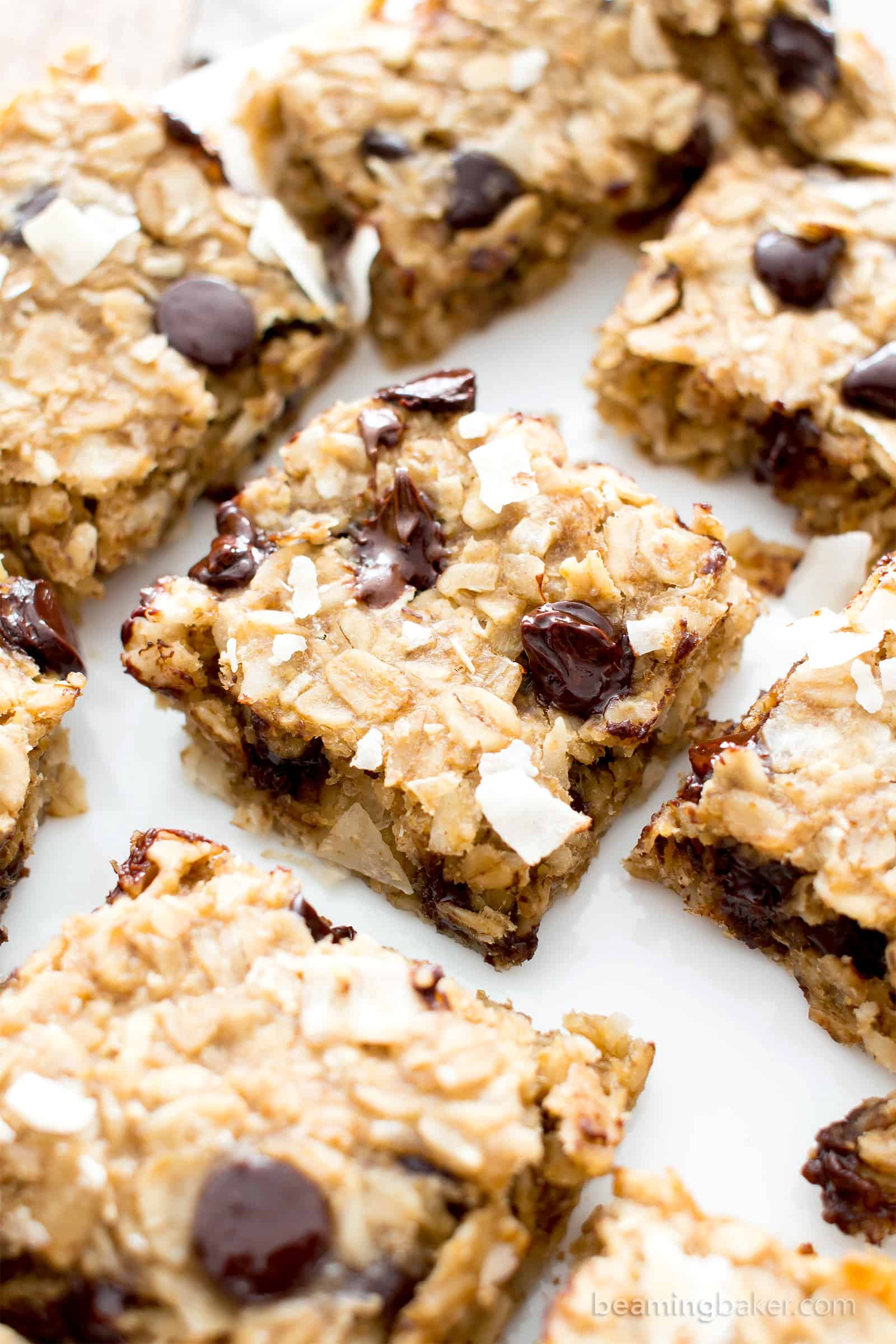 So now that's it's the third week of January, is it safe to ask how the new year's resolutions are coming along? 🙂 For some reason, thinking about resolutions got me thinking about birthday goals…Way back when, I read that this one gal would write resolutions on her birthday, then revisit those resolutions once the next birthday rolled around.
She'd check into each one and reflect on how far she'd come, how her life goals had changed, how different they'd be for the next year. I thought that was the coolest thing. And I kind of tried doing that, but then got all angsty about how I might not achieve everything that list entailed.
While I'd love to say that I could stick to writing such a list and revisiting it with meaningful reflections and call-to-actions, the truth is: I can't help but use these types of lists as another way to feel like I'm failing, like I'm not measuring up.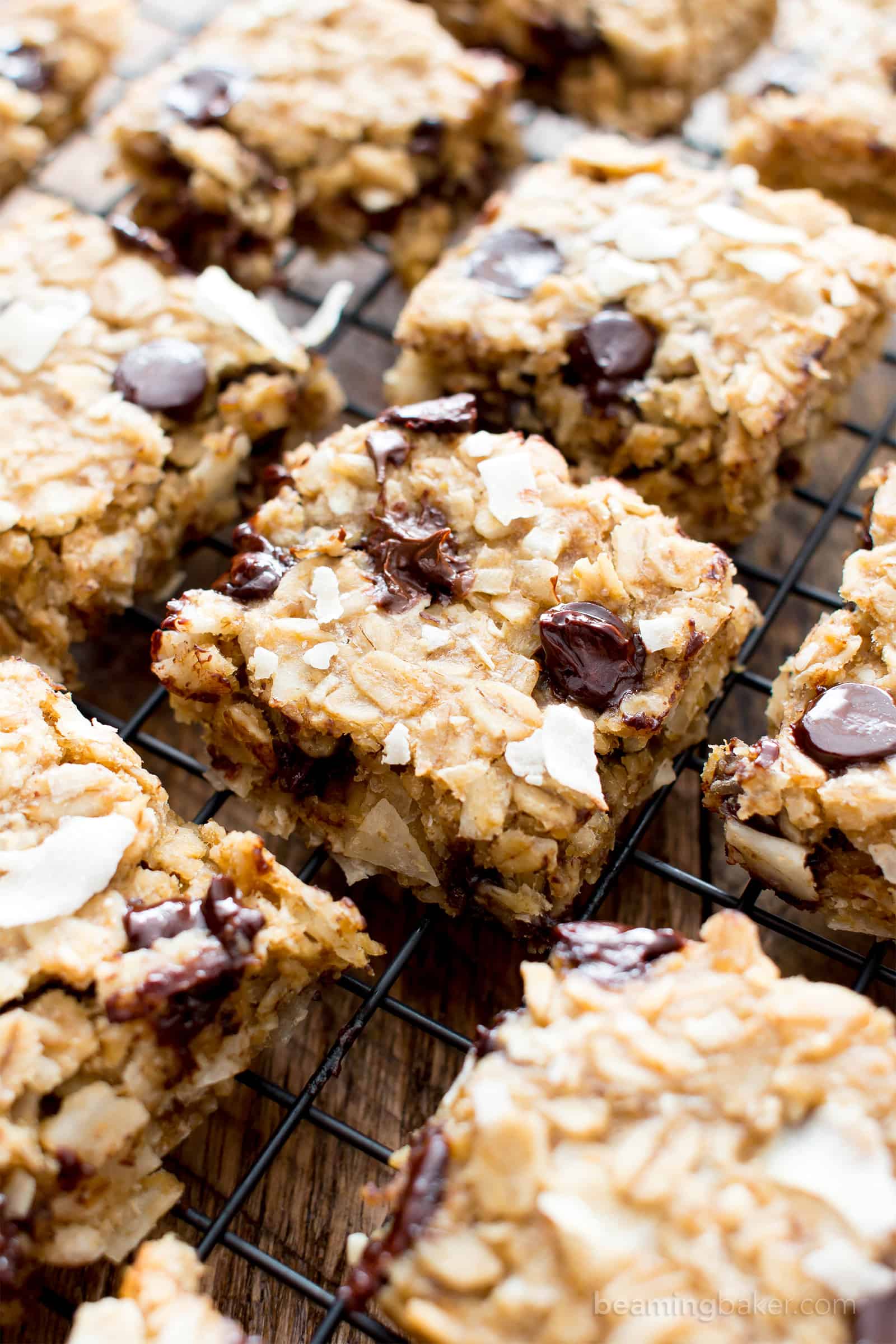 Sometimes, when I write these kinds of lists down, I'm not even sure if they're to keep me on track, or to just make me feel bad about the ways I haven't accomplished certain things.
Growing up, there was a lot of responsibility put on me and my sisters' shoulders. We were expected to quickly grow up to be the best at everything, to be exceptional at anything we tried our hand at—be it finger painting (!!), playing the piano, math, sports, public speaking.
But it just wasn't for us. The thing is, there is little joy in accomplishing something for the sake of accomplishing it.
Especially if that accomplishment is for someone else.
I've felt the fear of disappointing someone else. I've done so many things with the goal of pleasing someone else in mind. And I'd like to change things so I can find joy in just trying again.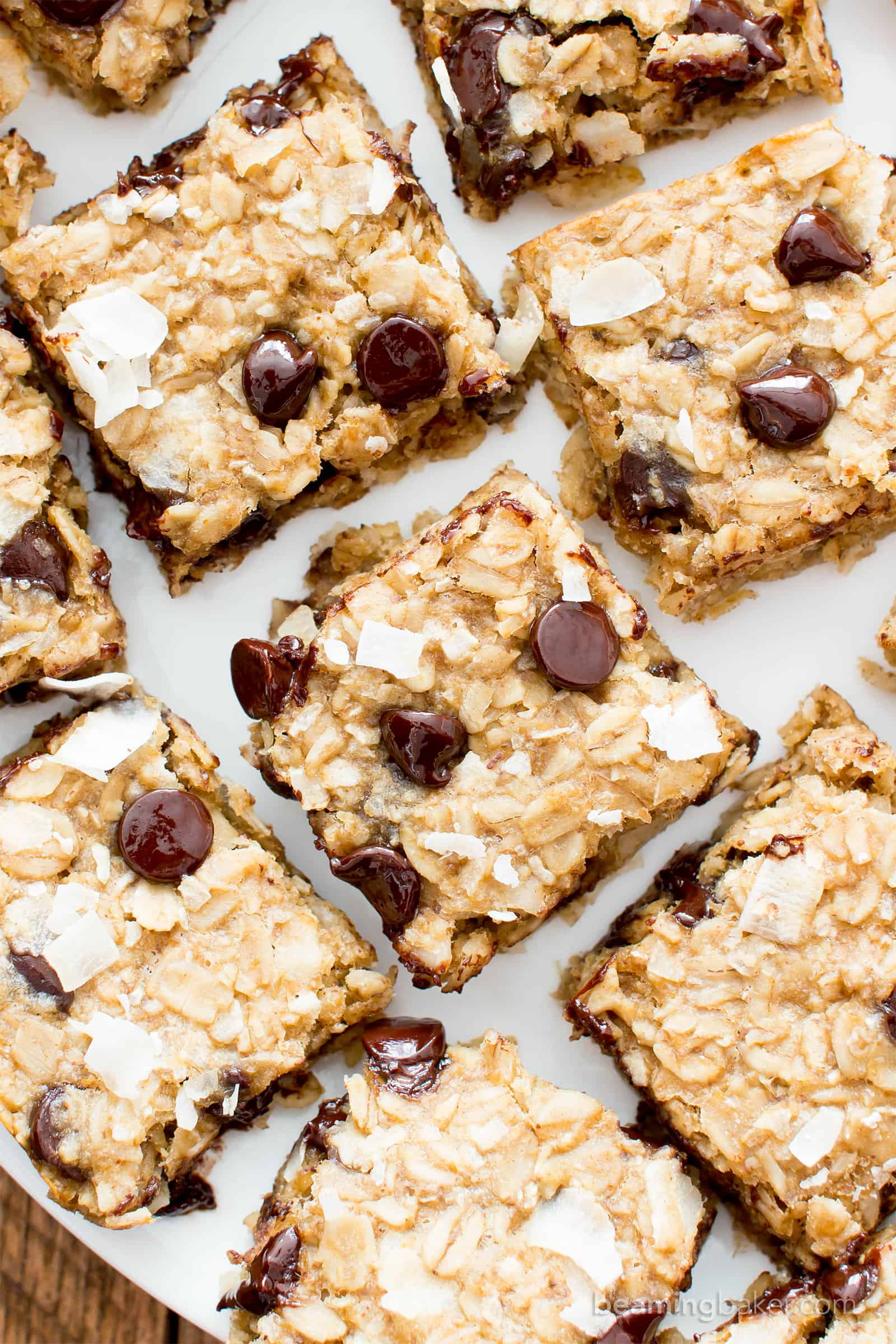 I've carried that fear of disappointment around with me forever. And this year, I really want to work on letting it go. If you've ever felt this way, will you join me?
This year, I want us to do it together.
Whether we're working on our baking skills, public speaking, finger painting, or our stock market prowess, let's do it together. Let's just try because we want to, not because someone put the burden of unreachable perfection on our shoulders.
Let's fail, cry, laugh, win, and just try…together.
It doesn't need to be perfect. It shouldn't be perfect. But it better damn well be FUN!
So are you ready to have some fun with me?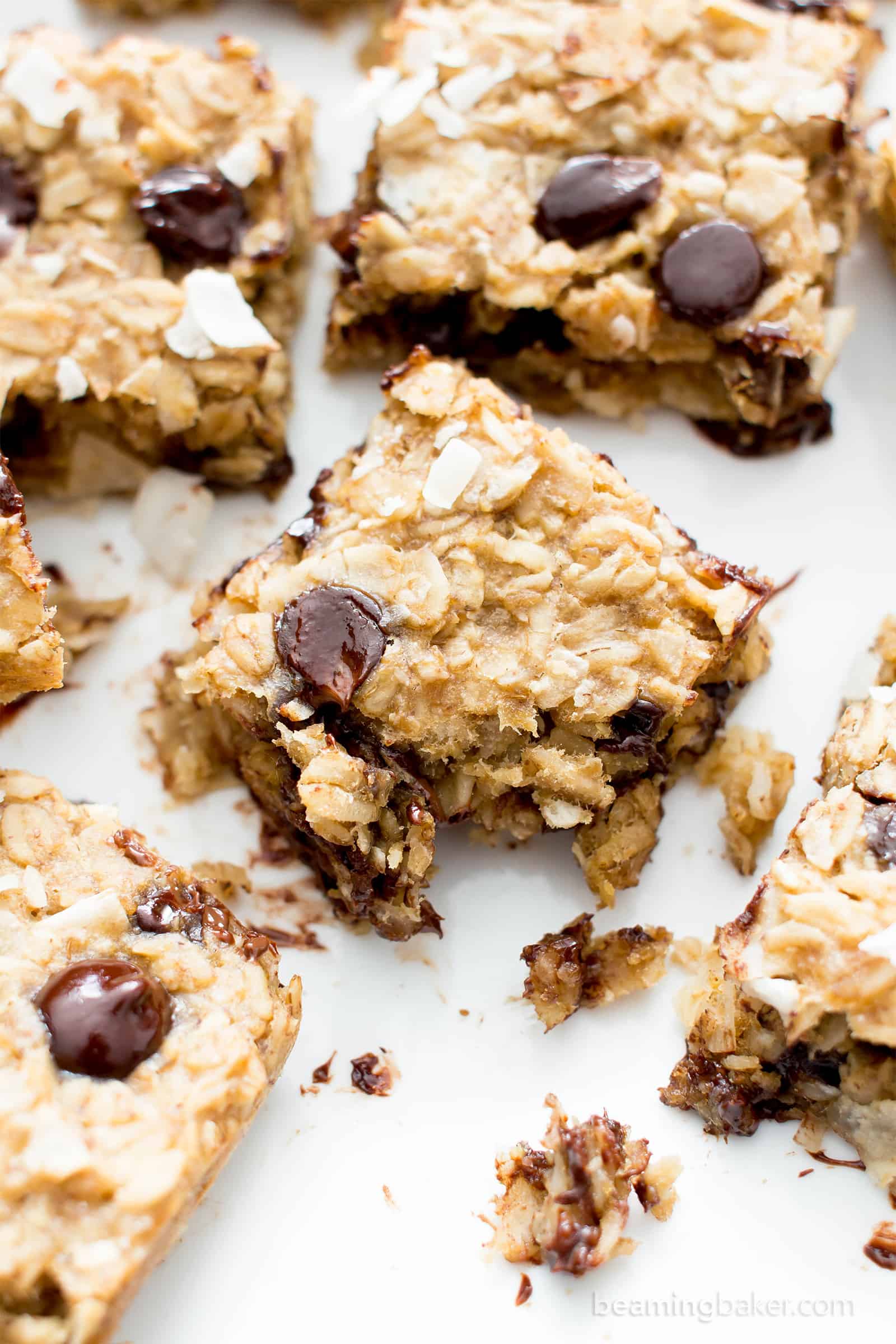 Let's start with these Easy Gluten Free Coconut Chocolate Chip Banana Breakfast Bars. Oh you just totally drooled reading that title, didn't you? They're easy to make, the tastiest solution to those ridiculously ripe bananas on your counter and friggin' GOOD.
I thought this would be an extra special treat for my readers who love, love, LOVE coconut and chocolate. (Btw, this coconut chocolate chip vegan ice cream is for you!) Why not kick off the day just right with these tasty homemade breakfast bars?
A few more breakfast bar recipes for ya:
Super important side note: it's basically one of my greatest joys to receive an email from you, telling me that I've helped you enjoy baking again. 'Cuz let's face it, baking can be kind of a b…baked bee in your side!! Whatever that means. 😉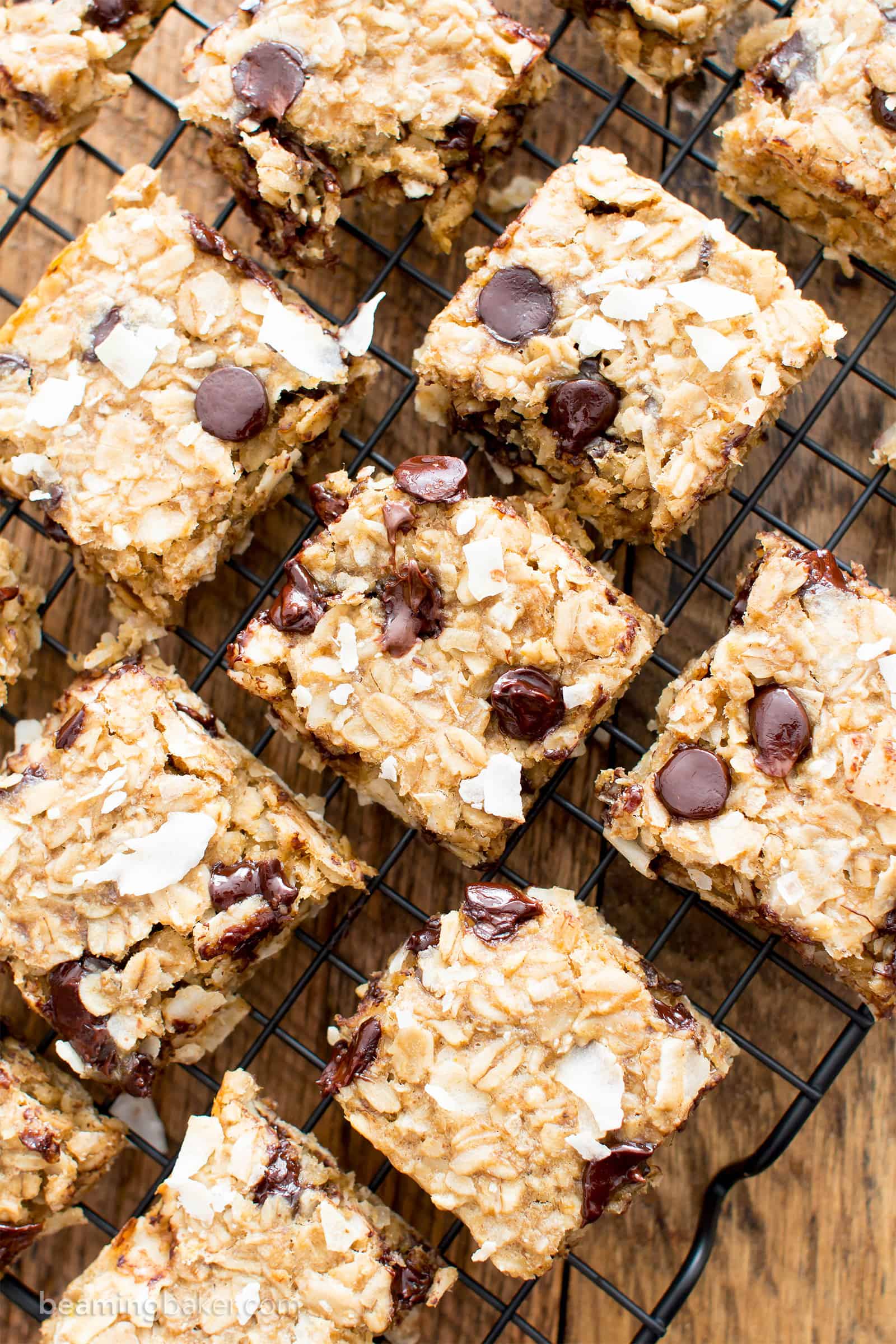 I'm really excited to hear what you think of these Easy Gluten Free Coconut Chocolate Chip Banana Breakfast Bars. While I wait, allow me to sing its praises and convince you to try your mashed bananas at these! They're:
made in just one easy bowl
(the recipe's easy, not the bowl–wait, what does that mean?)
vegan, gluten-free, dairy-free
basically the oatmeal breakfast bars of your dreams
packed with the nutritious, healthy ingredients you know and love
the tastiest gluten free homemade breakfast bars you'll make this week (or ever!!!)
soft, chewy, satisfying
just the healthy breakfast bar you've been looking for
great as a post-workout snack, morning breakfast treat, or after dinner sweet
Let's make this year amazing, by being kinder to ourselves and more understanding of each other. Just know that I'm grateful for you. Now, let's bake to our heart's content! You grab those super ripe bananas, I'll grab the coconut flakes! You ready? Let's bake this! I can't wait to hear what you think of this recipe! In the meantime, tell me:
What's your favorite tip for being kind to yourself?
Sending you all my love and maybe even a dove, xo Demeter ❤️
☀︎ Click below to Pin ☀︎

☀︎ Did you make this recipe? Take a pic and share it on Instagram with the hashtag #beamingbaker and tag @beamingbaker. I would love to see it! ☀︎
If you enjoyed these perfectly sweet and satisfying Easy Gluten Free Coconut Chocolate Chip Banana Breakfast Bars, then you'll just love these delicious healthy recipes:
☀︎ More Gluten Free Vegan Breakfast Recipes ☀︎
Print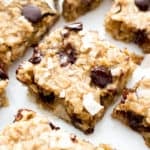 Easy Gluten Free Coconut Chocolate Chip Banana Breakfast Bars (Vegan, One Bowl, GF, DF)
---
Description
Easy Gluten Free Coconut Chocolate Chip Banana Breakfast Bars (V, GF): a quick and easy recipe for healthy homemade breakfast bars made with simple, whole ingredients. Vegan, Gluten-Free, Dairy-Free.
---
Wet Ingredients
1

medium banana, ripened

¼ cup

natural, unsalted creamy peanut butter

1 tablespoon

pure maple syrup

1 tablespoon

melted coconut oil

1

flax egg (

1 tablespoon

ground flax +

3 tablespoons

water, whisked together, set for 15 minutes)

½ teaspoon

pure vanilla extract
Dry Ingredients
1 ½ cups

gluten free rolled oats

¼ teaspoon

baking powder

¼ teaspoon

baking soda
Add-in Ingredients
½ cup

unsweetened coconut, flakes or shreds

1/3 cup

vegan chocolate chips
---
Instructions
Preheat oven to 350°F. Line an 8-inch square baking pan with parchment paper or greased foil. Set aside.
In a large bowl, add peeled banana. Using a sturdy whisk or fork, mash until smooth. Add the remaining wet ingredients: peanut butter, maple syrup, coconut oil, flax egg and vanilla. Whisk until well incorporated.
Add the dry ingredients: oats, baking powder, and baking soda. Using a rubber spatula, fold until well mixed. Fold in coconut and chocolate chips.
Pour this mixture into the prepared baking pan. Using the rubber spatula, smooth into an even layer.
Bake for 16-22 minutes, until just lightly golden around the edges. Mine took 18 minutes. Cool for about 1 hour. Slice into bars. Enjoy! Storing instructions below.
Category:

Breakfast, Baking, Vegan, Gluten-Free, Dairy-Free
© beamingbaker.com. All content and images are protected by copyright. Please do not use my images or recipe without my permission. If you wish to republish this recipe, please re-write the entire recipe using your own words and include a link to this post for the recipe.
SHOP THE RECIPE
[amazon_link asins='B000FCGRAK,B00CPZPYLS,B0083QJU72,B01N33WO1X,B003W0UNM0′ template='BB-ProductCarousel' store='beamingbake0c-20′ marketplace='US' link_id='44d4ca4f-a78e-11e7-bb9d-a538dcdb8be0′]
Here are a few items I used in today's recipe. .
Baking Pan (8-inch) | My Favorite Knife | Cooling Rack | Maple Syrup | Coconut Sugar | Silicone Spatulas | Glass Mixing Bowls
This post may contain affiliate links, which allow me to make a small commission for my referral, at no additional cost to you. Thank you for supporting Beaming Baker.
Facebook ☀︎ Pinterest  ☀︎ Twitter ☀︎ Instagram