Gingerbread Oatmeal Homemade Breakfast Bars (V, GF): an easy recipe for deliciously soft homemade breakfast bars filled with your favorite holiday flavors. Vegan, Gluten Free, Dairy-Free.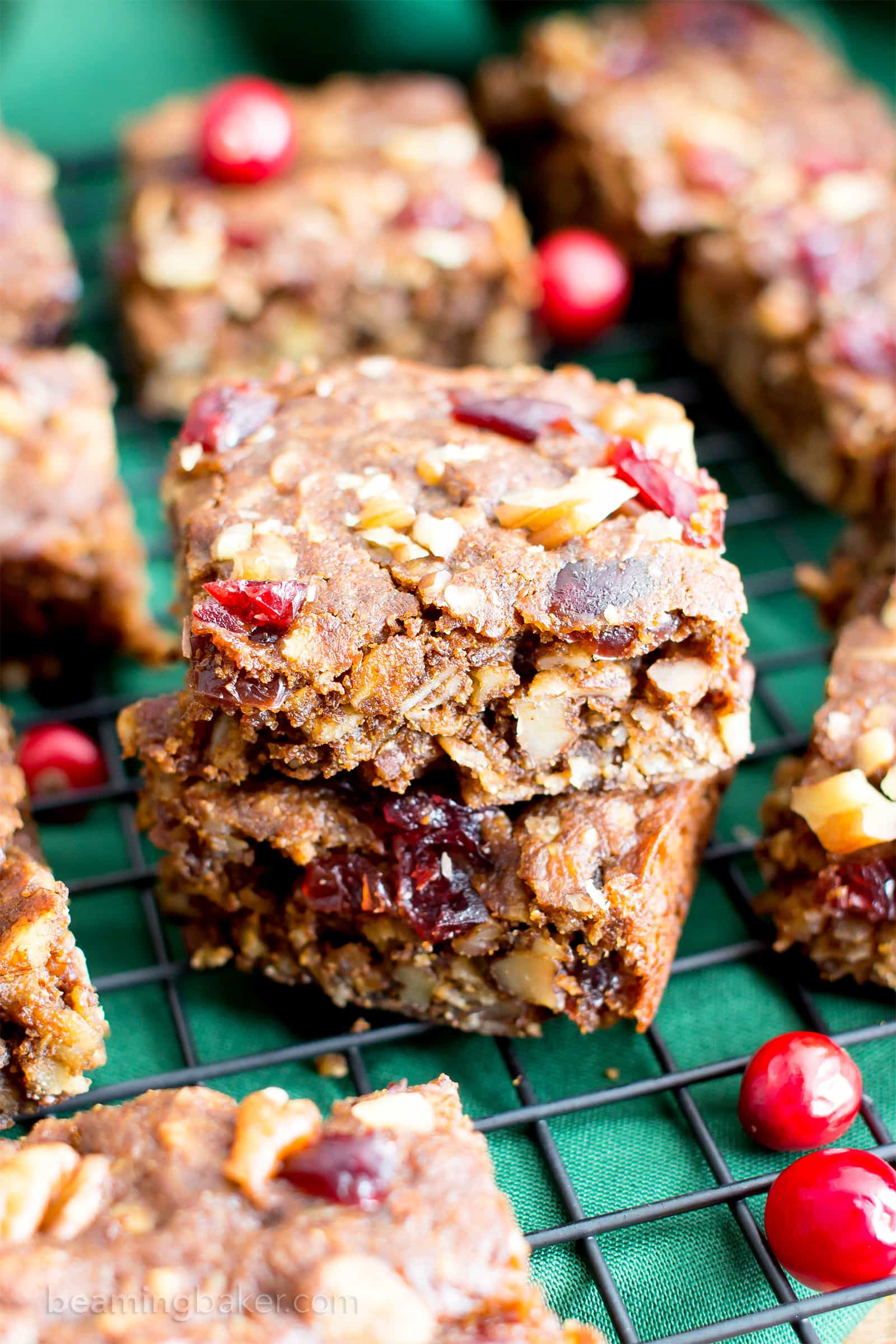 Happy almost Thanksgiving!!! Can you believe how quickly that came? I'm a bit floored myself, but let's just roll with it!
This year, I've decided that we're starting a new tradition: we're gonna make Christmas-y stuff the week of Thanksgiving. No more waiting for Thanksgiving to pass like turtles. We're just gonna do it!
You in?
Last year, I waited until after Thanksgiving to share my Peppermint Crunch Bars and my Triple Chocolate Peppermint Cookies. What was I thinking??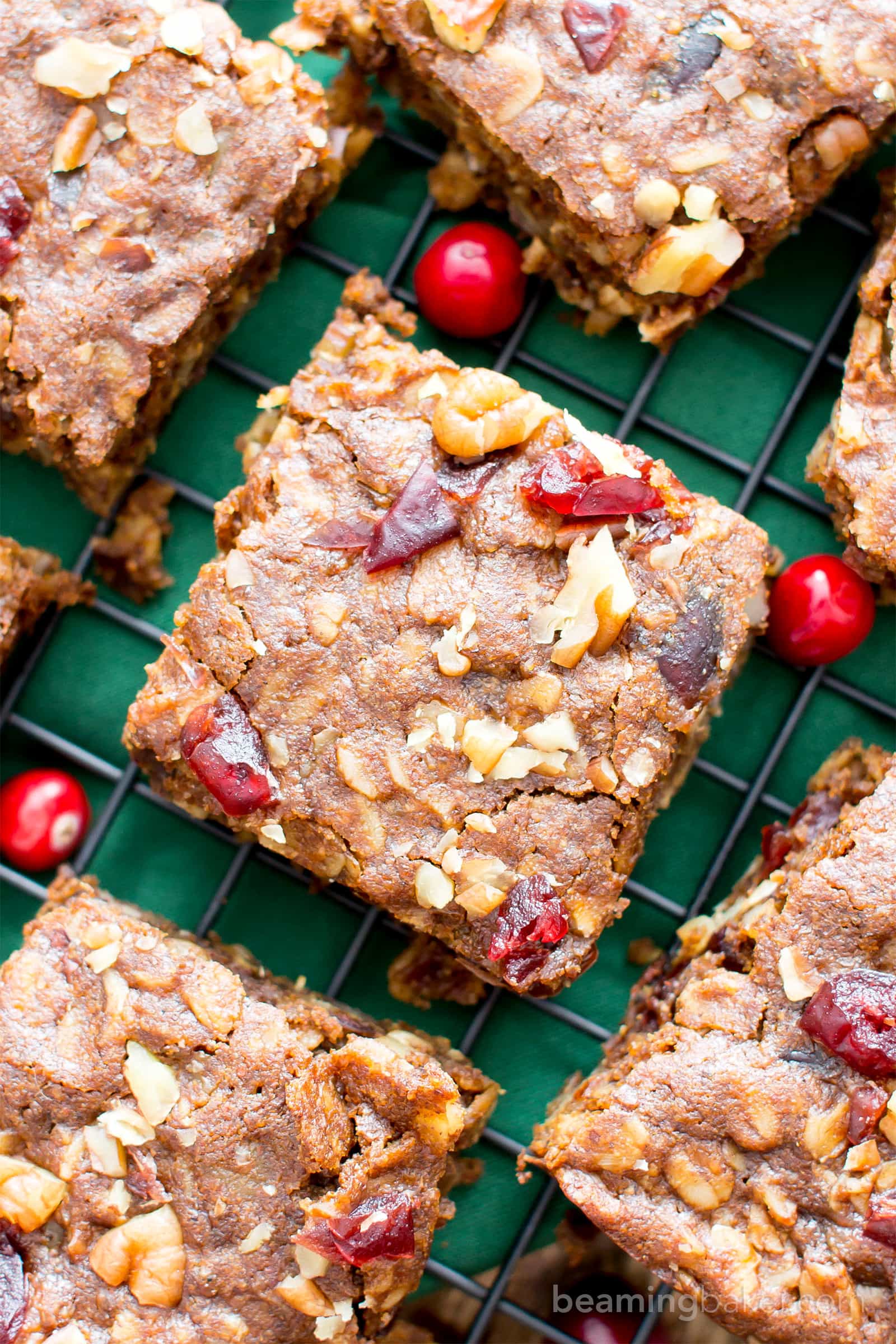 Okay, I was thinking you might be a tad mad and feel like I'm rushing the whole holiday thing. But… it never hurts to be prepared and extra festive right? 🙂
So this year, we're gonna just warm up, nice and easy with Gingerbread Oatmeal Homemade Breakfast Bars. Any breakfast bar fans out there?
For you, I have the tasty following: banana chocolate chip oatmeal breakfast bars (one of my most popular recipes), pumpkin chocolate chip oatmeal breakfast bars (perfect taste of fall), cranberry almond butter breakfast bars (so thick and satisfying), peanut butter chocolate chip breakfast bars (must-try), and more to come! 😉
Meanwhile, any gingerbread fans out there?
By the way, my family legit asked me if I was gonna share a super elaborate gingerbread house recipe on my blog. I was like, whaaaaaaa? I can't! Folks love gettin' their super easy, super simple bake/no-bake on.
To which I received a few dead-eyed, highly unamused stares.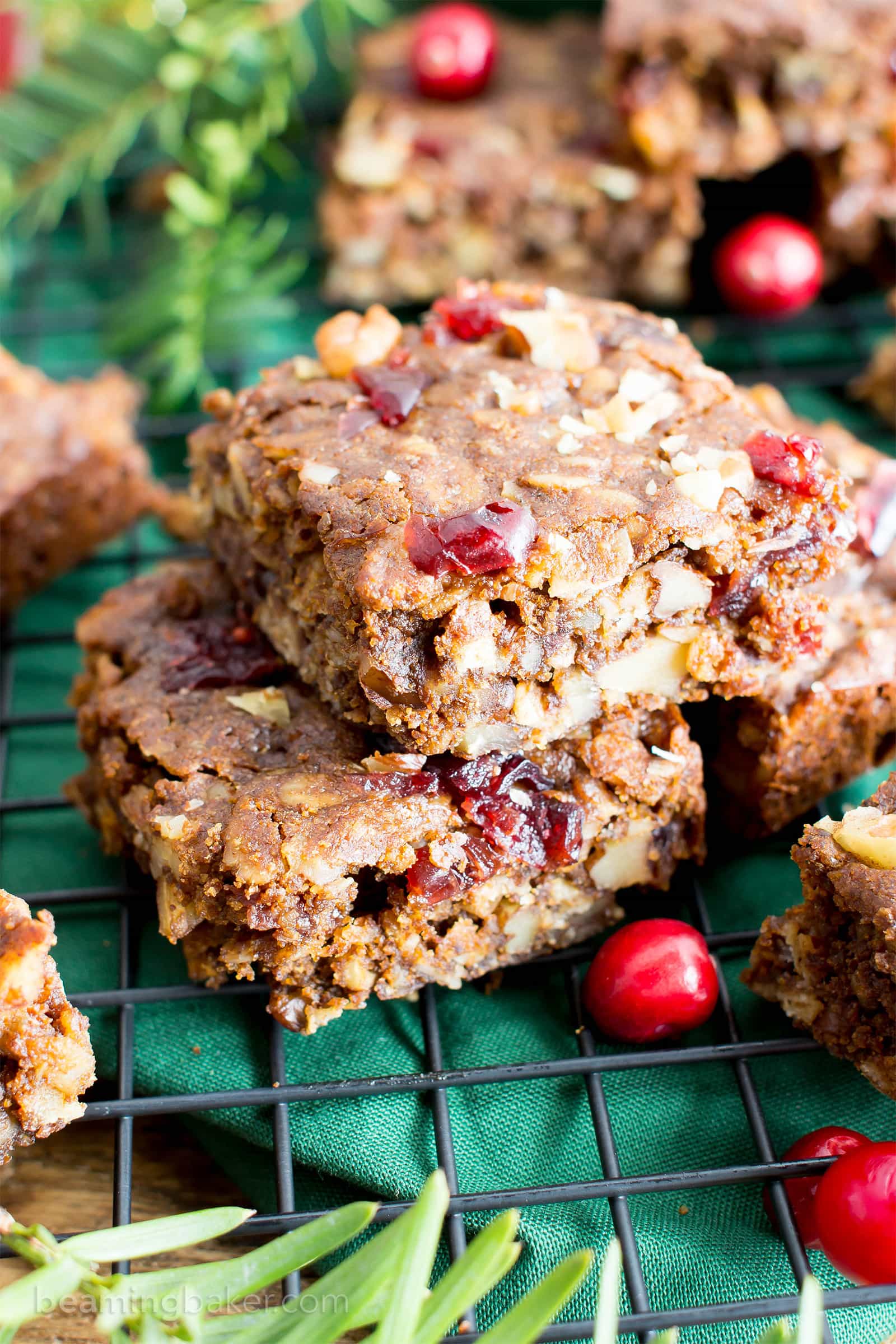 But, come on… I know me and I know you guys, and we don't want something really elaborate and complex, do we? Okay, if you do, just let me know. I was planning on making slightly more complex recipes next year (we can step up our game together!)
Meanwhile, I've had my run-ins with crafts before. (Yes, I totally count multi-level gingerbread mansions as "crafts.") Let's just say… I tend to go wayyyyy overboard. Honestly, show of hands for anyone who's remotely surprised about that?
Erik and I are always repeating the mantra to ourselves, "Go simpler! How much simpler? MUCH simpler!!" And asking ourselves, "Can this entire project/process/recipe be cut down by like 90%??"
And the answer to our childlike over exuberant selves is always, "Yes." And, "ALL the Yes's!!!" <— See note on overexuberance.
One year, for Christmas, we made 7 different candy and cookie recipes, packed those all up into personalized gift boxes. Then, I designed a hand drawn logo for personalized iron-ons for sweaters (for EACH person coming to our Christmas celebration).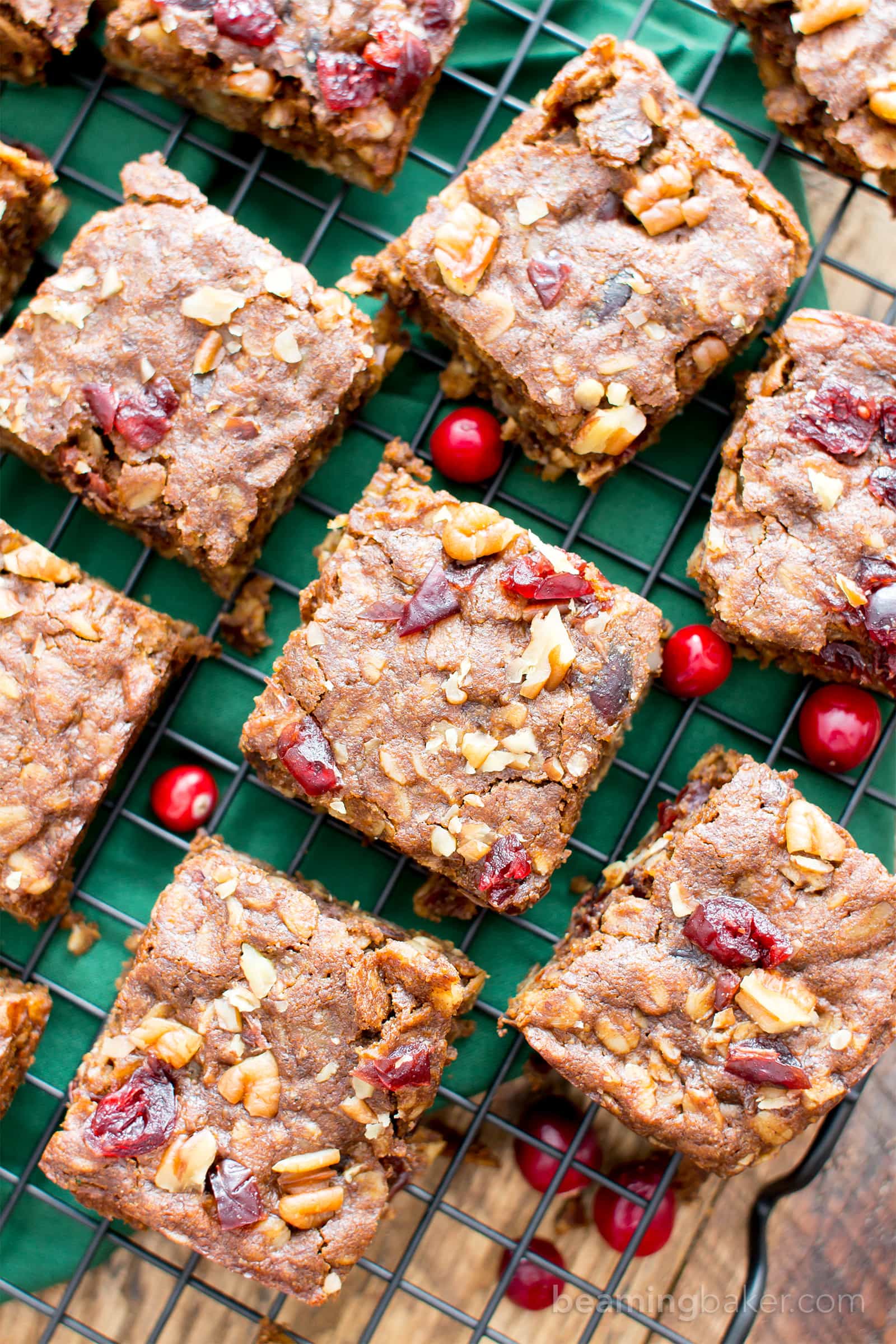 Then, yes, there's more… we Photoshopped 6 different family portraits, made custom holiday borders, then printed out and framed those portraits to pass out to everyone. (We couldn't get the whole family in one place to do a Christmas portrait session, so we took matters into our own hands).
And let's just say… that was not fun. Not fun at all!
So in the spirit of dialing down all of that over exuberant EVERYTHING, I'm gonna share a super simple, extra easy, and seriously tasty Gingerbread Oatmeal Homemade Breakfast Bars recipe!
No photoshopping/ironing/packing for you! Okay, there might be packing because you're gonna wanna give these gingerbread bars away as gifts. Just sayin'.
But skip the custom sweatshirts, will ya? 🙂
These Gingerbread Oatmeal Homemade Breakfast Bars would be perfect to make Thanksgiving Day morning. Or, the day after a rousing/mania-filled/sanity-questioning day of Black Friday shopping.
They taste just like Christmas. In edible bar form. And who wouldn't want that? 🙂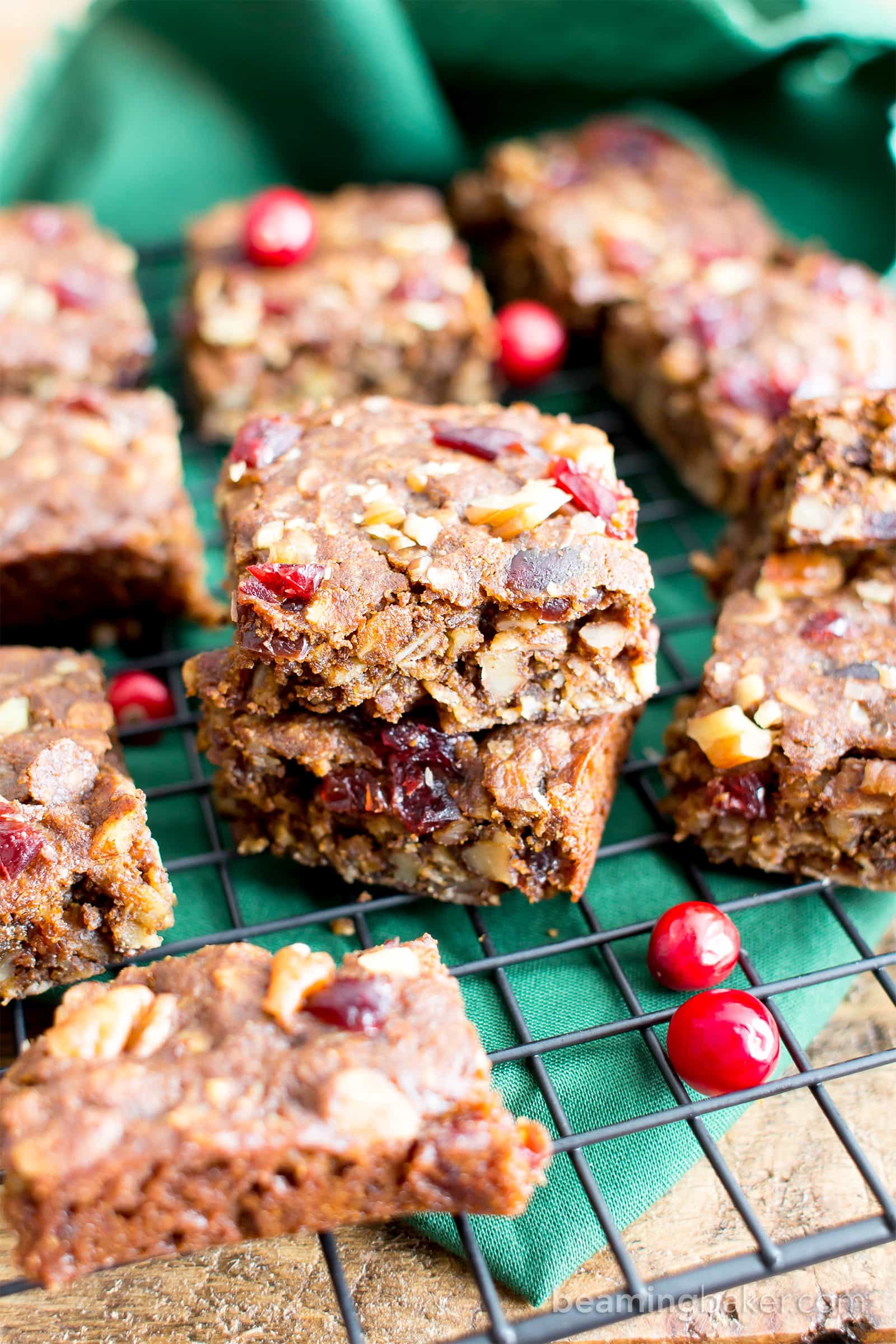 In case you're still on the fence, allow me to tell you all about these incredibly yummy Gingerbread Oatmeal Homemade Breakfast Bars. They're:
packed with your favorite Holiday/Christmas flavors: ginger, cinnamon, cranberry, nutmeg and cloves
made in just one bowl
super easy to make
soft, dense and fluffy
bursting with delicious texture
vegan, gluten-free, dairy-free
awesomely refined sugar-free
you're new favorite homemade breakfast bar
like, for real
made with the whole, simple, healthy ingredients you love
soooo much easier than handmade sweaters, elaborate photoshopped family portraits and all of that other stuff we made!
I know you'll just love these! Grab just one bowl and I'll start chopping up the pecans and walnuts. I'll see ya in the kitchen! In case I don't say it enough, I just wanted you to know how much I appreciate you being here, testing, baking, experiencing and adventuring our way through the kitchen together. 🙂 I seriously can't wait to hear what you think! In the meantime, tell me:
What's the most elaborate gift you ever gave?
Sending you all my love and maybe even a dove, xo Demeter ❤️
☀︎ Click below to Pin ☀︎

☀︎ Did you make this recipe? Take a pic and share it on Instagram with the hashtag #beamingbaker and tag @beamingbaker. I would love to see it! ☀︎
If you enjoyed these plant-based, allergy-friendly Gingerbread Oatmeal Homemade Breakfast Bars, then you'll just love these tasty breakfast recipes:
☀︎ More ­­­­­­Vegan Gluten Free Breakfast Recipes ☀︎
5 Minute Easy Peppermint Fudge | Maple Pecan Pumpkin Muffins | Good Morning Breakfast Cookies | One Bowl Banana Nut Muffins | Chocolate Chip Oatmeal Banana Breakfast Bars | Pumpkin Chocolate Chip Muffins | Pumpkin Chocolate Chip Oatmeal Breakfast Bars | Banana Breakfast Cookies | Chocolate Cranberry Almond Butter Banana Muffins | and… Peanut Butter Chocolate Chip Oatmeal Cookies, just for fun. 😉
Print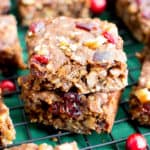 Gingerbread Oatmeal Homemade Breakfast Bars (Vegan, Gluten-Free, Dairy-Free, Refined Sugar-Free)
---
Description
Gingerbread Oatmeal Homemade Breakfast Bars (V, GF): an easy recipe for soft, homemade breakfast bars filled with your favorite holiday flavors. Vegan, Gluten-Free, Dairy-Free.
---
Wet Ingredients
2

flax eggs (whisk together

2 tablespoons

ground flax +

6 tablespoons

water, set for 15 mins)

2 tablespoons

melted coconut oil

¼ cup

+

2 tablespoons

natural, unsalted creamy almond butter

2 tablespoons

coconut sugar

2 tablespoons

molasses
Dry Ingredients
¾ cup

gluten free rolled oats

¼ cup

gluten free oat flour

1 ½ teaspoons

ground ginger

¾ teaspoon

ground cinnamon

¼ teaspoon

ground cloves

¼ teaspoon

ground nutmeg

¼ teaspoon

baking powder

¼ teaspoon

baking soda

¼ teaspoon

salt
Add-in Ingredients
¼ cup

dried cranberries, roughly chopped

½ cup

pecans, chopped

¼ cup

walnuts, chopped
Optional Topping
1 tablespoon

dried cranberries, chopped

1 tablespoon

pecans, chopped
---
Instructions
Preheat oven to 350°F. Line an 8-inch square baking pan with parchment paper or greased foil. Set aside.
In a large bowl, whisk together all of the wet ingredients: flax eggs, coconut oil, almond butter, coconut sugar and molasses. Whisk until smooth.
Add dry ingredients: oats, flour, spices, baking powder, baking soda and salt. Whisk until it becomes difficult to stir. Switch to using a rubber spatula, folding until well combined. Fold in cranberries, pecans and walnuts.
Pour into the prepared baking pan. Using the rubber spatula, spread into an even layer. Optionally, press cranberries and pecans onto the top of the bars.
Bake for 22-28 minutes. Mine took 25 minutes. You'll know it's done when the edges turn a dark, golden brown.
Place on a cooling rack for 1 hour, or until completely cool. Slice into 16 bars. Enjoy!
Category:

Breakfast, Vegan, Gluten-Free, Dairy-Free, Holiday
© beamingbaker.com. All content and images are protected by copyright. Please do not use my images or recipe without my permission. If you wish to republish this recipe, please re-write the entire recipe using your own words and include a link to this post for the recipe.
SHOP THE RECIPE
Here are a few items I used in today's recipe.
Baking Pan (8-inch) | My Favorite Knife | Cooling Rack | Maple Syrup | Coconut Sugar | Silicone Spatulas | Glass Mixing Bowls
This post may contain affiliate links, which allow me to make a small commission for my referral, at no additional cost to you. Thank you for supporting Beaming Baker.
Facebook ☀︎ Pinterest ☀︎ Twitter ☀︎ Instagram