One Bowl Gluten Free Vegan Banana Nut Muffins (V, GF): an easy, whole recipe for deliciously soft and moist banana nut muffins. Vegan, Gluten Free, Whole Grain, Dairy-Free, Refined Sugar-Free.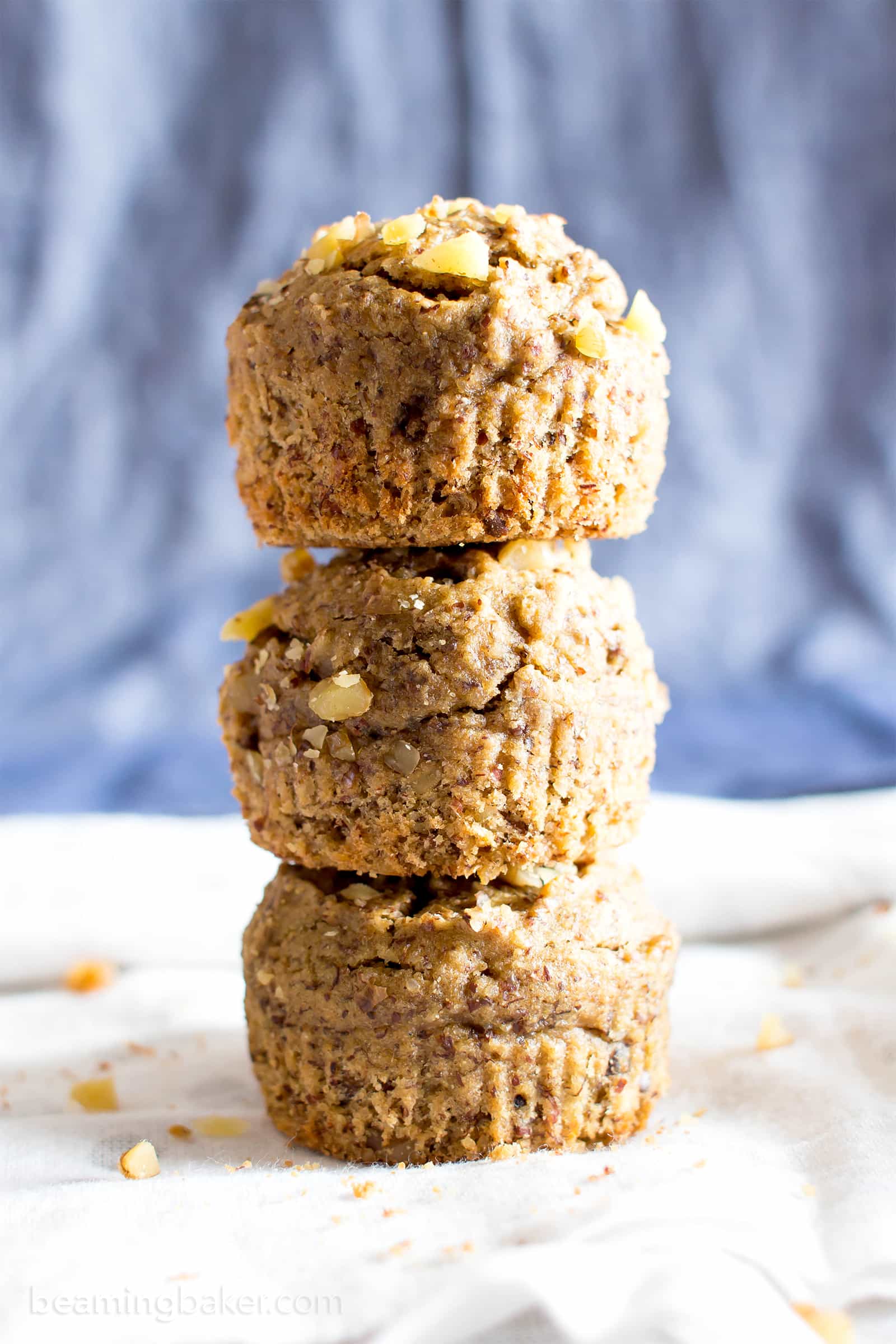 Okay, be honest. Did you miss all the baking we could've done this summer? Not that we didn't make these, these and these. Did you pine for your oven like it was nobody's business? And then eye your muffin pan like, "we're still cool (but not because summer was hot as you know what). But… I'll see you soon! Promise!!"
And then think to yourself, "I'm weird for talking to myself this much… But I'm still doing it. Like, right now." And then turn to your friend, Beaming Baker, and feel totally okay since she does it all the time.
She even talks in third person. *Cue epic cringe*
Um, anyway… As I was saying (not to myself), did you even ripen bananas in hopes that a delicious, home-baked goodness banana-rrific recipe would be shared on BB?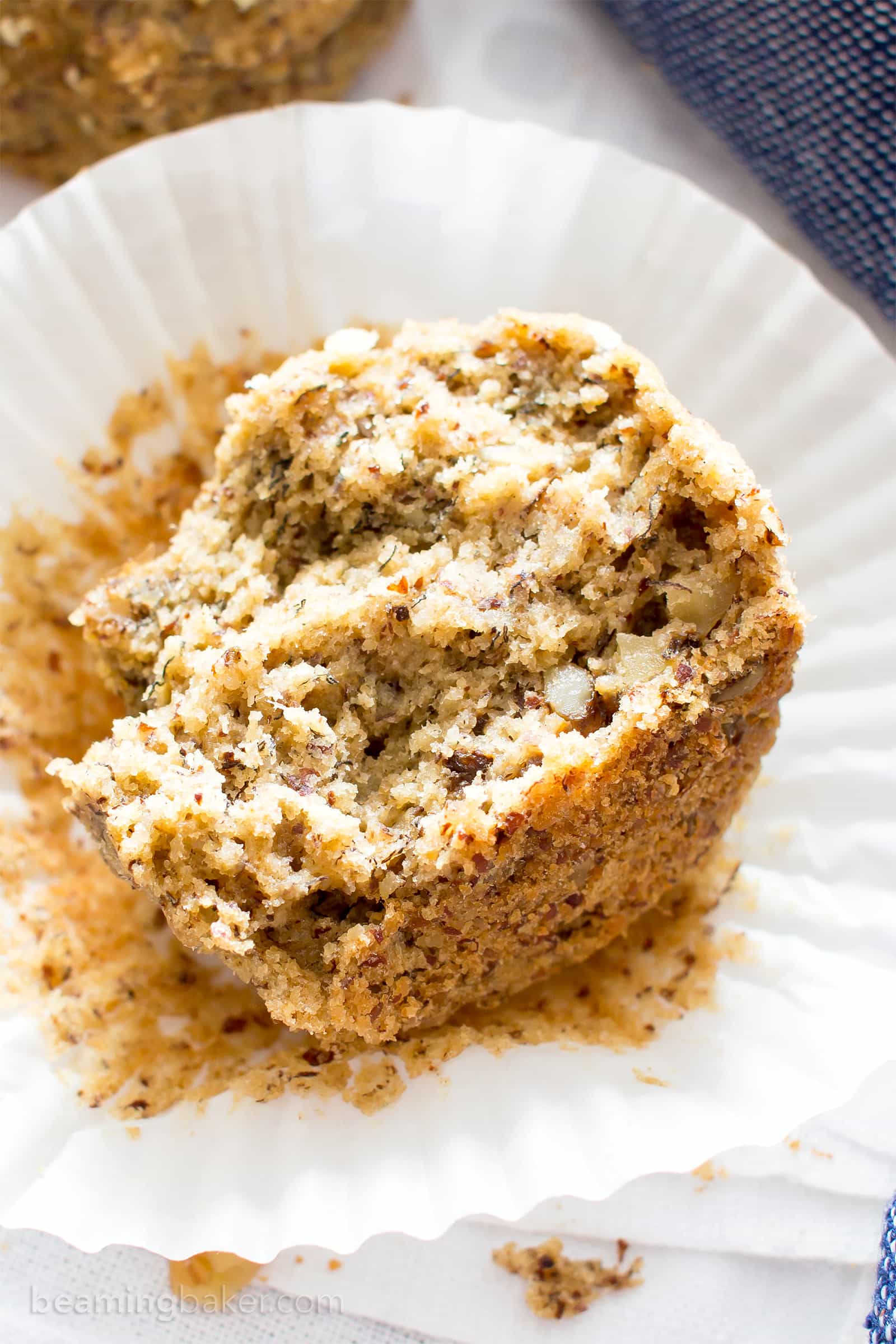 Or… did you grab those ripe bananas and pop them in the freezer, then eagerly make this ice cream, this ice cream, or these popsicles?
Either way, baking season is BACK. Like, grab your favorite cozy oven mitts (hopefully with the exact floral pattern that reminds you lovingly of Grams), the whisk that can actually withstand the strength and sturdy fortitude that is cookie dough, and the cutest cupcake liners you've ever seen… and get ready to get your bake on!
To kick off this lovely season, we're gonna start with these One Bowl Gluten Free Vegan Banana Nut Muffins. They're based off one of my favorite recipes of all time, my One Bowl Vegan Gluten Free Banana Nut Bread.
Have you ever tried that recipe? It's one that I get emails, Instagram shoutouts/stories (btw, have you tried this new-fangled feature yet??), and Facebook comments about all the time. It's one of my favorite recipes to bake, and shocker… eat! 😉 The texture, the taste, the scent while making & baking… all of it just makes me happy.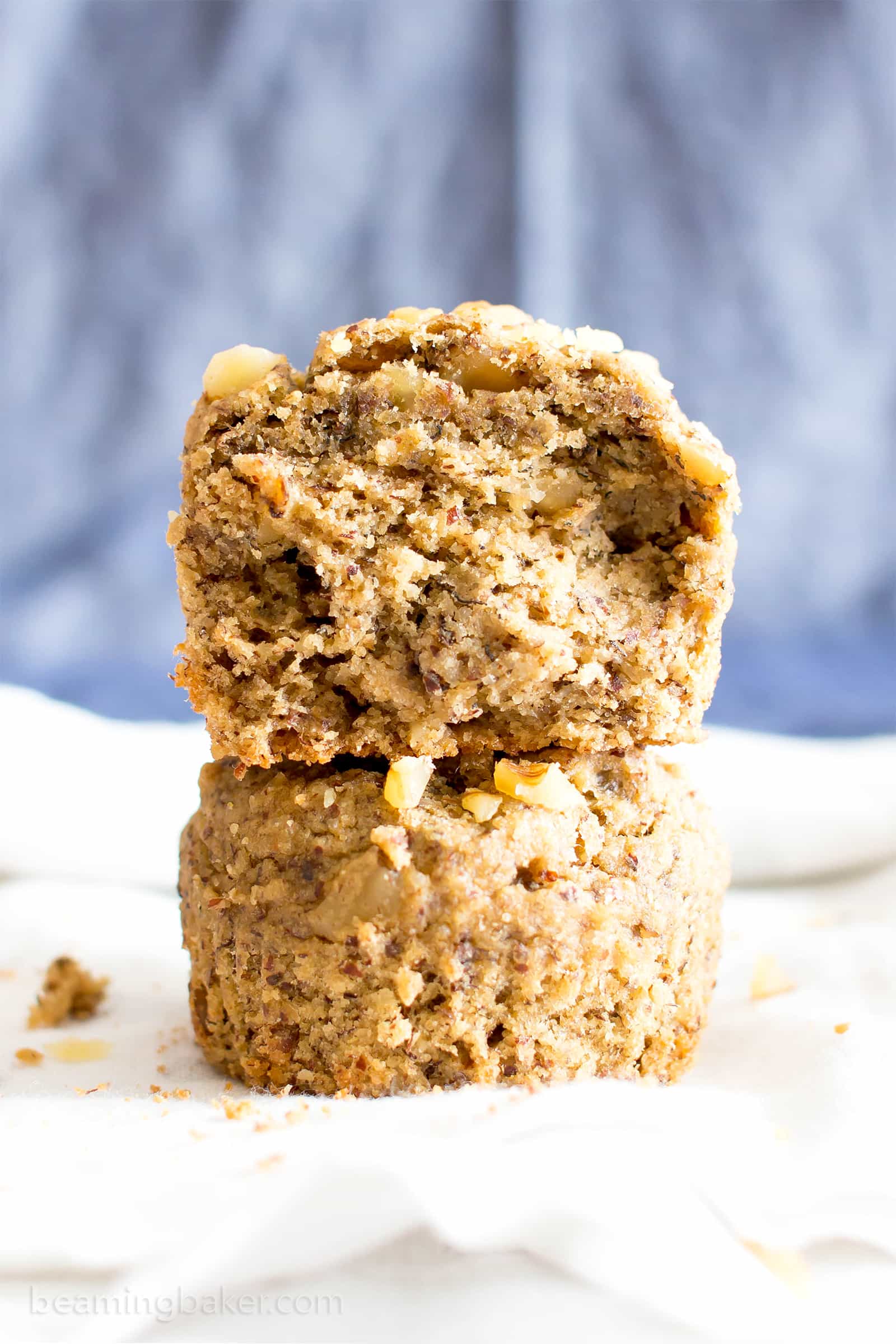 If you're a big fan of banana, or even don't really care about bananas, you'll still adore this. Well, I've gotten tons of requests about changing that delicious loaf into a muffin recipe. So here we go!
This time around, I reduced the amount of bananas by just a bit—2 tablespoons. For the banana bread, I really, really wanted the bread to have the perfect texture—light, but also deliciously dense, nutty and satisfying. But more importantly, I wanted it to slice beautifully. No crumbly, hot mess for us! So that one required a longer baketime, longer cooling session—meaning they needed more moisture in the initial batter to keep everything well-balanced.
Et voila: clean slices and moist bread!
For these one bowl gluten free vegan banana nut muffins, there's absolutely no slicing involved. Because: muffins. Ahem. Also, they're baked in much smaller increments than, say, a giant loaf… As such, the bake time, cool time, etc. are much lower. To account for that, I reduced the amount of banana.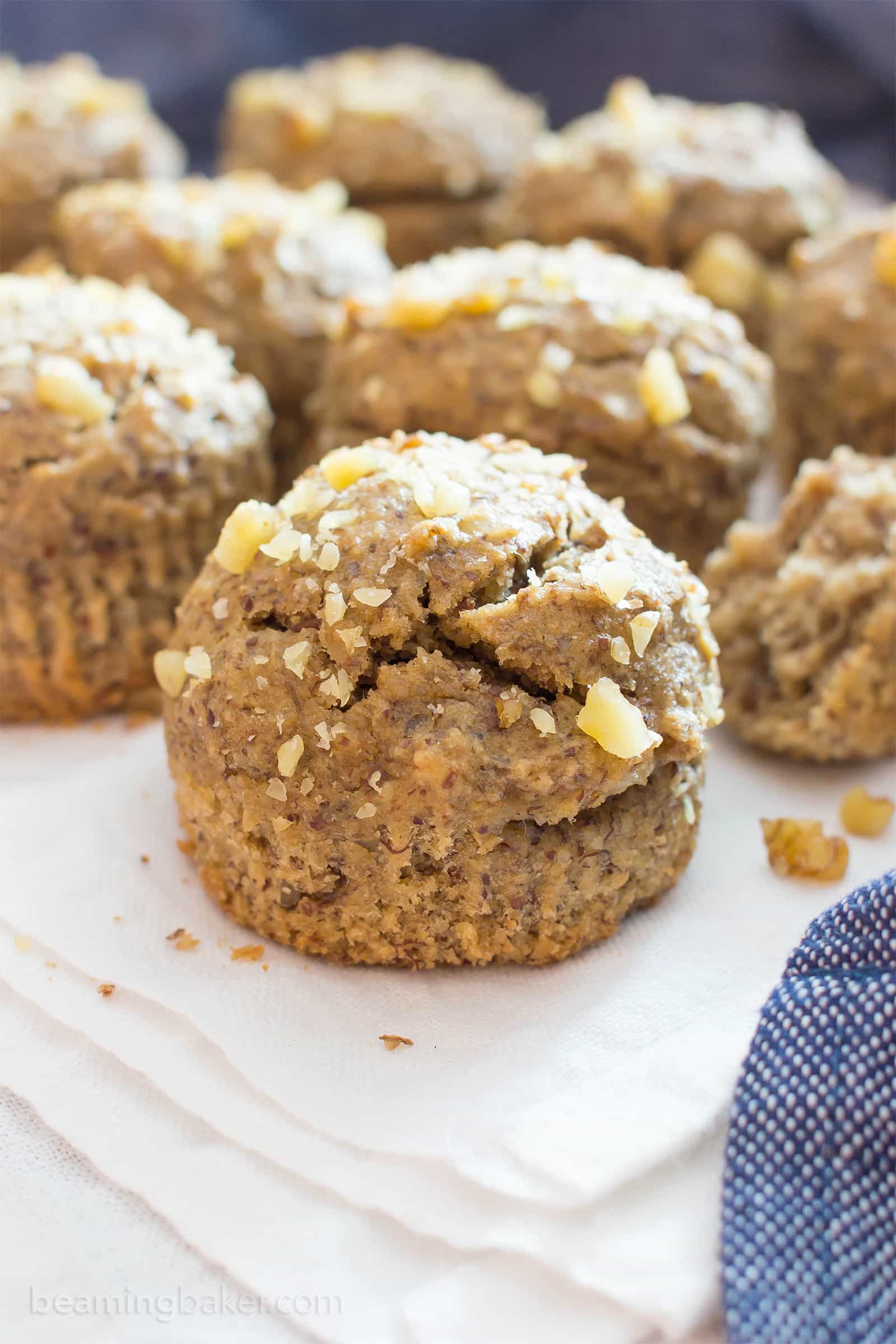 Also, does it bug you like crazy when recipes just say "3 bananas" instead of exactly how many cups of mashed banana? That used to drive me cray back in the day when I didn't have my own blog. So I made sure to include the exact measurement I use every time.
Now who says I didn't have a legit reason to start a blog?!? 😉
As for those beautiful domed tops you see in the photos? Firstly, the batter is the cat's meow guys. It stays in place, does not droop, and pretty much keeps the shape you give it before going in the oven. So what I do is I use my trusty, my favorite… Ice Cream Scoop. Okay, who didn't see that coming? I scoop out just over a ¼ cup of muffin batter and drop it right into the liner.
It seriously gives my muffins the most beautiful dome top.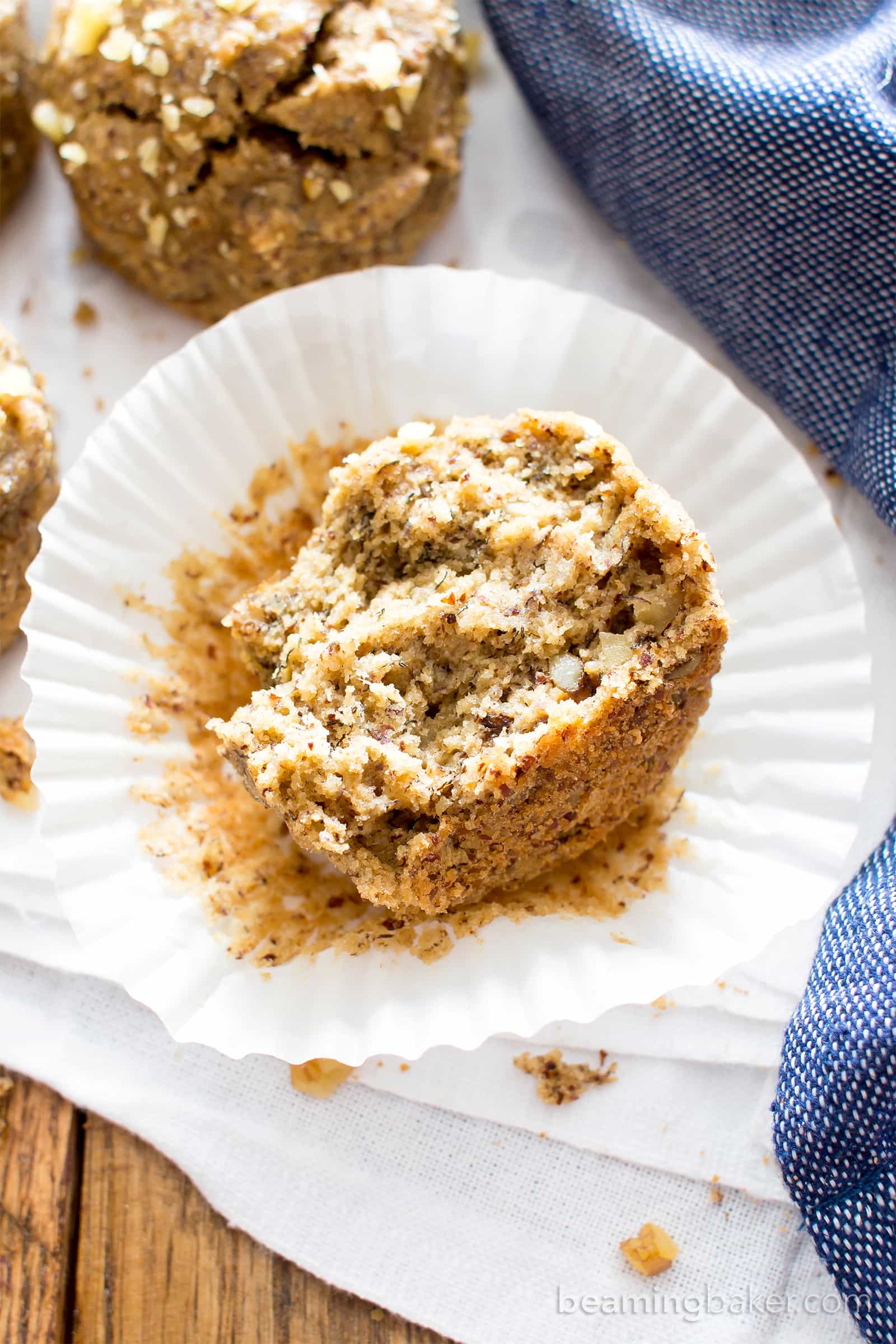 And those are all the rambling tips I have for you today! Don't know why, but I was just in the mood to talk on and on about this one. In case ya skipped all of that and just want to hear the bulletpoints, here ya go…
These One Bowl Gluten Free Vegan Banana Nut Muffins are:
perfectly moist
bursting with banana goodness
made in just one bowl
packed with walnut YUM
vegan, gluten-free, dairy-free
deliciously whole grain
of course, totally refined sugar-free
plant-based and allergy-friendly
made with the simple, healthy whole ingredients you love
just the reason you were looking for to have a homemade breakfast
great for an on-the-go snack
Are you ready to get your bake on? Come, join me—I have many muffins tins to spare. Too many, in fact… I'm kind of super excited to head back into the cozy, warm kitchen with you. Let's get ready for the holidays together. You in? It's always wonderful figuring out what delightfully homemade treats we can whip up together. I seriously can't wait to hear what you think. In the meantime, tell me:
What Fall and Winter recipes are you hoping to see in the next few months?
Sending you all my love and maybe even a dove, xo Demeter ❤️
☀︎ Click below to Pin ☀︎

☀︎ Did you make this recipe? Take a pic and share it on Instagram with the hashtag #beamingbaker and tag @beamingbaker. I would love to see it! ☀︎
If you enjoyed these allergy-friendly One Bowl Gluten Free Vegan Banana Nut Muffins, then you'll just love these whole foods recipes:
More Gluten Free Vegan Muffins & Breads
One Bowl Gluten Free Pumpkin Chocolate Chip Muffins (Vegan, Dairy-Free, GF) | Vegan Chocolate Banana Nut Bread (Gluten-Free, DF, V) | Gluten Free Banana Oat Muffins (Vegan, Whole Grain, DF) | Gluten Free Vegan Blueberry Applesauce Muffins (V, GF, Refined Sugar-Free) | Double Chocolate Banana Muffins (Vegan, Dairy-Free, GF) | One Bowl Gluten Free Vegan Pumpkin Bread (DF, GF, Vegan) | Gluten Free Vegan Pumpkin Chocolate Chip Bread (Dairy-Free, GF, DF)

Print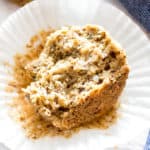 One Bowl Gluten Free Vegan Banana Nut Muffins (V, GF, Dairy-Free, Refined Sugar-Free, Oat Flour)
---
Description
One Bowl Gluten Free Vegan Banana Nut Muffins (V, GF): an easy, whole recipe for deliciously soft and moist banana nut muffins. Vegan, Gluten Free, Whole Grain, Dairy-Free, Refined Sugar-Free.
---
Wet Ingredients
3

medium, very ripe bananas (

1 cup

mashed)

¼ cup

melted coconut oil

¼ cup

coconut sugar

1

flax egg (

1 tablespoon

ground flax +

3 tablespoons

water, whisk together, set for 15 mins)

1 teaspoon

pure vanilla extract
Dry Ingredients
1 ½ cup

gluten free oat flour

¾ cup

almond meal

¾ teaspoon

baking powder

½ teaspoon

baking soda

¼ teaspoon

salt
Add-ins
Optional for topping
2 tablespoons

walnuts, chopped
---
Instructions
Preheat the oven to 350°F. Line a 12-cup muffin pan with muffin liners.
Add peeled bananas to a large mixing bowl. Using a sturdy whisk or fork, mash bananas until smooth. Add the coconut oil, coconut sugar, flax egg, and vanilla. Whisk until well incorporated.
Add oat flour, almond meal, baking powder, baking soda and salt. Whisk together until just incorporated, making sure no flour patches remain. Fold in walnuts.
Using a large scoop, scoop and drop batter evenly into muffin cups. I use this ice cream scoop for easy scooping and a beautiful round top. If needed, smooth batter into an even layer, with a domed top (rise) in the center. Optional: sprinkle walnuts on top of the muffins.
Bake for 16-22 minutes. Mine took 19 minutes. Allow to cool on a cooling rack for about 1 hour. Lift out and enjoy!
Category:

Muffin, Vegan, Gluten Free, Dairy Free, Whole Grain, Refined Sugar Free
© beamingbaker.com. All content and images are protected by copyright. Please do not use my images or recipe without my permission. If you wish to republish this recipe, please re-write the entire recipe using your own words and include a link to this post for the recipe.
SHOP THE RECIPE
Here are a few items I used in today's recipe.
Muffin Pan | Parchment Cupcake Liners | Ice Cream Scoop | Glass Mixing Bowls | Coconut Sugar | Coconut Oil
This post may contain affiliate links, which allow me to make a small commission for my referral, at no additional cost to you. Thank you for supporting Beaming Baker.
Facebook ☀︎ Pinterest  ☀︎ Twitter ☀︎ Instagram